The Lunar New Year festival, also known as the Spring festival or Chinese New Year, is to China and Chinese people around the world what Christmas is to Westerners. As THE major holiday of the year, this is the prime time for Chinese mobile games to ramp up their LiveOps and boost their monetization, as the Chinese get off work en masse and often go home to their parents for one of the longest continuous holidays of the year.
Year after year, this results in lots of bored young people turning to games for entertainment, which shows clearly in mobile games' download and revenue statistics at the start of the holiday, which usually lasts around 1 to 2 weeks.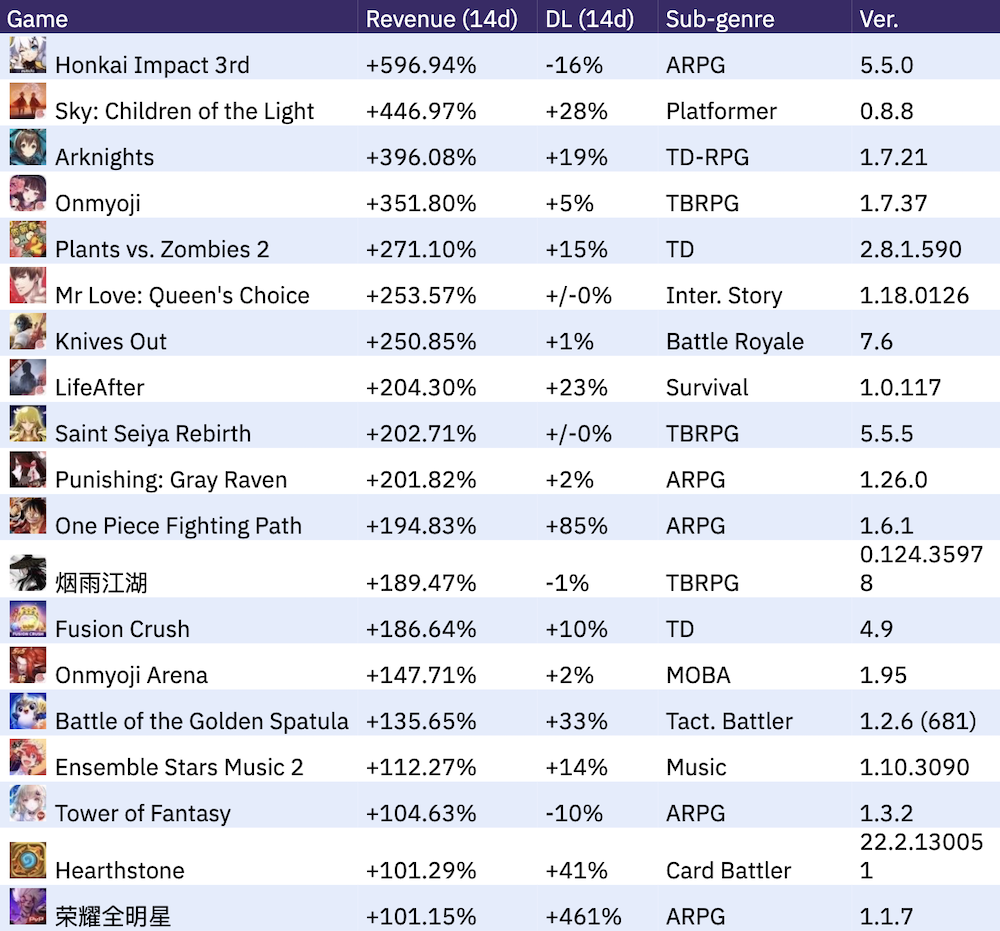 This year, the Lunar New Year's Eve landed on Monday 31st of January, and most games started their New Year's events during the previous weekend. Many games managed to multiply their revenue during the holidays, and many more saw notable growth. The GameRefinery algorithm identified 19 games in the Chinese iOS top-grossing 200 that were able to at least double their income during this time. Some of them did it with a significant user acquisition effort, which shows as a big change in their download numbers, while others did it with quality LiveOps and smart IAP implementations. Below, I will introduce three different approaches to making a successful seasonal event adopted by three completely different games.
Content dump + UA: the case of Arknights (明日方舟)
A common way of executing a seasonal event is with a big content dump to keep the players busy during the holidays. The tower defense RPG game Arknights (明日方舟) almost quintupled its 14-day revenue and more than quadrupled its revenue-per-download figures with its big Lunar New Year event, which could be described as a content dump. Although big events are nothing new to this game, it serves as a good example of what is expected of the LiveOps of top mobile games in China: a high-quality 3D opening trailer, an event-only storyline and game mode vaguely tied to the Lunar New Year theme, new in-game characters introduced through limited-time gachas, a special event currency and shop, new decorative items and so on, as was in the case of Arknights' Lunar New Year event.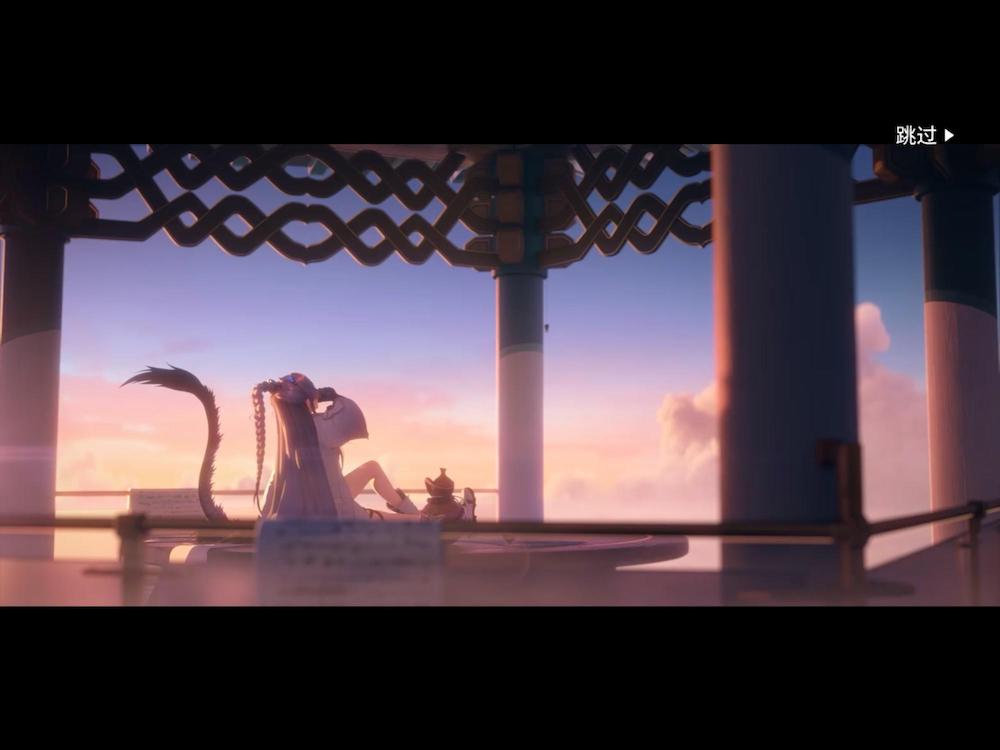 As is typical of so-called "2D" or anime-style character collector games, Arknights monetizes mainly with gachas and especially by introducing new in-game characters through limited-time gachas, which typically results in extreme revenue spikes followed by a lull period, as seen in the graph below (revenue in orange, downloads in grey). These gacha events are often combined with a collaboration event with an external IP (preferably famous and fitting to the host game's audience), as well as an intense user acquisition campaign, which can be seen as a sudden spike in download numbers.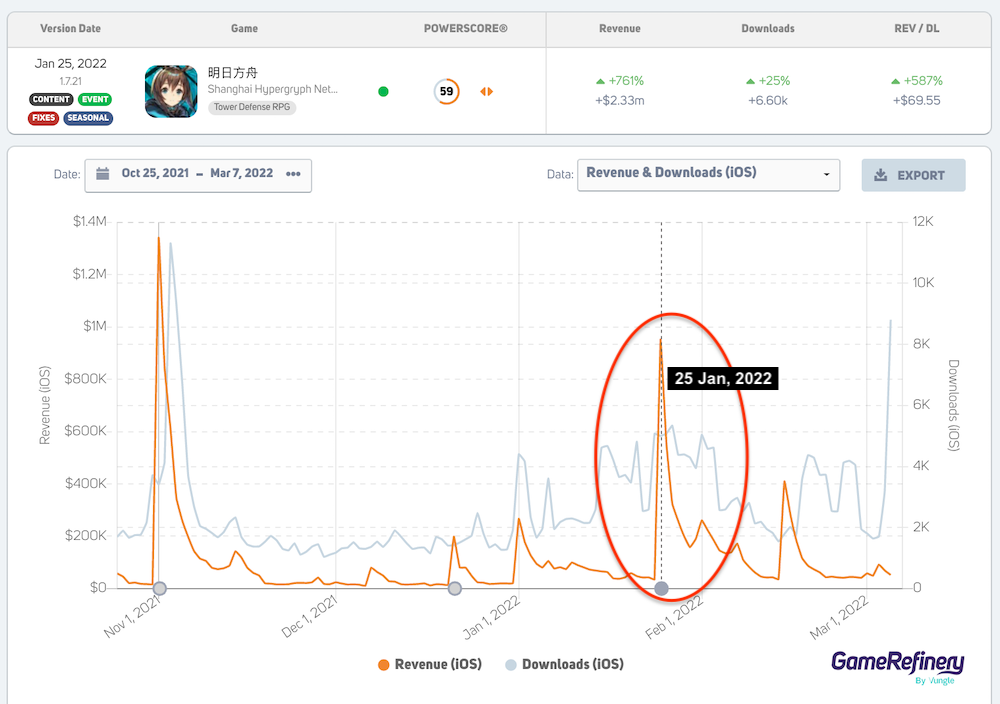 The event design and content of Arknights' Lunar New Year event was not radically different from the game's usual events, but what was noteworthy was the fact that it managed to pull off highly successful results with relatively low innovation (by its own standard) even when the game was entering its fourth year since release. Apart from the high quality of the gameplay and the revenue-driving potential of the Lunar New Year holiday season, judging by the downloads data, this success was probably due to a sustained UA campaign beginning already on the 1st of January and continuing well into February and the holidays. This shows that with the right ingredients (i.e., some UA effort, lots of content, and good gameplay to begin with), you can make a successful Lunar New Year event, even if you are not reinventing the wheel.
"And now for something completely different…": the case of Knives Out (荒野行动)
Another frequently seen strategy for holiday events is introducing a minigame or event game mode with gameplay that is completely different from what is usually featured in the game. This can work either as a test platform for a game mode the developers are considering to introduce as a permanent part of the game or simply as a refreshment and curiosity to re-engage old players. To boost engagement further, this type of event game mode should be tied to a special event-only currency, which could be used to purchase exclusive rewards or items that boost regular gameplay.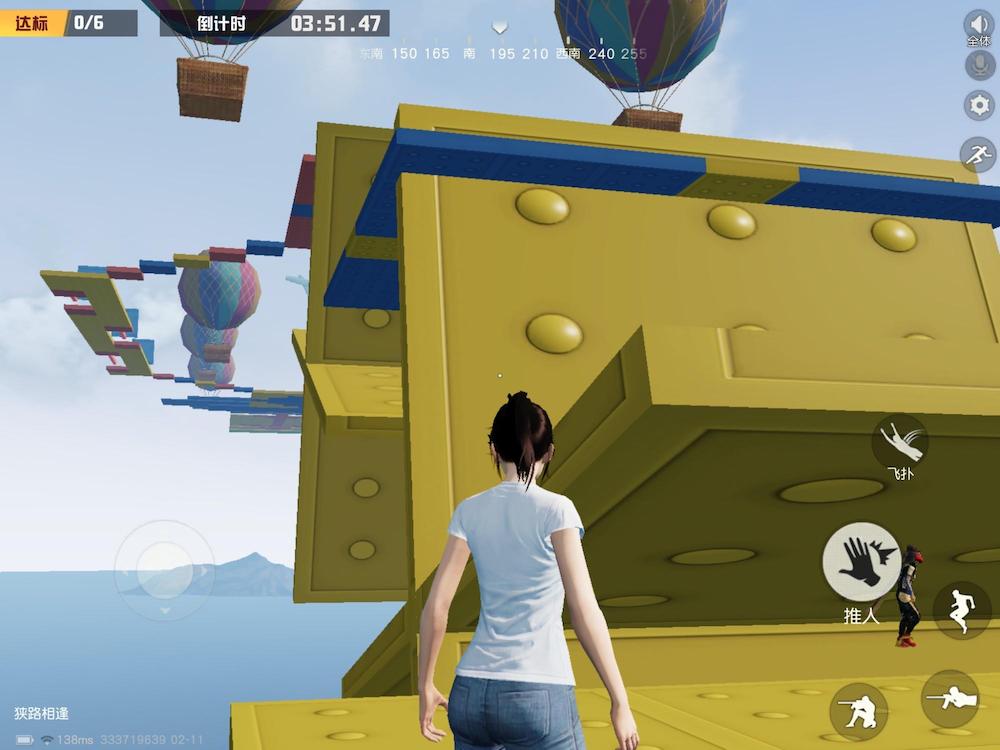 For example, the Battle Royale game Knives Out (荒野行动) released an update just before the holidays, which could be counted as an application of the above strategy, and managed to raise its 14-day revenue by 251%, notably higher than its usual gacha-based events. Knives Out introduced a special "parkour" game mode called "Wilderness Go Go Go" (荒野冲冲冲), that has nothing to do with the usual Battle Royale gameplay seen in the game. Similar "parkour" game modes made appearances in many Chinese mobile games last year after the hit game Fall Guys went viral. In the case of Knives Out's "parkour" game mode, the player competes with 19 other players on an obstacle course somewhat similar to what you may have seen on that old Japanese TV show "Takeshi's Castle." In the "Wilderness Go Go Go" mode, players race each other as well as the clock to complete the obstacle course, and the fastest one to do it wins. If the player falls, they will have to start over from the beginning unless they have passed a checkpoint on the track. Simple as that.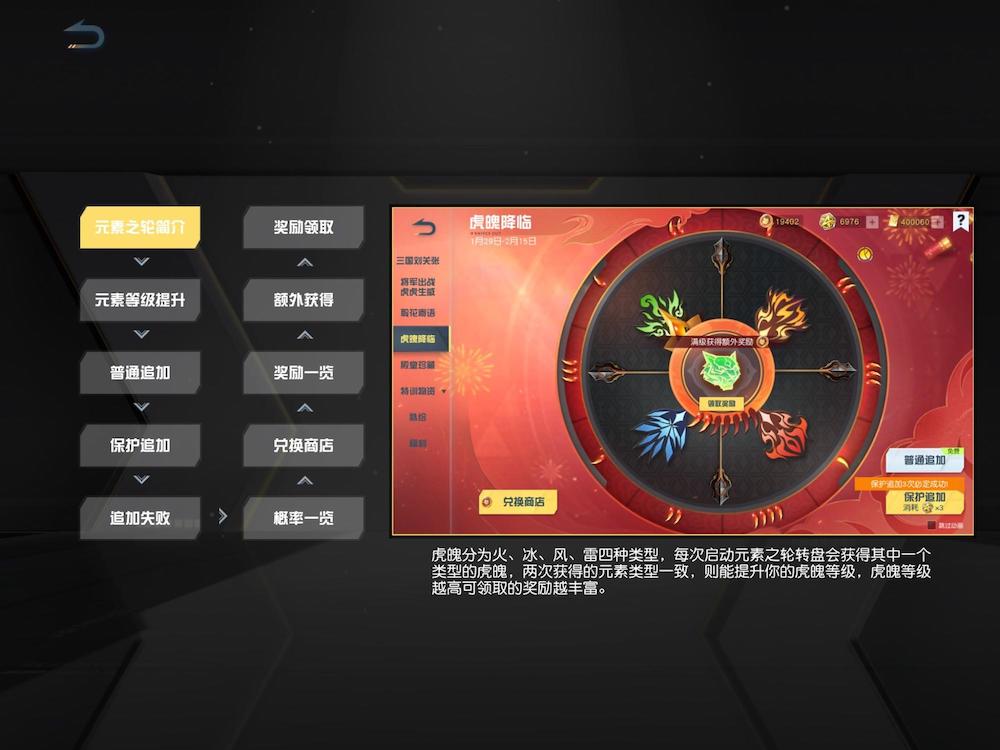 In addition to the new game mode, the update included a Year of the Tiger-themed limited-time gacha, which included exclusive New Year's cosmetic items as rewards. The event also featured an innovative event shop with Lunar New Year-themed cosmetic items on sale, which used a special event currency, which could be acquired from a randomized system, the drop rates of which could be leveled up by spending in-game currency. And as if this was not already enough exclusive decorative items, the event also handed out free New Year's skins and accessories during the holiday. All this, in addition to the game's plentiful regular LiveOps, including more limited-time gachas, a new Battle Pass season, and so on.
The Way of the IAP: the case of Fusion Crush (球球英雄)
The third commonly seen approach to seasonal events in China is the Way of the IAP: shoveling limited-time offers and discounts of all shapes and sizes at the start of the holiday season, along the lines of "if you throw a big enough net, some fish are bound to get caught." This is probably the cheapest or most "cost-effective" strategy to organize events, but it probably also won't do much good to your player engagement or user life expectancy in the long term. Of course, if the offers are simply "too good to be true" and you offer the player some real value, it can increase engagement as well.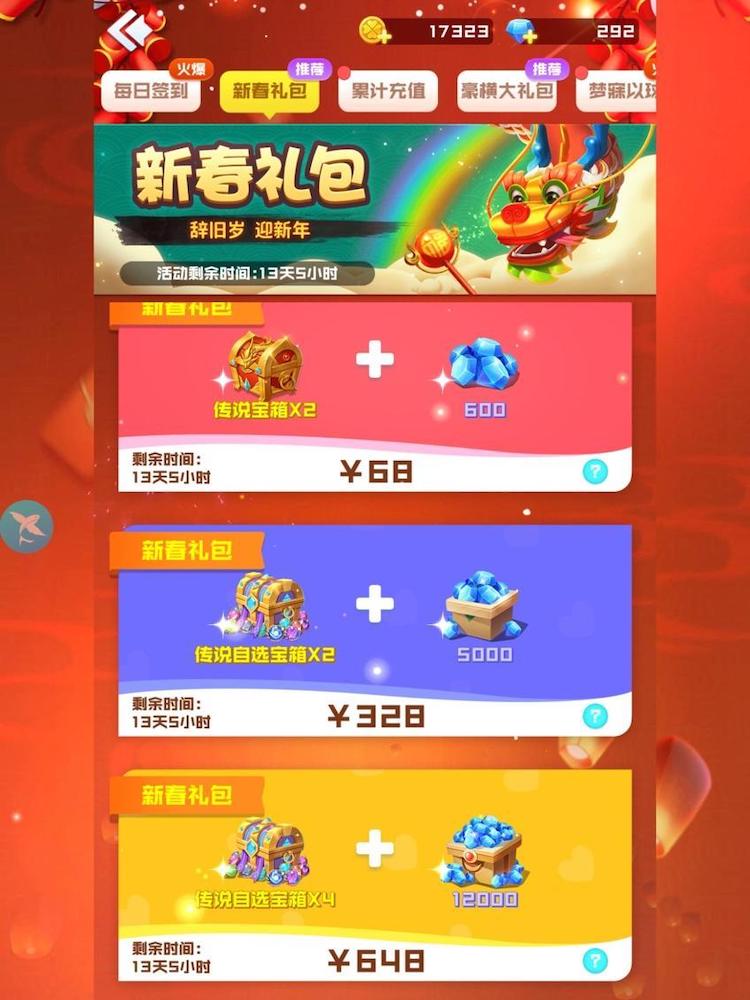 The merge tower defense game Fusion Crush (球球英雄) is an example of a game that found success with this strategy during the Lunar New Year holidays. Fusion Crush managed to increase its 14-day revenue by 187% with an update that mostly consisted of new IAP offers. Although, to be fair, they did introduce a new guild war game mode (open only on weekends) in the same update, probably to avoid leaving the players completely high and dry for the holidays.
Fusion Crush's holiday update included some small free gifts, a login calendar with the possibility to purchase missed days' rewards, limited time IAP offers of different sizes, progressive IAP rewards, limited-time subscription plans, gachas with special mechanics, gachas with not-so-special mechanics, a special event currency and a special event shop. The attractiveness of these offers was enhanced by including event-only decorative items, such as avatars and decorative accessories, among the rewards.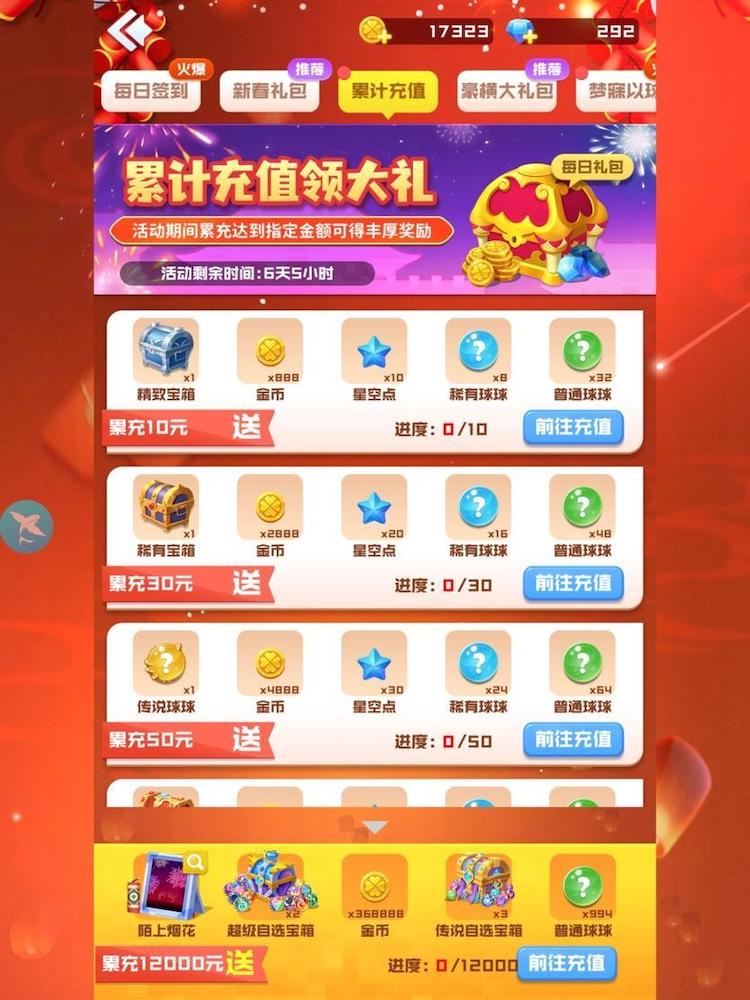 Readers who are not so familiar with Chinese games or GameRefinery jargon may find the above list of features a bit confusing. But don't worry, I will explain the most interesting ones below. For example, "progressive IAP rewards" is a very common feature in China, called "lěi chōng" or "cumulative charging" in Mandarin, which incentivizes players to purchase or spend more premium currency in the game by rewarding the player when they reach certain currency thresholds. In the case of Fusion Crush's Lunar New Year event, the player was rewarded with, e.g., chests, in-game characters, currencies, and material items of rising value when reaching currency thresholds at 10, 30, 50, and even all the way up to 12 000 RMB (around 1900 USD).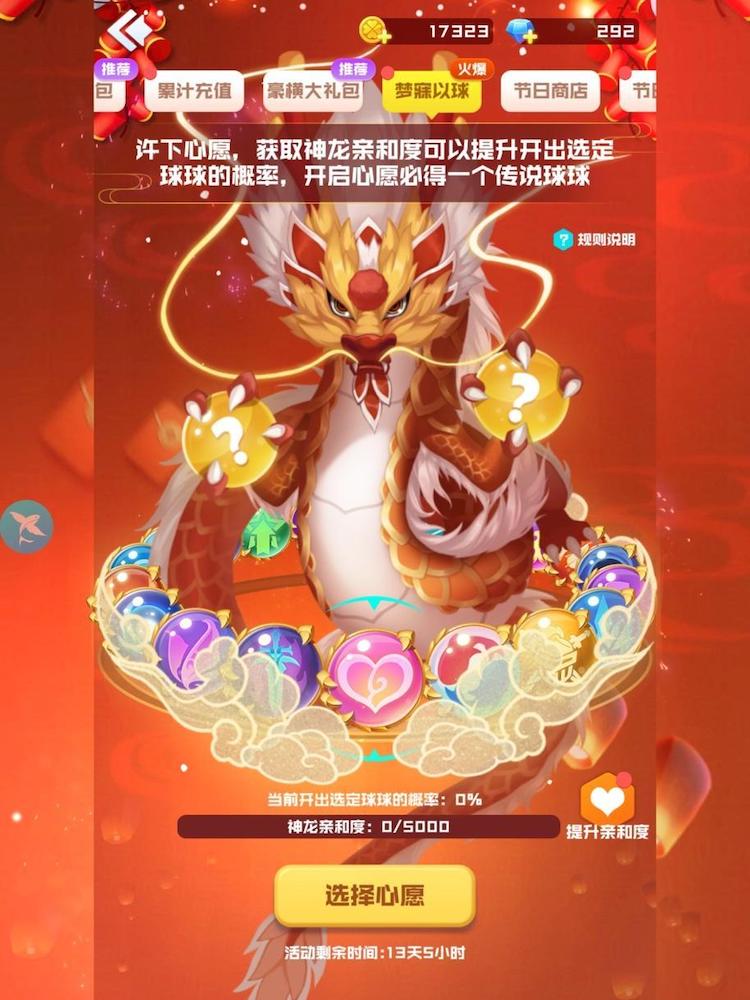 Another feature that probably needs clarifying is "special gacha mechanics." Regular gacha mechanics refer to the usual gacha machine system: inserting a coin into the machine and receiving a random (collectible) item in exchange. "Special" gacha mechanics refer to a more complex system upgraded from the basic one, usually in order to incentivize the player to keep on inserting coins into the machine. There are numerous variations of special mechanics, which are all quite common in China and Japan, including, e.g., box gachas and step-up gachas, where the odds of receiving the main prize increase on every pull (for more information on gachas and special gacha mechanics, see this blog post). In the case of Fusion Crush's holiday event, a limited-time gacha with a double special mechanic was introduced. Firstly, the gacha included the "choose your own reward" mechanic, which made big waves on the Chinese market when it first appeared there in the spring of 2021. In a nutshell, this mechanic usually lets the player choose the main reward of the gacha (for themselves). Secondly, the gacha also featured a possibility for the player to increase the drop rate of the main prize by completing gameplay and IAP tasks – talk about enticing!
Conclusion
Depending on the game and resources available to the developers, any of the three strategies described above may be a feasible way to execute a big seasonal event. However, in the ideal situation, it would probably be best to apply the philosophy of "the Golden Mean" when designing your event according to these strategies. If you are able to apply the best parts of each strategy into your game, you will maximize the chances of your event being successful: a decent amount of new content to keep your players busy during the holiday, a decent effort into UA well before the holiday starts, a decent amount of innovation in gameplay to rekindle your relationship with the veteran players, and a decently sized IAP "net" to bring those whales ashore.
If you enjoyed reading this post, here are a few more you should definitely check out: