Since the heyday of rhythm games in the late 90s and 00s, the genre has seen quite a decline in popularity in the Western markets. Still, rhythm games live on, and at the end of a long line of formats ranging from the original Japanese arcade cabinet games like Beatmania to titles like Guitar Hero with instrument-like controllers, high-quality music games are now also widely available as free-to-play mobile games. It's no surprise that the genre is especially alive and well in the cradle of rhythm games, Japan. According to GameRefinery data, music/band is the fourth biggest subgenre occupying a 6,25% market share in the Japanese iOS gaming market (top 500 games) in Q2 so far. When looking at the 2022 Q2 top 500 revenues at the time of writing, the Japanese mobile rhythm game market is roughly nine times as big as in China and 39 times as big as in the US, to give you a sense of the scale.
In the US market, the previously rather stagnant genre has experienced a recent revival with the entry of Beatstar, and new games like Dislyte experimenting with rhythm game elements, bringing much-needed fresh gusts of wind to the market. In China, the subgenre has also seen only a few entries in recent years and is dominated by two games that have held their spots for a good while. 
The most successful rhythm games look entirely different in the three big mobile gaming markets of the US, China, and Japan. The range is staggeringly wide, with some games taking a more stripped music-first approach, others with a more-is-more approach with features for days, and some putting more emphasis on story elements and immersion. In this blog post, we're going to take a look at what works in each market and introduce the leading free-to-play games of the genre from around the world.
US: casual doses of hit music
Before the launch of Beatstar, the US mobile gaming market had only occasionally seen rhythm games in the top-grossing 200, and those managing to reach the top ranks often having difficulties sustaining their success for the long term. For the most part, lighter, casual games focusing on straightforward beat-matching have found their audiences a little better than more feature-rich games with heavier meta layers, and casual titles like this can do well on the download charts. These lighter music games often rely on ad-heavy monetization mechanics, and many also utilize a mix of IAP and IAA (for example, Magic Tiles). At the core of monetization are song purchases, with the occasional light decoratives in the mix for simple customization. The music selection, which naturally, along with good beat matching mechanics, is at the heart of any good rhythm game, is predominantly licensed music from real artists and can range anywhere from classical evergreens to the songs of smaller artists or the latest pop hits. To this landscape, the current reigning champion Beatstar entered in August 2021.
While still very much a casual game with no significant meta elements, Beatstar represents a slightly more refined take on a casual beat matcher and also brings some new twists to the format. Visually, Beatstar is uncluttered and simple, keeping the focus on music. Songs have their respective colors that will take over the main menu when selected and burst in rhythmic visualizations when a streak is carried on in core gameplay. Beatstar's gameplay utilizes the classic note highway with three lanes and a line to match beats on the bottom. The gameplay is simple but unforgiving, as any miss will end the track. Songs have preset difficulty levels and get progressively more difficult as you go along, essentially making finishing songs a test of dexterity, especially in the case of harder tracks. All songs featured in Beatstar are by real artists (not made only for the game), and the selection includes a good variety of genres from pop to alternative, with some special categories like latest hits, games, and international in the mix. Overall, the song selection mostly consists of music from well-known mainstream artists with something for everyone.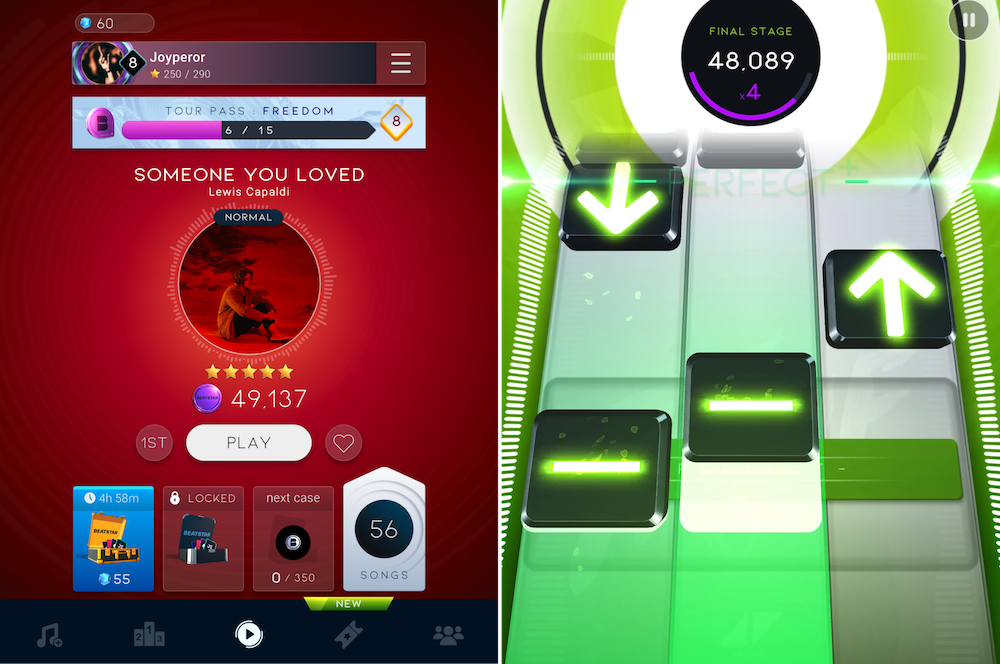 Like many other casual music games, Beatstar also relies on a mix of IAA and IAP (lately, more weight has been added on the IAA side), with songs and music at the center of monetization. Songs can be purchased from gacha boxes, or bundle/single song offers in the shop, or players can obtain new songs for free by collecting cards for song boxes. The game has several genre boxes to collect cards for, with each requiring progressively more cards as you go along. Box cards are obtained by playing, watching ads, or getting them as rewards for progress or from events. Getting more songs and collecting stars from them is crucial for progress overall, as stars will contribute towards the player's progress on a trophy road that offers various great rewards like new songs and gems.
Beatstar's session length mechanics are tied to box card collection through timed unlock slots, a differentiating system for rhythm games that undoubtedly draws inspiration from Clash Royale's box unlock system. When a song is played, the player is awarded Beatcoins to fill out song case slots that can then be set to unlock one at a time. When the unlock finishes, the player will receive random box cards to fill out genre boxes and ultimately claim more songs. Once all the slots are full, songs will require either watching an ad or making a purchase to be played. To this end, Beatstar offers an Unlimited Play subscription plan that allows players to keep going with full slots.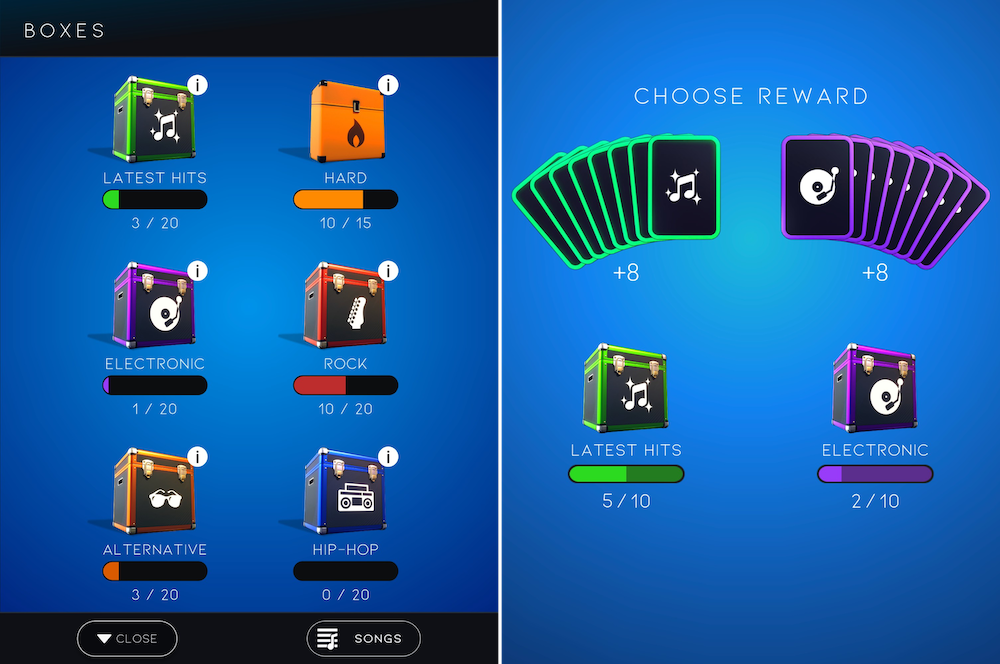 When it comes to monetization, Beatstar's biggest triumph so far has been the adoption of a Battle Pass system: Tour Pass was introduced in December 2021, rocketing the game's revenues, boosting it into the US top-grossing 100, and increasing the baseline revenues. Since then, the start of each new Tour Pass season has given the game a great revenue spike, although the trend has been declining lately. The premium pass rewards include the season's songs, box cards, new in-game emotes for bragging to your friends, and season-exclusive profile banners. Points for the pass are earned by playing songs normally or by playing the Daily Shuffle, which offers extra points for picking and playing a song from a selection of three owned songs. Notably, Tour Pass seasons have been the sole element in Beatstar's event schedule so far.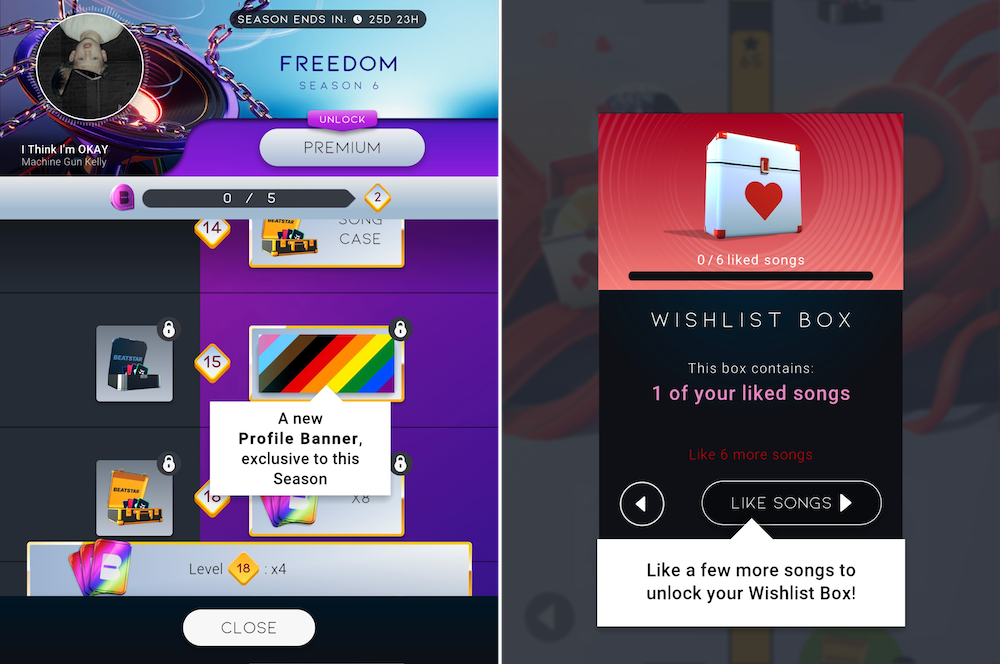 Originally, Beatstar only offered light social features like high scores, a friend list, and simple emote-chat when passing each other in the rankings. This changed in July when the social feature set was strengthened with Beatstar's first ever multiplayer events. The long awaited addition pits gamers against each other for 20-minute points contests on specific songs. This new event type boosted the social feature set beyond simple high score aspirations and added much needed elements of competition to the game, while also allowing new kind of visibility and outlets for existing features like profile decoratives and emotes.
Although there aren't that many games with beat-matching cores competing in the top-grossing charts in the US, the music theme is definitely a popular one, and rhythm games/music-based contents have been seen popping up as separate game modes, minigames, or focal points of events on the charts. As a prime example, Roblox has lately been catering to music lovers with big collaboration events with popular artists, including virtual concerts and even rhythm game modes.
Japan: musical universes
As implied in the introduction, Japan's mobile rhythm game market is by far the busiest and the one with the most competition out of all the three big markets discussed here. At the time of writing, there are nine rhythm games in the Japanese iOS top-grossing 200, and new challengers are entering the market in a steady stream. While the casual, meta-light rhythm games discussed earlier also have their place on the market, they fare nowhere near as well as games following the most popular character collector format, which focuses on gathering and developing groups of characters with the goal of assembling the strongest team to get the best points in beat-matching gameplay. Characters can have complex development systems, including many upgrade types, skills, and even class advantages. Raising the character levels also raises the number of points they get in the core gameplay, and there are several helpful skills that can aid players in keeping their streaks, for example. In many ways, the Japanese rhythm game templates could be characterized as music-themed RPGs with a rhythm game core.
Rhythm games in Japan are often made with anime-style visuals, another common point being the strong emphasis on story elements: the audiences have come to expect long, well-thought-out, and deep main storylines, event stories, and even unlockable character-specific stories from rhythm games. Characters are in the center of everything, and they are not there simply as instruments of gameplay but also as personalities to get attached to: most games have in-depth bios for each of the characters with info about every little personal detail, along with possibly even relationship systems. As a peculiarity of Japanese rhythm games, the characters available in the roster are usually either all female or all male.
Games are often parts of bigger multimedia franchises, including other games, manga, and anime (e.g., as is the case for top games like Ensemble Stars!! Music and Idolmaster Cinderella Girls: Starlight Stage). Commonly, such games only feature music that is made specifically for the fictional bands in the franchises and is performed by well-known voice actors. Another strain of popular rhythm games on the market are the games based on real idol groups, where the visuals and songs are derived from real music and footage from the bands.
The top spot on the market currently has two big contenders: Ensemble Stars!! Music and Project Sekai Colorful Stage feat. Hatsune Miku, the latter of which we'll be taking a closer look at this time.
Drawing on the brand of the popular virtual singer/idol Hatsune Miku, Project Sekai has performed very well on the market: since its launch in October 2020, the game has stayed in the top-grossing 100 and has also been a familiar sight in the top 10. The character collection aspects revolve around a set of newly assembled bands, whose journey to formation and success is followed in the story that is set in the real world and a virtual parallel world of "Sekai." Taking a step outside of the most common setting, the characters featured are of mixed gender, with virtual singers also joining the party. The integration of vocaloid singers allows for a fresh and interesting music selection, featuring original songs from the bands (made for the game), famous original songs performed by the vocaloids, and songs mixing the two. The selection also features songs from real artists like Eve as covers. For core gameplay, the characters are set in groups of five to perform songs on a note highway. As a fun detail, the characters set to the party will actually perform the song by lip syncing and dancing to the original. To create even more variation, players can use in-game currency, Vocal Cards, to buy voice tracks with different performers to songs.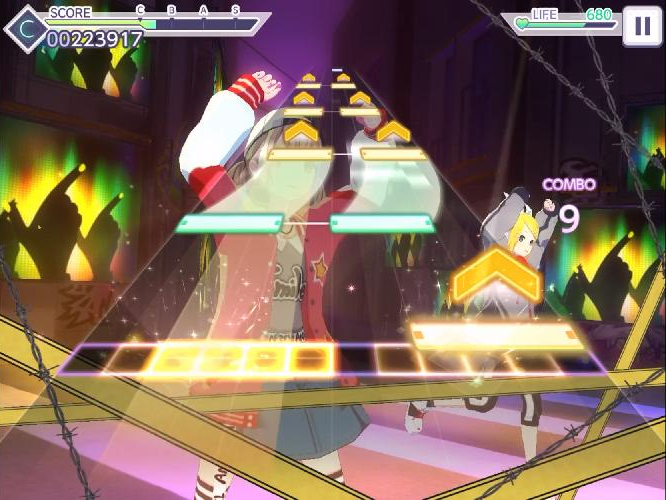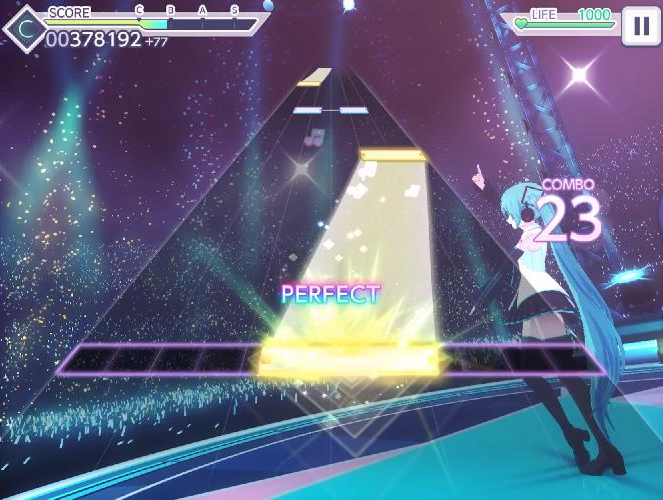 Monetization mechanics rely mostly on a steady flow of character gachas with frequent paid currency offers. What drives gacha purchases is the variety of character skills and class types, character rarities, and new event-tied versions of the characters. Some cosmetics-based monetization through performance costumes has also been implemented, and costumes are often thrown in with gachas as well. Otherwise, the IAP selection includes item bundles for character development/useful items, gem packs, and subscription plans, but notably, Project Sekai is also one of the few rhythm games on the Japanese market to implement a Battle Pass system.
While Project Sekai definitely has its own two feet to stand on when it comes to quality gameplay, beautiful visuals, and music, the game has also stood out from the competition with some innovative metaverse elements. Virtual Lives are virtual concert experiences held in the social hangout area of the game that players enter using a customizable avatar. Before entering the concert venue, players can spend time with each other in an open hangout area with mini-activities like playing on slides, swings, or the trampoline. The area also has a shop for avatar accessories. Once inside the concert venue, players can enjoy a short concert performed by one of the bands or a mix of characters. During the concerts, effects, stamps, and chat messages can be sent on the stage to cheer.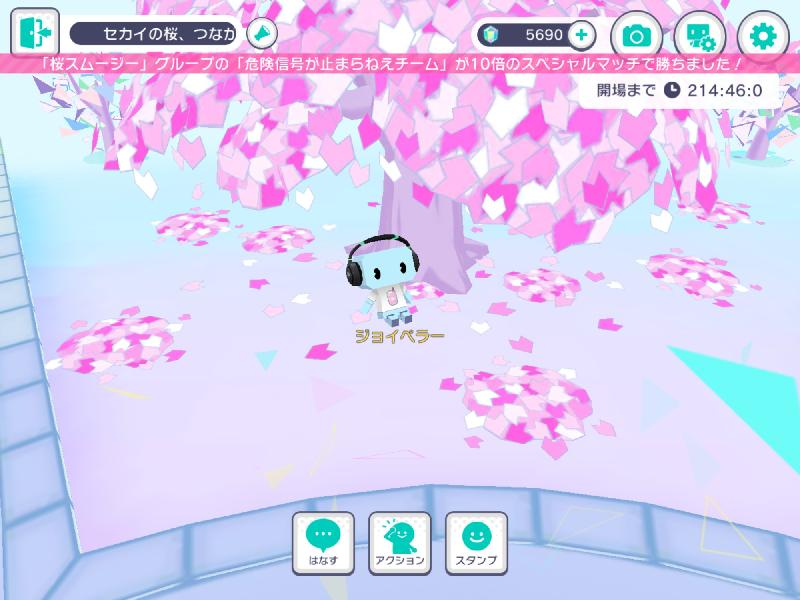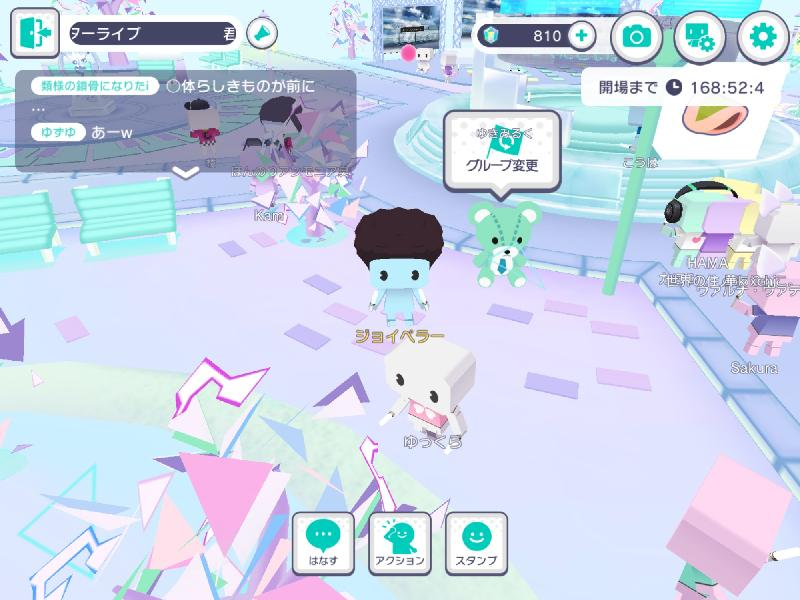 Virtual lives are usually available as "after-lives" when in-game story events finish. Sometimes for bigger events like anniversary celebrations, players get to enjoy special celebratory performances as well. While virtual concerts have been a popular and fun event type, Project Sekai has also just upped its game with the first ever Connect Live held in June. The next generation of virtual live has an improved interface and allows the performing group to interact with the audience in real time, making for a more realistic and immersive concert experience. Connect Lives are a premium experience where a part of the event can be enjoyed for free, and tickets are sold for the full 1-hour concert.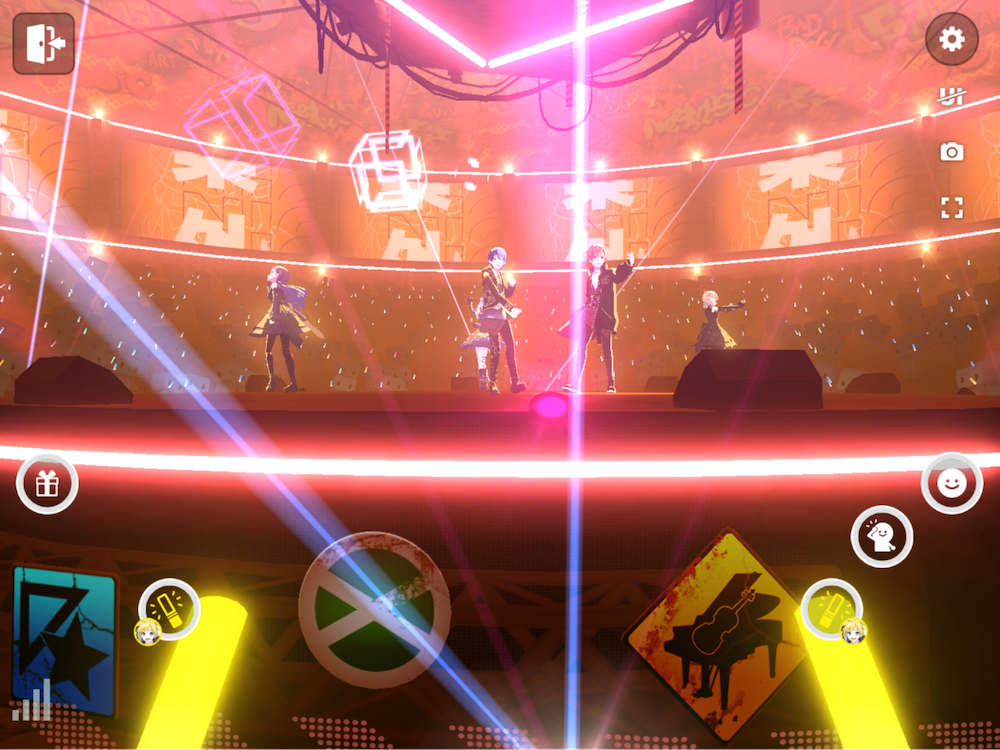 For other social content, Project Sekai offers a friend system, multi-lives (co-op song gameplay), and team PvP events, where all players are divided into two teams to battle it out in synchronous 5v5 matches. On the PvP side, the game has also just introduced a 1v1 PvP league system which is a rare sight in rhythm games in Japan. The game has also hosted in-game preliminaries for real-life tournaments of Project Sekai.
Project Sekai has also been released for the US market under the name HATSUNE MIKU: Colorful Stage! and the game has even briefly visited the top grossing 200 a few times.
China: social all the way
On the Chinese market, there are currently only two rhythm games in the iOS top-grossing 200. The top game in the music/band subgenre in China is QQ炫舞 (QQ Dance) which has consistently performed well and mostly stayed in the top grossing 50 since its launch in 2018. 偶像梦幻祭2 (Ensemble Stars 2) is currently the only other game in this subgenre in the top 200. Traditionally, Chinese audiences have preferred more feature-heavy games to simpler casual titles, and rhythm games are no exception. While Ensemble Stars 2 represents the type of rhythm game that is often encountered in Japan with abundant character collection/group development meta layers and storytelling elements, QQ Dance comes from an entirely different mold that allows for much more than just the core experience of tapping to the rhythm.
Whereas the character collector rhythm games often stage the core gameplay's beat matching as a music performance by a band or a group of singers, QQ Dance's approach focuses on dancing. Gameplay is also not restricted to a single set of tapping mechanics, and there are several gameplay modes to choose from with varying gimmicks to keep things interesting. In addition, there are several rhythm game modes available, from 4-player PvP matches to team PvP and co-op modes. Similarly to Beatstar, the music selection in QQ Dance consists of music from real artists, both Western and Asian, catering to a wide range of preferences. Notably, the songs are available to all and are not separately purchased.
One of the main differences to other rhythm games introduced in this post is that QQ Dance features a customizable player character that is used in gameplay, and the dancing mechanics provide the perfect venue to show off your character. For example, in PvP matches, everyone's character gets up on the stage to dance it out. The bulk of the monetization model is also built on the player character system and customization. There are several gachas filled with various outfits, accessories, and styles to purchase to get that player to look just right. In addition to customizing the player character, the game also features a pet system and a home that can be personalized with furniture and decorations of choice. What's more, it's also possible to have and raise a child in QQ Dance!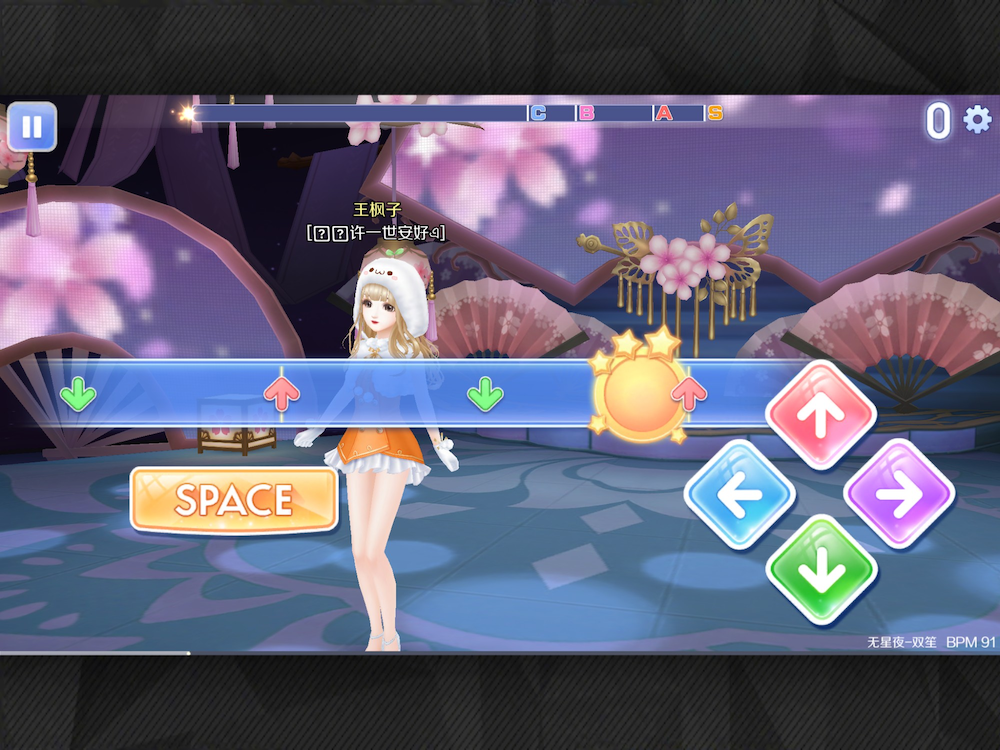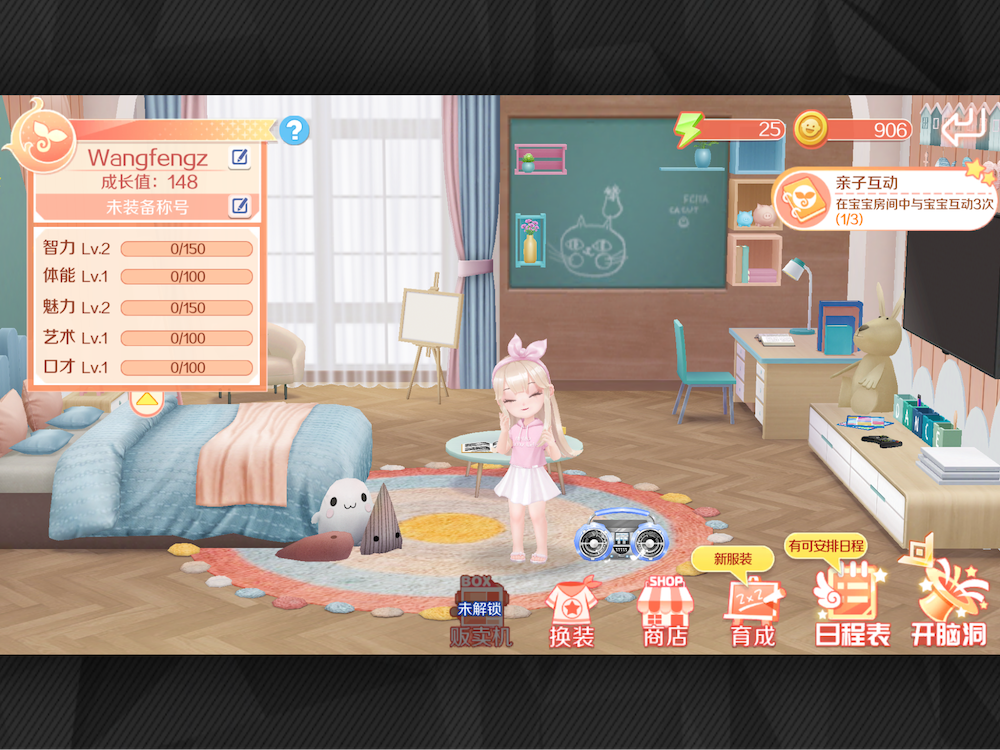 For social features aside from seeing other players in PvP or co-op, QQ Dance also has a guild system and loads of other social content for connecting and flaunting your impeccable look. Bringing more depth to the gameplay experience, there are several additional game modes/minigames that don't necessarily have anything to do with beat matching or even music. These games can be anything from casual bomb courier modes to hide-and-seek. QQ Dance also features a social hangout space that players can enter with their avatars. It's the perfect place to be seen and hang out, attend and throw events, socialize and engage in various activities like taking photos together, fishing, or having fun with a drawing board.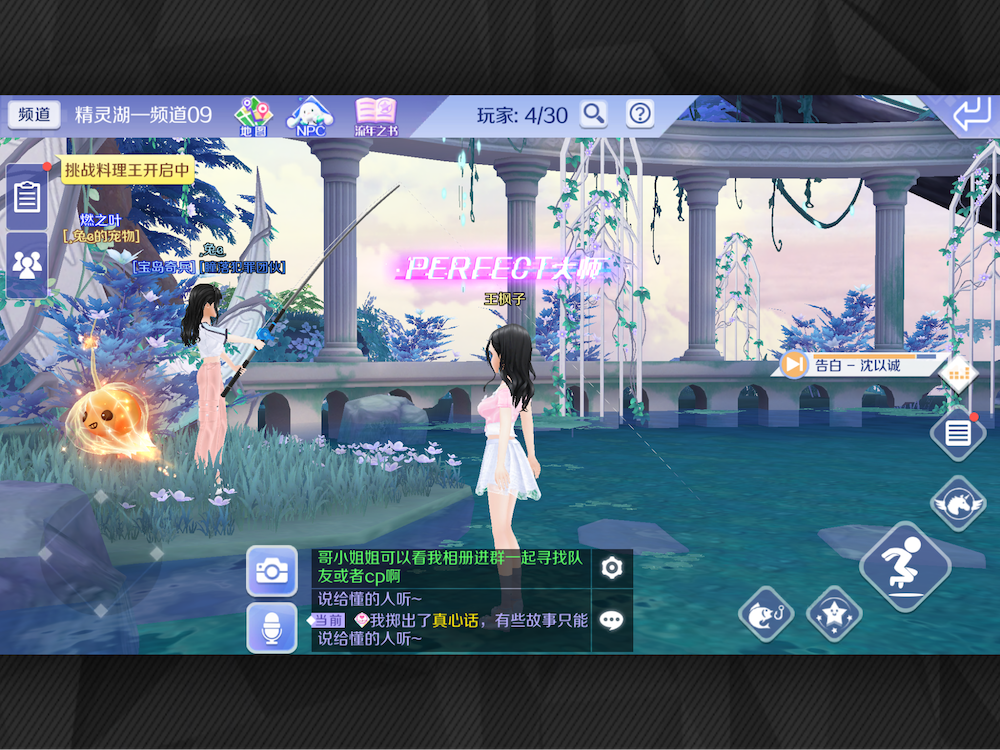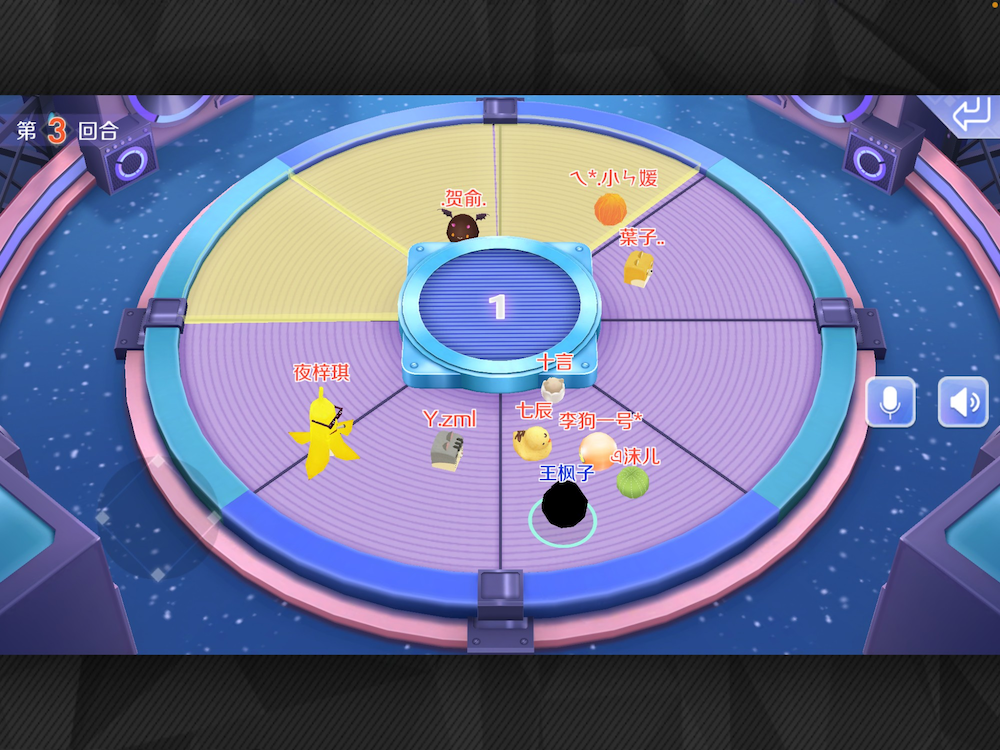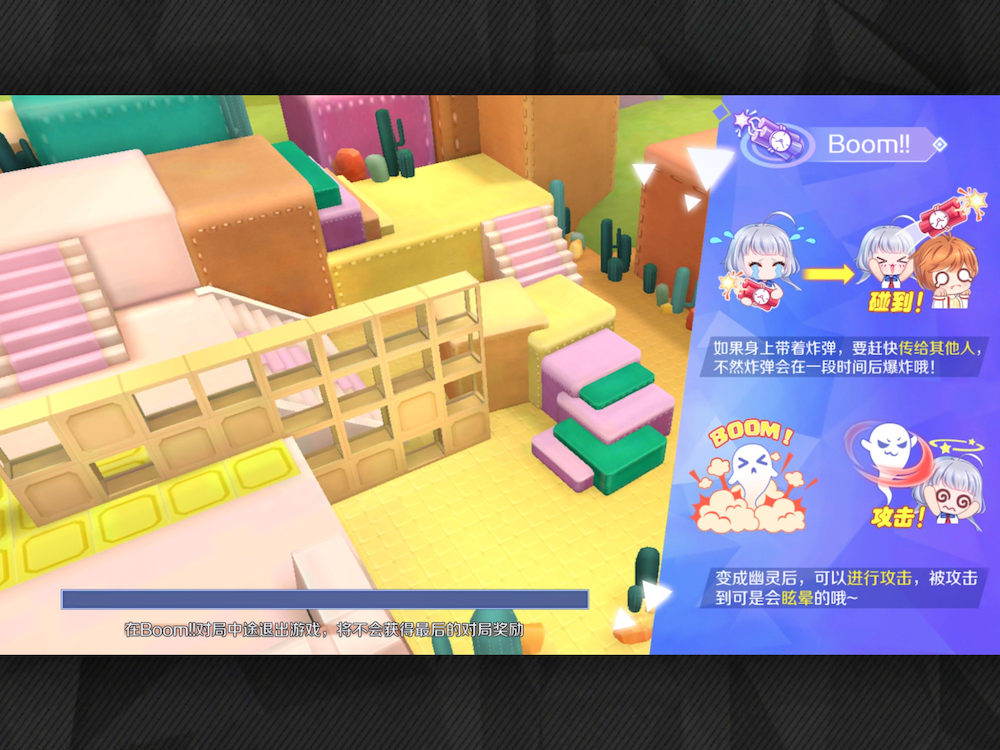 All in all, the cosmetics-heavy monetization paired with the abundant social content makes for a winning combination for QQ Dance. Add super strong live-ops with a steady flow of big events to the mix, and it's no wonder the game has solidified its position as the leader in China.
Summing up
On the spectrum of rhythm games on mobile, the lighter casual versions have found their audiences better in the West, while feature-rich meta-heavy games are the way to win in the East. Straightforward beat matchers have competition not only from their own genre in the US, where music-based events and game modes have been popping up in the top grossing games of other genres as well. Anime/idol-style franchise games are unsurprisingly popular and dominating in Japan but have had a tough time breaking through to the audiences in the US, where their brand power and visual appeal carry less weight. In China, the current winning approach stresses the individual approach, social aspects, and customization. Notably, metaverse elements have been especially embraced in Asian rhythm games, where social events, modes, and even virtual concerts are a staple for the leading games. When it comes to monetization, the key points of the leading games can be summed up as such: music first in the US, characters first in Japan, and cosmetics first in China.
Keep up with the latest updates for each of the introduced games through the GameRefinery platform!
If you enjoyed reading this post, here are a few more you should definitely check out: