Here at GameRefinery, we focus on game features and what is happening within the game but every now and then, we notice some trends surrounding the mobile games we track. This is one of those occasions. Recently a decent amount of titles have put so much effort into music videos on the marketing side that I thought it would be interesting to showcase them to give maybe additional ideas on expanding your mobile game brand.
Building brands into multimedia franchises spanning across games, movies, books, anime, bands, and so forth is still more of an Asian thing and a rare sight in the West. Often the mobile game is just another addition to the already existing brand empire, but obviously, mobile games can also be the original source.
Let's take a closer look at some examples of music videos used on social media channels by mobile game developers.
Brawl Stars
Bad Randoms – We Won't Cooperate!
Supercell has clearly found music videos really worth their effort as, at the time of writing this, they have released four of them. The songs are original and tell about the bad random teammates in the game. The visual content in the videos is mainly repeating animations and closeups, but the lyrics of these punk rock songs tell a tale that any Brawl Stars player who has played with random teammates can relate to and smile.
The first song, "We Won't Cooperate!" is the most detailed in lyrics and talks about the random teammates in general. The second song, "Mortis Game," features experiences players have when they are teamed up with players who play the universally hated character called Mortis. The third song, "Together," returns to a more general experience with bad randoms sticking with you in all of your losses. The fourth one, "Healing Lies," returns to a character-centric theme focusing on Poco (healer character), who never heals.
The songs are also made available to Spotify and Apple Music, so hardcore players can dive into the world of Brawl Stars even when they are not playing the game.
Cookie Run: Kingdom
Parfait Cookie – Everything You Need
When Cookie Run: Kingdom introduced a flashy musician character, Parfait Cookie, they made a song for her to perform. This performance was released on the official Youtube channels in five languages: English, Korean, Japanese, Thai, and Chinese. The songs were performed by the singing-oriented voice actors of the character. For example, the English version was performed by AmaLee, a game/anime cover song artist with almost 2 million subscribers, and the Japanese version was by Aimi Terakawa, who has, for example, voiced the main character Kasumi Toyama in idol-themed multimedia franchise BanG Dream!.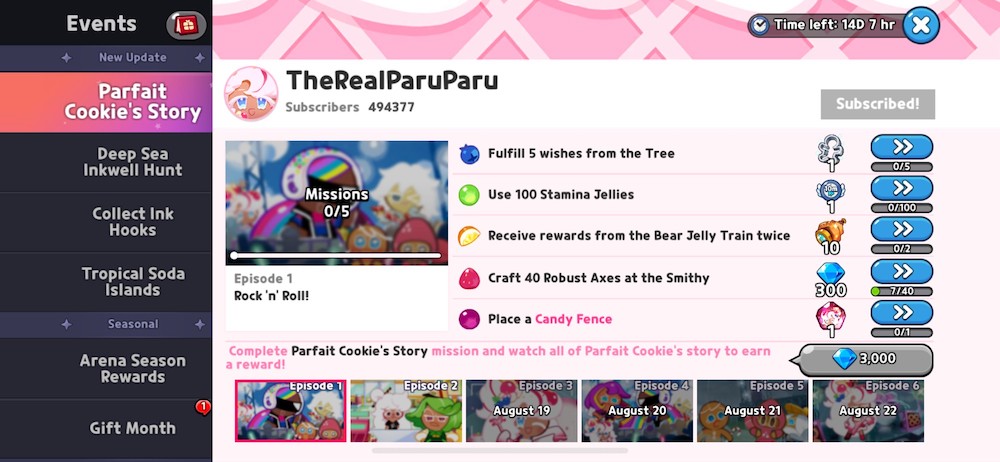 Alchemy Stars
Lanndo feat.Eve,suis (from ヨルシカ) -「宇宙の季節」
The grid-based Puzzle RPG Alchemy Stars has also added color to their Youtube feed with a music video. The song called 宇宙の季節 (Season of Space) is accompanied with visuals relating to the latest content in the game in this anime opening style video.
AFK Arena
Legends of Esperia: AFK Arena Anime Opening
Speaking about anime openings, AFK Arena produced an anime opening for an anime that doesn't exist. Who knows, maybe a game like AFK Arena with a varied character roster and quite detailed lore could turn into a nice anime series. For now, there is just an anime opening video to delight the fans and pick up interest from those who haven't yet tried the game.
Daisy Gray – Soar (A Flame Reborn Cinematic Trailer)
A more recent addition from AFK Arena also deserves a mention here. A music video telling the story of a new Awakened character Talene is a gorgeous sight. Visually it reminds of League of Legends and its Netflix series Arcane and is a really polished experience for the whole, nearly four minutes. Videos like these can be really helpful when focusing on elevating the image of a mobile game.
Arknights
Rad Cat – Ain't Seen Nothing Like This
Let's close with a music video in which cel-shaded anime girls use flashy moves to beat up plenty of generic bad guys. This video showcases events from an in-game event launched on the second anniversary of Arknights. In the event, the characters shown on the video accidentally participate in a battle tournament on a beach resort. Definitely packing a punch here for the Anniversary event.
Closing words
All in all, there is a lot of effort put into the marketing of mobile games these days, and music videos are just one manifestation of it. These kinds of videos can be helpful in deepening the players' relationship with the game and its characters as well as reaching new audiences with content that is easy to share. Especially Asian games put effort into this area, so if you are targeting audiences in Japan, China, or South Korea, you might want to pick up some ideas from here.
If you enjoyed reading this post, here are a few more you should definitely check out: