2022 is going to be an interesting year with a lot of eye-catching trends already happening. For example, NFT is a good example of how fast the mobile game market changes and evolves in a short period of time.
To help our users stay up to date on what is happening, we are launching a completely new feature called Market Trends!
Market Trends will replace feature trends, and the tool will be allocated under the Market Research features.
Market trends was created to solve a few use cases which our users have brought to us:
1. Expand Feature Trends to cover our genre taxonomy
Now users can use the same genre taxonomy filter to see the historical data of individual features too! This helps to close the gap between the market data, implementations, and, most importantly, individual features' historical adaptation over time!
What's also great is that now you can set the timespan yourself based on your needs, so no more predetermined three, six, or twelve months filters!
2. Look at trends in multiple markets
Market Trends will cover all seven markets. This allows you to check the above genre/subgenre-specific features also at multiple market levels. This means we'll cover other big development markets such as Japan and China, which have their own unique trends going!
This feature is perfect for users who work on feature priorities, designs, understanding market trends, or are generally curious to know what individual trends are happening out there!
How to use all the filters in Market Trends
Using Market Trends is easy and straightforward! In total, there are four key filters available on the features tab of the Market Trends!
1. Genre taxonomy
Using our genre taxonomy, you can focus specifically on your closest competitors, interesting market segments, and potential references of your upcoming titles!
As all the games in our platform are categorized based on this genre taxonomy, it means you can precisely find the underlying feature trends now compared to old Feature Trends!
2. Features
We will adopt the most liked part of the trending features, which is the feature breakdown. Using the 260 features, you can easily focus on the most relevant individual features!
3. Timespan
Before, we offered three filtering options: Three, six, and twelve months. That is now in the past, and we offer dynamic filtering for our users to be very flexible with the timeframes.
4. Sorting options
There are three underlying ways for you to sort out the data further:
Trending up or trending down – It's cool to see what features are gaining popularity, but the ability to see which are losing attraction can save you from surprises.
Top 10%, 20%, or 50% of the games – You can select the range of the focus from the top-performing games to a broader spectrum
Revenue/downloads – You can rank the feature popularity changes by their impact on the said KPIs.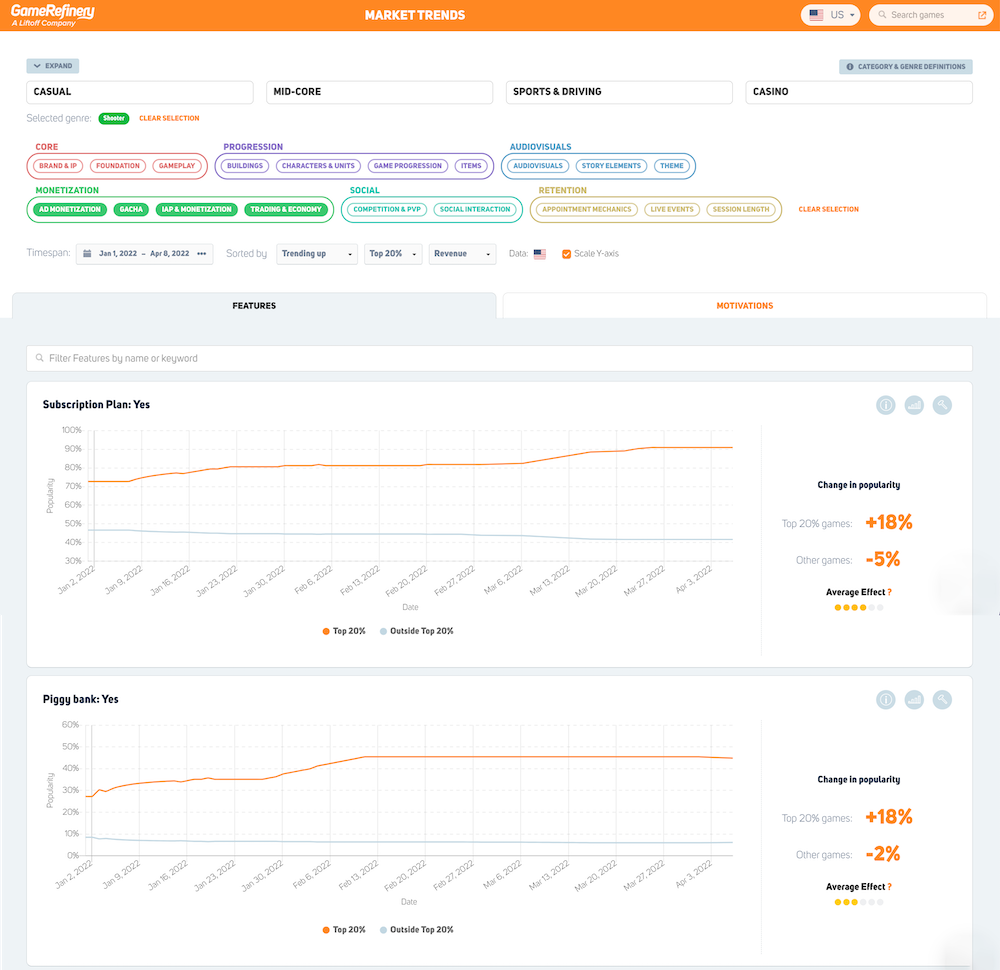 Here is a link to an example of the popularity of monetization features in shooting games since January 1st, 2022 😊
Closing words:
One of the top feature requests we heard from our users was the combination of our genre taxonomy with the trending features. We also saw other opportunities to expand this further thus, in the future updates, we'll be bringing the motivations historical data to this page too. Stay tuned for that update! 😉