Umamusume Pretty Derby took Japan by storm from launch and has maintained its position in the top-grossing 5 for a couple of months now. While the game has a clear Animal Creatures and Sports theme, there's another underlying theme that also happens to be very prominent in the Japanese mobile game market: Celebrity.
Celebrity theme is much more popular in Japan's top-Grossing 200 compared to the top-grossing charts in the US market and China. In Japan, 17 games out of 200 have the Celebrity theme, while in the US and China, the amount is 4 and 3 respectively.
The theme in Japan is a bit different from the one in the US market. While Western games with this theme are mostly centered around familiar faces like Kim Kardashian, in Japan, fictional characters might also have that status. Japanese celebrity games tend to focus on local celebrities called idols, and more specifically, idol groups.
In this article, we look at what elements are used to create highly character-focused games using the example of Celebrity games in Japan.
Idol games in Japan
Idol groups in Japan have a long history, first groups being formed as early as in the 1960s. They have the possibility to attract a large audience, with each member of the group cultivating their own fanbase. In the more recent years, large supergroups have become common, and concepts like "idols you can meet" have gained footing within the Japanese market. In general, an idol's main objective is to "sell dreams," offering fans a certain form of escapism from their daily lives.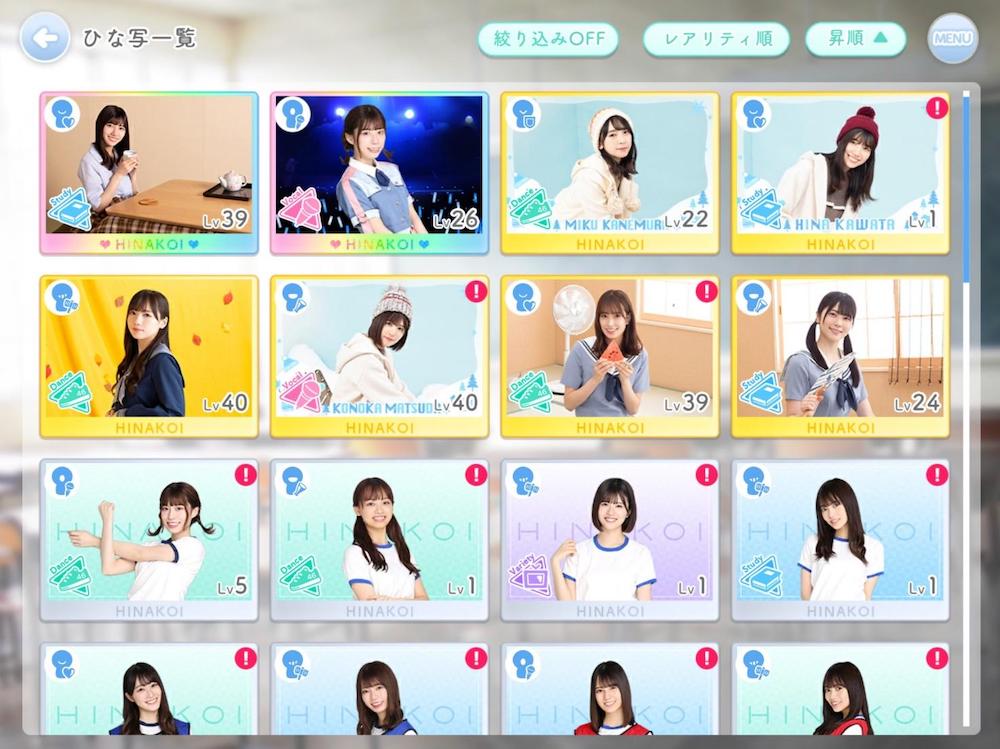 Celebrity games have been around since the beginning of modern mobile gaming in Japan. The first Idolmaster title on mobile, later discontinued H@PPENING LOC@TION, was published back in 2006. While certain long-running mobile game series like The Idolmaster by Bandai Namco and Ensemble Stars by Happy Elements K.K. have been dominating the Celebrity games scene in Japan, some refreshing new entries have emerged recently. Umamusume Pretty Derby is a prime example, with a respectable position on the top-grossing charts ever since launch. Our full deconstruction of the game is available here.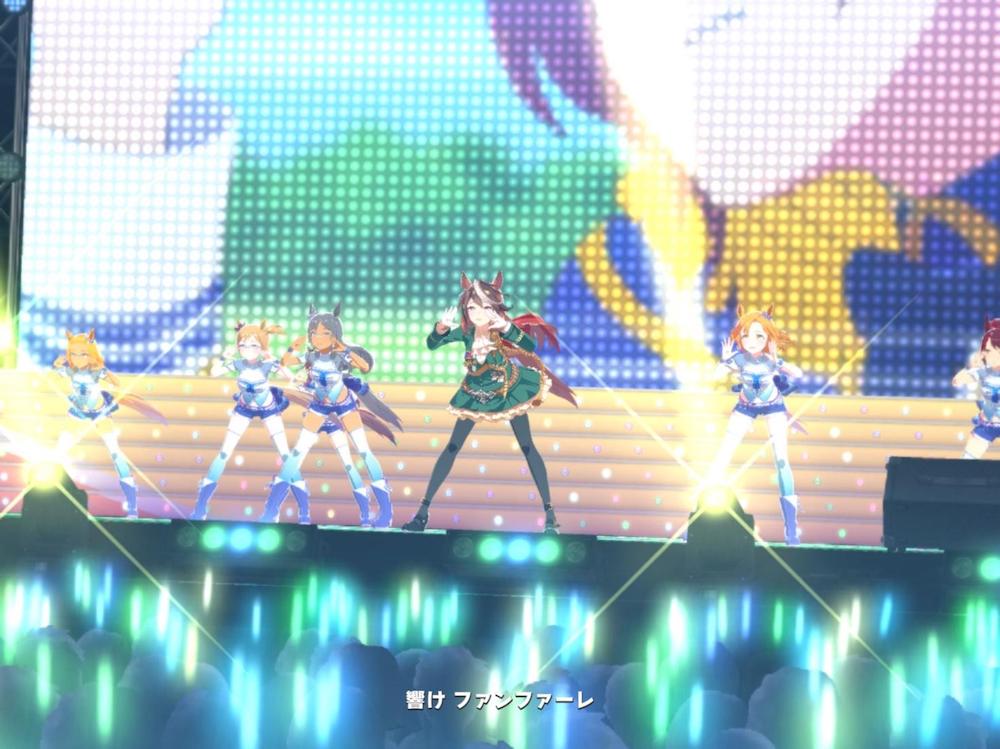 In which subgenres the celebrity theme usually appears
Celebrity theme is most popular in the Casual genre. Within the genre, the most popular subgenre is Music/Band (12 out of 200), but games with Adventures and Interactive Story approach have been made as well. Additionally, we can see games in Arcade Sports and Turn-based RPG in top-grossing 200.
Outside of the top 200, even more subgenres are added to the list, and we'll encounter Match3 Puzzle, Time Management, Idler, and even Puzzle RPG. While the idol aesthetic might seem most fitting for a Music/Band game, there's no saying that it couldn't be successfully applied to other subgenres as well.
Features in idol games
Most celebrity-themed games focus on various collecting elements, character development, and storytelling. These characteristics fit into the Japanese mobile game market like a glove because they are generally well-received across the market, no matter the subgenre.
1. Collecting elements
Character collection and development are largely similar to what we're accustomed to in RPG games, even when the games are casual in nature. The games tend to have the typical upgrading schemes of leveling up, awakening and evolving characters, and upgrading skills. A rarity system is an integral part of the character collection: Usually, the most sought-after characters are of the higher rarity, and low-rarity characters are used as level-up material. Gacha mechanics are some of the most important monetization methods. Celebrity games in Japan usually tend to focus on groups rather than single idols, most likely due to the diverse monetization possibilities.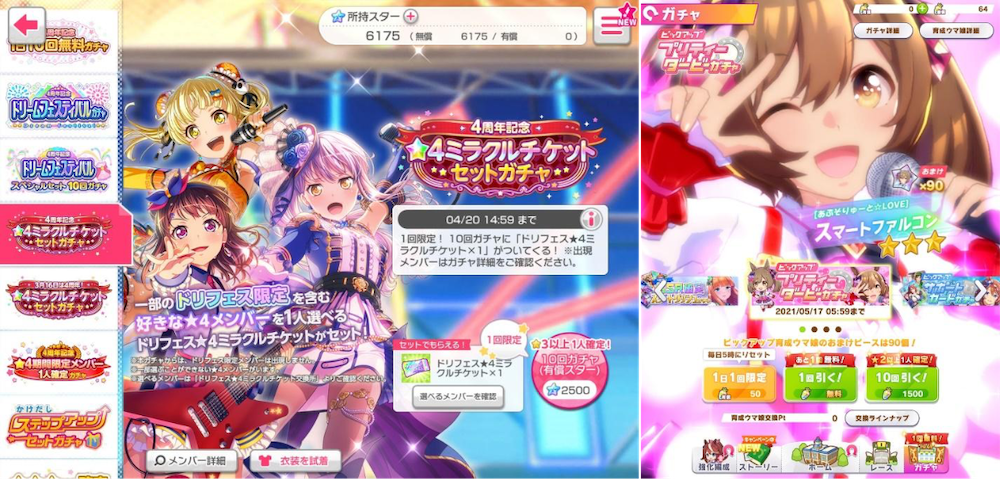 However, collecting does not stop there. Unlocking new characters might unlock new clothing options and other exclusive decorative items for characters, which adds to the proper collection experience. Some games include collecting performing outfits that players can use to customize the characters during their performance screen. In Love Live School Idol Festival ALL STARS, special performing outfits can be unlocked by upgrading certain characters.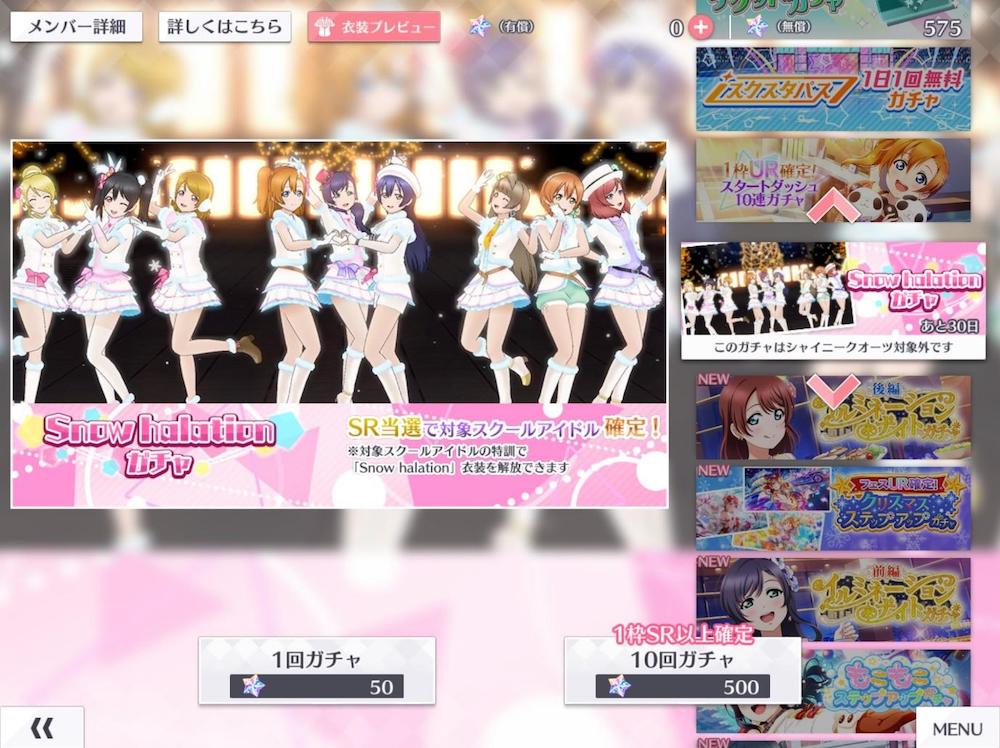 An additional interesting collectible element is the dorm mechanic. Players can choose their favorite characters to loiter around in a dorm room that can be decorated with various furniture items. Usually, the furniture does not have any significant use other than being decorative, but it might give some boosts to the characters in some cases.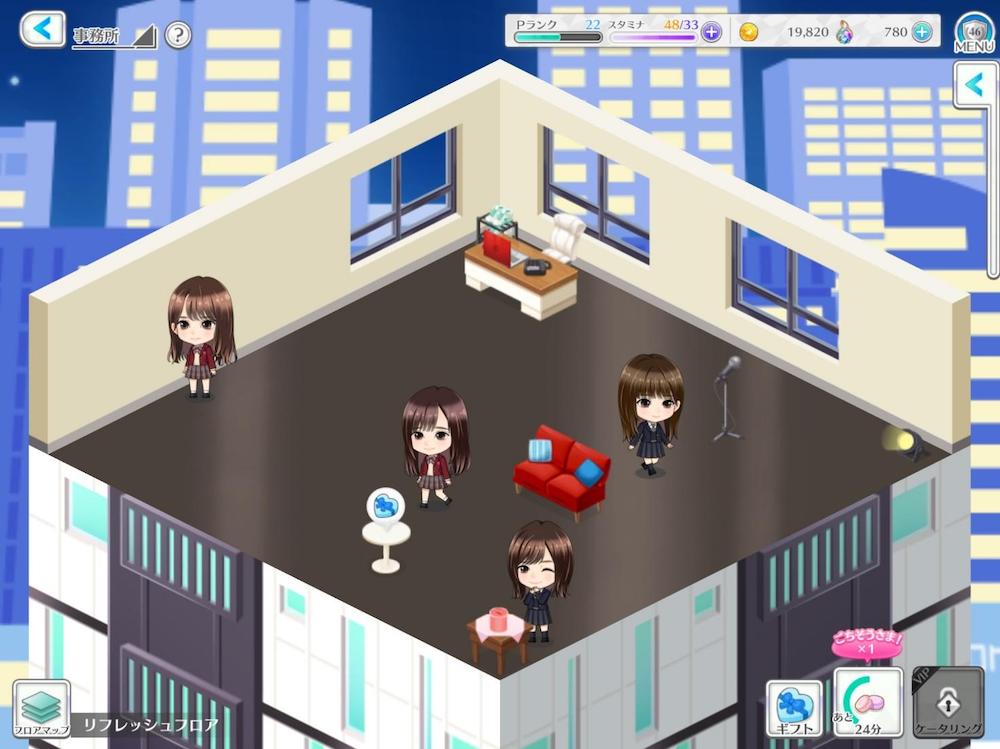 All of these collections are usually captured within a collectible album. Some games offer multiple albums: for collected characters, voice lines, outfits, promo pictures, and more. If you're interested in a more in-depth look at innovative collection album systems in mobile games, check out our previous blog on the subject here!
2. Building relationships
Most celebrity-themed games incorporate some form of relationship elements. Out of the top 200 Celebrity games, 73% have implemented some form of NPC Relationship system. Out of all games in the Japanese top 200, only 30% have implemented the feature.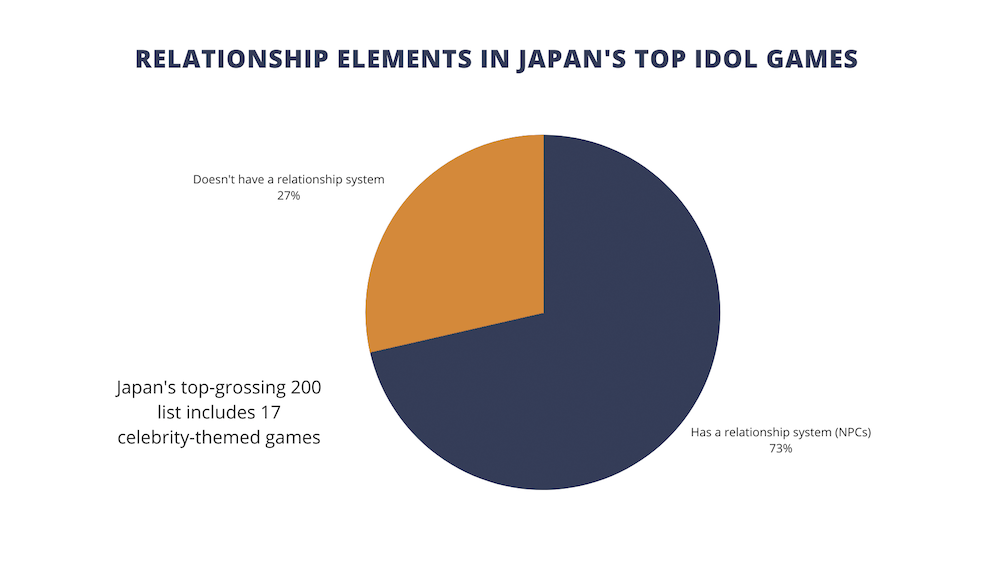 In idol games, players can build relationships by increasing a special trust or affection level. This can be done by giving gifts to characters, having them take part in the core gameplay, or making the right choices in narrative. Reaching higher relationship levels might unlock additional voice lines, pictures, outfits, and story segments. Relationship building might be an integral part of character stat development as well.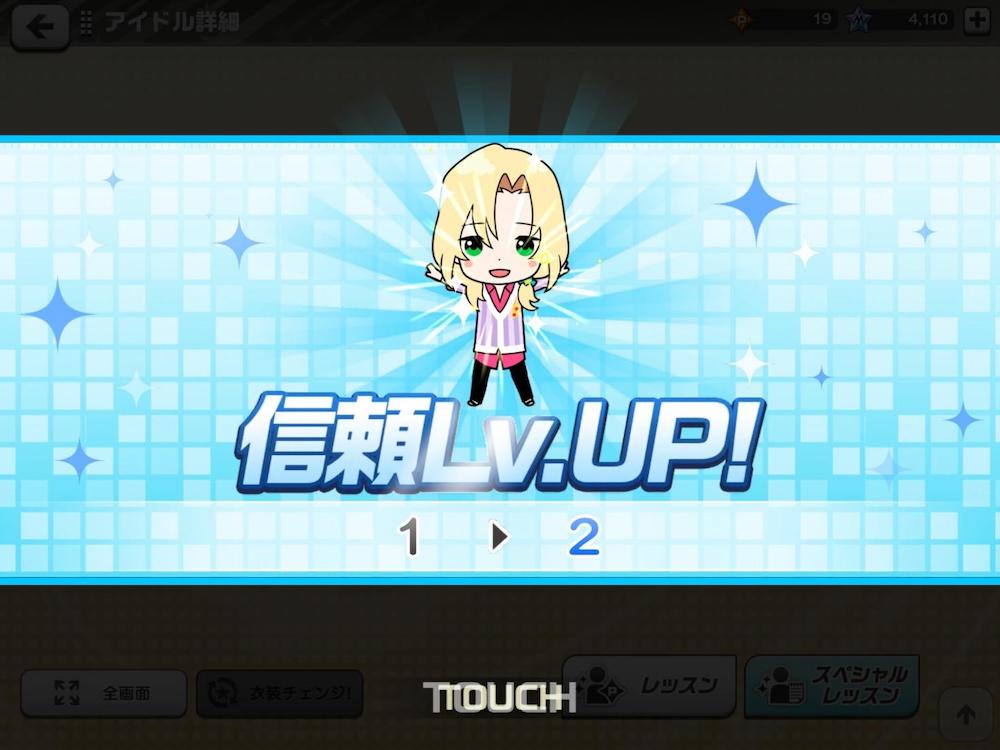 Some games release characters' exclusive voice lines for players to collect. Voice lines might reveal something personal about the character or be something as simple as a Happy Birthday wish. These can be unlocked through raising relationship levels, logging in on a special day, or collecting and developing characters.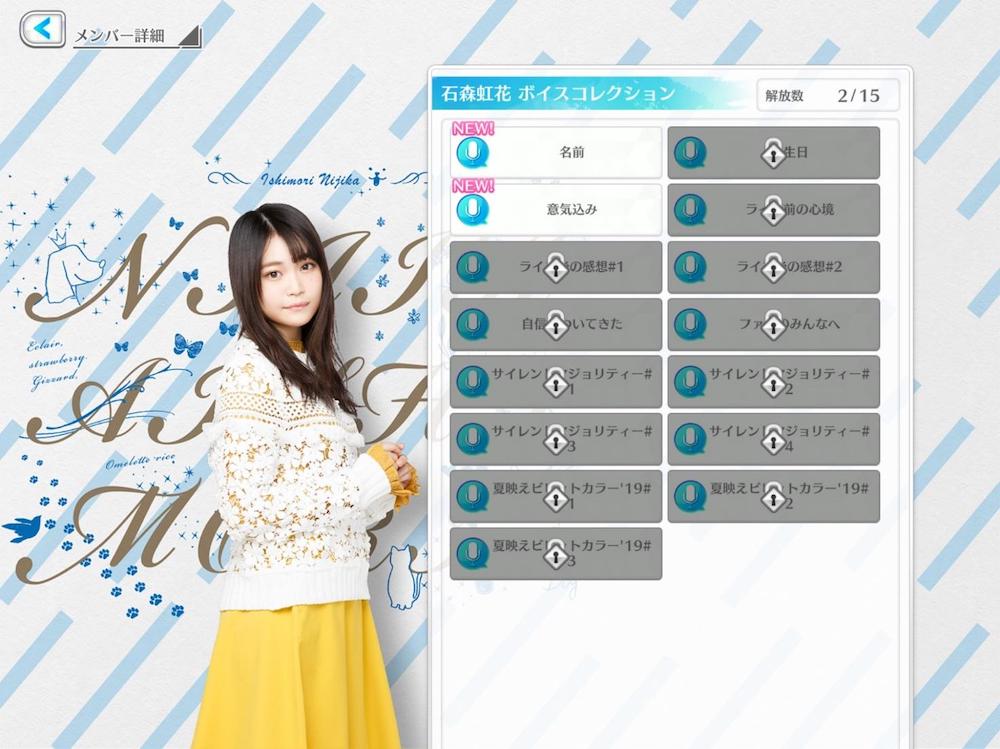 3. Engaging stories
Every single Celebrity game in Japanese top-grossing 200 has some kind of storytelling element. The stories are not limited to a general main story but are also told through discussions with (and between) characters and unlocked by achieving certain levels of character development.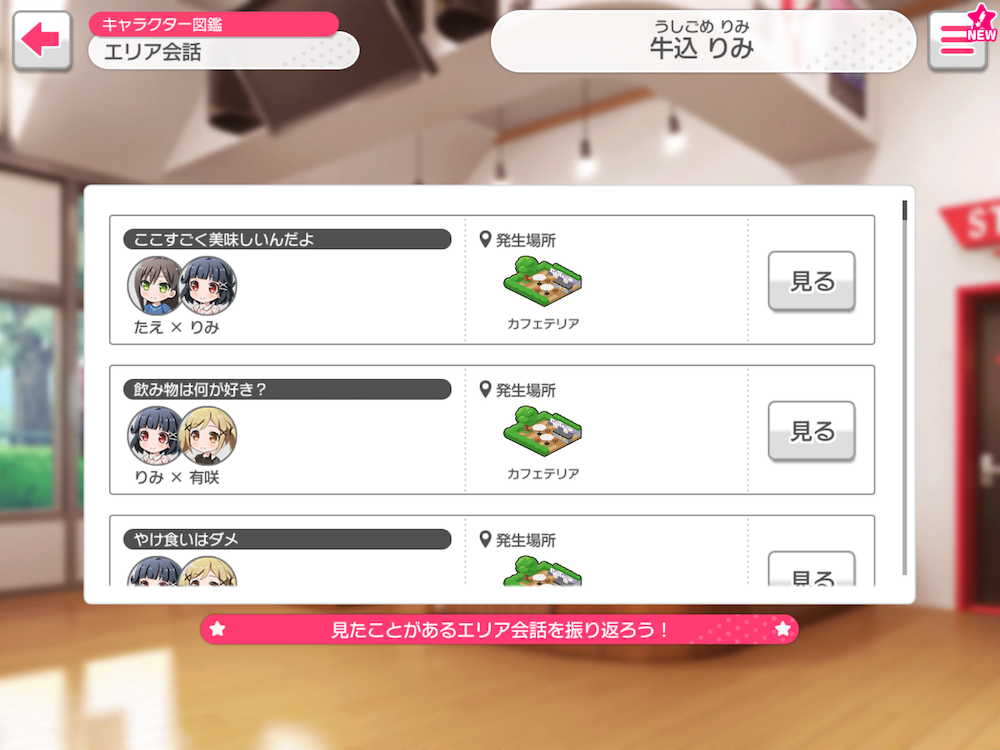 Limited-time events are commonly used as means to add special stories. Usually, the player is required to take part in the event to unlock the whole story.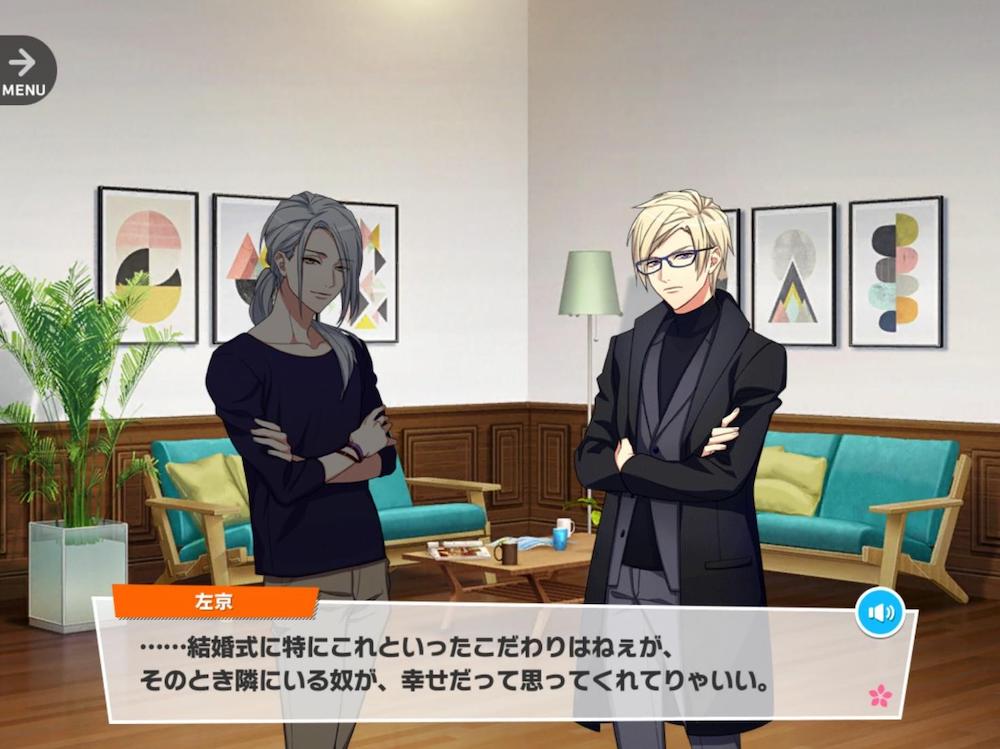 The topics are usually centered around the main characters' daily lives and the hurdles of idol management. Especially the character-specific stories might include some personal worries a character might have, to which the player character can answer with reassurance and comfort. In some cases, the stories might even have slight romantic elements, but the tone is usually kept very subtle. Generally, the narrative is light-hearted, and difficult or sad topics are not discussed. Some games implement stories that are for reading only, but in some games, players can make choices that might slightly affect the storyline.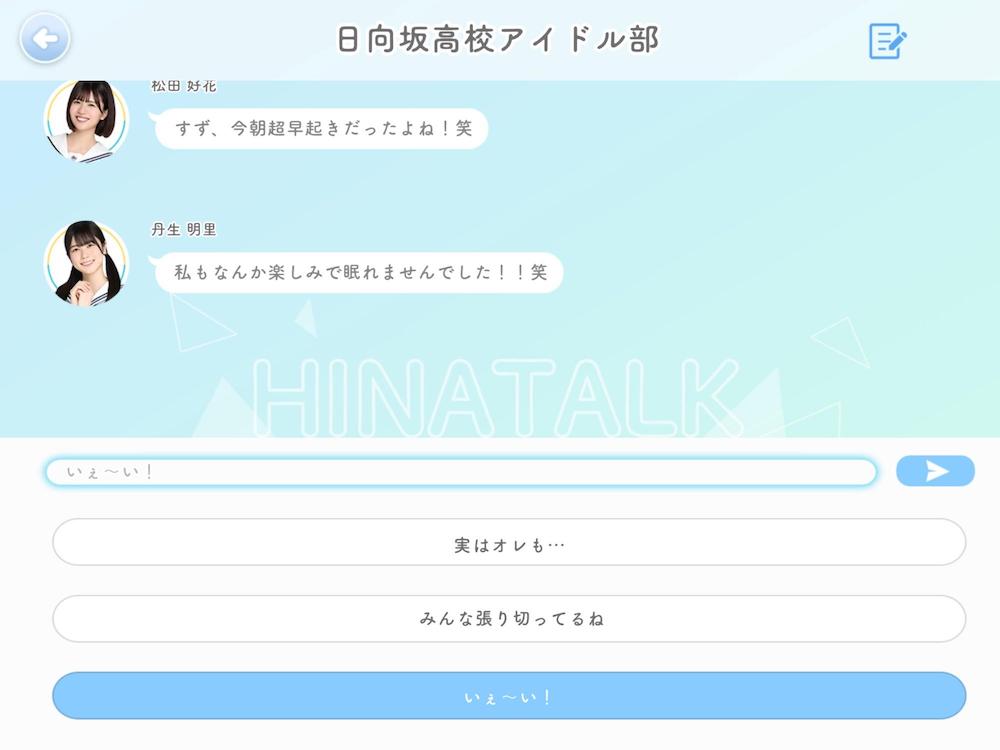 Stories are a great way to make the characters even more accessible and their personalities more apparent. Stories give the player a chance to dive into their favorite character's world and perhaps take a break from their own.
More on great storytelling in mobile games can be found here.
In conclusion
Idol games are a good example of an extremely character-driven approach to game design. The success of these games lies in not just engaging gameplay but the ability to make players invested in the characters and their stories. Creating meaningful content and collectibles for existing and soon-to-be fans to enjoy in and outside core gameplay seems to be what keeps players coming back to these games.
Idols are just one of the many curiosities of the Japanese mobile game market. If you are interested in finding out more, check out our ever-growing database of feature analysis and implementation examples!
If you enjoyed reading this post, here are a few more you should definitely check out: