As a classic category of casual gaming, more and more business simulation games, such as Animal Restaurant and Jiangnan Landscape Painting, surprised the market with their popularity.
Editor's note: This is a guest post by Ohayoo, a casual game publishing platform that empowers developers to monetize their games and brings joy to players worldwide. Ohayoo specializes in helping casual and hypercasual game developers break into the Chinese market.
In this case, Ohayoo has analyzed and researched the business simulation games in China. Together with our practical experience in publishing games, we would like to introduce the future of business simulation games to you and share our views on the game development process.
Suitability of business simulation games for ad-based monetization
In our opinion, the business simulation category ranks among the best of all game categories that generate revenue through advertising.
And why would we say that? First of all, players have generous acceptance to this sort of gameplay. A business simulation game is not hard to play. With clear paths of development, simple controls, and a low threshold for novice players, it is favorable to non-gamers and casual players who only have a little experience with games. As a result, it is able to reach a large number of general users.
Secondly, its core gameplay suits the casual players' needs, and the data looks good. Casual players are inclined to play the game during fragmented free time as their aim is to relieve stress. It is in sync with the core gameplay "waiting for revenue to generate + idle tapping" of many business simulation games. The data of some games reflects that business simulation games have achieved outstanding performance in terms of player's active duration and long-term retention among all types of casual games. As for the games that completely rely on advertising to generate revenue, the more time players spend on the game, the more times the advertisements can be shown. It can enhance the LTV (user lifetime value) of the game.
Moreover, the monetization data is remarkable. When we launched business simulation games like Wang Fugui's Refuse Station, we found that the characteristics of the business simulation game players were highly similar to those of the hardcore game players and their eCPM was even several times higher than that of some types of casual games. This was verified once again when we discussed with a development team that had extensive experience in business simulation games afterward. In other words, creating a business simulation game has a chance to bring substantial advertising revenue to the development team.
Certain shortcomings, of course, exist in this category of games.
Firstly, its capacity to attract players is restricted. The core gameplay of most business simulation games is based on waiting. With a static scene, it is difficult to arouse players' interest in a short period of time. To put it simply, it cannot provide enough sensory stimulation for the players within a short space of time, causing the effectiveness of each ad impression for this type of gameplay to be far inferior to that of other categories with impressive graphics, such as racing and shooting games. Therefore, we suggest that developers focus on improving attractiveness in an early stage of development. A CTR test, after all, will decide whether a game can quickly attract players and gain a solid foothold in the market.
Secondly, when we were searching for this type of product, we found some issues that we should pay extra attention to during the development process. For example:
The game theme deviates from the market demand. It is usually because the development team did not notice the changes in market demand, or they missed the boat due to low development efficiency even though they attempted to make a game related to a current trending topic.
It is difficult to attract players when copying a popular game. Some developers want to "take a shortcut" by developing a game with a style and gameplay extremely similar to trending games. Eventually, they will find that those trending games have already "used up" most of the players, and their reputation will be affected by criticisms for cloning games from the players who value originality.
The above is our view on the pros and cons of the business simulation category.
Next, we will move on to the project planning and development process of business simulation games. We hope that they can help you to "win from the starting line" even when you are just starting out on project planning.
Where are the opportunities for future business simulation games?
Based on the gameplay, the current mainstream simulation games in the domestic market contain three subcategories:
1. Building games, a traditional subcategory of business simulation games
This subcategory has an absolute advantage in terms of the number of active players among all other subcategories. The current representative product in the Chinese market is Jiangnan Landscape Painting. However, due to large scale, high cost, consistent gameplay, and intense competition, some developers are not willing to touch this subcategory.
In the past two years, new building games relied on different gameplays to stand out from the rest, such as adding card collection to enrich the monetization mode (Jiangnan Landscape Painting), light PRG elements to increase the player retention rate (Shop Titans: Craft & Build), and other interesting gameplay to attract more players (Rodeo Stampede's runner + business simulation gameplay).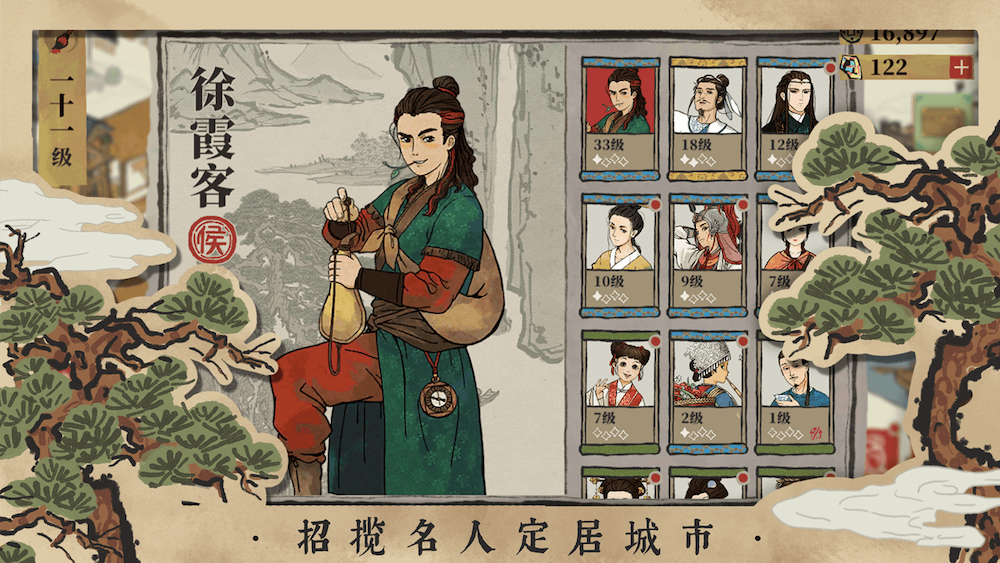 As a building game requires high cost and a longer time to develop, in order to compete with the existing games on the market, game development companies need to have a sufficient understanding of its gameplay and be able to launch a new product with high quality.
2. Time management game
This type of game belongs to the classic Puzzle category. Representative products include Animal Restaurant and My Cooking Paradise, in which players have to tap the correct icons according to customers' orders within a time limit in each stage.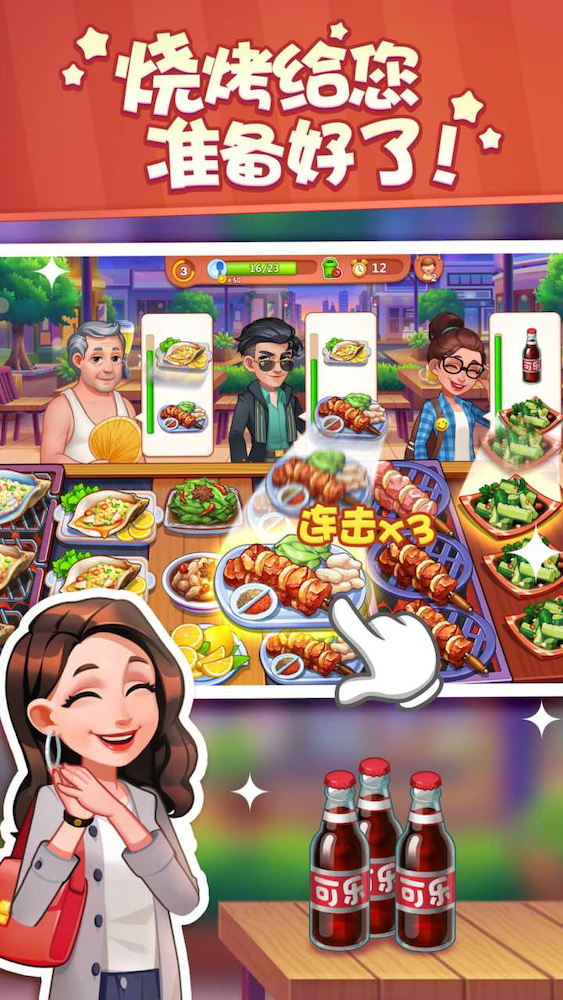 Even though this subcategory shows a favorable trend, you have to add new elements to the gameplay and further localize your own products as there are too many similar products in the market. We believe time management games with vertical screen orientation have a certain potential for us to explore.
3. Idle simulation game
The idle simulation game is essentially a game that combines different gameplays. We separate it from the rest because it requires lower costs and a shorter time to develop. During the past two years, the market has become much bigger and, above all, different products have not formed an intense competition with each other (as we have always seen many idle simulation games rank at the top of the chart). Therefore, we suggest small and medium-sized development teams enter the business simulation game market through this subcategory.
From our perspective, idle games are relaxing and flexible, they can combine different themes and reduce the pressure on art resources by allowing users to focus on their stat growth, abundant characters for collection, and emotional resonance. These might be the reasons why many top-tier business simulation games have included idle gameplay in the past two years.
We also noted that in some markets, some idle simulation games that include a battle system attracted millions of players to pre-register before launch.
In regard to the project planning of idle simulation games, Coconut Island Games CEO Wesley once said in a media interview, "Innovative content outweighs innovative gameplay". We agree with that. For most small and medium-sized teams, it is more suitable for them to create innovative content for business simulation games through mature gameplay + creative themes.
Developers are suggested to pay extra attention to the following three aspects while developing a project plan:
Firstly, finding an attractive theme is the core of advertising. Developers can find an interesting theme with eye-catching elements or reshape the style of traditional themes. Ohayoo, as a casual game publisher, is glad to share its findings and data on different themes with its development team partners, and test the project attractiveness at the project planning stage for the content provider to ensure the adopted theme will have relatively good acceptance.
Secondly, when you are designing idle simulation gameplay, apart from lowering the threshold to entry, you should also provide detailed graphics and reasonable stat growth to prevent players from quitting the game due to low stat growth.
Thirdly, you can consider adding mini-game modes to make the game more engaging and provide more materials for advertising.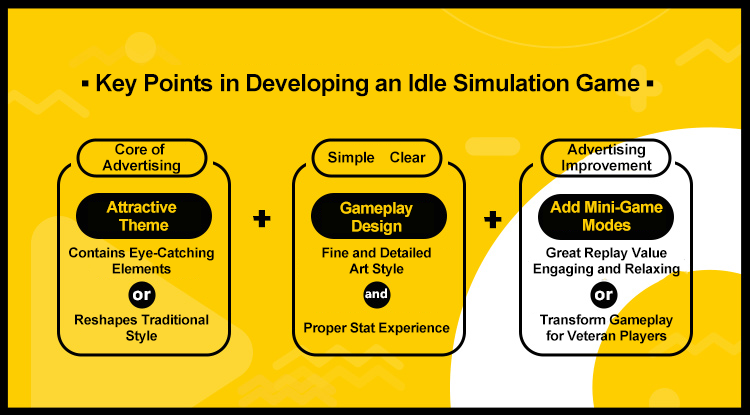 It should be noted that we assess an idle simulation game in four aspects.
1. Emotional Sustenance
It is not limited to the emotional connection players have with the brand. Through its theme and content, a game can provide players with emotional sustenance. A good theme can resonate with the player's emotions quickly. By doing so, it is possible to retain most of its players. In turn, achieving outstanding performance in terms of retention rate, advertising frequency and revenue eventually.
2. Stat Experience
Business simulation is only a cover, while stats are the core of the gameplay. If the stats in the game are balanced, players will have a great experience and tend to be more active in the game, which can further enhance the monetization data.
3. Innovative gameplay
Innovative gameplay includes the mini-game modes mentioned above and the re-innovation of idle gameplay. It would be great if developers can create a business simulation gameplay 2.0. Developers should note that it is better for innovative gameplay to show uniqueness and fun with obvious visual effects in order to improve user acquisition performance.
4. Budget
If the graphics of a new product can outperform its competitors, it will receive greater market feedback. However, under most circumstances, the graphics quality is "driven" by money, so we believe it would be more worthwhile for large game development companies to go in this direction.
Conclusion
In conclusion, for development teams that attempt to make a business simulation game, we suggest you start with an idle simulation game by virtue of its required cost. You also need to focus on the selection of theme and art style to ensure the game has attractiveness while developing a project plan. It would be great to create an emotional connection with the players through the theme and content, and then keep optimizing the performance and stat experience of the idle simulation gameplay. For the teams with resources to spare, you can add mini-game modes to the game, improving the game's potential to attract players and enriching its gameplay.
We will continue to work on idle casual games and search for business simulation products with potential. For more information about Ohayoo, please follow our official Twitter and Medium accounts, and contact us via contact@ohayoogames.com if you have any inquiries.