It used to be the case that the mobile gaming market was dominated by Casual and Hyper Casual titles such as Candy Crush and Merge County. While these and many other titles in the Casual and Hyper Casual market are still popular, the growing popularity of Midcore games such as Diablo Immortal, Call of Duty: Mobile, and Apex Legends Mobile is a sign that the mobile market is evolving and providing new experiences that cater toward the needs of PC and console gamers.
There are plenty of numbers backing this up. If we take a look at Midcore and Casual mobile games released in the past 365 days, nine Midcore titles still feature in the top-200 grossing chart (US), compared to just three Casual games.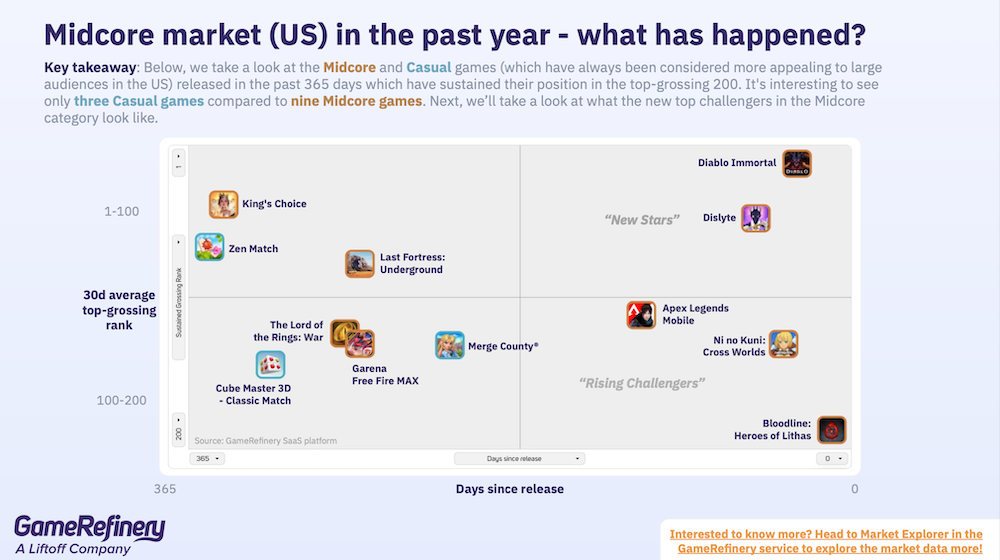 That's not to say that Casual and Hyper Casual games are no longer popular, but the popularity of Midcore games shows that AAA developers and publishers from the world of major video games are starting to take the mobile market more seriously.
The vast majority of Midcore games are AAA experiences, many of which have been ported from best-selling PC and console franchises to mobile. Of course, many big names have experimented with mobile ports in the last decade with mixed results, but we're starting to see more consistency when it comes to quality now. What's impressive about many of these AAA Midcore games is that they retain the quality of their PC and console counterparts while adapting to the mobile market with specific gameplay and monetization features. In this Snapshot Report, we dive into what's setting them apart and the features making them so successful.
You can get the full The Rise of Midcore Mobile Games Snapshot Report here or by entering your information below.
Get your copy