Battle passes have grown more and more popular since they started trending heavily in 2019, as different genres outside of first-person shooters with cosmetic monetization started implementing them. Nowadays, it's a feature that you don't only associate with the likes of PUBG and Fortnite. Battle passes can be found in everything from casual games like Project Makeover and Hay Day to midcore strategies and RPGs such as Rise of Kingdoms and Genshin Impact, and even in a large number of top-grossing sports & driving and casino games.
Battle passes have quickly become one of the most differentiating features when comparing the top-grossing games to other mobile titles and can be almost seen as one of the core elements for a successful free-to-play title.
In this post, we'll quickly explore some high-level data and the benefits of the Battle Pass but focus primarily on more unique and innovative ways to tailor the feature for specific cases and make it even more engaging for your players.
Popularity and key benefits of battle pass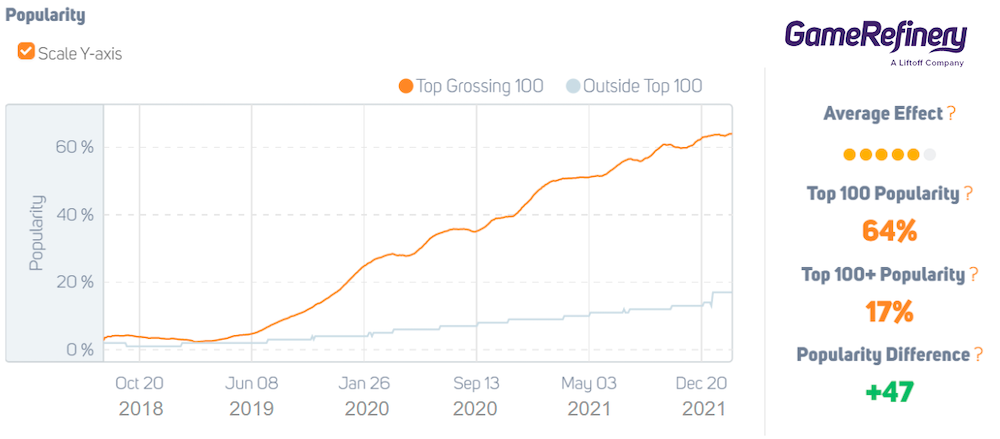 As we can see from the above graph, 64% of all mobile games in the top-grossing-100 US chart are utilizing the Battle Pass feature. One of the reasons battle passes are so popular is that they have a wide range of benefits, not only for direct monetization but retention and engagement as well. Some of these benefits include:
Higher conversion rates – especially for low spending players, as they can usually gain a good value of rewards for a relatively cheap price through the premium reward track.
Increased player retention rates – through limited-time and exclusive rewards, as well as the battle pass timeline showing future rewards if you keep playing.
Strong player engagement driver – adds an additional session-to-session progression system into the game.
Easily adaptable – Battle passes can be introduced into almost any genre, whether the game's monetization relies, for example, on a cosmetic economy (competitive shooters, MOBAs), power progression (RPGs, Strategy), or consumable boosters (casual puzzlers).
There's also a growing number of games that have started innovating outside of the battle pass's usual formula by tweaking various mechanics or giving it an innovative twist. When developers get this right, not only can it help their game stand out, but it can cause a major increase in the number of daily players and the amount of revenue that the game generates.
To find out which developers are innovating outside of the basic battle pass format and how, let's take a look at some of the best examples from top-performing games.
Innovative battle pass implementations from top-performing games
While battle passes still mostly revolve around cosmetic rewards, boosters, and currencies, the feature has since evolved to incorporate other benefits and elements and, in some cases, open up access to new features in the game.
From subscription-based battle passes and ad-monetized battle passes to those that merge with other in-game features, you'll find plenty of examples here that should hopefully inspire how battle passes could be used in your own game.
Subscription plan battle passes – Call of Duty: Mobile
Call of Duty: Mobile's battle pass has been one of the most important monetization features for the game since it launched in 2019. In terms of mechanics, COD: Mobile sticks to a more basic format, having free and premium rewards, with the premium being unlocked by purchasing the pass with premium currency. The rewards include cosmetics, e.g., gun skins and Operator characters, consumable exp. boosters and premium currency.
While the game's battle pass system is fairly standard, COD: Mobile's version has a unique element of having a single shared reward track consisting of both free and premium rewards and, more recently, an additional way to purchase the premium battle pass with Ground Forces, an auto-renewing monthly subscription plan.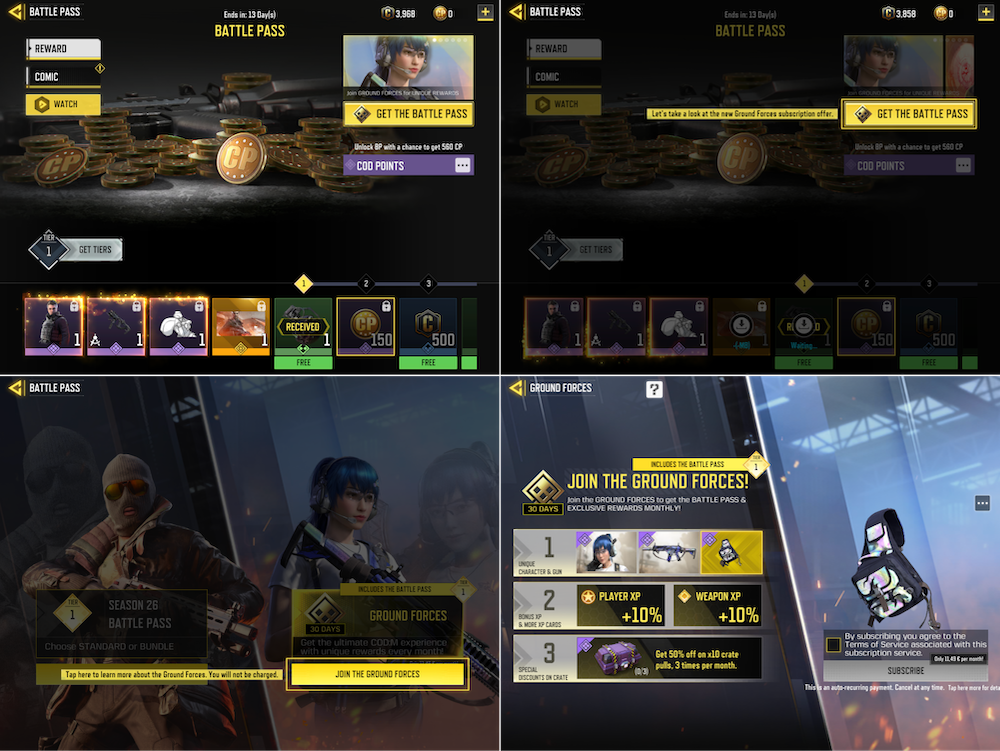 In addition to letting players access the premium rewards of the battle pass, their Ground subscription comes with various other benefits. These include a unique Operator character, weapon and backpack skins for each subscribed month, a persistent 10% boost for weapon and player XP, and 50% discount coupons for crate purchases. If the player cancels their subscription, they will lose access to the XP boosts and discount coupons when the ongoing battle pass season ends but get to keep the character, weapon, and backpack skin permanently.
Subscription-based benefits such as these have become more common in battle passes recently, but the auto-renew is definitely a more unique approach as only a few games such as Zooba use this alongside COD: Mobile. The auto-renewing subscription is a clever way to incentivize players to keep purchasing the premium reward tracks of battle passes more frequently, especially by offering great additional perks for it.
Multiple unique battle passes – Mobile Legends: Bang Bang
In addition to being the highest-grossing mobile MOBA game in the US, Mobile Legends: Bang Bang is way more than just a MOBA. It has a great selection of different event game modes, including battle royale, arena tactical battler mode, and even a Magic Chess autochess mode. The magic chess mode has quickly become one of the more popular modes in the game and even has its own ranked seasons and collectible hero characters and cosmetics.
As is usual with games focused on cosmetic monetization, one of Mobile Legends' major monetization and progression mechanics is its battle pass. But as there are two very different major game modes – the MOBA and Magic Chess – there are also two unique battle passes: 'Starlight Pass' for the MOBA and the 'Magic Chess Pass' for the Magic Chess mode.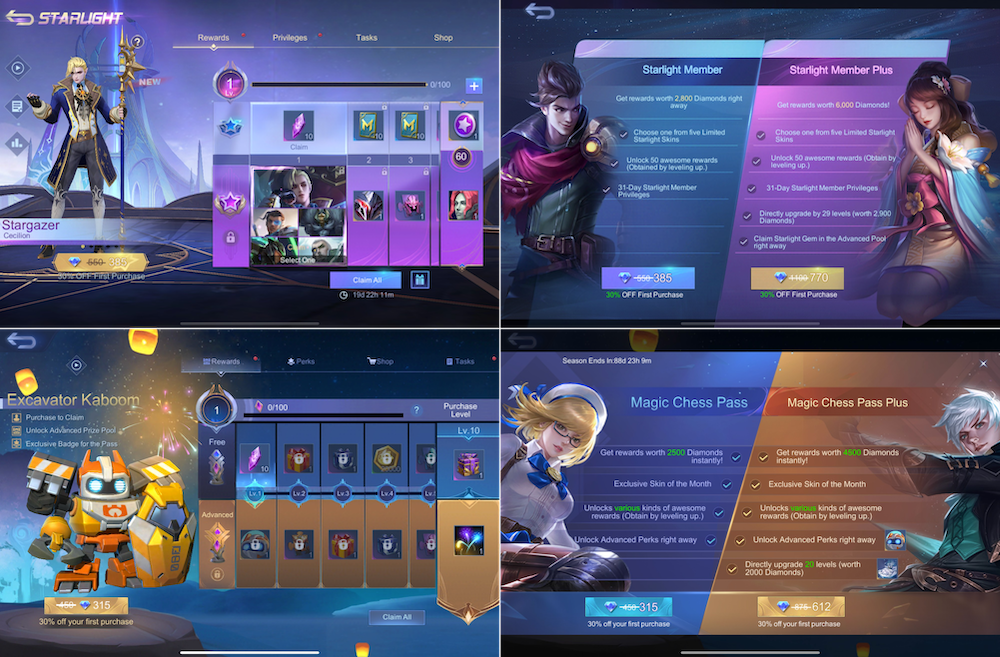 Both the Starlight and Magic Chess passes reward players with exclusive cosmetic items, special materials, regular currencies, and Starlight currencies that can be used in the special Starlight Shops included in both passes. Both passes also have their own subscription-like perks when purchased, with the Starlight Pass including weekly free heroes/skins, exclusive avatar borders, weekly rewards, and battle bonuses such as increased player exp. and extra ranked protection points when losing ranked matches. Perks for the Magic Chess pass include a hero pool privilege and five additional stock slots for easier combining, which both help directly in the Magic Chess PvP matches.
This double battle pass approach fits the game well, especially as the two modes are vastly different, which means there is a pass for players no matter which mode they prefer.
Specific battle passes for different player types – Dragon Ball Legends
Dragon Ball Legends, the top-grossing fighting RPG in the US, offers a wide variety of robust gameplay elements to players, ranging all the way from a single-player story mode to co-op PvE events and ranked competitive PvP.
Having this wide range of robust gameplay elements means the game caters to very different player types, as some might play the game solely to enjoy its single-player combat and the Dragon Ball Z story, while others might only be interested in beating other players online in the PvP modes. The diversity and preferred playing styles of the playerbase is taken into consideration in the game's battle pass, Mission Plans.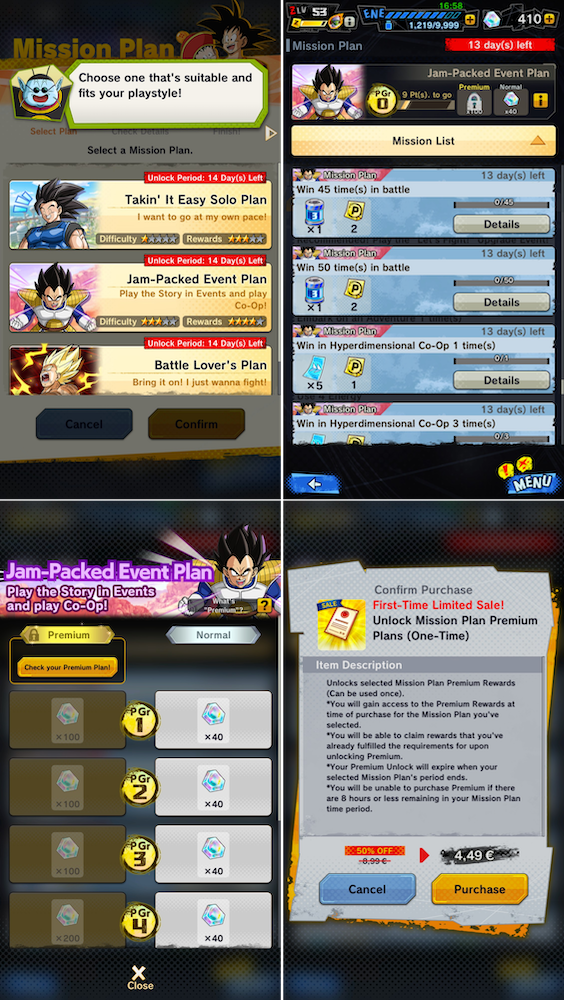 Mission Plans feature a unique implementation compared to the basic format of most battle passes. Players get to choose the Mission Plan they see most fitting to their playstyle out of three choices, Takin' It Easy Solo Plan for the solo players, Jam-Packed Event Plan for those who love co-op and events, and Battle Lover's Plan for those who only want to enjoy the PvP mode. The plans' differences are the focus on game modes, the difficulty of the tasks that progress the Mission Plan reward track, and the number of rewards available. The duration and the pricing of the passes are the same, and once the event is over, the player gets to choose again from the three choices.
Social co-op battle passes – Top War
4x strategy game Top War is a very guild-focused game where the guilds' members develop their guilds, help each other, participate in co-op events and fight for the control of the world map. This means if the player wants to get the most out of the game, they really want to be part of an active guild, which Top War calls Alliances. One of the many innovative features, such as the merge mechanic of the game, includes an Alliance-related event titled Alliance Transportation Team, which is also the game's version of the battle pass feature.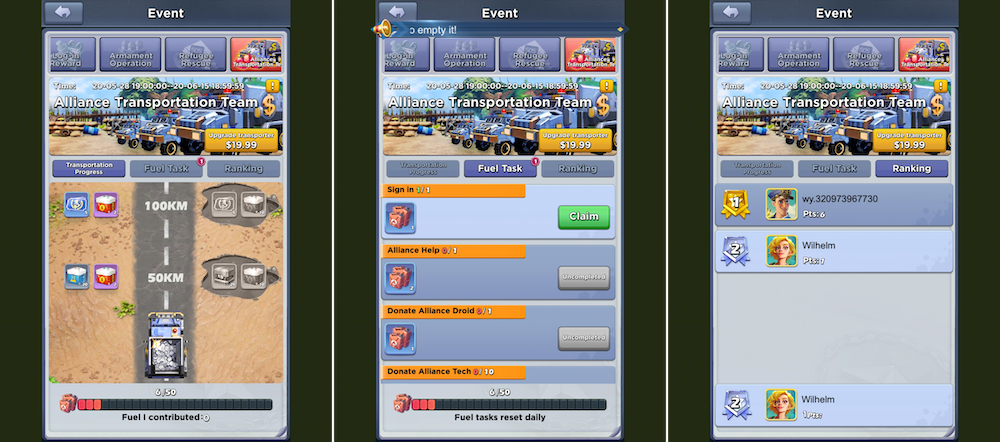 Alliance Transportation Team is a shared battle pass between all Alliance members, meaning the progression in the reward track for the battle pass is shared. Each Alliance member completes their own tasks to gain progression in the pass, and if a member wants to gain access to the premium track rewards, they have to purchase the pass separately.
This kind of co-op task implementation could work well in games that have a heavy focus on guilds, where the players are already used to working together towards common goals. Also, seeing and hearing the progression made by the Alliance and the available rewards in the premium track might convert players who would otherwise ignore the whole event into purchasing the pass.
Battle passes combined with a piggy bank system – Mech Arena
Currently one of the highest-grossing tactical shooter games, Mech Arena has been implementing new features on a frequent basis since its global launch in August 2021, including battle pass and piggy bank systems. What makes these implementations unique is that the separate features are combined into one, and the piggy bank is used as an additional incentive for purchasing the battle pass.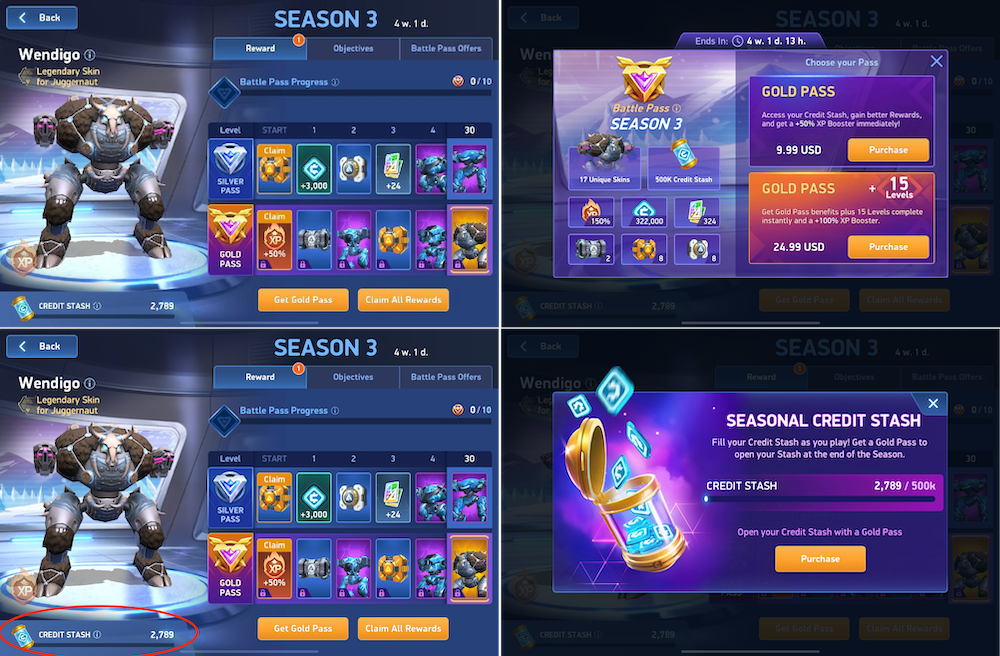 The mechanics for the battle pass in Mech Arena are based on the basic formula of having players complete specific tasks to gain progression in the reward track, and they can purchase the Gold Pass to gain access to the premium track rewards. But in this case, purchasing the Gold Pass also lets players open a piggy bank titled Seasonal Credit Stash at the end of the Battle Pass season.
The Seasonal Credit Stash is filled by the player completing matches during the season, becoming a more and more valuable bonus on top of the premium track as the season goes on.
Another unique element in the battle pass is the player experience boosters in the reward track, which are also included as a bonus for purchasing the Gold Pass. These exp. boosters stack and last for the duration of the season, incentivizing players to purchase the Gold Pass straight away at the start of the season to progress in the reward track as fast as possible so they can unlock and stack the various boosts.
Ad-monetized battle passes – Solitaire Home Design
Solitaire Home Design is a casual solitaire game combined with a renovation meta and interactive story gameplay and one of the newest games to make it to the US top-grossing 200. In terms of monetization, the game has the traditional casual puzzle game IAP monetization model combined with a relatively heavy ad monetization. The game also utilizes various monetization mechanics, one of them being the Diamond Seeking event, which is the game's own implementation of the battle pass.

The Diamond Seeking event is an ad-monetized battle pass plan, where players collect diamonds by passing the main solitaire levels on the first try to gain progression in the reward track of the event. As you'd expect, there are free and premium reward tracks, but unlocking the premium track rewards requires the player to watch incentivized ads for each of the rewards, or they can also purchase the premium track directly to unlock it without watching the ads. It's also worth noting that the three-day event is relatively short compared to the usual two to four-week lengths of battle passes. It also has a noticeably shorter reward track with simpler rewards, including normal currencies and consumable boosters.
Utilizing battle pass mechanics in other events – Cooking Diary
Battle Pass mechanics such as the free and premium layer rewards have also been brought into other types of events outside of the game's own battle pass. One of these examples can be found in the time management game, Cooking Diary. In addition to its battle pass seasons, Cooking Diary also uses similar free and premium track rewards in its recurring Food Truck events.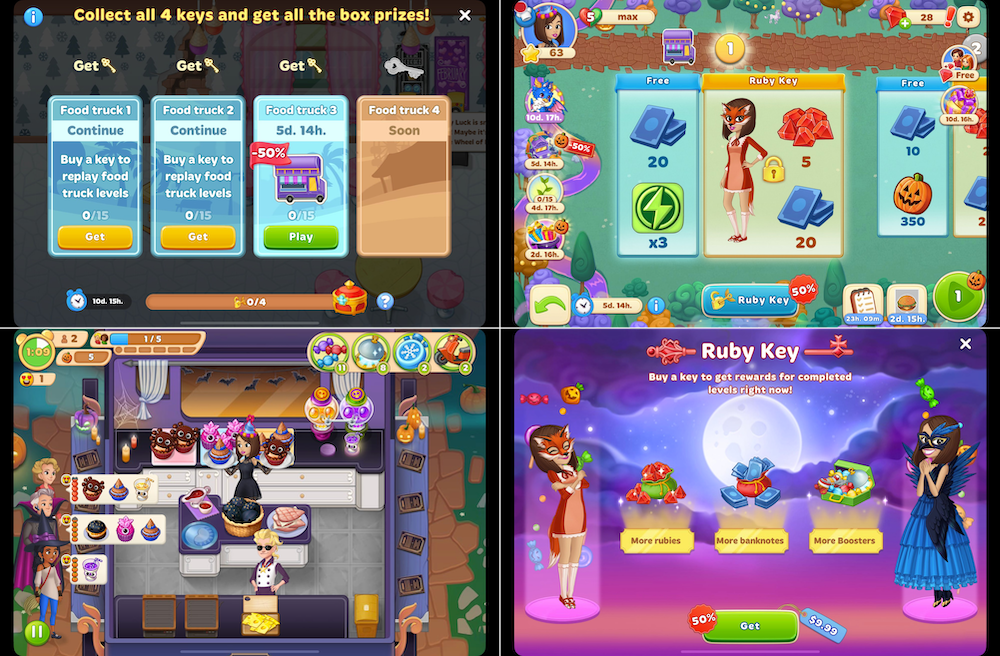 The Food Truck event is a relatively normal type of casual game event where the player completes special event levels in order to progress through the event and gain progressive rewards. What makes it unique is that there are also premium rewards on top of the free rewards similar to Battle Passes, which include exclusive themed cosmetic accessories for the player avatar, and to unlock them, the player has to purchase a premium key. There are a total of four unique Food Trucks to complete during the event, each being available for a certain time in their own week and each having its own premium key to purchase. Purchasing all four of the premium keys gives an additional bonus reward chest full of consumable boosters and currencies.
Implementing battle pass the right way
Battle passes are definitely one feature to consider introducing into your game, regardless of genre. Still, just like with any game feature, success is determined by the way it's implemented.
With battle passes, the right balance in areas such as pricing, rewards, and duration must be found – if the pass offers too great of a reward, you might risk jeopardizing other monetization elements in the game. But when battle passes are implemented the right way, there can be massive benefits to both monetization and also player engagement.
One way to make sure the feature implementation fits specifically to your game is to innovate from the basic format of the battle pass and utilize some of the special battle pass mechanics we mentioned further up. In summary, here are the key takeaways:
Want to encourage players to keep purchasing the battle pass(es) more regularly? Consider subscription-like benefits or even auto-renewing subscriptions to access the premium rewards.
Have a game with various different game modes or an audience of different player types? Consider adding multiple battle passes or different battle pass difficulties to choose from.
Does your game already have fully-fledged guild mechanics and a major focus on cooperation between players? Consider social mechanics for your battle pass, such as co-op progression in the reward track.
Additional incentives for purchasing the premium pass are commonly used in battle passes, but the piggy bank mechanic can add even more boost by converting non-payers through its nature of an attractive purchase.
Have a game that relies on ad monetization or want to boost your game's ad monetization? Consider using a battle pass with ad monetization.
Free and premium reward tracks of the battle pass are proven to work, so consider utilizing them as reward mechanics for other events in your game as well.
If you're interested in learning more facts about battle passes and how PUBG Mobile's unique battle pass works, you should check out this blog post.
If you enjoyed reading this post, here are a few more you should definitely check out: