Whether you're a fan of the movies or not, it's no secret that cinema audience numbers have struggled to recover since the pandemic. The situation isn't showing any signs of improving either, with major chains such as Regal closing nearly 40 locations across the US. With film production companies struggling to get film fans off their sofas and into movie screens, many are turning to mobile games to push their IP through LiveOps events and collaborations.
Of course, this relationship between blockbuster movies and video games is nothing new; a few decades ago, movie tie-in games for consoles were a standard part of most film marketing strategies. However, costly development cycles and poor critical reception eventually led to these largely becoming a thing of the past.
Mobile, on the other hand, is a much better fit all around for movie promotion. Mobile games have much shorter development cycles, meaning they can easily flex to shifting cinema release dates and changes in production. Plus, developers are always looking for exciting new ways to drive engagement as part of their LiveOps strategies, and a tie-in with a blockbuster film ticks all the right boxes.
To demonstrate what we mean, we've analyzed the biggest and best movie mobile gaming crossovers this year to show how these collaborations can positively impact downloads and revenue.
Barbie collaborations in Stumble Guys and Rec Room
This toy-turned-feminist comedy has proven to be a smash box-office hit, grossing over $1.19 billion since its global release on the 21 July. Much of that success can be attributed to the film's mega-marketing strategy, which painted everything from clothing and merchandise to cars, consoles, and video games in delicious shades of pink.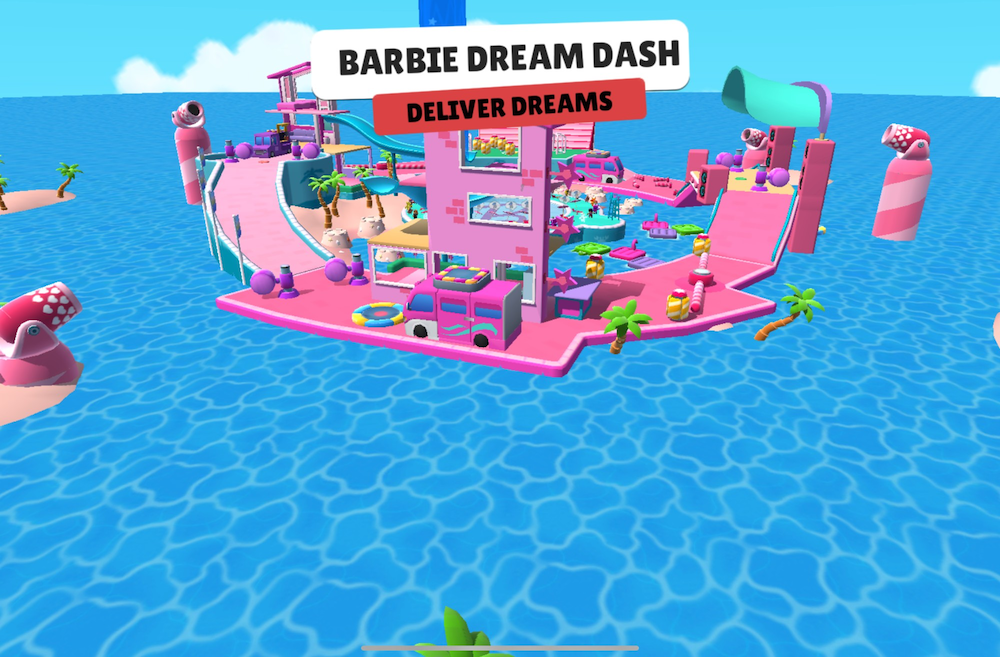 One of the biggest Barbie gaming collaborations took place in Scopely's Stumble Guys with a special limited-time event. Barbie Malibu Mayhem saw players racing around the unique Barbie Dream Dash map to deliver some of the doll's favorite items in elimination rounds. Players were rewarded with Barbie Tokens for participating in the event, which could be spent in an event shop to acquire unique Barbie-themed skins and emotes.
If players didn't want to invest time into the event and just wanted the Barbie-themed items, they could acquire additional Barbie Tokens through limited-time bundles and ad-monetized gacha. Special challenges, such as The Barbie Dream Challenge, boosted engagement by requiring players to acquire four specific Barbie-themed skins during the event to unlock a special fifth variant, causing daily revenue to double in the US.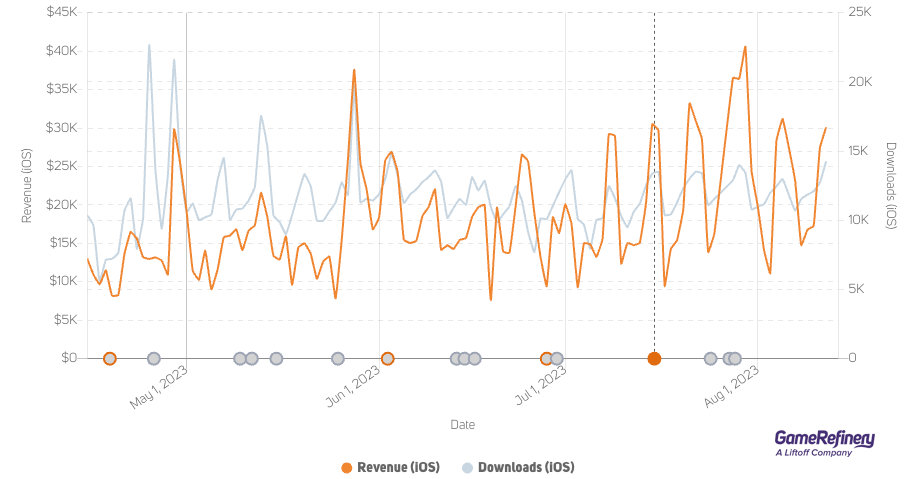 Meanwhile, Rec Room's Barbie collaboration kept things simple by introducing wardrobe options based on Barbie and Ken's outfits for players to purchase, including cowboy hats, vests, belts, and even pink guns. Items ranged from 1000–6000 Tokens, the game's main premium currency, which players can earn through gameplay or purchase directly with IAPs.
Lily's Garden also got in on the Barbie hype with its Pink Sale. While this wasn't an official collaboration, it was clearly inspired by the film with in-game avatars that were reminiscent of the toy brand's two central characters, Barbie and Ken. The sale contained two separate limited-time time offers, rewarding coins, and various boosters.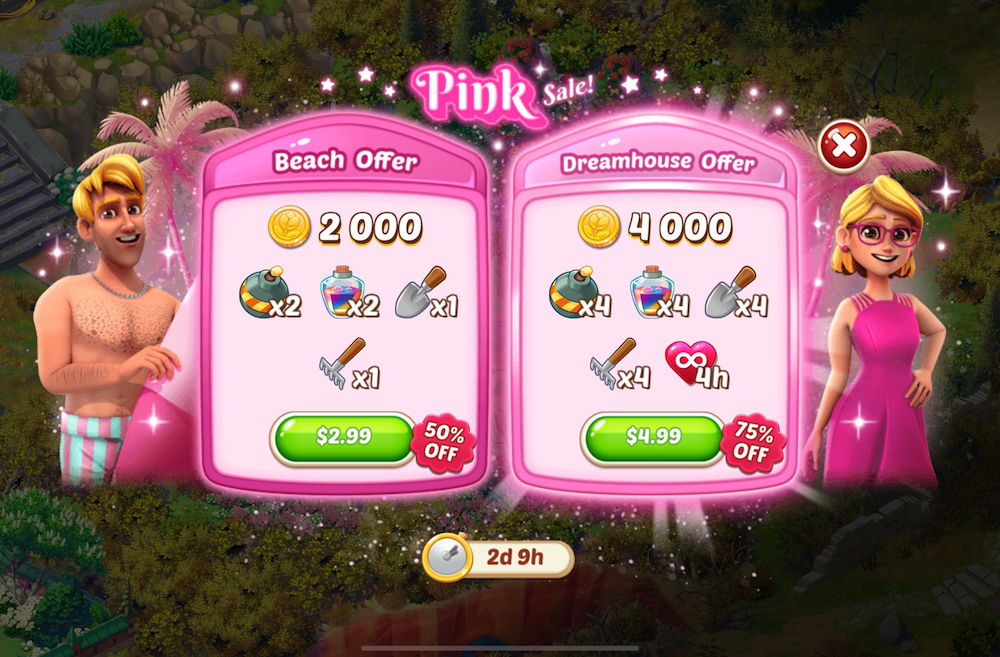 Barbie and Candy Crush Saga
Stumble Guys wasn't the only mobile game that Barbie turned into candy floss. Candy Crush Saga's Barbie-themed collection event tasked players with gathering purple B-candies to reach various reward milestones. The game also reskinned its Winding Road Tour to mirror the film's plot, with Barbie and her friends venturing into the Candy Crush Universe.
In the event, players cleared regular levels on the map to reach four Tour Stops, where the Barbie crew can find some help getting home; some stops also reward the player with boosters. If the stop has a timer, players must reach the next Tour Stop before it runs out, with the distance between the stops increasing each time.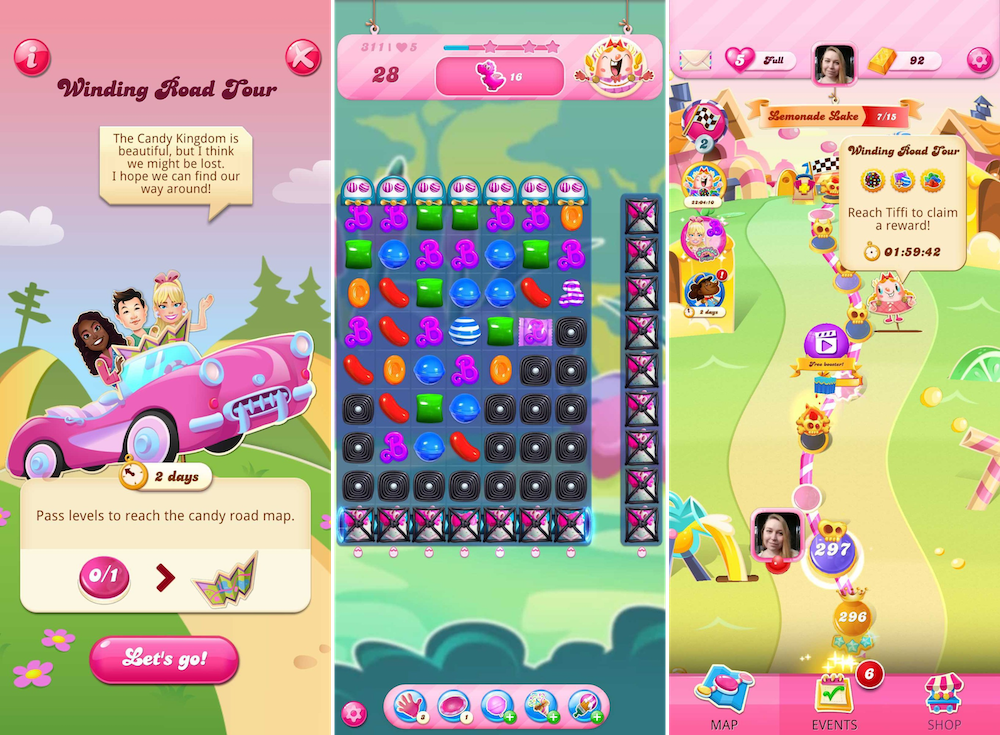 With Barbie being such a beloved brand, it should come as no surprise that there are nearly 70 video games based on the IP across PC, mobile, and console. One game that's still very popular in the mobile world today is Barbie Dreamhouse Adventures, which was released back in 2018 and is based on the Barbie animated series of the same name.
Despite being unrelated to the film, Barbie Dreamhouse Adventures has seen a gradual rise in popularity in the run-up to the movie's cinema release. Unsurprisingly, this peaked on the film's opening weekend, when daily downloads were more than double what they were a few weeks prior, although revenue seemed largely unaffected.
Roblox also jumped on the hype with Barbie Dreamhouse Tycoon, a bespoke experience based on the film developed by Gamefam; best known for working on branded Roblox experiences such as the immensely successful Sonic the Hedgehog game. While this is a work in progress, Roblox has still managed to cash in on the excitement by launching an open beta for fans to experience while the film is in cinemas.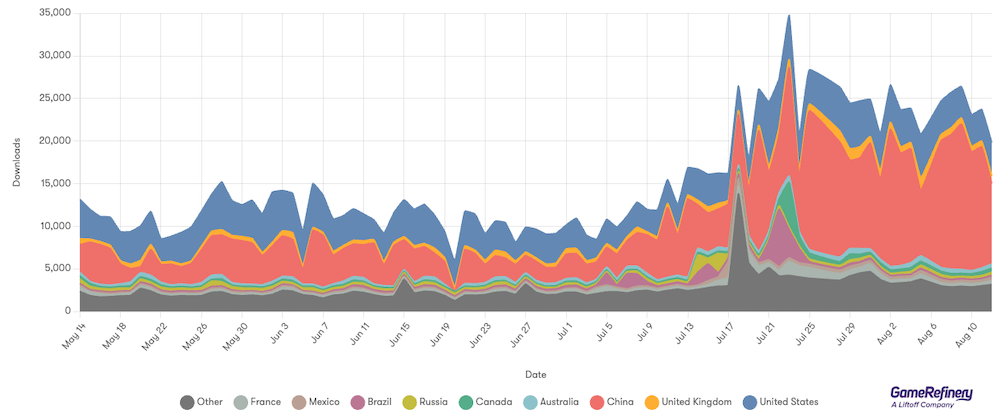 Marvel's mobile cinematic universe
Comic book films have dominated cinemas for over a decade now, with Disney in particular doing a remarkable job of building their multi-billion dollar "Marvel Cinematic Universe." That popularity has led to a surge in the number of video games licensed around the Marvel IP for consoles and mobile.
As you might expect, Marvel's busy pipeline of constant film releases provides an excellent pool of inspiration for live events, especially for titles based entirely on the IP. Two such examples are the strategic card battler Marvel Snap and the action RPG Marvel Future Fight, which featured content to celebrate the theatrical releases of Spider-Man: Across the Spider-Verse (30 May) and Guardians of the Galaxy Vol. 3 (5 May).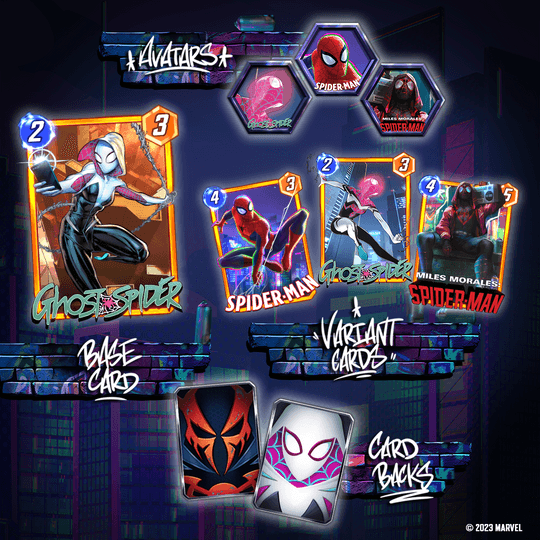 Both films were featured similarly in Marvel Snap, headlined by a new season pass that included cards and variants based on each film's characters. For example, by purchasing the Spider-Versus Season pass for $9.99, players could acquire the Ghost-Spider card featuring one of the film's central protagonists. Each of these updates dramatically affected performance, causing daily revenue to more than triple at the beginning of May and June.
Marvel Future Fight adopted a fairly similar strategy. While many of the heroes from the films were already featured in this eight-year-old RPG, they all received new costumes inspired by their respective movies. That said, the update did include one entirely new character: Spot, the main antagonist of Across the Spider-Verse. Spot could be unlocked using Biometrics, a unique resource acquired in-game or through IAP.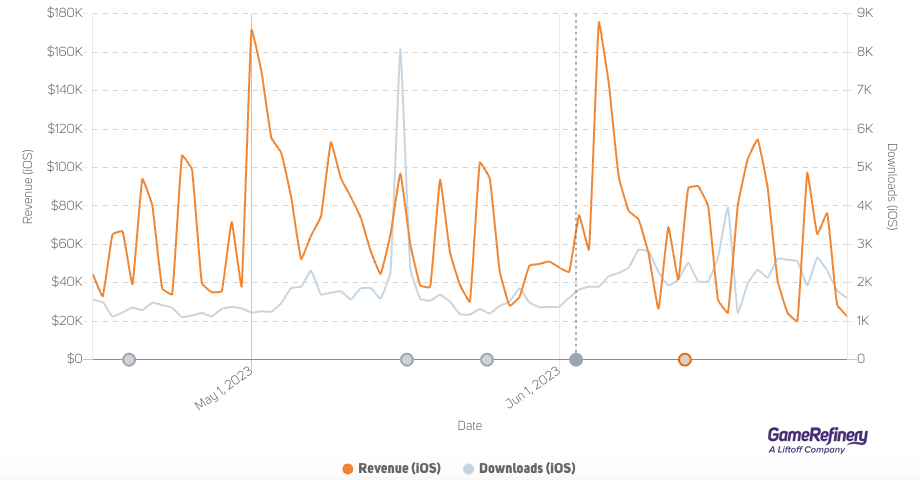 Of course, comic book crossovers aren't limited to IP-based games. Between June 2 to June 18, Across the Spider-Verse swung into Free Fire with a large themed event, introducing co-branded collectibles, a movie character card collection event, and a time-limited Parkour mode featuring costumes from the film. Free Fire also hosted a special screening of the Across the Spider-Verse trailer in-game to help fans build anticipation.
In a unique twist, Free Fire also features within the film, with an easter egg hidden in its runtime of the game's "iconic" Cobra backpack. The event was primarily aimed at boosting user acquisition, with very little in the way of monetization, although it only boosted downloads by around 50% in the US.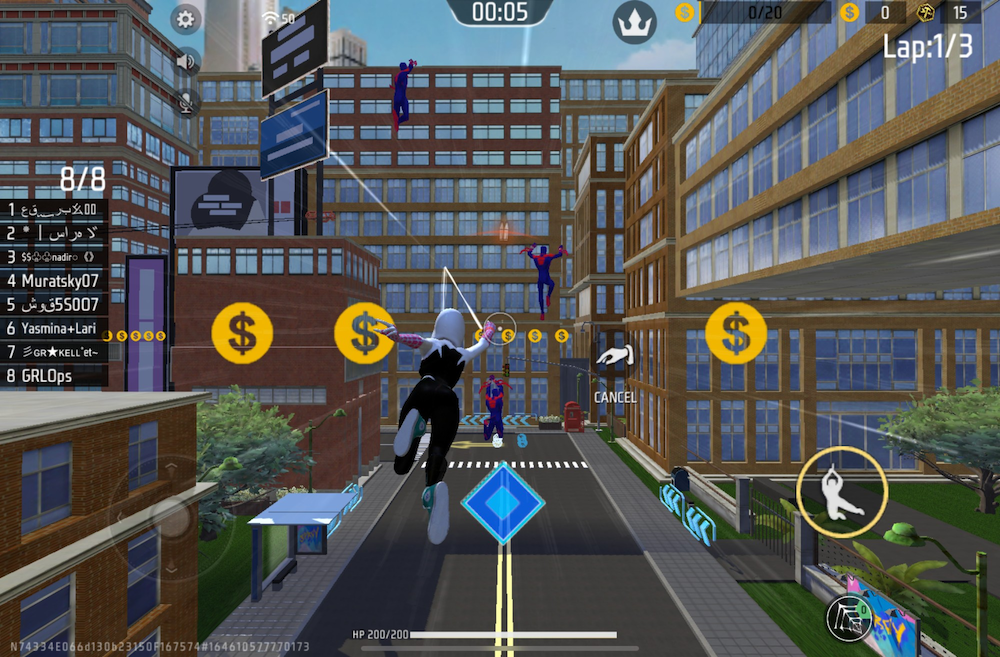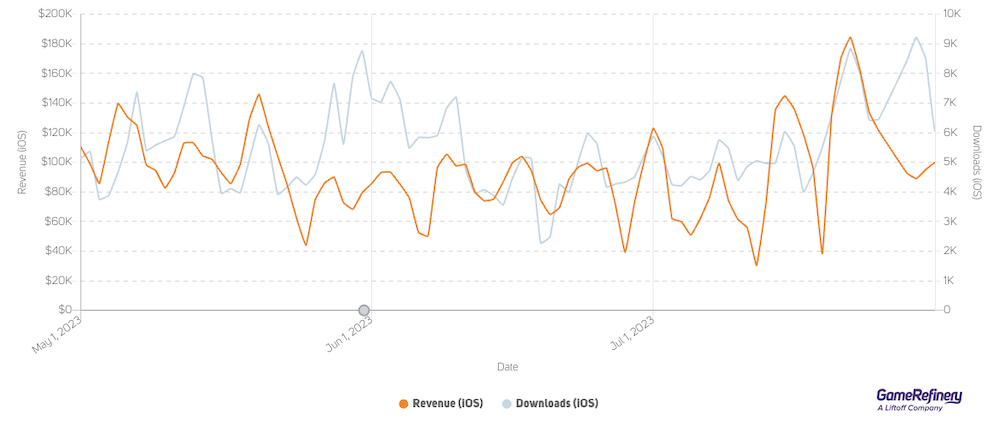 Match Masters' Collaboration with Teenage Mutant Ninja Turtles causes daily revenue to quadruple
While Barbie, Spider-Verse, and Guardians of the Galaxy were especially well-represented in the mobile market, other blockbuster releases such as Teenage Mutant Ninja Turtles: Mutant Masters also got a chance to shine.
This animated flick was the basis of Match Masters' first-ever collaboration, which tasked players with collecting pizza slices, the Turtle's favorite snack, in the match3 game's PvP modes. Once players collected enough slices, they reached one of many reward milestones, allowing them to progress in the TMNT-themed Boss Battle Collection event, where they would take on iconic villains from the franchise's history.
Multiple TMNT-themed limited-time time offers were also available during the collaboration, including progression and customizable bundles, which helped daily revenue to almost quadruple in the days following the update. The engagement was incentivized with a TMNT-themed daily log-in calendar featuring an avatar outfit skin as the main reward.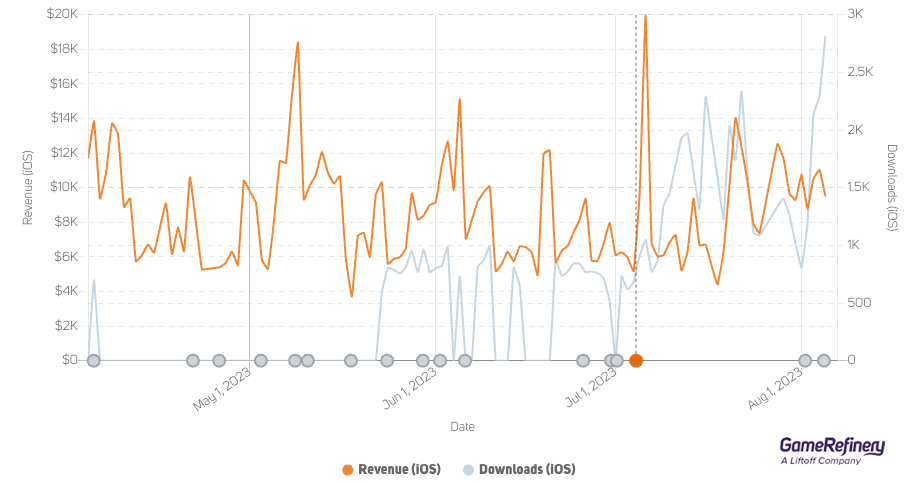 Super Mario Bros. Movie and Super Mario Run
To celebrate the release of The Super Mario Bros Movie, Nintendo returned to its first-ever mobile game, Super Mario Run. Earlier this year, from the 20 March to the 30 May (around the time of the film's theatrical release on 21 April), all players could permanently unlock one paid stage for free as a daily login bonus. Those who linked their Nintendo account got an even better offer, as they unlocked two paid stages each day.
It was possible to unlock up to 50% of the game for free this way. That's a fairly generous giveaway, but the game did still experience a 200% rise in both daily revenue and downloads as a result. This waned shortly after, although it did climb again around the time of the film's cinema release.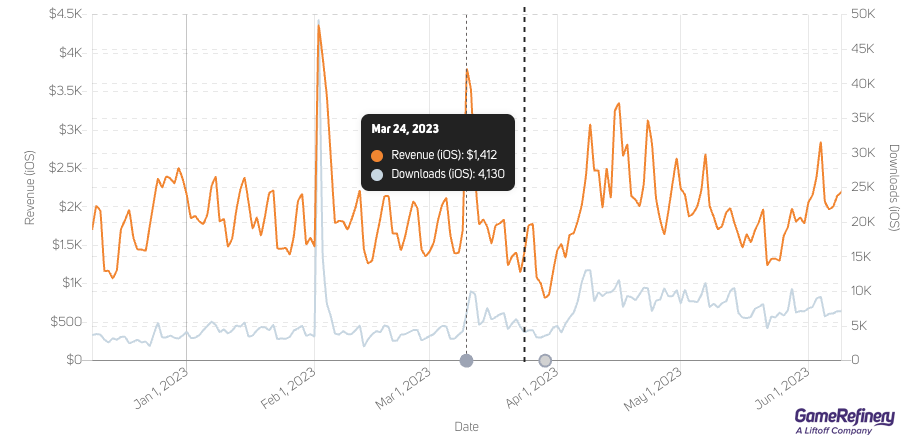 Other notable film-related updates included:
Our tips for integrating blockbuster films into your mobile game
Collaborating with major film releases as part of your live ops strategy is an excellent way to boost engagement. Many cinemagoers will be excited about playing as their favorite film characters and may be interested in downloading your game even if it's not their usual genre. The film's content can also form the basis for monetizing new content, such as additional costumes, abilities, characters, and currencies.
But before you give it a go, here are a few key things to keep in mind to ensure everything goes smoothly:
Carefully plan your timing
Timing is almost everything when it comes to collaborating with blockbuster movies. Your update must land almost parallel to the film's theatrical release, as this is when the hype is at its peak. If it isn't ready until several weeks later, everyone may have moved on to the next big release by the time your update lands.
Is this film right for my game?
Think carefully when choosing which blockbuster film to incorporate into your game. Ideally, your target audience should correlate with that of the film. For example, Free Fire's adaption with Across the Spider-Verse makes sense as that game and movie both predominantly target young adults.
How will this collaboration boost monetization?
In-game collaborations can have a dramatic impact on revenue. Limited-time costumes, characters, and other items based on fan-favorite characters can be hard to resist, so think about how these would be best integrated into your game's economy. As we mentioned, Stumble Guys opted to run a dedicated shop with Barbie tokens, whereas Marvel Snap uses cinema hype to help drive sales of its season pass.
If you enjoyed reading this post, here are a few more you should check out: