From national calendar days to religious holidays, seasonal events are a great way for mobile games to find new and exciting ways to drive player engagement. With over 90% of the top-grossing 100 iOS mobile games using seasonal events to boost their revenues, national holidays have become an essential part of LiveOps with players expecting an influx of new content as we approach the holiday seasons.
Editor's note: This blog post was originally published in February 2021. We've updated the blog post with new seasonal event implementation examples and best practices for introducing seasonal events into your mobile game.
But is there more to seasonal events than just storefront changes, skins and icons, and reskins of past events? In this post, we'll cover all of that while also looking at best practice examples that will hopefully give you ideas on what you could consider for your seasonal promotions.
The data and examples shown here are gathered from the GameRefinery service, which you can access here. The examples we've included here are only a small handful of the thousands of seasonal event implementation examples on the GameRefinery SaaS platform, so if you're interested in seeing more examples, check out the platform.
Not all seasonal events are created equal
It's good to remember that while some events are important to you, they may not be culturally relevant to all your target countries. This is especially the case in the US and China, where Halloween and Christmas will be much more significant to a US audience than New Year for a Chinese audience.
Typically, the most significant seasonal events in the mobile game markets are New Year, Lunar New Year, Valentine's Day, Easter, Halloween, Thanksgiving, and Christmas. However, several other smaller seasonal events provide an excellent opportunity to give players a content update, such as St. Patrick's Day and Cherry Blossom Season in Japan. The updates are usually rolled out a couple of weeks in advance of the specific dates.
Seasonal events in mobile games
Here are the key dates to be aware of that are typically celebrated by the mobile games market.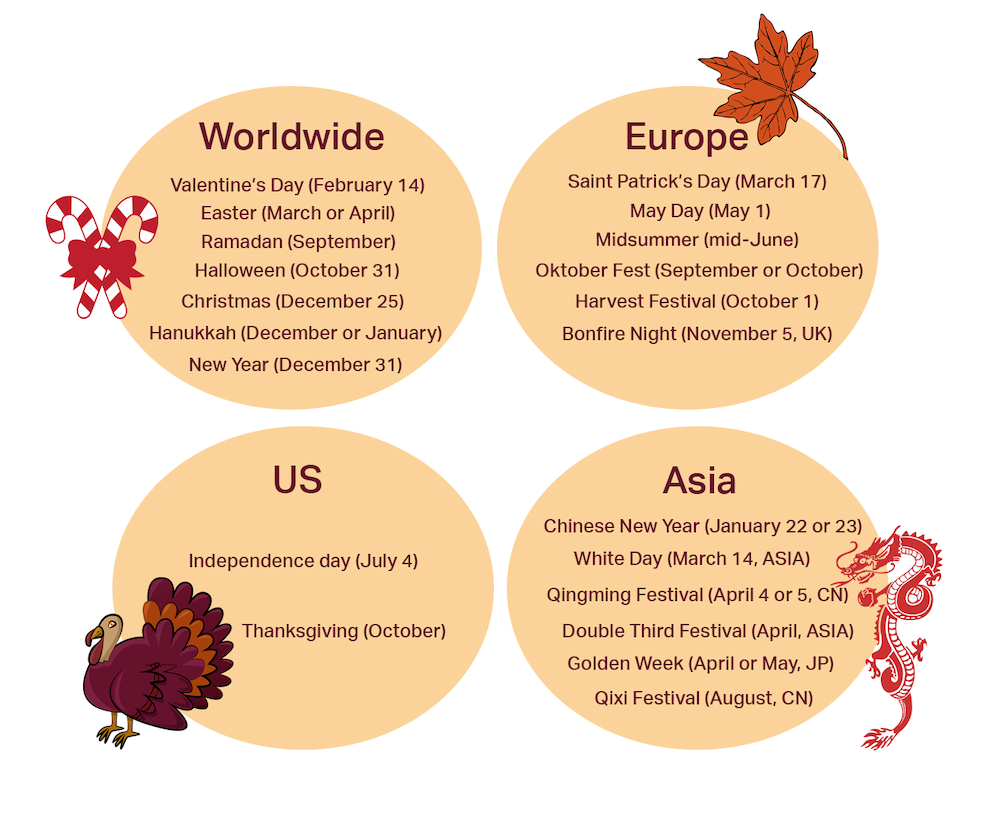 Depending on the demographic and genre of your mobile game, you might also want to consider celebrating charity initiatives and wider awareness days.
Brawl Stars, Angry Birds 2 and Sky: Children of the Light are just some of the mobile games with charity events that have raised money through the sale of limited-time accessories. Many mobile games are involved with the Playing for The Planet initiative, with studios raising awareness of environmental issues by hosting events on major calendar dates such as World Environment Day (5th June).
Pride, which celebrates equality and human rights, has also become a major calendar date for several mobile game studios. Zoobaa, League of Legends: Wild Rift, Beatstar, Farmville, and Zynga Poker are all mobile games that celebrated Pride in 2022 through seasonal events which involved a UI refresh, limited-time characters and cosmetic items, and lots of money raised for non-profits championing LGBTQ+ rights.
How mobile games implement seasonal content through LiveOps
There are plenty of ways to implement seasonal events into your mobile game, but they usually fall into one of the following categories. It's important to bear in mind that the more effort you put into your seasonal events, the more rewarding they'll be.
Simple UI changes to represent a seasonal makeover
If you don't have the internal resources to launch a massive content update, giving your UI a seasonal makeover is a simple and effective way of getting in the holiday spirit, whether it's a splash of holly and tinsel around the border of your main menu or pumpkins and ghosts hiding in the background.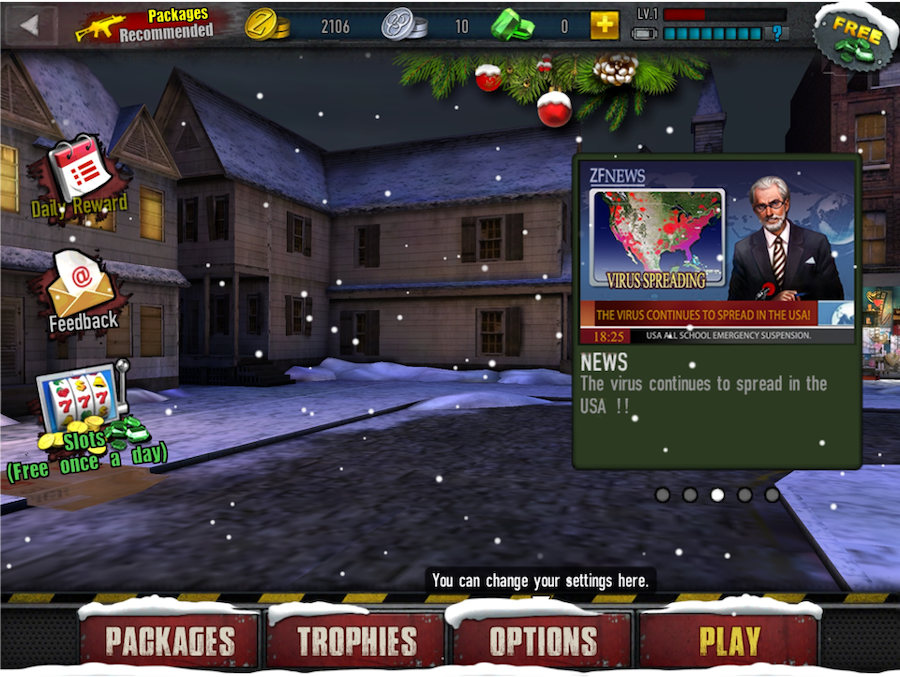 Event-related offers (e.g., Valentine's Day skins in the shop) + UI changes
Of course, giving your UI a refresh isn't going to do much when it comes to bringing in revenue, which is why most developers give their cosmetic items, such as skins, a seasonal makeover too.
Limited-time event skins are not only a great way to boost revenues, but they're also a great way to build retention and UA by encouraging players to play the game for limited-time items. Diablo Immortal's first seasonal event was Halloween, and it was celebrated with the release of Halloween skins and armor sets made available through a special event store.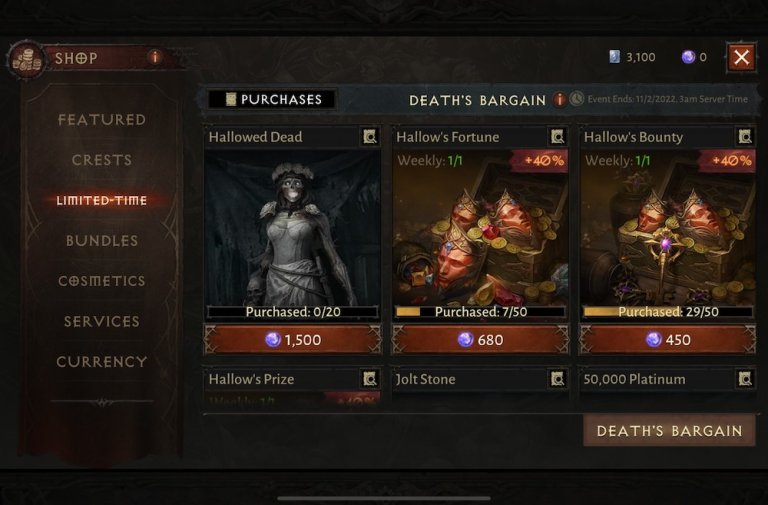 New content, event tasks, rewards, skins and much more
Option three is bringing the elements mentioned above and wrapping them together with new content, event tasks, and rewards as part of a comprehensive seasonal content update. The more changes you make to the game, the more monetization mechanics you've got to play with.
Content updates might involve a new narrative mission tied to the event, or event-specific game modes, minigames and challenges. The Chinese battle royale game, Game for Peace (和平精英/PUBG Mobile), updated its main map, UI and game modes with seasonal changes themed around Chinese New Year at the beginning of 2022, while the Match3 puzzler, Anipop, added new game mechanics as part of an event celebrating the 2022 Winter Olympics.
Depending on the amount of new content and cosmetic items you're introducing into the game, it might be worth adding a special event currency that can only be used to purchase event items during the event. This adds a new monetization channel into your game and means players can interact with monetization elements such as gachas knowing they're playing specifically for event rewards.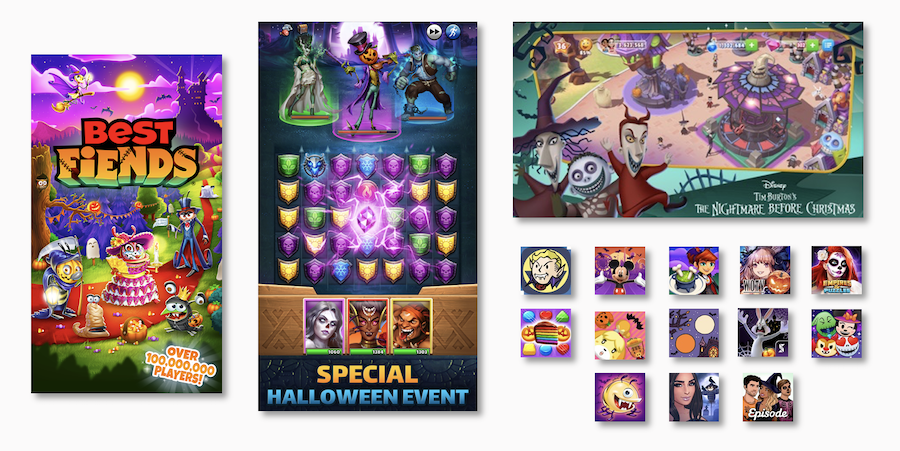 Seasonal event examples from top mobile games
Let's look at how some of these promotional features have been implemented in some of the most popular mobile games, and the impact they've had on download and revenue figures.
Angry Birds Journey – The 'Easter Kiosk' Easter Event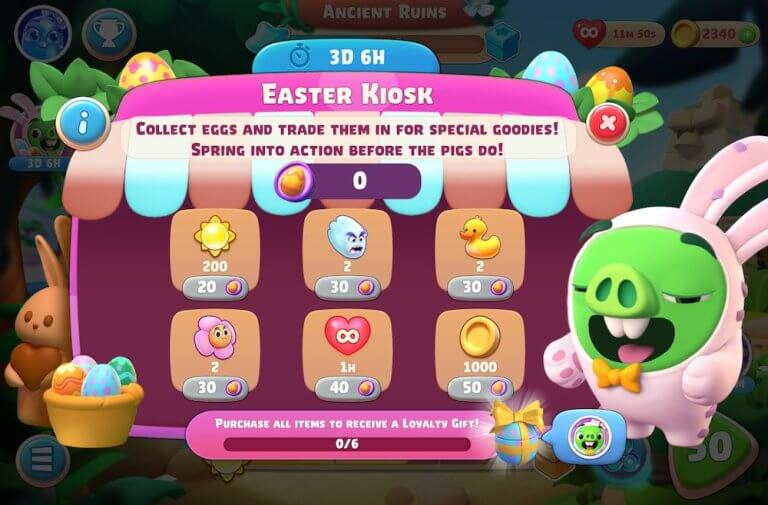 Angry Birds Journey used Easter to introduce its first seasonal event since launching at the beginning of 2022. The Easter Kiosk event introduced Easter-themed eggs into the maps, which players had to collect and trade in for special limited-time event rewards. Purchasing all six of the Easter items rewarded players with a limited-time Easter icon for their avatar.
Fate/Grand Order: Valentine's Day Event 2022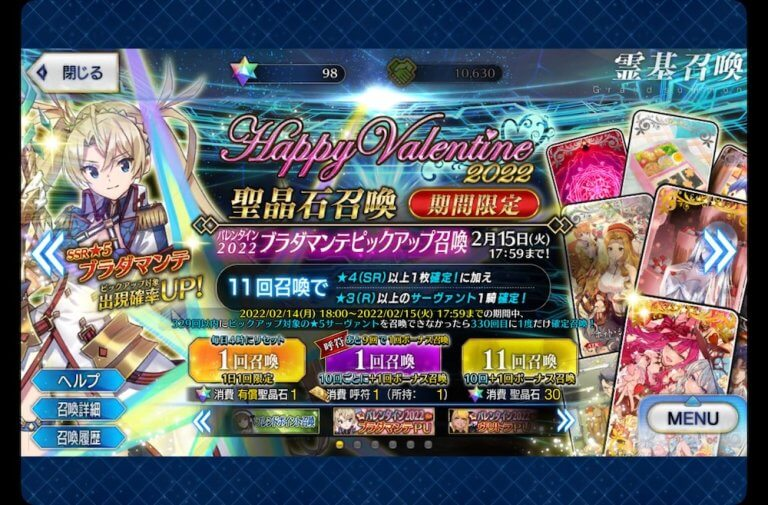 The Japanese RPG, Fate/Grand Order, usually got big with its seasonal events and last year's Valentine's Day event was no different. Players ​completed event quests to progress through a new event story and collect Yojinbo points to unlock rewards. Using event characters (able to acquire through multiple Valentine's Day gachas) in the event quests boosted the rates of event item drops and Yojinbo points – a great way to boost engagement.
There was also a limited-time event shop where players could spend event items to earn rewards. The Valentine's Day event introduced a special event-limited feature called Buddy Rank, where players that take part in battles earn 'buddy score' and increase their 'buddy rank. Characters were assigned with event-specific skills and leveling them up was linked to the Buddy rank system, adding a seasonal twist to the game's traditional RPG mechanics.
Merge Mansion: Valentine's Day Event 2022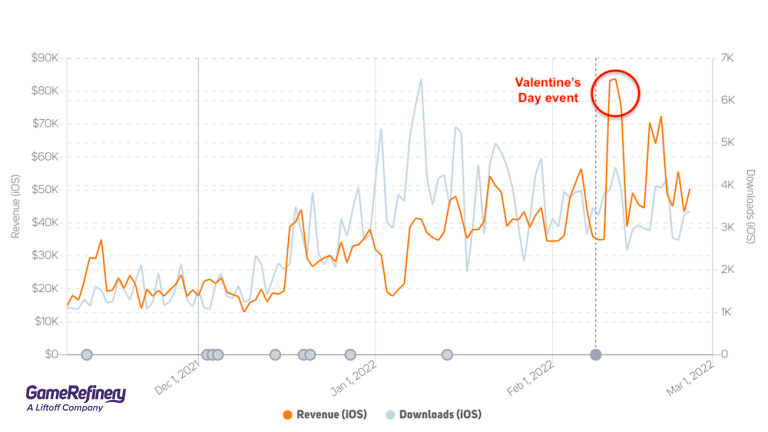 It's not unusual for mobile games to reuse elements that were used in their previous seasonal events, which is what Merge Mansion did last year for Valentine's Day. In the event, players could access a separate merge grid where their goal was to complete specific event tasks.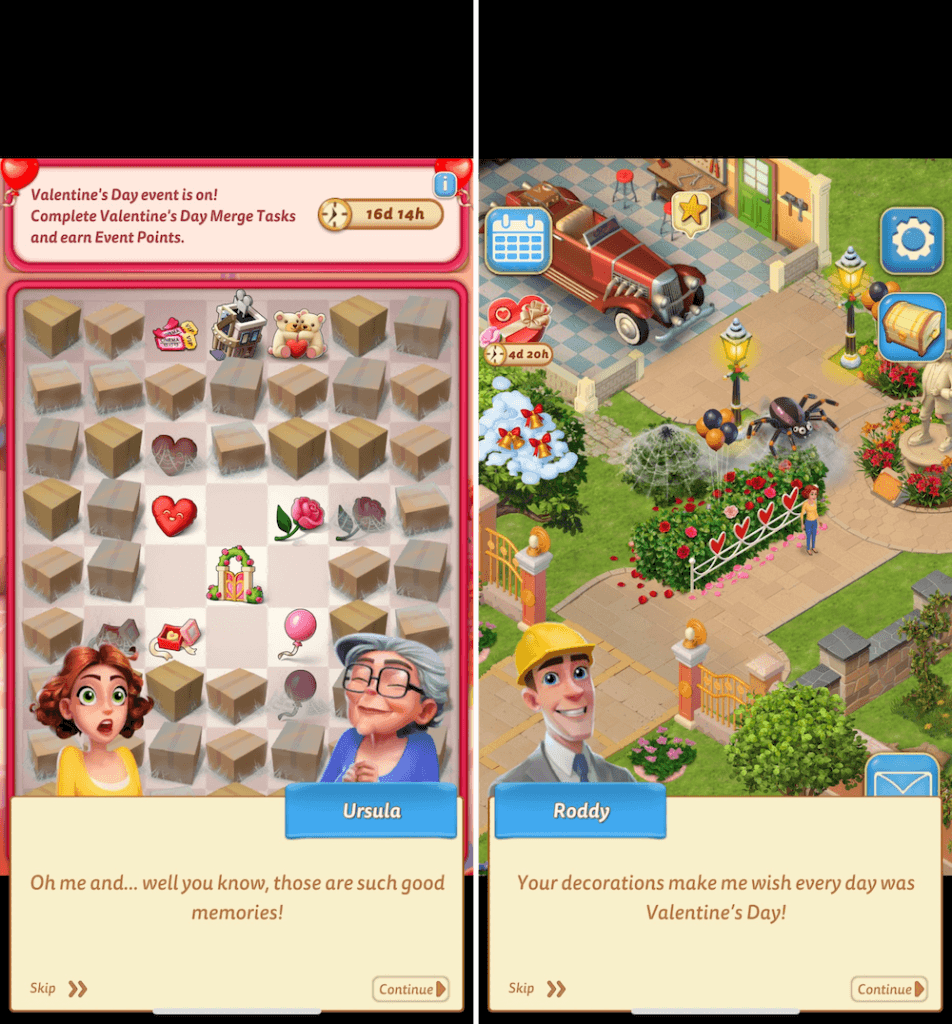 Completing these tasks rewarded players with a special event currency, which could be used to purchase limited-time decorative items in a special event shop. While the update didn't tread much new ground, it caused a huge spike in revenue, proving just how important seasonal event updates can be.
Sky: Children of the Light: Days of Bloom (Cherry Blossom Season event 2022)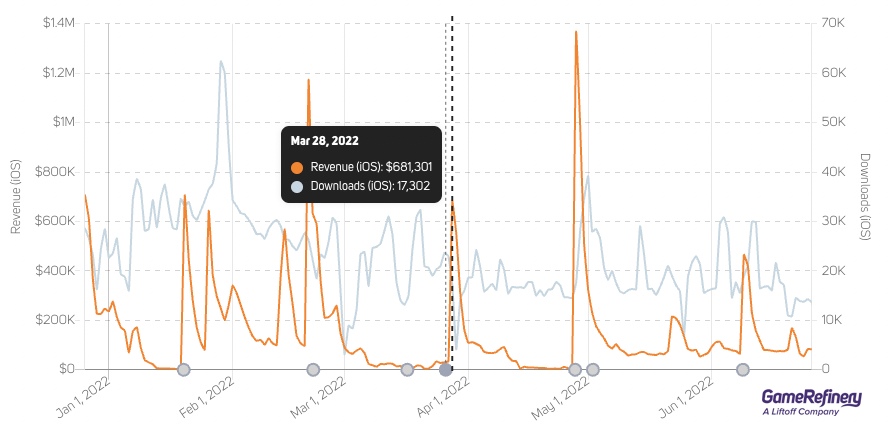 Sky: Children of the Light (光·遇) has found huge success in China despite being developed in California. Due to its popularity in the East, Sky: Children of the Light hosts a lot of seasonal events catering for its most popular demographic, and while many associate cherry blossoms with Japan, the season is also celebrated in China.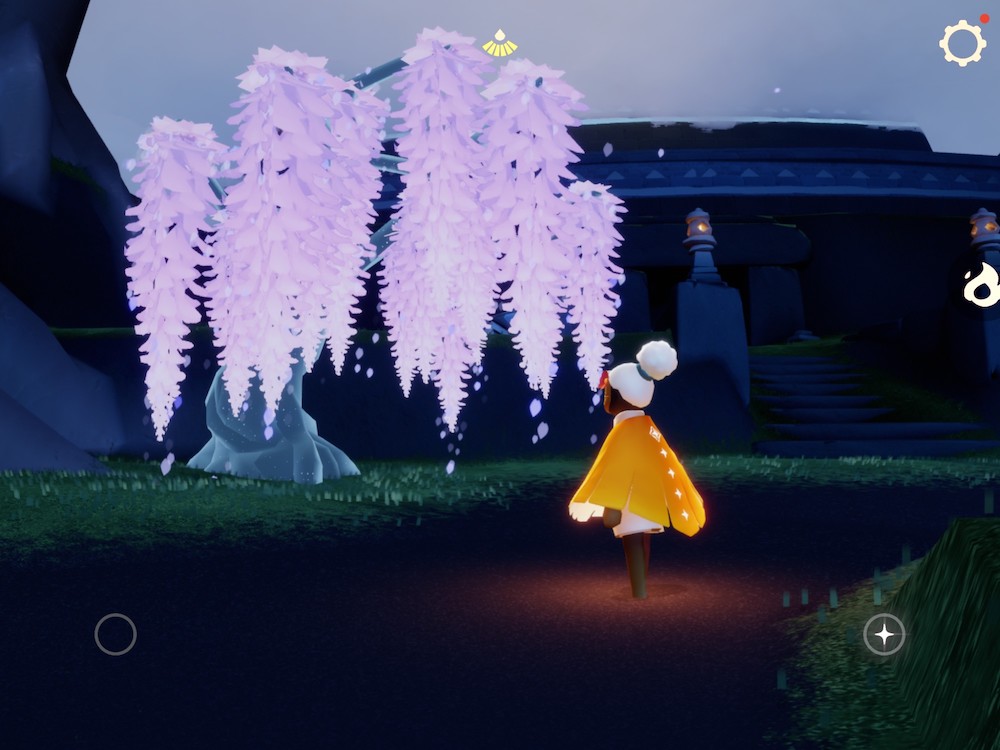 Days of Bloom ran from March 22–April 4 last year and included a variety of petal-themed items and scenic changes, along with special daily quests and plenty of limited-time cosmetic skins and items to purchase. Seasonal events are a huge revenue driver for the game, as you'll see from the graph below, and this cherry blossom update caused a large spike in daily revenue.
Clash of Clans: Halloween 2022 event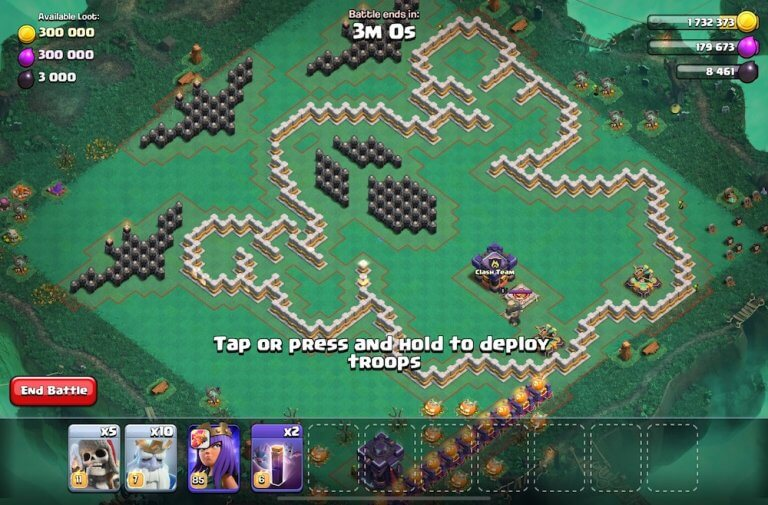 Halloween updates are very popular amongst mobile games and usually run for a couple of weeks from the middle of October. Clash of Clans' Halloween 2022 event is a great example of using seasonal events to create new revenue opportunities while keeping things relatively simple.
For last year's event, the game kept things fairly simple with limited-time Halloween-themed skins, units, and new challenges. Challenges were Halloween-themed and incentivized the use of Halloween units as they had specific completion requirements relating to the use of these characters.
You can learn more about 2022's most successful Halloween events in mobile games here.
Unique examples of market-specific seasonal events
Christmas, New Year, Halloween and Easter are some of the most widely celebrated seasonal events, but there are plenty of more market-specific seasonal events that are worth tapping into depending on where your players are based.
Our China and Japan market game analysts have collected some examples of seasonal events that hopefully inspire new ideas to drive player engagement if your target markets are in China or Japan.
Seasonal events to consider in China
Qixi Festival
The Qixi Festival, or "double seven," since it's celebrated on the 7th day of the 7th month of the lunar calendar, is the Chinese equivalent of Valentine's Day. Lots of mobile games celebrate the event every year, with Revelation Online (天谕), Battle of Fishing (捕鱼大作战-欢乐真人千炮捕鱼游戏王者,柳岩推荐), Three Kingdoms Fantasy Land (三国志幻想大陆 – 国创加强版), and Shén wǔ 4 (神武4) all taking part in the festivities in 2022.
Dragon Boat Festival
The Dragon Boat Festival, aka. "double five," is a traditional summer festival celebrated on the 5th day of the 5th month of the lunar calendar, which is usually in June. Traditions for the day include big dragon boat paddling races organized on the rivers of virtually every village and city, as well as eating a special kind of steamed and stuffed dumpling made of sticky rice called zongzi.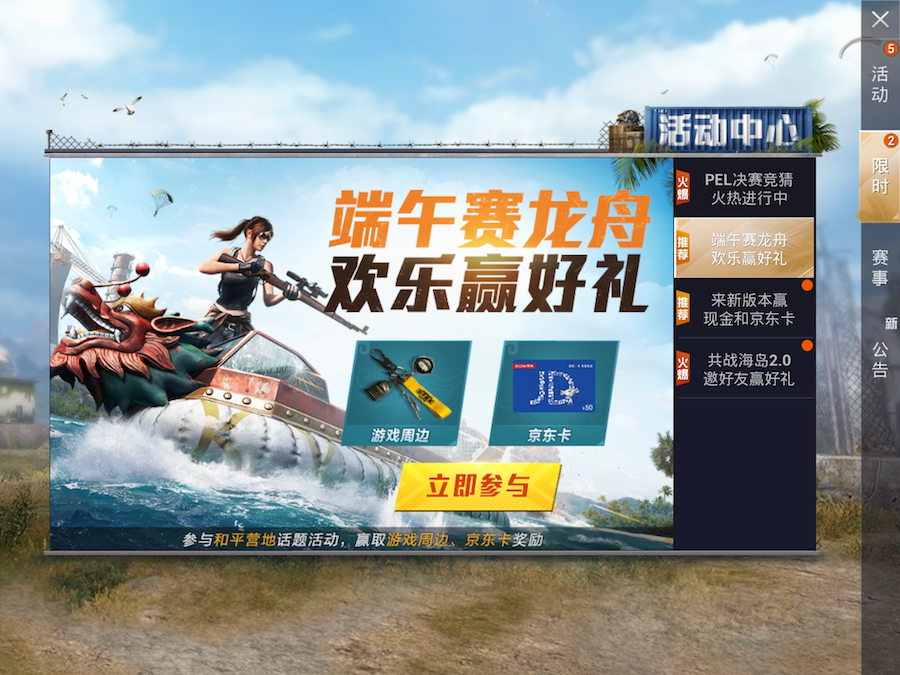 PUBG Mobile, which is known as 和平精英 "Game for Peace" in China, included special dragon hovercraft in its Dragon Boat Festival event, where players could win game merchandise and gift cards for the Chinese eCommerce company, JD.com.
Singles' Day
Also known as 'Double Eleven' day is an unofficial holiday in China, known for being the largest shopping day in the world by consumer spending. Originating as a day to celebrate single people, it has been heavily commercialized by online retail companies such as Alibaba, and it is also extremely common for mobile games in China to feature IAP events around the day.

Merge Go! (幻兽爱合成) had a Singles' Day event with limited-time IAP bundle offers and a points system where passing certain IAP thresholds would earn the player additional gifts.
Seasonal events to consider in Japan
Here are some of the popular seasonal events that typically pop up in Japan's market's games.
Golden Week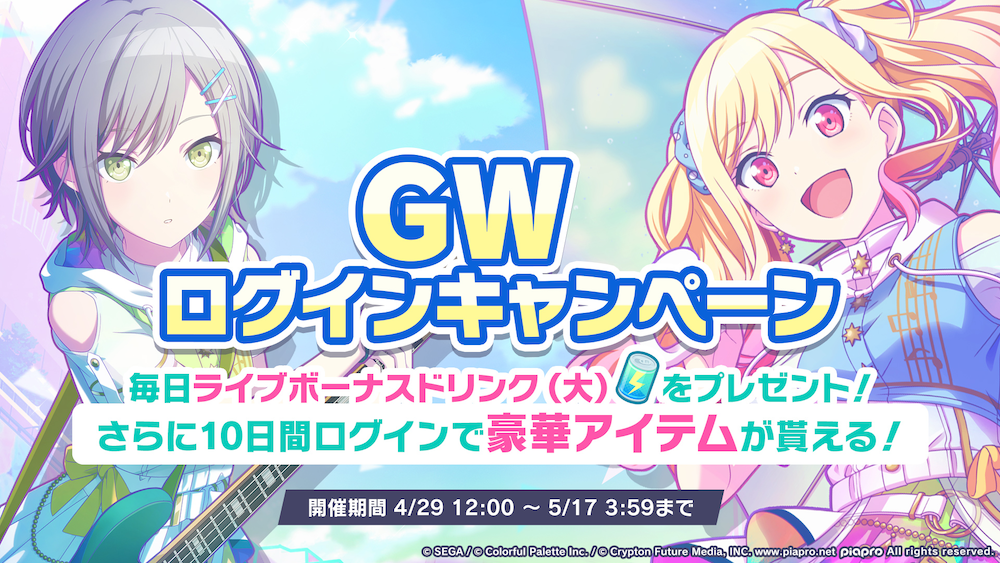 Golden Week is a week celebrated in Japan from 29 April to early May that encompasses four of Japan's 15 national holidays, and Hanami, which means "flower viewing" in Japanese, the traditional custom of enjoying the beauty of cherry blossoms.
Last year, Umamusume Pretty Derby, Project Sekai Colorful Stage feat. Hatsune Miku, State of Survival, and Guardian Tales all celebrated Golden Week with the addition of new story content and items.
Japanese New Year (Shōgatsu)
In winter, Japan celebrates the Japanese New Year (Shōgatsu), an annual festival with its own customs, and lots of mobile games typically take part in the celebrations. Umamusume Pretty Derby's (ウマ娘 プリティーダービー) New Year's story event followed the Umamusume as they attempted to learn karuta (a traditional Japanese card game and a popular New Year's pastime) and compete in a tournament, while The Seven Deadly Sins featured log-in bonuses.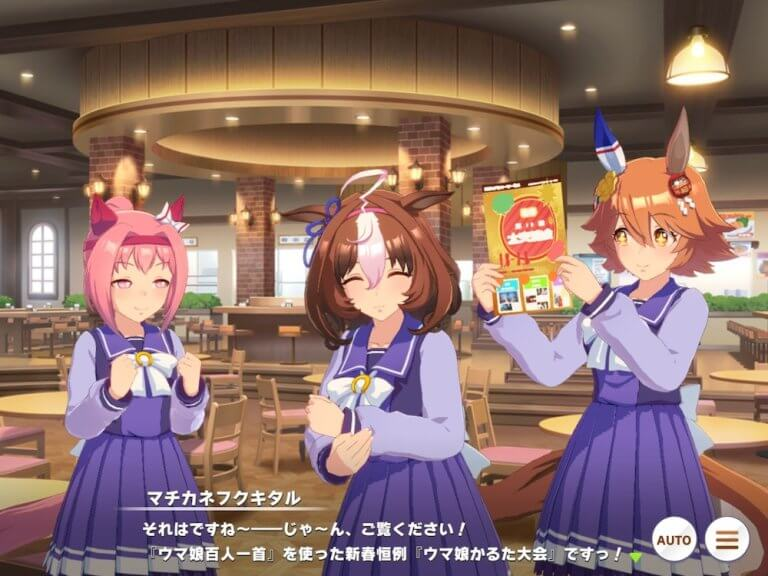 Tips for introducing seasonal events into your mobile game
Introducing seasonally-themed events to your game can deliver significant benefits, as seen in many titles across all genres. By implementing a combination of features including event-specific currencies, stores, seasonal gachas, unique game modes, and collaborations, you're opening up new monetization channels while also providing players with great value for money thanks to new content.
Here are some tips to help you implement any seasonal events you're planning smoothly:
Plan carefully and roll your seasonal event out gradually
It's important to build anticipation for your seasonal event. Make sure it's well promoted through marketing channels such as newsletters and social media platforms so players have a chance to download the game and start playing before the big content drop.
Consider a phased approach for the release of new content rather than releasing everything on day one. This will keep your players revisiting the game daily, rather than rushing through the experience at launch.
Combine your gachas with seasonal events
Gachas are a great monetization mechanic and can be easily reskinned and customized to accompany seasonal events.
Run a collaboration/crossover event as part of your seasonal event
In-game collaborations are a trending feature and it's not unusual for mobile games to collaborate with other games and non-gaming brands as part of their LiveOps. If you've got the budget, incorporating a well-known IP into your seasonal event plans could be a great way of boosting downloads and revenue.
If you enjoyed reading this post, here are a few more you should definitely check out: