Competition is fierce in the mobile game market, but even more so for developers of casual and hyper-casual games. Thousands of new games and apps targeting casual and hyper-casual audiences are released every day, which means capturing the attention of new players is tough, but keeping them engaged for weeks and months to come is even trickier.
So, what can mobile game developers do to increase the chances of their games performing well? Some developers of casual and hyper-casual games have been finding success by looking to wider social trends and creating gaming experiences that cater to the audiences of these trends. But what's the easiest way to find such trends? And how do you know which trends will be a hit with a gaming audience?
From TikTok trends to the top of the app store
Widely regarded as the biggest trendsetter when it comes to entertaining content, the short-form video content platform, TikTok, has become the new home for viral content. This is where the biggest trends are not only shared but also started, and TikTok's links with the gaming community – where gaming is one of the top categories on the platform growing 2.3X year-over-year from 2021 to 2022 (TikTok Internal Data, 2022) – makes it the perfect place to find inspiration for casual and hyper-casual mobile games.
If you're an app developer that's already experimented with video content – perhaps in the form of video ads – you'll already recognize the value of video content. TikTok's community leverages the engaging short-form video format to share their creative takes on games, whether humorous or educational.
Most recently, it's been hyper-casual and casual games leveraging TikTok's most popular trends to create original games that appeal to gamers and viewers engaging with viral content.
Let's take a look at some of the most successful ones:
Fidget Trading 3D: Fidget Toys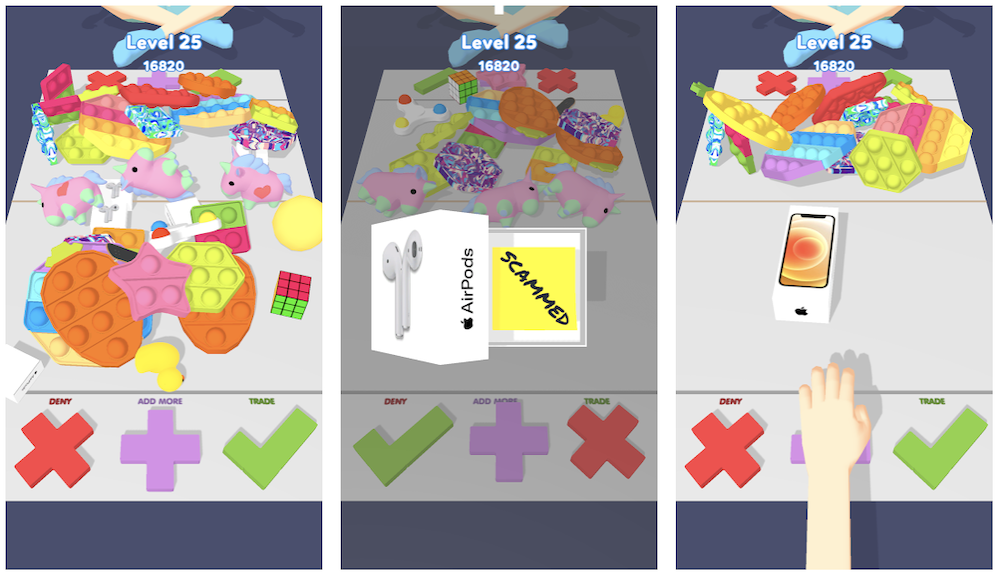 Everyone remembers fidget toys, right? TikTok brought them back into fashion and in splendid style when the concept of fidget trading emerged as a new trend in 2021, with users filming the process of trading their fidget toys with each other. To date, 'fidget trading' has garnered over 200M views on TikTok.
This trend doesn't go unnoticed by game developers. They started creating games such as where players place the fidgets they want to trade in the center and take turns to trade items. Fidget Trading 3D: Fidget Toys is a hyper-casual title launched by Turkish studio MagicLab on the 1st of July 2021 and is the most successful example of a game based on fidget toys.
Soft launching the game on TikTok pushed them to #1 on the US iOS and Android charts for 11 days and to the top position in 39 other markets globally. A large part of Fidget Trading's massive success was due to the popularity of the game concept and familiarity among TikTok users. The game mechanics are simple: players trade fidget toys and aim to get the best trade.
As Fidget Trading 3D: Fidget Toys clearly shows, leveraging the latest trends on TikTok is a great way to gain huge visibility for your game at launch and make it feel instantly familiar to potentially millions of players. People already engaged with the initial trend are likely to seek out the gaming experience.
High Heels!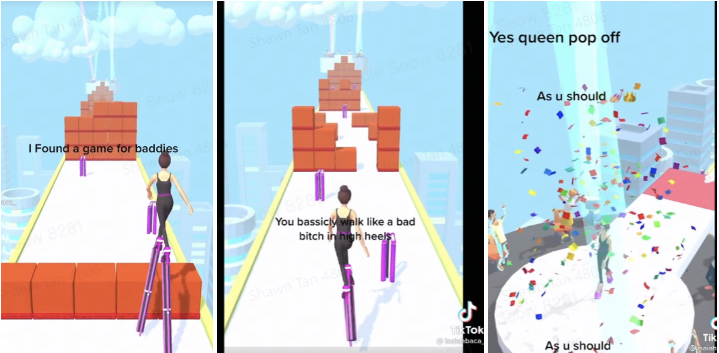 High Heels! is a hyper-casual title launched by Rollic and released at the end of 2020. It was one of the most popular games in 2021, achieving over 100 million downloads worldwide in just 11 months.
The secret to its success? It's popular on TikTok, where players flooded the platform with videos of its highly compelling gameplay while positioning it alongside meme trends and the #highheels hashtag. On January 2021, TikTok creator @Isaiahbaca posted a video on TikTok with the iconic caption, "found a game for baddies." The original video has amassed over 1M likes to date, and in total, the related hashtags (#highheels, #highheelsgame, etc.) received over 56M video views.
High Heels! isn't a complicated video game. It taps into the motivations, needs, and wants of a specific audience while riding a trending hashtag. Other factors contributing to its success are its ease to pick-up and play, the mechanics and visual style of the game make it perfect for sharing on TikTok, and its diverse range of characters cover a broad spectrum of gender presentation and body types.
From this success, Rollic's team shared that they will integrate "TikTok-able" elements into their future titles. The possibility to scale on TikTok depends on both organic and paid investment. You can tap into the community and scan the platform to pick up on trending themes that are familiar to yours so you can scale on creatives and ads.
What are the motivations behind trends on TikTok?
Similar to popular games, the success of viral content is often down to it being relatable and fulfilling certain needs. Game developers should try and find the motivations behind the specific trends that they want to position their games alongside so they can understand the specific game mechanics that will motivate players.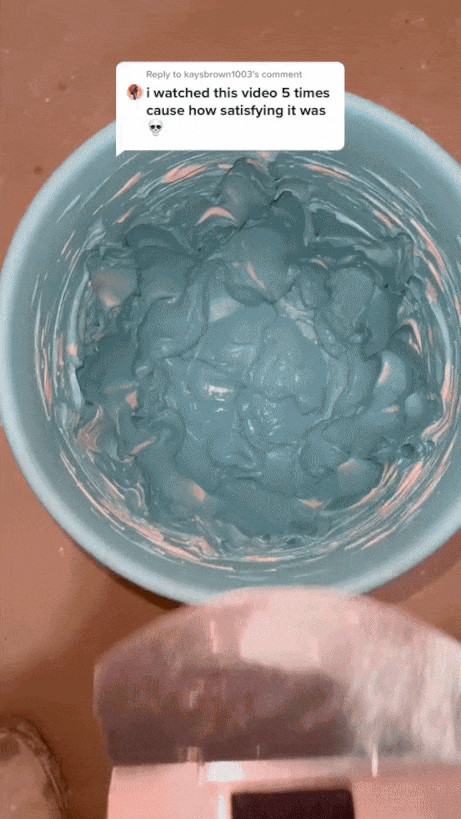 Satisfying to Watch
Explore symmetry, repetition, material characteristics
#satisfying – 290B
#restock – 12B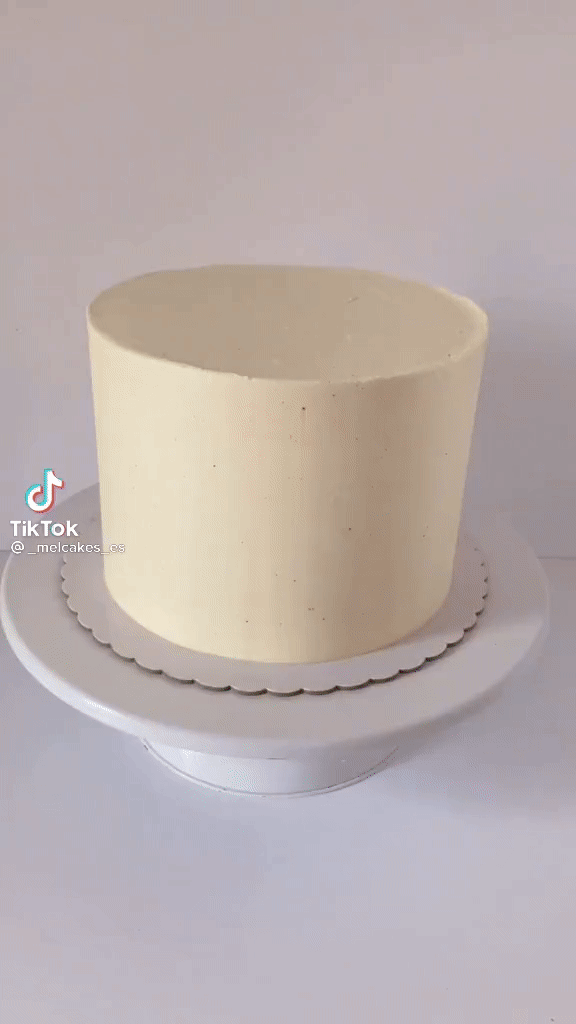 Self-Expression
Find new ways to express yourself and showcase your creativity
#cakedecorating – 11B
#DIY – 202B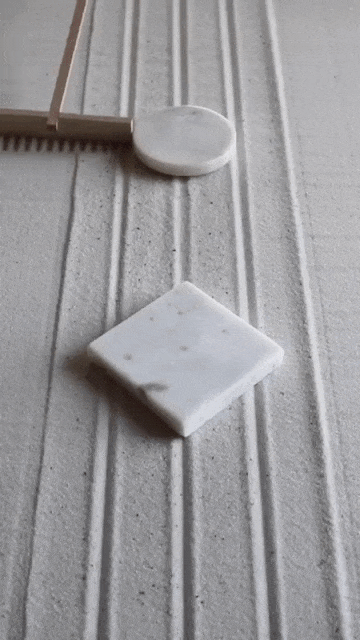 Relaxation
Be engaged without thinking too much
#zen – 2.8B
#posca – 1.7B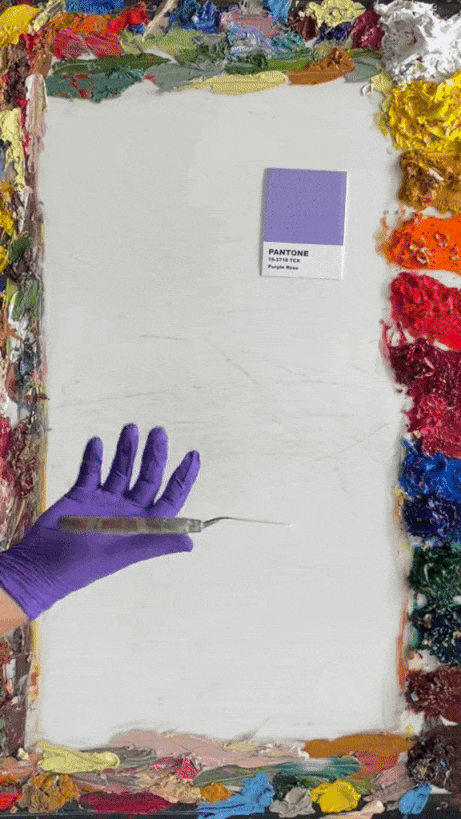 Accomplishment
Anticipation for the end result
#organization – 5B
#paintmixing – 1.4B
Sustain and build better games by appealing to new player motivations
Beyond the importance of understanding which features and mechanics appeal to new players, it is crucial that game developers find different ways to achieve sustained success and engagement for their games. Especially in the more challenging, post-IDFA marketing landscape, some tactics of developing and creating successful games have changed. This means many hyper-casual and casual games are looking for ways to increase long-term retention, build IAPs and increase their LTVs.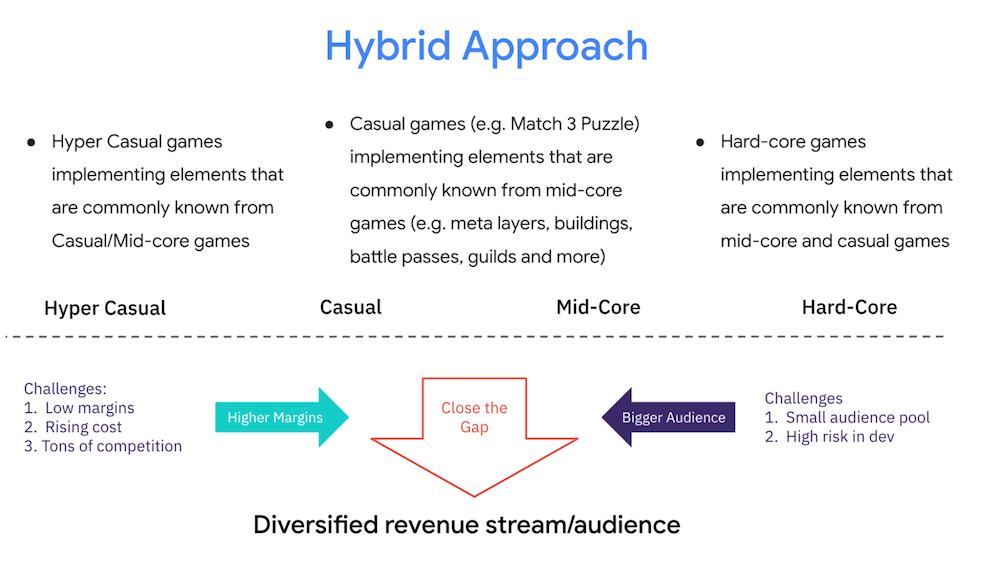 Put simply: the mobile game market is currently seeing a lot of hybridization
In the casual/hyper-casual space, we see this happen via three major feature areas: meta layers, social and LiveOps.
Meta layers
The adoption of meta elements has increased. Core gameplay can still be the primary focus, but meta layers open up a way for game developers to "hybridize games," bringing a sense of progression and diversity for gamers.
Some of the most successful meta layer types used in games include:
Light construction & customization mechanics (decorative or small boosts)
Collectible items/characters (stickers, mascots, etc.)
Light RPG mechanics of items, characters used in the core gameplay
Narrative elements to increase a sense of immersion and progress
One meta layer type that's trending in particular is collection systems, which may also explain the success of Fidget Trading 3D as collecting is the core element of the game. Collection systems have good synergies with LiveOps and provide ample opportunities for monetization. They also are seen in various formats in all types of games as they don't necessarily have to have an impact on the core gameplay but only work as a sideline progression vector.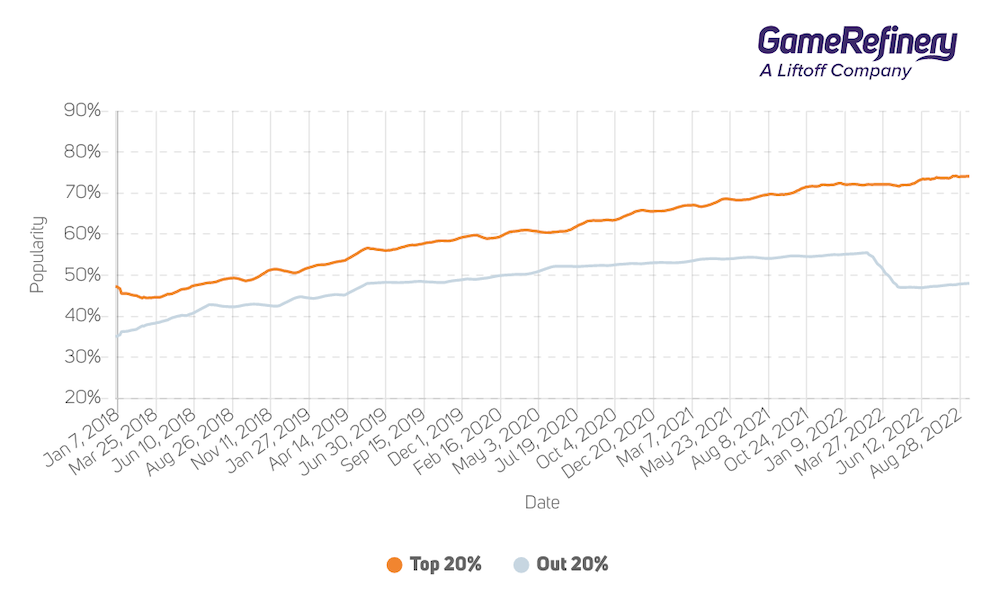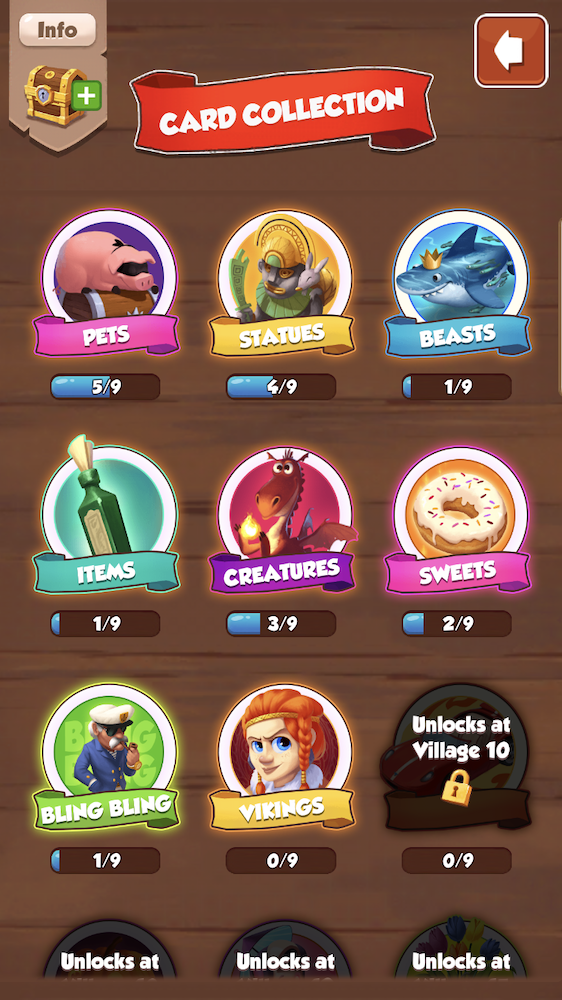 Meta layers can also be used to broaden your game's motivational appeal by giving players additional goals to achieve and to boost retention. Two examples are escapism through story elements and self-expression through decorations.
Different meta layers can increase your game's appeal towards player cohorts with different motivational driver profiles, resulting in a more engaged player base overall. One good example is from the Match3 market with how Project Makeover's narrative/decoration meta brought an extra "motivational angle" to compete against Candy Crush Saga, shown in the motivational emphasis graph below.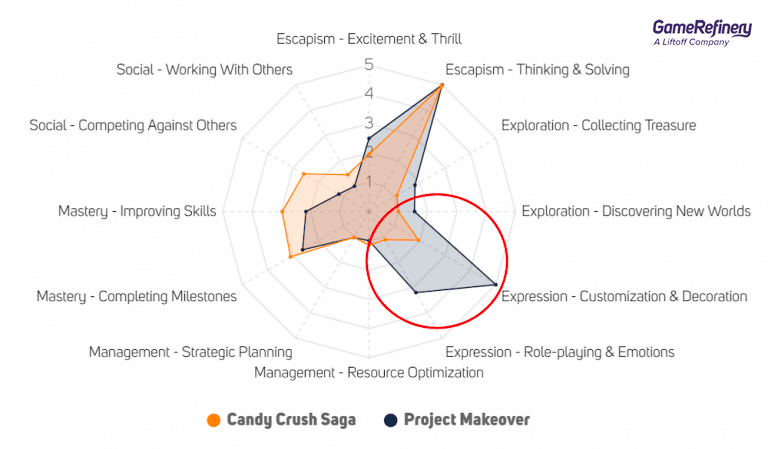 In other words, Project Makeover appeals to a broader set of motivational drivers and is likely to lure in new types of players who are driven by Expressional motivations as a result.
Social and LiveOps
Social elements and social connections are one of the strongest retention-inducing elements in mobile games, which explains why more mobile games are adding social hangout areas and other elements into their games. Analyzing the various ways you could introduce social elements into your game is a great way of building engagement and retention.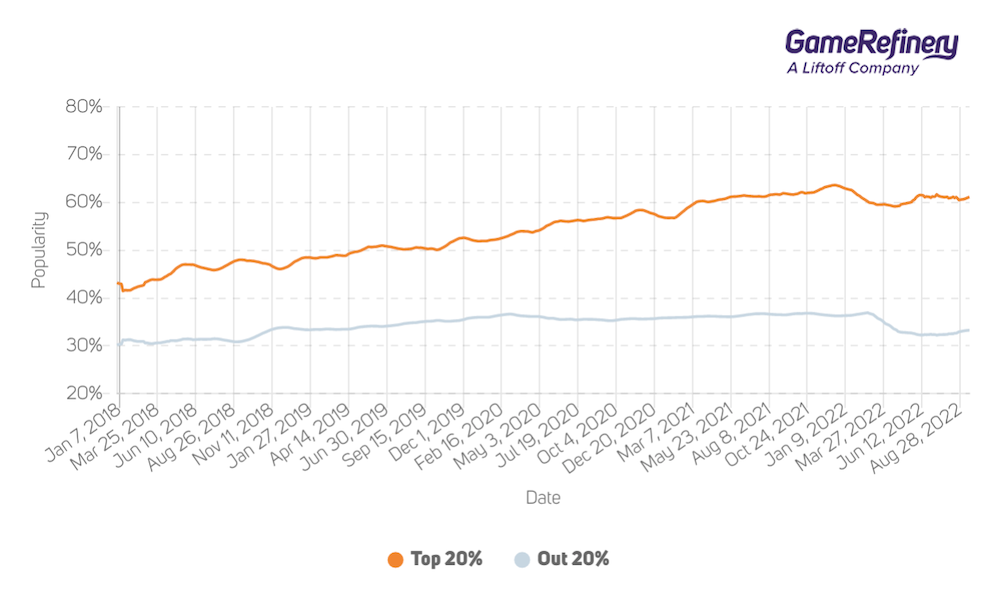 There are plenty of examples, even in simple casual games, where developers have introduced social elements as one of the key features on top of the simple feature set. This is usually done by introducing guild mechanics, which allow players to form communities with other players and often earn rewards for shared gameplay, as a "social community" feature. Once introduced, guild mechanics can be built upon with more features and events, such as competitive and non-competitive events.
Games such as Match 3D from Lion Studios use guild mechanics to tap more into social drivers to move ahead of "hyper-casual" to increase the game's engagement.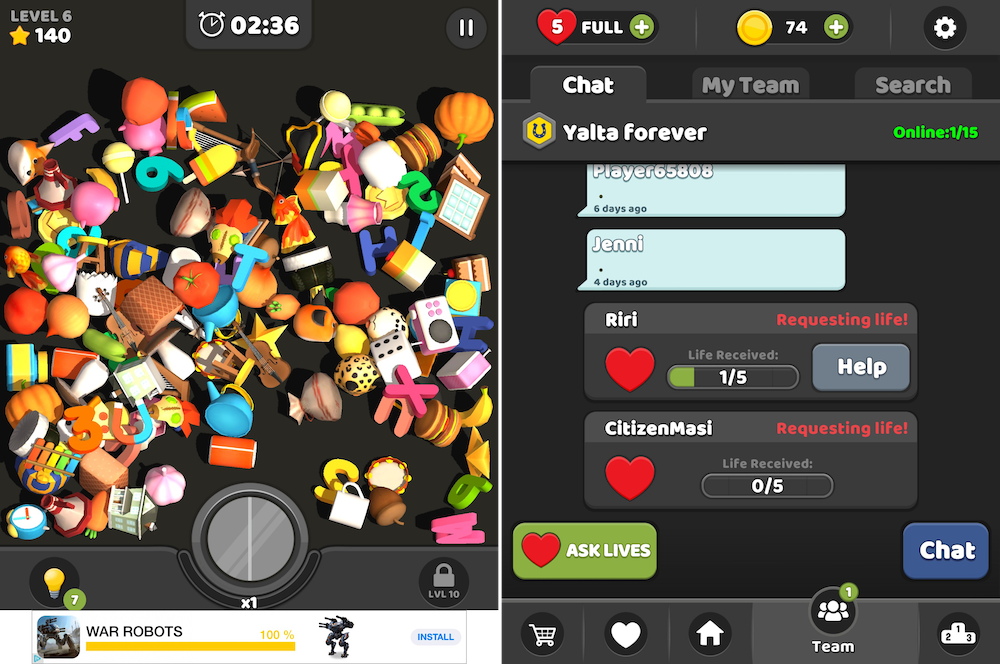 Another way to look at social elements is from the competitive angle. Your game can be PvP-oriented, where the competition motivation is naturally the lifeline of the whole product. But nowadays, more and more simpler solo-based games are introducing some light competitive elements to drive engagement and monetization.
We've seen this trend in various puzzle game subgenres such as Match3s, Bubble Shooters and Word games. Most of the games in these subgenres are inherently solo experiences, playing level after level with no PvP in sight. But nearly all of the top Puzzle games have started to tap into competitive motivations as well through their live ops. It is very common for these games to have various leaderboard events and other competitive elements. Players are still playing those same solo puzzle levels, but as they play, they accumulate progression to a leaderboard where they are competing against others.
As an example, Bubble Shooter – Pop Bubbles by Ilyon Dynamics is a very simple-looking puzzle game with hyper-casual elements at first glance. But when you dive deeper into the game, you discover they've built a quite robust event framework to support/engage their players to keep playing, and many of these events tap exactly into competitive motivations.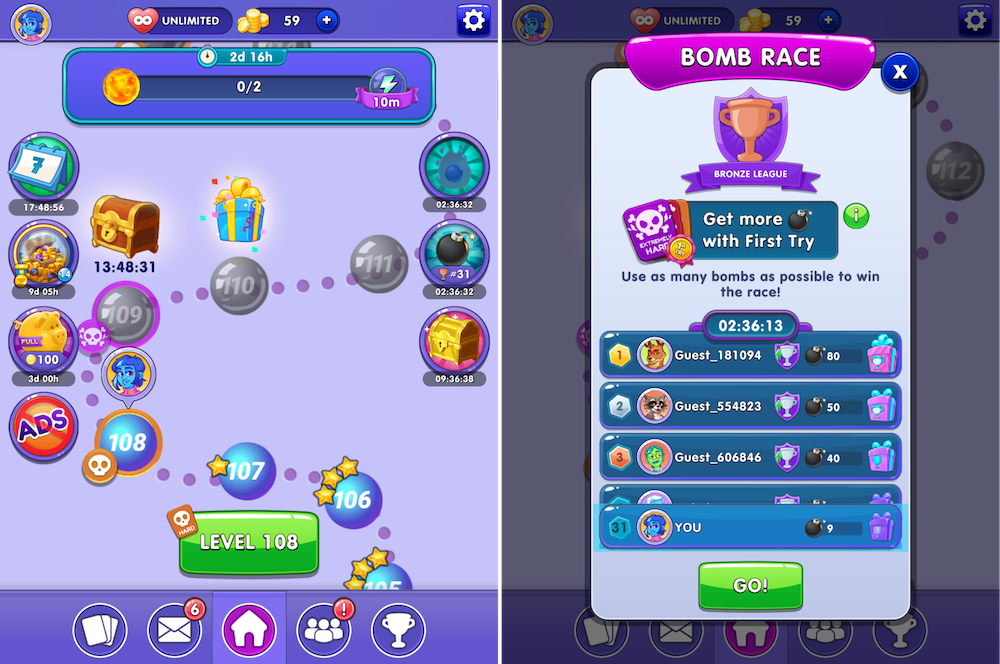 Overall, one of the most crucial ways to increase your game's engagement is to start operating live events for your players. Whether they are competitive or not, a strong event framework can support your core gameplay loop and work as a strong retention mechanic for giving players more short-term goals. Just simply adding content isn't enough for modern audiences.
What tools can I use to guide me in launching new games?
TikTok Creative Center is a one-stop hub for all that's buzzing on TikTok. Get the scoop on the most popular hashtags, songs, creators, and videos in your region and vertical. Trend Discovery is here to inspire you, keep you in the loop, and guide you on the latest gaming trends.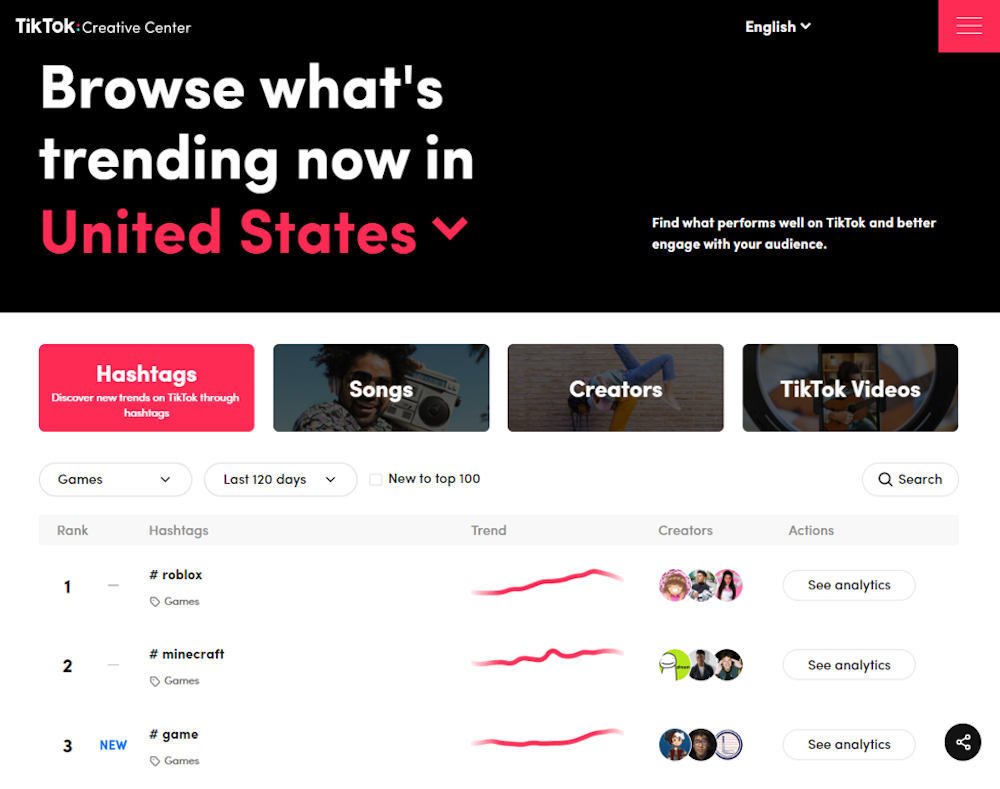 Partner with TikTok creators to accelerate discovery. Developers can use another important tool, the TikTok Creator Marketplace to search for relevant creators to collaborate with. Spark Ads is another format to consider, where developers can boost awareness of creators' videos to reach the right audience on TikTok.
Analyze the best practices with GameRefinery. Developers can use GameRefinery's SaaS platform to analyze the market for feature implementations, meta layers, and LiveOps to understand best practices of the most successful mobile games.
Identify trends and current competitors. The GameRefinery database offers direct access to thousands of analyzed games with a full breakdown of features, motivations, and market fit. Developers can incorporate this data to polish feature design, add new meta layers, and improve future LiveOps.
Conclusion
Find the trends – Leverage tools on TikTok to find the latest top songs and hashtags, and leverage GameRefinery for the top features to increase faster development time and ensure a better market fit.
Discover the motivation – Why did something become a cross-category trend? What is the need it fulfills? What are the feature loops which make it work?
Launch the game – Use TikTok's unique set of solutions and leverage the power of creators to help get the gaming community onboard.
Build the product for longer-term retention – Study the best practices of thousands of analyzed games and their updates with GameRefinery's SaaS platform to understand the features that are proving most successful across LiveOps.
Corporate data-driven validation throughout the product lifecycle – Utilize GameRefinery's qualitative data to confirm expectations and solidify product plans to achieve set team goals from market research and concept development to LiveOps.