It's a calendar day associated with practical jokes and trickery, but this year's April Fools' Day resulted in plenty of clever stunts, events and updates from mobile game developers. As anyone who follows our seasonal event posts will know, international calendar days are a fantastic opportunity for mobile game developers to boost their revenues and player counts with event-specific updates, and April Fools' Day is no different. 
The unusual and playful nature of April Fools' Day makes it the perfect match for mobile game developers that are looking to experiment and do something different. If you're looking for inspiration, take a look at how the likes of Cookie Run: Kingdom, Garena Free Fire, Pokémon and more celebrated April Fools' Day this year.
Cookie Run: Kingdom
Let's start with a game that made the biggest effort on April Fools' Day. Cookie Run: Kingdom celebrated by giving every cookie character (except the collaboration characters Sonic and Tails) a new skin that could be unlocked for the event period – almost 70 new outfits in total! The looks varied from anime characters and reimagined memes to ASCII art and for some reason, a coin!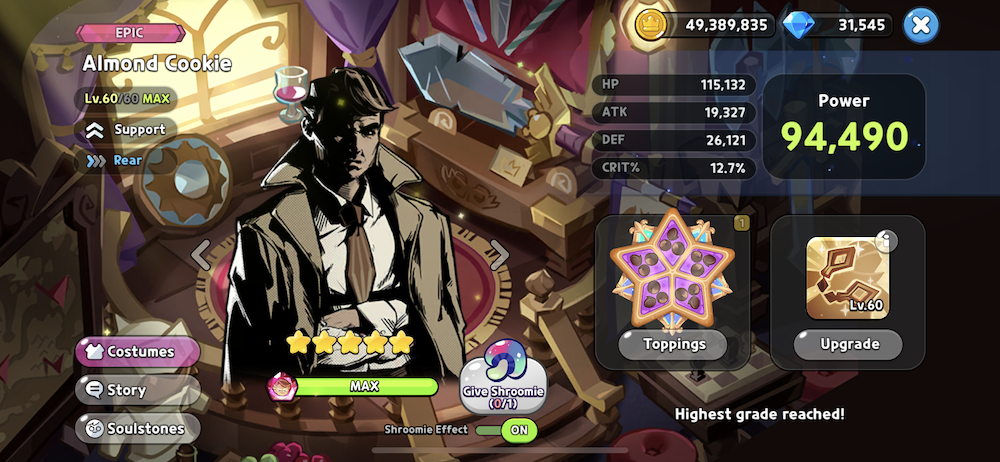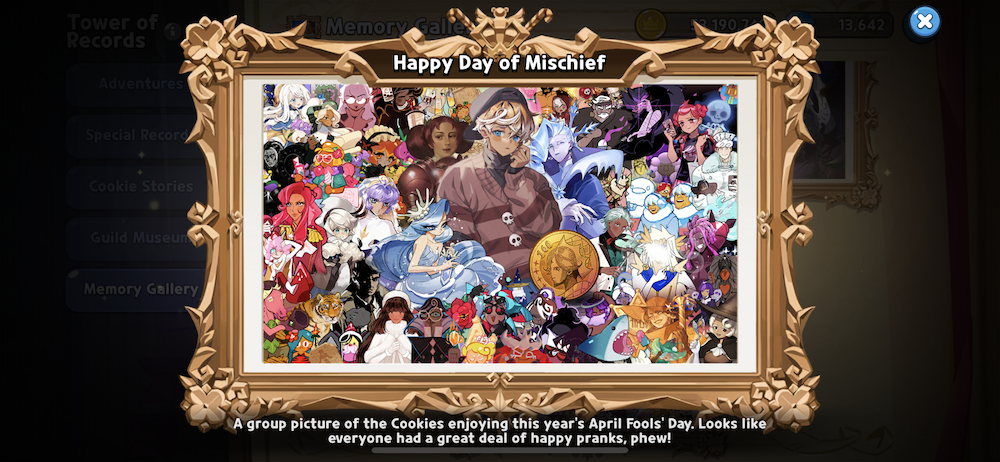 The April Fools' event lasted for 14 days, and players needed to perform tasks to obtain Shroomies, an exclusive event material that could be swapped for the new costumes. With 70 outfits to unlock, players had to invest a considerable amount of time in picking up every character's alternative April Fools' costume. Unlocking a new outfit would also unlock a short narrative sequence for that character, where they explain how eating the Shroomie changed their appearance and behavior. Clearing enough tasks rewarded the player with an in-game poster where they could admire all of the new looks in a single picture.
The event was also lightly monetized. Players could purchase a cheap bundle containing a special avatar, 4100 gems, 600 rainbow cubes (= two skin gacha pulls), and five Shroomies (which could be swapped for five April Fools' skins). The offer also featured an alternate version of the game's main character, GingerBrave.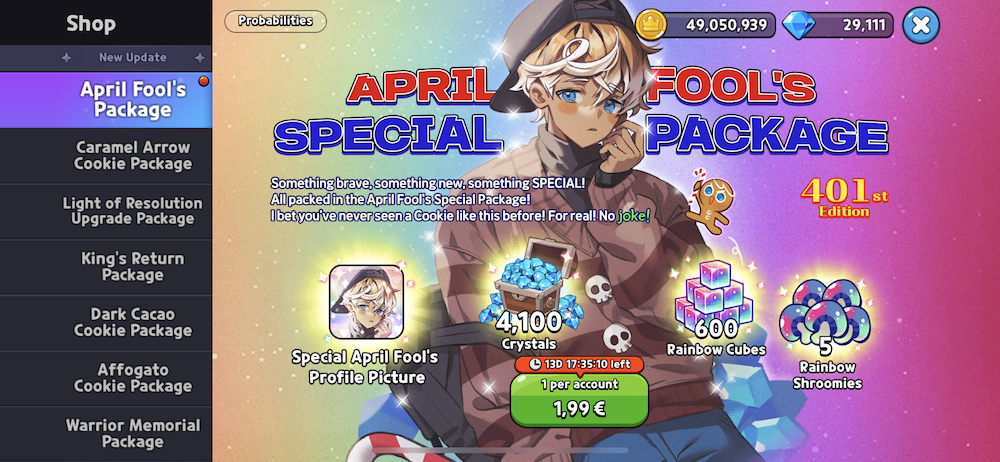 Brawl Stars
Of course, April Fools' day is all about fun and joking around, so one way of celebrating the special day is to make your gameplay more quirky. Brawl Stars did this by holding "The Totally Normal Challenge." It functions on a basic level like any other Challenge in the game: five-or-so maps from various game modes, with players needing to win each map a couple of times to move on to the next one. You get rewards for each win, and after three losses, you are out.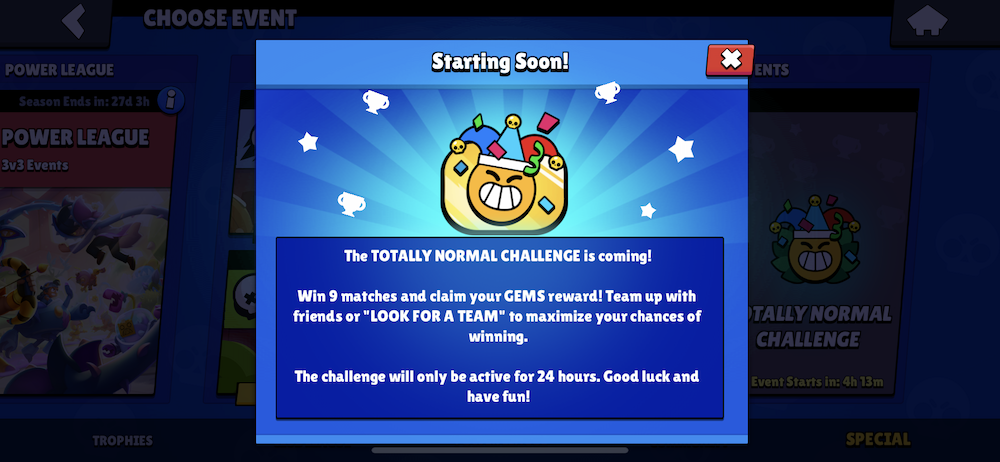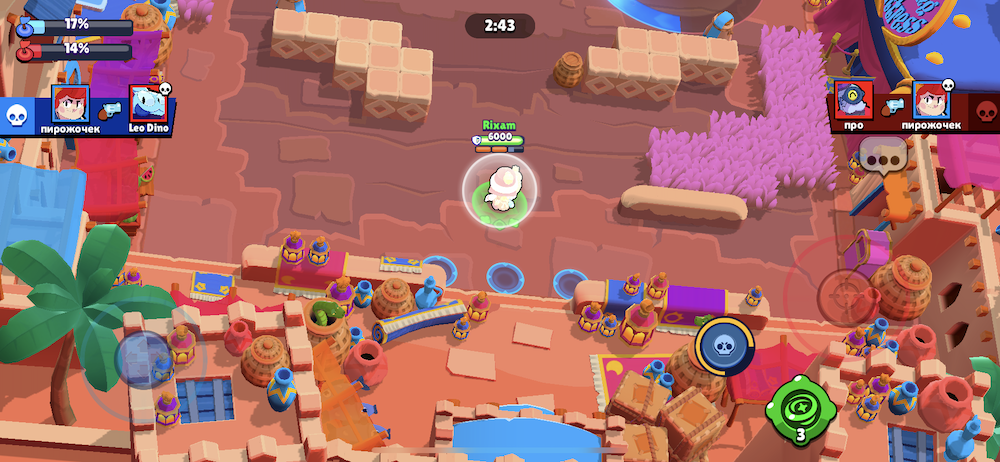 This time, each map had a quirky modifier to mix things up: Gem Grab had double movement speed, Hot Zone had a tilting ground creating uphills and downhills to slow down or speed up players, and Brawl Ball had a burning ball that not only caused damage to anyone holding it but also destroyed any walls it hit. The rewards were also quirky in the sense that the best rewards were for the first wins, with reward values decreasing towards the end. This ensured most players would get the main prizes.
Garena Free Fire
Garena Free Fire featured a rather unconventional April Fools' Day login bonus with its 'Deadly Baguette,' a new knife skin awarded to anyone that logged in on April 1st. Alongside the new weapon, a farming/tycoon event mode was also added to the game, which lasted for ten days – another unusual addition and an interesting example of hybrid gameplay. Players completed tasks to obtain seeds and grow crops. When the crops were grown, they could be sold to obtain a special event currency. The event currency could be used to upgrade the farm and the house or to purchase special event rewards.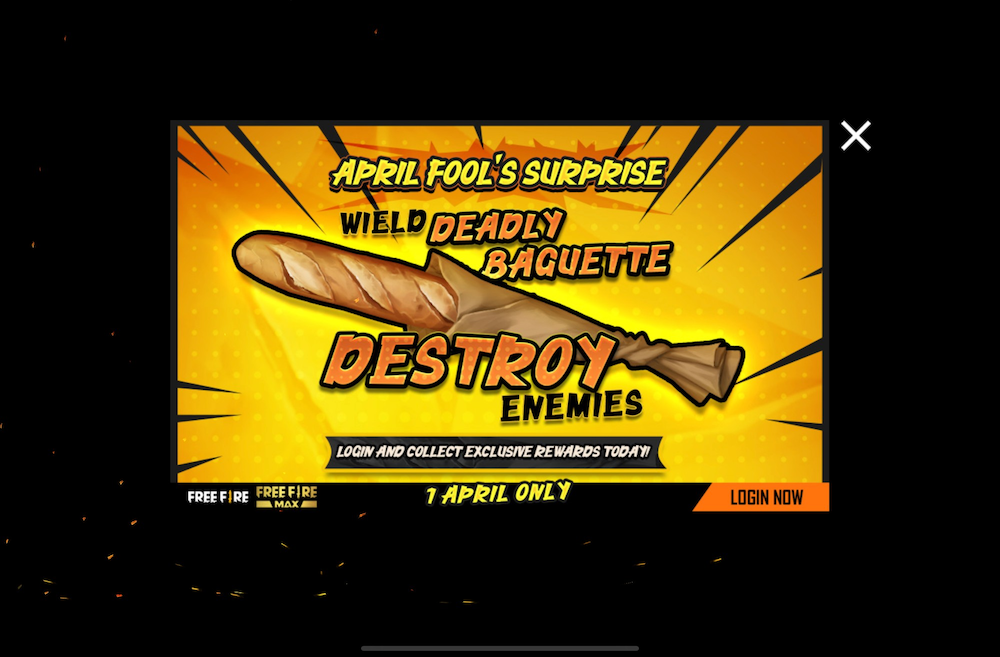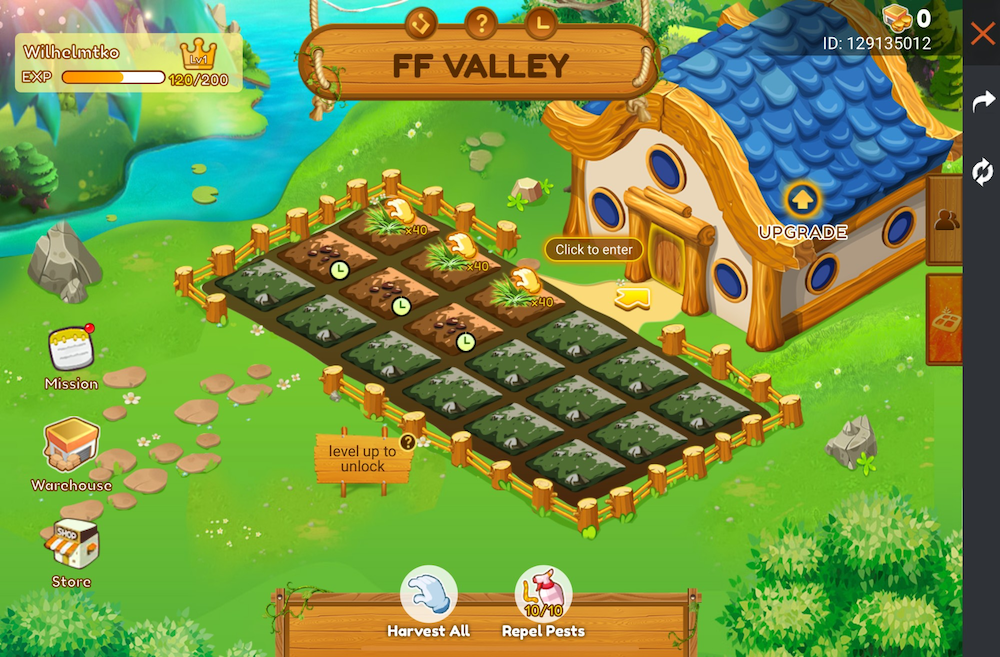 Pokémon
April Fools' Day was celebrated with a coordinated theme and effort across multiple Pokémon games, many of which featured the Pokémon prankster Ditto, who is able to transform into other Pokémon, objects, and even people.
In Pokémon Masters EX, all of the characters that feature in the main menu area had been duplicated. A detective from the series was on-hand to solve this mystery. Dittos are unable to speak, so it was relatively easy to figure out which characters were real and which characters were Ditto, but things were made more difficult with the addition of the protagonist Red from the 1st generation of Pokémon games, who is notorious for not speaking! The game made fun of this with some tongue-in-cheek humor, but luckily his rival Blue was there to point out which Red was the real Red based on the aura they have. Alongside the Ditto detective sequence, the game also featured a special 1000 gem login bonus for anyone logging in on April 1st.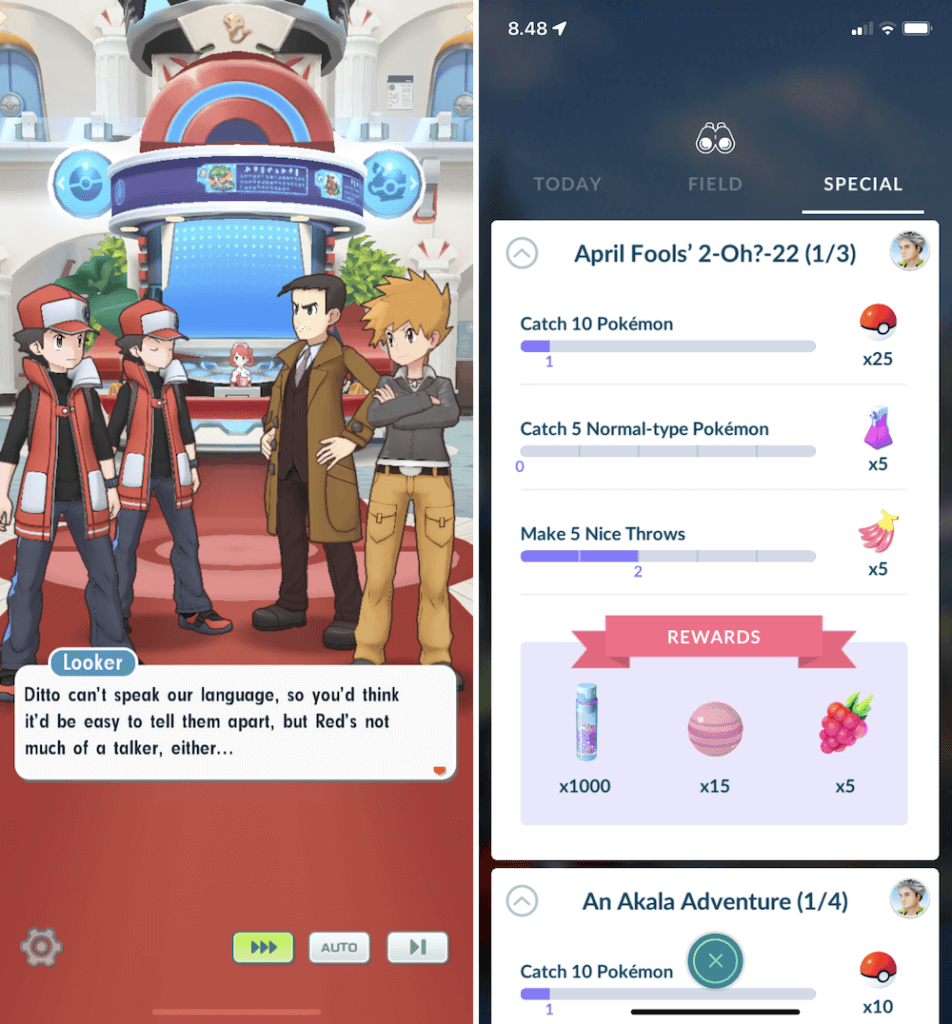 Pokémon Go had a Ditto-themed set of tasks to clear. It would seem like the professor himself was a Ditto as well, considering he only communicated with "…". The spawn rate of Dittos was also increased, and players could obtain special Ditto-themed stickers by spinning Pokéstops.
A lesser known Match3 Pokémon game, Pokémon Café Remix, also featured Ditto as the star of its April Fools' Day celebrations, with players able to recruit the Pokémon as a character in the Café throughout the event.
Dragon Ball Z Dokkan Battle
Companies are known for pulling pranks on April Fools' Day, and Dragon Ball Z Dokkan players were teased with a new rhythm game mode for the Puzzle RPG. The mode was featured in the news section and teased as a legitimate announcement but was never intended to make it into the game.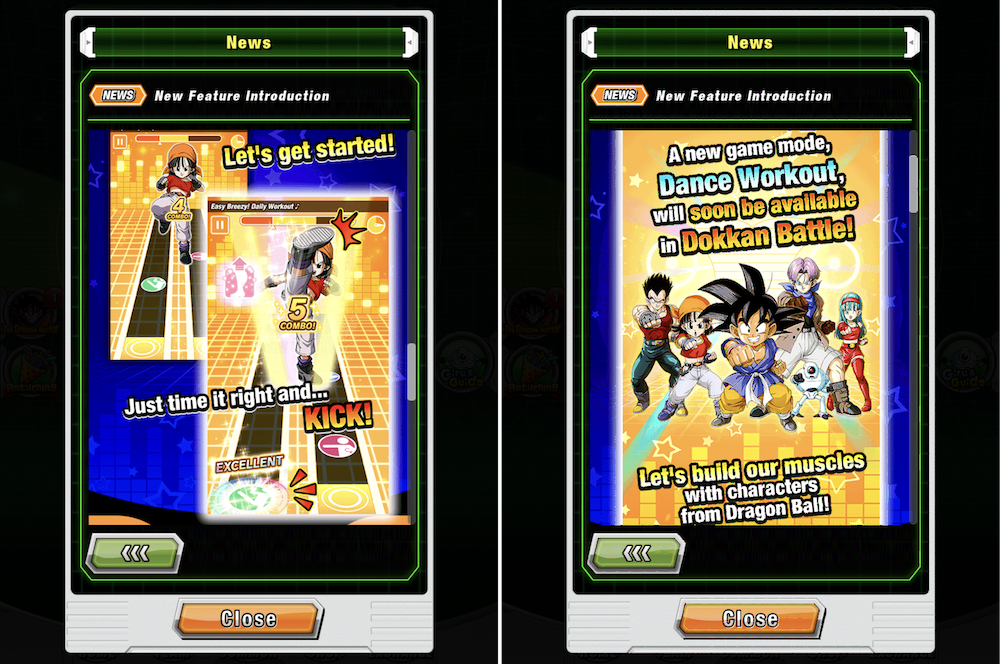 Lily's Garden
Lily's Garden is an example of a more simple approach to April Fools' Day. The game had some IAP offers with the April Fools' title to celebrate the event. If all offers are purchased, players can add Charlie the Quokka cosmetic pet to their garden.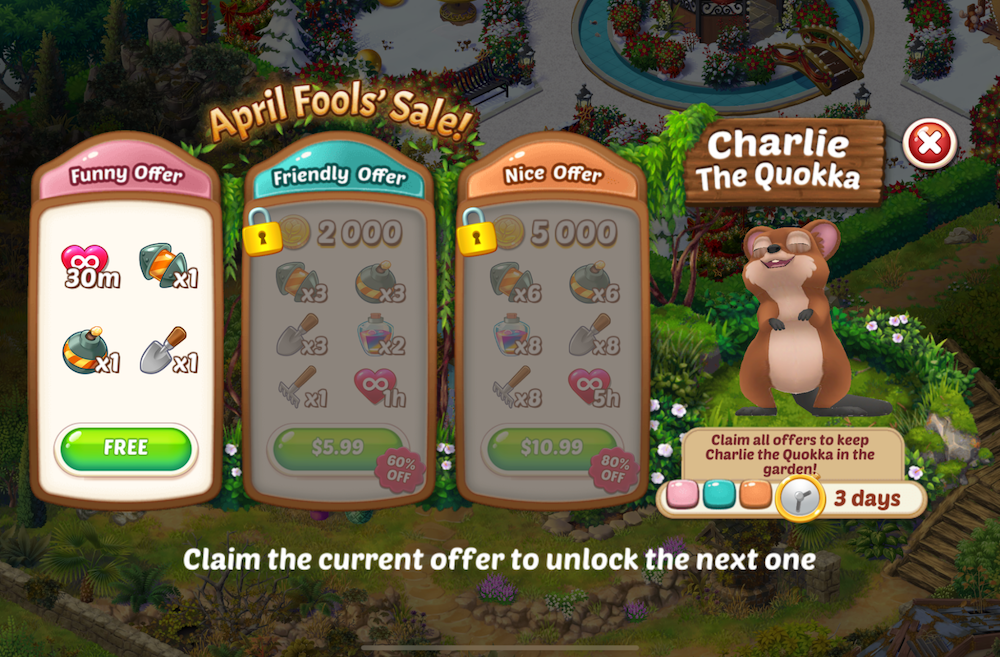 April Fools' Day: Another opportunity for fun and monetization
As the examples above have shown, April Fools' Day is another opportunity for mobile game developers to have some fun with quirky events, new gameplay modes, and monetization elements. You can invest a lot of time into a prolonged event in the hope of increasing playtime (just like Cookie Run: Kingdom did), run an April Fools' Day prank by teasing a fake feature, event, or gameplay mode similar to Dragon Ball Z Dokkan Battle, or you can just drop a couple of IAP offers to reference the fact it's April Fools' Day like Lily's Garden did. 
What seasonal events are you planning on celebrating in your mobile game? If you're looking for some inspiration, be sure to check out more examples from GameRefinery SaaS to see how other mobile games are celebrating seasonal events throughout the year. GameRefinery staff is also happy to point our customers to the most memorable ones that we have witnessed over the many years we've been tracking top-performing mobile games, especially if you're looking for specific examples in the same genre or from your competitors. Also, don't forget to check out our previous April Fools' Day in-game event compilation from a couple of years back if these examples were to your liking.
If you enjoyed reading this post, here are a few more you should definitely check out: