Holding on to the players is not an easy task to do, especially when it's new players who are just getting to know the game. With the right types of retention mechanics, players will feel like it is worth returning to the game day after day.
A few weeks ago, we launched a blog post series that takes a look at the best practices of player onboarding among the top-grossing iOS games across different genres and markets. In the first post, we focused on storytelling elements and a sense of progress. You can familiarize yourself with the topic here. In this second post, we will look at ensuring player retention. The last post will go over monetization design that appeals to new players, as well as how to support their in-game progression and their engagement with the game from the beginning.
In the meantime, check out also this blog post discussing special features for buttering up returning players to maximize your knowledge about keeping the players glued to your game!
Daily tasks and gifts give players a reason to log in every day
One way to reinforce players' attachment to the game is by retention mechanics. An excellent first impression goes a long way, and one way to delight players right at the beginning is by giving them beneficial reasons to log in to the game every day. These can be things such as daily tasks or gifts that need the player's attention every day, combined with the introduction to different mechanics of the game, items, materials, characters, and other features the game has to offer.
For example, did you know that daily mechanics, like daily gifts and daily quests, are more popular in the top 100 grossing iOS games than in the games outside the ranks? And this is the case with all three main markets (US, CN, JP).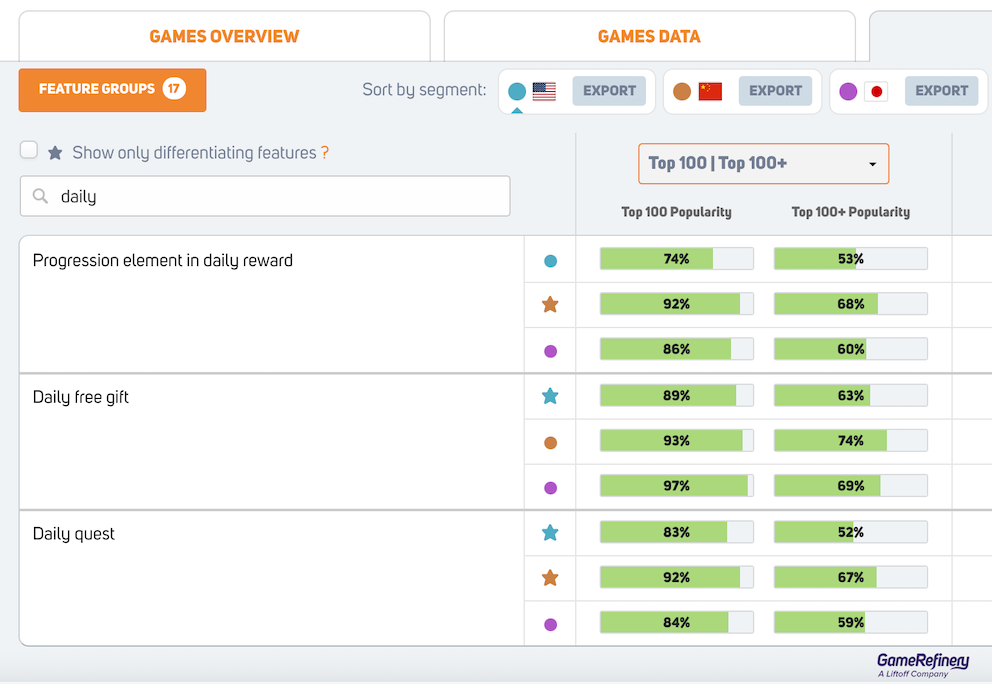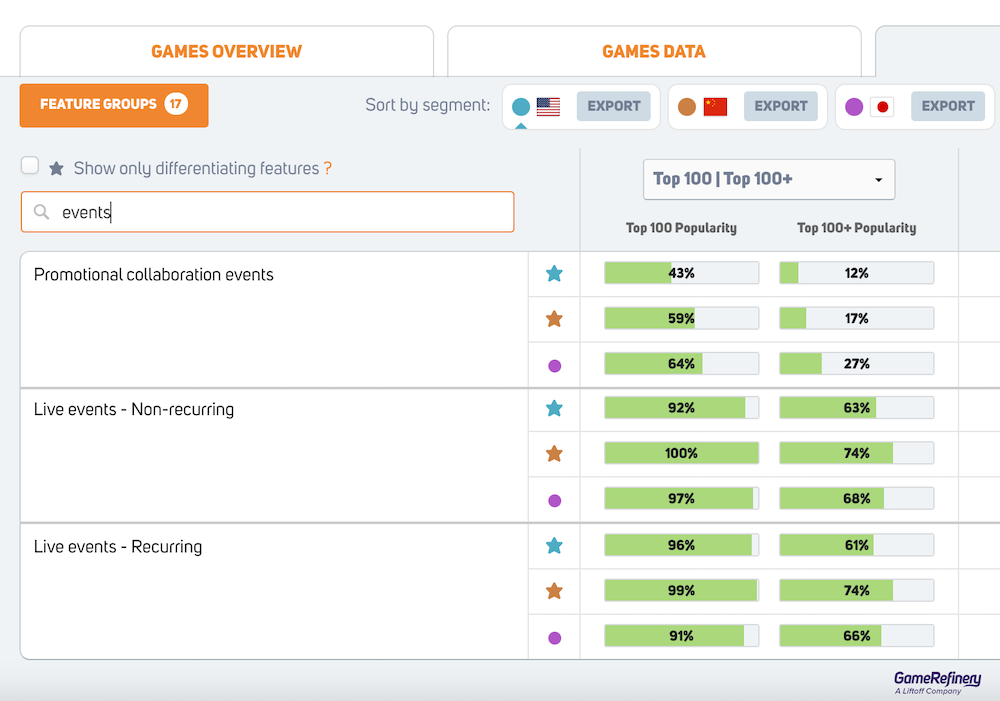 Another illustration of the popularity of retention mechanics can be found by looking at the live event features, which include some mechanics aimed at new players, such as new player tasks. In all three iOS markets, almost all the top 100 games have some type of live events, either recurring or non-recurring. Thus, we can say that retention mechanics are popular and widely used.
For more market-level data on retention mechanics, log in to the GameRefinery SaaS service to explore the data with the Market Explorer tool or contact us! GameRefinery staff is happy to point our customers to the most memorable onboarding implementations that we have witnessed over the many years we've been tracking top-performing mobile games, especially if you're looking for specific examples in the same genre or from your competitors.
Login calendars draw players back but also familiarize them with the game
Limited-time, new player calendars are a common way to keep the player coming back to the game to collect their first rewards and a way to familiarize players with decorative items of the game, different currencies, gacha tickets, and characters. Usually, the last-day gift is something special and worth the daily returns. A login calendar incentivizes players to engage with the game daily until the daily login rewards end, which is usually enough time to familiarize them with the game.
In Call of Duty: Mobile, players are rewarded with items like guns and exp cards, and the last-day gift is a worthwhile wait – an uncommon Special Ops 5 soldier. This encourages the player to come back to the game also after day 7 to play with the new character.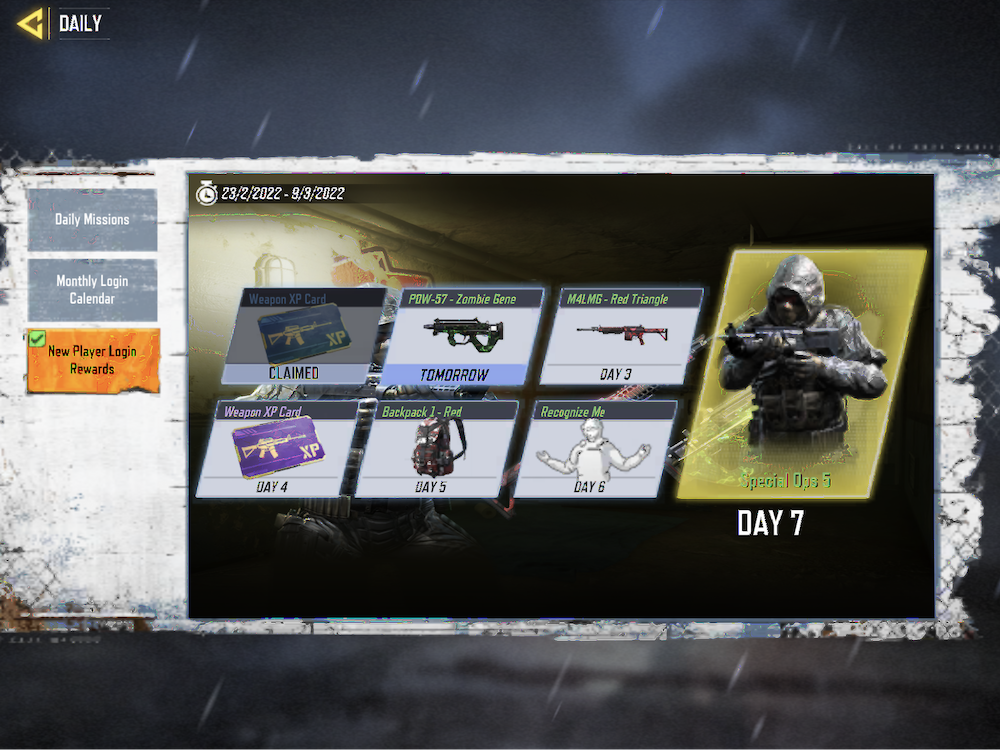 Games very often create a new player login calendar with an "8-day login calendar" system. Players need to log in for eight consecutive days to get all the rewards and the créme de la créme 8th-day gift.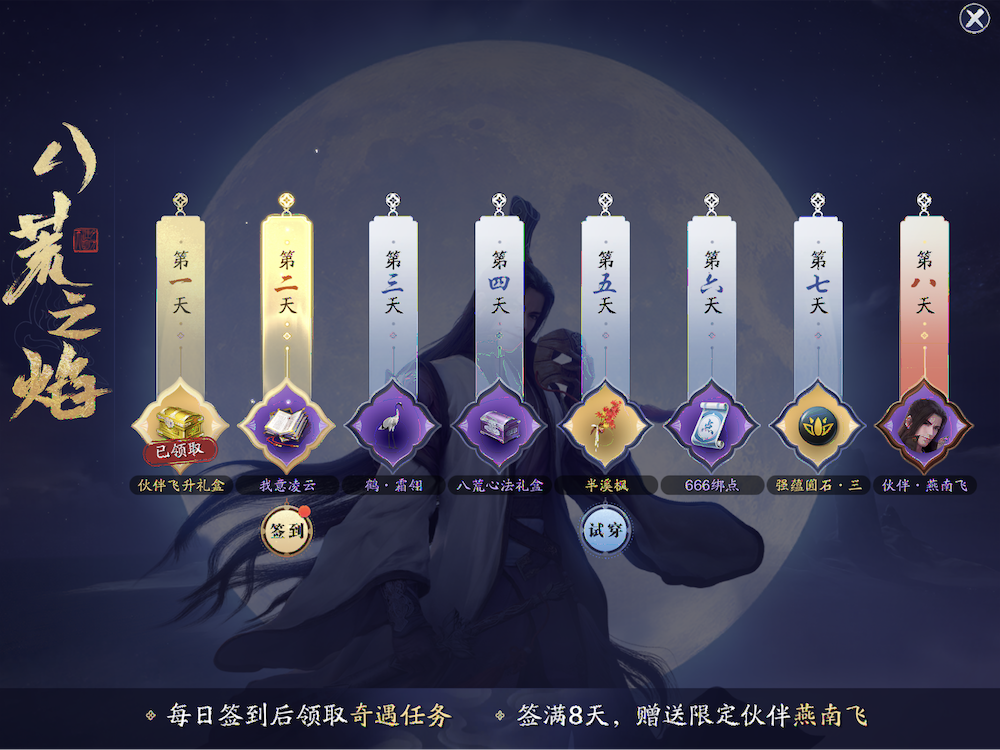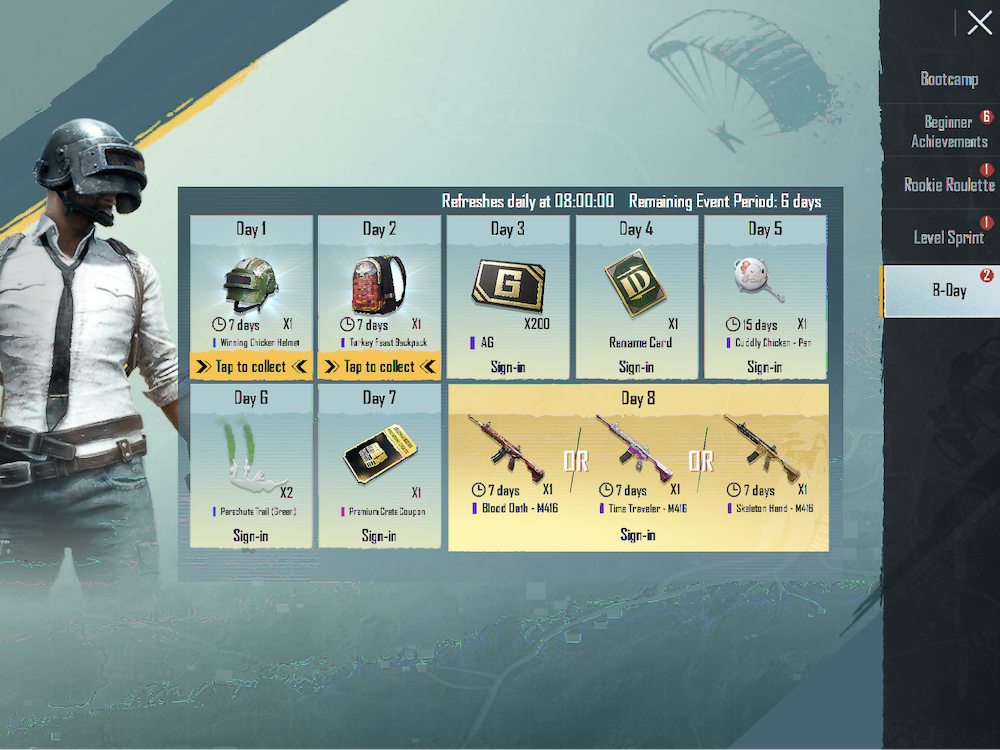 Some games have tied a player login calendar with a new player task system. New player task systems help players try out different game modes and learn all the aspects of the game.
One example can be found in QQ Speed (QQ飞车). QQ Speed is an arcade driving game with a lot of different game modes and content. The game introduces a section called "freshman tasks" for the new players, including several ways to engage new players. There is a login calendar with many different items, such as a car, a skin, and an S currency for new cars or decorative accessories. Along with the login calendar, players are provided with some separate new player tasks. These tasks include several different ones, such as 'level tasks' (reach a certain level to get a reward) and 'finish a number of races' -types of tasks. Rewards include things like cars, outfits for the characters, pets, and S currency. The login calendar and tasks are only available for a limited time, so the player needs to keep playing the game during the first days in order to collect all the rewards.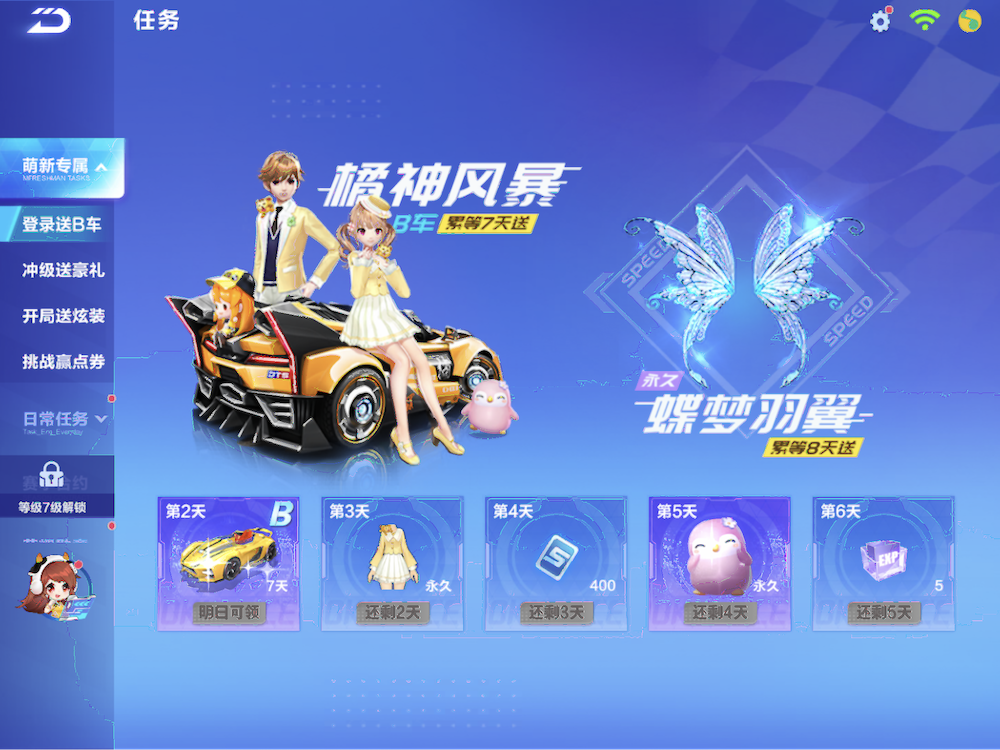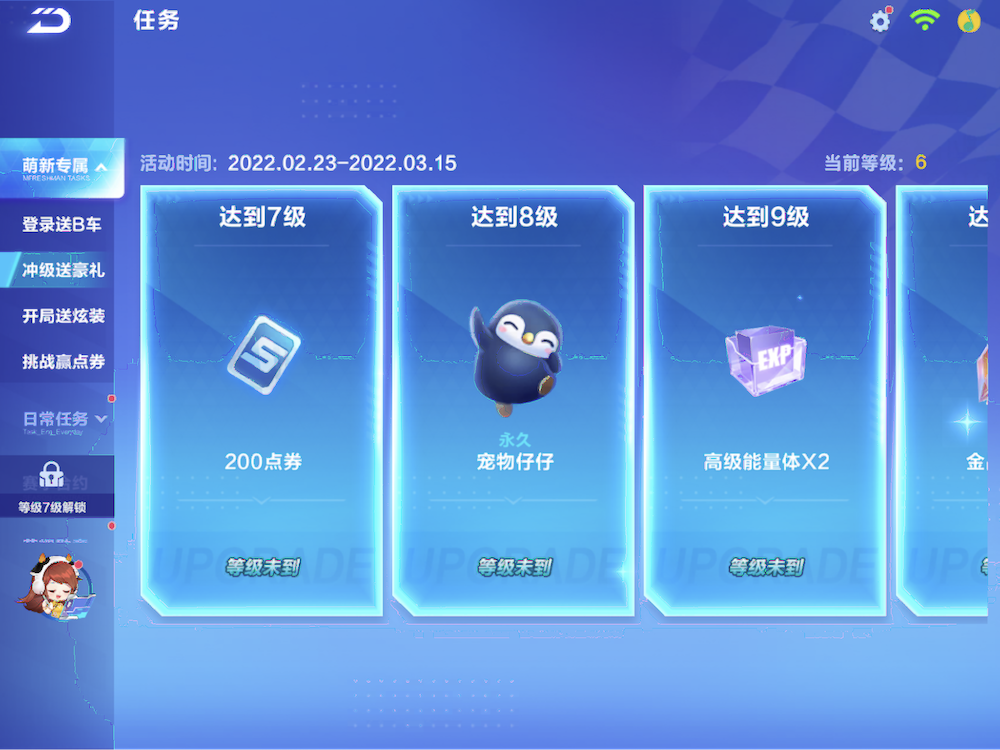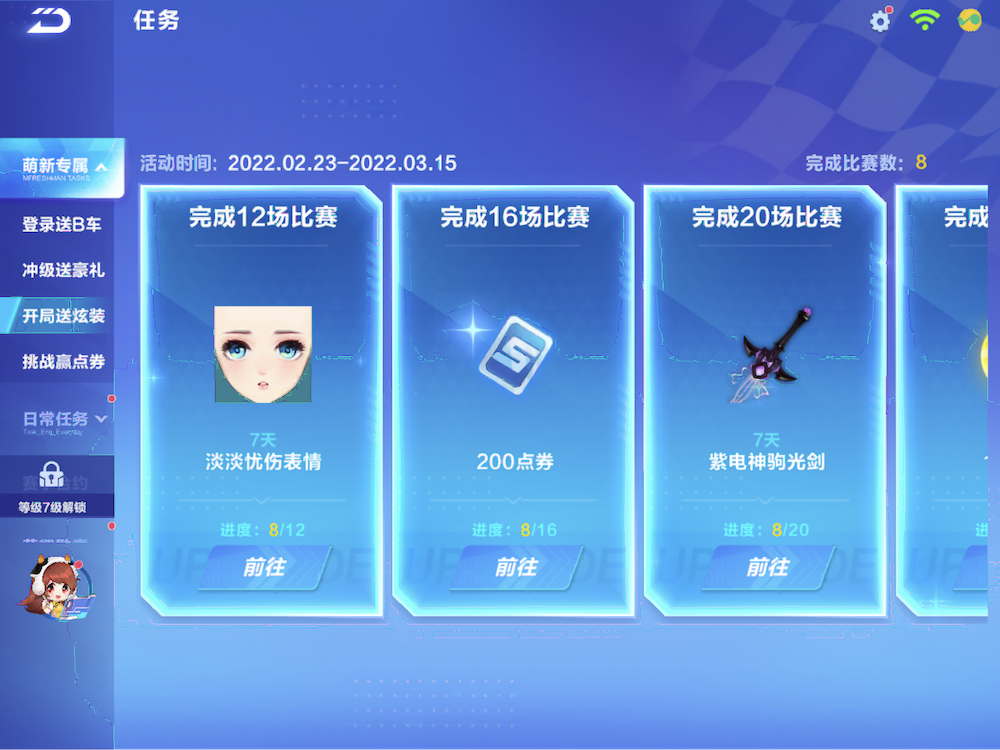 Another interesting example of combining new player daily login mechanics with new player tasks can be found in Garena Free Fire. The game has a system called "Newbie Corner," which is a daily system with daily login rewards and daily new player tasks, granting different essential rewards for the player, such as weapons, characters, and skins. When the new player tasks are open only daily, there is a sense of urgency and a need to come back to the game every day. This way, the player also needs to spend more time in the game every day than they would when they only collect their daily login gift.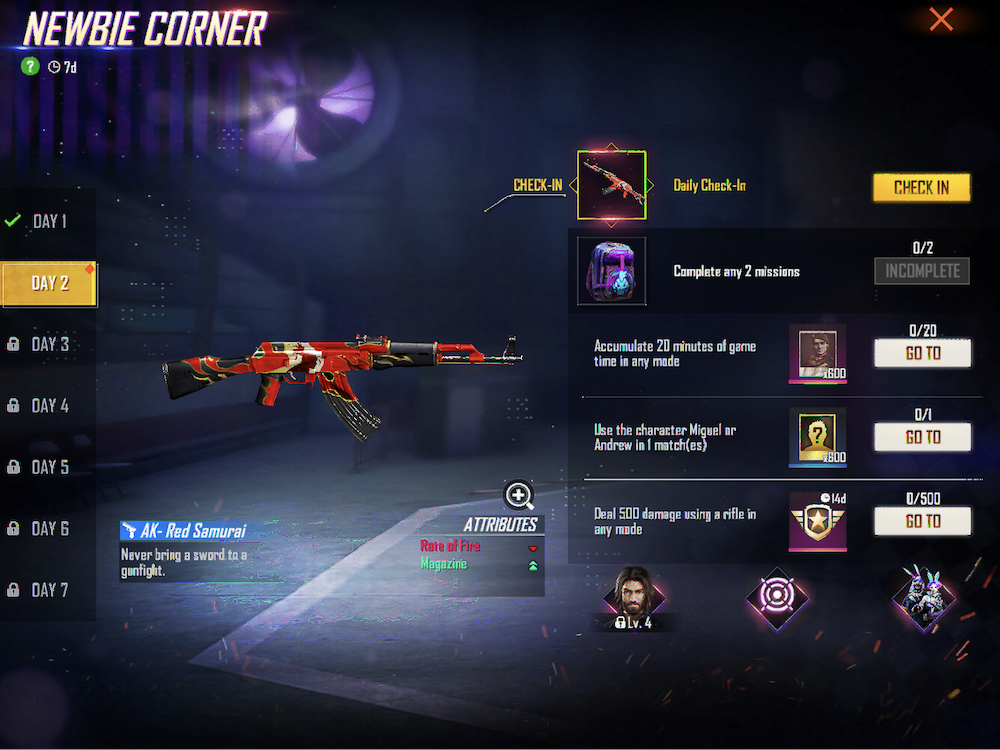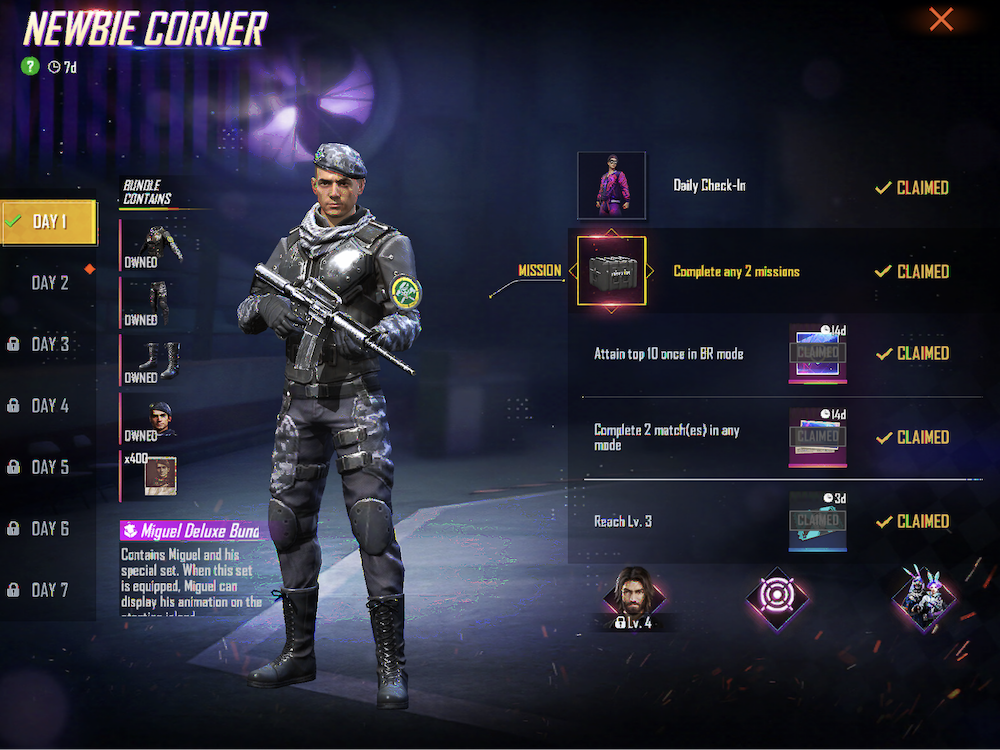 Boost player engagement with social elements
It is also worthwhile to introduce some social mechanics to the new players, as social mechanics can be one of the best ways to engage players. You can read more about the power of social mechanics from our blog post here. One interesting way to link social mechanics with new player onboarding can be found in a rhythm game, QQ Dance (QQ炫舞). QQ Dance uses an innovative way to introduce things to do with friends inside the game by presenting friend interaction gifts. These new player tasks include tasks such as "have one friend" or "give a friend flowers ten times," which can increase players' mutual friendship level. After conducting a task, players can get essential items to play the game as well as some high-grade decorative accessories.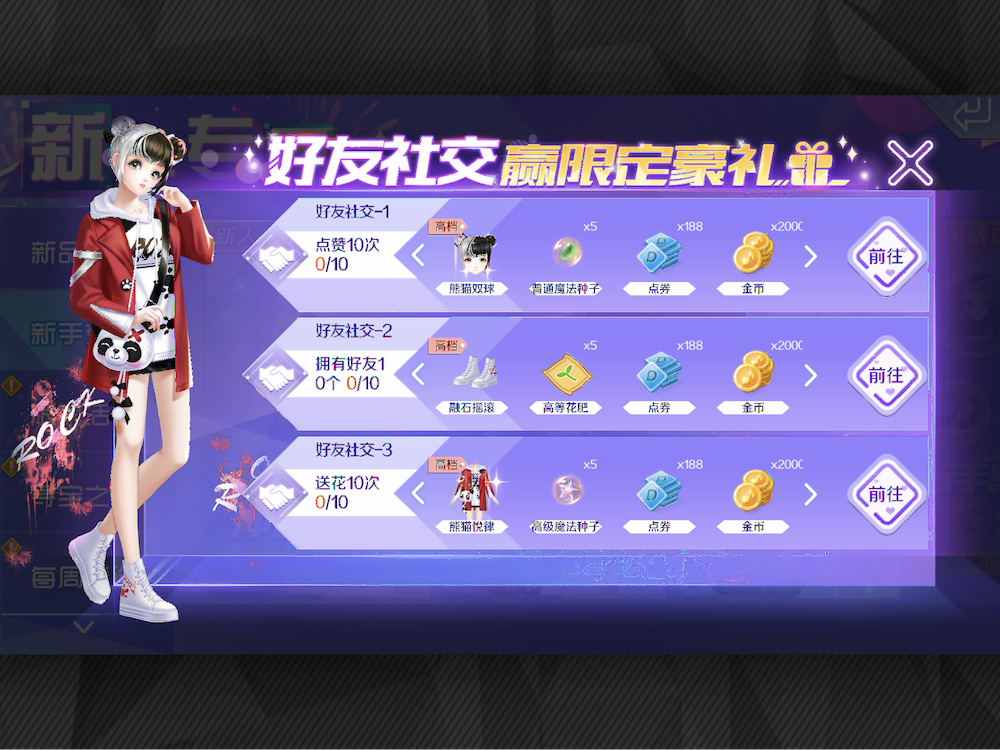 Another way to simply keep players playing the game is reward mechanics. In QQ Dance, rewarding playtime is used to keep the new players playing the game enough to get them into it. When the player has been playing the game for 10, 30, 60 minutes, or more, they will get rewards like friend interaction gifts, gameplay essentials, and high-grade decorative accessories. In other words, things that will help them progress in the game and get them more attached to their character, who now also has a cool new outfit.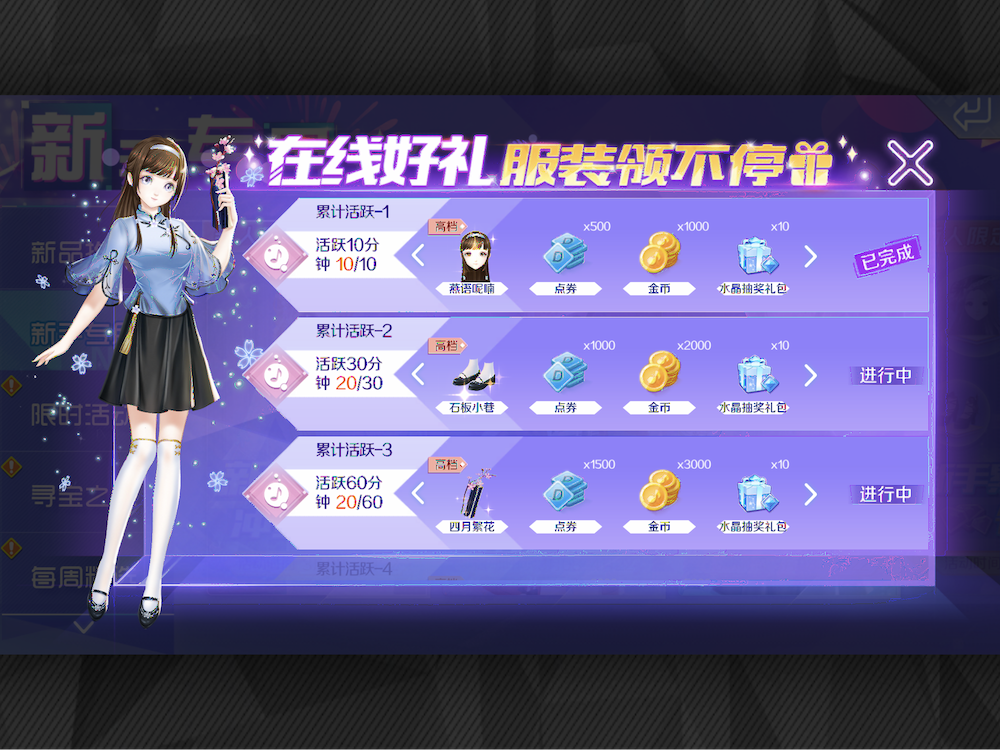 Summary
Retention mechanics range from simple ones like daily tasks and gifts to more resource-intensive ones like live events, which all have their own appeal and effect. By giving players some exciting and valuable content to look forward to, they will keep returning to the game after that first login.
Hopefully, the second part of our onboarding series gave you some inspiration for enhancing your game's new player experience. Don't forget to come back to check out our last piece of the onboarding series to learn the best mechanics for onboarding monetization. Stay tuned!
If you enjoyed reading this post, here are a few more you should definitely check out: