First impressions are known to be important, but what about second impressions? When hoping to re-engage players that have quit playing for one reason or another, the first hurdle is to catch the player's eye again to have them return. Advertising helps here, but the next and equally important step is keeping the newly returned player engaged, feeling welcome, and last but not least, thinking that coming back was a great decision.
In a situation where this type of re-engagement is necessary, players might have lost touch a bit, or they might be behind in their progress. The needs of the returning player vary depending on the genre you're in. For example, in the highly competitive 4X strategy genre where power progression is everything, the player might need more help to get started again, whereas the threshold for returning to a casual game focusing on match3 or similar isn't nearly as high. Creating the right kind of returning player content for your audience can be a bit of a balancing act with giving the player just the right kind of power infusion while still being considerate about the need to get reacquainted.
Our analysts have been keeping an eye out for in-game events and content tailored for returning players. Contents for this specific re-engagement purpose can range from simple gifts to full-blown event sets lasting several days. In this blog post, we'll take a look at various interesting examples across markets and genres to explore what kind of ways there are to once again catch and keep the attention of your players.
Welcome back gifts for returning players
The easiest and most widely used way to give players a sense of gratification when returning after a while is to provide them with welcome back gifts. The ways to do this include (but are not limited to) having a special treat sent to their in-game mailbox, preparing a log-in calendar for them, or giving them free items and boosts to jumpstart their progress again.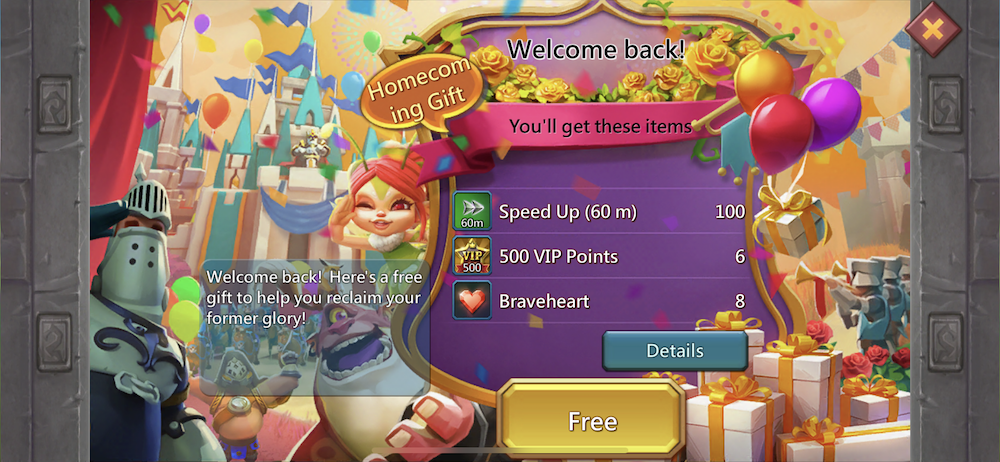 Login calendars are especially popular in Japan, where they're widely used in every genre as an easy re-engagement mechanic. It's not uncommon to have several login calendars waiting for you when you open your game at any given time and even if you open it regularly. Adding a return gift calendar into the mix is an easy way to acknowledge the returning players and welcome them back. Still, as there are often several calendars to begin with, adding on to the selection runs the risk of drowning your campaign in with the others. One way to counteract this is to make the rewards extra attractive. For example, some calendars offer good chunks of premium currency, free gacha tickets, and exclusive items in their returning player login bonuses. While rare collectibles and decorative items appeal with their exclusivity, gacha tickets and generous amounts of premium currency can help the player's progress by allowing them to make character purchases that they would otherwise need a lot of time to save for. Login calendars sometimes also have a progression element in them, where the most desirable prize can be claimed only after diligent daily logins.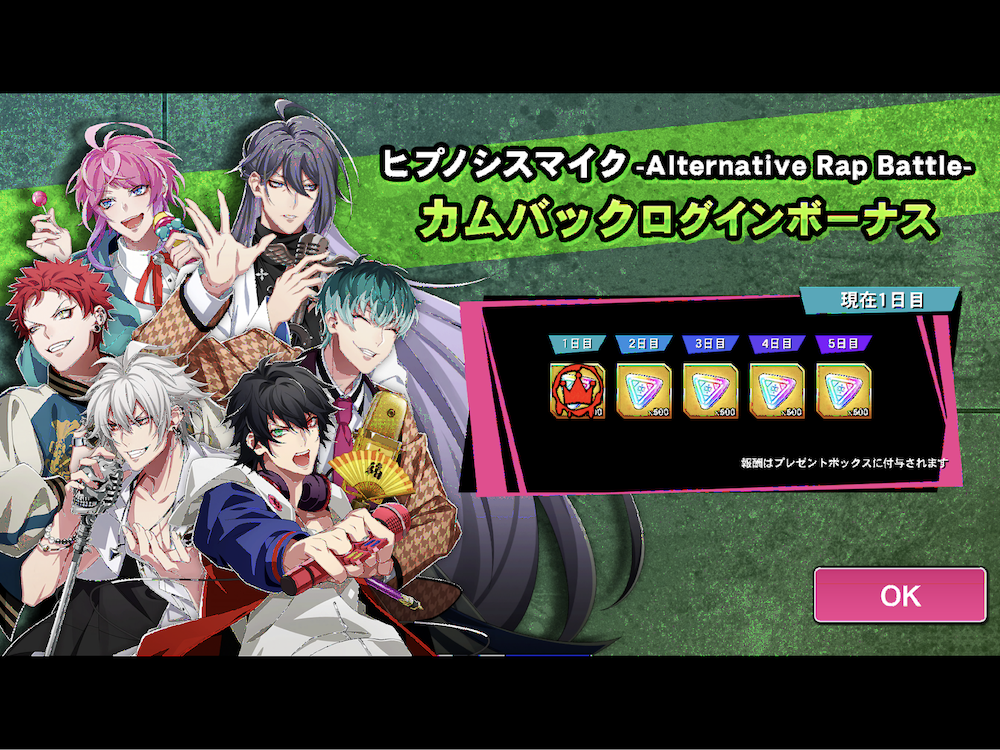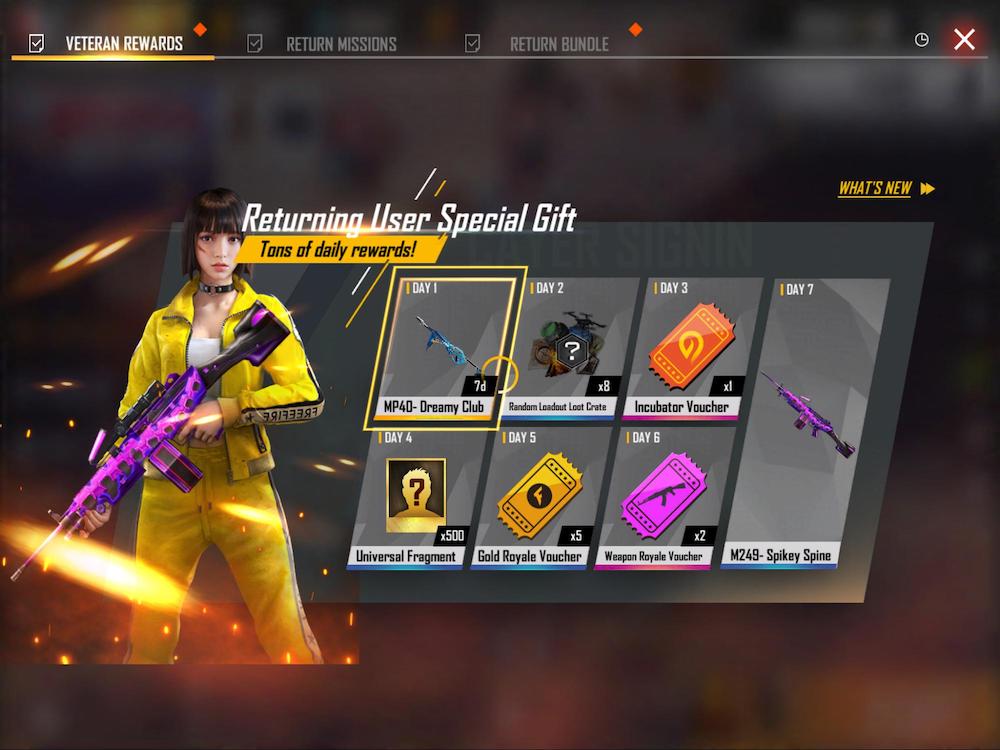 In the casual space, a popular way of gifting returning players is giving them boost items or timed boosts, timed unlimited lives, and other useful items when returning as a one-time gift. Timed boosts are a great way to engage players and get them to play the game, at least for the duration of the boosts/unlimited lives. The better the boost, the greater the incentive not to let it go to waste! For casual games, a well-designed welcome back gift is often the only thing needed to re-engage players.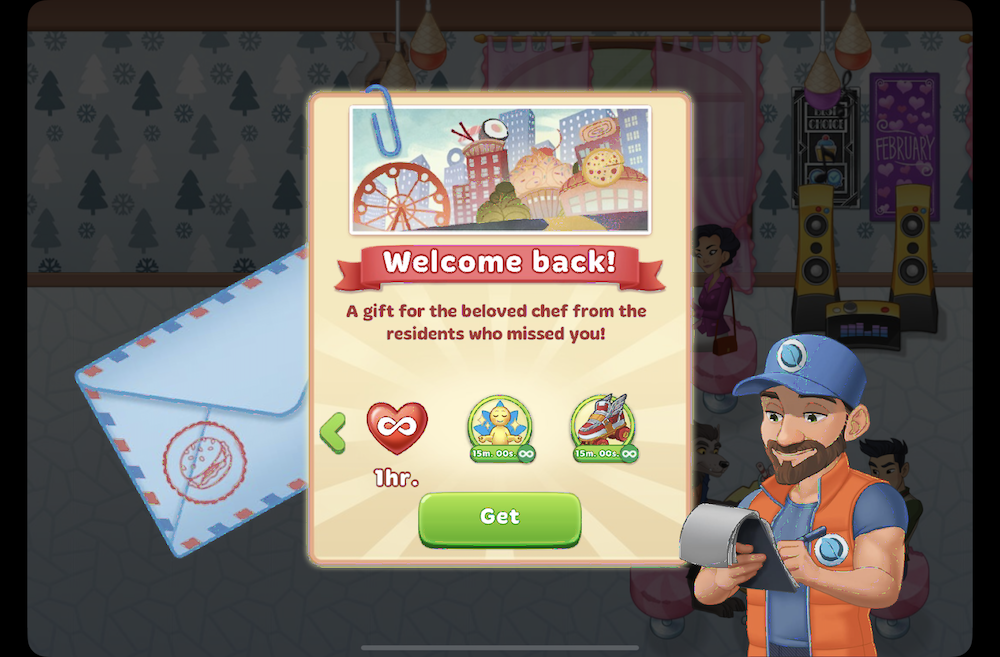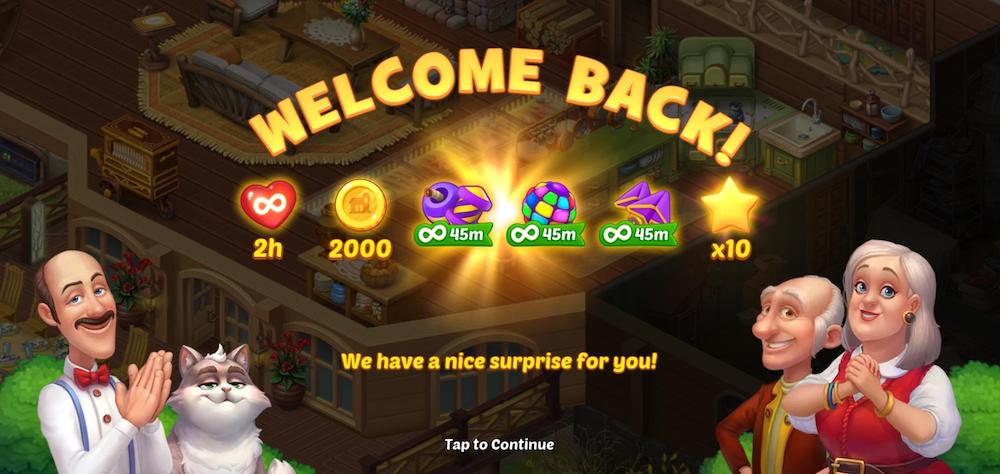 Monetizing the return
Although the main goal for returning player events in games is likely to be re-engagement, there's no rule against using the opportunity to make a sale. Although it might be a tough sell, players who purchase when returning might even be more motivated to stick with it, so their purchase doesn't go to waste. Games often offer great deals to their returning users, providing the player with a shortcut to getting their progress back on track after a leave of absence. These offers are often time-limited, creating a sense of exclusivity and urgency. Rather than having stand-alone return offers, they often appear as part of larger event sets designed for returning players.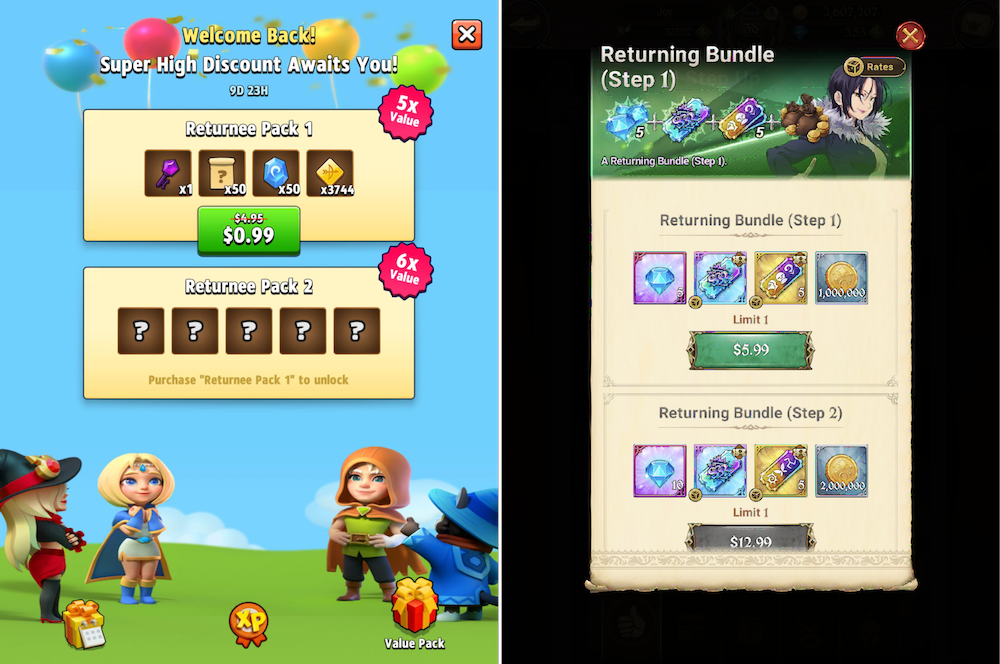 In Japanese mobile games, we've encountered some comeback gachas as well. The gacha might be set up with rare and powerful characters in the pool or to give a good deal for pulls. Another way of including gachas in your returnee events is gifting players with gacha tickets to remind them about the thrill of pulling gachas.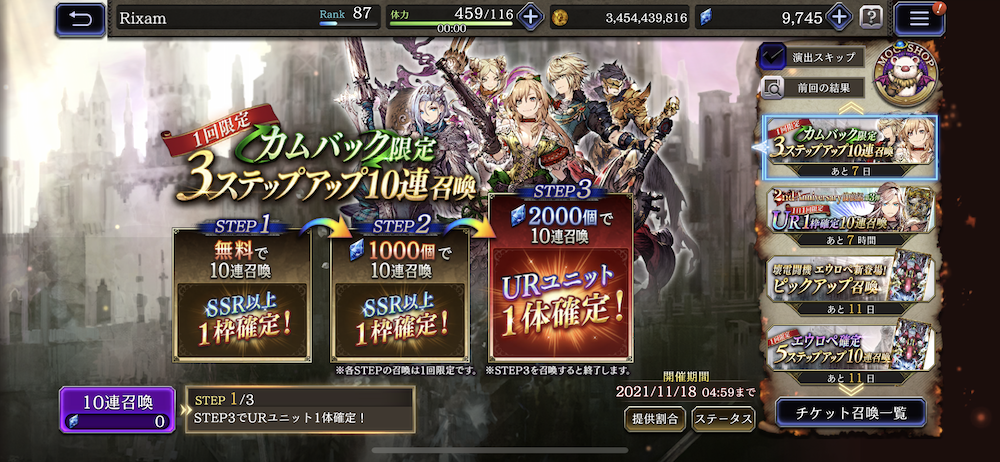 Another interesting example of monetizing returning player campaigns comes from State of Survival (4X strategy), where the Survivor Recall event takes it even further with its own Battle Pass. The event set also includes daily login gifts with rare character pieces, bundle offers, and points threshold tasks. Upon opening the game, players are greeted with a welcome letter with gifts and even a video greeting from the characters, showing how everything went while you were away.
Guiding the player with returning player missions and more
Gifts are nice, but they're often a one-time joy upon opening a game. To really get the player engaged, many games implement some sort of returning player missions. Depending on the genre, these can range from a simple list of tasks to mission sets ranging several days and complex point systems more often seen in midcore games. Usually, the tasks include actions the player would accomplish naturally during normal gameplay. They might even resemble start dash missions, taking the player on a tour of basic activities in the game. Return missions taking this route serve as a great way to get the player used to the in-game routine again. As the tasks often don't require too much effort, the rewards for engaging can be very good compared to the time invested. To top it off, these task sets also often have an especially shiny clear all-reward.
Return missions come in all shapes and sizes. Reward ladders are popular, but we've also come across bingo board missions, panel missions, and task sets that open up in succession or release new missions on certain days of the campaign. For point-gathering events, the setting can also have daily refreshing tasks.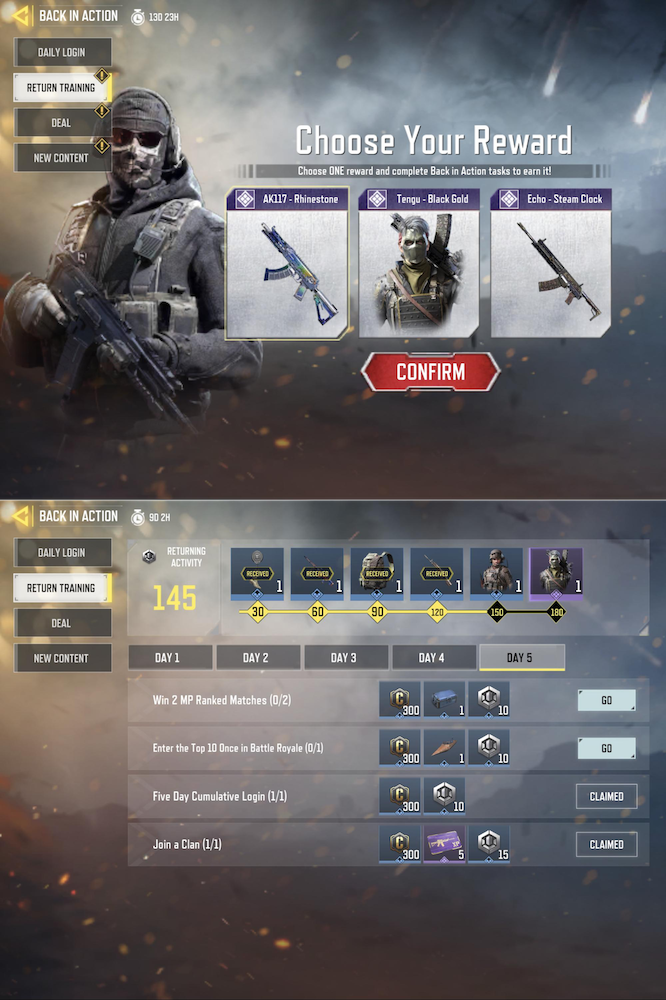 While many of the mission sets we've come across have rather generic gameplay tasks in them, what's normal might not look the same everywhere. On the Chinese market, online-time rewards are sometimes used to engage players, and returning player events are no exception. For example, the Chinese rhythm game QQ Dance (QQ炫舞) includes online time tasks in its returning player event set along with login rewards, IAP offers, and friend suggestions. QQ Dance even gives players buffs granting them bonus EXP and rewards for specific playing modes during the event period.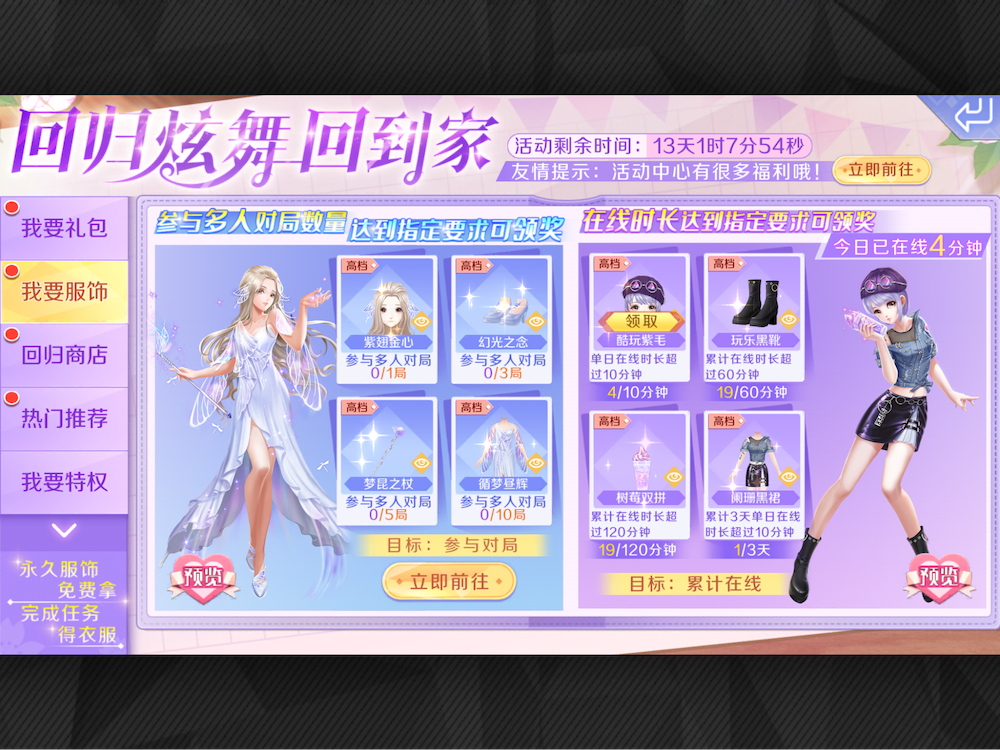 Similar buff systems have been encountered in State of Survival and Mobile Legends: Bang Bang (multiplayer battle arena), to name a few. In Mobile Legends, returning players get bonus league points, bonus reward currency, and extra experience from matches, which boosts progress. State of Survival ties the event buffs (construction, training, and research speed increase) with points threshold tasks focusing on all-around development to get the player back on track.
Tasks and buffs can work well as a soft tactic in guiding the players in getting the hang of things again while also giving them rewarding activities to engage in when returning. As a more direct way of helping players out when returning, we've also encountered prompts that subtly offer players the option of revisiting the gameplay tutorial in case they need it. Still, the more active route of task sets and rewards will go a long way when it comes to engaging experienced players, especially in the case of more complex games.
Utilizing friend systems to win lapsed players back
For games that have a heavy social layer, it makes a lot of sense to use the friend networks and in-game connections to re-activate players. What's more, a pre-existing network can lower the threshold to come back. Usually, for these kinds of re-engagement efforts, there are incentive rewards for both the inviting and returning parties. One excellent example of how this can be done comes from PUBG Mobile (battle royale), where there are recall events for active players and separate events for returning players.
PUBG's recall event rewards the player based on the number of players they manage to re-activate, and once they're on board, it offers the player further social missions to complete with those friends. Completing missions cumulates Recall Tokens that can be exchanged for rewards.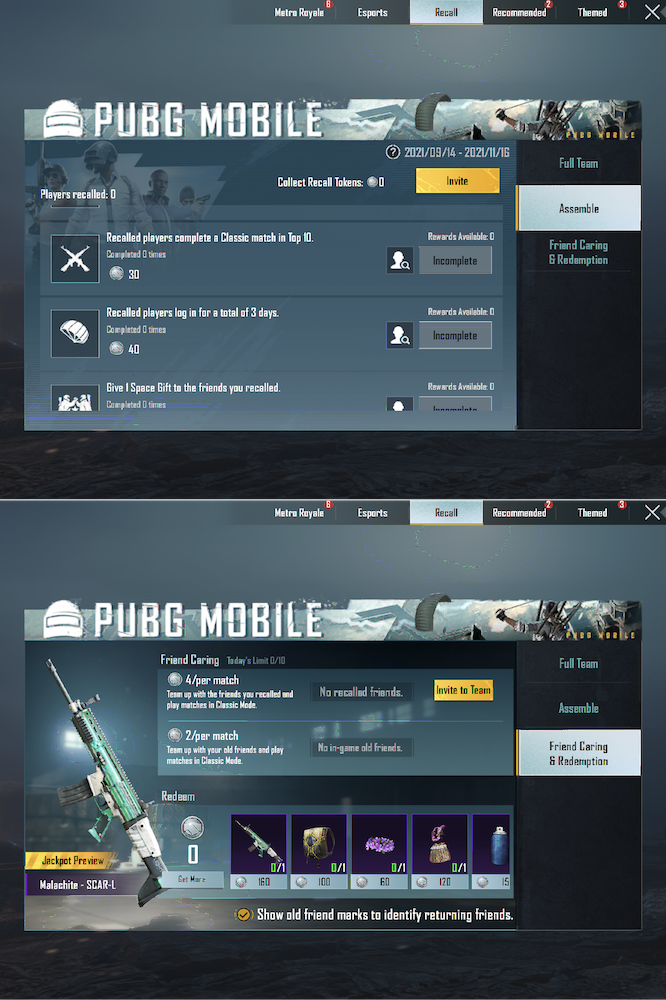 Once players are back onboard, they naturally have their own returning player events waiting for them to keep them occupied. PUBG's case is another great example of preparing a full-fledged event set for returnees with login bonuses, IAP deals, fresh task sets for each day, and refreshing points missions for a high-value reward.
In summary
Returning player events are a valuable tool in turning an estranged player into an active one again, and these are just a few hand-picked examples of how to go about it. All in all, the options are limitless, and content that falls into this re-engagement category can look very different depending on the genre and market. For example, returning player campaigns for casual games have an entirely different scale and needs than those of more complex strategy games. The key to a good campaign is designing the content to suit your player base without it feeling tedious and seeing that the gifts and buffs offered are actually helpful and considered valuable in terms of gameplay.
If you enjoyed reading this post, here are a few more you should definitely check out: