We have recently seen several game developers adding social elements to traditionally single-player genres, such as casual puzzle games. But does this move make sense, and more importantly, has it worked?
The short answer is yes. But to provide you with more evidence as to why it has worked and why you should also consider introducing social elements to your game, we'll go over the reasons behind this trend and the benefits of having a social aspect in your game. Moreover, we'll share some examples of top-performing western casual games that have successfully implemented social features. Hopefully, this will give you some ideas on how you can introduce social features to your game as well.
Why add social elements to your game?
Traditionally, deeper social mechanics have been linked to midcore games. But lately, these deeper social mechanics, like co-ops, guilds, and social live events, have started appearing in traditionally single-player genres, like casual puzzle games. In other words, we are seeing more and more mobile games adding spaces where people can interact with each other, no matter the genre of the game.
Players are looking for social interaction and a sense of "digital togetherness," which has resulted in the popularity of social gaming and playing together with other people (→ communities). Even though casual gamers are not as competitive-minded as midcore players, they still enjoy light competitiveness, especially as a part of a team.
For example, guild mechanics have proven to be a significant retention feature. Guilds connect players and help them form communities where they can chat together and even make friends.

If you still have doubts about whether social features are for your game, here are three reasons why you should implement social features in your game.
1. They are one of the strongest retention mechanics
Having friends and communities in the game increases player stickiness, even for casual gamers.
Social mechanics, e.g., sending help to friends and communal team tasks tap on the social retention triggers of players, meaning everyone wants to carry their own weight so that they don't let others down.
2. They enable new ways to bring horizontal content
Team and other co-op mechanics are great ways to add more content, e.g. through communal events, co-op PvE modes, and competitions.
More content opens up possibilities for additional monetization sinks.
3. They broaden the motivational appeal
Many of today's casual gamers enjoy social experiences in their games
Social elements can be used to bring depth and introduce additional motivational drivers to the game.
With social elements, this motivational "enrichment" can be done without having to touch the core game.
Next, let's look at some examples of top-performing western casual games that have successfully added social features into their gameplay.
Examples of social features in successful western casual games
Here are six different ways to add a social aspect to a casual mobile game.
Board Kings: Donating duplicate collectible items to friends
Board Kings spiced up its board-building construction meta by adding a very detailed and visually appealing collectibles sticker album, which is probably one of the game's primary engagement and monetization drivers nowadays. This sticker album has limited time "seasons," which always introduce a new collectible set with a unique theme and a massive set of stickers to collect. Gathering all the stickers during an event period requires a considerable amount of effort (or money), but it's made a tad bit easier as you're able to request and receive stickers from your friends.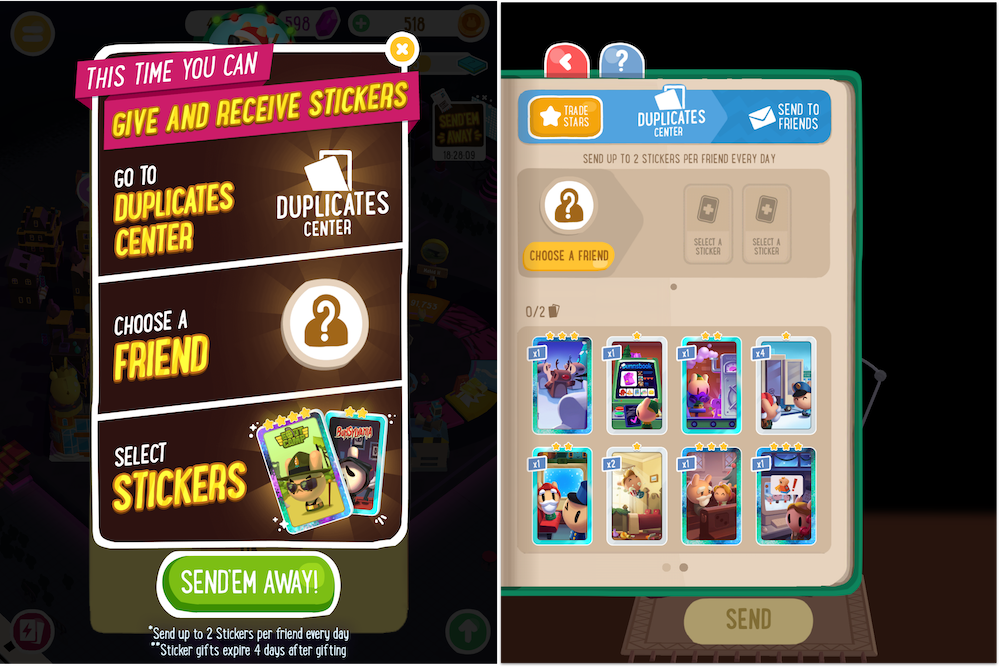 Candy Crush Jelly Saga: Synchronous PvP
Candy Crush Jelly Saga regularly runs PvP tournament instances called Royal Championship, where you're pitted against other players in synchronous 1v1 matches (note: one of the few match3 games in the West with real PvP). Before the match starts, you get to pick two boosters that charge up by making successful moves and can be used to either help you or make your opponent's life harder. The rules are simple: you both take turns to spread jelly and whoever manages to splash jelly around more is the victor. Winning gets you a nice bunch of medals that determine your ranking in the tournament. Once the tournament ends, the top players are rewarded with lots of prizes (e.g., boosters and in-game currency).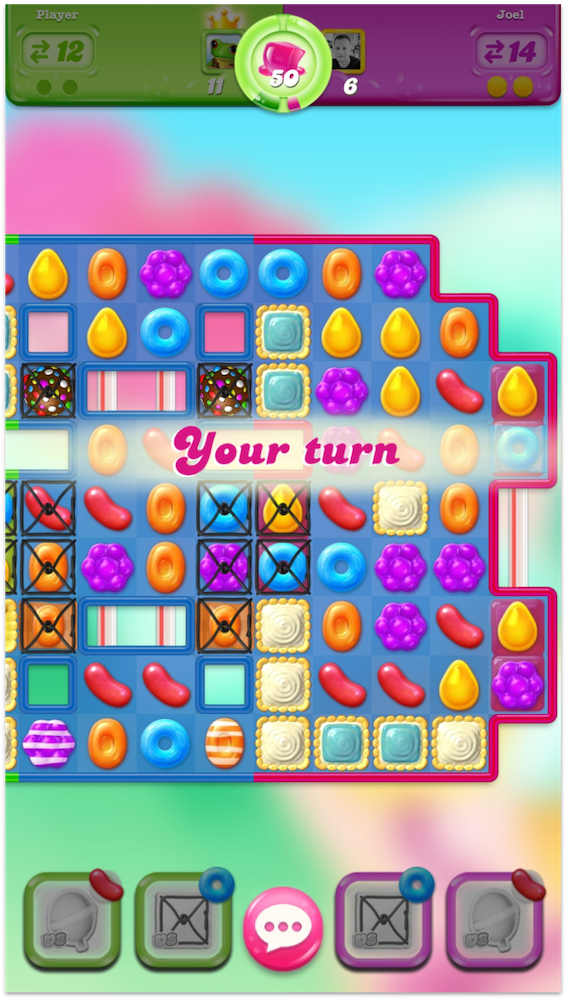 Shop Titans: Guild co-op development efforts
Tycoon game Shop Titans is probably the most guild-focused game out there. The player's store is inside a town that belongs to the guild they are currently in (guild can only be left by joining another). In the town, there are various communal buildings developed by the guild members together by making donations. These buildings are the source for most of the resources that the player needs in crafting and running their shop, and they also give important boosts and benefits. In addition to the communal buildings, the guilds also feature co-op tasks, guild shop, member helping mechanics, and even friendship levels between members for additional benefits.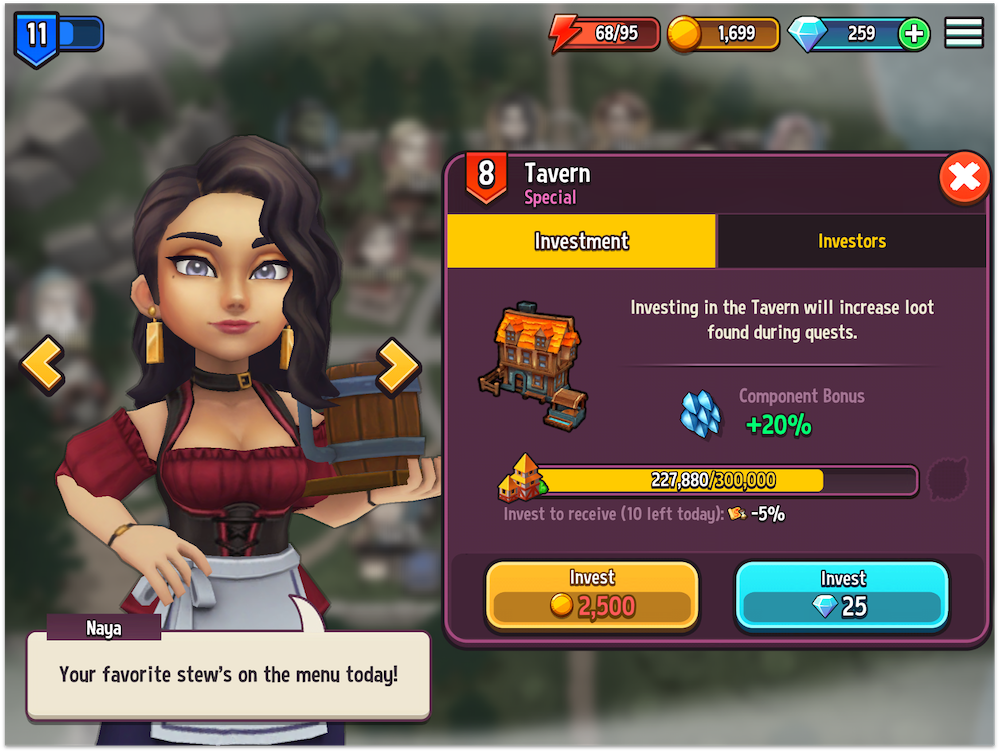 Cooking Diary: Visiting other players' homes
Time management cooking game Cooking Diary has loads of social elements through guilds and collection/customization elements through player's avatar and restaurants decorating. To boost these elements even further, the game has a home feature that lets the player renovate and decorate their home freely by collecting and purchasing furniture. Players can also visit their friends' homes and, in this way, show off their home design skills to others. This is incentivized even further by being able to pick up a free gift each day from friends' homes.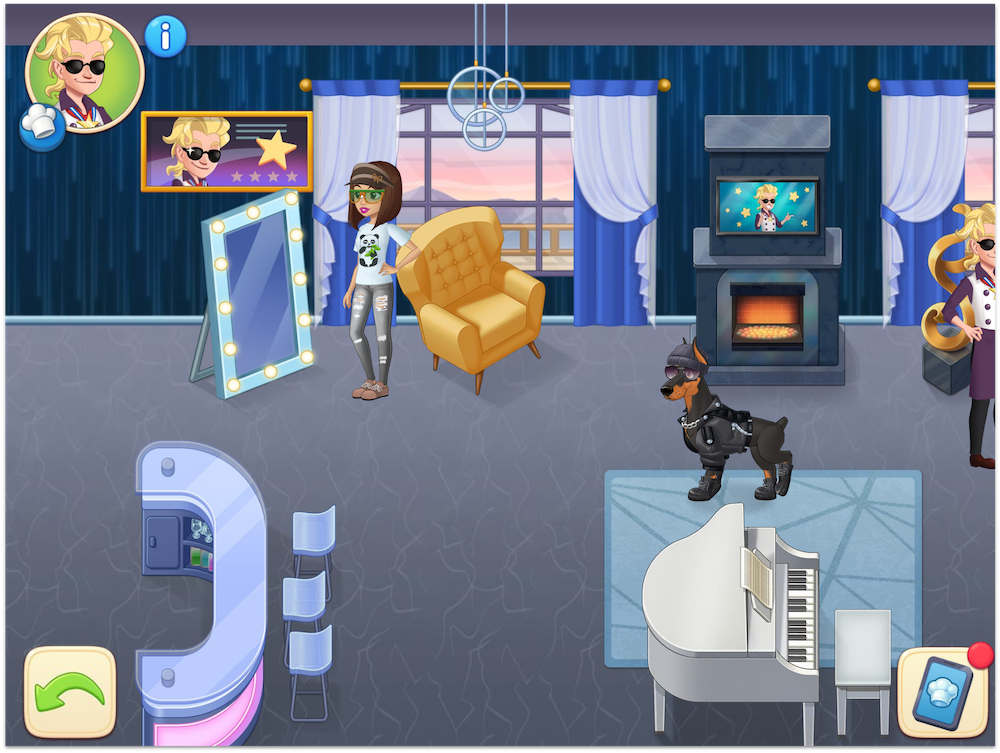 Archero: Synchronous co-op PvE
Archero's Hero Duo mode gives you the chance to enter dungeons and kill monsters together with your friend or a random acquaintance – in real-time! The mechanics are very similar to Archero's regular gameplay (=clear dungeon rooms while leveling up and selecting skills & buffs along the way), but as there's now a teammate to work together with, it's quite a different experience as a lot of tactical elements open up. You can either create a private game and invite your friend over or let the game match you with a random player.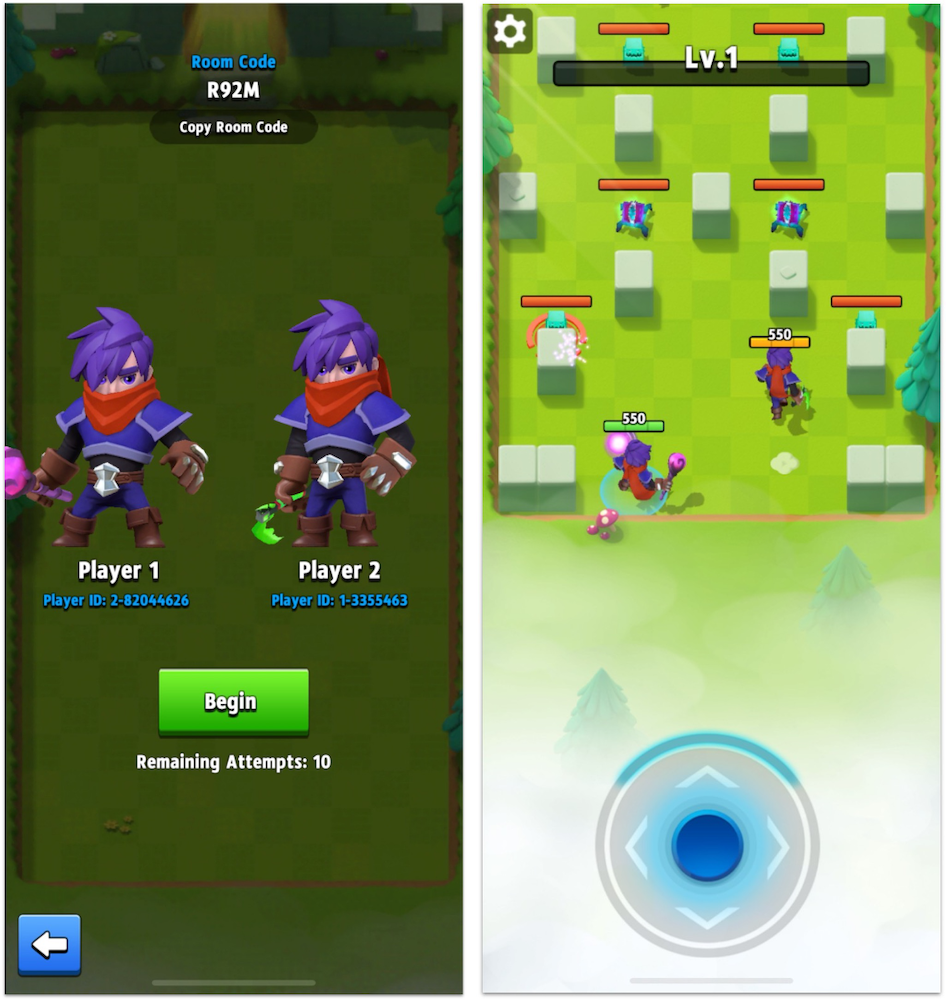 Homescapes: Teams with communal mechanics
Homescape was one of the first casual match3 titles to introduce guild mechanics and has since built many events and other features on top of its Teams system. Once you're a member of a team, you can chat and ask your teammates for extra lives to play longer. Even better, every now and then, you can ask them to clear a hard level for you if you get stuck.
Besides these permanent team features, there are limited-time team events that enhance the co-op experience regularly. Team Chest event gives you the possibility to win a big communal prize chest if you manage to complete enough levels together, and Team Tournament pits you against a bunch of other teams to compete for huge prizes on a leaderboard.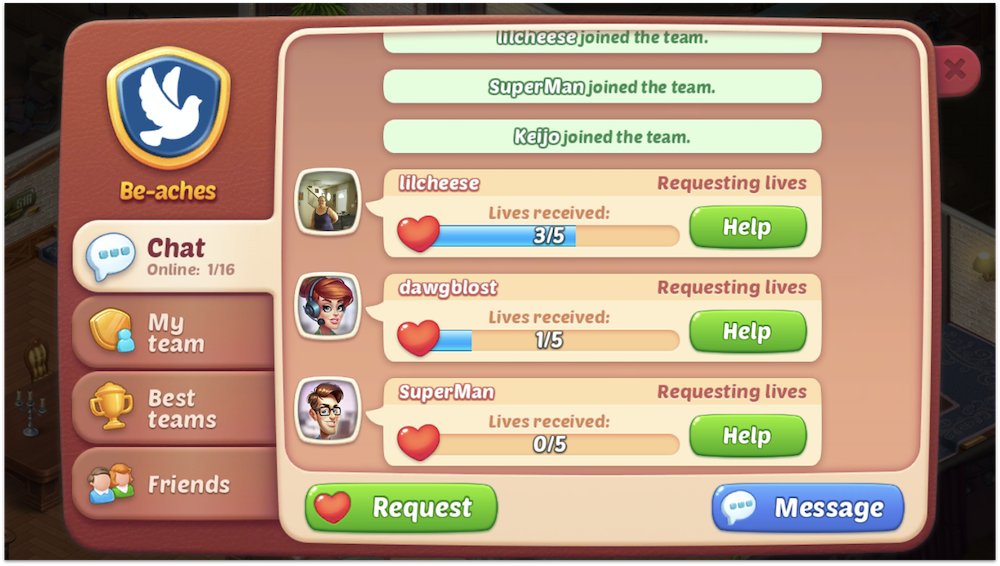 To wrap it up
The introduction of social features in mobile games has many benefits for both developers and players, primarily driving increasing retention. This, consecutively, drives monetization through new revenue streams as players can further personalize their avatars and social spaces. Ultimately, social features drive a game's marketability and user acquisition because gamers are more likely to invite their friends to games to play together.
If you're interested in finding out more about what social features could be a right fit for your game, we can help you with that. With GameRefinery service, you can track global feature trends and identify key social features with a high impact in your genre. If you don't yet have access to our data, feel free to contact us!
If you enjoyed reading this post, here are a few more you should definitely check out: