The competition for players' attention and engagement is fierce in the mobile gaming market. With so many games to choose from, it's never been more important for publishers and developers to understand the key motivations of players so they can create gaming experiences that keep players coming back for more.
But getting to the heart of what mobile gamers want isn't easy. The resources that go into creating polls, surveys and feedback channels can eat up valuable time and it's difficult to use these methods to gain insight into an entire market. On top of that, we all have different reasons for playing mobile games. These motivations do not just vary significantly from player to player, but also in ways of how these motivations can be implemented in games. For example, improving skills motivational driver can be implemented in games either through features that require mastering reaction-based skills, like multi-touch controls, or through gameplay that requires thinking-based skills, like Word games.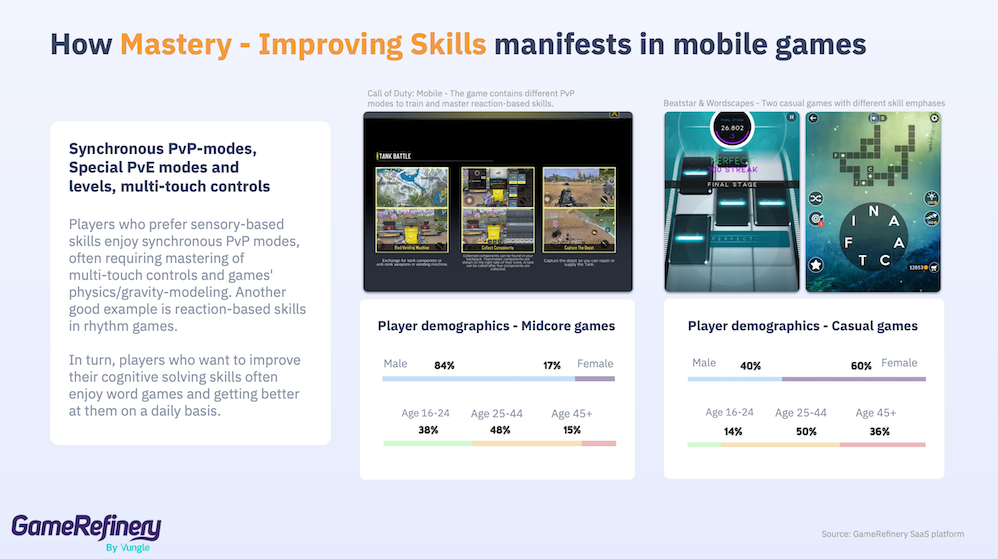 If you've ever wanted to understand the behaviors and motivations of a game's playerbase or how to attract new players to your own game by introducing gameplay elements that appeal to their motivations, you're in the right place.
In this report, we show with implementation examples how these motivational drivers are reflected in the mobile gaming market and what types of demographics they typically interest.
You can get the full Motivation and Demographics Snapshot Report by entering your information below.
Get your copy!