One of the best and proven ways to engage your mobile game's player base is social features. But do all social features work equally well in different markets? We decided to investigate which social features are currently trending in the US, Chinese, and Japanese mobile gaming markets and whether there are any regional differences or clear similarities between the trends.
One of the great ways to stay on top of the current feature trends is our Trending Features tool in the GameRefinery service. It provides you information on which features are trending up or down and the differences in trending features in the top-grossing 100 games compared to those outside top-grossing 100.
If you still have doubts about whether social features are the right fit for your game, take a look at one of our recent blog posts, where we share three good reasons why you should consider adding social elements to your mobile game.
But let's now hop on to the Trending Features tool to find out what social features have been recently trending and whether there are noticeable market differences in the trends.
Trending social features: market level findings
To focus only on social features, we've selected our two social feature groups Competition & PvP and Social Interaction.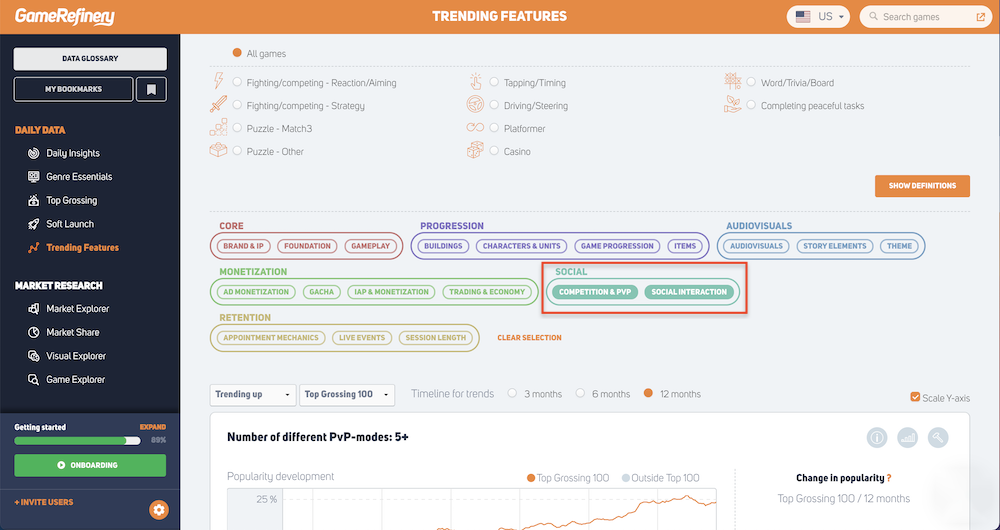 Now we can move to look at what features have been trending in the US mobile game market in the past 12 months. It's important to note that in the following graphs, we are taking into consideration all the genres from casual to midcore, casino, and sports and driving.
Features trending in the US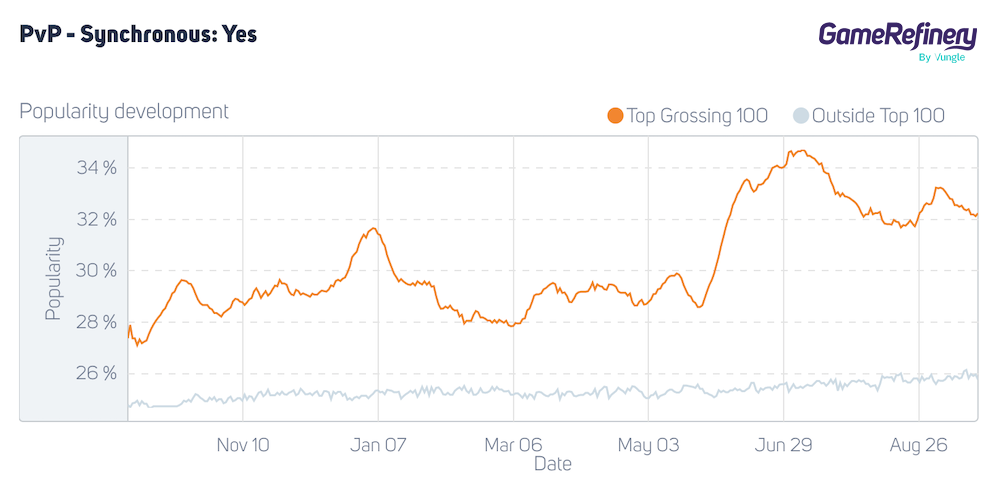 When looking at the data from the past 12 months, we can see that that synchronous PvP feature seems to appear in mobile games more and more often. In September 2020, about 28 percent of the top 100 mobile games had a synchronous PvP feature, while currently, the feature's popularity is hovering around 32-34%. PvP is often the key feature that defines midcore games, but as even the most casual gamers are maturing and looking for new things and additional layers in their games, these deeper social mechanics have been gaining popularity outside of traditional midcore games as well. For example, take a look at these four great examples of PvP modes in casual games.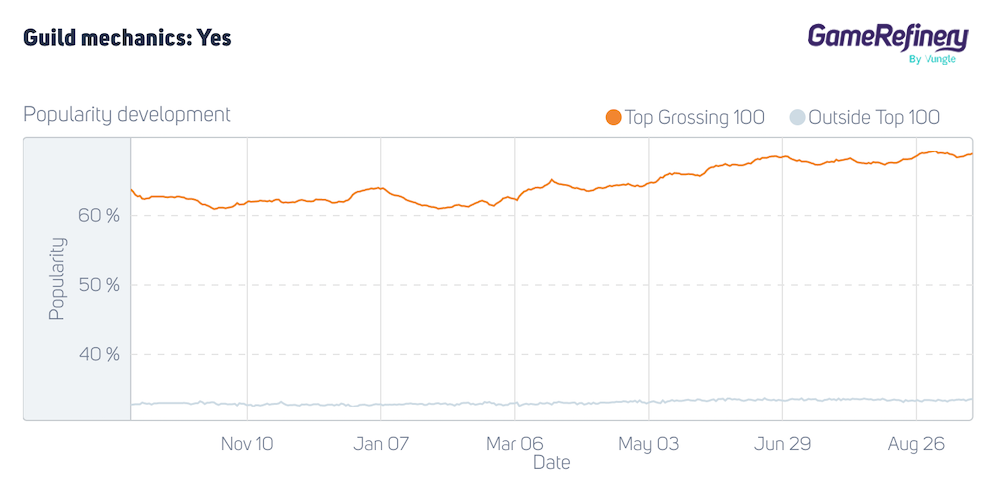 One social feature has been trending in the US for a couple of years already, but we could not do a blog post on must-have social features without mentioning it. We are obviously talking about the guild mechanics feature. Its popularity just keeps getting bigger, and currently, almost 70% of the US top-grossing games utilize the feature. This is not surprising, as we've previously talked about how the growing popularity of guild mechanics is already visible outside of midcore games, such as among casual games. The popularity of guild mechanics has undoubtedly been fueled by the fact that they work as a great foundation to build other social features upon (events, co-ops, etc.) Plus, the step-by-step introduction makes it easy for casual players to get introduced to guilds and communities, and it doesn't overwhelm them with complicated mechanics. So we can safely say that if you're considering introducing social features into your game, guild mechanics is a good call.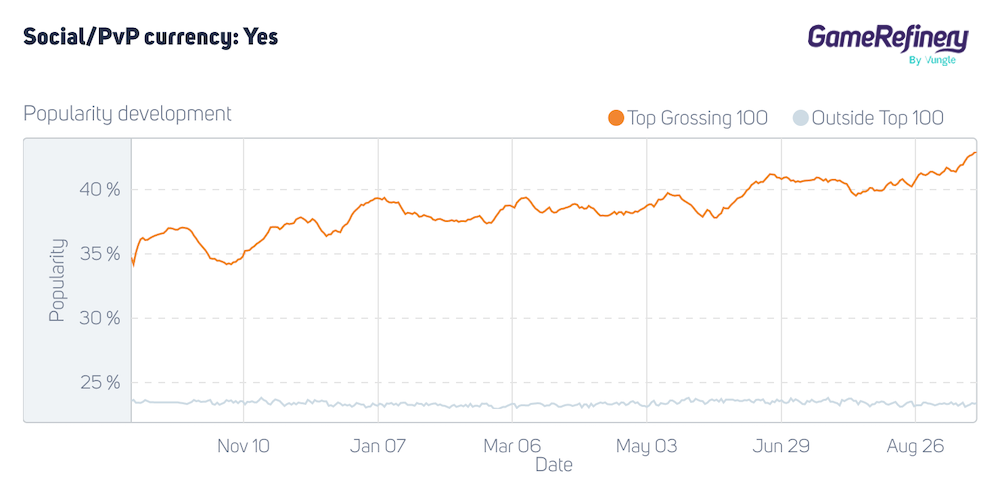 The growing popularity of guilds mechanics and various PvP modes has naturally boosted the popularity of other social features that can be directly associated with them. One example of these features is social/PvP currency. If the game uses social/PvP currency, it means that players can acquire special currency or resources through communal activity (e.g., participating in guild activities or helping other players) or engaging in PvP-mode. The popularity of social/PvP currency has grown by about eight percent in mobile games on the US market over the past 12 months.
So now that we know what social features are trending in the US market, let's next look at the Chinese market to see if we can spot any regional differences.
Features trending in China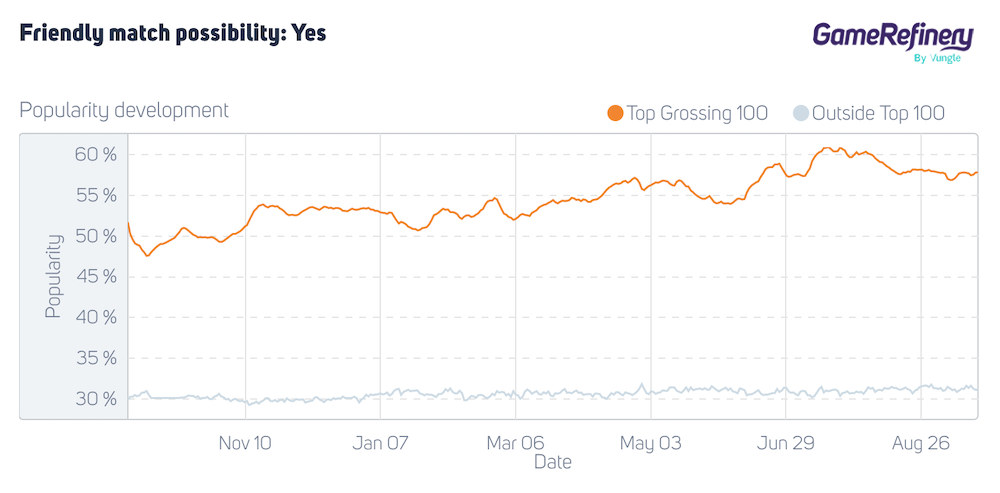 Chinese top games almost always contain deep and often competitive social mechanics, like multiple PvP/PvE modes or guilds/clans. So it's no surprise that according to our data, well over half of 100 top-grossing games in China currently have a friendly PvP match possibility, and its popularity continues to grow slowly but surely. A friendly PvP match possibility means that the players can directly challenge their friends to a match/battle. Usually, these friendly matches/battles are more casual than normal matches/battles, i.e., no rewards or punishments.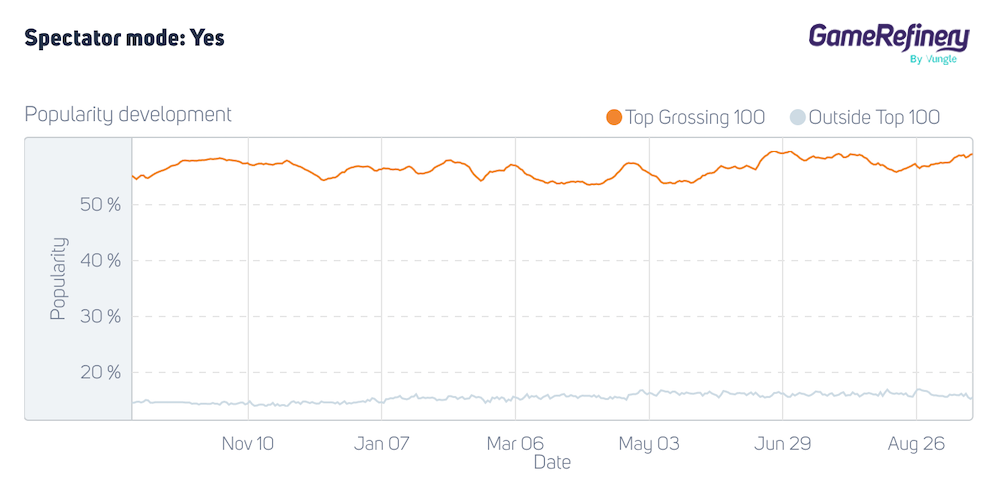 Another far more prevalent feature in top Chinese games compared to the West is the spectator mode feature. Spectator mode means games have a special mode or modes for watching other players play. Spectating can happen either live or on-demand. In China, nearly 60% of the top-grossing 100 games include some version of spectator mode when we look at the trending features data that includes all the genres. By comparison, the same figure in the US is currently 14%. Its popularity has not shown as significant growth in the last 12 months in China as the other examples, but since the spectator mode feature's popularity is one of the most evident social feature differences compared to the Western market, we wanted to highlight it here.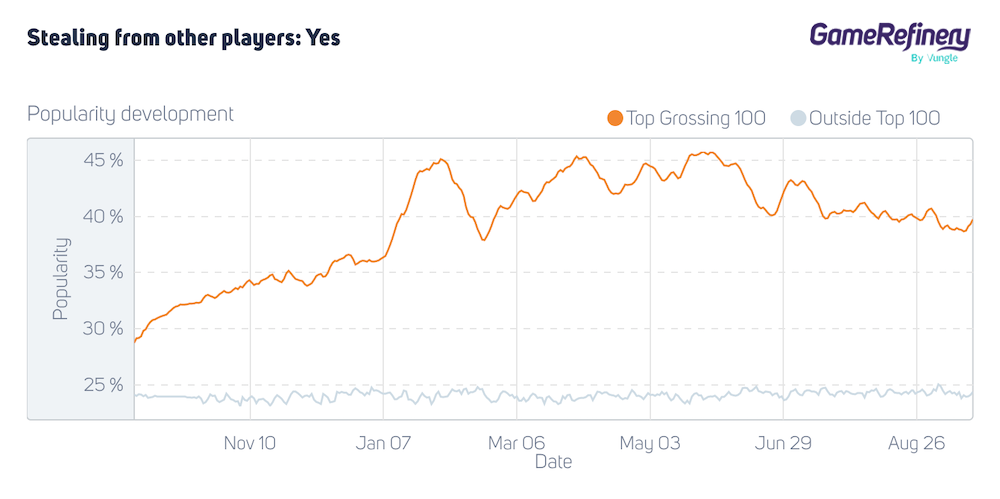 The third currently trending social feature in China is stealing from other players. Around 40% of China's top 100 games include a possibility of stealing resources, currency, or items from other players. Compared to the previous year, the popularity of the feature has grown by more than ten percent.
Finally, let's see if we can find any popularity differences among social features in Japan's mobile game market.
Features trending in Japan
When we look at trending social features in Japan, we can actually notice quite a few similarities between the most trending features in Japan and the US. Like in the US, PvP – synchronous feature is currently trending among Japan's top 100 grossing games.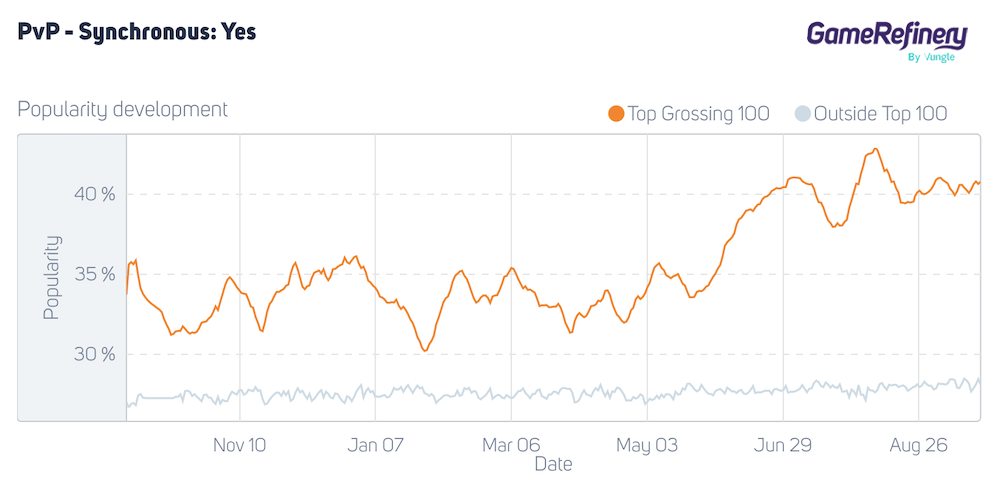 Currently, more than 40% of Japan's top-grossing 100 games include synchronous PvP mode, while less than 30% of games outside the top-grossing 100 have the feature.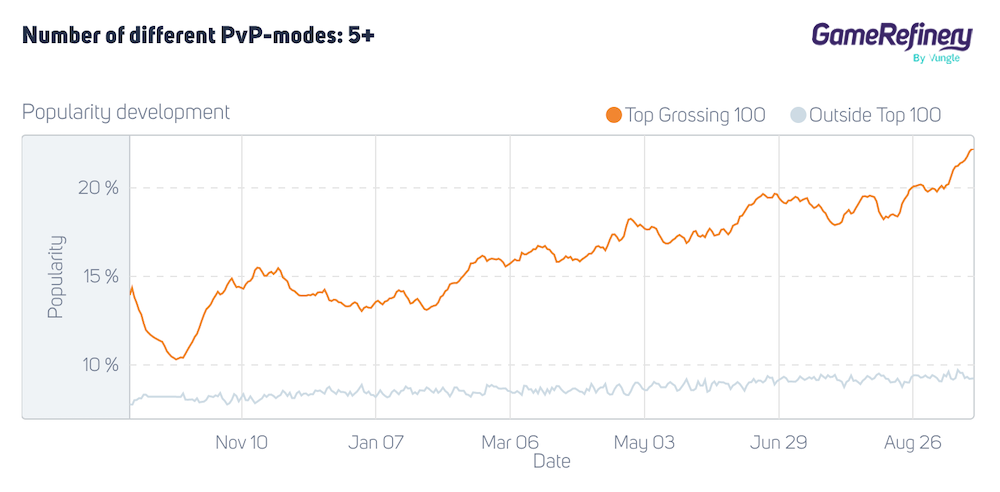 The current PvP trend is also supported by the fact that within Japan's top-grossing 100 games, the number of games offering five or more different types of PvP-modes is going steadily upwards. This is also the case in the US mobile gaming market. Currently, 22% of Japan's top-grossing 100 mobile games have five or more PvP-modes, while at the same time, only 9% of the games outside top-grossing 100 do the same. Examples of various PvP-modes include, for instance:
The game's "normal" PvP-mode (e.g., Arena battles in Summoners War)
Guild battles (e.g., Alliance War in Marvel Contest of Champions)
Co-op battles (e.g., a special 2vs2 mode in Clash Royale)
Other PvP-modes with special mechanics (e.g., Tavern Brawl in Hearthstone)
Lastly, let's take a look at one trending social feature that is already found in well over half of the US' top 100 games but has now slowly been gaining popularity in Japan as well.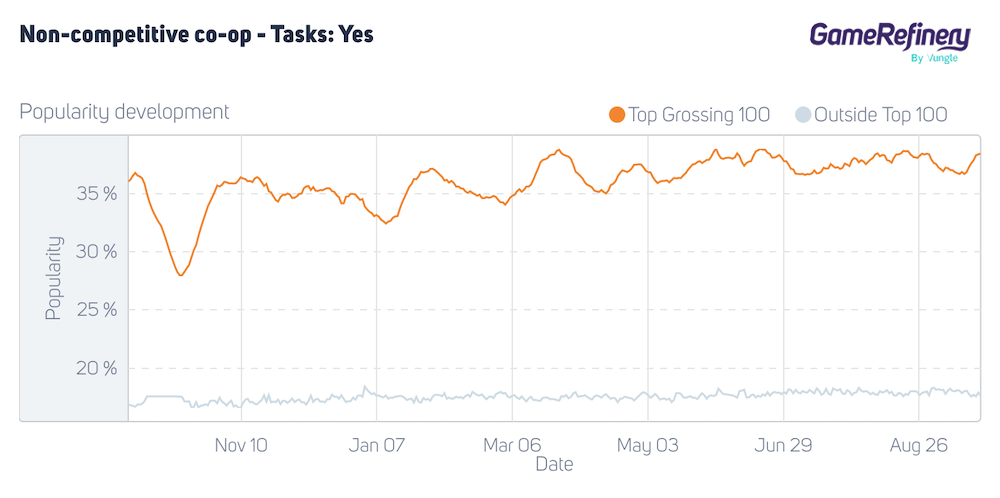 In Japan, about 40% of the top 100 games include non-competitive co-op tasks currently. It basically means that the game contains non-competitive tasks, quests, or milestones to be completed with friends, guildmates, or random players (i.e., through co-operational playing). Examples of this feature include for example:
Guild quests to be completed by playing together with your fellow guildmates
A communal "score milestone" system, where individual scores of players in a group (e.g., friends or guildmates) are summed up and rewarded after certain thresholds/milestones.
To wrap it up
Hopefully, this blog post gave you more insights into what social features are found more and more often in the top-grossing 100 mobile games in different markets. Tracking trending features not only helps you understand what's going on in the world of mobile game features, but it also helps you keep your own game feature set competitive. Since we were only focusing on examining data at the market level, we could next utilize the Trending Features tool to filter the data by core gameplay to see what features are currently trending up or down among match3 or casino games, for example. After deciding which social features could be the most beneficial to you, you can use GameRefinery's Implementation Examples tool to find examples of how different games have implemented those features into their gameplay. As you can see, the possibilities for exploring data are almost endless. 🙂
If you're interested in finding out how the data could work for you, you can always send us a message here!