Mobile game developers have plenty of calendar opportunities they can utilize to build events and updates around as part of their LiveOps strategies. While Halloween is typically observed on October 31, it's not unusual for mobile game studios to extend the trick-or-treating and run their Halloween events for a couple of weeks, which usually run from the middle of October.
Halloween is a great opportunity for mobile game studios to give their games a Halloween-themed makeover, whether that's through the addition of new story content, game modes, or seasonal cosmetic items. Some games are a natural fit for Halloween themes, such as undead-driven Diablo Immortal, which used Halloween 2022 as an opportunity to roll out its first seasonal event update, and Pokémon Go, which made the most of the occasion by celebrating its Ghost-type Pokémon.
Like any seasonal event, Halloween can be a major download and revenue driver – but only when Halloween updates are done correctly. So, whether you're on the search for ideas to inspire your own Halloween updates for next year or simply looking for new ways to monetize, here are the best mobile games with Halloween events from 2022.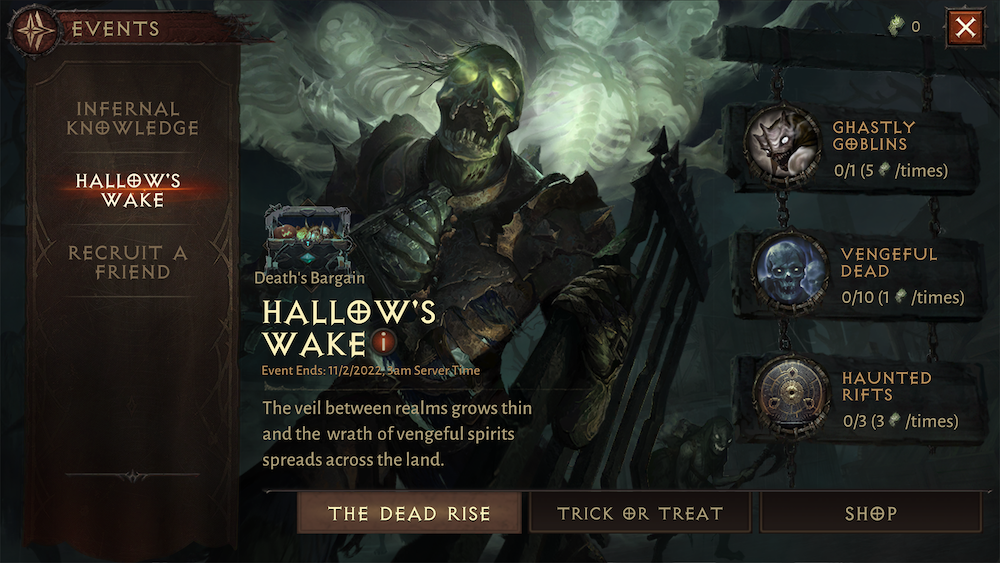 Diablo Immortal: Hallow's Wake Event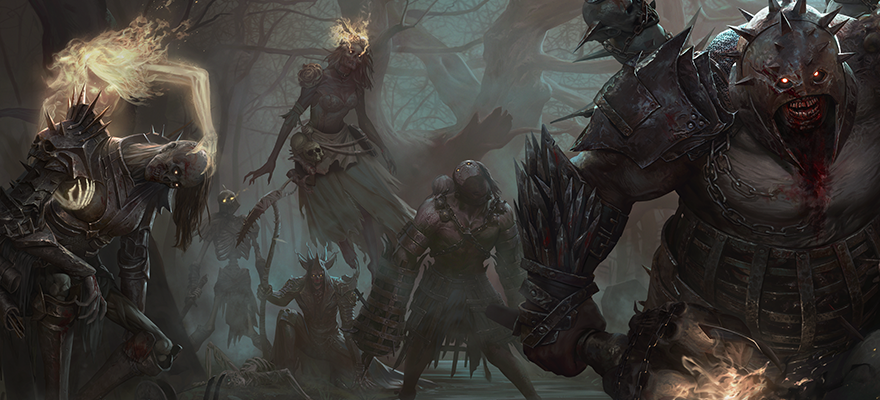 Evil cultists, the undead, and minions of Hell – Diablo Immortal already has most of the traits you'd typically associate with a Halloween update, so maybe it should come as no surprise to learn that Blizzard used Halloween to celebrate its first seasonal event since launching in June 2022: Hallow's Wake.
The event, which ran from October 19 to November 2 and was billed by Blizzard as 'a limited-time extravaganza filled with fright and delight', made some major adjustments to the game. Players were tasked with eliminating ghastly goblins and other ghoulish enemies to collect Hallowed Stones, which could be exchanged for 'spooky rewards' such as Halloween-themed emotes and cosmetic items. Hallowed Stones could also be unlocked through daily activities, trick or treating your friends, or finding the crone.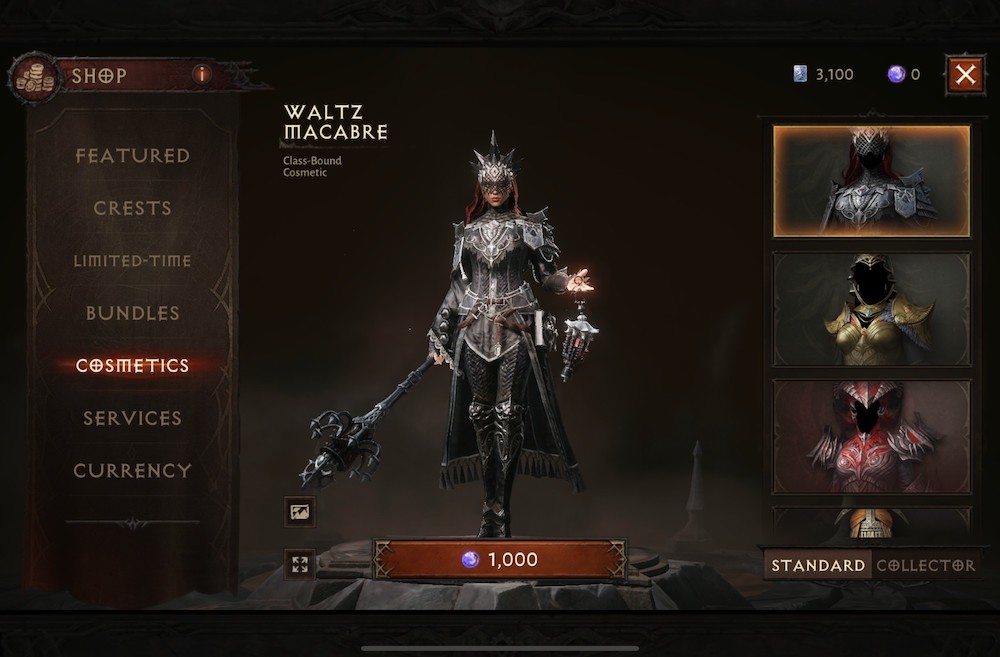 As Diablo Immortal's first seasonal event, Hallow's Wake also introduced its first limited-time bundle offers in the form of the Death's Bargain limited-time offer menu, where players could purchase Hallowed Dead cosmetic class sets and bundles consisting of important materials and currencies. To incentivize purchases, the offers in the Death's Bargain shop had a charge gauge that filled when players purchased items. Once the gauge was full, one random buyer would receive a full refund of the premium currency used for the purchase.
Seasonal events can also be used as an opportunity to make wider game changes. In the case of Diablo Immortal, it used the Hallow's Wake update to add a new material, Telluric Pearls, that can be used to craft 5-Star Legendary Gems. This makes it easier to obtain one of the rarest items in the game required for late-game upgrades (although they're still very hard to find). A 'Recruit a Friend' feature was added, allowing players level 20 and above to recruit other players using a unique referral code. A total of three players could be recruited, with specific rewards for new recruits as they reached leveling-up milestones.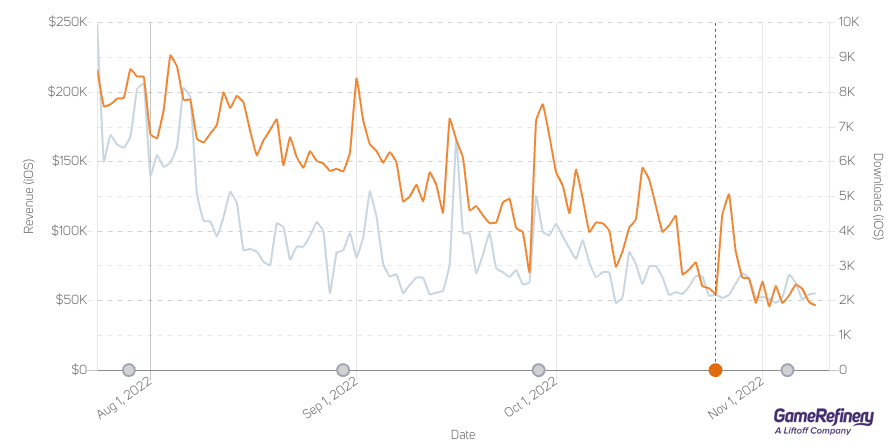 While revenue has been gradually falling for Diablo Immortal since its launch, the Hallow's Wake update did cause a spike in revenue, although this was lower than previous content updates.That said, the update was covered favorably by media outlets, generating some positive stories in the wake of its previous monetization controversies.
Clash of Clans: Halloween 22 event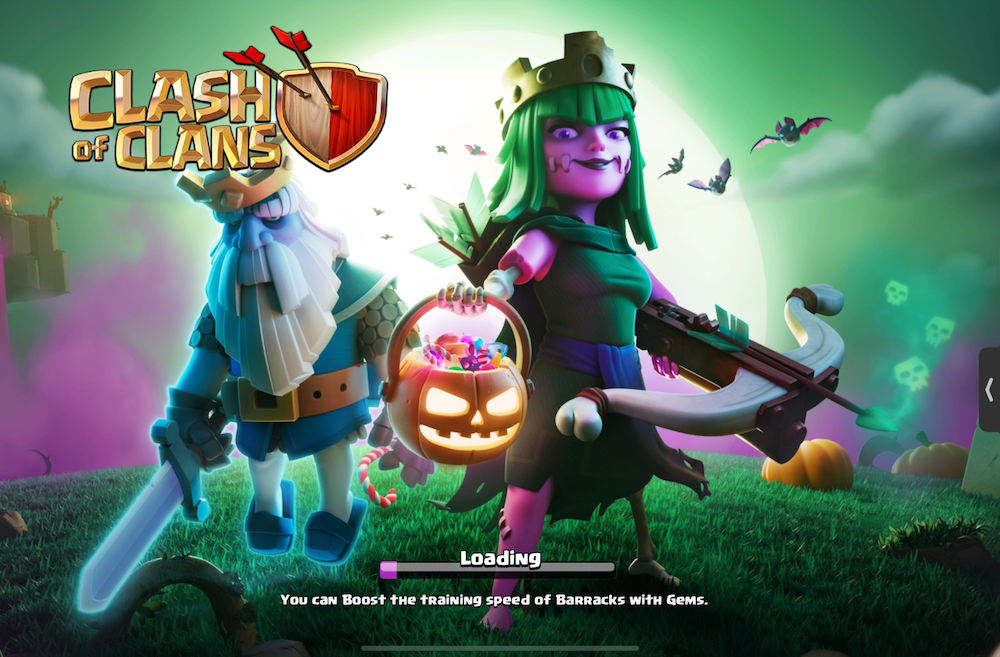 Depending on your LiveOps calendar, you may want to carefully time your Halloween event alongside other major updates to maximize the number of players it reaches. This is exactly what Supercell did for Clash of Clans' Halloween 2022 update, by using its massive Town Hall update on October 10 (which caused a 500% increase in downloads) to highlight its Halloween plans, such as the Spooky Queen Skin in its October Battle Pass.
Clash of Clans is proof that you don't need to go wild for Halloween to be successful. The game kept things fairly simple with a limited-time IAP offer for a new Halloween base skin, Pumpkin Graveyard Scenery, limited-time units and two new challenges, 'Spooky Challenge' and 'Super Spooky Challenge', with varying levels of difficulty.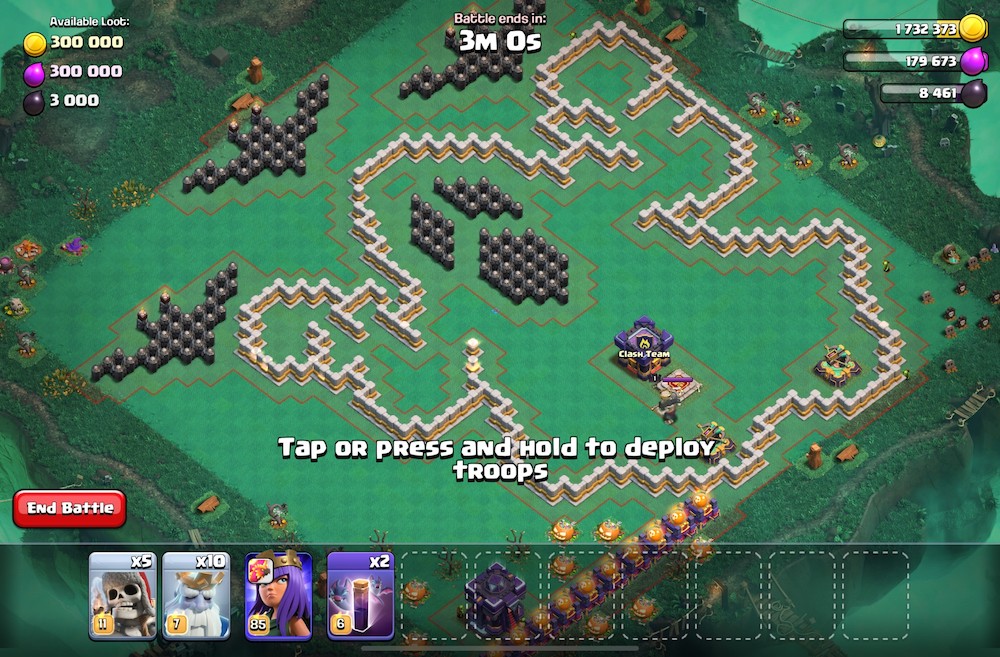 The limited-time units saw the return of Giant Skeleton and Royal Ghost, which could be trained and deployed in battles for the duration of the Halloween-themed event. These units were incorporated into event challenges to encourage players to deploy them. As an example, using the Royal Ghost and Giant Selection to win multiplayer battles would reward players with in-game items.
So, no major overhauls to Clash of Clans for Halloween (and it probably didn't need them given the hype for its Town Hall update), but the Halloween event provided new revenue opportunities and generated lots of content in the form of Halloween guides on how to beat the challenges.
Mario Kart World Tour: Halloween Tour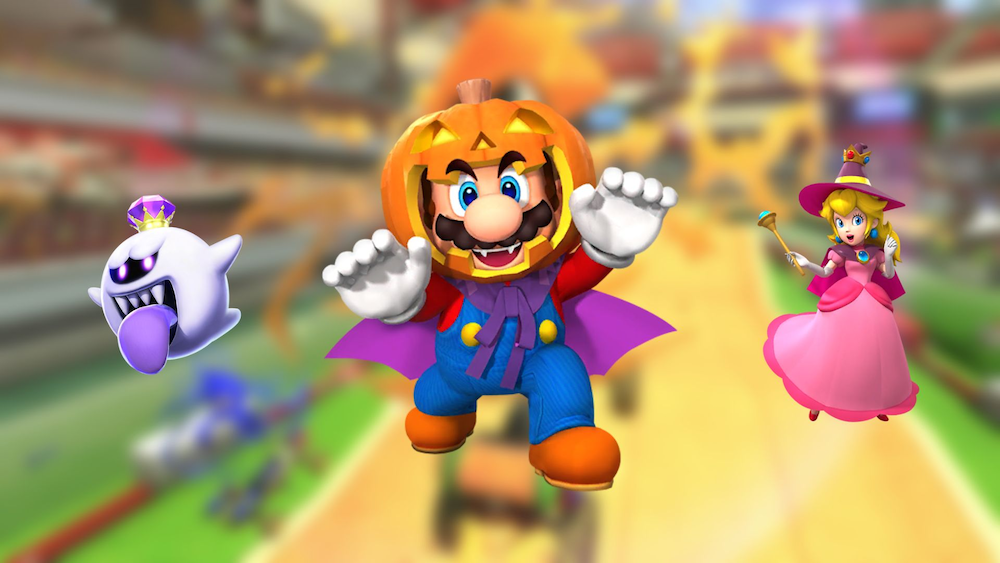 Mario Kart World Tour's Halloween update went live on October 18 via its Halloween Tour. The kart racer's single-player mode is updated with a new tour every two weeks, introducing new tracks and drivers into the game.
In the case of the Halloween Tour, this involved Halloween-themed skins for characters and race karts, the appearance of pumpkins and other Halloween items on the race tracks, and ghoulish race courses such as Boo Lake and Ghost Valley from old Mario Kart games being added into the Tour. The game's UI was also given a Halloween makeover and featured the haunted mansion from the Mario Kart track, Boo Lake.
Halloween-themed cosmetic items could be purchased using the game's premium currency, rubies, but they weren't cheap. As an example, the Halloween outfit for Mario cost 150 rubies, with 45 rubies costing $19.99. That said, rubies can also be earned in-game as a log-in bonus and by playing through the game regularly.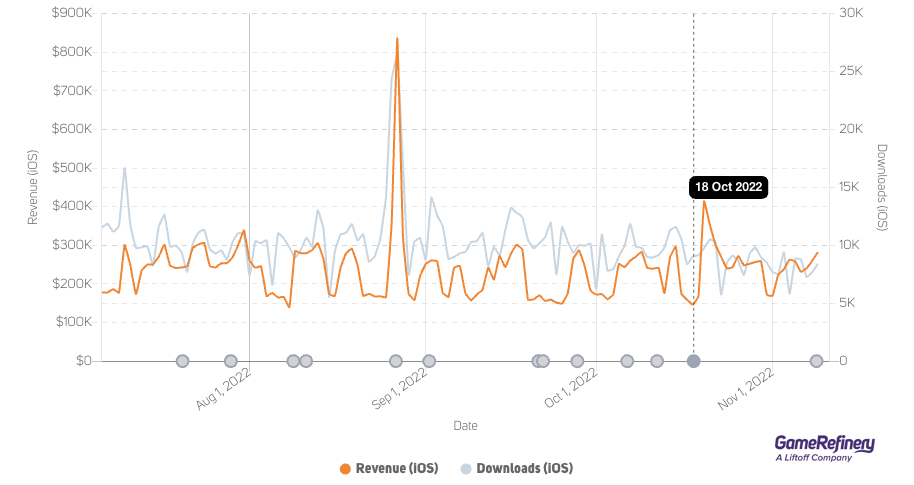 The update caused daily revenue to double following the update, which might also be attributed to the additional rubies that players now receive from IAPs. While many mobile games have responded to inflation by increasing their IAP costs, Mario Kart World Tour increased the number of rubies that players receive through purchasing value packs and ruby products on October 5.
Gran Saga (グランサガ): Mirage Nightmare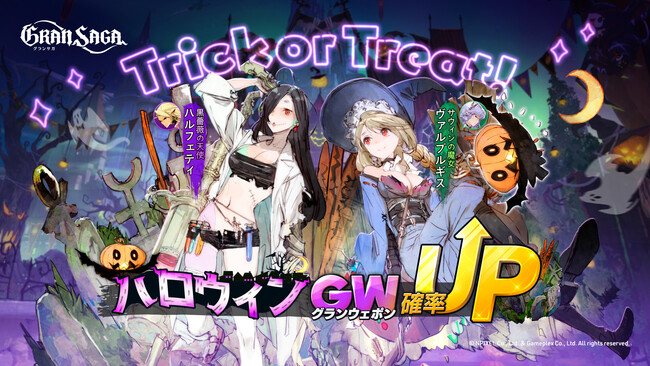 NPixel's MMORPG went live with a huge Halloween update on October 20, causing a massive daily revenue spike of over 400%. The update included a new Halloween story event, Mirage Nightmare, which featured a limited-time mount, weapons, and costumes. The city of Ragnadea and all of its NCPs got a Halloween makeover, too.
The limited-time story event consists of five stages for easy and normal difficulties and one challenge stage. Players could take part in the challenges by consuming AP and would win special cards and additional items for clearing stages. The limited-time mount, Shadow Veil, was only unlockable by clearing the main story event and completing specific event achievements, incentivizing players to engage in the event.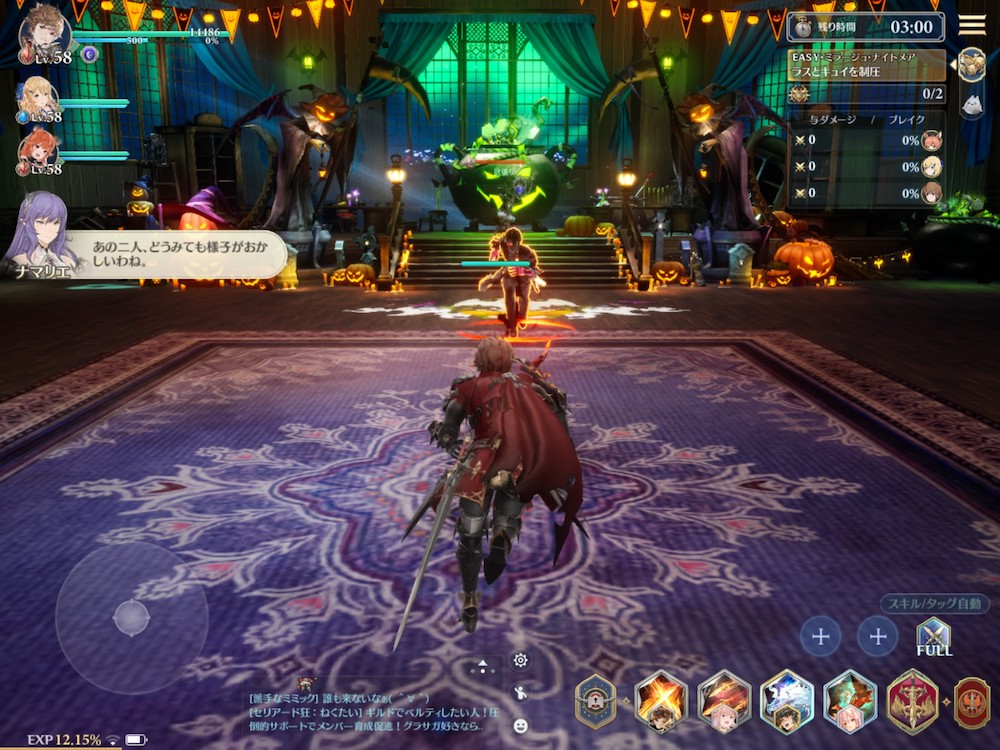 The Halloween-themed costume, Twilight Outfit, could be purchased for a discounted price of 2000 diamonds during the event period, but jumped up to 3000 diamonds once the Halloween update concluded. Players could also spend 1000 gems to get a random Halloween costume or 5000 gems to get five. New weapons and characters were also made available through gacha mechanics, a practice mode was added to the game's boss battle mode, Trial of Spirit King, and new features were added to the game's photo mode allowing players to use skill buttons in the mode.
A Halloween memorial season pass was also added into the game, along with a special Halloween log-in bonus and a puzzle event. Ultimately, Gran Saga's Halloween update was a huge success and well-received by players.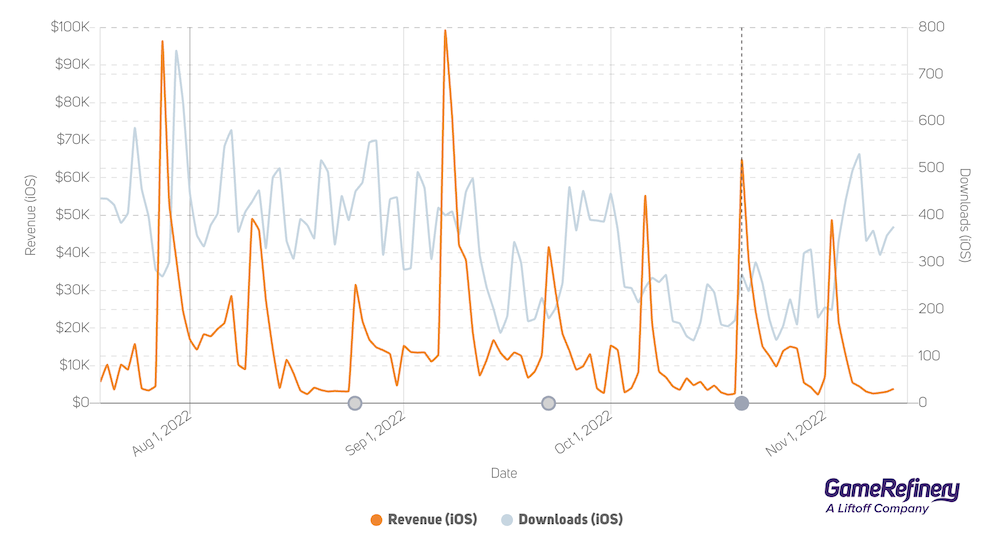 How to ensure your own Halloween updates are a success
Seasonal events can take months of planning, and like any major game update, you should carefully plan all of the elements of your Halloween update and analyze what other games in the market are doing to stay competitive. Using the GameRefinery platform to view detailed breakdowns of Halloween game updates is a great way of doing this, as it allows you to gauge the success of relevant updates – but we've also left some of our own top tips to help you below.
1. Halloween-themed cosmetics are a major revenue driver
Whether it's new skins for weapons, characters, or vehicles, Halloween-themed skins always prove to be a major revenue driver for mobile games. Rather than only making these items available as a limited-time purchase, you may want to offer themed skins for a discounted price during the Halloween season and revert them to full price once your update has finished.
2. Think outside of the box when it comes to monetization
In addition to new skins, you might want to consider a Halloween-themed battle pass to incentivize progression or special event tasks, missions, and story modes to keep players engaged. Depending on the length of your collaboration, a special event currency supporting a special event store might also be worth including if your game features lots of IAP offers.
3. Promote your events online through social media
Updating your game with a rare event skin? If your game features a collectibles album, you may want to consider linking this with social media integration so they can show off their in-game trophies online. Implementing challenges or progressive elements into your Halloween update is also a great way to generate guided content from mobile websites, especially if your game generates high volumes of traffic.
If you enjoyed reading this post, here are a few more you should definitely check out: