October's usually a busy month in the mobile market due to Halloween events and there were plenty of treats for players this year, with some mobile games using Halloween as an opportunity to host their first seasonal event. Diablo Immortal is one such example, with its Hallow's Wake event introducing a limited-time offer menu called Death's Bargain, while Mario Kart Tour, Brawl Stars, Kim Kardashian: Hollywood, Last Fortress: Underground, Clash of Clans, State of Survival, and Gran Saga (グランサガ) all got spooky makeovers.
While all of these Halloween events are impressive, nothing comes close to the size and scale of Cookie Run: Kingdom's massive collaboration with a Korean boy band, BTS. The event, which will run for 100 days in total, introduces new gameplay modes, characters, narrative elements, leaderboard competitions, and chances to win BTS tickets via a raffle system.
October also saw some interesting gacha appearances and disappearances! Mario Kart Tour and Brawl Stars' most recent updates removed some gacha elements to make it easier for players to earn certain items, while League of Legends: Wild Rift, Westward Journey Online (大话西游), and Project Sekai Colorful Stage feat. Hatsune Miku added new gacha elements.
You'll find more information on these gacha implementations, as well as the biggest mobile game updates in October, below.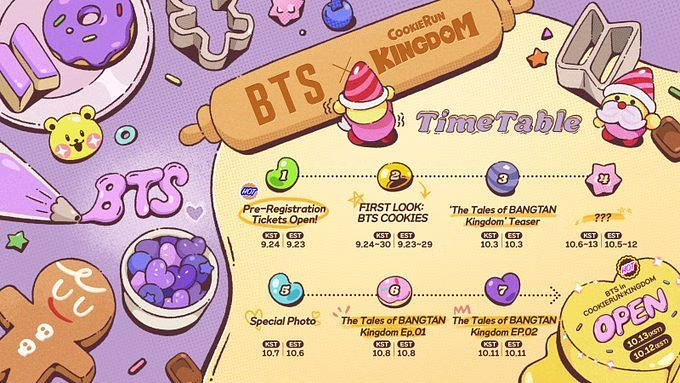 US Market Overview
Mario Kart Tour removed the direct monetization feature from its gacha warp pipes in October, which rewarded players with randomized drivers, karts, gliders, and tickets for the cost of five rubies (roughly three dollars). Interestingly, the removal of this prominent gacha hasn't noticeably affected revenue, but a Daily Spotlight Shop is now included with daily items refreshed every day. Similarly, Brawl Stars revamped its Gears (high-level passive skills) by removing the need to play gachas to unlock them. They can now be freely unlocked (as long as you meet the level requirements) with coins earned in-game.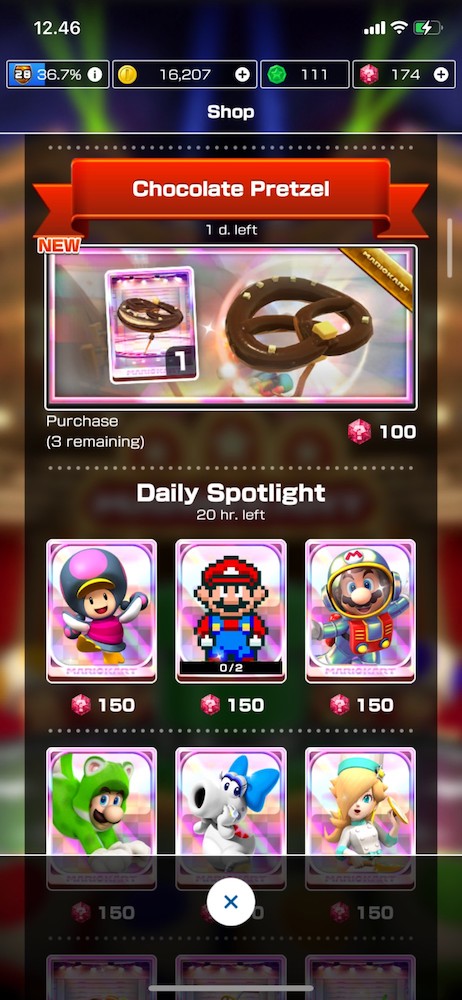 Elsewhere in the US market, Game of Thrones: Conquest celebrated its 5th anniversary with the Book of Conquest event arc, which introduced a selection of events based on gameplay themes and a massive 3D overhaul for the UI of the main city. Clash of Clans also enjoyed a major update with the addition of a new Town Hall bringing new defense buildings, troops, siege machines, pets, and plenty more, causing daily iOS revenue to jump by 500% following the game's update.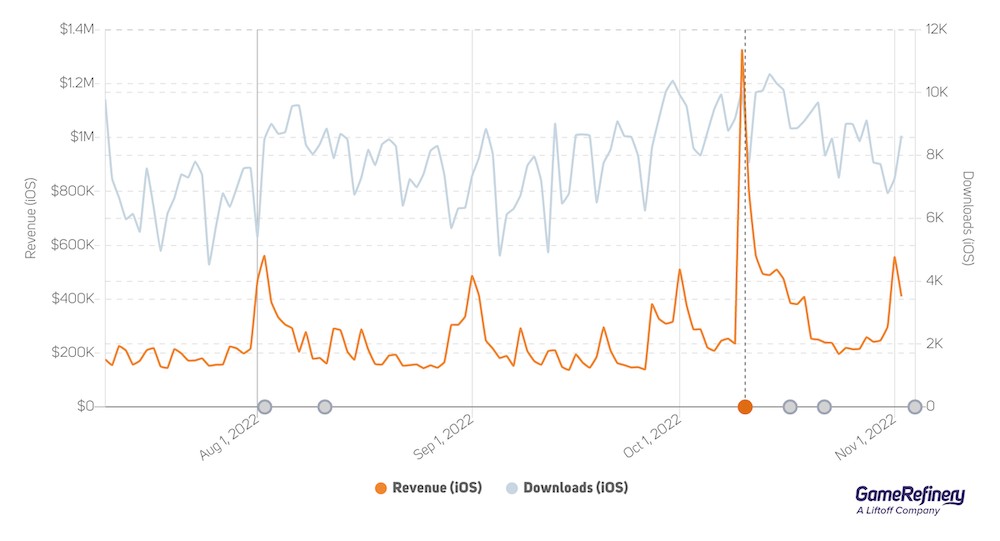 Another interesting update was Garena Free Fire, which added a collectibles album known as Trend+ for its exclusive cosmetic outfits. Now that Garena Free Fire has established its own in-game brands, Sea Ltd. looks like it's capitalizing on the demand for virtual merch by turning these cosmetic outfits into fashion brands inside of the game. League of Legends: Wild Rift's new Supreme Cells event with light RPG elements marked the first time limited-time gachas have been made globally available in the game.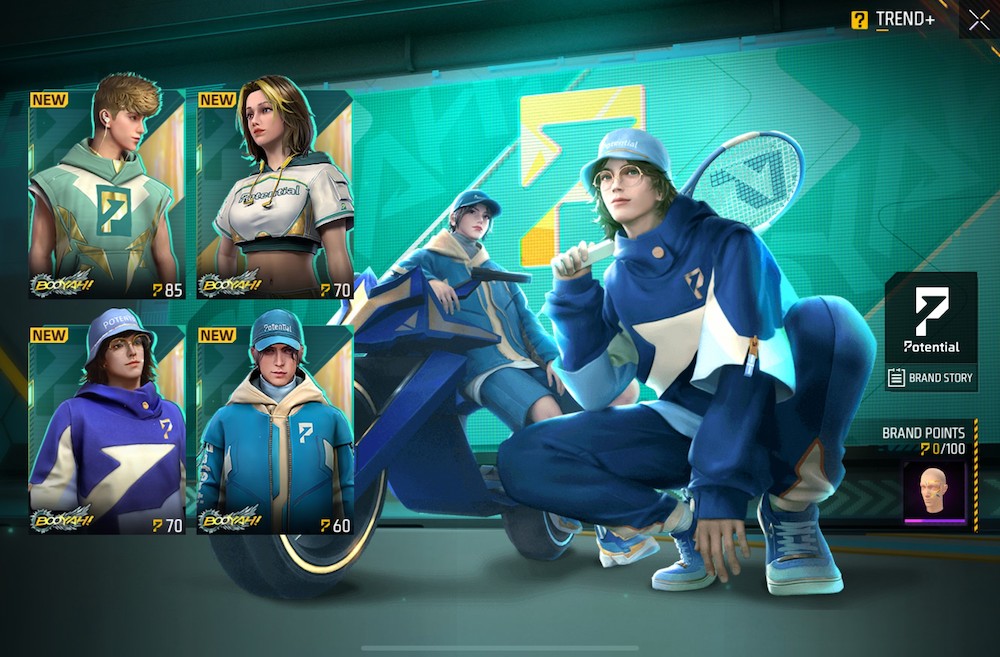 Diablo Immortal's Halloween event, Hallow's Wake, introduced a 'Death's Bargain' limited-time offer menu with some interesting features, notably a progression bar for limited-time items that filled up as purchases were made and refunded a random player once it was filled. Blizzard/NetEase have also made earning the 5-star legendary gems easier. Finally, highlights of the Cookie Run: Kingdom's massive collaboration with BTS included a three-lane endless runner, rhythm game, and auto-battle RPG gameplay mechanics combined with creative storytelling, unique characters, and leaderboard competitions.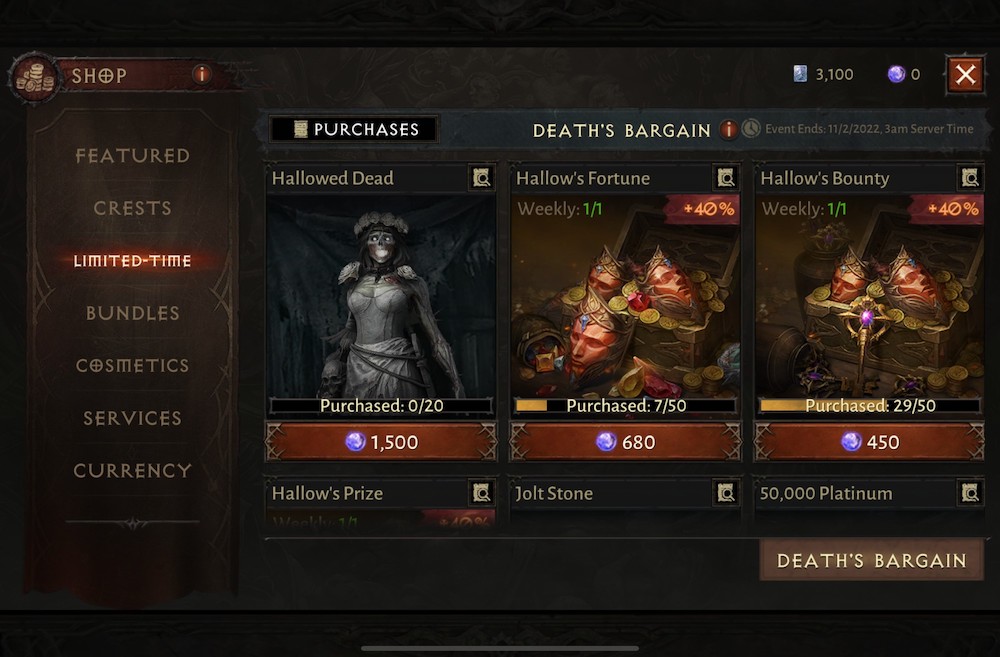 Interesting top 200 grossing entrants on the market
China Market Overview
The Harry Potter franchise is still going strong in China, with an October update for Harry Potter: Magic Awakened (哈利波特:魔法觉醒) introducing an event area with multiple game modes on offer. One of these was a PvE mode where players progressed by choosing different paths for beating waves of enemies, with magic spells and character boosts available as rewards. The update also included a 'radio event' where players could listen to radio programs relating to the game's world for rewards and a new collection level that grants gameplay boosts when new collection levels are reached.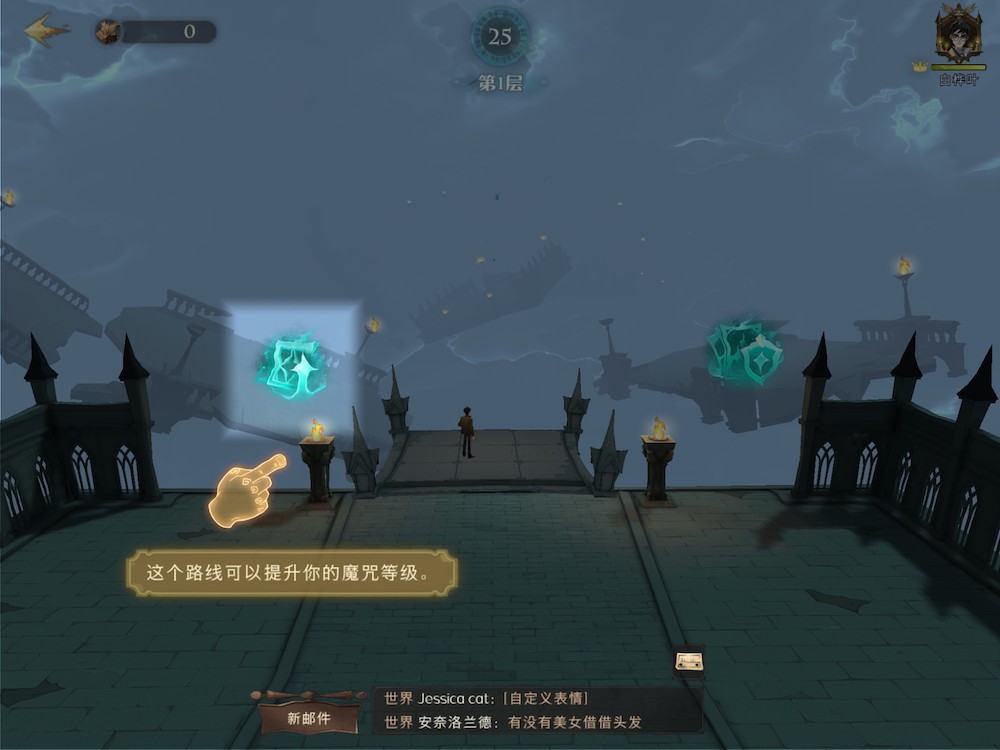 Be the King (叫我官老爷) added a Barracks mode to upgrade its characters, where players can generate recruits every five minutes before sending them through training in the barracks. After the training is completed, players get a fully-trained soldier, which can be used for upgrading characters, and barracks can be upgraded to produce higher-level soldiers.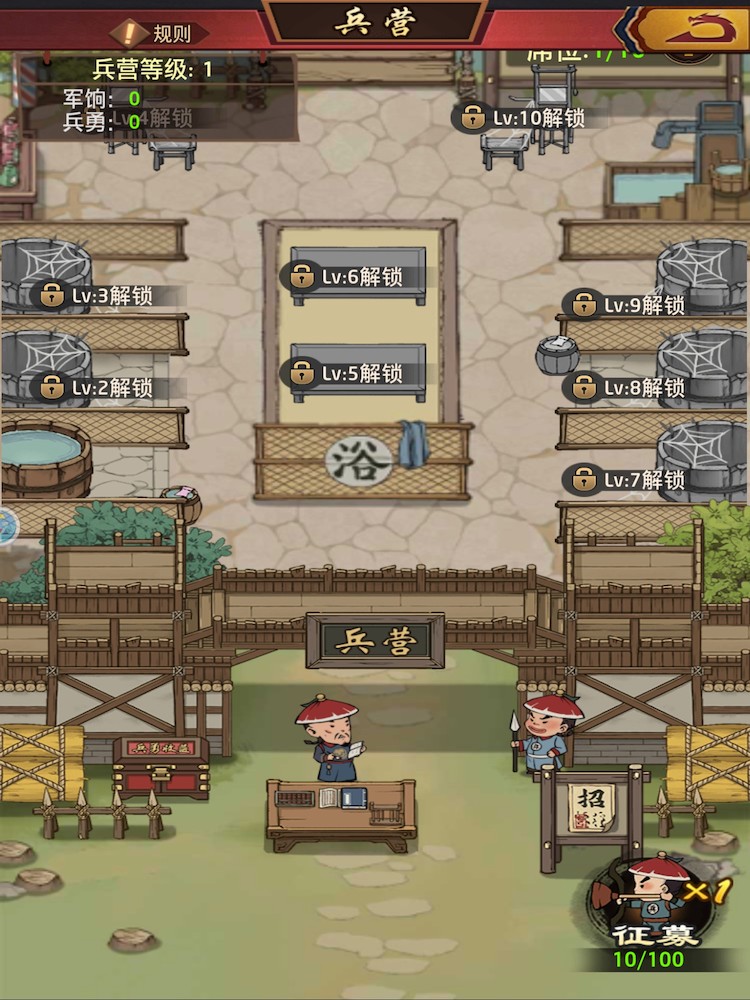 China doesn't tend to celebrate Halloween, but its national holiday known as Golden Week introduced seasonal events into games such as Three Kingdoms Fantasy Land (三国志幻想大陆 – 国创加强版). There were also lots of anniversary events in October. Westward Journey Online's (大话西游) celebrated its seventh anniversary with an anniversary gacha and 2022 Autumn tournament, Live Football (实况足球) got a UI refresh and new gacha pool for its fourth anniversary, and Ninja Must Die 3's (忍者必须死3 fourth anniversary update included story progression tied to the release of the new film, Tiered Forest (Ceng Lin Jian Ran).
Interesting top 200 grossing entrants on the market
Another interesting remark is that Subway Surfers has been in the Chinese top 150 grossing since August.
Japan Market Overview
The survival game, LifeAfter, hosted a huge collaboration event with Neon Genesis Evangelion. Players had to find the Evangelion Test Type-01 character in a daily changing location on the world map, and would receive rewards for taking pictures of Type-01 and sharing them. Seven Deadly Sins (七つの大罪 光と闇の交戦 : グラクロ) also celebrated a very impressive 50-million downloads with a milestone dedicated event with two new mission types, a boss battle and exchange shop, bundle offers, and a login calendar.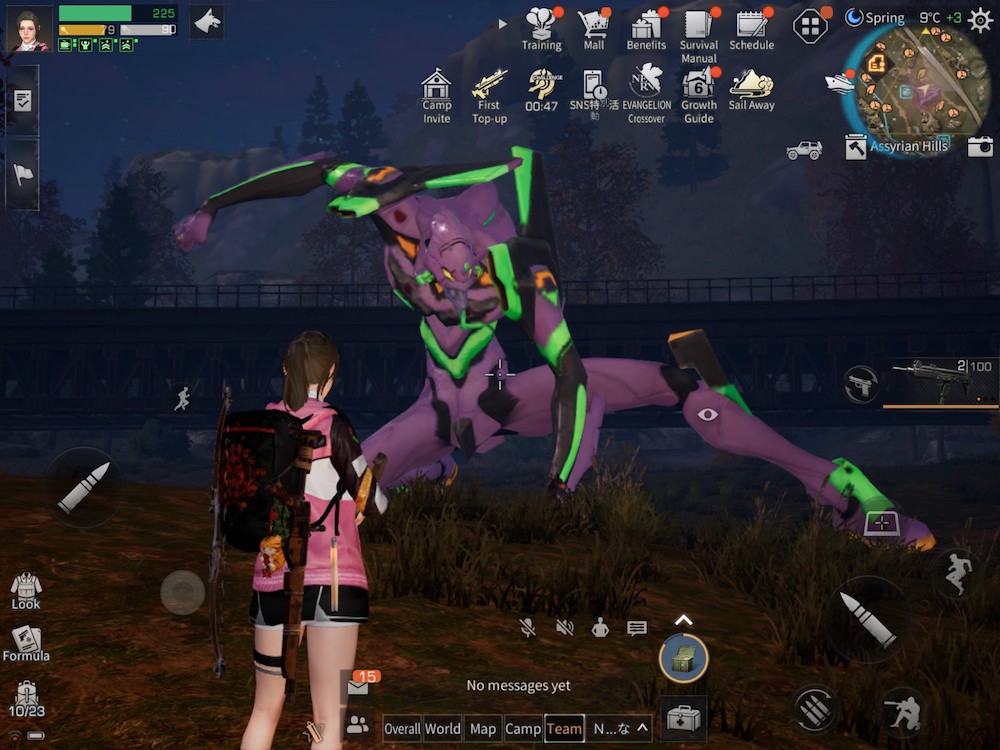 Similar to the US market, Japanese mobile games also joined in on the Halloween festivities with seasonal game updates. As an example, Gran Saga's (グランサガ's seasonal celebrations included a login calendar and a Mirage Nightmare story. The story event introduced new battle levels, an exchange shop, and various Halloween-themed items and features such as costume gachas, weapon gachas, and a Battle Pass.
And similar to China, there were plenty of Japanese mobile games celebrating anniversary events in October. UNI's on Air (櫻坂46・日向坂46 UNI'S ON AIR) third-anniversary event introduced a lotto feature where players could earn real-life concert tickets to upcoming concerts of two Japanese idol groups (Sakurazaka46 and Hinatazaka46), Project Sekai Colorful Stage feat. Hatsune Miku (プロジェクトセカイ カラフルステージ! FEAT. 初音ミク hosted a second Connect Live concert experience with gacha campaigns, and Guardian Tales (ガーディアンテイルズ) celebrated its first anniversary with boost campaigns, a new world map and free daily gacha pulls.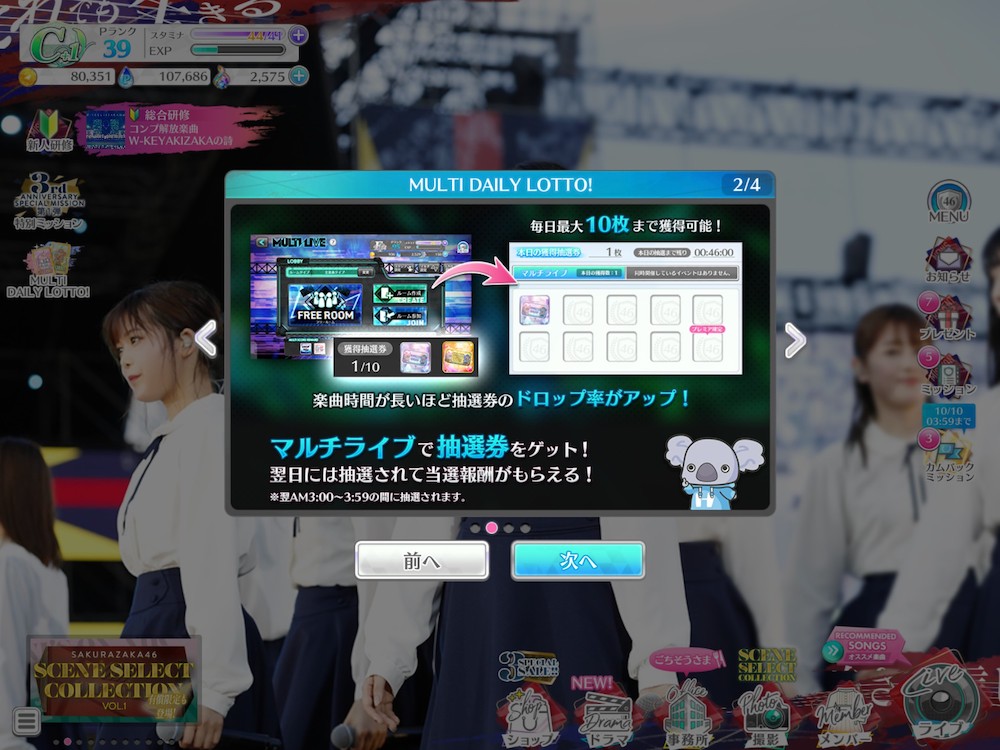 Interesting top 200 grossing entrants on the market