Mobile game developers are constantly looking for new ways to bring in new players and keep existing players engaged with their games. One of the most successful ways of doing this is by introducing meta elements – gameplay elements and mechanics from other game genres – into your game.
Over 70% of the US top-20% grossing casual iOS games now feature meta elements, whether that's through the inclusion of platforming minigames or side missions with RPG mechanics, but renovation and construction elements are by far some of the most popular elements that game developers are introducing into their games.
As our snapshot report into casual mobile games shows, players can't get enough of renovation and construction elements. So, what is it about these meta elements that keep players so engaged? And if you're not already using renovation and construction elements in your casual mobile game, what could you gain by doing so? To find out, take a look at some of the best examples of renovation and construction elements in casual mobile games and dive into the figures behind them.
The player motivations driving the success of renovation and construction elements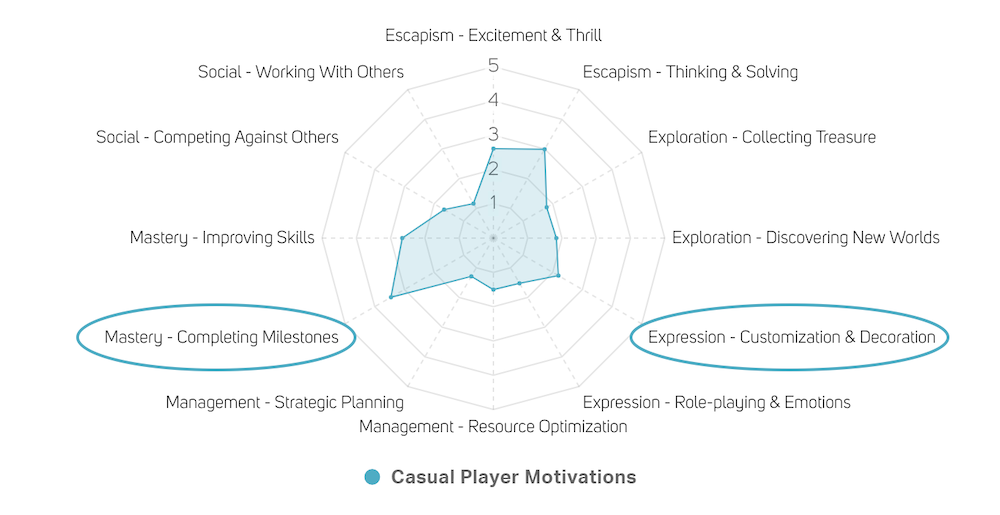 If we take a look at the main player motivations for casual games, we can see that completing milestones (mastery) and customization and decoration (expression) are two of the main drivers. Construction and renovation elements in casual games directly appeal to both of these key motivations. Players can express themselves by renovating and decorating a game environment (usually a room or property) with specific pieces of furniture to their individual tastes. Once the players finish decorating, they get to reflect on what they've achieved (usually a much tidier and better-looking environment!) and feel a sense of accomplishment.
If you've ever seen mobile ads pop up on your social media fees, we'd bet you've seen your fair share of adverts that include renovation elements. There's something inherently satisfying about the idea of cleaning up or getting things done that everyone loves. Satisfying cleaning videos are a new trend on TikTok, console and PC games based around cleaning such as PowerWash Simulator have millions of players, and Animal Crossing – one of the most successful games on Nintendo Switch – involves a lot of cleaning and housework. No wonder these same elements are so popular in mobile games!
How these renovation and construction elements are implemented in-game often varies according to the core gameplay mechanics and narrative nature of the game. That said, we can usually class renovation and construction elements into one of or a combination of the following styles:
Single area renovation (such as a mansion) – This is where you can renovate an area by selecting an object's style from a few choices, with players remaining in the main renovation area. Good examples of this style are Homescapes, Merge Mansion and Lily's Garden. There's often a strong focus on narrative.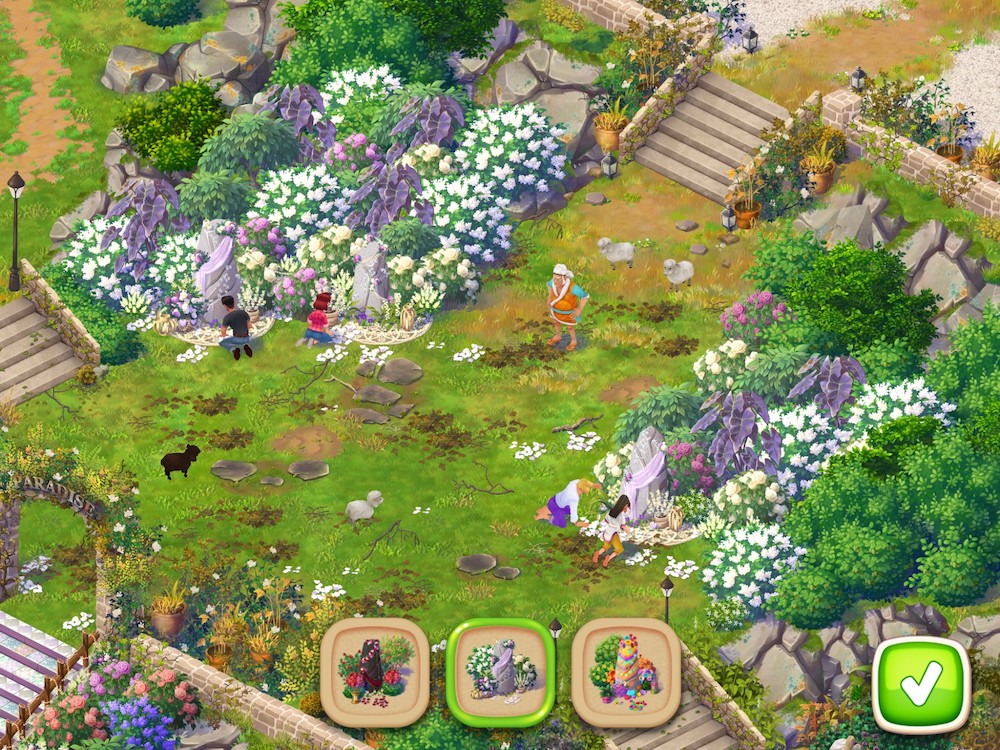 Room renovation and completion – This involves renovating and decorating areas (usually rooms) by choosing different furniture styles and then moving on to the next area, basically chapterized renovation! Games that implement this style of renovation often combine it with story elements, such as Home Design Makeover and Project Makeover, with the narrative progression supporting the renovation progression.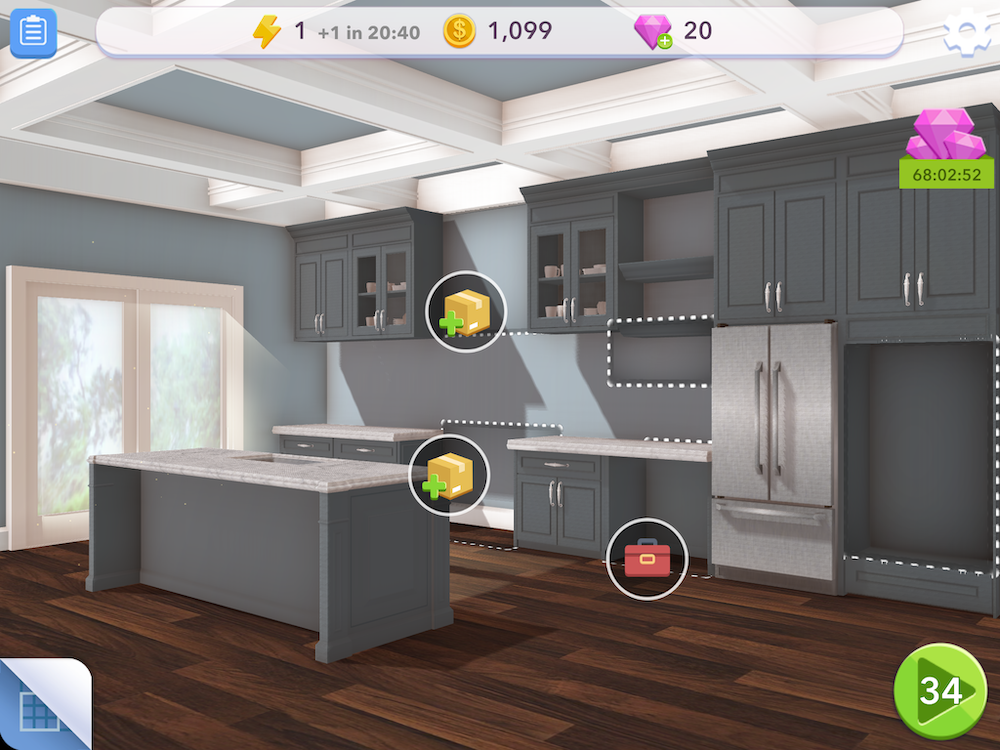 Area renovation with no choices – A stripped-back renovation model with no story options and basic renovation mechanics, such as the renovation mechanics in Royal Match.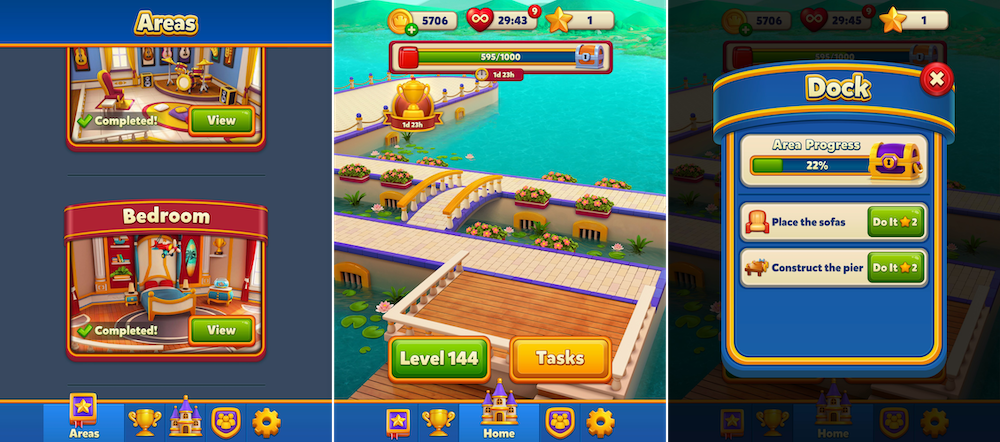 Event-based renovations – These games are not based around renovation elements but introduce them as limited-time game modes through events and updates. Phase 10, Gummy Drop, Toon Blast, Word Cookies, and Solitaire Grand Harvest have all done this.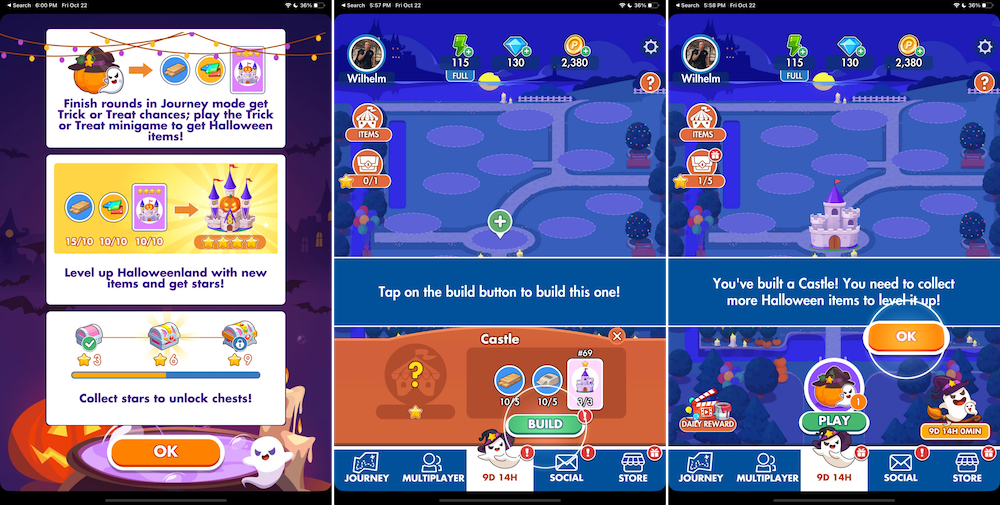 You can find detailed breakdowns of the above renovation styles in action by downloading our casual games snapshot report.
Which mobile game genres are the best match for renovation and construction elements?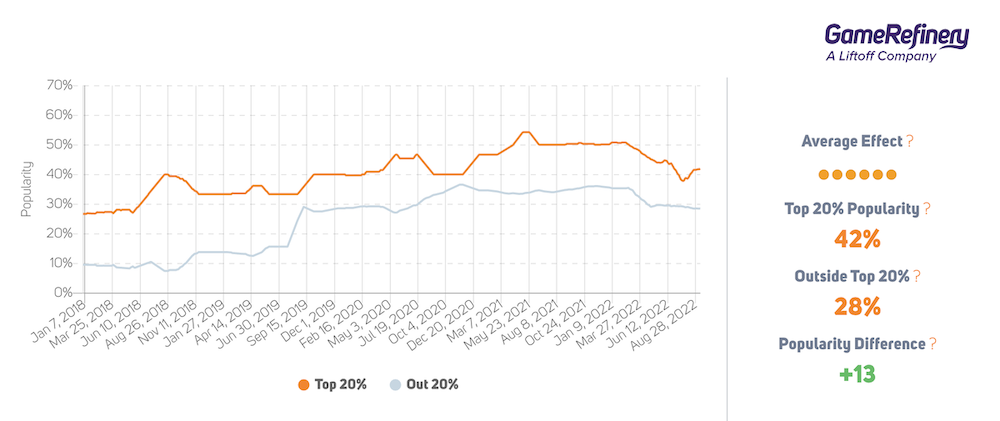 Unless you're developing a new game from scratch, introducing construction and renovation elements as part of a limited-time event will be one of the easiest ways to tap into the appeal of these meta elements and hopefully pick up some new players. There are plenty of ways to do this through new game modes that can be launched as part of updates, which means construction and renovation elements can be introduced into various game genres. But some genres, such as Match3 are particularly well suited for renovation and construction elements, which appear in 42% of the top-20% grossing Match3 games.
Royal Match and Zen Match are two examples of Match3 games in the top-200 grossing that feature renovation and construction elements. In the case of both games, the renovation features are implemented as part of the core loop alongside puzzle mechanics: play levels → get currency → renovate in meta.
Are you interested in learning more about renovation and construction meta elements? To see more examples of these meta elements in practice, make sure you download our casual games snapshot report.
What are the latest trends in renovation and construction games?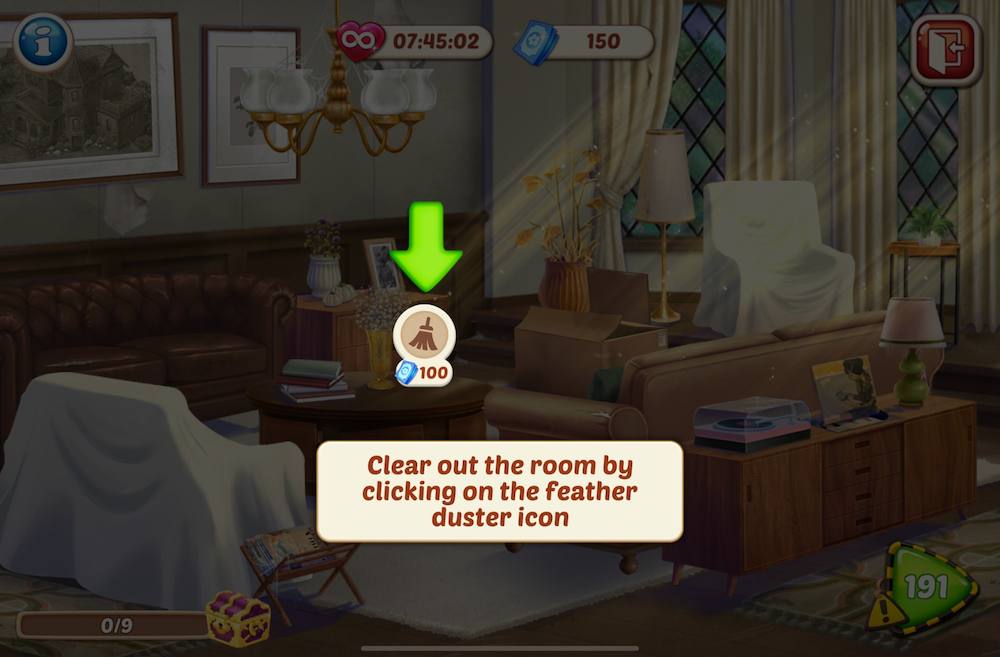 For many mobile game developers, their game is an ever-evolving work in progress as they grow it with new features. This means that the implementation of renovation and construction elements is constantly evolving too, and there are some surprising uses of this meta across various games.
Lily's Garden, a puzzle and renovation game, recently introduced a new game mode called Home Design, where you can renovate different rooms of Lily's house to gain rewards of boosters and soft currency. Rather than using the typical top-down bird's eye view that's featured in most renovation games, the Home Design mode has 2D pictures of the room to renovate, adding an interesting twist to the usual playing style. Also interesting is that Home Design was implemented as a permanent side-progression mode rather than a limited-time event, as limited-time events are usually the most popular way of implementing renovation elements.
Other puzzle and renovation games such as Homescapes have introduced features focusing on player renovation/customization rather than building renovation. The game's most recent update, Dream Date, is the latest iteration of a makeover meta that was introduced in January this year.
In this latest mode, players are tasked with styling up one of the game's characters to impress their date, resulting in a series of makeover-themed tasks to complete. You'll need cash to complete these tasks, which can be earned by working your way through regular levels in the game. The more makeover-themed tasks you complete during the event, the more rewards you'll get. Not only are makeover metas such as this growing more popular, but the warm reception from players has led to Playrix rolling them out across other games in its portfolio, such as Township's Unforgettable Wedding event.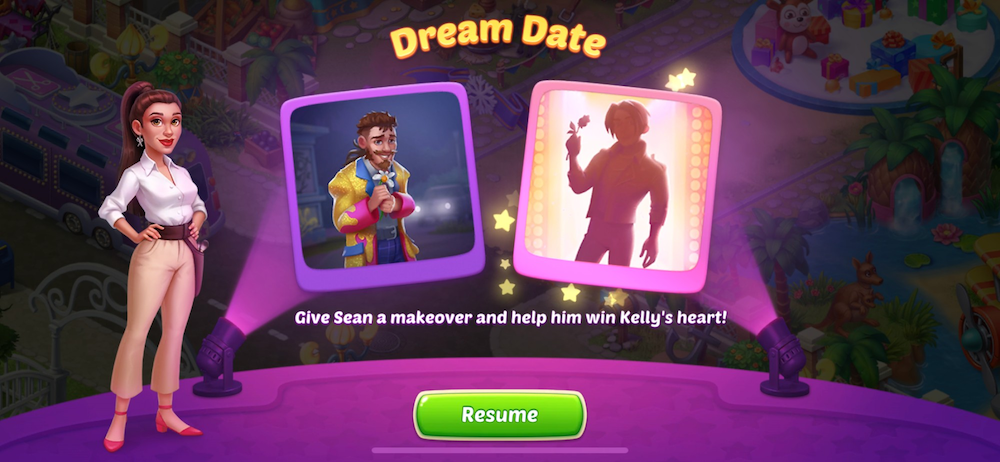 It's interesting to see games such as Homescapes using events to introduce a makeover meta that you'd typically associate with games such as Project Makeover, and we'll be watching to see if this particular meta element ends up being as successful as renovation and construction elements.
Thinking about introducing renovation and construction elements into your game?
While Match3 games and other puzzlers are particularly well suited for renovation and construction elements, this meta can be introduced into various casual game genres if it's done correctly and stays relevant to your core gameplay, such as the Serenitea Pot system in the action RPG Genshin Impact that allows players to create their own home.
If you're considering introducing renovation and construction elements into your game, you'll need to consider which implementation methods best suit your game and its players. For example, games with a narrative focus might want to follow the room renovation and completion style used by Home Design Makeover and Project Makeover, while other developers might want to test their players' appetite for renovation and construction elements by introducing them as part of an event to see how they respond.
If you're looking for inspiration, the GameRefinery platform is the best way to compare examples of the most successful renovation and construction elements in casual games, showing how they were implemented and the impact of renovation and construction-themed game updates on UA and revenue.
If you enjoyed reading this post, here are a few more you should definitely check out: