Competition in the Casual gaming market is fierce. Making it into the top-100 grossing charts has never been more difficult, but keeping your place once you've made it into the charts is even harder.
To stay afloat in this competitive market, mobile game developers are having to get creative as they come up with new ways to keep players engaged and motivated. Mobile game players are constantly looking for new ways to play, and Casual game developers have responded with an explosion of innovative ideas, many of which are transforming how we see traditional Casual game genres.
As an example, around 70% of the US top-100 grossing Match3 games feature meta elements, allowing players to move outside of the core gameplay and dive into exciting new gameplay mechanics, whether that's platforming mini-games, collectibles, or even RPG features.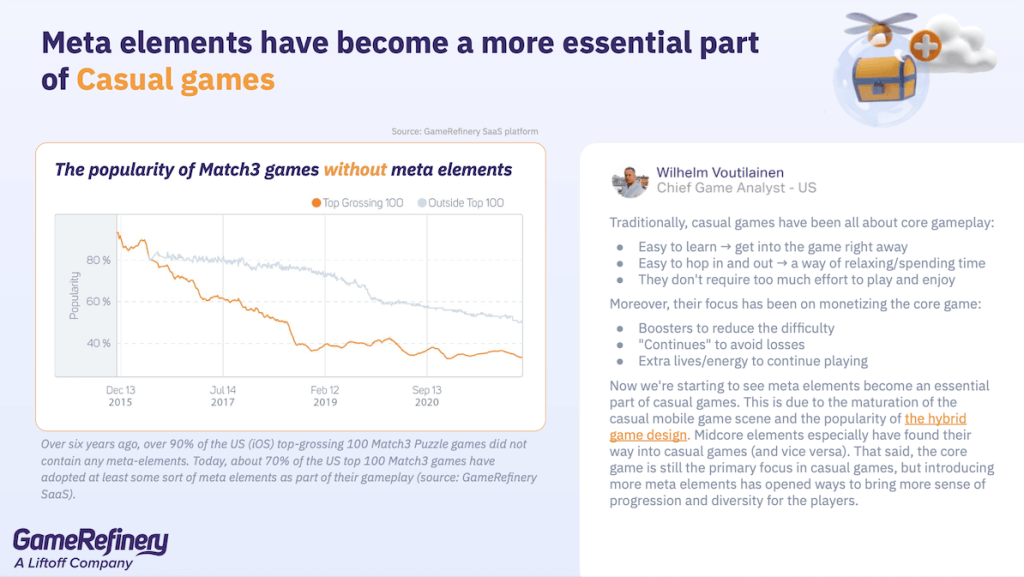 Similarly, we're seeing construction and renovation elements popping up in more Casual games, as developers craft new features that satisfy player motivations to complete milestones, customize and decorate. Finally, social features and communities in casual mobile games have surged in popularity since COVID, and we see no sign of this trend slowing down.
Using data from the GameRefinery platform, this report shows which Casual mobile games and trends are dominating the charts and why. If you're a mobile game developer looking to add something new to your Casual game, you'll find plenty here to inspire you.
You can get the full Casual Gaming Trends Snapshot Report by entering your information below.
Get your copy!