Don't you just love virtual homes? You can free your imagination and build the home you've always dreamed of but could never quite afford. Similarly, you can unleash your personality and build a virtual home that would be impossible to recreate in real life.
The ability to build and design your own virtual home in video games has been a hit with players ever since the release of The Sims in 2000. Virtual homes and home decoration systems are one of the biggest trends in mobile gaming right now, but did you know that these systems can vary from game to game, meaning they can be utilized in most genres?
What exactly are home systems?
Home systems here refer to any kind of owned space that the player can decorate to their own liking. This could be, for example, a home, a room or a group of houses, just to name some implementations of these systems. Home systems allow players to extend their decorative player experience from their character, mounts and/or pets or decorative items to a wider system of decoration. This often involves decorating their own home/room with various decorative elements, such as wallpaper, carpets, lighting, furniture and much more. In GameRefinery taxonomy, these different items for home decoration are usually referred to as decorative buildings.
Importance of decorative buildings in the mobile game market
Decorative buildings are a popular feature in every mobile game market. If you're not familiar with the feature, it involves creating decorative buildings, furniture and other constructions that often have a limited effect on actual gameplay. When we look at the top-grossing 200 in the US, JP, and CH iOS market, quite a few games have included a decorative building feature in their games.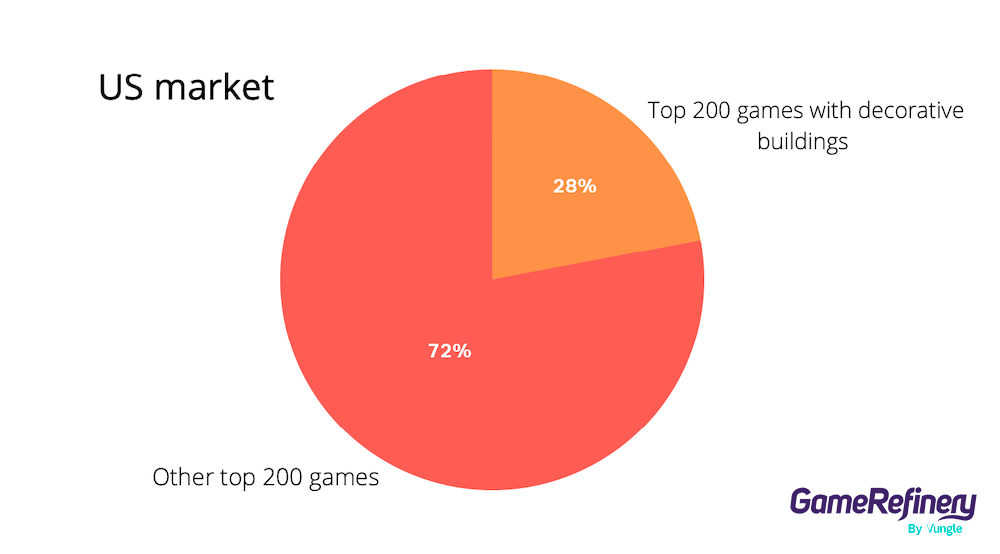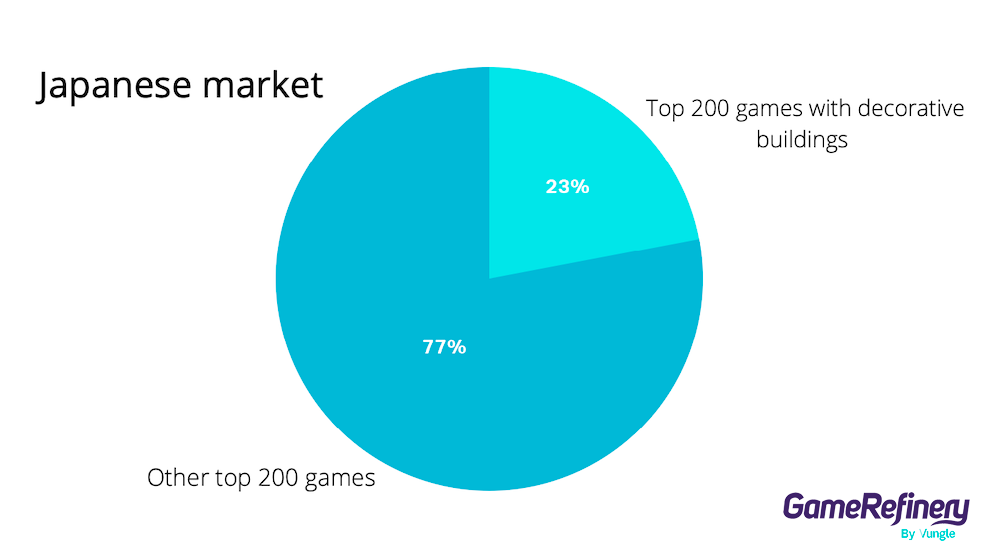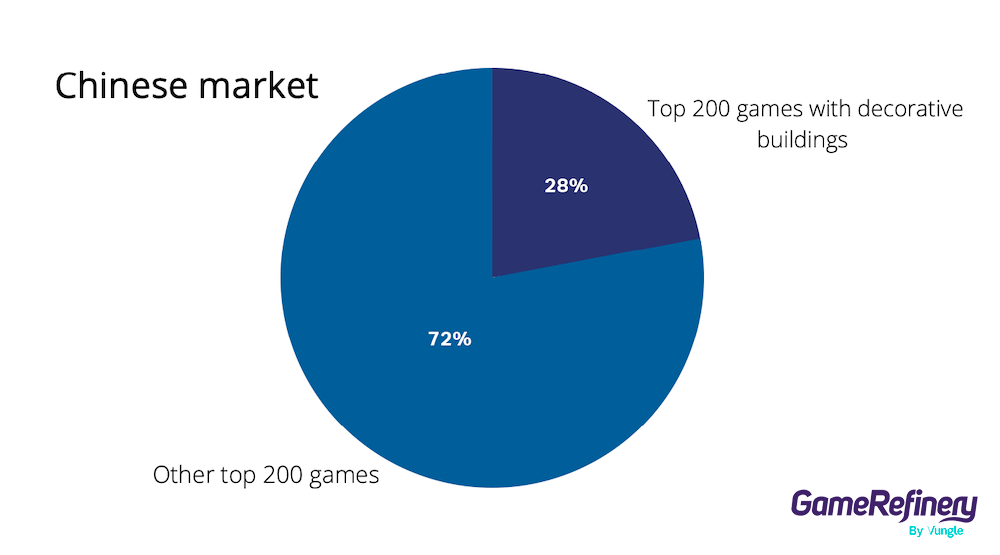 We'll take a look further down at some examples of how different games are implementing home systems. Let's start with RPGs, as they tend to rely heavily on decorative and customizable elements, making them a great fit for home systems.
Home systems in RPGs
MMORPGs often feature lots of social and decorative elements. As MMORPGs have a large player base, these elements are an important part of player differentiation. Home system allows players to expand this idea even further, by decorating their own space to reflect themselves to the other players and possibly giving a personalized social hangout place.
An example of the most common home system can be seen in Perfect World Mobile, that includes various pieces of furniture and other items, which they craft themselves. By crafting furniture, the player receives "feng shui" and "Homestead Prosperity" for leveling up the homestead, as well as some gameplay bonuses.
Perfect World's homestead also has a special social function since it is related to the tribes. Tribes are a guild-like feature, which opens up some social functions for players joining them, such as a tribe market, which allows the player to purchase Furniture Blueprints (for crafting rare furniture), Speed Up Items, and many other rare items. When the player moves their homestead system to the tribe, they will unlock some new homestead function, such as the assist function.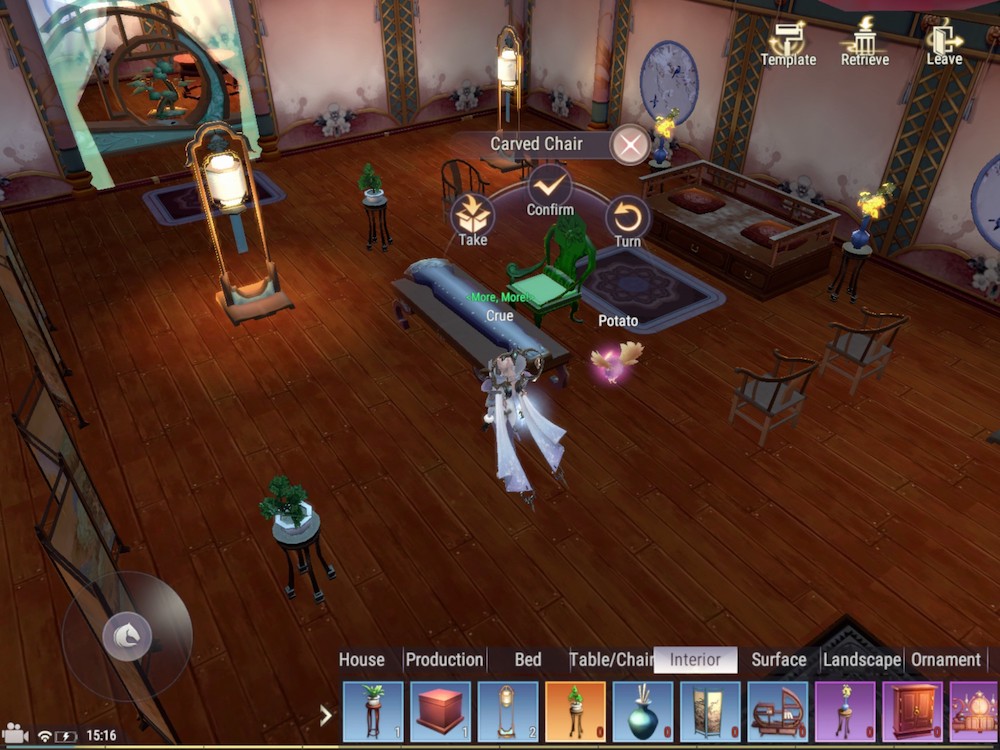 In Black Desert Mobile, the home system is incorporated with a twist: the player has their own camp in a village instead of a house. While many housing systems are an optional feature in games, the camp plays a vital role in Black Desert Mobile. It is a gateway to many of the game's features and activities, such as game modes, crafting consumables and equipment items, gathering currencies and resources, and managing workers.
Various constructible buildings in the camp can be upgraded to generate more currencies/resources and craft better items. The workers, which can also be upgraded, are used to complete tasks, gather resources, and help with future building upgrades.
As rideable mounts are an important part of the game, players can stable their mounts in the camp. Mounts (horses) have skins to show them off to other players, and the camp is necessary for the player to unlock the horse breeding feature. There are also loads of ways to decorate the camp, and players can display various cosmetic collectible items they have collected from events and other parts of the game.

In addition to MMORPGs, other RPG games and genres also use home systems as they rely on decorative elements.
Another example of a home system can be found in the turned-based RPG Slime Isekai Memories, which has a two-faced village system. What this means, is a way for the players to watch the village in two different views: in a bird-eye view and a 3D "home" view.
The bird-eye view of the village allows players to construct buildings and to decorate them with different items, like trees and logs. A "home" view of the village, on the other hand, allows players to stroll around their village in a 3D view as they bump into NPCs and the player's team of characters, all of which can be interacted with by chatting with them.
The village system is linked to a versatile relationship feature between the player and their team of characters. Each character has a relationship level in a separate mode, which can be upgraded by gifts and by chatting in the village. The buildings in the village generate food, which can be given to the characters as gifts to raise the relationship level. This also gives benefits to the character themselves as they gain stats in their attributes as well as HP from these actions. Players can interact only once per day with each of their team of characters, and therefore, the characters strolling around the village change occasionally. Chatting with the characters grants the player 'tempest coin currency' which can be used in 'tempest coin bazaar' shop. The characters can also request a certain type of gift or the characters may sometimes request a PvE battle. All these actions increase the relationship EXP of that certain character.

It is also possible for games to implement just some home decoration elements instead of a whole-home system. In Harry Potter: Magic Awakened (哈利波特:魔法觉醒), the player's dorm is shared with the beds of up to three other players. Players can decorate their own area of the room, including the bed, their furniture, and other decorations around it, making sharing a dorm with other players more meaningful and fun since the players can express their personalities by showing their roommates how they decorate their own spaces. Decoration might involve changing bed sheets, getting a new nightstand, or putting up some fancy curtains next to your bed.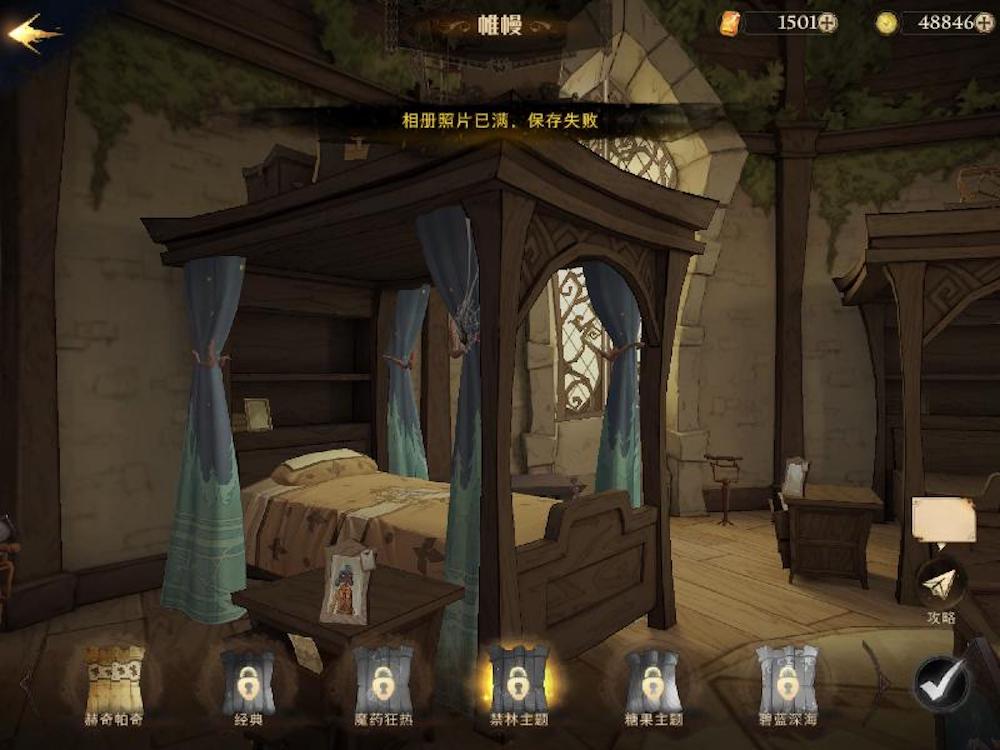 Home decoration in other genres
It's pretty standard for RPGs to implement systems with home decoration, but you might be surprised to learn how these systems are being implemented in other genres, especially those where core gameplay elements have nothing to do with customization. Homes or rooms with decorative elements now extend to a variety of genres, including Match3, driving games, rhythm games and even platformers, allowing players of these genres to enjoy additional gameplay elements outside of the core gameplay.
One example is QQ Dance (QQ炫舞), a rhythm game with a variety of play modes, such as the typical PvE and PvP rhythm game modes or a social hangout space with minigames. The game has a lot of customization and social elements, too. QQ Dance's home system leans heavily on the social elements as it allows players to hang out as their avatars in virtual homes, where players can visit each other and build furniture together. It even has a task system for rewards, which links the home system to the core gameplay, as the furniture rewards are gained from passing the core gameplay levels.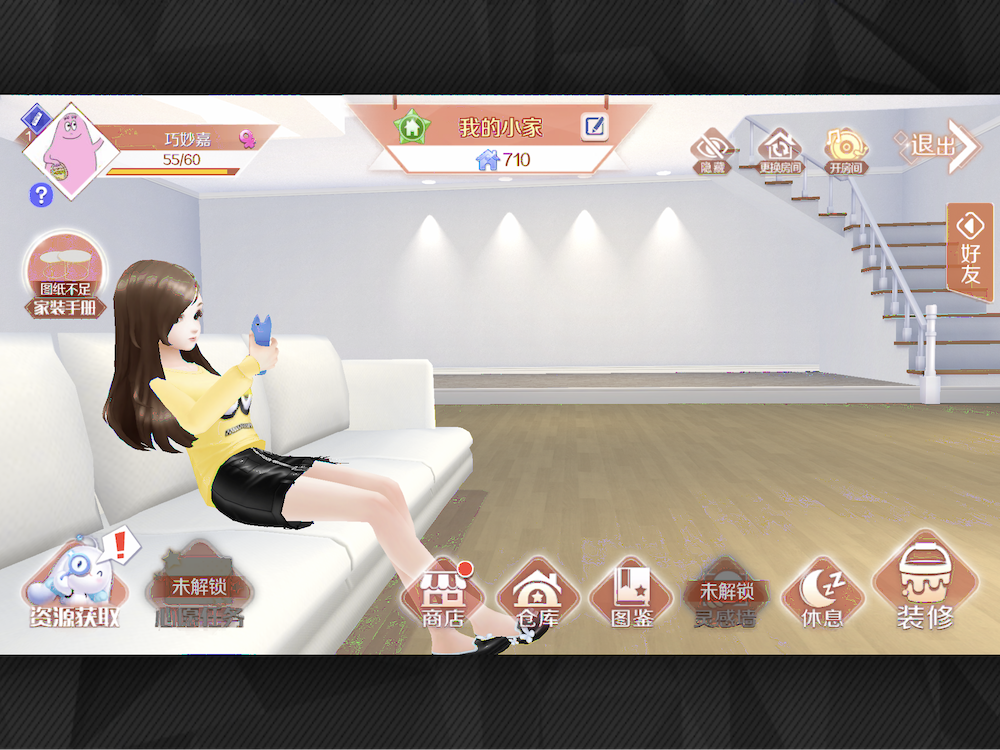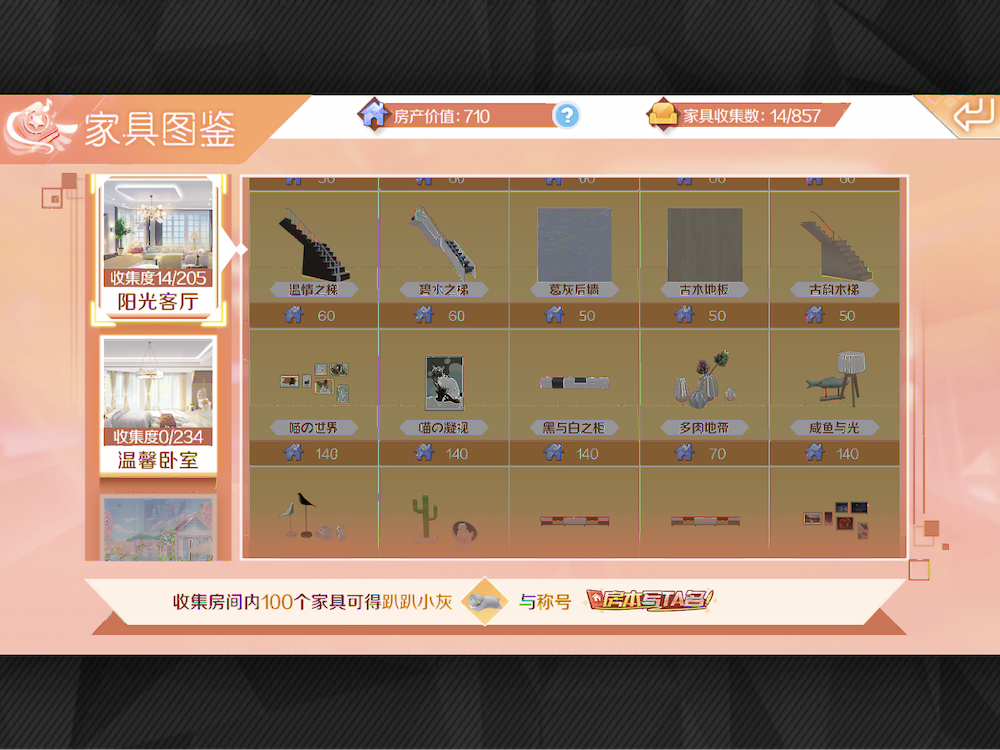 QQ Dance isn't the only rhythm game to implement a home system, as many others have somewhat similar systems. 櫻坂46・日向坂46 UNI'S ON AIR has a decorative "clubhouse" for the girl bands, where the player's multiple characters can hang out together. There are several floors in the building, which open up for decoration as the player progresses in the game. A September event allowed the player to buy an upgradable music stand that boosted event points during the event. The player got to keep the music stand after the event ended, and they were able to put it in their clubhouse. This is one example of how the events can be used together with these types of mechanics.

An atypical choice for a home system can be found in Craz3 Match (天天爱消除), a Match3 game that has a home decoration meta called 温馨家园 (Wenxin Jiayuan). It's a season-based home decoration system where the players play Match3 levels to obtain currency, which can be used to buy decorative furniture for their home system. In this game, there are different types of separate rooms which can be decorated with different themes that are introduced every once in a while to refresh the content.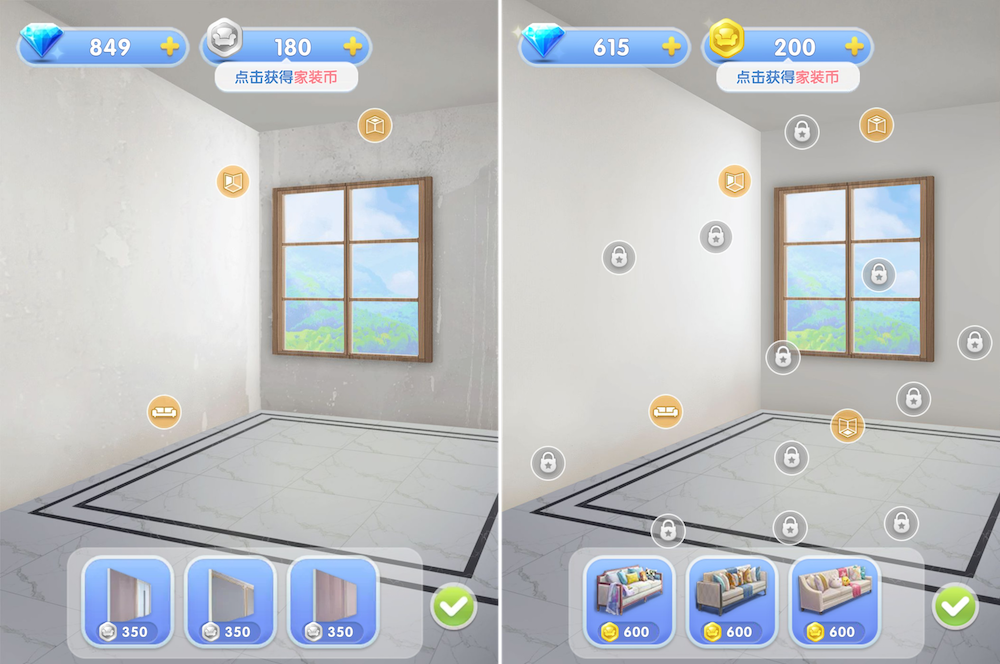 Another interesting example of home decoration systems can be found in Ninja Must Die 3 (忍者必须死3), where there is home system mode which can be accessed via the main menu. It's a beautifully visualized 2D platformer that has also implemented a home decoration system that reflects its unique style. Players can purchase furniture from a decoration shop using a special currency and there is also an option for players to invite friends to visit their homes.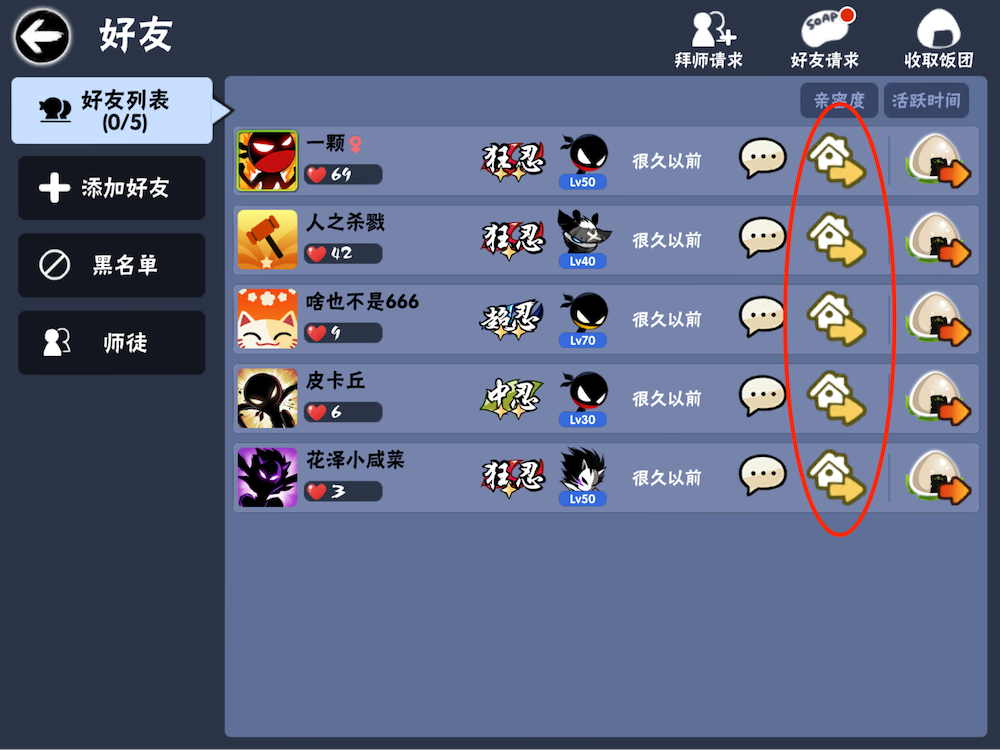 Decorative home systems are also great fit for survival games such as LifeAfter, which uses a home system similar to those found in MMORPGs. As survival games often feature elements from MMORPGs such as some open-world exploration, the incorporation of other players in the world and the customization of the main character, it makes sense for the game to implement a home system that enriches these elements.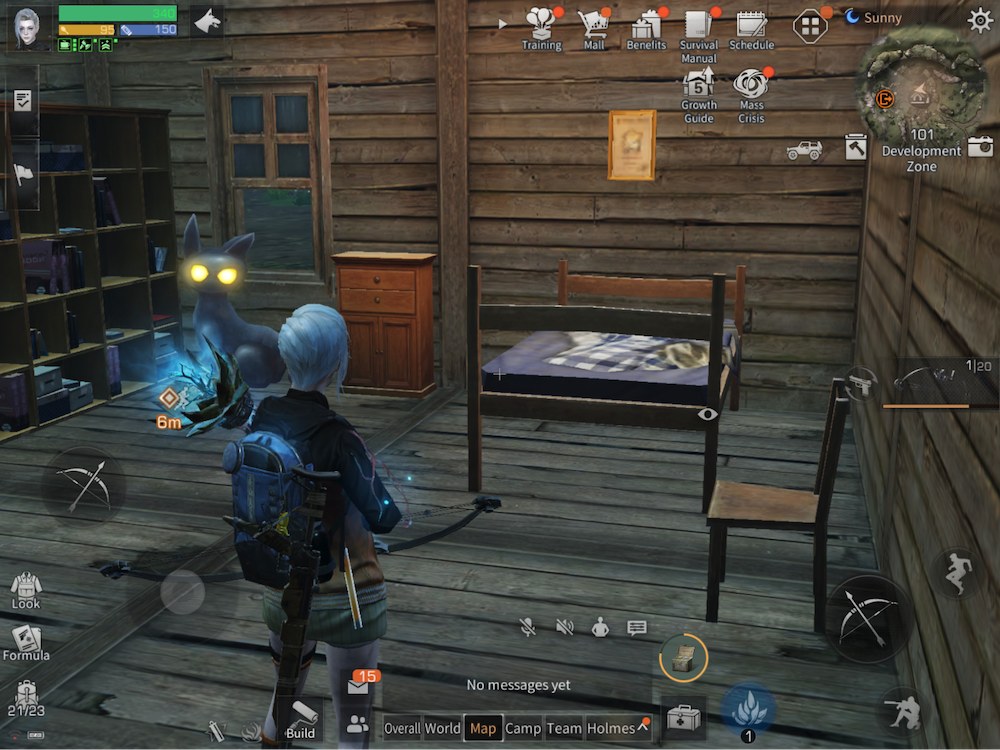 In LifeAfter, there are changing seasonal events, such as the Halloween event, which offer decorative buildings as special rewards for the player to put in their home. This is one great way to deepen the home system mechanics in the game by offering new content to it with limited-time offers.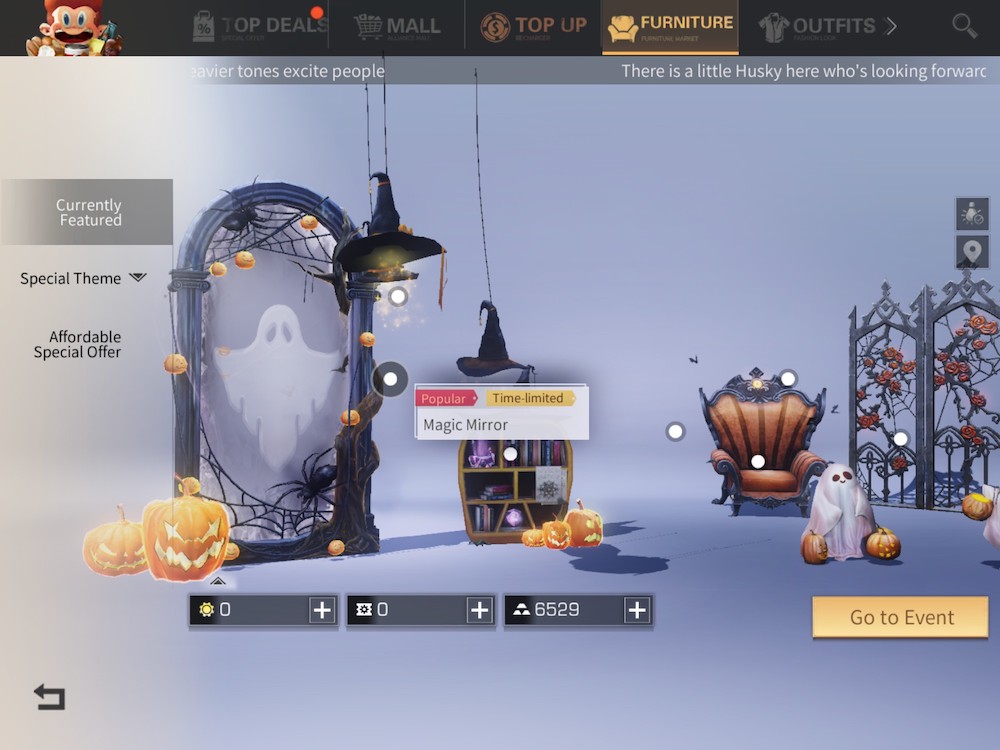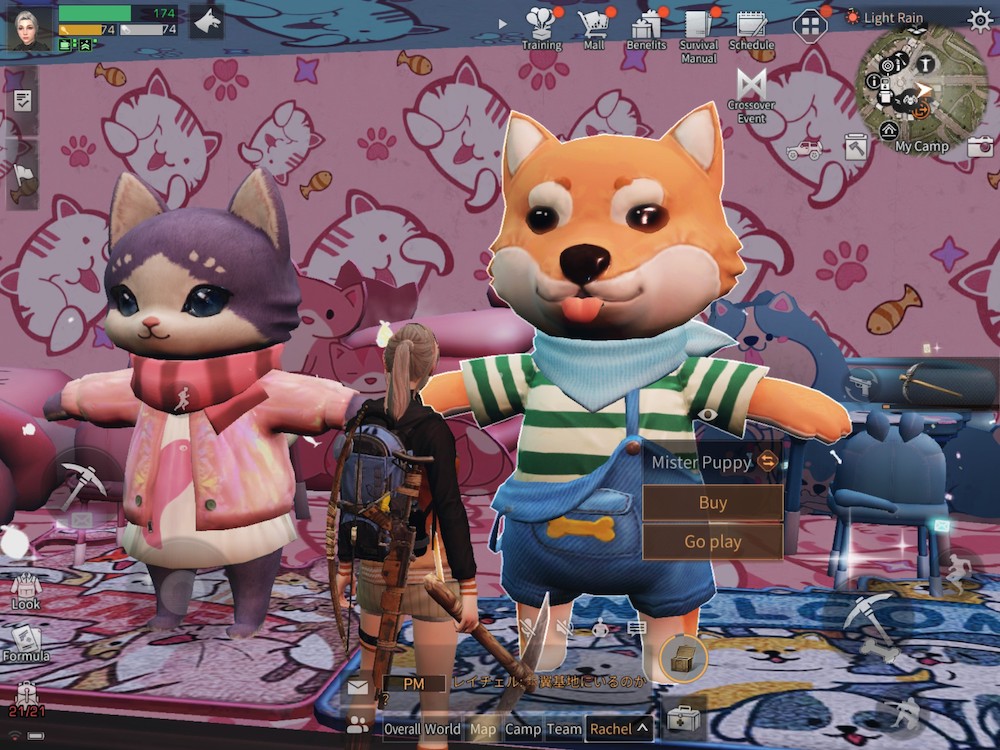 Summary
Home decorations provide an excellent way for players to express their creative side, unleash their personalities and present their creations to other players. Nowadays, there are lots of games in the market that feature some sort of home system, which can vary from typical houses or rooms to village systems.
One of the biggest things driving their popularity right now is their compatibility with so many different genres. Games that already contain decorative and social elements can deepen those game mechanics by bringing customization modes into the game, while games that typically do not include customization can tap into new players motivated by decorating and customizing by introducing a decorating mode.
Decorative and customizable items also combine well with (seasonal) events, so you can regularly offer players new content to decorate their spaces inside the game.
If you enjoyed reading this post, here are a few more you should definitely check out: