Ending the year with a bang, here's our round-up of the biggest mobile game updates and end-of-year festivities that took place in December.
December was another busy month for events and collaborations and, as you might expect, many of these were winter or holiday-related. Roblox kicked December off in style by collaborating with fashion brand Ralph Lauren for a winter-themed makeover and limited edition clothing accessories, while Clash Mini, State of Survival, Pokémon Go, Monster Strike (JP), and Harry Potter: Magic Awakened (CN) joined the festivities with a mix of holiday skins, characters, and events.
That said, it wasn't a white winter everywhere. Garena Free Fire bucked the trend by ditching the snow in favor of a collaborative event with Netflix's Money Heist series called Plan Bermuda. Other notable collaborations in December included LINE: Disney Tsum Tsum (JP) celebrating Beauty and the Beast's 30th anniversary with new tsums (collectable characters) and skills, while Yoki Watch Puni Puni (JP) collaborated with Neon Genesis Evangelion to introduce a new playable event with tasks and limited-time gachas into the game.
Outside of events and collaborations, there were some key updates for major mobile titles. League of Legends: Wild Rift's December update introduced a new reward system and ranked PvP season, while the Battle Pass system in the rhythm game Beatstar led to daily revenue climbing from $10k to over $80k in just 24 hours. Since the update, daily revenue is averaging out at around $40k a day, a noticeable improvement on its previous baseline.
We're also excited to see what 2022 brings for blockchain mobile games. Last month, Upland, a blockchain-based game where you can buy, sell and trade virtual properties, reached a top-grossing position of 137. Over in Japan, several major IPs got new releases in exciting genres. Mobile Suit Gundam U.C. Engage is a new turn-based RPG featuring your favorite mechs, while Dragon Quest Keshi Keshi is a new Match3 game based on the popular game series. Shaman King even got a turn-based RPG too, with Shaman King: Funbari Chronicle.
These are just a small handful of December's updates. Make sure you keep reading for the complete rundown of December's biggest mobile game market updates.
US Market Overview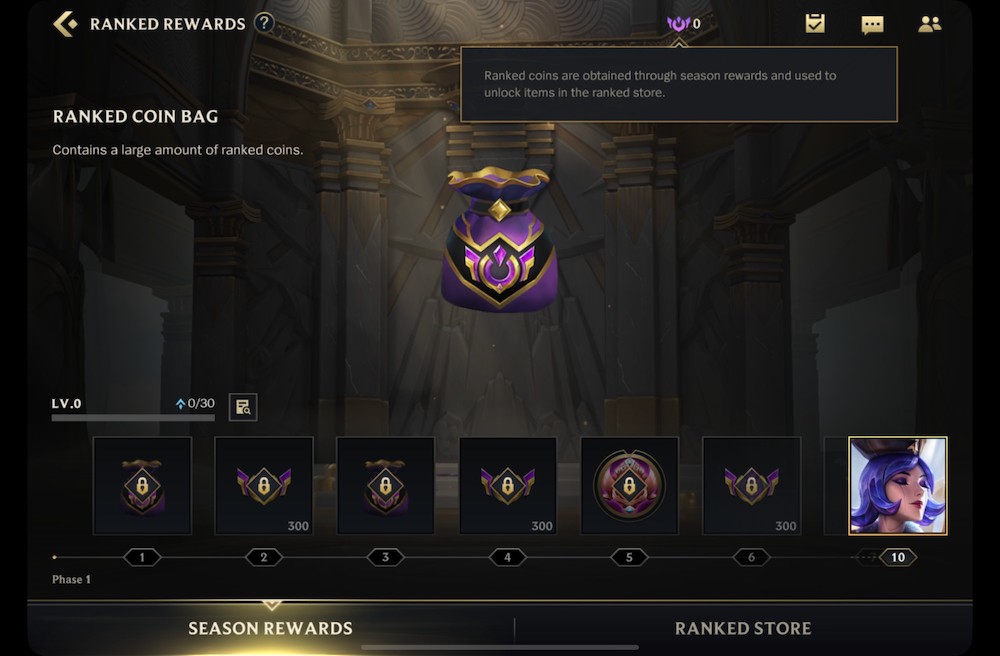 Beatstar added a massive update in December that introduced a Battle Pass system and daily tasks to the game. The new Battle Pass is titled Tour Pass, and it has a free and a premium tier. The pass includes 30 levels where players collect tour points from regular gameplay and the new Daily Shuffle missions. Levels can also be passed with diamonds if need be, and after the pass is completed, players can keep earning points to get a better elite banner. Rewards for the free tier include song cases and cards, while the premium tier offers season-exclusive song boxes, decorative emotes, and banners. These new collectibles can now be viewed from the player profile.

The update gave the game a nice spike and after settling down the revenue baseline seems to have improved somewhat.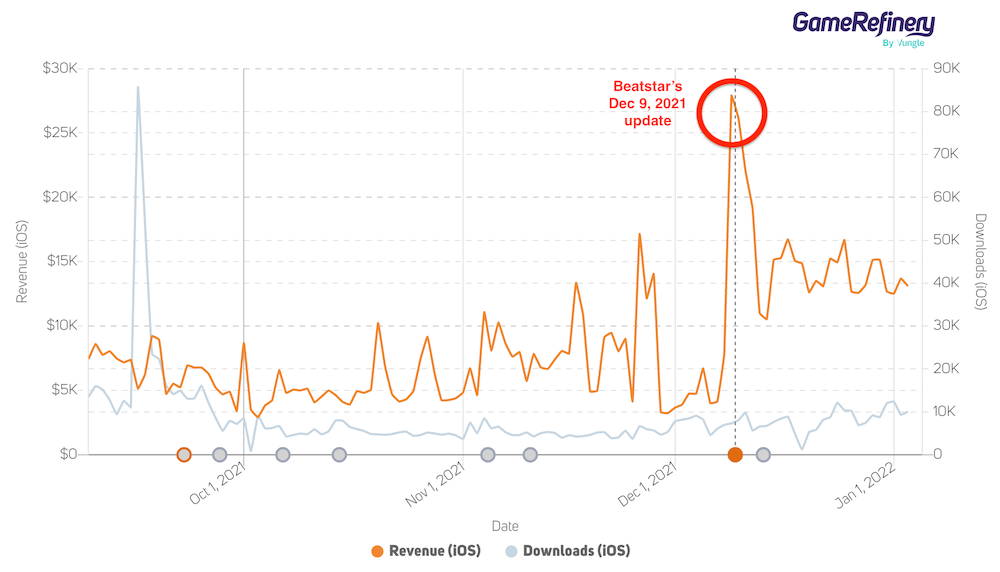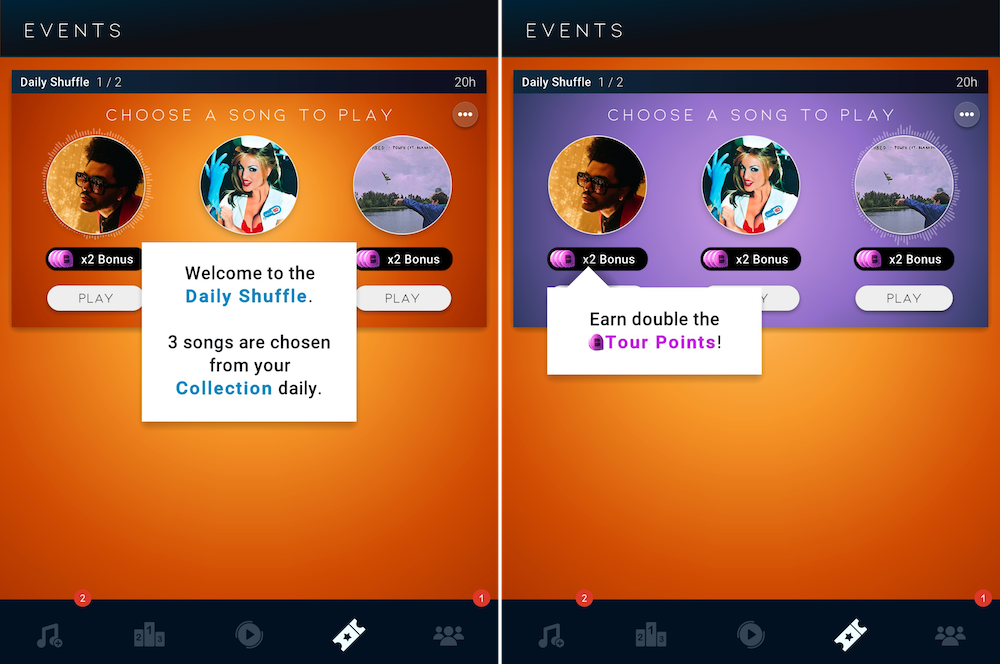 Events
Most of December's mobile game events were somehow related to winter, Christmas, or the holidays, but our analysts also spotted a few non-winter-themed events. Garena Free Fire's December began with a collaboration event with Netflix's Money Heist series. The event called Plan Bermuda featured several smaller events, gachas, offers, and a Money Heist event PvP mode.

In the Raid and Run special interface event, players collected Heist Gold currency by playing BR and CS mode, and melted it to gain progressive event rewards. Players could also invite other friend players to assist, and if the friend accepted the player's help request, the player received Heist Gold too.

Another major Garena Free Fire event was unveiled later in December. ​The New Age event consisted of several smaller events, such as the New Age Special Interface building event, where players built/upgraded various buildings to get resources. These resources were then used to complete supply runs to gain event coins that could be exchanged for rewards. These types of renovation events have been a significant hit during last year. You can find out more about the trend in our 2021 retrospective podcast episode or read our recent blog post on different home decoration systems in mobile games.

Another noteworthy event featured during the bigger New Age event was the New Age Web Event that introduced the new Alpine Battle Royale map with a trailer and tasks to gain event currency. The event currency was used to progress in an event map and earn rewards.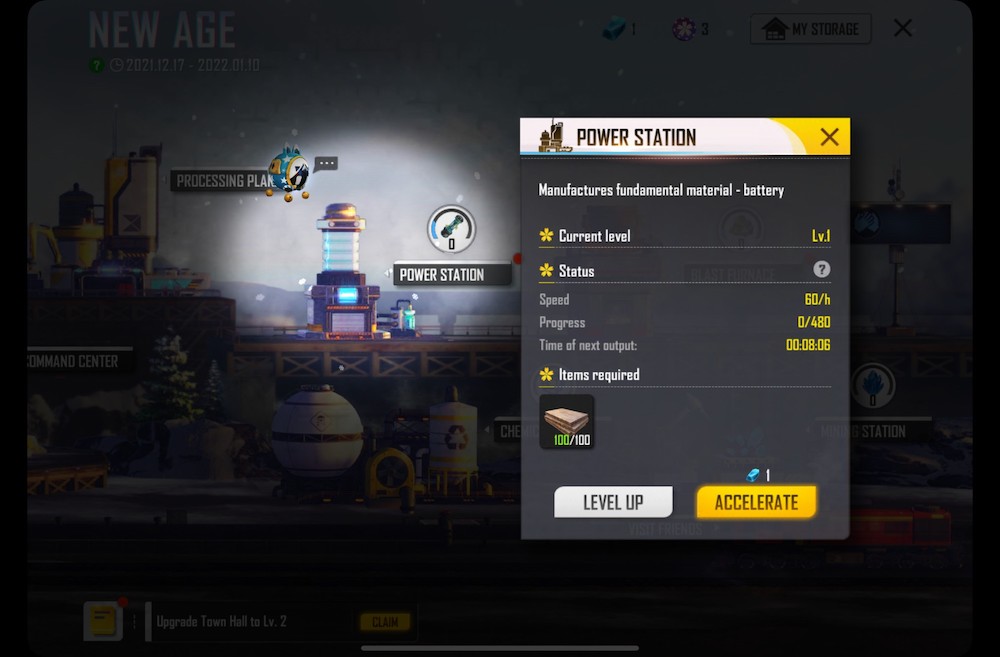 Royal Match added a new event type called Lightning Rush. As in many previous events, this event relies again on the competitive elements to push players to complete levels.

In the event, players play their primary progression levels, and each time they activate a Light Ball, they get a score. (Light Ball is a valuable piece that you get from matching five of the same pieces, and when activated, it destroys all pieces of the specific color.)
Players also are matched with other players, and they're ranked on a leaderboard based on their score. Players are rewarded based on their rank.
The event lasts only one hour, but players get unlimited lives for that period.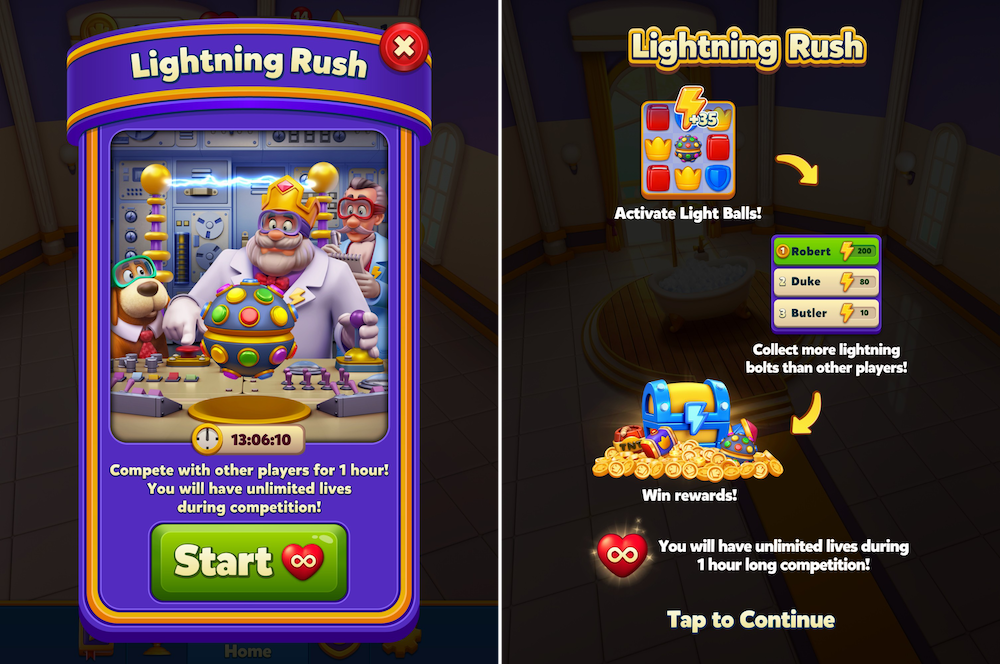 Christmas was celebrated in Roblox in collaboration with the fashion brand Ralph Lauren, with the event Ralph Lauren The Winter Escape. The event had a winter park area with various winter activities and Ralph Lauren-themed rewards.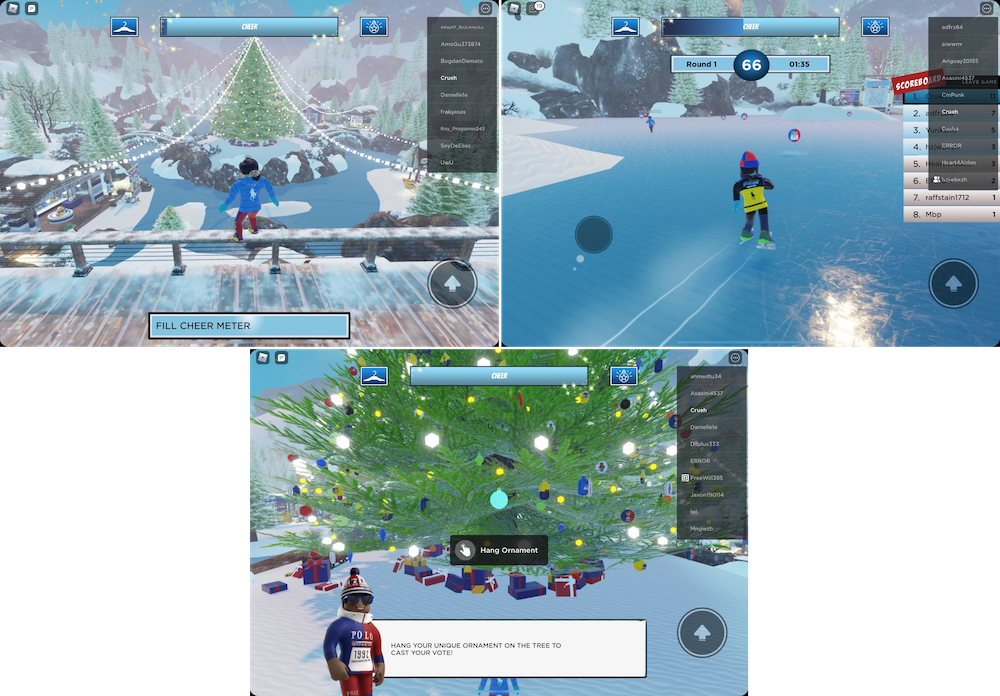 Clash Mini, an Autochess spinoff game (in soft launch) from the Supercell's Clash mobile game series, celebrated Xmas in the Clash style with Christmas event Clashmas. Visuals of the menu screen got a wintery makeover, and clearing special Clashmas tasks rewarded the player with special skin for Spear Goblin. Holiday-themed skins were also available for purchase for Barbarian King, Mini P.E.K.K.A, Bowler, Archer, and Giant Skeleton.

Speaking about skins, there are now two new special skins available, Crystal P.E.K.K.A and Fabulous Prince. They can be purchased with rebranded Challenge Coins called Crystal Coins. This new currency can be obtained by getting duplicates of characters that you have already maxed.
It's also good to note that as Challenge Coins were removed from the game, there is no longer any kind of stamina system in the game.
State of Survival kicked off Christmas celebrations at the beginning of December with Christmas events that involved Joker as well, disguised as Sarge in a Santa costume – the event is introduced with a clip showing a shady character knocking Sarge unconscious while he's getting dressed as Santa.

The event revolved around a Christmas tree-building event. Players got their own Christmas tree to put into their settlement. The tree could be upgraded using materials gathered from event activities like defeating the infected Santa boss on the map or logging in daily to gain rewards and buffs/skills. After the event, players could freely switch between the decorations they've unlocked. The events also included a mission set (half regular and half charge missions) and two IAP offers.
This update also introduced a new recurring type event, Martha's Porch Time, which looks and functions the same as the Hunting the Hunter event: players defeat infected to get event items that allow them to locate specified infected fiends and rally against them for a chance to get Martha fragments.

New top 200 grossing entrants on the market
Upland is a blockchain-based game where players can buy, sell and trade virtual properties mapped to real addresses. By becoming a "digital landowner," users can build properties and earn UPX coins. The game was ranked at its highest in top-grossing 137 position in December.
Another new top 200 grossing entrant is Solitaire Home Design, currently ranking around top-grossing 180. As the name implies, the game combines classic card game solitaire with home renovation elements.
MeChat, an interactive story/chatting dating app game where you match, chat, and date with various characters, has been steadily grinding its way up in the top-grossing list, and now the game is almost in the top 100. The game resembles a single-player interactive story version of real dating apps like Tinder, and also the game's UI and features are similar to it.
China Market Overview
Fantasy style turn-based MMORPG, Dreamland New Jade Dynasty (梦幻新诛仙), introduced a 霓裳点 system, where players gather "nichang points" by unlocking new decorative items. Collecting points is rewarded by getting prizes, such as an avatar frame or decorative items.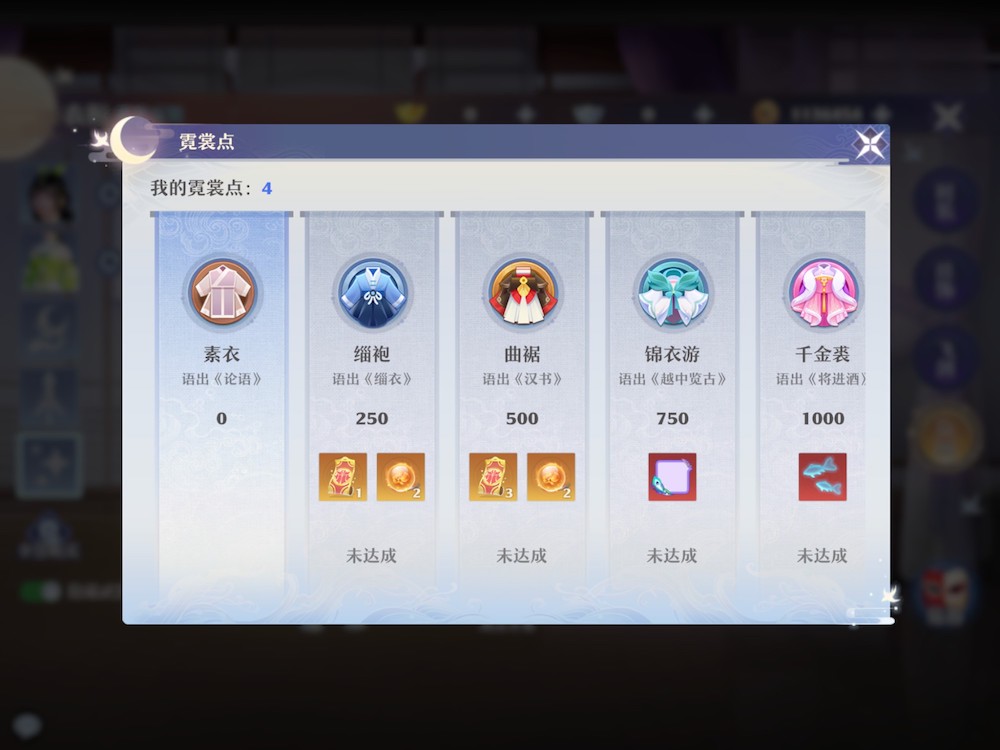 Events
A cute fantasy/manga style MMORPG, Song of the Cloud City (云上城之歌), featured a collaboration event with manga series Inuyasha. The event featured a relationship system with characters from the series.

Players could give the characters gifts to increase the relationship level, and when the relationship level rose, players got rewards. The characters had a daily wish for a certain gift, and granting this wish would increase the relationship level even more than a regular gift.
The system also featured a leaderboard – higher ranks (i.e., higher relationship level) meant gifts for the players.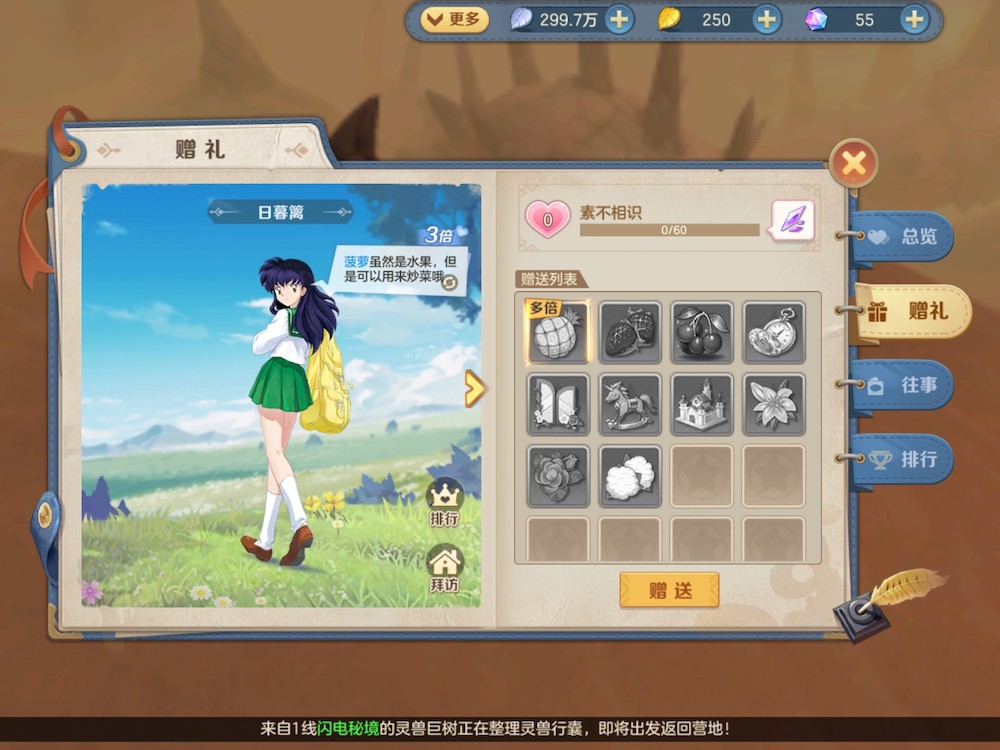 In addition, the Chinese mobile gaming market saw many different winter as well as Christmas-themed events during December. For example, Harry Potter: Magic Awakened (哈利波特:魔法觉醒) featured a winter-related event with Winter Ball (rhythm game mode with a winter theme) and a winter-themed PvP mode with daily and event-related tasks.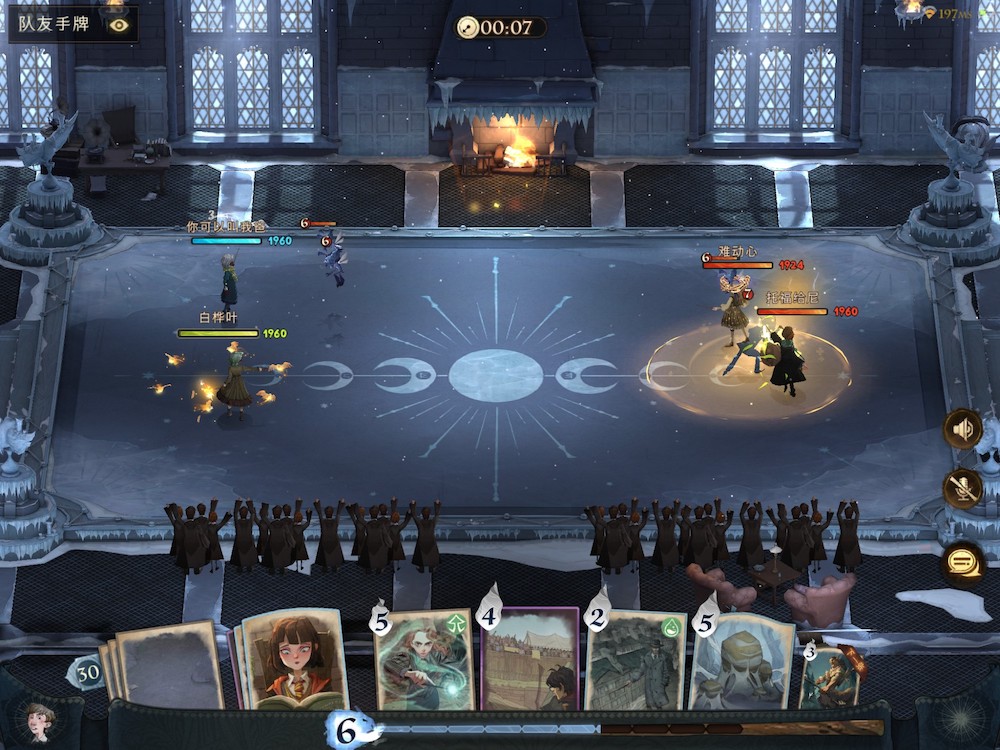 New top 200 grossing entrants on the market

Japan Market Overview
Christmas events
Ensemble Stars!! Music (あんさんぶるスターズ!!Music) is a Music/Band game where the player's mission is to build their dream boy band and clear their favorite songs in a rhythm game setting. In the game's Christmas Date mission event, players needed to clear daily changing missions to go on dates with characters and unlock the event story. Players could choose to give hearts to the dates they liked the most. Also, all players received rewards according to the cumulative amount of dates.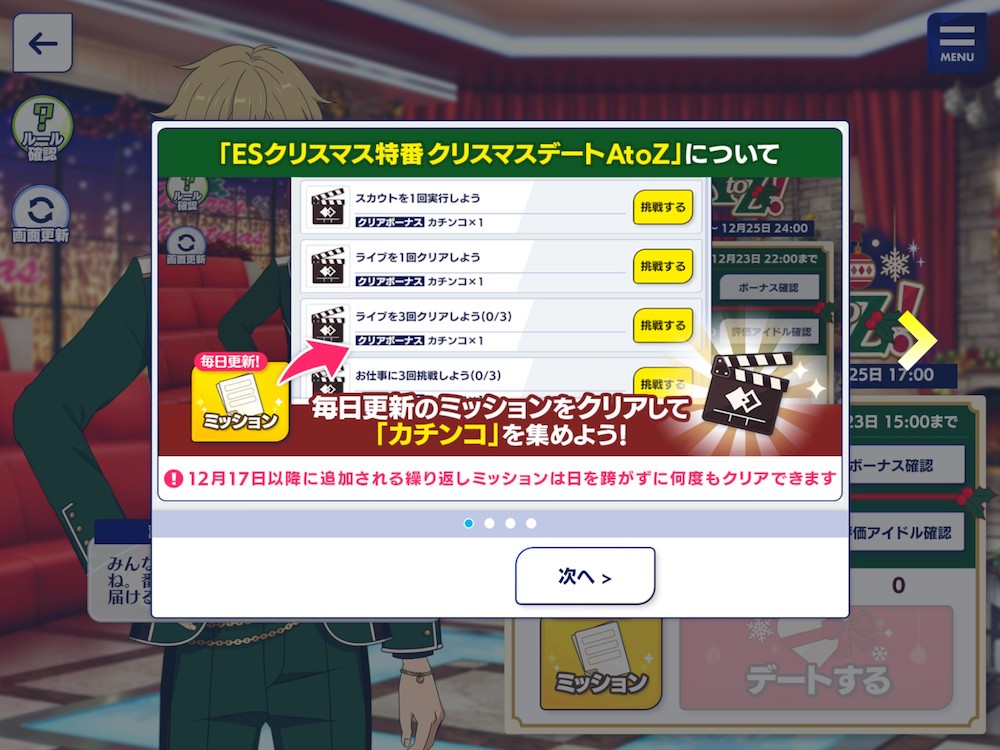 Re:Zero Kara Hajimeru Isekai Seikatsu's (Re:ゼロから始める異世界生活) Christmas events were introduced with several story clips depicting the characters in a seasonally festive mood. A total of nine limited-time gachas were available, although many of them had overlapping characters.

Some of the featured characters were especially useful for the Yuki Arashi-boss challenge with various difficulties and a separate box gacha for rewards.
The event included a Twitter raffle campaign with real-life and in-game rewards, and a new snow-themed if-ending that could be unlocked after a certain point in the main questline was cleared.
This update also introduced a new asynchronous PvP-mode titled Grand Arena.
Fate/Grand Order celebrated the holidays with a Christmas-themed lottery event, Making Christmas Party.

​The idea of the event was to progress in the event story, defeat enemies and collect event items. Each day, a new chapter to the event story was released, so players were encouraged to log in every day.
Players got the event character Martha (Santa) for the duration of the event. However, the character could also be purchased permanently from the event shop in exchange for a special event item.
Moreover, players could participate in a lottery that had several prize pools. Each prize pool could be unlocked after getting the main prize from the previous pool. One of the main prizes was a ticket that could be used to purchase the event character Martha (Santa).

Tensei shitara slime datta ken – Maou to ryuu no kenkokutan (転生したらスライムだった件 魔王と竜の建国譚), a game based on the popular light novel and anime IP That Time I Reincarnated as a Slime, split the festivities into two different updates:

The first update introduced the Maid in Happy Holiday event with a dedicated event story, which combined Christmas and maid café aesthetics. During the event, players collected event currency, Christmas Bells, by defeating enemies, and the currency could be used in the event shop to upgrade items, an event-limited character, or the exclusive Christmas House blueprint. Players could also get various valuable rewards like premium currency according to the cumulative amount of Christmas Bells collected during the event.
The second update introduced the second part of the limited-time gacha, which was first added in the first update. The update also opened a new event boss stage and a new ranking event where players competed in the event stages and collected special Boss stage tickets to challenge the boss. The idea was to reach the highest score possible by defeating the boss as fast and with as much damage as possible, with as few casualties as possible. Players were then ranked according to their high scores, and players who placed on the top rankings got valuable rewards. Players could also collect rewards according to individual event points collected from the normal (non-boss) event stages.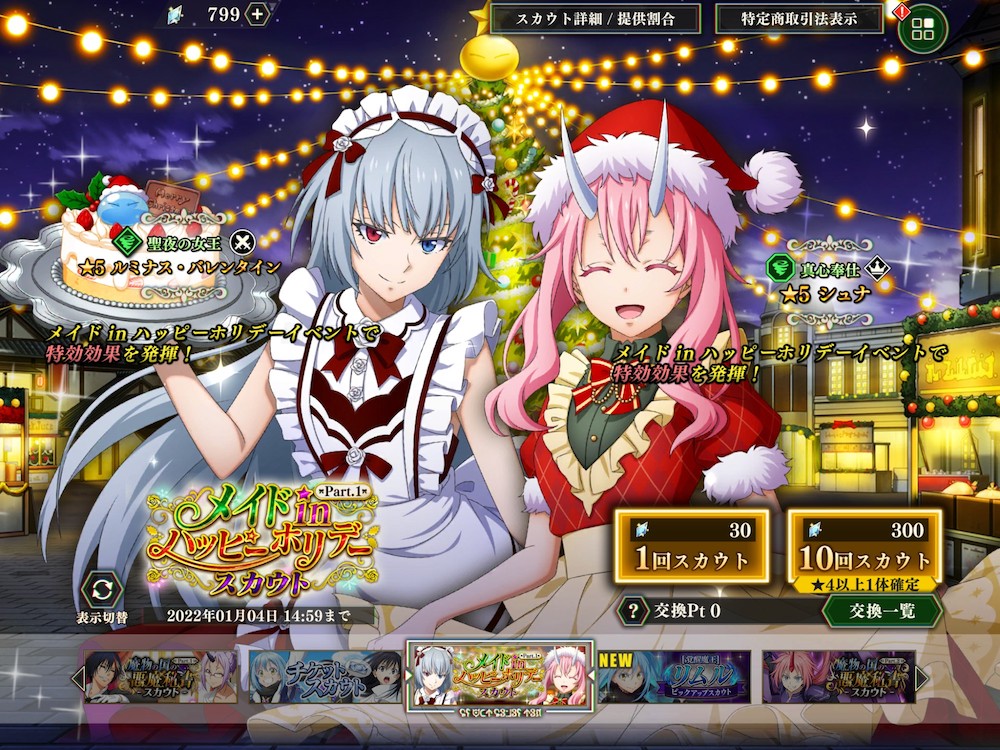 Holiday festivities in Pokémon Go increased spawn rates for certain Pokémon (mainly ice-type ones), and special variations of Pikachu, Cubchoo, Spheal, Stantler, Glaceon, and Delibird could be found and captured. Moreover, 5-star raids featured the legendary Ice-type Pokémon Kyurem. There were also Festive accessories and holiday-themed stickers available for purchase, as well as some special winter-themed IAP offer boxes.

Introduction of Season of Heritage paves the way for the upcoming Pokémon Legends Arceus game for Nintendo Switch (Release date Jan 28th). Players needed to clear tasks with a visual style of the Legends Arceus game for various rewards.
Also, a new postcard collection system was added to the game. Players have been able to send gifts with postcards to each other for a long time. Somewhere along the way, the game added a sticker system so players could decorate the postcards they sent. The newest addition to this system is the ability for players to save and collect postcards their friends have sent them.
Holiday-themed updates don't always have to have a lot of content. Monster Strike (モンスターストライク) introduced a small Christmas event that included Christmas-themed gacha with increased chances to get Christmas versions of three characters and a Christmas present event:

When the player cleared one of the highlighted limited-time dungeons, they got a mystery item box. The boxes came in four different colors, each with its own pool of items. Rewards included mainly various upgrading items and other helpful consumable items. If the player managed to open a certain number of boxes, they would also get chat icons.
Music/Band game Idolish Seven's (アイドリッシュセブン) PARTY TIME TOGETHER ~Xmas 2021~ event included a mission event, during which the player completed various tasks to get rewards. Some missions required the player to challenge specific winter or Christmas-themed songs.

While playing the game, the player collected four types of event items. Some items were required for mission completion, but they could also be used in the event shop. Also, using the characters released during the event boosted the event item drop chances. The previous years' Christmas event characters got minor cosmetic special effects too. Event prizes included exclusive skins for characters, an event badge, a limited event photo, and a background image.
The update also introduced a task bingo system for new players. Upon challenging each task, the player is guided through the mechanics related to that task, so the system acts as a tutorial as well. The player gets a gacha ticket as a reward for completing all assignments.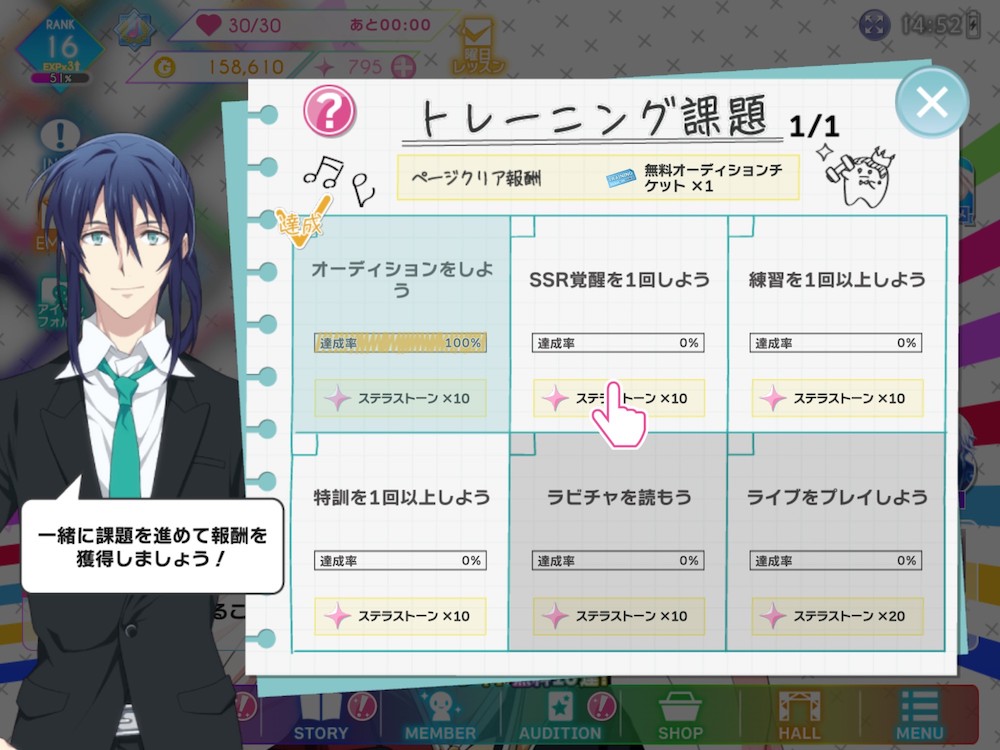 Like the U.S. version, the Japanese version of the State of Survival celebrated Christmas in two different stages. The event mirrored the global version's Christmas celebrations, but replaced the Joker with a Japanese character.
In addition to the Christmas events, our game analysts spotted a few New Years' countdown events in the Japanese mobile gaming market.
Collaboration events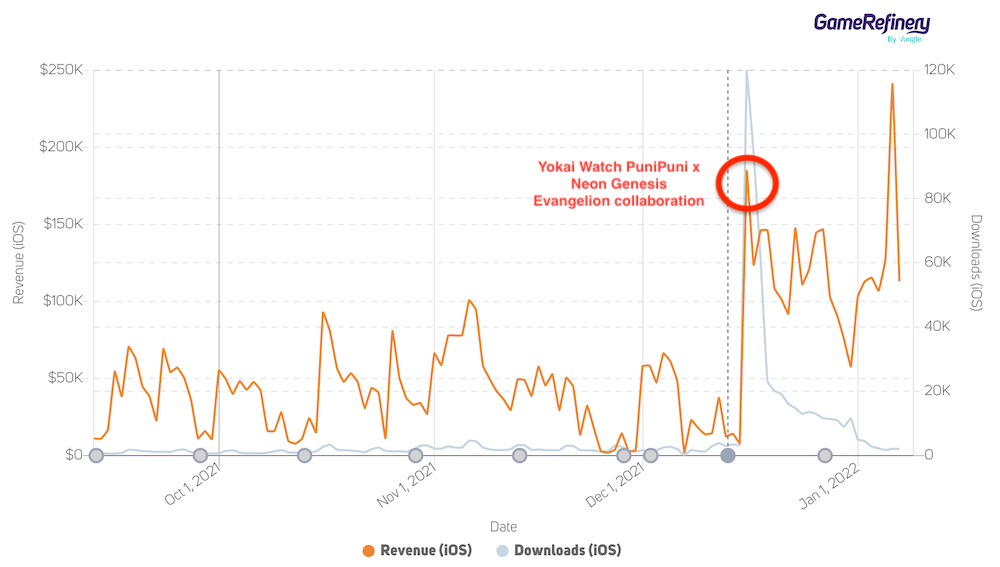 LINE Bubble 2's collaboration event with Disney brought Mickey, Minnie, Donald, Daisy, and others to visit the game! To kick things off, there was a login bonus that had a special twist: 50 players out of everyone who had reached the final present box of the calendar would get real-life Disney rewards like plushies, mats, blankets, and thermoses.

Mickey could be obtained as a playable character from the limited-time premium gacha. Donald, in turn, was the star in the collaboration's Festival event, where players completed various missions to gather magic wands that were used to pull the Festival gacha for a chance to obtain useful items. The collaboration characters were featured in a set of six recurring events (decoratives as rewards).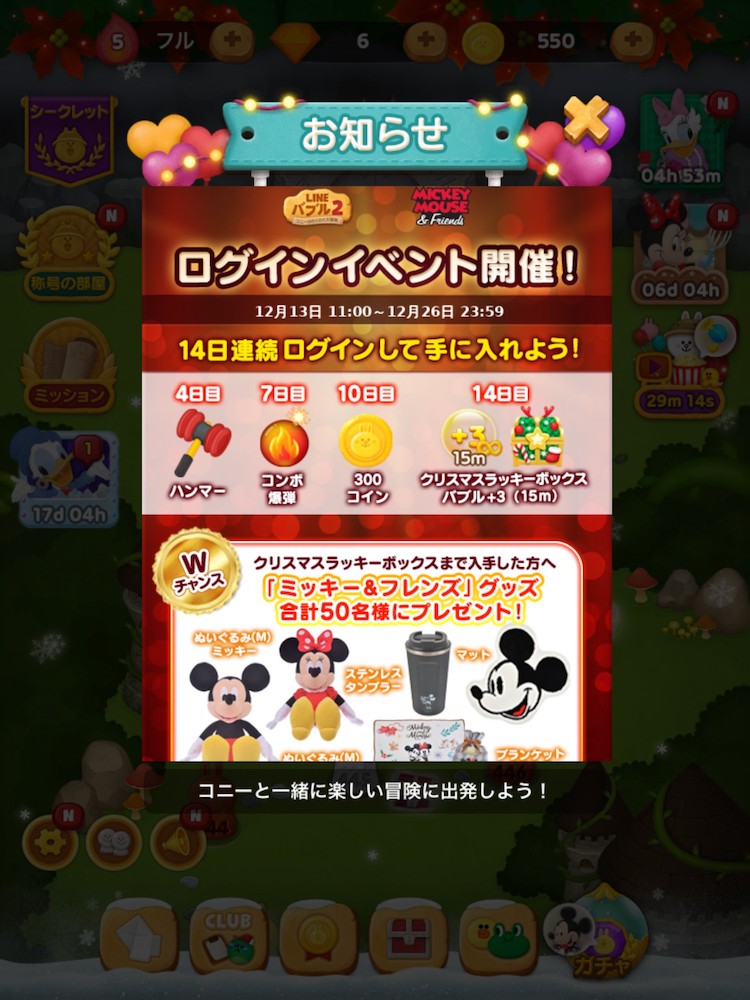 Another game to collaborate with Disney, specifically with Disney princesses, was the popular match3 puzzle LINE PokoPoko. The event set included several smaller events like Ariel's event stages, Lumiere's event dungeon, and bingo with Jasmin, each rewarding players with event characters.

For monetization, the events offered several IAP offers and a limited-time collaboration gacha. Limited edition collaboration LINE stamps could be claimed by completing event stages (Ariel or Jasmin), and players had a chance to get an extra collaboration character as a reward from the Nakama Atsume-challenge by completing all of the events. Also, the event login bonus included Mrs. Potts and Chip character.
FFBE War of the Visions' (FFBE幻影戦争) collaboration event with Persona 5 contained the usual set of collaboration content. For example, there were battles to fight with bosses from Persona 5 and songs from the source game played during the battles. There were also a special Chocobo Expedition and various tasks to complete.

Event gachas came with a multitude of banners to choose from. Featured characters were Joker, Queen, and later released Violet.
Anniversary events
The Seven Deadly Sins' (七つの大罪 光と闇の交戦 : グラクロ) 2.5-anniversary celebrations started! This time the event included an exceptionally large set of buffs to support character development. All players also got a free level-up gift that lets them instantly evolve any character of their choosing up to UR rarity and level 90.

The event missions were rewarded with full awakening items and gacha tickets for the event gacha, featuring a new version of Harlequin. The event also includes the usual boss battle with the exchange shop and daily Fort Solgres rewards dungeon. As a new addition, a board game starring Valenti was introduced.
Other additions with this update included a Piggy Bank system for diamonds.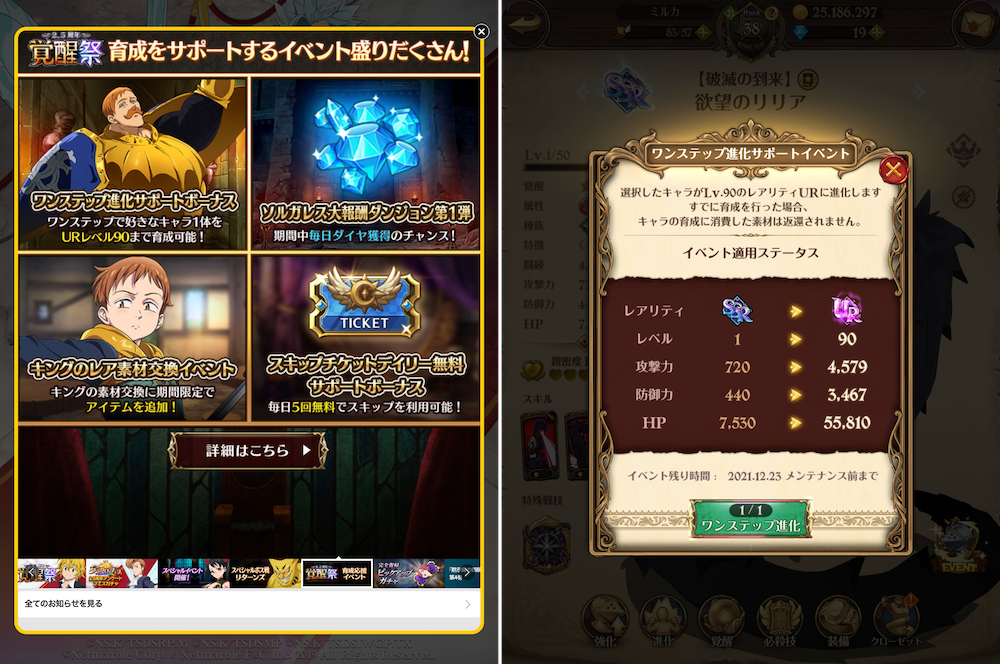 New top 200 grossing entrants on the market
Mobile Suit Gundam U.C. ENGAGE (機動戦士ガンダム U.C. ENGAGE) is a turn-based RPG based on the highly popular robot anime IP. At its highest, the game was among the top 10 grossing games in December.
Another anime based top-grossing 200 entrant is the Shaman King: Funbari Chronicle (SHAMAN KING ふんばりクロニクル), based on the Shaman King series. At its highest, this turn-based RPG was among the top 20 grossing games but has now dropped outside top-grossing 100.
The last interesting top-grossing entrant is the match3 game Dragon Quest Keshi Keshi (ドラゴンクエストけしケシ!), based on the popular Dragon Quest IP. At its highest, the game was among the top 20 games, and although it has come a little down from it, Dragon Quest Keshi Keshi has still maintained its place in the top 100 grossing at least so far.