Accessible features, adaptive gameplay elements, and appealing visuals are just some of the reasons why Merge players keep coming back for more. Throw the apparent similarities with Match3 games into the mix, and it's no surprise the genre is thriving. But what's behind the recent spike in popularity for Merge games?
With best-sellers such as Merge Dragons! and EverMerge dominating the marketplace, what tactics can developers implement to replicate the success seen by newcomers such as Merge Mansion?
What Are Merge Games?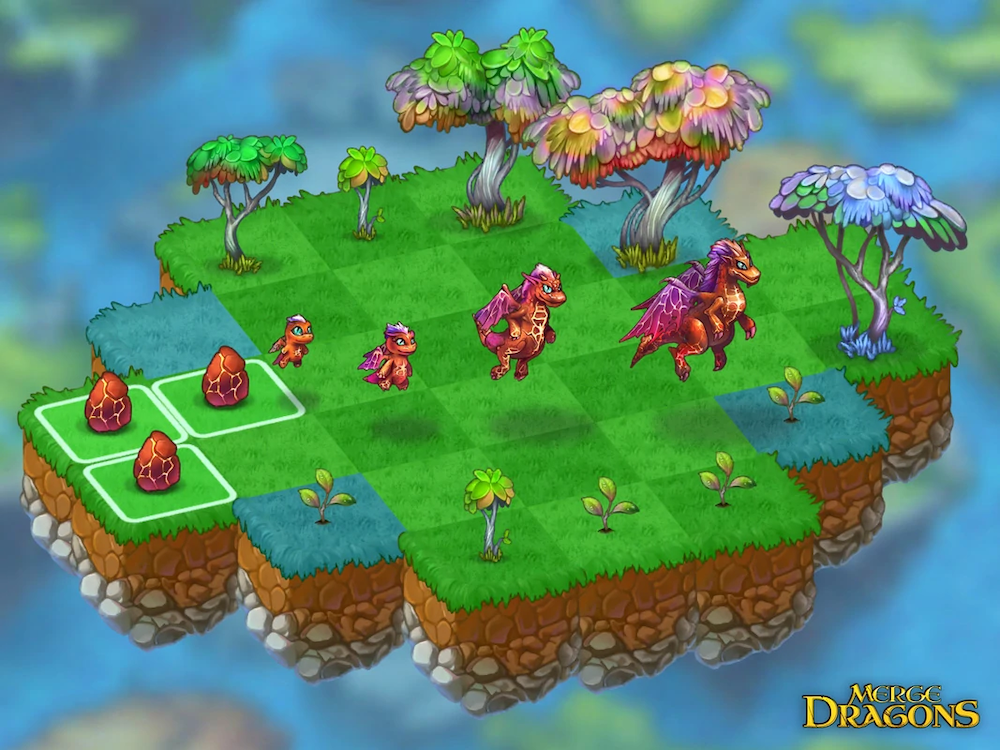 It's worth noting that Merge games aren't anything new. While the popularity of Gram Games', Merge Dragons!, which has generated $226m in revenue since its 2017 release, may have coined the idea of 'Merge' as a separate genre, the merge mechanics of merging two or three items to create a new and superior one can be dated all the way back to smaller and more basic games such as Spry Fox's puzzle matching game, Triple Town, and Ketchapp's Hyper-casual, 2048 – but these mechanics have long evolved since then.
You can merge a variety of special items in Merge Dragons!, but you'll usually be merging three dragon eggs to hatch a dragon to clear through levels. There are various types of dragons you can collect and upgrade, all of which are wrapped around a base and upgrade system and multiple layers of monetization, as well as collaboration and limited-time events. Other popular merge games, such as Metacore Games' Merge Mansion, focus on merging two items rather than three. This is an integral part of completing quests as progress through the game, renovating a mansion and its grounds as part of the storyline.
As a subgenre of puzzle games, merge games are tapping into what is one of the mobile gaming market's biggest audiences. Like most puzzle games, much of the revenue that they generate comes from in-game purchases that allow players to bypass the waiting times involved with generating new items (some items are spawned through clicking objects) or provide instant access to higher-tier items.
While the fundamental elements of Merge games are largely the same, the genre can be split into subgenres depending on whether the main gameboard is expandable or non-expandable, as well as the number of items you need to merge (Merge3 or Merge2 games). In non-expandable Merge games, there's more of a focus on managing your resources and space due to the limited space on the gameboard. The gameboard itself might be utilized as a mechanic to progress through the main campaign, such as the mansion in Merge Mansion. It's worth noting that most non-expandable Merge games tend to focus on merging two items, while expandable Merge games focus on three or more.
Expandable Merge games feature a gameboard that expands with growing resources and space as the player progresses through the game. Similar to non-expandable Merge games, the main gameboard where items are merged can be used as a meta function outside of a level-based campaign mode (Merge Magic!). Non-expandable Merge games tend to be more limited than expandable Merge games as expandable space opens up opportunities for developers to fill the gameboard with decorative items and collectibles. Alongside being monetized as rare collectibles, these can also be designed in a visually appealing way that increases player retention.
All of that said, let's take a look at some of the reasons why Merge games could become the new Match3.
Merge utilizes gameplay hooks that are proven to work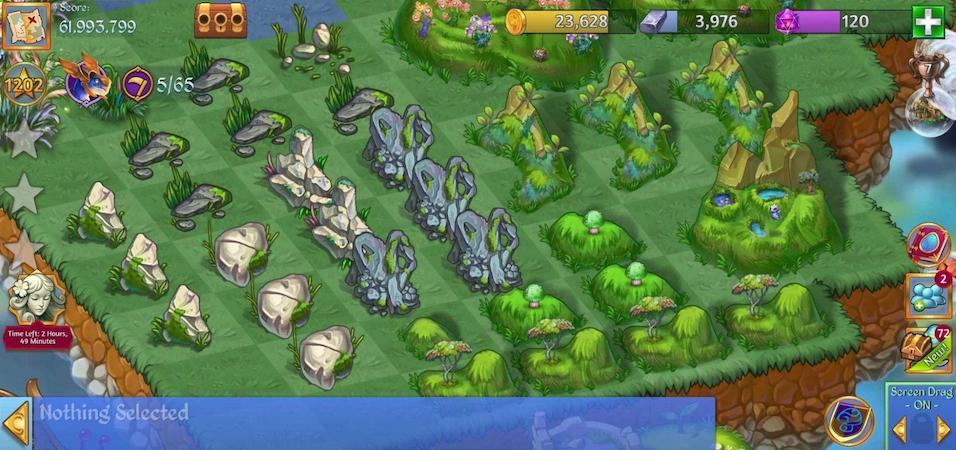 Everything we've spoken about so far makes the merge genre seem pretty similar to Match3, right? Our recent Q3 statistics show Match3 puzzle games have the highest revenue share (15.62%) of iOS mobile games in the US, and also the highest growth (1.36%) in revenue share compared to last quarter (Q2 2021). Merge games, while only accounting for 0.83% of Q3 revenue share, utilize many of the same gameplay hooks and mechanics that are driving the demand for Match3 games.
The core mechanic of merging three items together provides the same compelling experience as matching items in Match3 games. This mechanic is easy to understand and stimulating when it's presented in a visually appealing format. Managing the space on your gameboard and clearing up mess (quite literally in games like Merge Mansion) as you merge new items is rewarding, stimulating, and keeps you coming back for more – just ask any Animal Crossing player who's failed to keep on top of their weeds!
Creating collectible items that look appealing to players is another core motivation driving player engagement. As players work towards building a higher-level match chain, it's important that the design of the items they're chasing is representative of their rarity. Not only does this aid the sense of player reward, but it also opens up opportunities for players to decorate their bases with beautiful collectibles.
All of this makes Merge games easily accessible to a massive demographic of players; 70% of Merge Dragons! players are female and 31% of players are over the age of 45. And as a sub-genre of puzzle games, there's definitely a novelty factor here too, as merge games are an alternative option for the puzzle sector's massive audience.
The motivations between Match3 and Merge players are very similar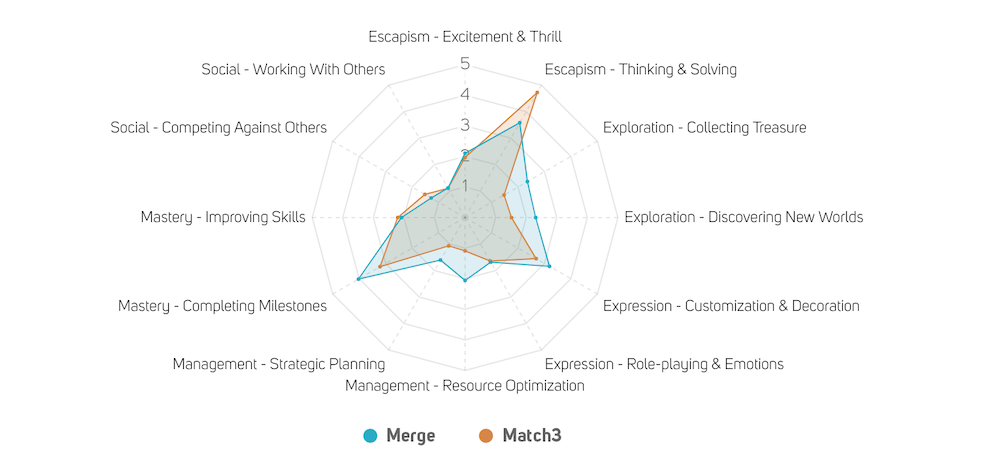 Everything we've considered already gets even more interesting when you take a closer look at the similarities between the motivations of Match3 and Merge players. The blue segment in the above image represents Merge players, while Match3 players are represented in orange. As you can see, Merge games tend to build on a lot of the features that are appealing to Match3 players, such as completing milestones, collecting treasure and customization. (We'll go into how Merge games are doing this through hybrid gameplay further down).
Ultimately, Merge games cater towards resource optimization like Tycoon games such as Rollercoaster Tycoon, Project Highrise, and Pocket City. What makes Merge games potentially more appealing to players is the merge chain mechanic: being able to merge items to level them up again and again and again. Not only does this tick the box for completing milestones and piquing players' curiosity by offering an endless supply of things to potentially discover, but it also caters for elements of customization by letting players use certain items to decorate their homes/bases.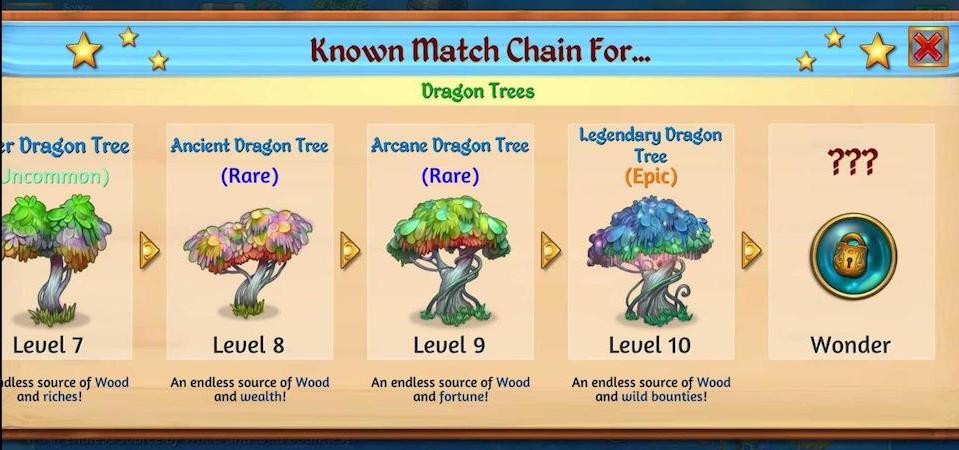 Merge games have a lot of monetization potential
Merge games will tell you which items you require in order to proceed, but sometimes there can be long waiting times or a degree of difficulty when it comes to locating the items you need to merge. That's because some of these items are locked behind timed spawns (such as a chest you may need to click to open and generate items). If players don't want to wait, they can just bypass these waiting periods by purchasing the items that they need to merge through an in-game shop, such as the one in Evermerge.
The way these shops are stocked also encourages players to keep coming back and often, more importantly, to keep spending. In Evermerge, items are regularly refreshed to improve player retention, and there's an option to reset the current selection of items entirely by spending rubies (in-game currency). Other games, such as Merge Dragon!, let you buy premium currency that doubles the rewards you receive for completing quests. This isn't worlds apart from how something like experience boosts work in first-person online shooters such as Call of Duty. The end result is the same: you move through the game quicker and often more efficiently.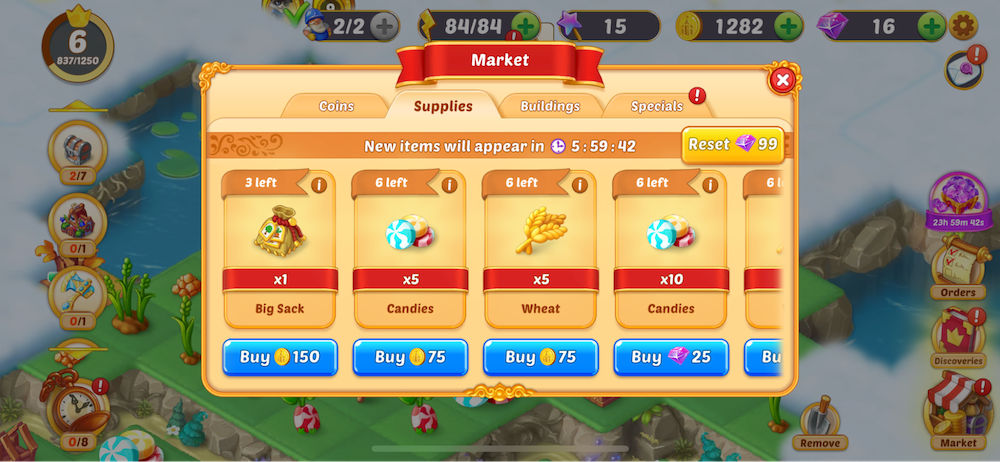 Players are notified of these options to move through the game at a quicker pace through the synergy of incentivized ads. The clever and timely implementation of these ads essentially works as a nudge theory, prompting them to continue playing or simply avoid repetitive tasks that they might not be interested in. Hybrid Merge games have even more monetization options available thanks to the synergies between different game types, such as Merge Gardens utilizing Match3 monetization techniques such as mergeable booster boxes, monetized retries for Match3 levels, and refilling lives using gems (paid items).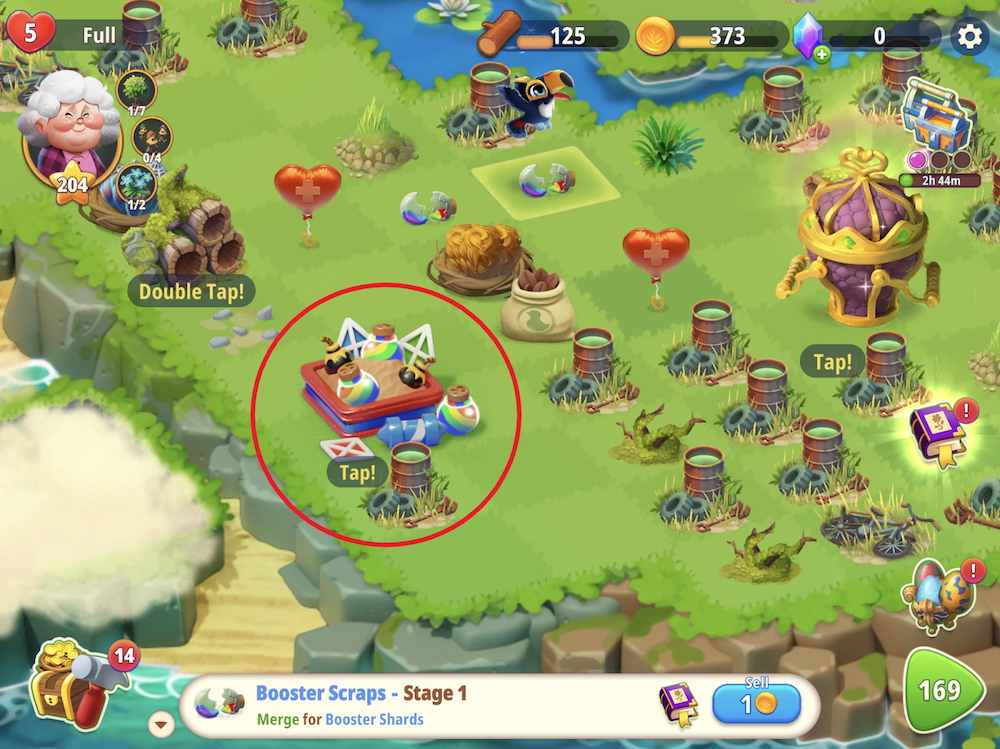 Expandable Merge games are the most flexible when it comes to monetization. As gameboards grow in space they inevitably become more cluttered, requiring players to obtain a larger number of mergeable items and invest more time into clearing the gameboard. As players build more complicated chains, the items they need to complete them may become harder to obtain. This is when limited-time special offers such as those in Merge Dragons! can become irresistible when the item(s) that players need to complete their chain suddenly appears for purchase.
Live events are the perfect match for Merge games
The rarity and collectability of mergeable items combined with the elements of customization involved with your home base all merge together (pardon the pun) to create a fertile ground for live event exclusive monetization. Rare items already have a natural appeal in Merge titles as players acknowledge the amount of time and effort that needs to be invested to get them, so offering an alternative way of obtaining them through live events can be extremely appealing to players.
Merging two or three items in Merge games often rewards players with one superior item, but live events can also be used as an opportunity to increase the reward volumes or merges. In later stages where items become harder to find, this can be a very appealing offer to players. Some merge games let players use premium currency to claim rewards that they may have missed following the expiration of a live event.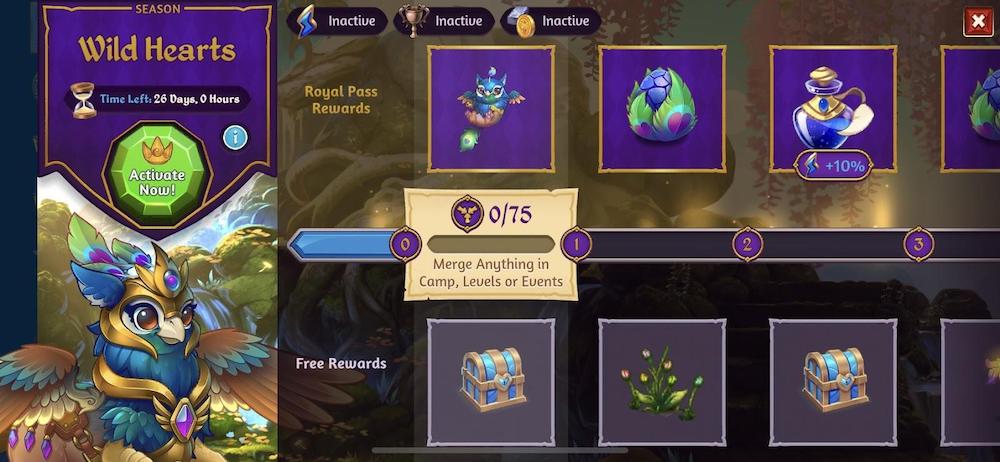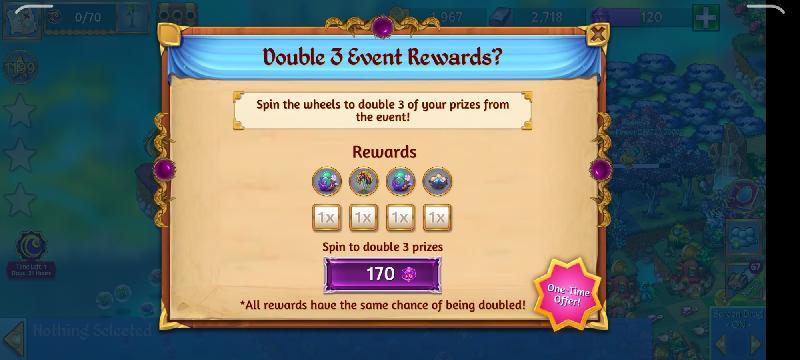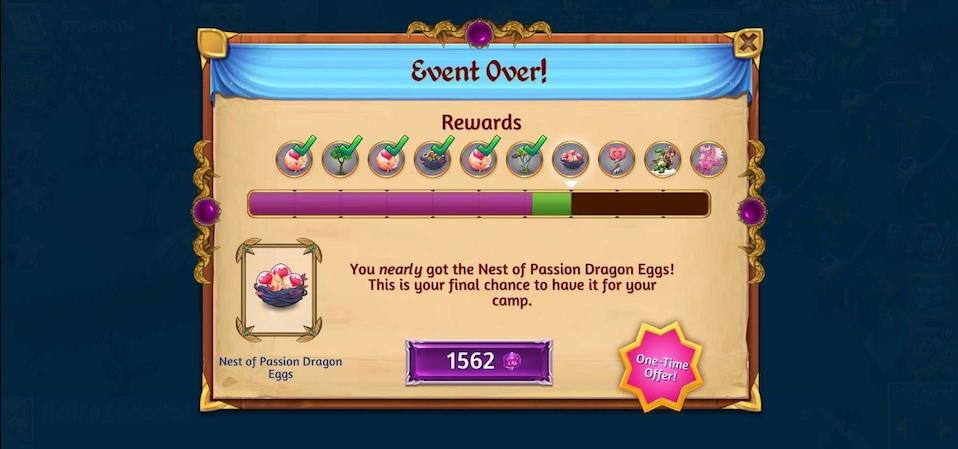 Another revenue stream is battle passes. These feature in a lot of the most popular Match3 games, so you won't be surprised to find them here in Merge games, too. EverMerge's paid-for battle pass, known as Golden Ticket, is purchased using the game's premium currency rather than real money, encouraging players to head to the store and buy bigger ruby packs. And one area of live events we'll be keeping a close eye on is the growth of collaborations with real-world brands, such as Merge Dragons!' recent live event with Rick 'N' Morty.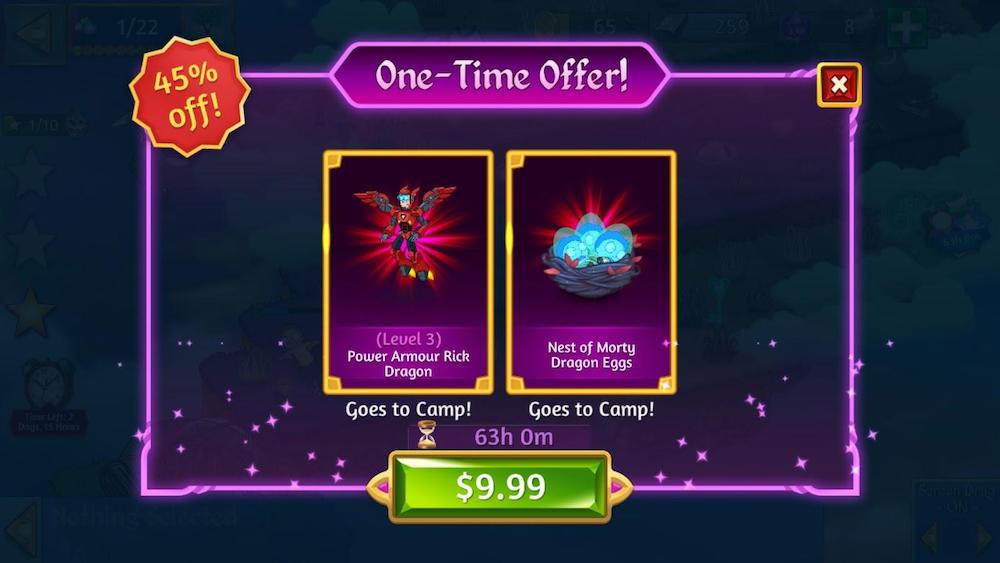 Meta layers mean Merge games are constantly innovating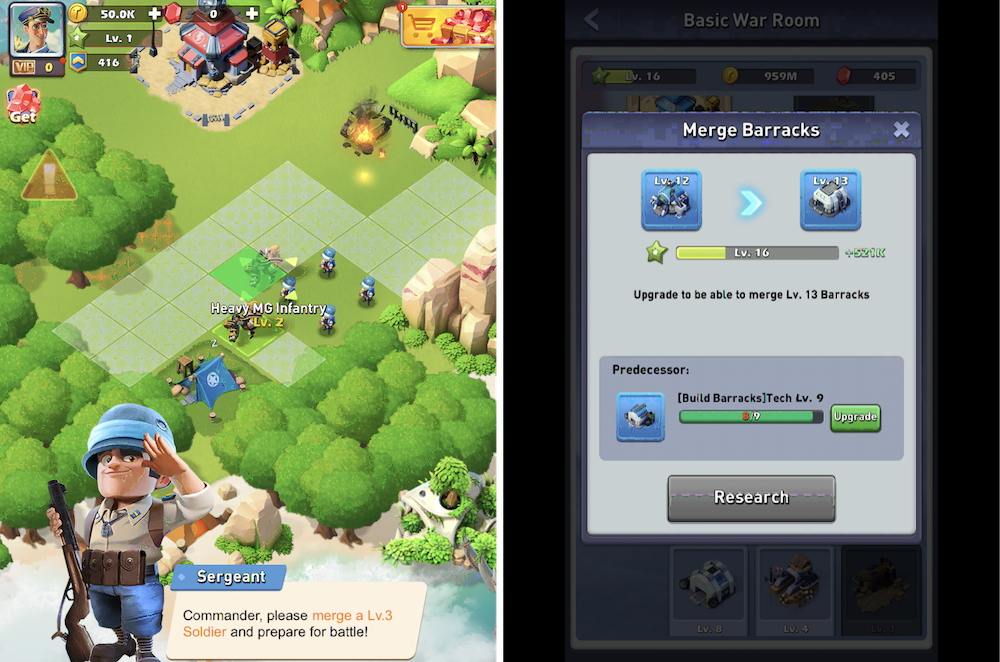 One of the most appealing things about Merge games, and why we're expecting the rate of new merge games entering the market to keep growing, is their adaptability with other meta layers. There are already several subgenres of merge games fusing elements of Hyper-casuals, Idlers, and even 4X strategy games. As we know, hybridization is key for the latest 4x strategy success stories, and there's plenty of potential for 4X elements to find their way into Merge games – or vice versa, as seen in 2019's Top War: Battle Game.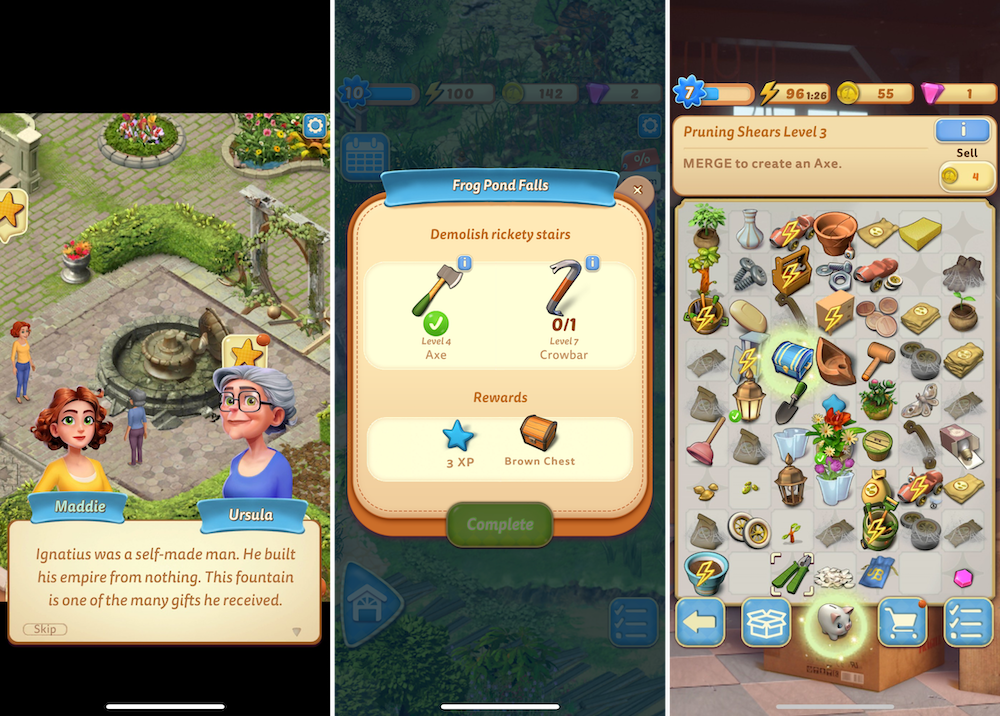 If we take a look at the best-selling Merge games generating the highest revenue, we can see some clear differences between the way they play with the differences between expandable and non-expandable Merge games. The non-expandable Merge Mansion has a heavy focus on narrative and exploration/progression via quests that are intrinsically linked to the story of its characters, helping to offset some of the limitations posed by non-expandable gameboards. The expandable EverMerge lets players explore different islands at later levels.
That's in stark contrast to titles such as EverMerge, Merge Dragons! and Merge Gardens, all of which feature expandable gameboards. This allows players to concentrate on several projects at a time while tapping into the resource farming tendencies associated and satisfaction of growing a space bigger and bigger. Players' achievements and progress are visually documented as the gameboard expands, leading to more emotional investment from players and, ultimately, longer gaming sessions.
What's next for Merge games?
While the latest Q3 figures for Merge games show a slight decline in revenue (but a rise in downloads for some titles) across the board for the genre's biggest titles, the annual figures for recently released games such as last year's Merge Mansion indicate there's plenty of room when it comes to revenue growth for new titles that are willing to innovate and hybridize with various meta layers. While Merge Mansion is a Merge2 game, our data doesn't indicate that players are moving away from Merge3 games to Merge2 games. We'll need more games with hybrid elements such as Merge Mansion to enter the market to see where player trends are heading next.
Ultimately, one of the reasons Merge games remain so popular is because the demand for puzzle games in the mobile sector has always been there. What Merge offers is an opportunity for developers to create new titles merging layers that span everything from 4X to Hyper-casuals, opening up new and exciting opportunities for players while tapping into the numerous revenue streams that these subgenres offer.
If you enjoyed reading this post, here are a few more you should definitely check out: