Amongst the many innovations in mobile game features that we've noticed in the iOS market in recent months, one of the most interesting is the growth in what we term as 'hybrid' mobile games. By this, we're referring to the merging of two or more genres to create an entirely new kind of gameplay experience. While this is not something completely new, we're seeing an increasing occurrence of the phenomenon in both the US and China. So why is this happening?
The existence of hybrid games is not an entirely new concept. Perhaps the best known and most popular of these have been the Puzzle Quest series that fused Match3 gameplay with an RPG mechanic. Since its early days on handheld, console, and PC, the series has moved to mobile and enjoyed several iterations, including branded tie-ins with Marvel and Magic The Gathering. Puzzle and Dragons also drew on a similar genre-mash-up to enjoy huge success on mobile.
What we're now seeing is an acceleration of this hybrid gameplay design model, as well as new and exciting genre-mixes beyond the familiarity of the Puzzle Quest series. These are mainly originating in China but are equally enjoying massive success in the US. The most prolific of these are games focused on combining 4x strategy with another mechanic. According to our genre taxonomy, 4x strategy is defined as "'hardcore' strategy games which focus on exploring, expanding, exploiting, and exterminating (the "4X"). When playing 4X strategy games, players have to focus on things like technology research, troop & resource management, open-world exploration, base construction, and fighting against rival factions."
Some examples of the hybrid approach
Puzzles & Survival – 4x & Puzzle RPG
This is a 4X Strategy game mixed with casual puzzle mechanics and heavy RPG/character development elements. In Puzzles & Survival, players get to develop their sanctuary by constructing & upgrading buildings, researching new technologies, and gathering their armies. In addition to the 4X layer of the game, players get to use their RPG characters in numerous battles using Match3 mechanics, either in PvP or PvE.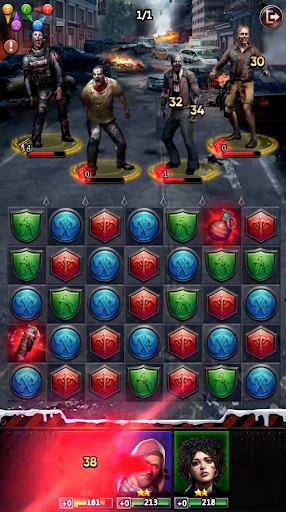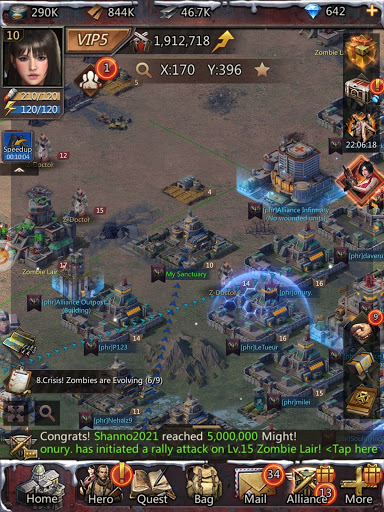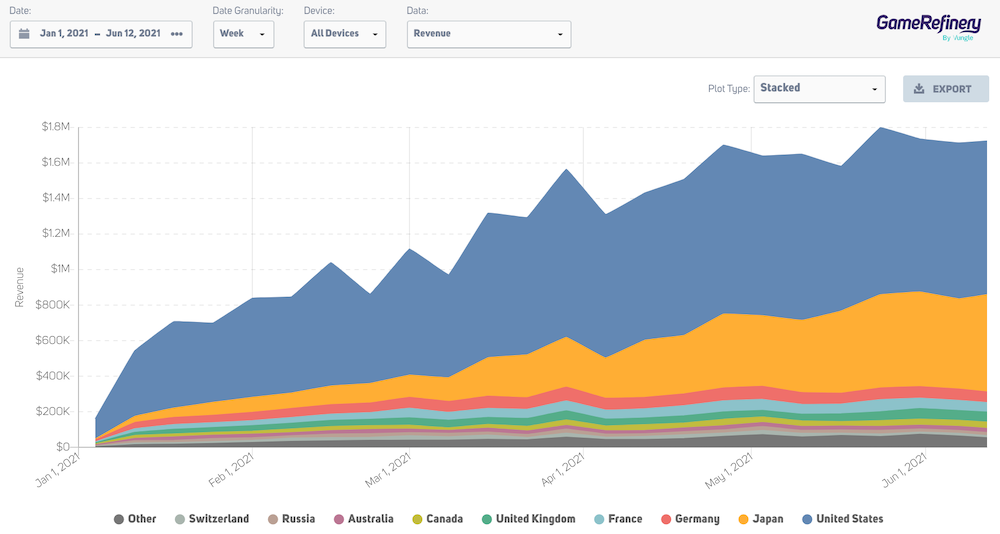 Top War: Battle Game – 4x base building with merge mechanics
Top War is a 4X Strategy game where strategic base building and world-conquering are mixed with an RPG character layer and merge mechanics. Merge mechanics are typically games that are all about combining/merging objects of similar type (e.g., dragons, plants, chests, buildings, etc.) within the game to create new objects of a higher tier (Merge Dragons, Evermerge, Merge Mansion, etc.). Merging is often used to clear puzzle levels or to upgrade items, buildings, or other tangible assets in the game. In Top War, building/troop upgrading is done by merging lower-tiered versions together.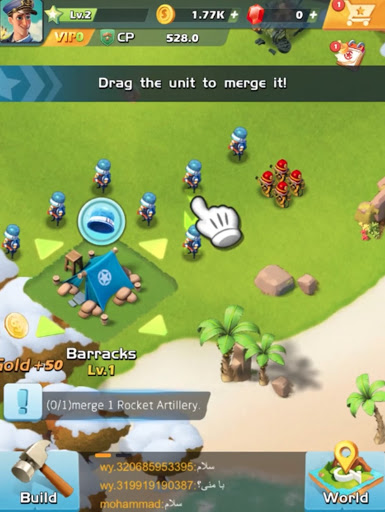 State of Survival Walking Dead – 4x base building, hero collection, and line-defense
State of Survival is a 4X Strategy game with an RPG/character collection layer attached. Players develop their bases by constructing & upgrading buildings and then set out their troops to explore and fight in the vast zombie-infested dystopian world. In addition to this traditional 4X layer, you get to collect and upgrade RPG hero characters and fight with them in a separate PvE tower/line defense playing mode.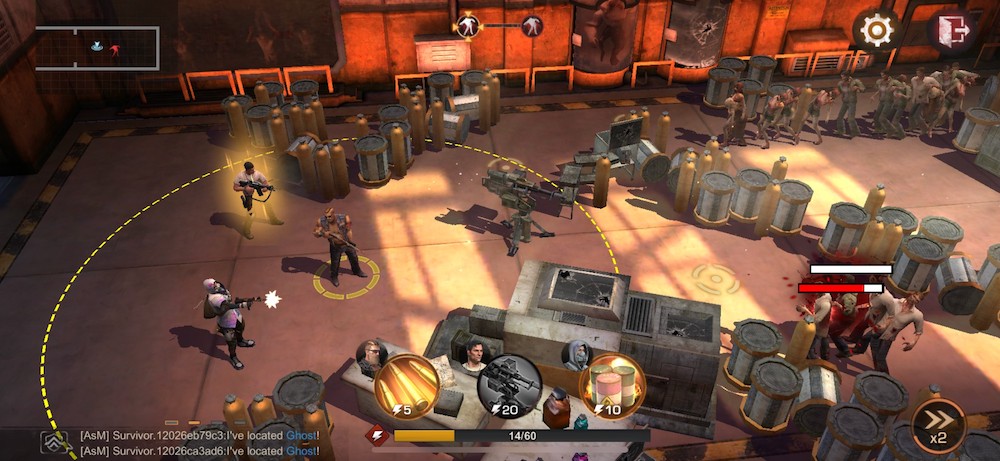 These are just three examples of 4X games utilizing various other game types/genres to bring a more varied experience for players. But what is common among these three is their amazing performance. If we look at the top-grossing 100 chart and sort it by release date, we can see that these exact three games are the ONLY three 4X games released in the last two years that have been able to break into top-grossing 100. In total, there are fifteen 4X strategy games in the top-grossing 100, but all the rest are older games with loyal old fan bases.
Even though all of these three games are quite different in terms of what elements they have implemented on top of the 4X experience, all of them are fundamentally built with the hybrid approach to offer a more diverse gameplay experience.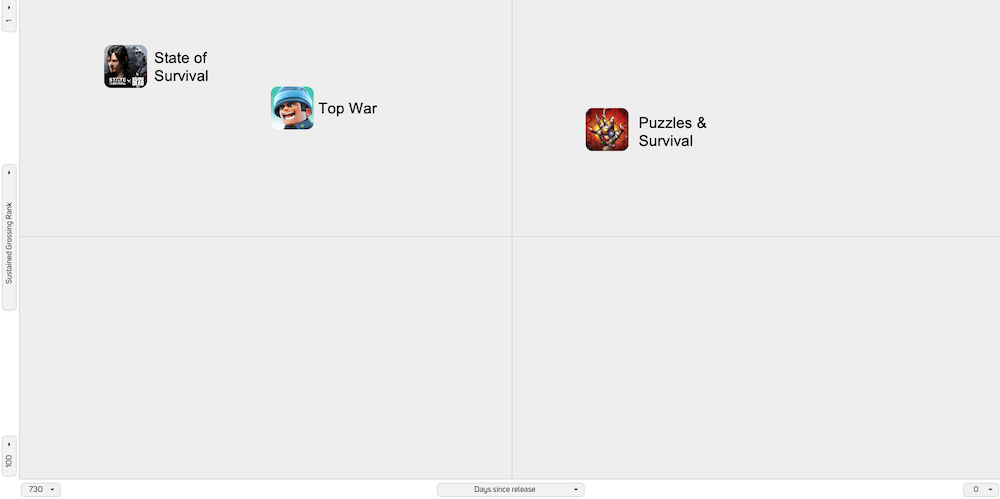 So why do we see this increase in hybrid mobile game design?
There are a few reasons that this is happening.
The most obvious one is just pure product innovation. It is VERY RARE that someone comes up with something totally new out of the blue. Product innovation often happens by mixing and matching ideas/concepts + taking inspirations, for example, outside of your own subgenre. Then these ideas are iterated over time. 4X strategy market has stayed quite similar with various themes and smaller iterations, but nothing as major as these recent games. Thanks to this, these games really stand out in the market (which they also heavily emphasize on their UA campaigns (e.g., Match3 in Puzzles & Survival ads)). The experiences differentiate them from the big bland 4X mass, and the games have been able to find new audiences plus offer something new for strategy veterans. It's also fair to say that these new hybrid games lower entry barriers for new players. Take the previously mentioned State of Survival. The clear division between its 4X Strategy layer and RPG/line-defense layer makes the game more approachable for people new to the hardcore 4X Strategy genre. Players can engage in a more straightforward, character-oriented RPG layer, but the more complex and strategy-oriented 4X layer is still there with all the depth of the subgenre. And of course, these modes are not totally separate entities, but they have interconnected benefits for participating in both. This hybridization naturally brings variety for player engagement but also possibilities for more diverse monetization.
One reason that definitely can be argued is iOS 14.5 and IDFA's impact on the 4x genre (especially for the future of this subgenre). These games' business models have historically relied heavily upon a small percentage of very high spending 'whales.' Pre-IDFA depreciation, UA managers within the big publishers were wholly reliant upon in-app tracking to identify and target these high rollers. However, since the recent iOS 14.5 changes, few people seem to be opting into app tracking. Take the recent study by Flurry, which showed an opt-in rate of just 15% globally and 6% in the US. There can be little doubt that the low tracking opt-in rate will lead to game designers modifying their games to appeal to a broader audience and attract new players that bring new revenue potential. Naturally, these things are just happening, and these games are not really developed just overnight, but we believe this is one of the main reasons this trend will definitely continue. If super effective targeting is not possible anymore, it is kind of a natural move to start thinking about how to convert larger audiences then.
We see this issue facing 4x games as very similar to ones that will hit similar high revenue per download/whale-driven monetization games such as casino games. As shown in our recent Casino Games snapshot report, the Casino category generates approximately 17% of all revenues on mobile in the US iOS. It will be interesting to see if especially new casino games start to innovate on their gameplay with other mechanics such as Coin Master did to great success a couple of years ago. One of the recent major trends in the Casino category apps already has been the light season-based collections that have found their way to most of the top-grossing Casino games. But will we see more fundamental innovation find their way from other genres in the future as well?
Summary
Whether it's through necessity or a sense of adventure, mobile developers are finding newer and more innovative ways to engage their users and draw them deeper into the gameplay experience. We'll undoubtedly see some exciting genre mash-ups in the future, whether it's the evolution of the 4X-genre to appeal to wider new audiences or games like, for example, Arknights that blends Tower Defence with a deep RPG layer. All evidence points to the fact that this increasing 'hybridization' of mobile games opens up new revenue streams, which inevitably means that we will see many more examples of this in the coming months.
If you enjoyed reading this post, here are a few more you should definitely check out: