Is blending multiple genres into a single package a success formula or a recipe for disaster? Are there ways to cater to a bigger audience across the casual-midcore spectrum? Here at GameRefinery, we've been following the market for so-called hybrid games closely, such as titles that are mixing elements from multiple different game genres to create a hybrid genre like Idle RPG. 
All data and examples in this post are gathered from the GameRefinery service, check it out here. If you're interested in researching over 200 in-game features, their popularity, and implementations or checking out feature deconstructions of hundreds of games, you might want to pay a visit!
There are definitely upsides to going hybrid:
Mixing elements from different genres can make your game interesting for new player demographics and player persona types. What this means is that if you're trying to widen your player base, it surely helps if your game appeals to soccer moms and Diablo fans alike. For example, different kinds of RPG elements such as a compelling storyline or a deep character development meta can attract players that otherwise might ignore your game. 

 The competitive landscape MIGHT be more lenient, at least in relative terms. For instance, it looks like the Idle RPG-market is only now starting to really heat up in the US. In a best-case scenario, you might even have a first-mover advantage in a market space that didn't exist before. We are, e.g., very much looking forward to the announced 

Stranger Things-themed location-based + puzzle-RPG hybrid

 and its effect on the market.
…And some pitfalls to consider as well:
It goes without saying that maintaining a balance in terms of art style, game difficulty, etc. can be difficult when you don't have a rigid target audience for your game.

IP fit. As always, it remains important to consider 

how well your IP (if you're using one) resonates with the widened target audience

.
In this blog post, we'll zoom into two hybrid genres in particular: idler RPGs and puzzle RPGs. They serve as excellent examples of how "RPG" (which is more of a "meta genre") elements combine well with a variety of core-loops. This is not to say that PRPGs and IRPGs are the only ways to go, but at the moment, they are some of the most interesting genre-combos that have found success in multiple markets.
Puzzle RPGs: Matching Swords and Blocks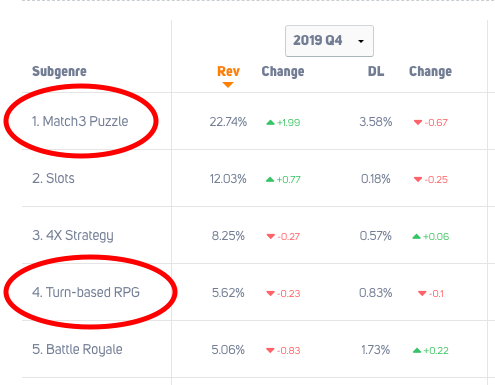 As we all know, match3 is huge in the West. And As we also know, Turn-Based RPG is one of the top subgenres in the region. Hence, a marriage of these two subgenres makes perfect sense.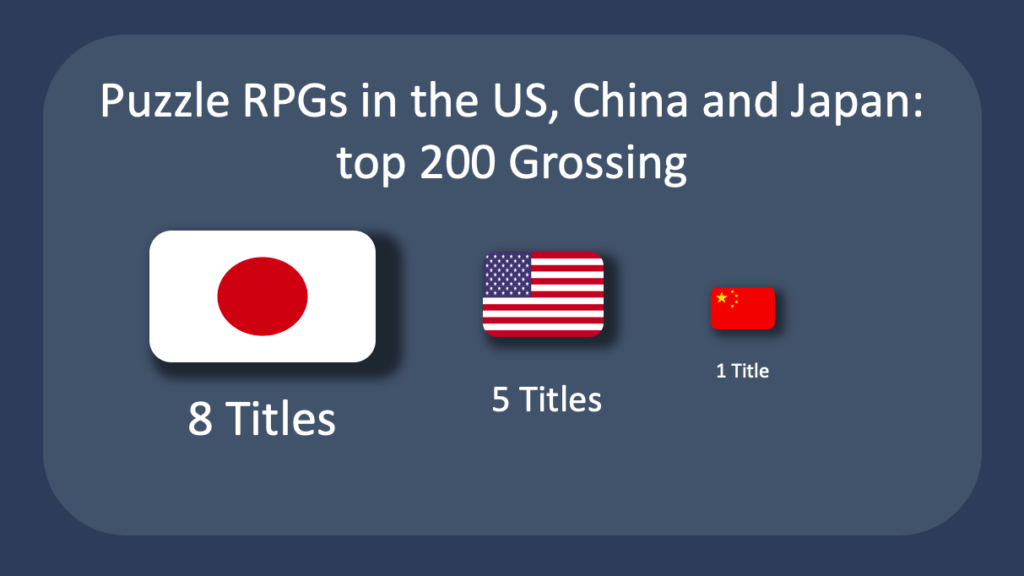 Puzzle RPGs have a strong track-record also in Japan, where e.g., Puzzles & Dragons is one of the market's all-time top dogs. The intriguing notion here is that even though China is considered the number one RPG market in the world, Puzzle RPGs don't exactly bask in top-grossing success. Which one are we looking at: a market opportunity or a blue ocean mirage?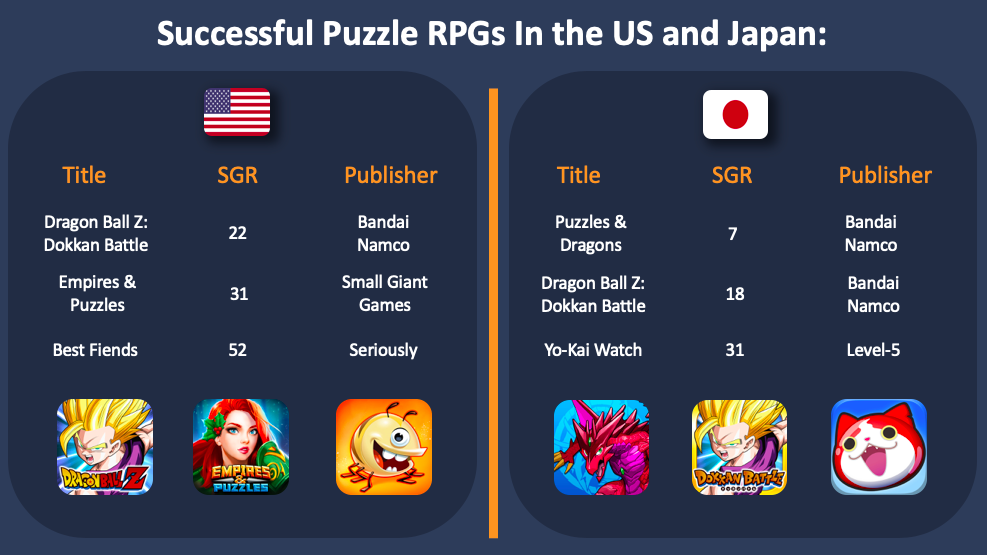 "Idler-RPGs and Puzzle RPGs are some of the most interesting genre-combos that have been able to find success in multiple markets."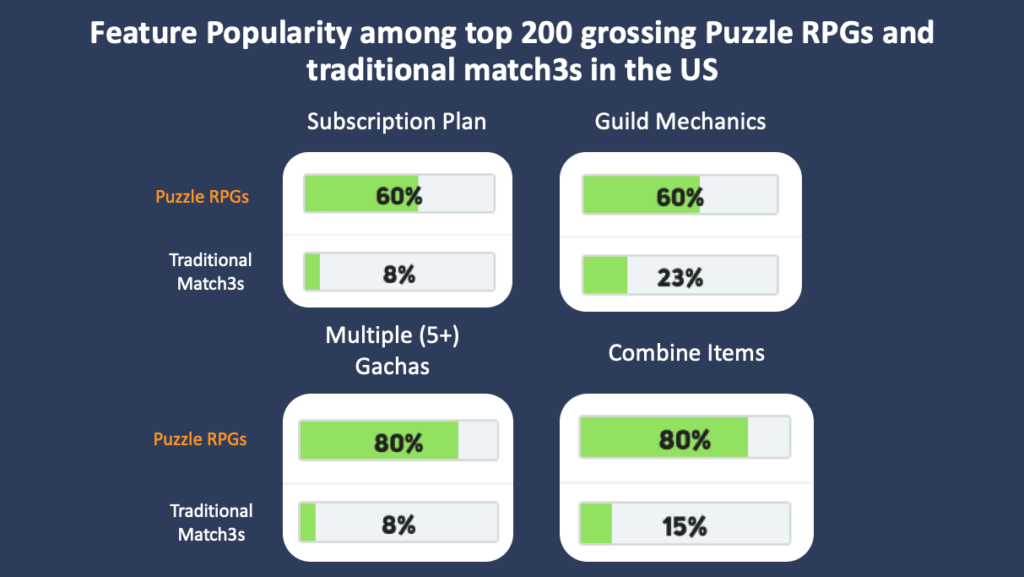 Puzzle RPGs' more versatile meta layer makes it easier to establish a deeper game economy with more sinks and more feature options to re-engage players when compared to many traditional match3s. To access all feature differences between different game types, make sure to sign-up to our service for free by clicking here.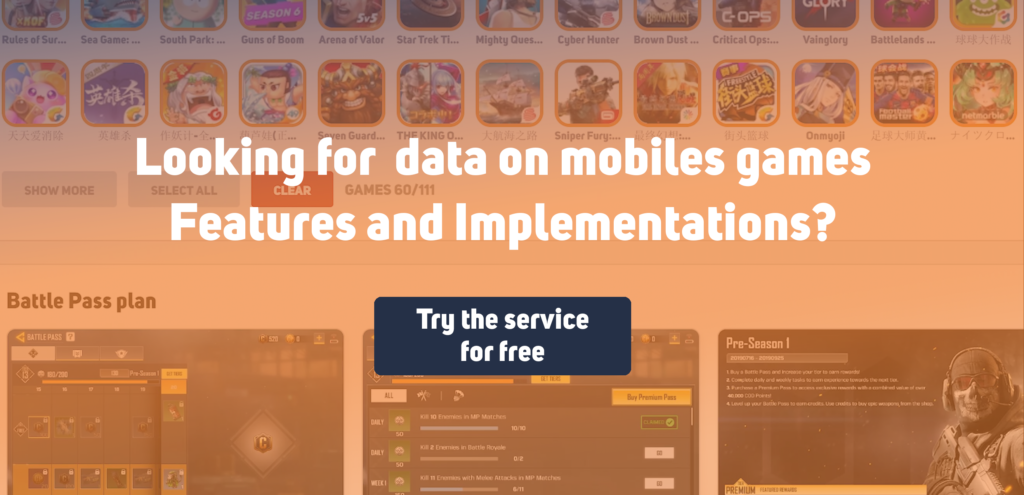 Sometimes the tradeoff you might want to make when introducing RPG elements is to make sure that areas such as art style or IP resonate with the more casual audience. This is something where e.g., Best Fiends excels.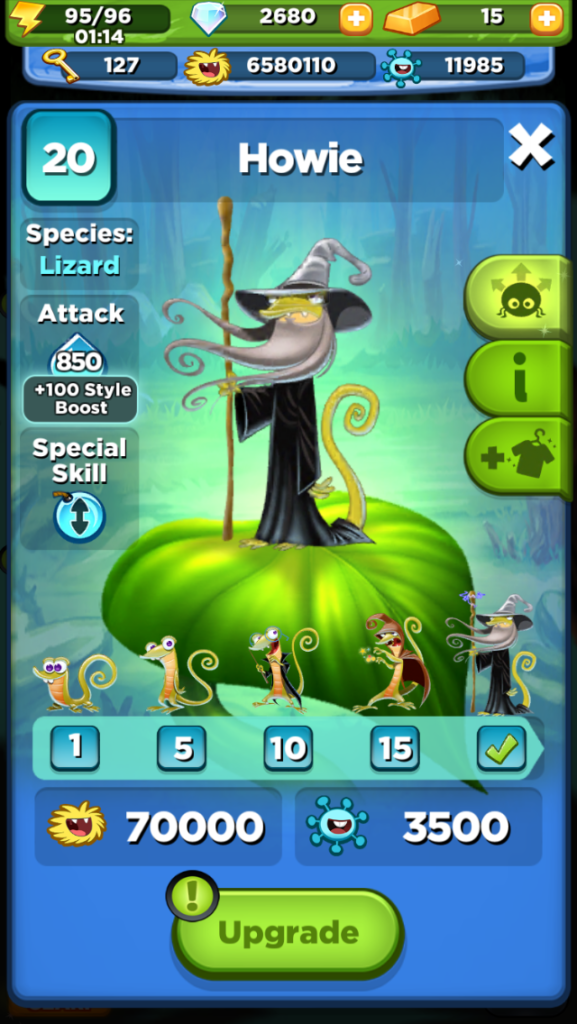 Idler RPGs: Wait & Fight
Idler games might just have the best appointment triggers in the entire F2P landscape. Their action-waiting loops make these games extremely sticky and facilitate perfect session lengths for gating your content that doesn't feel too artificial.
Combining this powerful loop with RPG elements gives you even more possibilities to re-engage and monetize effectively. The RPG meta opens doors for adding PvP-modes and guild mechanics to your game, allowing you to expand retention triggers to competitive and social commitment triggers.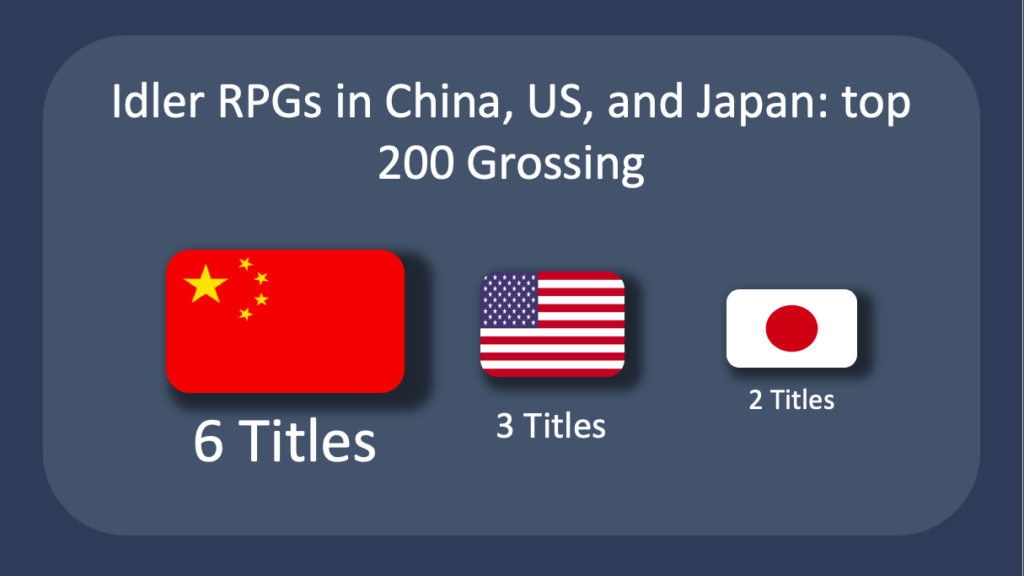 Putting on our market comparison lenses, we can see that the idler RPG space is somewhat different from puzzle RPG; there all top grossing games are from Chinese publishers, such as Droidhang and Lilith, even in markets outside their home turf. It remains to be seen when we'll witness a successful Western Idler RPG making an entrance!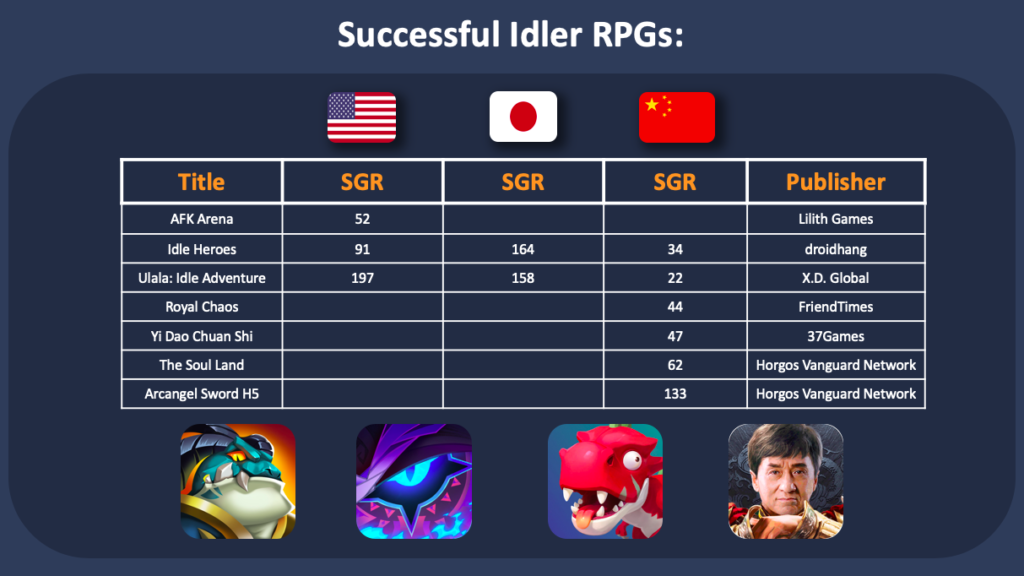 "Combining idler loop with RPG elements gives you even more possibilities to re-engage and monetize effectively."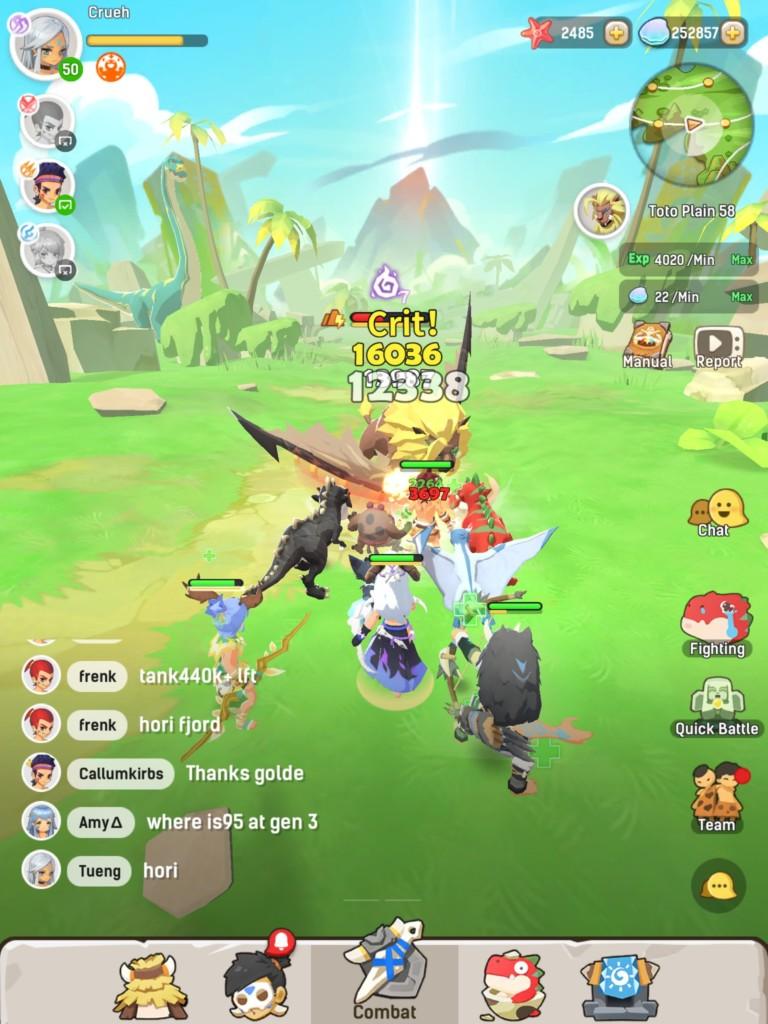 Ulala: Idle Adventure is a textbook example of an idler RPG. The core-loop uses a familiar idler pattern, and the meta-side is beefed up with RPG elements.
Conclusions
Puzzle- and Idler-RPGs are naturally only a few examples of genre mashups. For example, in China, we have witnessed games with casual core gameplays such as shoot em' ups (Contra: the Return) and platformers (Ninja Must Die 3) introducing RPG elements and layers successfully. There is even a top 50 grossing Idler RPG (Archangel Sword H5) that has added a match3 mode to its gameplay palette. 
Moreover, we have also noticed an upward trend among 4x strategy games, adding RPG layers, such as Brutal Age and Lords Mobile. And of course, we shouldn't forget the so-called "harem-games" (Be the King, Game of Sultans) that mix together RPG-elements with resource management. 
Finally, here are some things you might want to keep in mind if you decide to go hybrid:
Different markets have different tastes, so make sure that you have a thorough understanding of your hybrid concept's target market potential.

Puzzle RPGs are doing very well already in the West, will idler-RPGs be able to get a similar foothold here? 

Obviously, if you're deep in casual space, you don't need to go all-in and transform your game into a fully-fledged RPG. 

One option is to experiment with specific features popular among mid-core games

.
Are you interested in doing market research of your own? Sign up for the free layer of our service here.
If you enjoyed reading this post, here are a few more you should definitely check out: