Time Princess: Dress Up is a customization game by IGG, which combines the character customization elements with interactive storytelling and makes it work really well.
Editor's Note: The game has also been analyzed to the GameRefinery service for our customers who want to analyze the data further.
The story begins when you, the star of the game, find your mother's old magical book that can open a gateway. Through this gateway, you can enter the world of stories, like Magical Lamp Adventure, Original American Story or Swan Lake, and many more.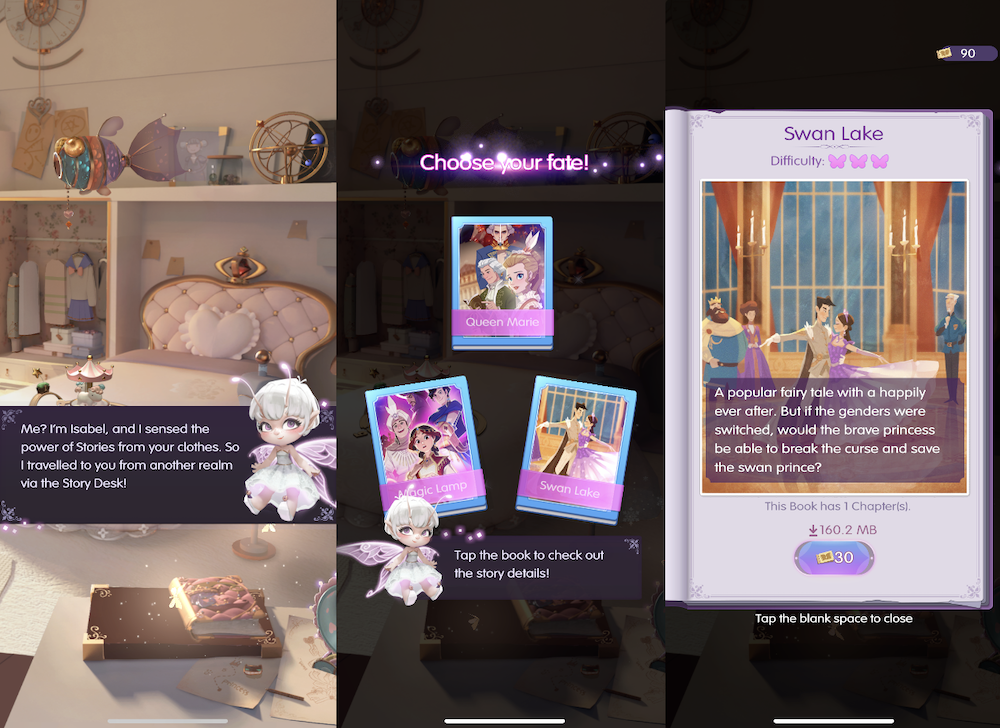 The story is constructed with dialogue but no cutscenes. To make it more interesting, you can use premium currency to purchase the main character to voice act for the story.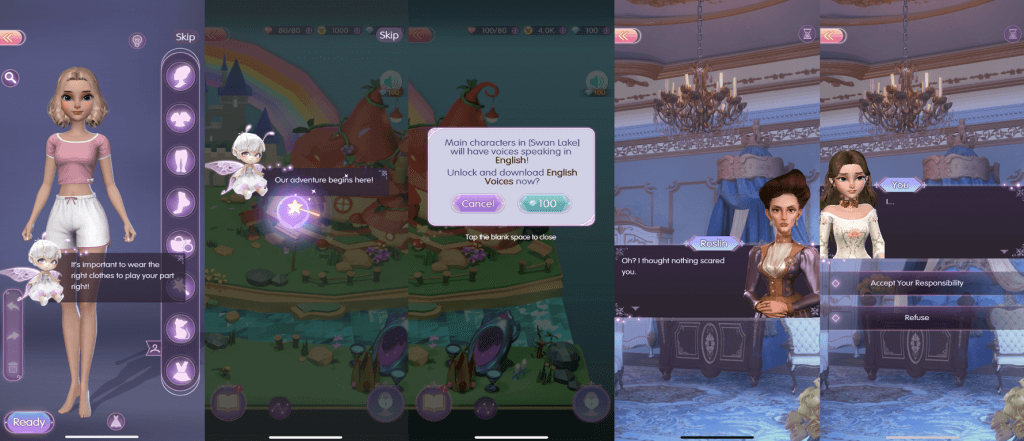 Here's how the core loop of the game looks like: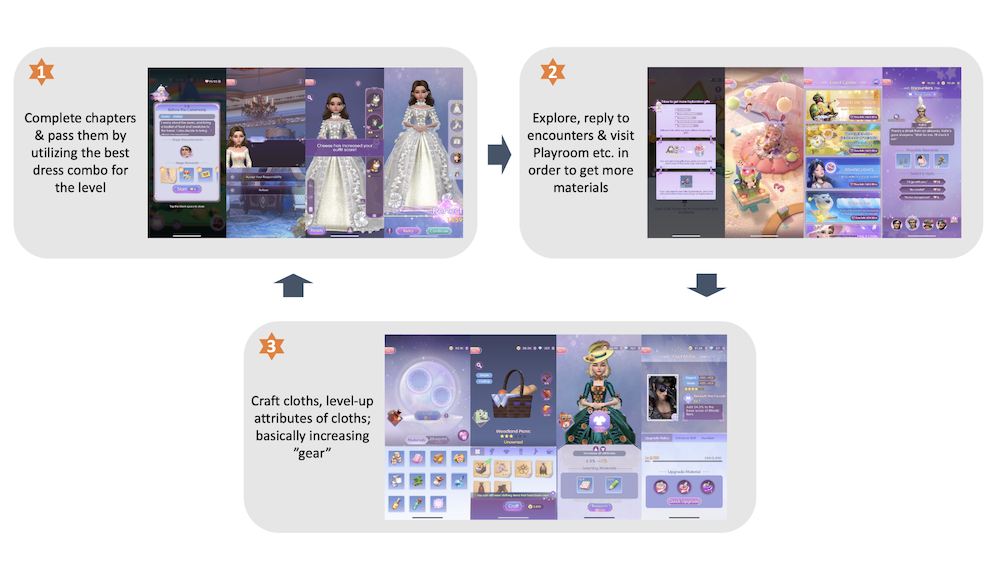 The main thing in the game is to collect and increase your outfit level, which you can do by obtaining different outfits, craft outfits, and collecting different pets, which also give a bonus to your outfit level. But the main thing is to focus on your dresses and customize them, craft new ones, and get materials that you can use for various purposes.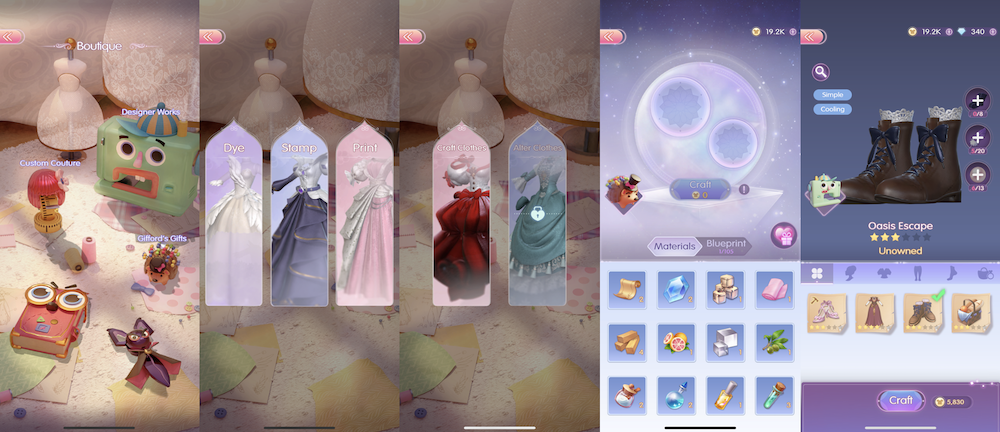 The goal of the game is similar to usual RPGs, as you're collecting different kinds of clothing sets, each giving different types of bonuses. You then use these clothing sets to enter levels, where having the right on really matters. If you don't have the required bonuses, well, this is what happens: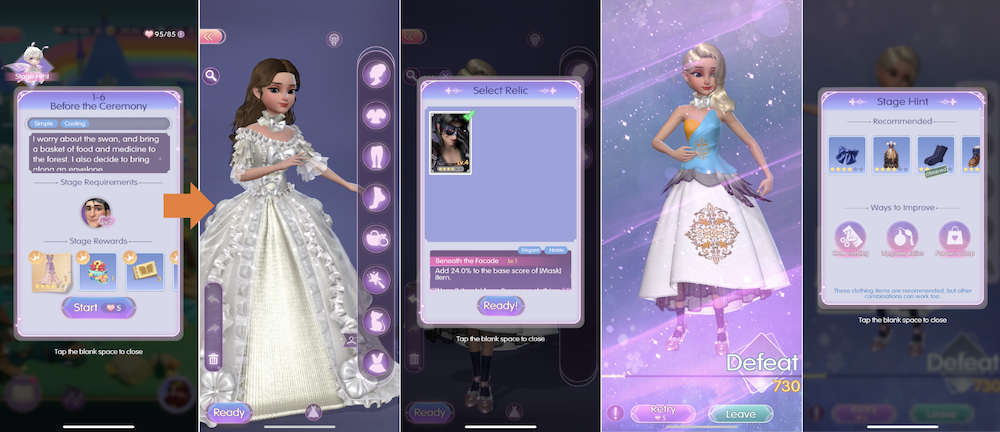 Now let's talk about the pet. The cool thing is that you can set your pet to explore, and the pet will potentially get you some cool crafting stuff (so it's like an exploring option in many RPGs). One interesting thing is that you can set up dates for your pets, in order to get more pets, by sort of "breeding them," so in this game, you can be the matchmaker for kitties :).
Oh, and of course, as in real life, you need to keep your pet happy. The pet needs specific stuff to stay happy and to keep giving you dress points. The points are necessary to pass chapters, so it's essential to get as many points as possible.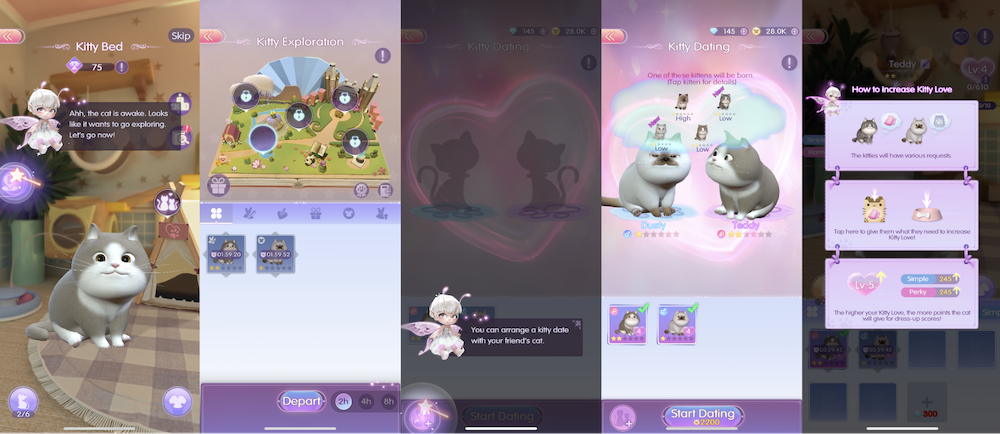 Ads in Time Princess: Dress up
The game has incentivized video where you can get a bit of bonus stuff, but there's also something interesting in the event section, a Flying Carpet mini-game. This is basically a Hyper-Casual tapping game, which includes revive/continue opportunity for watching ads.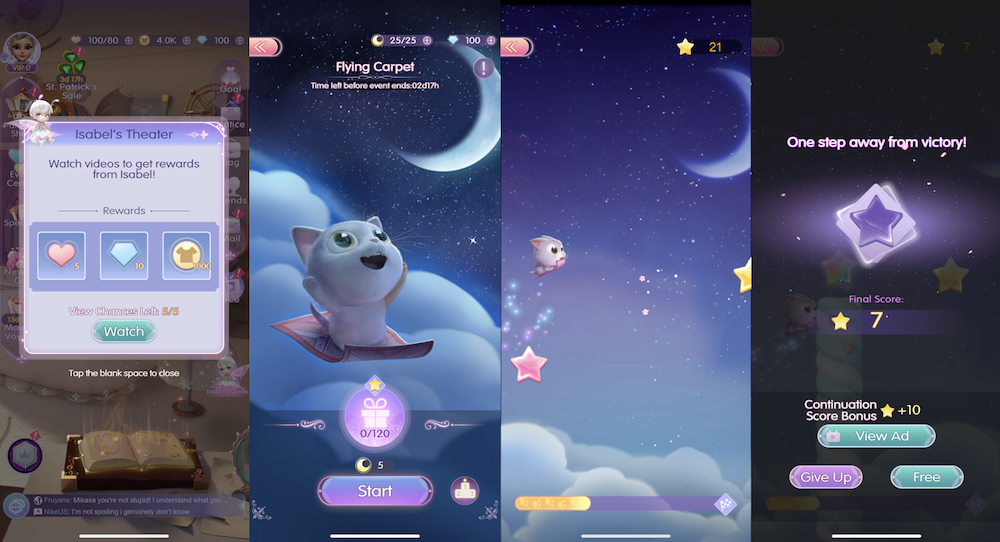 Time Princess: Dress Up's monetization system
The game has tons of IAP price points and different offers that run for a certain time. For example, the St. Patrick's Sale had various offers for each day, some free, some with money, and some with Premium Currency.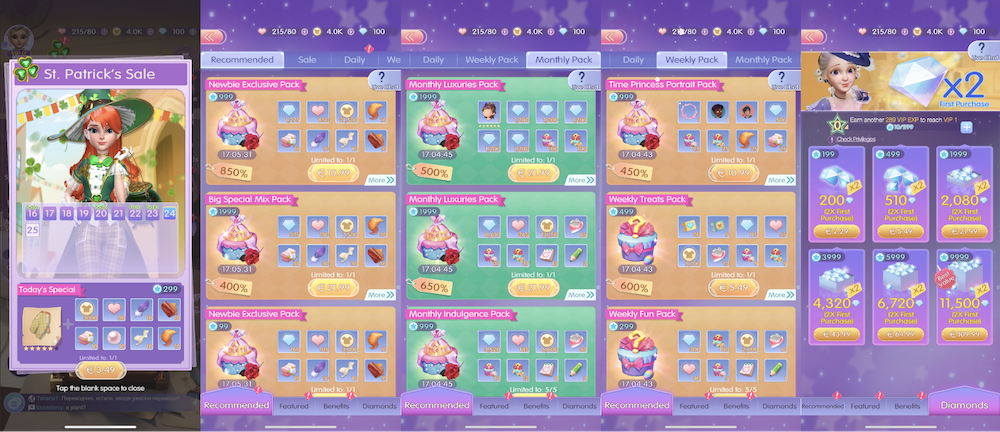 You can also see the "usual" Subscription Plan (Parven's Passes), but what makes this game so interesting is the much rarer features in this genre, like Battle Pass plan, VIP system, and Piggy Bank that you can see in the picture. The game's crafting part and collection part make these work well in the game, and they fit pretty smoothly in the game in terms of the big picture as getting clothes, upgrading your pet and relic, etc., is resource consuming.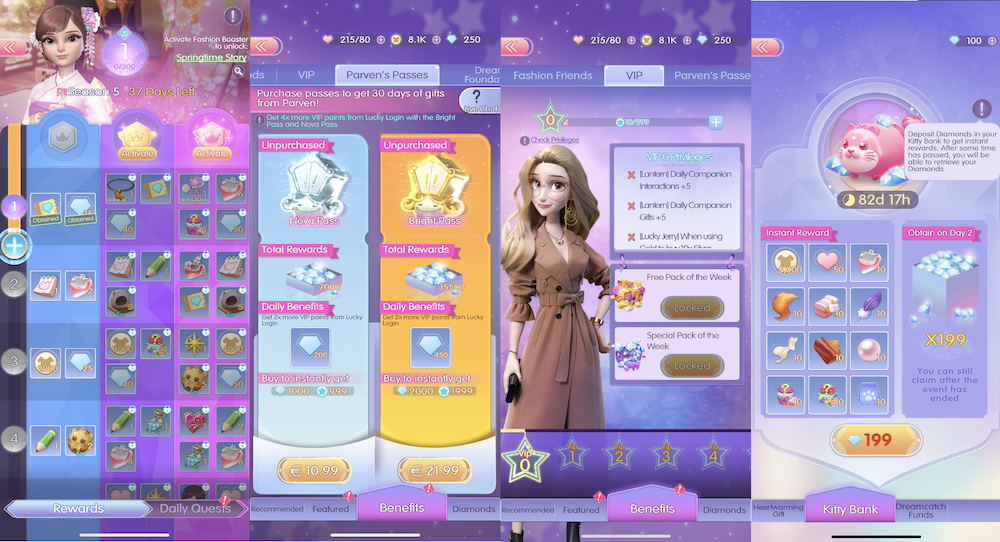 Then, of course, there are Gachas. There are several different ones, and they grant you precious stuff that you can use to help upgrade relics, which then give a better dress score. You can change the story to have different drops of items.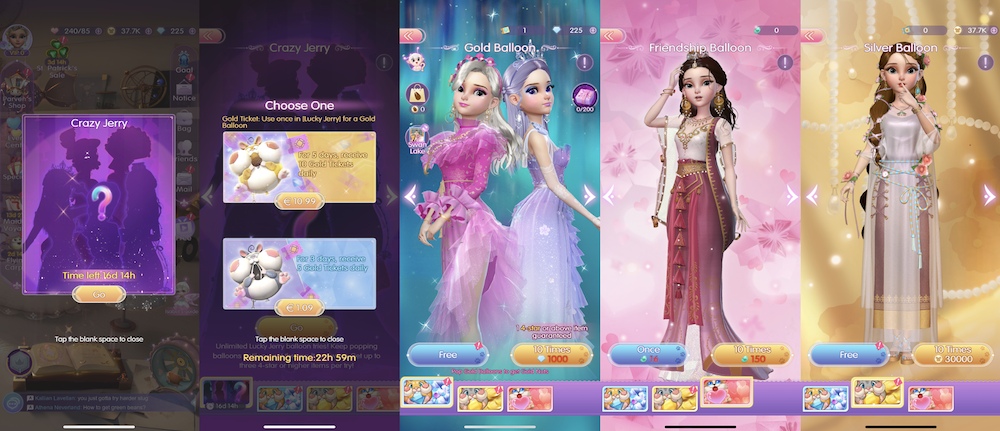 Time Princess: Dress Up's PvP system
The game has Asynchronous PVP, where you have to choose your outfit and preferably use items that fall under the tags. After that, you head out to the "board" and move forward by throwing dice. You'll then face opponents and gain rewards if you win them (score based on the outfit). Not all the steps are PVP, as there are also Monopoly types of steps like "Move two steps back," Free Win, etc., on the board. If you run out of dice throws, you can buy more with premium currency.

Conclusion
Time Princess: Dress Up is a game that utilizes many different elements and has a lot of "unique" features for this genre, and IGG has made them fit this game. It's truly quite a beautiful game with all the different stories and visuals.
What really differentiates Time Princess in the market is the "hybrid" combination of the customization, interactive story, and the RPG collecting/upgrading mechanics, which also opens up more ways of player progression and unique ways to monetize.
We've talked before about this prevailing storytelling trend, where game developers are investing in good storytelling in games as it usually leads to deep immersion and a great player experience. This is exactly what Time Princess: Dress Up's developers are doing by combining customization elements with interactive storytelling, and the result works well. I'll add a list of useful blog articles that discuss this storytelling trend in more detail at the end of this blog post.
In general, the lifestyle genre's games in the Western markets do not really utilize these kinds of features, such as the RPG -styled outfit collecting and the upgrading mechanics. Also, monetization is quite different from the usual Western lifestyle games. Mid-core-like gacha monetization is paired with unique monetization mechanics like the battle pass, VIP systems, and the piggy bank. If you're interested in the topic more, you can easily see what features Customization and Interactive Story games in the US market typically utilize using our Market Explorer tool.
If you're interested in reading more about the power of storytelling trend, here's a list of interesting blog articles that talk about the topic: