Love & Pies is the newest merge match game (under soft launch) from Trailmix games. Players help Amelia (the protagonist) solve the mystery behind her mother's café and rebuild it to its charm.
Editor's Note: This post was originally published by Saravanan S. Saravanan spends most of his time with games and is a Game Designer at EA, before that driving the design for massive Facebook midcore title Kingdoms of Camelot at PopReach.
Players earn stars for completing levels and use them to progress in the game. This core gameplay is full of interesting new level mechanics revolving around sitcom-styled narrative gameplay that introduces a lot of characters and choices through sophisticated storytelling.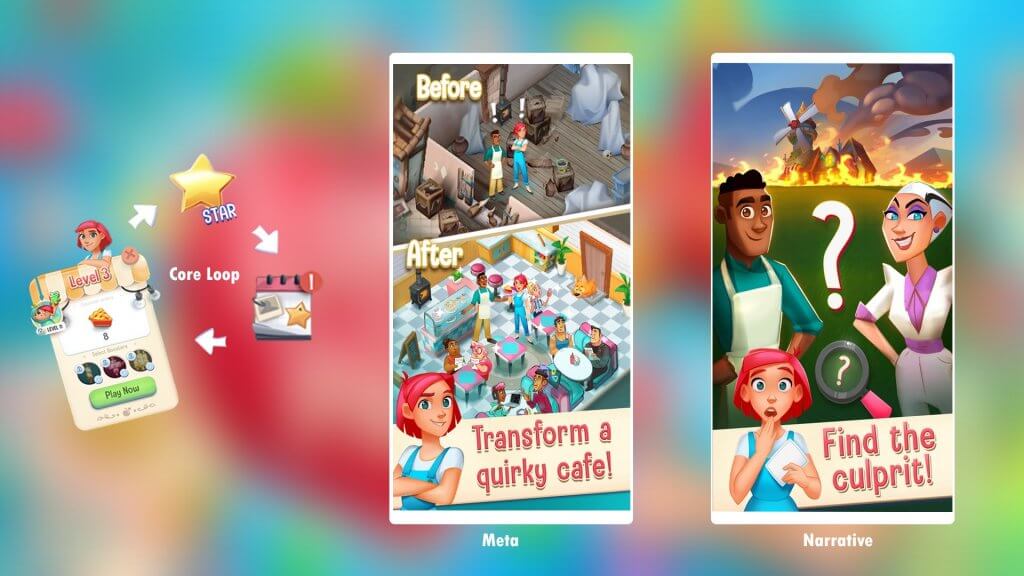 Love & Pies gameplay is refreshing and delivers a whole new experience for a match 3 game. The game art is polished, bold, redefining the art in this genre. Apart from refreshing gameplay and aesthetic visuals, the game is also packed with tons of innovations.
Why Innovation matters?
With so many similar games in the mobile market, it is quite hard to create a unique product. Casual players have evolved over the years and constantly seek engaging and refreshing content in a game. Without a new gameplay experience or interesting content, it is really hard to keep players engaged or even make them install the App in the first place.
Love & Pies fulfills these requirements by packing the game with lots of innovations with rich storytelling, early in-game events, and other refined features.
Check out my post on Harry Potter: Puzzles & Spells to see how product differentiation was created by redefining match 3 level design.
Day-to-Day Track Approach on storytelling
Narrative gameplay in a f2p model is a successful and immersive framework to set aspiration for players in the game for a long-term commitment. When a player has emotionally invested, they are more likely to spend more money/time and come back to the game more often. Good storytelling leads to deep immersion and a great player experience.
Love & Pies' Day-to-Day Track approach on the storytelling takes this experience to a whole new level. In Love & Pies, the story is segmented into days and each day acts as a short fun episode with multiple rewarding milestones. Each day is represented as a track with different milestones as the players progress. Players spend stars on each milestone to complete the quest eventually completing the day and progress in the game.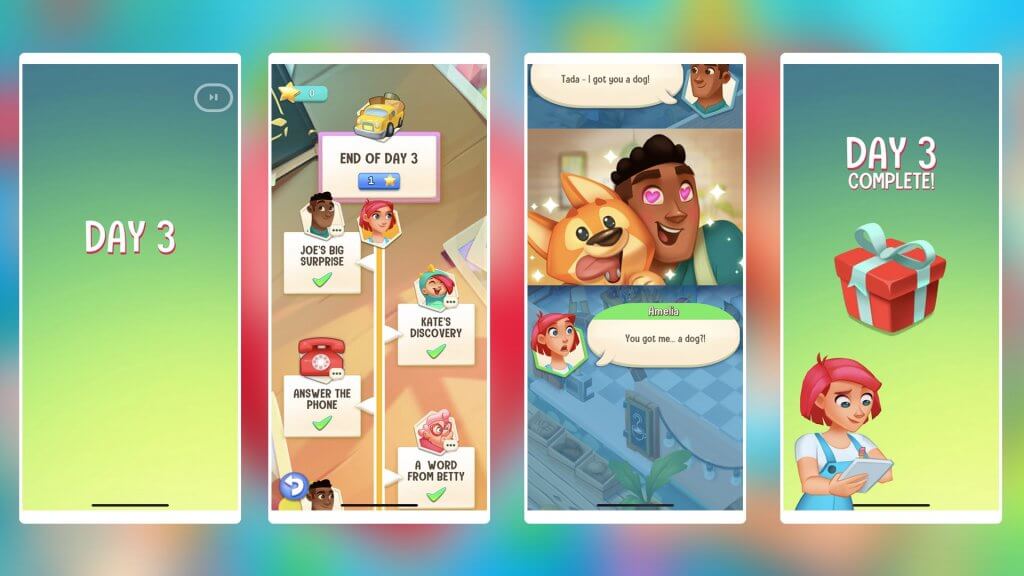 Day-to-Day track leads to:
A better visual sense of progression in the story as players engage in the core loop
Constant milestones keep players engaged in the narrative
Immersive and meaningful sessions
Great sense of accomplishment upon completing a day
More sophisticated storytelling while including deep plots/ characters with minimal texts
With the exponential growth in the success of story-driven puzzle games and emerging casual players, this Day-to-Day track storytelling creates a product differentiation among the rest of the puzzle games in the market.
Tip Jar
Love & Pies' Tip Jar is a great take on appointment mechanics. In f2p games, players set these appointments in order to get back to the game and perform a certain action. It can be to collect resources or initiate actions. Players can leave the tip jar on the counter when away from the game, and the tip gets collected during that time. Based on time, the Tip Jar comes in three variants, and the longer the waiting time, the more coins are collected. Players can select the jar that is convenient for them. Love & Pies brilliantly tied this feature around the game's theme, which adds another layer of attachment.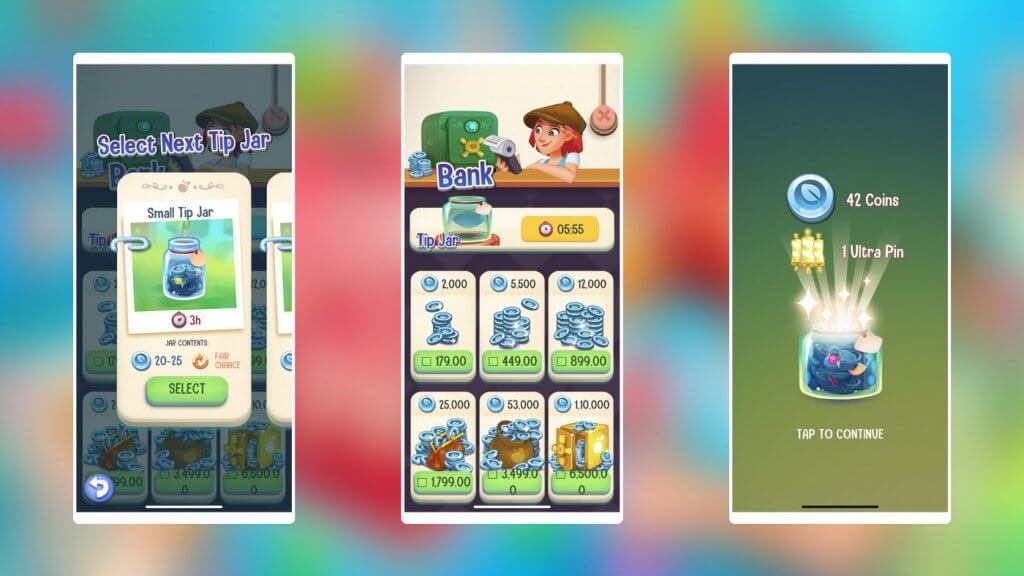 Tips Jar feature leads to:
Increased player sessions per day to collect rewards
Improved early source and sink in the game
Frequent visit to store and visible game offers
Coins and boosters collected can help kick start a session
Personalization
The next step towards the live ops service for a f2p game is personalization. Catering personalized live content to players is the best way to commit to a long-term engagement. Personal choices like farm or restaurant name create immersive experiences and a sense of ownership from players.
In Love & Pies, it was a very immersive moment when I had to name the new pet dog. The experience was even better when the game continued using the name in the narrations. These subtle personal inputs in the game keep players more invested in the game.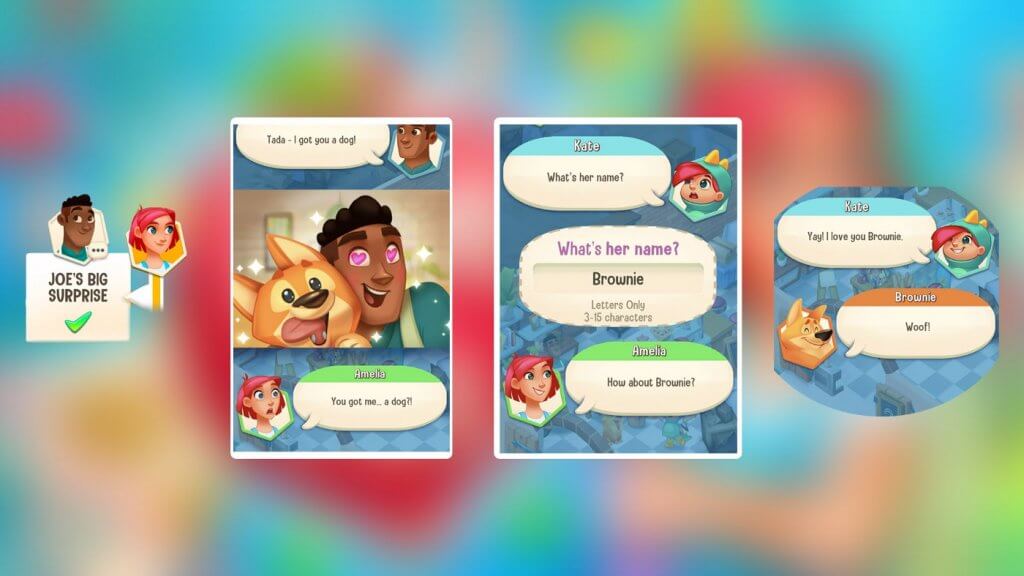 Personalization leads to:
Adds another layer of attachment to the narrative
Creates immersive experiences and a sense of ownership
Develops a personal connection to the game character
Early in-game events
In-game events are great for player engagement and having one early in the game is even better. Love & Pies introduces a simple early in-game event in which players collect special cookies in the level. Collected cookies will be added to the event meter, and players are rewarded as they progress/complete the event.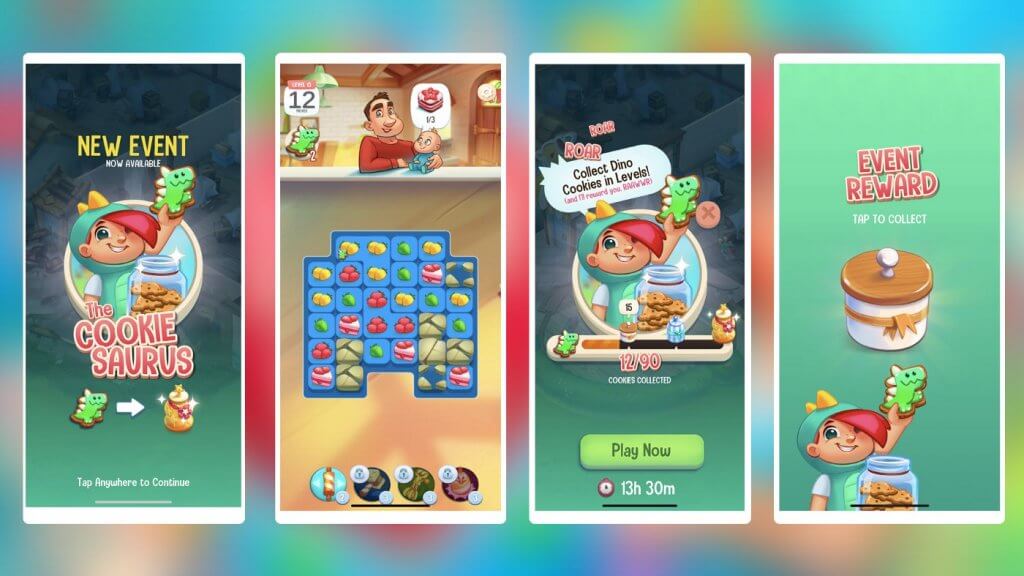 Early in-game events leads to:
Better player engagement at an early stage of the game
More than one objective for the levels during the event
Likely to spend coins to clear the levels to collect the event cookies
Key takeaways
Innovation is the key to provide a unique product that stands out of the crowd
Emerging casual players constantly seek a better experience
The new storytelling approach delivers more sophisticated and immersive experiences in story-driven games.
Appointment mechanics is a great way to make players revisit the game.
Personalizing content leads to a strong commitment and a great sense of ownership from players
Early simple in-game events drive strong early player engagement and add more value to the gameplay.