Successfully launching your game in China is no easy feat not just because of regulatory red tape, but also due to the vastly different appetite of Chinese players when compared to the West. To shed light on what western developers need to know to succeed, our friends at MyGamez organized China Game Day Helsinki. There we discussed some of the hottest genres on the market with Tencent, Vivo, and Xiaomi.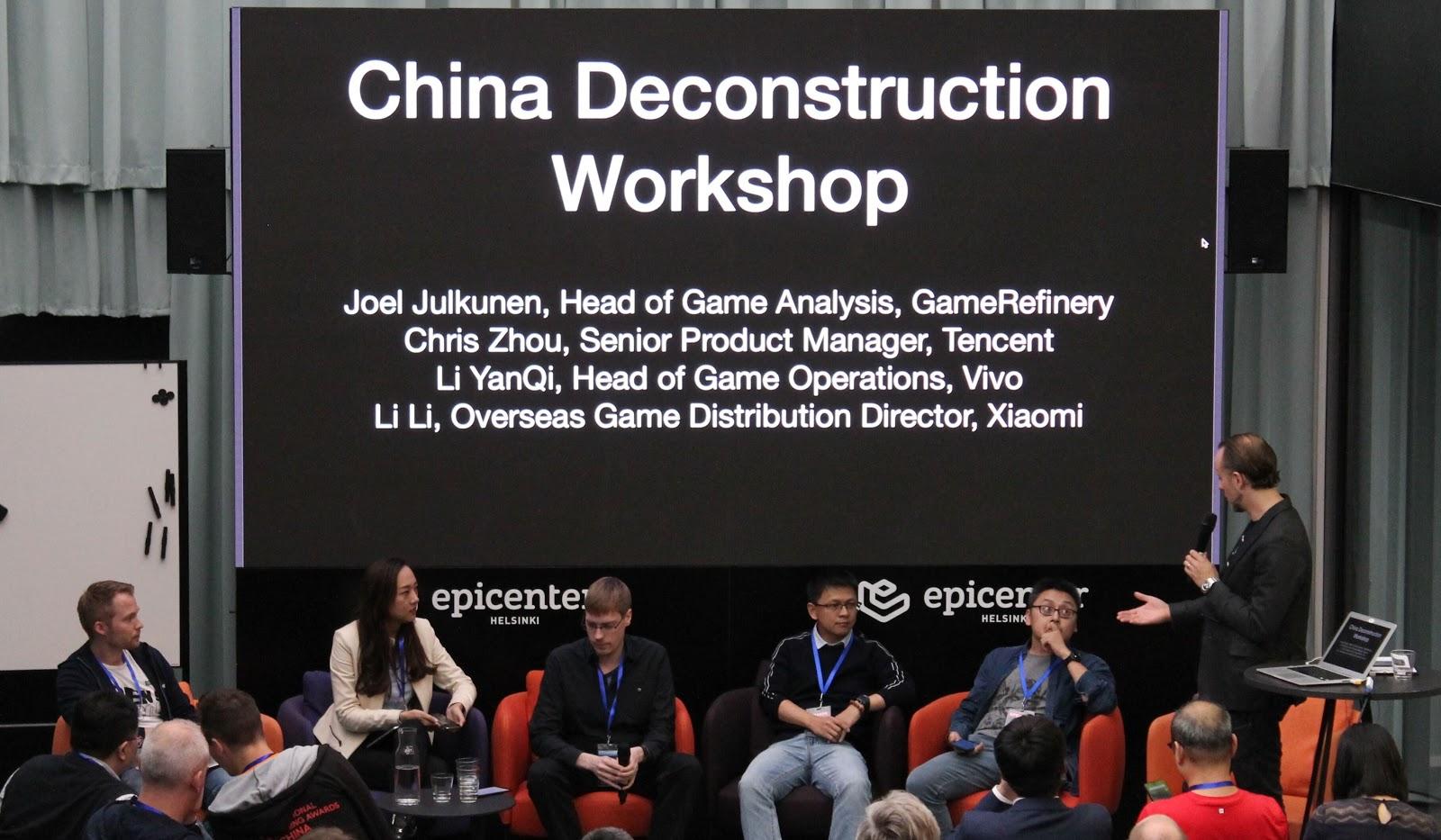 In this two-part post, we'll cover Match3. Here in part one we'll look at how US and Chinese Match3 markets compare and in part two we'll dive into the secrets of Chinese hit Match3 Anipop, check it out here. Here are the key takeaways.
Match3 US vs. China
Match3 puzzle games are at the top of the food chain in the West, taking up 11.2% of the US iOS Top 500 Grossing list. Most of them, or 59%, are of the "swapping" matching type, with other matching types, such as "shooting," "collapsing" and "linking" far behind in popularity. It's also worth noting that 50% of the US Top 500 Match3 games have no meta-layer at all. For those that do, the most popular meta-layer is "Base Construction," which is present in 28% of Match3 games, while "Character Development" and "Other Development/Collecting" meta-layers follow behind at 14% and 8% respectively.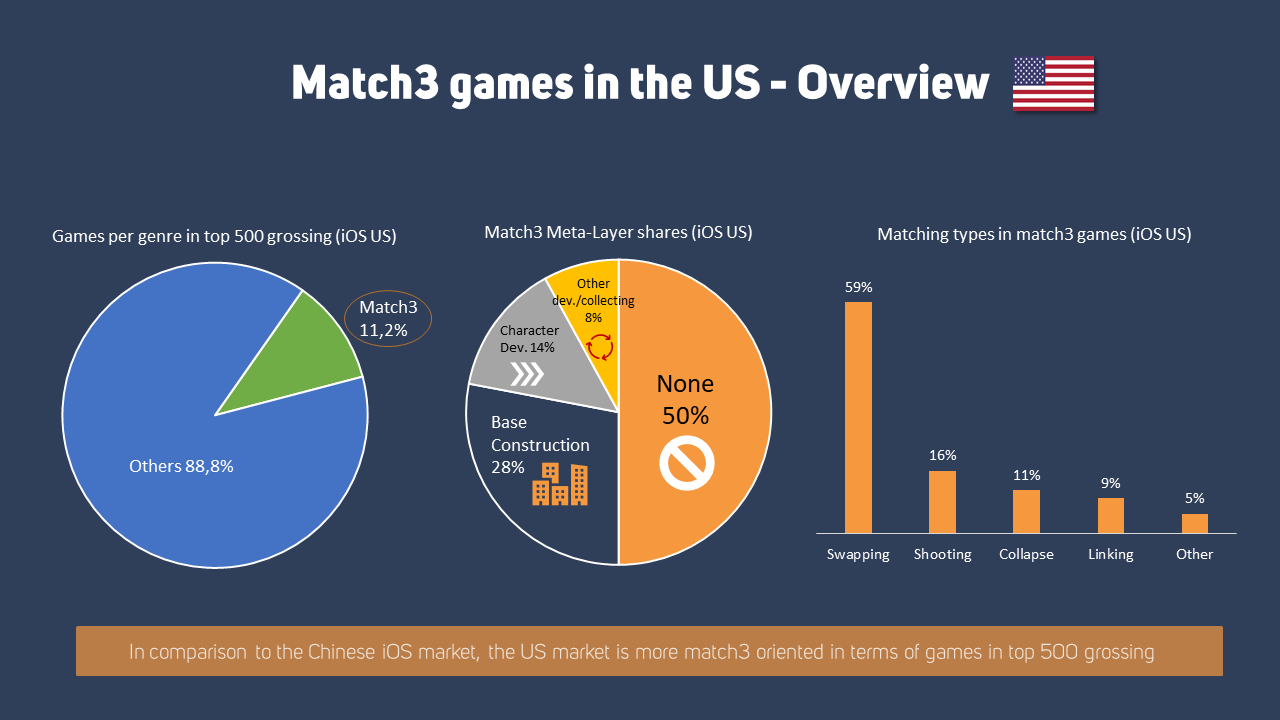 Meanwhile, the market situation in China for Match3 games is radically different. Match3 games make up only 2.6% of the Chinese iOS Top 500 grossing list. However, if you look deeper into the Casual game's genre, you can see that Match3 is the second most popular subgenre among casual games. It only looks small because of the gargantuan popularity of RPG games in the Chinese Top 500 grossing list.
The good news for Western game developers is that among those Match3 games that made it to the Chinese Top 500, 42% are foreign games, like Homescapes, Candy Crush Saga and Fishdom. Meaning that even though Match3 may seem a bit niche on the Chinese market, Western developers are undoubtedly turning big profits there.
The Importance of Meta
There are a few things you should know about the Match3 games that have made it in China, however. Unlike in the US, where 50% of Match3's had no meta-layer whatsoever, in China, 58% of successful Match3's have a "building construction" meta. Also, every single one of them is of the "swapping" type. There are no successful bubble-shooters or collapsers in the Chinese iOS Top 500. And when it comes to visual themes, the Chinese seem far less keen on food than US players, who seem to equally like the "food," "animals" and "other" themes. In the Chinese Top 200, the "food" theme is present in only 18% of Match-3's, while the "animals" theme is present in 41%, and "other" in 41%.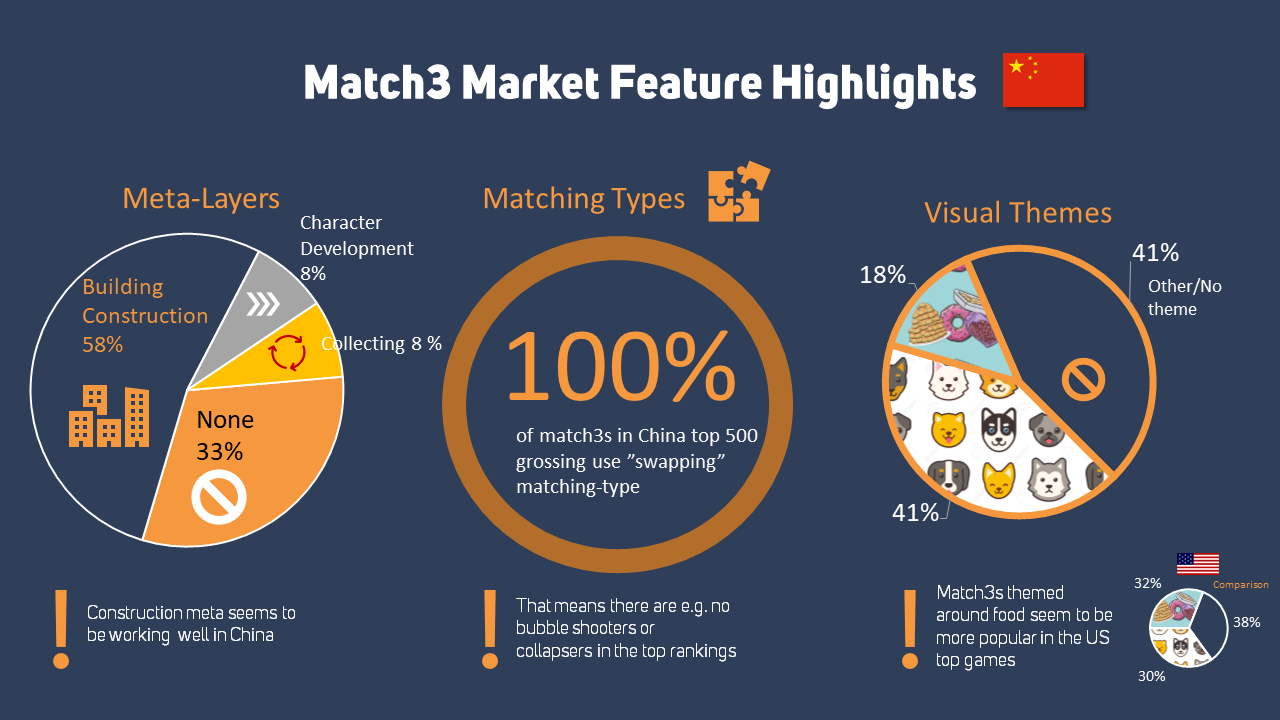 The undisputed king of Chinese Match3's is Anipop (开心消消乐) by Happy Elements, which has stuck in the Top Grossing 20 list for several years already. Typical for the Chinese market, it features a cute animal theme. However, quite untypically, it has no meta-layer, which makes it a bit of an outlier in this sense. Part of its success has been undoubtedly built upon frequent content updates and strong live-ops.
Another Chinese success story in the Match3 subgenre is JELLY BLAST (宾果消消消) by MICROFUNPLUS, which chose a more statistically sound path and added an entirely new construction meta-layer to the game in December 2018, which helped the game jump to the top grossing charts.
In this light, it may come as no surprise that the most successful non-Chinese Match3 games in the Chinese iOS store are the 'Scapes games. Homescapes and Gardenscapes by Playrix have enjoyed strong support from Chinese mobile gamers, which statistically speaking is no surprise since they both make excellent use of construction meta-layers.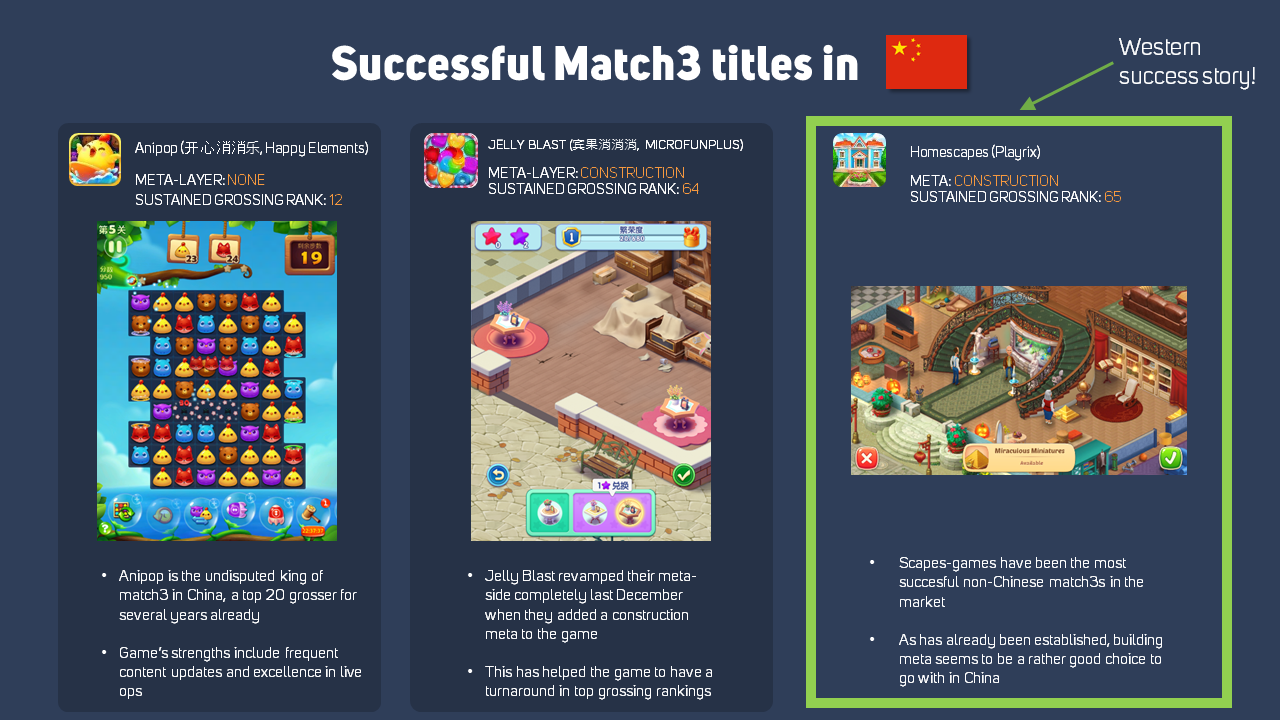 To Wrap Up
To sum it all up, Western Match3 games have a good chance of making it in China. Just remember, that you should probably first consider adding a deep meta-layer to keep players interested, and second, that swapping is the safest choice for matching mechanics, and finally that food-themed visuals are in no way as appealing to Chinese gamers as animal themes.
To learn more about the mobile gaming market, make sure to try out the free layer of our service here.
If you enjoyed reading this post, here are a few more you should definitely check out: