In this second part on key takeaways on Match3 in China from China Game Day Helsinki, our friends at MyGamez look into the secrets behind the success of the smash hit Anipop. If you haven't already make sure to check out part one here.
The Match3 genre in China is heavily contested with countless Match3 titles of varying quality and a few top titles controlling the market. Let's start by taking a closer look at some of the Chinese titles and especially how they are doing on Android in China.
As you likely know, China does not have Google Play, but there are dozens of local app stores – or channels as they're called in China – instead. Let's take a quick look at the downloads the top titles have achieved on a few of the top channels.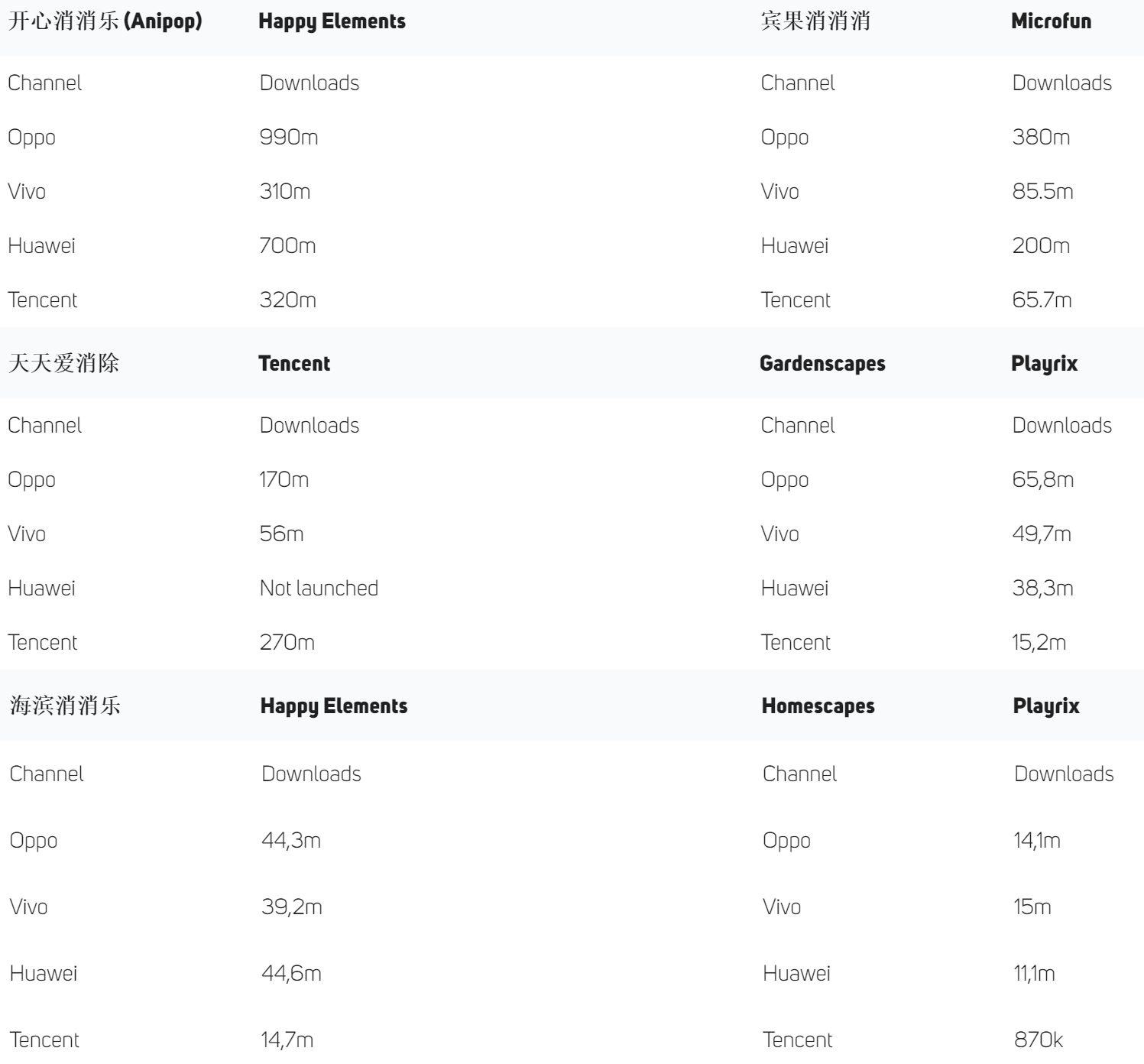 And finally

Note: the Huawei China app store has Candy Crush Soda Saga for some reason, while the other download numbers are for Candy Crush Saga. The game hasn't been updated on China Android since late 2016.
A localized version of Candy Crush was launched on China Android by Tencent in 2014, but it failed to capture the same success it enjoys in the west. Its closest competitor in China, Anipop, has instead firmly established itself as the #1 Match3 title in China.
Let's take a look at a few key reasons for Anipop's success.
Art Style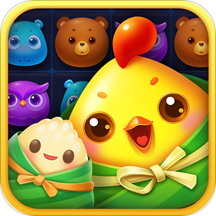 The art style is vividly colorful, featuring cute animals as the blocks. Happy Elements' other popular Match3, 海滨消消乐 features the same animal characters as Anipop.
Here are a few key characteristics of the art style:
• Extremely colorful
• Cute Animal characters with childlike facial features
• Small but noticeable facial expressions bringing characters to life, also during gameplay
• Body and heads are proportionately very wide
• Characters feature big heads and big eyes
During our Helsinki China Game Day's deconstruction workshop, Hyde Li from Xiaomi, having previously himself worked on Anipop, revealed some insights into the art direction: During the early design phase of Anipop, Happy Elements created almost 40 different, fully fledged-out art style options for the game. Out of those options, through target audience testing and in-house analysis, they finally landed on the one we see in the game today.
In the panel discussion, Vivo's Li Yanqi mentioned the strength of Anipop's icon. Browsing the app store, or any environment with tons of icons, Anipop's is often the one that immediately draws people's attention. This is another vital factor in attracting massive amounts of downloads. Note that the icon here is Dragonboat festival themed, with the characters wrapped like zongzi, a glutinous rice wrap eaten during the festival.
Live-Ops, Community and Customer Support
This the key differentiating factor between Anipop and other Match3 titles, and the area where Happy Elements is strongest. They are constantly running loads of events and campaigns both in and out of the game, specifically tailored to Chinese players. At the IMGA China 2018 Seminar session in Nanjing, Happy Elements' Chief of Operations, Jiang Wu, gave some insights into how they do live-ops, and how thanks to their commitment to keeping players happy, Anipop has the highest MAU out of all the mobile games in the world.
They view Anipop as a service for players, and players can really feel the difference. Their aim is to make it bigger than just a game. Player stories play a key role, and many live-ops campaigns ask players to participate by submitting content of their own. Some player created content may not actually have much do with Anipop itself. Instead, they may, for instance, be short videos of players' lives that other players can relate to.
Here are a few samples of campaigns that Anipop has done recently:
The infamous Chinese high school final exams were held in early June, and they ran a related playful quiz for the community, with funny game-related questions in Chinese, math, English, geography, and history. Rewards included in-game items as well as a chance for a big plushy!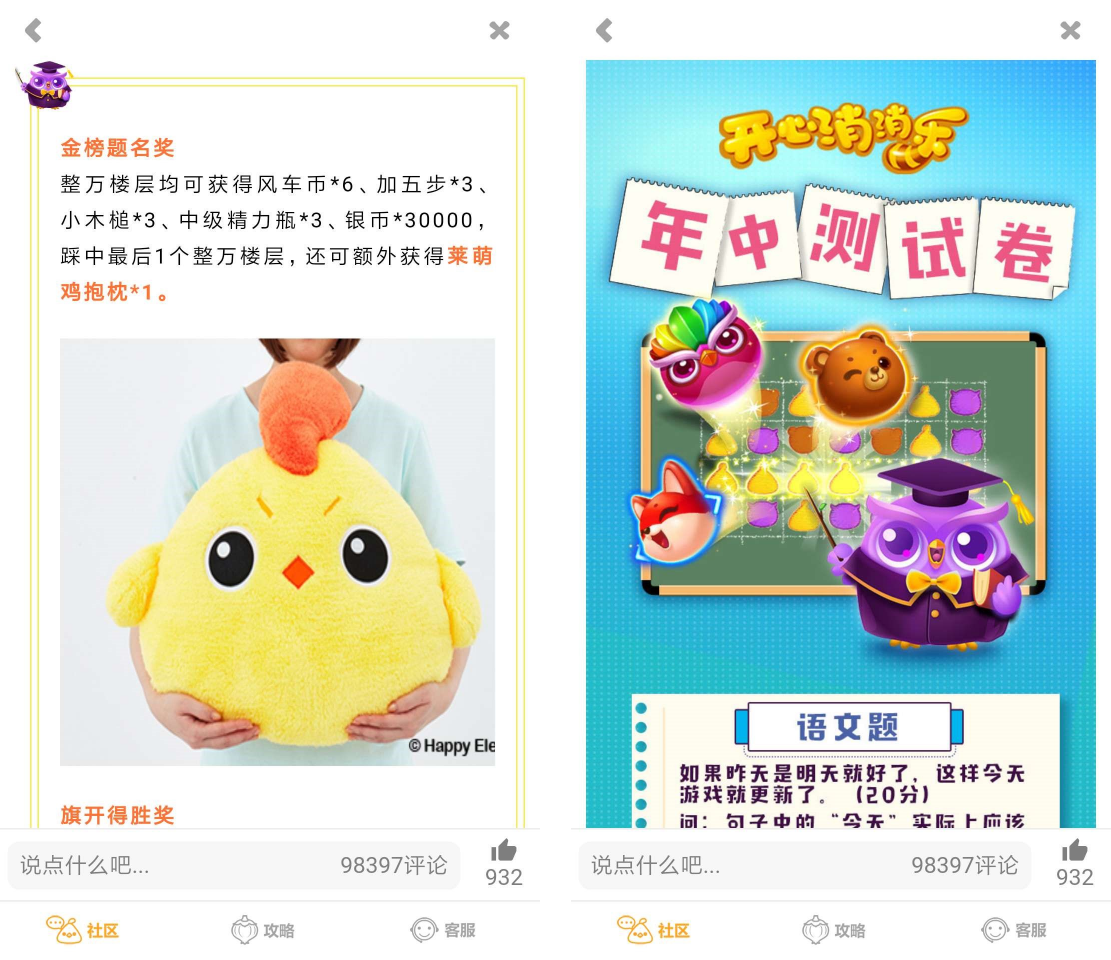 They also ran a father's day event, asking players to share what their father means to them, and why fathers are important. Like all their events, this included in-game items and some plushies as rewards.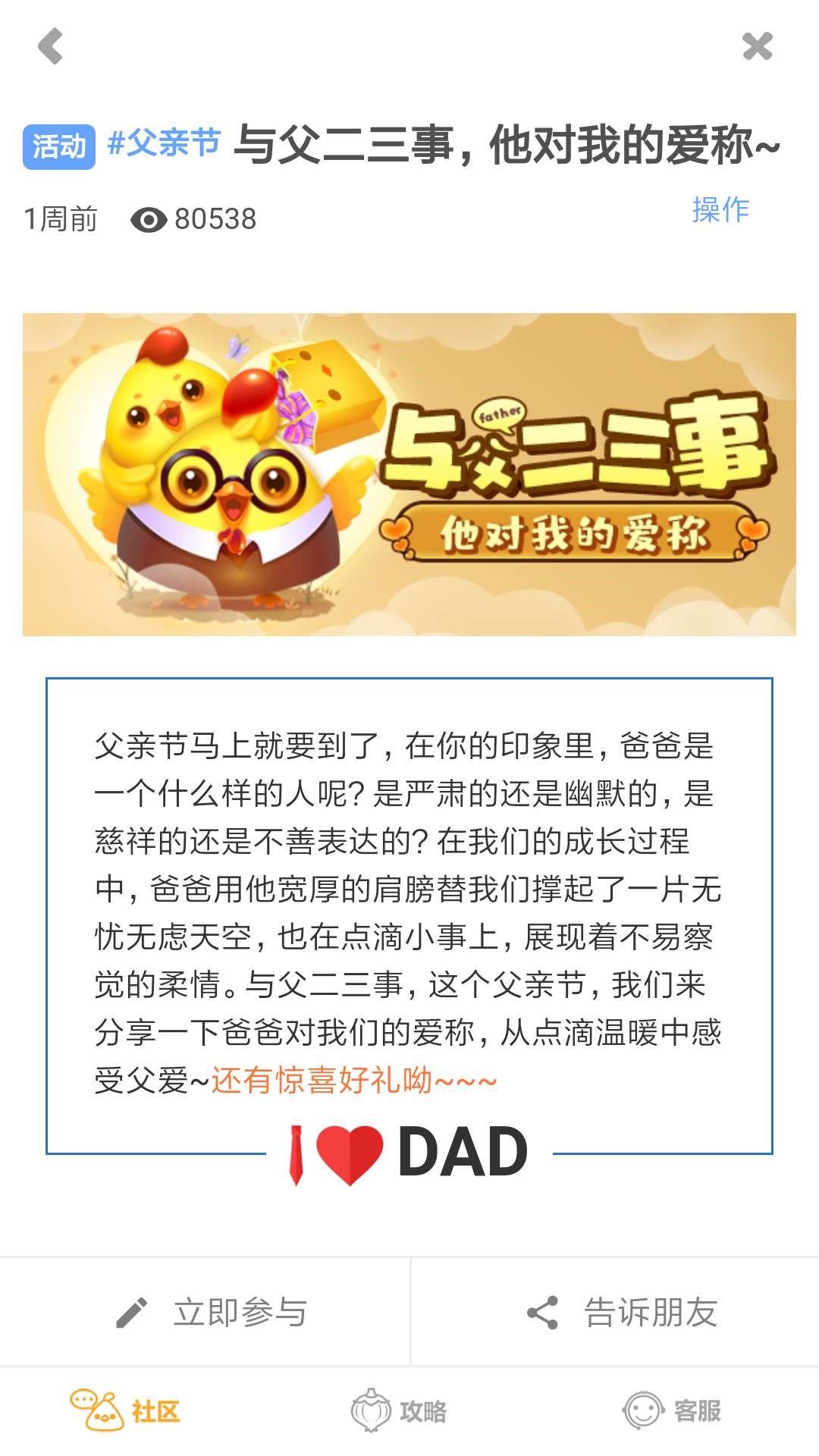 All these events are directly accessible from an in-game community menu, and integrated with Tencent social networks and channels community features, allowing for easy sharing and increased virality. User tastes are different on each channel (for instance, Tencent users lean towards hardcore, and Oppo users are casual), so they create tailored events for each channel.
Additionally, they run weekly and seasonal competitive events, and naturally big festival-themed events, such as the recent Dragonboat festival.
Finally, another part of their "service" mentality is great customer support. This may sound like a given but in reality, we all know there is a huge difference between great and lackluster customer support. They make it easy for players to reach out to them and respond quickly to keep players happy.
Social functions
Anipop takes great advantage of the social functions of WeChat and those provided by channels. They are one of the best, apart from Tencent themselves, at utilizing WeChat's social features. Some of the WeChat's social features are not openly available, especially for non-Tencent games. Anipop, however, managed to get access to the key features early on and continues to utilize them to significant effect.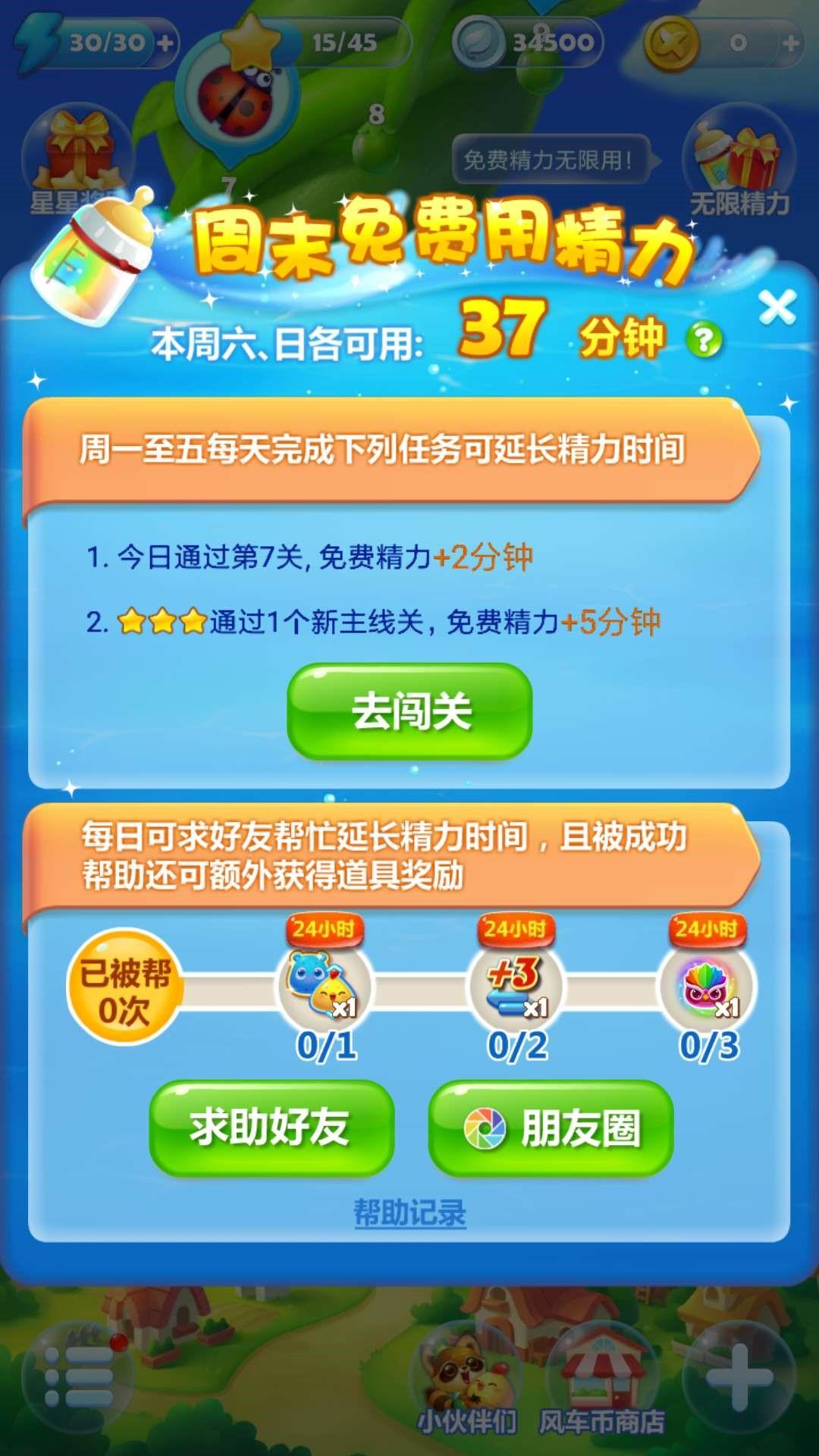 Here is one example of an in-game event, which provides a free energy boost for the weekend. The duration of the free booster begins with 30 minutes but can be increased by completing tasks over the week, and by asking friends to participate – which provides players with additional boosters.
Anipop also features all the basic functions one would expect such as leaderboards with friend ranks (if you pass your friend you're prompted to boast to them), high score sharing, request energy from friends to unlock a level or even help for a level, etc.
Additional Factors Worth Considering
There are a few other notable factors that make Anipop different, especially from its western counterparts.
Difficulty Curve
One is the difficulty and difficulty curve – whereas, in Candy Crush or other western Match3's you will encounter an extremely challenging, so-called paywall level quite early on (likely within the first couple of dozen levels), this will happen much later in Anipop. In Anipop, there are several hundred levels before you reach a real paywall level, ensuring that players are properly "hooked" before putting a temporary stop on their progress. The game overall is easier as well.
How players play the game is somewhat related to the difficulty. Chinese players may keep playing the same level throughout the day, making a few moves here and there when they have a few seconds, instead of completing a level on the spot when they have a few minutes. The level design supports this – there are very few time-limited levels, and the player is not rushed to make moves.
Content Updates
Naturally, frequent content updates are key. While there are nearly 2000 normal levels in Anipop already, they add roughly 15 new levels per month, along with new functions and modes added now and then. Like any modern Match3, the game includes numerous different level types to keep things fresh for players, so it doesn't get boring quickly.
Download Size
While no longer such a significant factor, the games download size is relatively small at only 145 MB. The game is also playable offline, making it easy to play anywhere. The rural areas of China may not have the best connections yet, so this is an additional benefit compared to other titles that require a constant internet connection.
Marketing That Goes Beyond Traditional UA

Finally, Happy Elements does mass-scale multi-platform marketing, such as that presented by the above graph for Chinese New Year. This is all in addition to traditional user acquisition and marketing on social media. The Chinese New Year period around February is excellent for these types of campaigns as it's the peak period for mobile gaming and spending. People return home to spend time with family and realize there's not much to do aside from playing games!
If you enjoyed reading this post, here are a few more you should definitely check out: