Match3 puzzle is and has always been one of the top genres in mobile gaming – especially in western markets. The simple yet addictive Match3 mechanics appeal to a wide range of players and for many of them, crushing candies and popping bubbles are the first steps into the world of mobile gaming.
Editor's note: It's been a few years since we took a proper look at Match3s. With the Hay Day Pop soft launch, we thought it's about time we took another look at the Match3 market to see what has changed and what has stayed the same. (Update: In November 2020 Supercell announced that it will cancel Hay Day Pop.)
All data and examples in this post are gathered from the GameRefinery service. Check it out here. If you're interested in researching over 200 in-game features, their popularity, and implementations or checking out feature deconstructions of hundreds of games, you might want to pay a visit!
Being "in the top" can, of course, be defined in various ways, but when it comes to Match3 games, they tick all the boxes. For instance, when looking at IAP revenues generated during the past quarters, the Match3 genre beats its competitors quite clearly in the US iOS: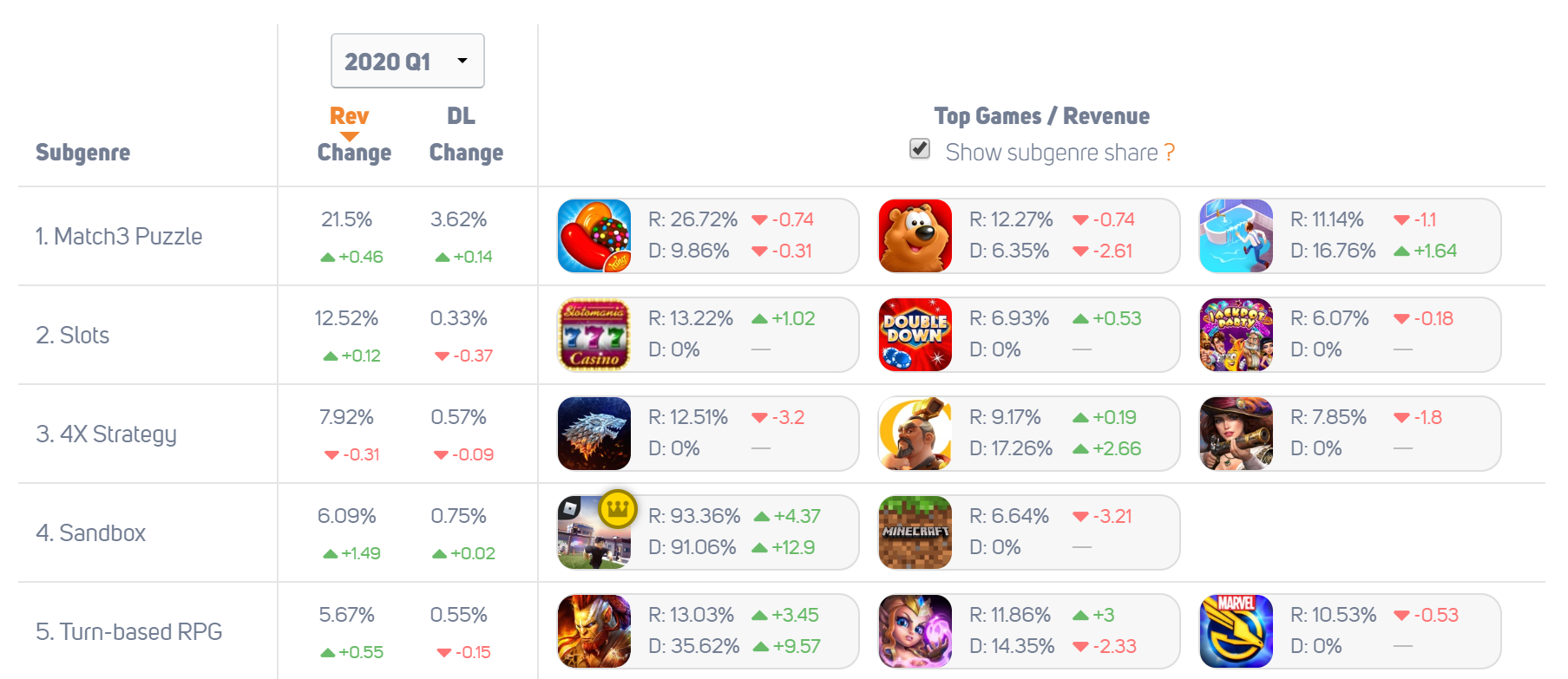 A quick look at GameRefinery's Market Share view shows that the Match3 genre generates over 20% of revenues in the US iOS market.
King's Candy Crush Saga was originally launched all the way back in 2012, but it's still generating super-high revenues and lingering at the very top of the grossing charts. It remains the number one game of the Match3 genre today with a stunning 27% share of the whole genre's revenues in US iOS! Consequently, many designers and (players for that matter) view Candy Crush Saga as the "basic template" of a Match3 game.
On the surface, Candy Crush Saga is a straightforward game: just grinding those candies level after level and advancing in the "Saga Map" with no material meta-elements in sight. And that's that. But during the last couple of years, there has (fortunately) been quite a bit of innovation in the Match3 space, as designers have tried to create even more compelling experiences for their audiences.
In this blog post, we're focusing on two main aspects of Match3 games. First, we're taking a high-level look at the various matching types and their popularity (e.g., swapping vs. collapse/blasting). Second, we're discussing the recent rise and growing importance of meta-game aspects in Match3 games.
The core gameplay in Match3 – Matching type
There are several different ways of how those board pieces can be matched and destroyed in a Match3 game. Let's start by taking a look at the most common ones.
Swapping
Original Candy Crush's matching works by swapping two board pieces to get 3 or more pieces of the same color lined up. This matching type is still the most common matching type, with 59% of Match3 games in the top-grossing 500 (iOS US) sticking with this rather traditional mechanic.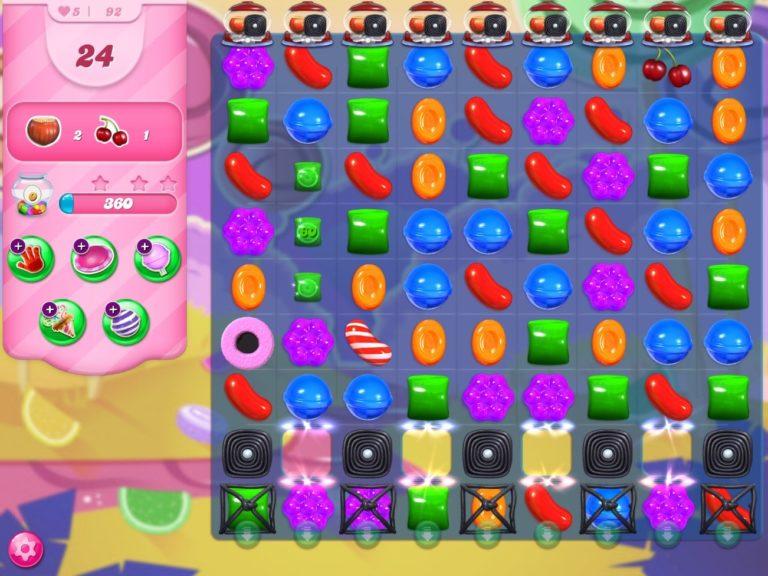 In Candy Crush Saga, players swap candies to victory.
Collapse
Collapse (also commonly used term is Blasting) is a mechanic popularized in Match3 by games like Pet Rescue Saga and Toy Blast. In this variation, players tap blocks of the same color that are next to each other. When tapped, blocks disappear, and the remaining blocks "collapse" to fill the hole. Players tap their way to victory in 22% of Match3 games in the top-grossing 500.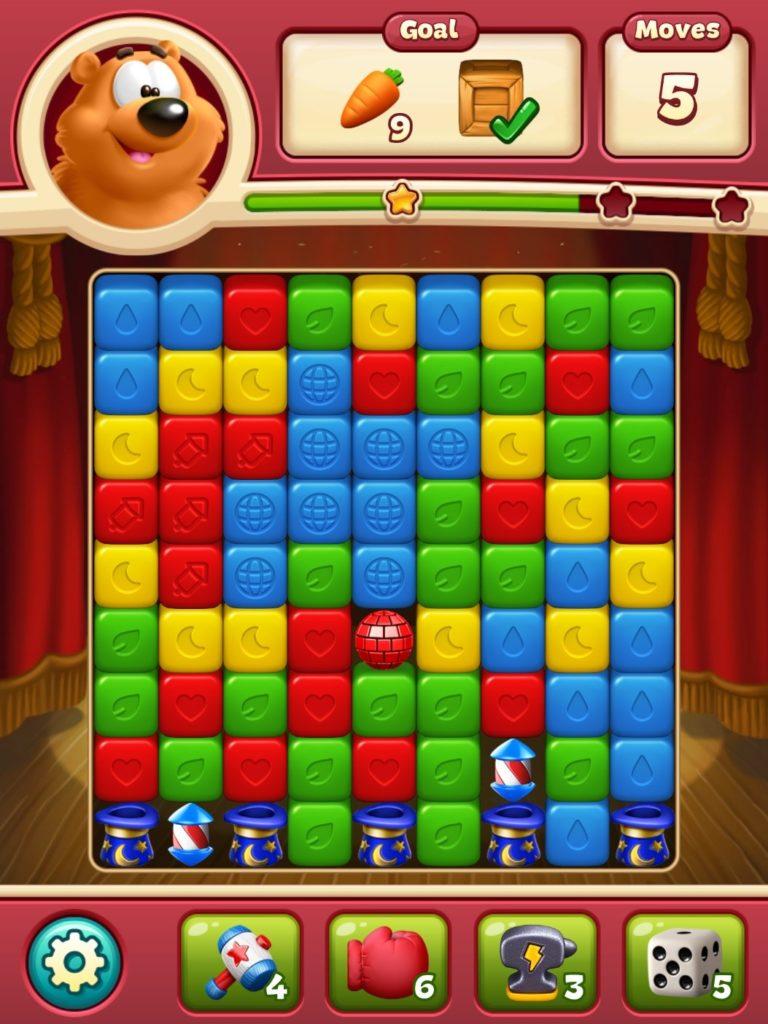 Players tap blocks in Toon Blast.
Shooting
Bubble shooters are one archetype of Match3 games, and, as the name suggests, the matching of board pieces in these games works by shooting bubbles. Games like Panda Pop, Bubble Witch 3 Saga are the big hitters in this matching type. 15% of top-grossing 500 Match3 games consist of shooting games.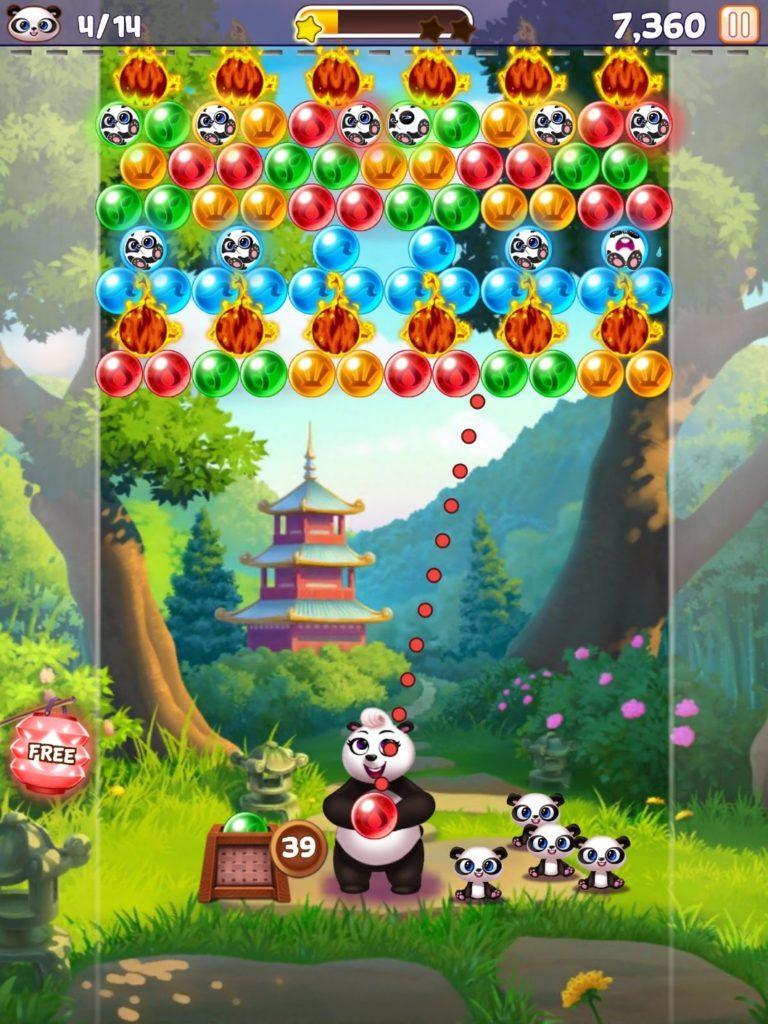 Mama Panda shoots bubbles to rescue baby pandas in Panda Pop.
Linking
The last of the major matching types is linking. It consists of games where you link/connect board pieces by drawing a line to make a match. This mechanic is found in games like Best Fiends, Line Disney Tsum Tsum, or Two Dots. Around only 3% of Match3 games in the top 500 grossing are using this matching mechanic.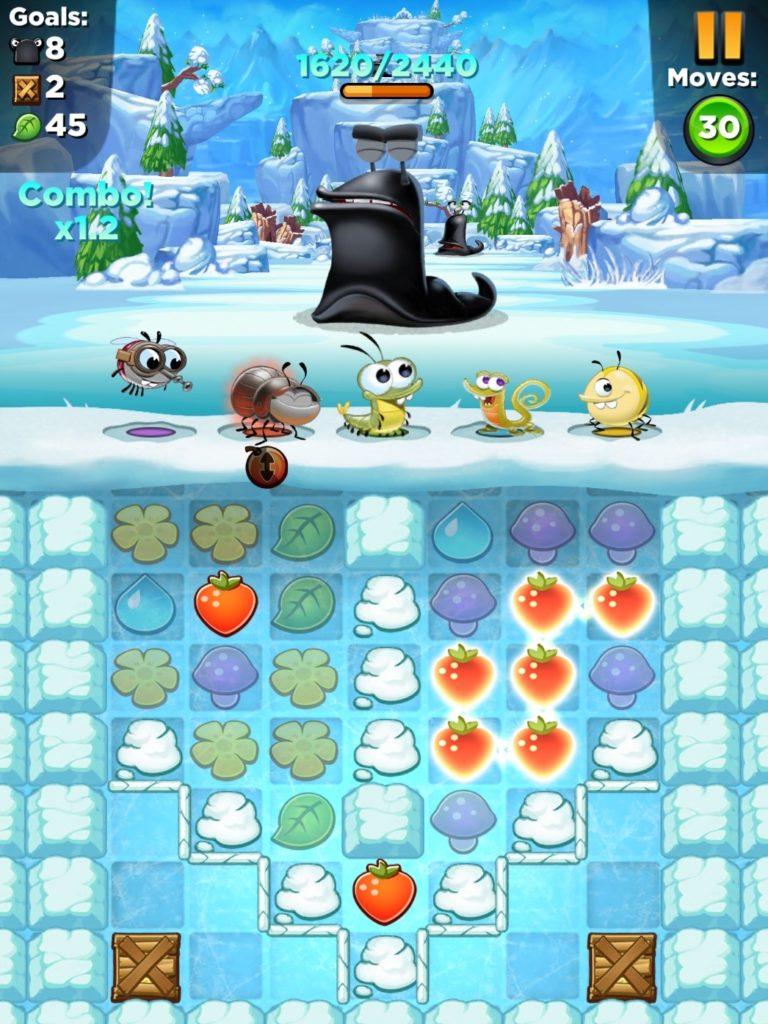 Players give attack power to slugs by linking pieces in Best Fiends
How has the Match3 market changed since late 2018?
2020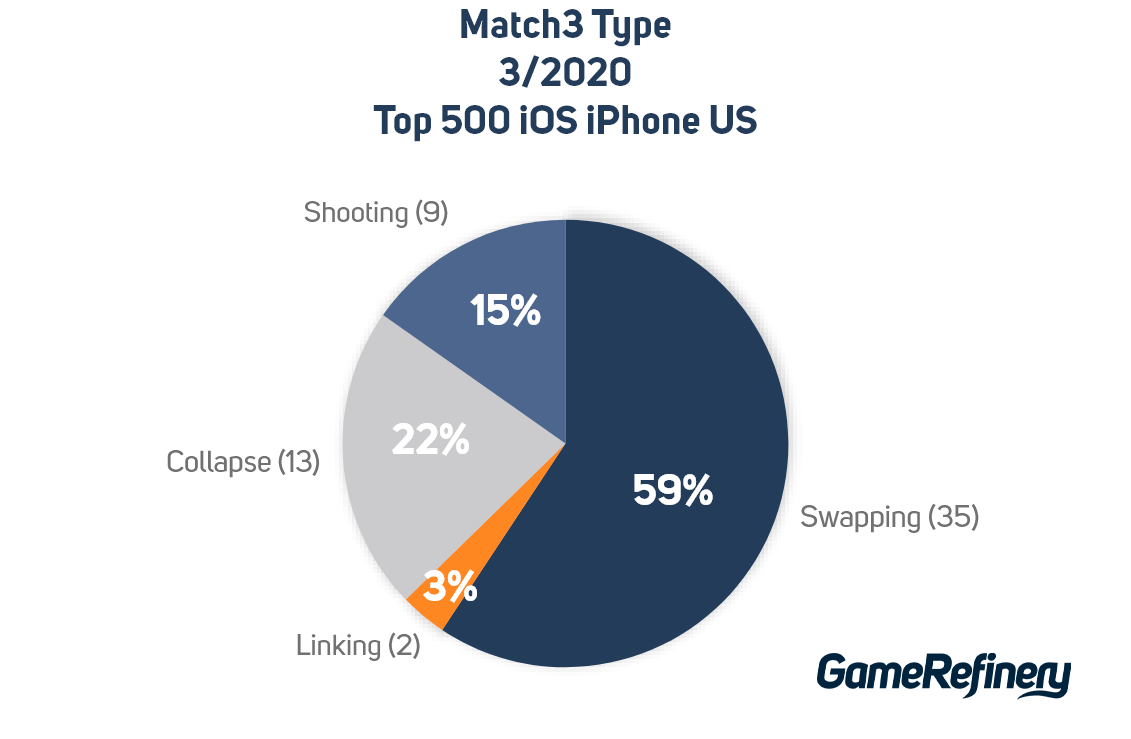 2018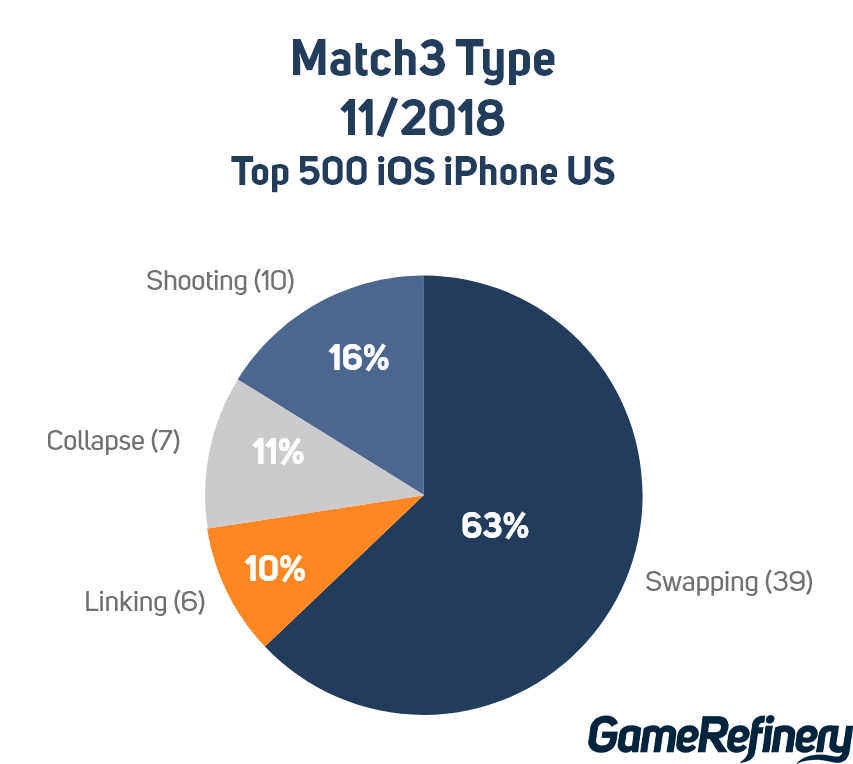 As we can see from these two graphs, the swapping mechanic still has the biggest market share by far, but its share has dropped a little bit. The most radical changes are that the collapse mechanic has over doubled its share in the top-performing matches and that linking matching type has almost died out at the very top.
When we look at just the games launched in the last couple of years that are currently sustaining their rank in the US top grossing 200, we see the same info as well: most of the new games entering the top-grossing 200 in the US are using collapse mechanics. Even Supercell is going with this approach with its most recent soft launch game Hay Day Pop, which uses collapse mechanics.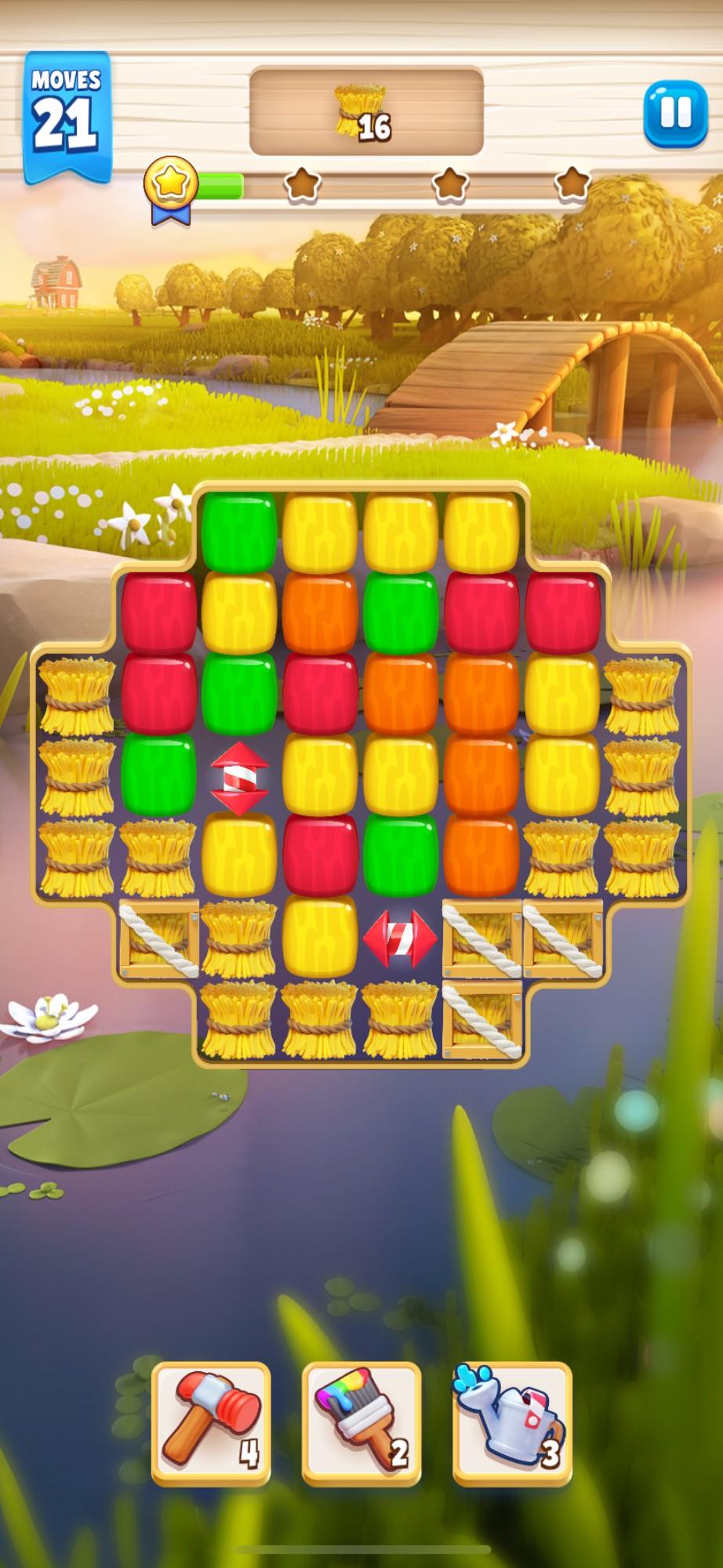 Hay Day Pop uses collapse mechanics.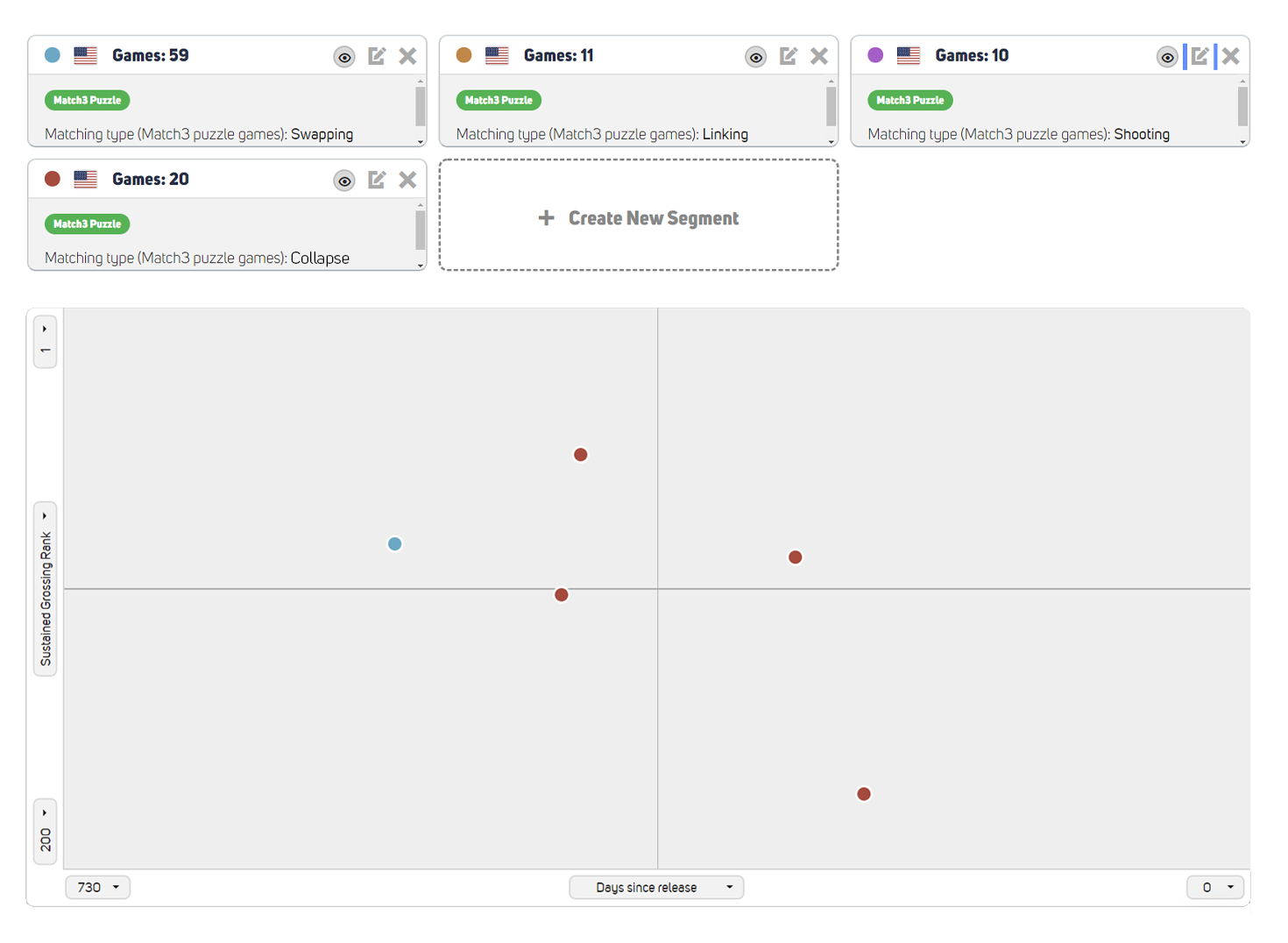 Matching types of Match3 games released between 3/2018-3/2020 and in the top-grossing 200
If we look at the picture below that looks at the market in November 2018, we clearly see the big shift in the market and the matching mechanics most of the successful new match3s used at the time. Back then, it was mostly about swapping, but now the collapse mechanic is the most used in the new games. Another clear difference is also the sheer number of new releases. Back then, 11 match3 games were less than 2-years-old in the top-grossing 200 US iOS. If we look at the same statistic now, there are only 5 less than 2-year-old match3 games currently in the top-grossing 200 US iOS. So entering the market and beating the "evergreen games" is getting harder and harder.
Bonus: A couple of interesting innovations to matching types in top-grossing 500
Angry Birds Dream Blast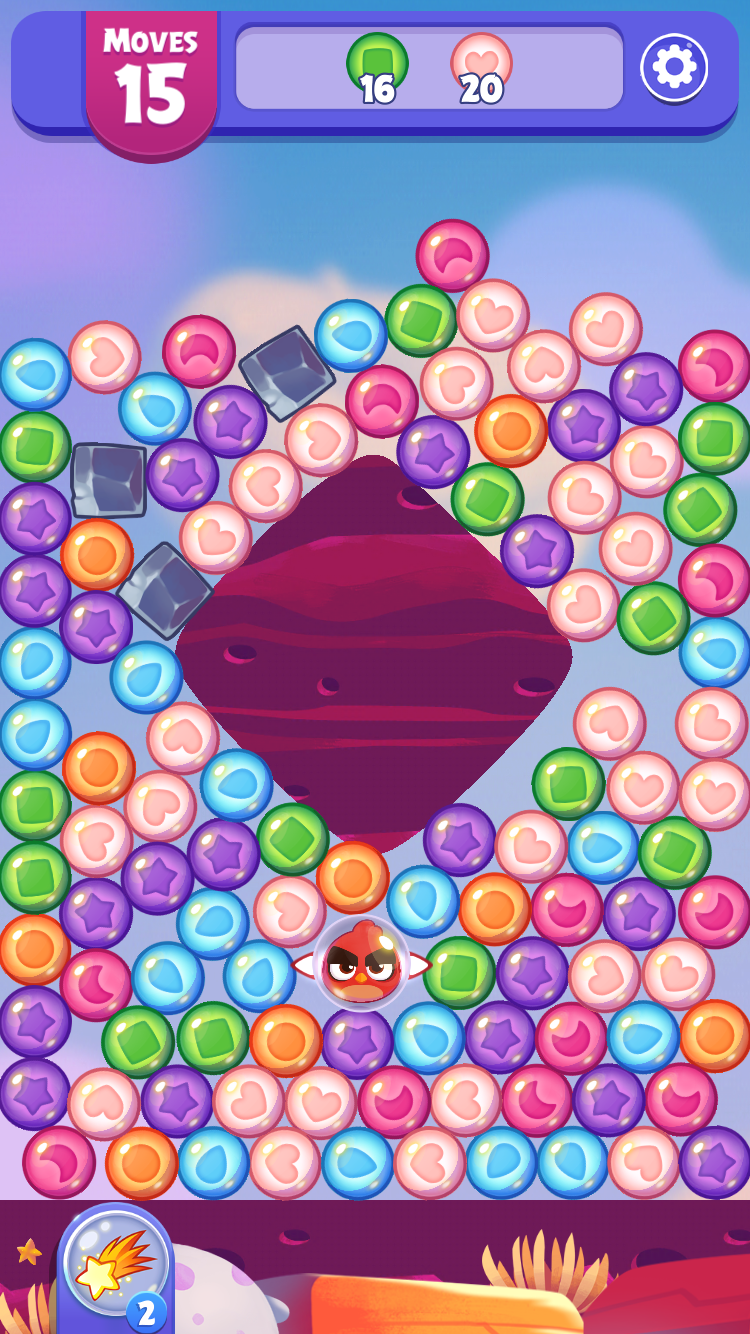 In Angry Birds Dream Blast, puzzle pieces are freely moving instead of being locked into a grid.
Rovio innovated a little bit on top of the traditional collapse/blasting mechanic with its Angry Birds Dream Blast. The game's on the same principle of popping puzzle pieces of the same color next to each other, but the twist is that puzzle pieces are free to move and not locked into a grid as most match3s.
Angry Birds Dream Blast is currently Rovio's 2nd best-performing title, and they have already soft-launched a game with similar mechanics called Sugar Blast.
Traffic Puzzle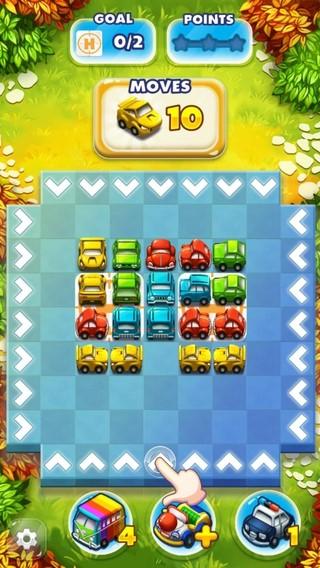 In Traffic Puzzle, players send cars into vertical or horizontal lanes.
Traffic Puzzle is developed by Picadilla and published by Huuuge Games. Last year it brought a totally new matching style to the top-grossing charts. In the game, the puzzle pieces are different colored cars, and players erase them from the board by matching cars with similar colors. The twist here is that you're not swapping or collapsing puzzle pieces, but you send them horizontally or vertically to specific lanes.
If you want a more in-depth look at these games and their feature sets or thousands of others, log in to the GameRefinery service here.
Increased use of meta layer
When Match3 games first came to the market in the early days of smartphones, they were the first mobile gaming experience (or gaming overall!) for many. Back then, the simple level after level approach was compelling enough to reel players in. Nowadays, however, as the whole mobile market and players have matured, more and more players expect more in-depth gaming experiences in casual genres as well. Many developers have started adding meta layers on top of the core gameplay to enrich Match3 gaming.
In the US top-grossing 500, most Match3 games lack a meta element, with around 46% of games still trusting in the pull of cleverly designed puzzles.
The meta element of building your own "base" such as gardens, houses, etc., has become exponentially more popular in recent years. Playrix's Gardenscapes, in particular, can be seen as the trendsetter for this meta-game trend. 31% of puzzle games in the US top grossing 500 have put on their construction hats and started building beside matching.
Another meta layer used primarily in puzzle RPGs (Empires & Puzzles) is character collection or upgrade mechanics. Some casual Match3 games like Disney Emoji Blitz, Candy Crush Friends, or Angry Birds Match are using character collection as a part of their core gameplay loop as well. 23% of puzzle games have added character collection on top of their puzzle gameplay.
How has the Match3 market changed since late 2018?
2020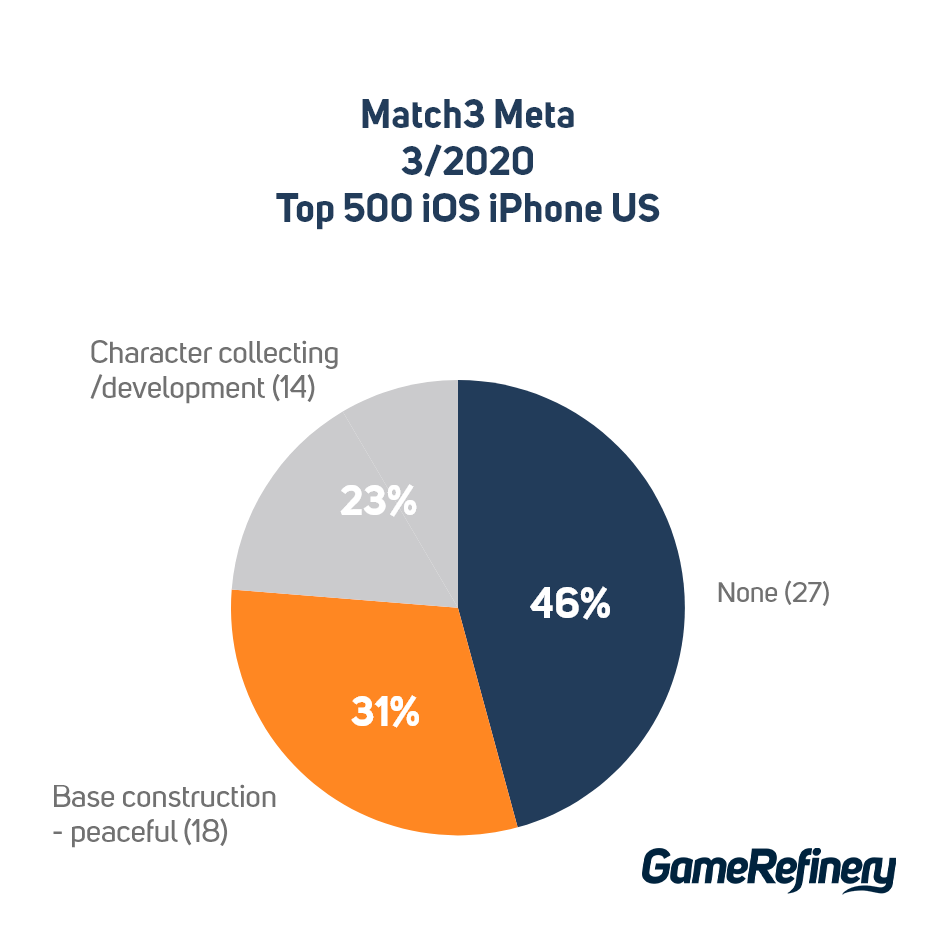 2018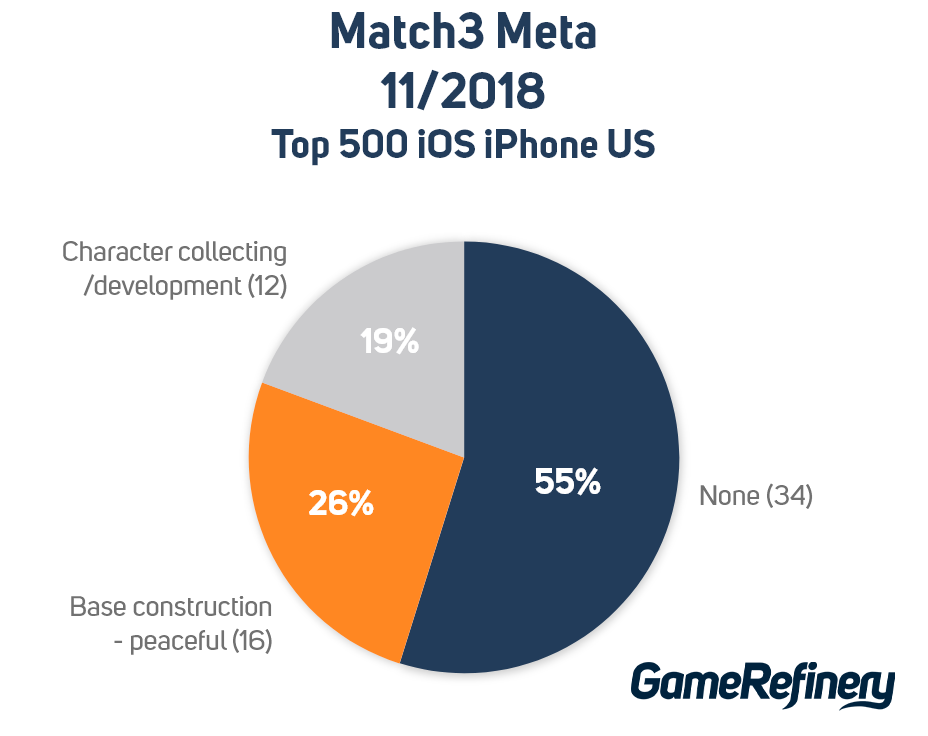 As we can see, the share of games with no meta at all is decreasing. Base constructing, narrative elements, character collecting, etc., is becoming ever increasingly popular.
If we look at the US grossing charts and new games that have been able to break there, we find interesting statistics concerning meta layers. Most Match3 games that launched in the past 2 years and are currently in the top 200 US have a meta layer. The only differentiator is Angry Birds Dream Blast, which doesn't really have a proper meta layer on top of the puzzle levels. But like mentioned before, it was one of the few match3s that really innovated on the actual matching mechanic.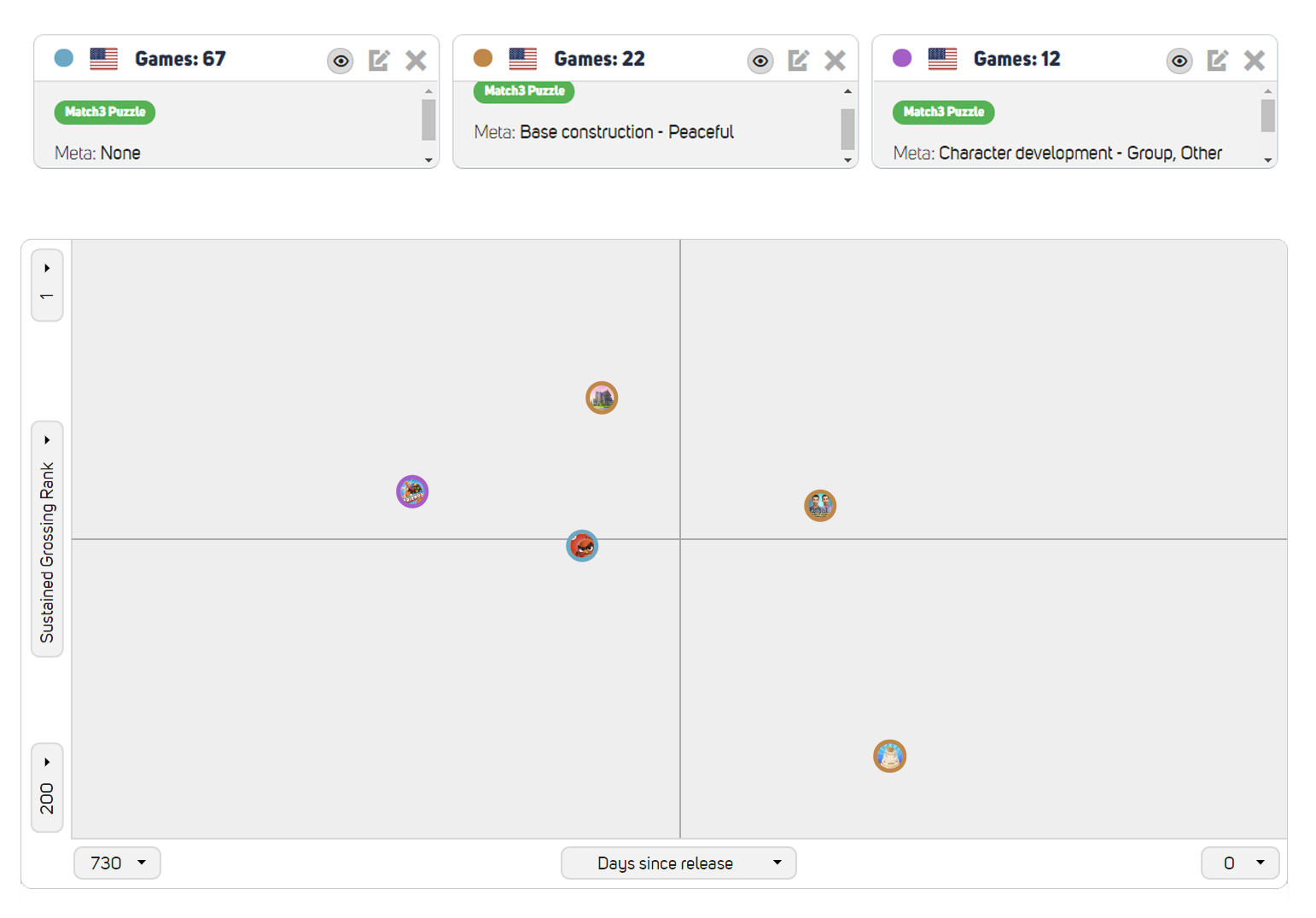 Match3 games released in the past 2 years by meta
A quick glimpse at Asia's Match3 market
Match3 has always been one of the West's big hitters, but what meta layers are the most successful games in Asia using? Let's take a quick look at Asia with a chart.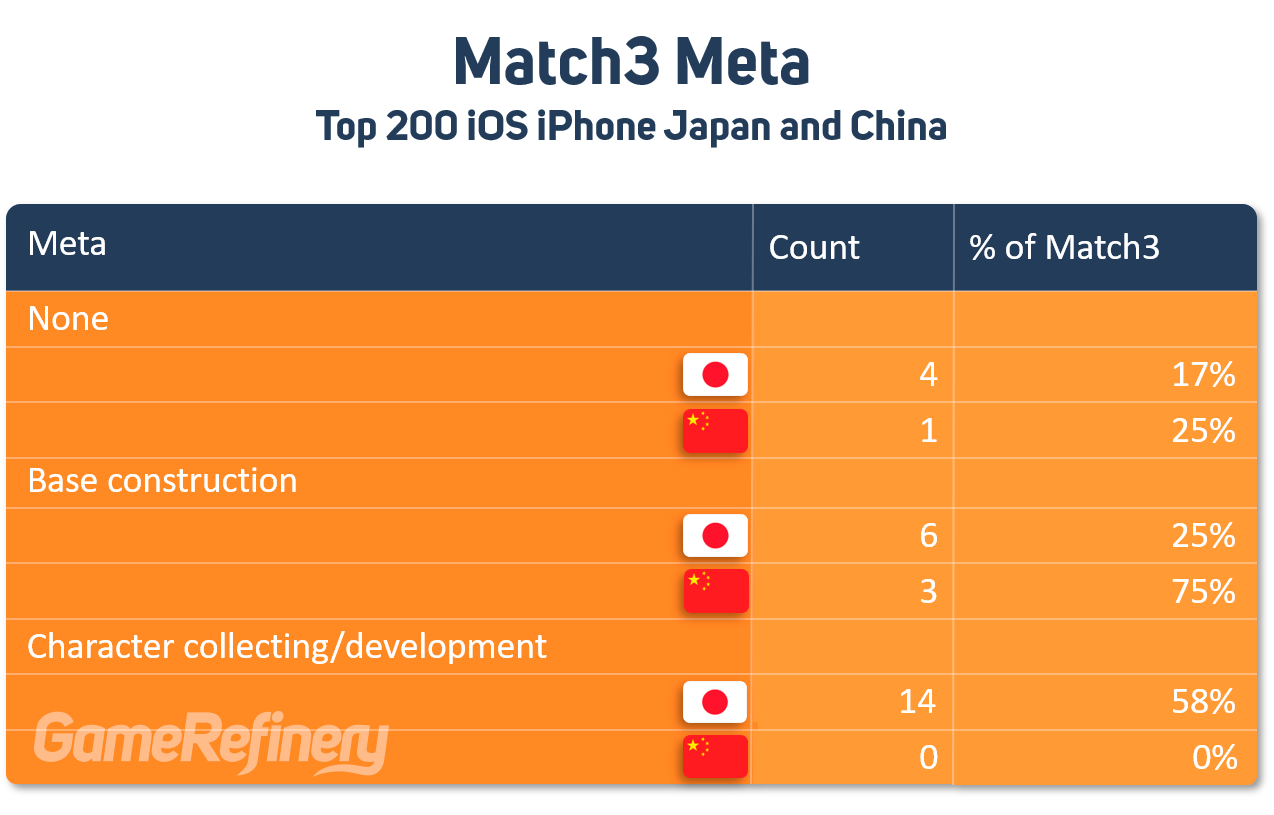 Number of Match3 games found in Japan and China by Meta
Japanese love character collecting and gacha-based core loops. This is seen in Match3 games as well, with the character collecting/development meta layer easily the most popular. Puzzle RPG games have been big hits in the land of the rising sun.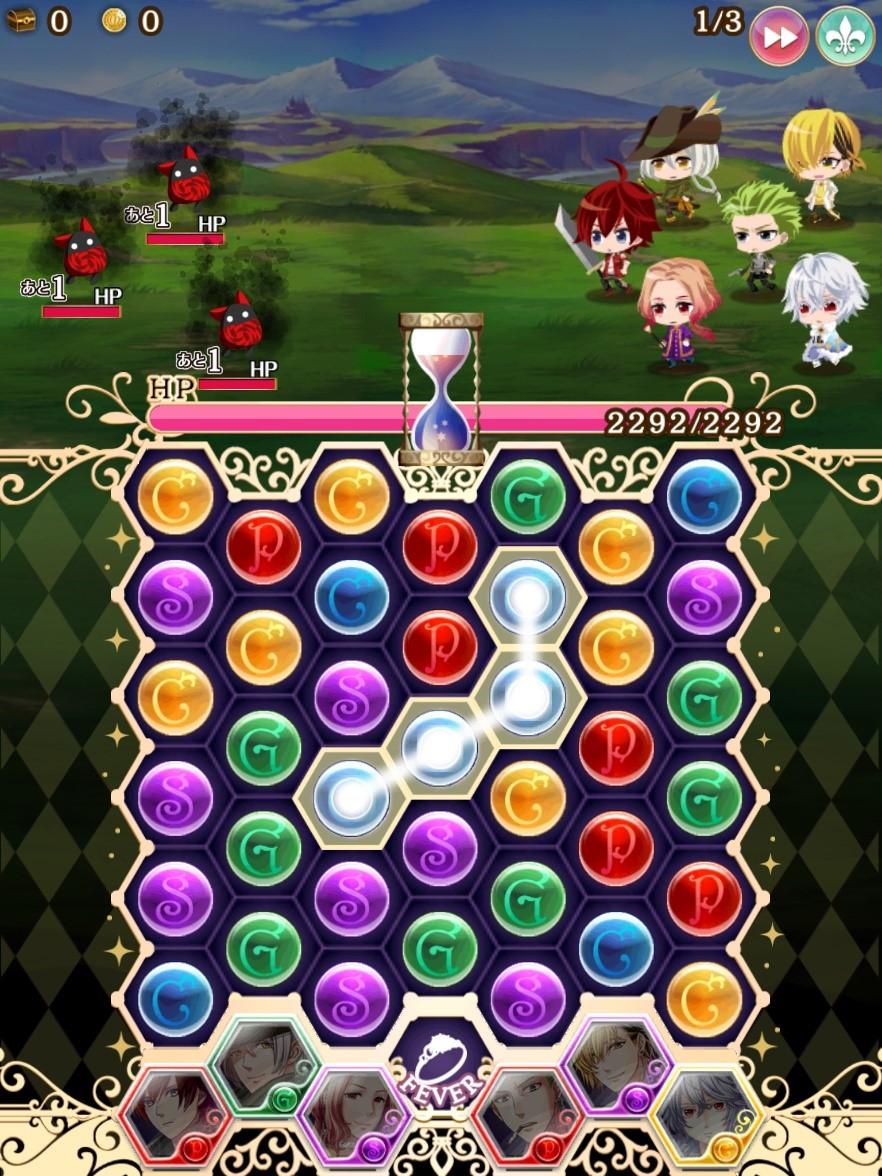 100 Sleeping Princes & the Kingdom of Dreams (夢王国と眠れる100人の王子様) is one of the top Match3 games in Japan
In China, there are only 4 Match3 games in the top 200, but interestingly none of them have a character collection meta. China is otherwise an RPG heavy market, but puzzle RPGs have not broken through there. Match3 games that are successful are usually very casual with no meta or casual building like in Homescapes.
Key takeaways from Match3 genre overview
The lion's share of top Match3 games are still using swapping mechanics (59%).

BUT there is a clear trend of more and more collapse/blasting mechanic (22%) use in the new top match3 puzzlers.

Most top Match3 games don't have a meta in the US (46%).

BUT almost all new successful games have a meta layer of some kind, and especially Base building/decorating meta is catching up quickly (31%)

Of games released in the past few years, only 2 Match3 games reached the top 200 in the past year and 5 in the past two years. Breaking into the market with new games is harder than ever.

Character collecting Match3 games rule Japan.
Do you want to dig deeper into what other features Match3 games and see thousands of implementation examples from them? Sign up for the GameRefinery tool for free here.
If you enjoyed reading this post, here are a few more you should definitely check out: