It's been another big year for mobile games. We've seen some of the biggest trends from 2020 such as battle passes build in momentum as they move into 2021. In fact, features such as these and in-game events have now reached a level of popularity where they're becoming the norm and creating trends of their own. Battle passes have bashed their way out of battle royale and are diversifying into new genres, while events have found a new home as a customizable minigame mechanic for hybrid elements.
While a lot of 2020's biggest mobile gaming trends have carried over into 2021 and will do so again into 2022, that's not to say 2021 hasn't delivered in terms of innovation; we're seeing plenty of gameplay features being used in new and exciting ways.
This is alongside major game studios creating mobile-only versions of their IP, with titles such as Final Fantasy: First Soldier and Marvel Future Revolution delivering AAA gameplay on portable devices. Elsewhere, games such as Top War are using hybrid gameplay elements to boost their UA by appealing to new players, while others such as Cooking Diary are adding social elements to boost player retention.
With so much more to look forward to in 2022, here are some of the biggest mobile gaming trends you can expect to see next year.
1. 2022 will be a big year for AAA mobile games and crossplay features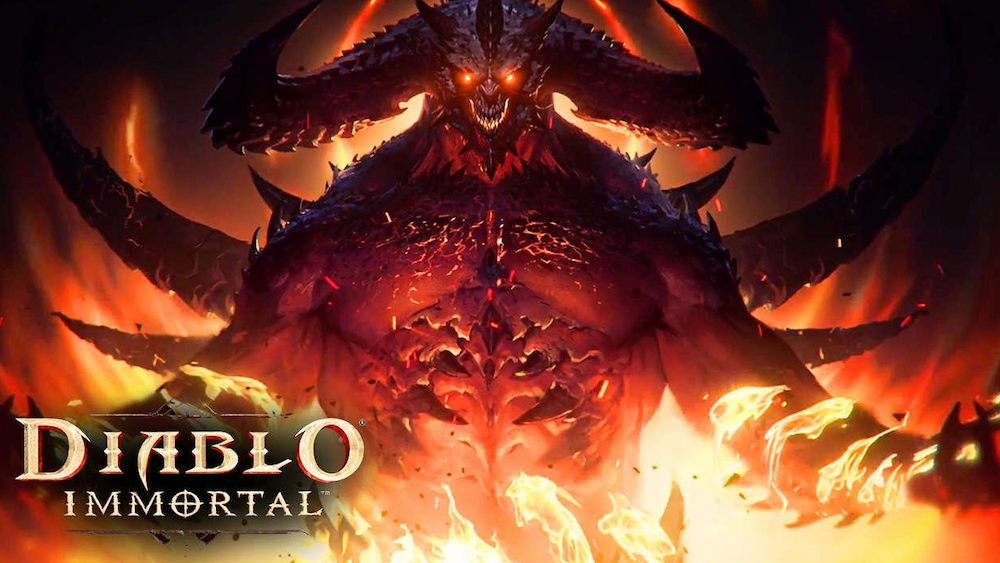 If you thought 2021 was an exciting year for AAA mobile games, just wait until you see what 2022 has to offer. Blizzard is launching a mobile-only version of one of its oldest franchises, Diablo, with the release of Diablo Immortal. Taking a similar approach to Square Enix's Final Fantasy: First Soldier, Diablo Immortal is moving the franchise into uncharted territory, embracing MMORPG elements rather than the ARPG gameplay it's known for. Blizzard is also using the release to bring some of its PC players to mobile by using the game to fill in the narrative gaps between Diablo II and Diablo III – an offer that die-hard Diablo players may find hard to resist.
We're also expecting the mobile version of Ubisoft's action RPG, The Division, to land on mobile devices in 2022, along with the mobile version of Riot's hugely popular FPS, Valorant. The game has maintained 15 million active monthly players throughout 2021, so while we'll have to wait and see how many of those decide to download the mobile version, we're expecting to see big numbers at launch.
Alongside major launches like these, you can also expect to see more crossplay elements appearing as more AAA titles move to mobile. The battle royale shooter, Apex Legends, will launch its mobile version of the game in 2022, while Star Wars: Hunters, Farlight 84 and Honkai: Star Rail are three more examples of major titles that will embrace crossplay elements in 2022.
It will be exciting to watch how all of this plays out, especially with so many of these new AAA titles dominating the shooter space. This is an incredibly competitive market dominated by titles such as PUBG Mobile, Call of Duty: Mobile, and Fortnite. Will there be room in the market for mobile versions of Apex Legends and Battlefield alongside these major titles? We'll just have to wait and see!
2. New types of gacha will appear in mobile games
Gacha games are especially popular in Japan, where 92% of the top-grossing 100 mobile games feature gacha mechanics, compared to 80% of the top-grossing 100 mobile games in the US.
If you're not familiar with gacha mobile games, they utilize gacha (Japanese toy machine) elements as one of their main features. This involves players activating the gacha and receiving randomized awards, but there are several types of gacha implementation such as box gacha, where players draw a random item from a set which is then removed from the gacha pool (Honkai Impact 3); charge point gacha, where the rarity of gacha increases as players earn points (Monster Strike); and step-up gacha, where the odds of receiving rare gacha increase every time the gacha is spun (Bleach: Brave Souls). 
While most gacha features are utilized as free-to-play elements with paid-for incentives, they have been associated with loot boxes, a similar feature to gacha but one that often involves spending money to receive the items you want. They're a popular monetization tool in console games such as the FIFA series, but a lot of countries are now introducing legislation against loot boxes so players can see the items they're getting before they decide to purchase them.
As a result, we're expecting to see iterations of this preview mechanic move into mobile gacha in 2022. While the preview option may seem counterintuitive to gacha, it could actually lead to more monetization channels being created. These may involve lock-out features, where players can only preview a certain number of items a day so decide to purchase the gacha they're opening to avoid the lock-out of future preview mechanics.
We're also expecting to see more innovation with social gacha mechanics too. A great example of this is in the mobile game Kotodaman which uses co-op gacha. They're not exclusively co-op, but there's an option to enter the gacha pool with up to six other players, all of which can select a character from the gacha pool. After all of the characters have completed the gacha, they receive each others' characters.
Social features in mobile games have been one of the biggest trends in 2021, so it's no surprise to see them finally appearing in gacha. With the number of top-grossing 100 mobile games in the US using five or more gacha growing from 37% to 45% in the last 12 months, expect to see even more types of gacha in 2022.
3. Events and minigames will innovate and experiment with meta elements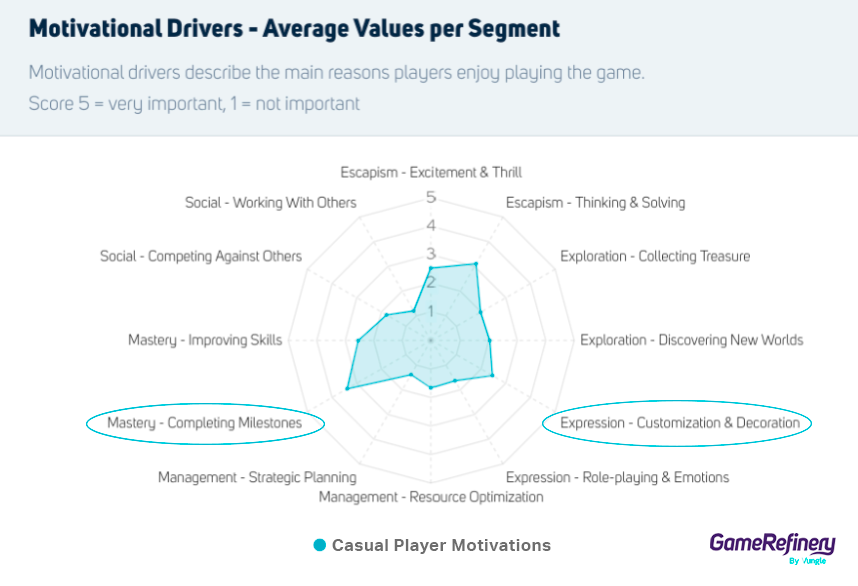 While the COVID pandemic has stopped many real-life events from taking place in 2020 and 2021, mobile developers have used the opportunity to bring people together in virtual worlds. There are so many different types of events in mobile games, from the massive collaborations that take place between mobile developers and international brands to virtual concerts in Roblox and Fortnite featuring artists such as Ariana Grande and Lil Nas X. It's events like these that often dominate the headlines, but there's a lot more happening behind the scenes.
Alongside these concerts and collaboration events, there are also seasonal events, anniversary events, timed events, new server events, and plenty more. The growing popularity of events has led to new event trends emerging in 2021, and we're expecting these to grow throughout 2022. Two of the biggest examples are different types of meta elements appearing in event design and special game modes or minigames being added to events.
Renovation elements have been hugely popular in 2021 and can be seen in games such as Gardenscapes and Homescapes, where players invest time into decorating or renovating the game landscape or buildings. This taps into the psychological drive of wanting to clear up space and improve it, as well as top player motivations amongst casual players such as completing milestones and customization/decoration.
We're now starting to see these renovation elements implemented in games that you wouldn't typically associate with renovation or decoration. The popular card game, Phase 10, and the puzzle adventurer, Best Fiends, both use renovation elements in their limited-time events.
Besides renovation events, the other big trend in event design is the utilization of surprising core gameplay mechanics. Examples include Playrix's Fishdom, which uses minigame events unrelated to the regular match3 gameplay. Another example from the mid-core side of the spectrum is AFK Arena, which has a recurring match3 mode completely unlinked to the normal RPG gameplay.
We've also noticed that publishers are using hybrid elements as part of their marketing and UA strategies, as they can be easily repurposed for interactive ads and snappy marketing videos. This can be an attractive value proposition for players to experiment with a genre they wouldn't normally play. Top War is a 4X strategy game that uses merge elements, which are much easier to visually demonstrate in ads and more appealing to casual players. Mobile users might download Top War because of the merge elements but end up discovering that they really enjoy 4X strategy games.
We've spoken about the importance of social elements in mobile games a lot this year, such as the 10% annual increase of the top-grossing 100 US mobile games using guild mechanics. While this is a big increase, there's no reason why the trend of social elements appearing in mobile games won't continue through into 2022. We see a lot of potential in 'hang-out' features, where players can interact with other players in a social environment outside of the main game. Cooking Diary is an interesting example of a game embracing a social hang-out area, as we haven't seen this implemented in time management games before. This is indicative of a wider trend showing social elements appearing in games that haven't previously used them.
4. Games utilizing blockchain technology appearing in the mobile market
Blockchain games have lately been one of the most trending topics in the game industry and arguably the most divisive since the early beginnings of free-to-play mobile games. While it may seem this trend has appeared suddenly out of nowhere, blockchain games have been around for a while now, with, for example, Axie Infinity being one of the first more popular ones and already released back in 2018.
Currently, there are already a handful of live games in the market utilizing at least some sort of blockchain technology, even on mobile, which include games such as the Multiplayer Battle Arena game Thetan Arena, MMORPG MIR4, and two games also in the more higher grossing ranks Upland and Highrise.

All of these four aforementioned games are quite different from each other in terms of gameplay but also in the utilization of blockchain technology. For example, in Thetan Arena, you can earn cryptocurrency by playing with your heroes that are NFTs (non-fungible tokens), and in Upland, you can own in-game properties that are NFTs tradeable with other players. Also, Highrise launched first as a normal free-to-play game but now has been implemented with NFT cosmetic items and is planning on expanding its metaverse through player-owned NFT lands, where users can monetize and generate their own content to share with others.

The blockchain trend seems to be getting hotter during 2022, and we will most likely be seeing more of these games in the mobile space. Many new studios are either developing or planning to release their blockchain games during the year, most of them on PC first, but there are plans for mobile crossplay versions as well. Some interesting upcoming mobile titles include the Build & Battle game Heroes of Mavia, Multiplayer Battle Arena game Cryowar, and MMORPG Embersword. Additionally to this, multiple of the largest AAA studios have announced their future plans or interests for the blockchain gaming spaces. It will be interesting to see what the blockchain gaming scene looks like at the end of 2022.
Summary

2021 has proven that gameplay features and elements such as battle passes, social features, gachas, renovation events, and minigames can be molded to any genre if they're used in the right context. More developers are starting to realize this, and we're seeing a lot of experimentation and meta elements appearing in games as a result, and we can't wait to see how this trend will evolve throughout 2022.
And with the mobile game market growing bigger every year, it'll be interesting to see how many more traditionally-console AAA developers start moving their IP into mobile games. The challenge for the biggest developers – especially those experimenting with gameplay styles that aren't typically associated with their franchises – will be convincing their console players to join them for the ride. But with so many exciting prospects in mobile gaming right now, we can't imagine that will be too difficult!