A great way to utilize GameRefinery's Game Update Impacts is using the tool for background research for different features that you might be considering implementing into your game. Here's one example of how to do it.
Let's see if we can see anything that might be useful for us if we look at game updates from the past six months in the RPG genre and filter them by the feature "Number of different characters." Perhaps there are some combinations that we can take note of and utilize in our next update or simply learn from for our game.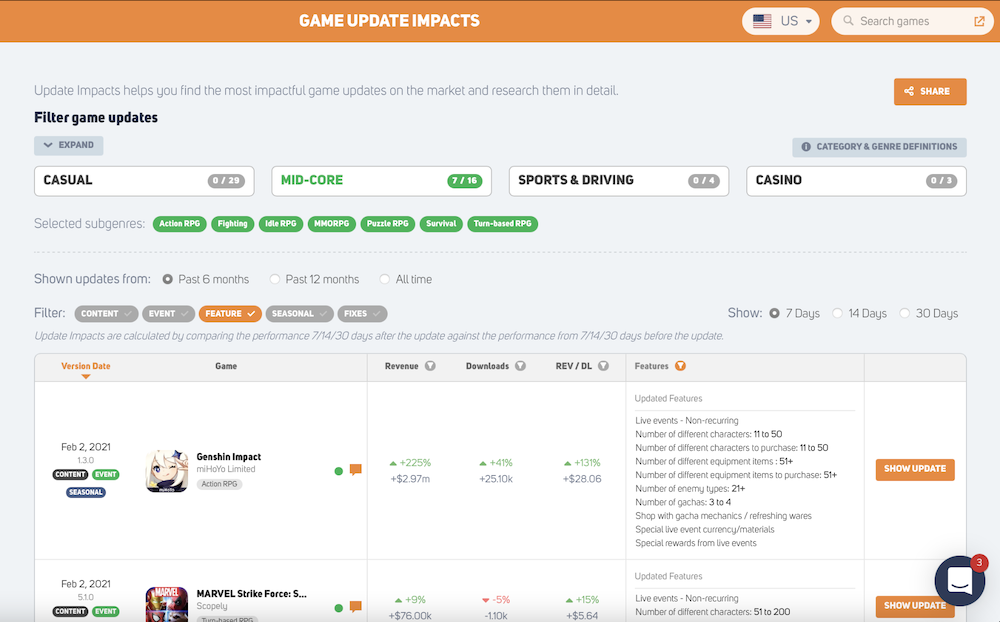 Game Update Impacts is a quick way to have access to this kind of data. With a few clicks, you have already filtered the updates with genre/sub-genre and the feature by utilizing your criteria and needs. But how should we proceed in this use case? Well, what I've now moved to do is to map out some of the features I did find interesting from all the updates I saw with my selected criteria, and here's what I've learned: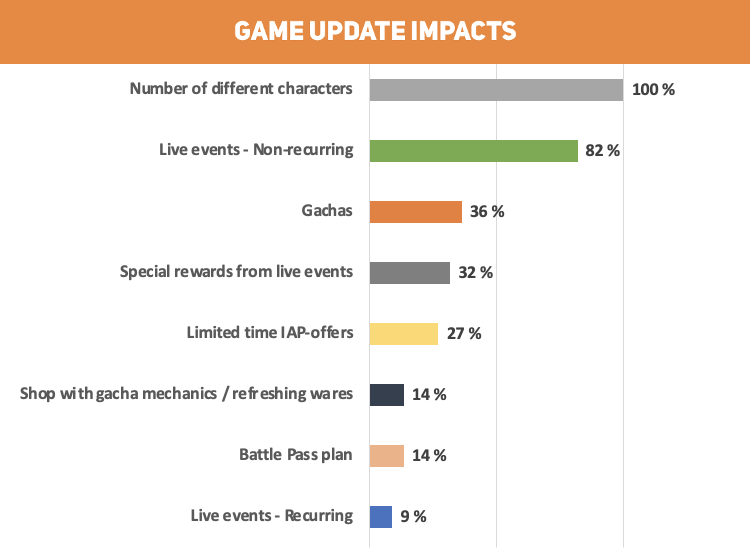 Of course, each update does include a "Number of different characters," but a lot of the updates also have been tied to Non-recurring live events, Gachas, and Special rewards from Live Events.
Furthermore, Game Update Impacts allows me to dive deeper into specific updates of the games to learn more about how they did implement certain features and what sort of impact they had.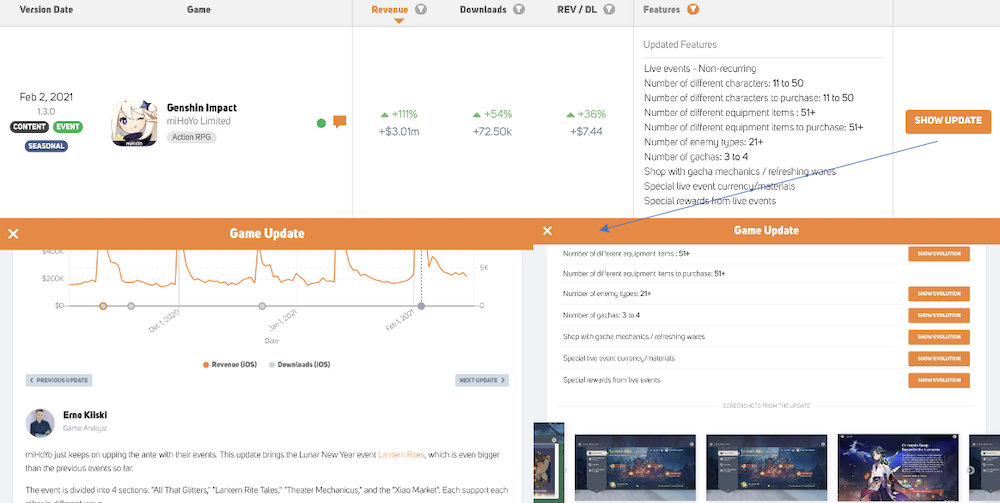 For example, we can first look at the Genshin Impact update from the high level and then dive a bit deeper into it, read analyst comments + check out the implementation examples of the update. By doing this for a couple of the updates you're interested in, you get a good idea of how they are utilizing certain combinations of the features in these updates. And if you'd be interested in asking more, there's always the option to reach out to us with the chat function for some more detailed questions.
This is a good jump point to our Drive-Up Your Revenues with Seasonal Events article, which goes into a bit more detail about these live events, and gives you further ideas on how to leverage GameRefinery's data. Now, at this stage in our use case, we arrive at the same conclusion with our research as Erno does in the referred blog post:
"By implementing a combination of features including event-specific currency, seasonal gachas, unique game modes, and collaborations, you'll be significantly increasing your chances of growing revenues and even re-engaging lapsed users looking for fresh content and brand new challenges."
When introducing new characters, you'll be increasing your chances of success by introducing them in a combination of certain features, such as live events.
If you enjoyed reading this post, here are a few more you should definitely check out: