GameRefinery's development team took a short break during the holiday season and new year. We are now back on the grind with a massive update to three existing features.
At first glance, these updates seem minor, but as we will dwell into it in this article, we find out that these are some of the biggest quality of life updates we've done. Big shoutout to our users who brought this idea to our attention!
In total this update introduces three new changes to the GameRefinery platform:
Game Update Impacts – Ability to filter between feature changes & updates in

Game Update Impacts

.
Sharing – Sharing relevant content from GameRefinery to other users.
Soft Launches – Soft Launches with more day options filter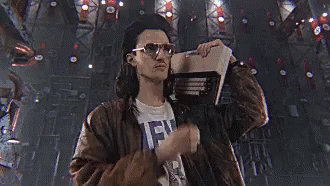 Buckle up as we are going to go through all of these in this product update article!
Game Update Impacts Changes
Starting now, you can filter updates by two categories:
Feature Changes – When new features have been added or removed from the game.
Updated Features – When new content related to the existing features have been added.
Here is the kicker: Using Update Features, you can now browse and see how developers have changed already implemented features in their games. This includes daily quests, battle pass seasons, new limited-time IAP-offers, and so on.
What this means in practice is that teams can now filter and see what kind of changes developers of best-in-class games have been making to the game's features to analyze and see what works the best! How cool is that!
The Updated Features filter covers all the major changes we track in the feature level, such as monetization and retention features, just to name a few. This gives, for example, a completely new scope to Liveops designers!
These changes can then be backtracked to see how the specific feature might have evolved over time!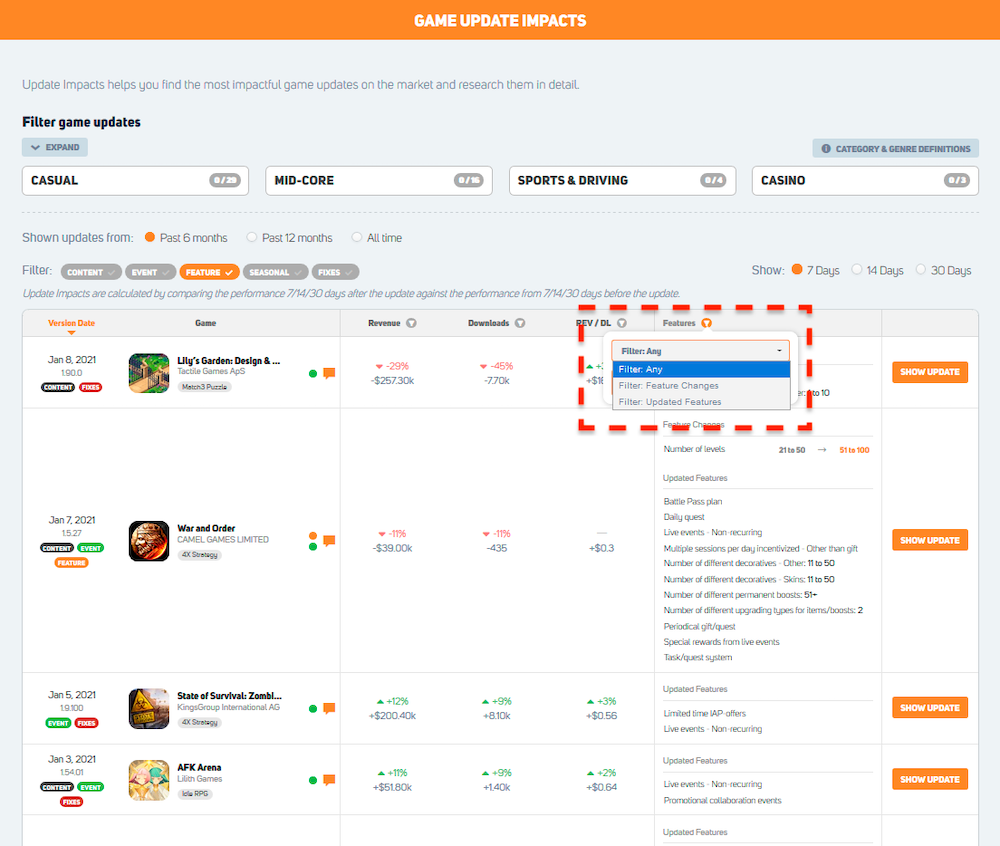 This new filter goes hand in hand with the existing filters available in Update Impacts: Genre taxonomy, time period, and the type of update filter!
How to use the new filters?
Right on the top of the Features column, you see a small triangle icon.
Click that icon to open the pop-up menu.
Select the filter based on your interest: any changes (= this shows you both feature changes AND updated features), feature changes, or updated features.
Confirm your choice by clicking the orange Select Features-button.
The filter is now created!
Let us go through two use cases.
Product Owner – Seeing what kind of results competitors have had from adding a feature in the game
Product owners are constantly battling with backlog priorities. "Should I add feature X or feature Y?"
Using the Feature Changes filter, Product Owner can immediately see what kind of results competitors received from adding a similar feature that they have in their backlog.
In this scenario, we are checking battle passes added to Shooter genre games in the past 12 months.
We choose the Shooter genre
Set time filter to All Time
Select Features filter from the type of updates filter
Select only the Feature Changes filter in the features-column
Choose battle pass in Select Features-Screen
Show 30 Days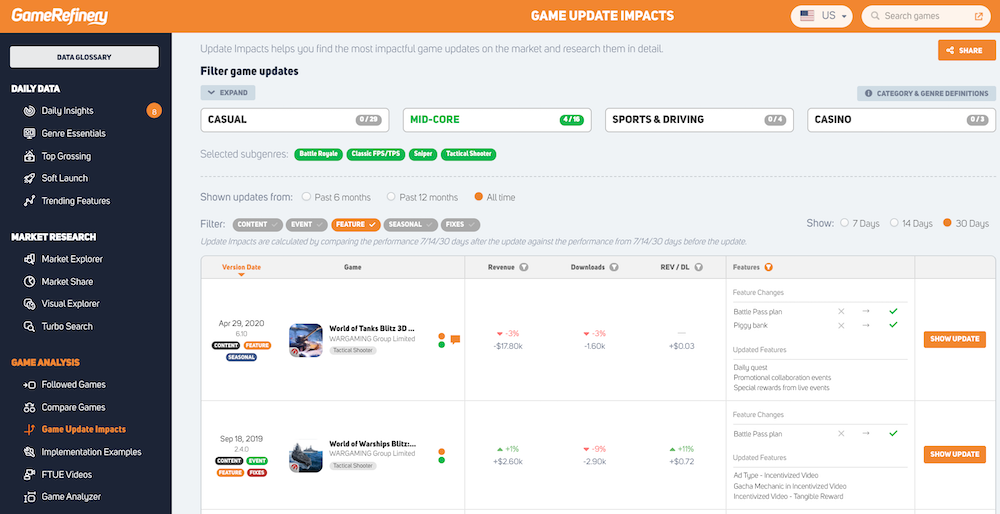 Using this data, Product Owners can evaluate if adding the specific feature to their own game would make sense. As we set the "Show 30 Days" filter on, we can see how much revenue, download, or rev/dl metrics changed when we compare performance 30 days before and after the update. Talk about peace of mind!
Want to try the new search filter in the service yourself? Here is a link to the search query for you! 😉
Liveops Designer – Analyzing holiday updates!
I admit it. I am still in the holiday mood, so let's look at how Liveops designers can use the filter to see what kind of holiday updates games in the Puzzle genre had in the past six months!
We choose the Puzzle genre
Set time filter to Past six months
Select Seasonal filter under the type of update filter
Select only the Updated Features filter in the Features column
Choose Live events – Recurring & Live events – Non-recurring
Show 7 Days results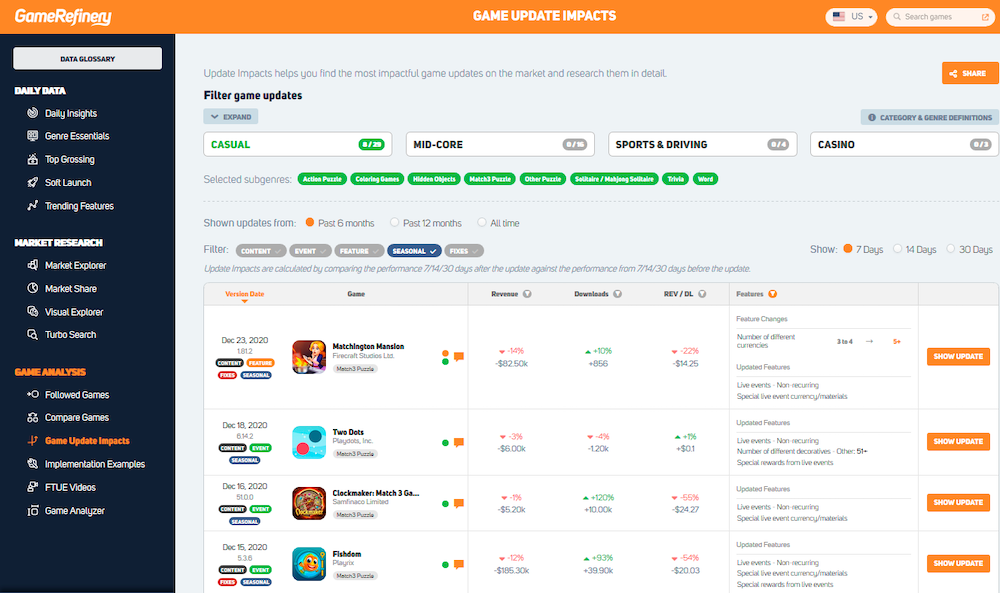 When an update has a green bubble and orange analyst comment icon, it means that we have screenshots AND our analyst's take on the update — a quick and easy way to inspect and have an informative breakdown of what competitors have been doing.
To find the evolution of an existing design, click the orange Show Update-button.
Here is a link to the same search for you! 😉
In our example let us use Fishdom's December 15th update as an example.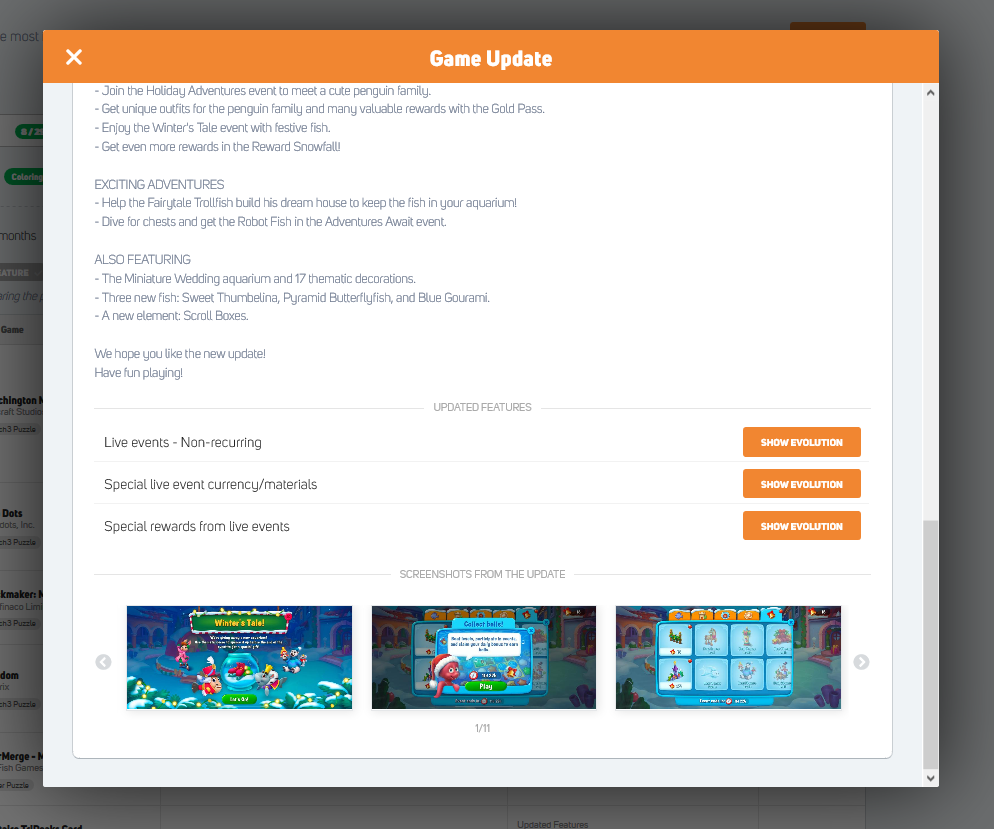 Now you can see the evolution of existing features. Click any of the features you are interested in to see our historical implementation examples!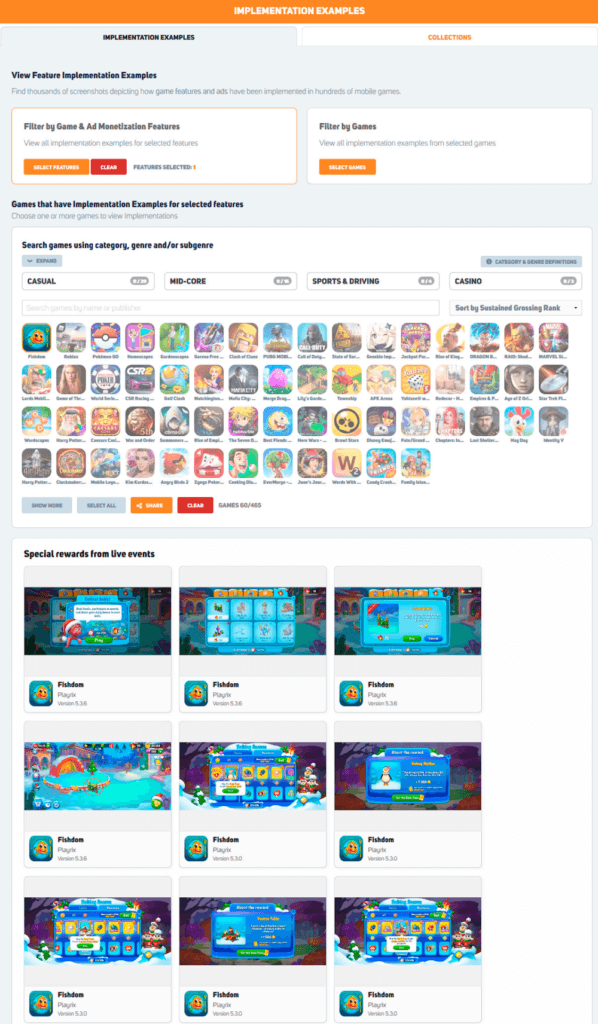 Here is the link to all the historical screenshots of special rewards from live events Fishdom has had. 🙂
Sharing – New button on every page!
Our fastest users might have already found new share buttons on almost every page in our service.
We have introduced the share button to multiple pages to help our users share content faster with their colleagues & bring the data points to their internal documentation or presentations.
When you click the share button, our system automatically copies the URL to your clipboard. You can then quickly paste it to Slack, Teams, email, or even hyperlink to design documents!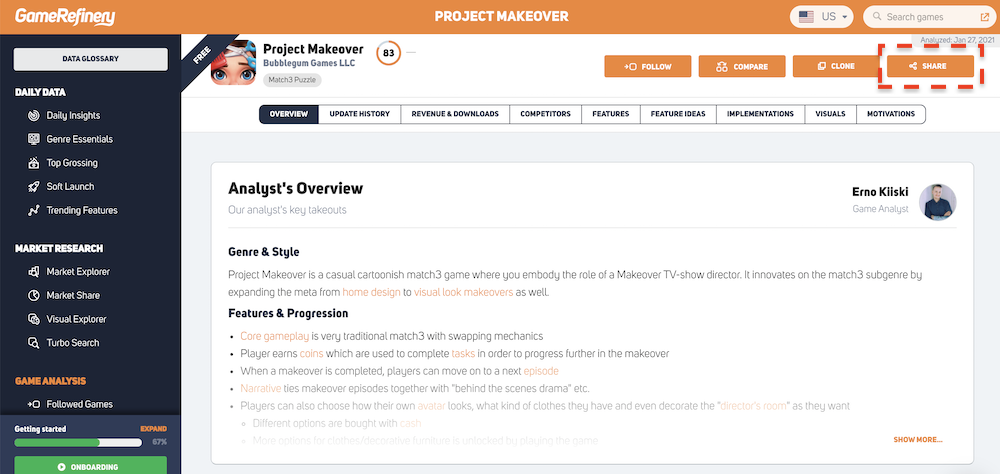 What is super cool is that the sharing button adapts to the games you have selected, the page you are on, and all the filters you might have selected!
The button is currently available in multiple places – Click the links for examples I have created for you!
I cannot stress enough that when you click the share button, all the filters and data points you've selected are saved to the generated URL, allowing you to share the same view with your colleagues practically!
Soft Launch – New time filters
More and more interesting games are moving to the soft launch. These games interest both developers, as some of them are most likely competitors, and publishers, who want to find out first the potential new hit pieces!
Based on the feedback we received from our users, we've expanded the time filter in our Soft Launch feature. Where we before had 30 days, we now have the option to choose 7 or 14 days! This should make discovering new interesting soft launches easier and faster!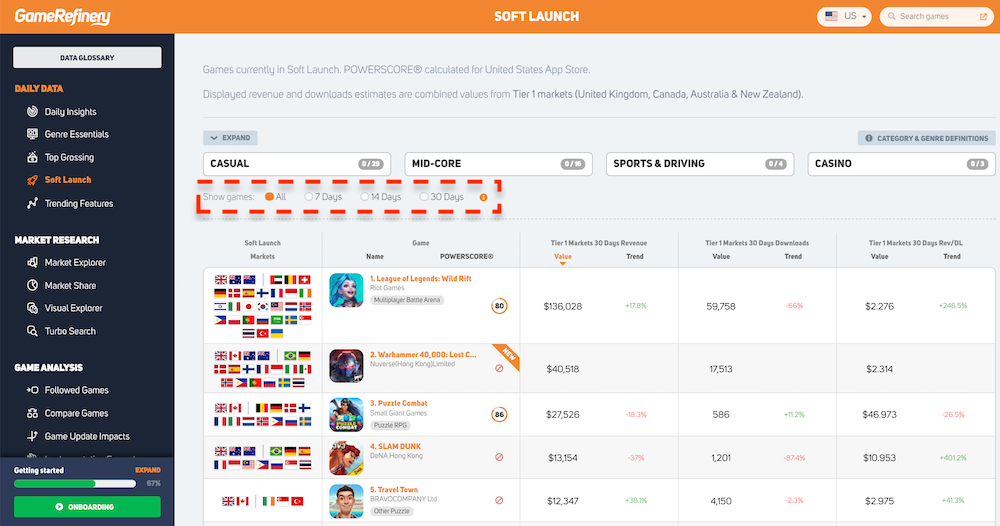 Final words
We hope that you find this update helpful and, most importantly, actionable. As we can see, it is always these kinds of minor tweaks and updates that really make the service so much more enjoyable to use! If you have any feedback on these changes or suggestions on how we could tweak other parts of the service, do not hesitate to drop us a message!