Analyzing competitors' game updates and especially those with the biggest impact on performance is an essential part of competitor research. But with dozens of updates every week in the top 200 grossing games alone, finding interesting updates can be tedious work, to say the least.

Here at GameRefinery, we've been aware of this challenge and hope to make your life (and competitor research) a lot easier with our newest tool, Update Impacts.

Update Impacts helps you in pinpointing the most impactful updates on the market and researching them on a detailed level. In practice, the tool takes a look at an update's impact on revenues and downloads after 1 or 2 months after the update's release. (For example, the impact value for the 1st month is calculated by comparing the game's revenue 30 days before and after the update.)
Update Impact data can also be sorted with our genre taxonomy to find the most exciting updates in your genre of interest over a certain timespan.
(At launch all data concerns US iPhone)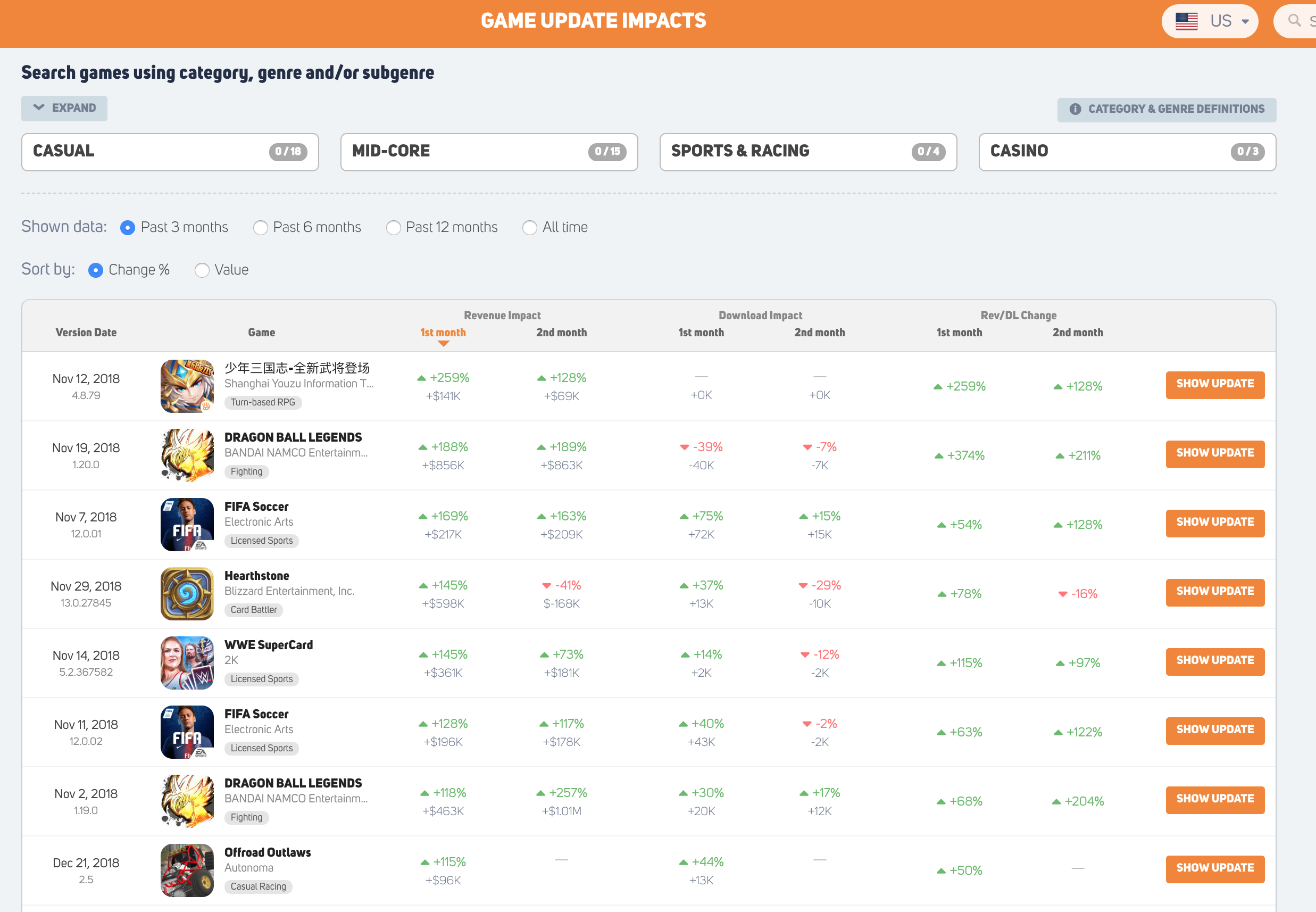 Another thing that comes with the Update Impact release is the revamped update history section for games. You can use it to access a list of all the game's updates and see how they have impacted the game's revenue/download metrics.
Here's an example screenshot of Matchington Mansion's update performance: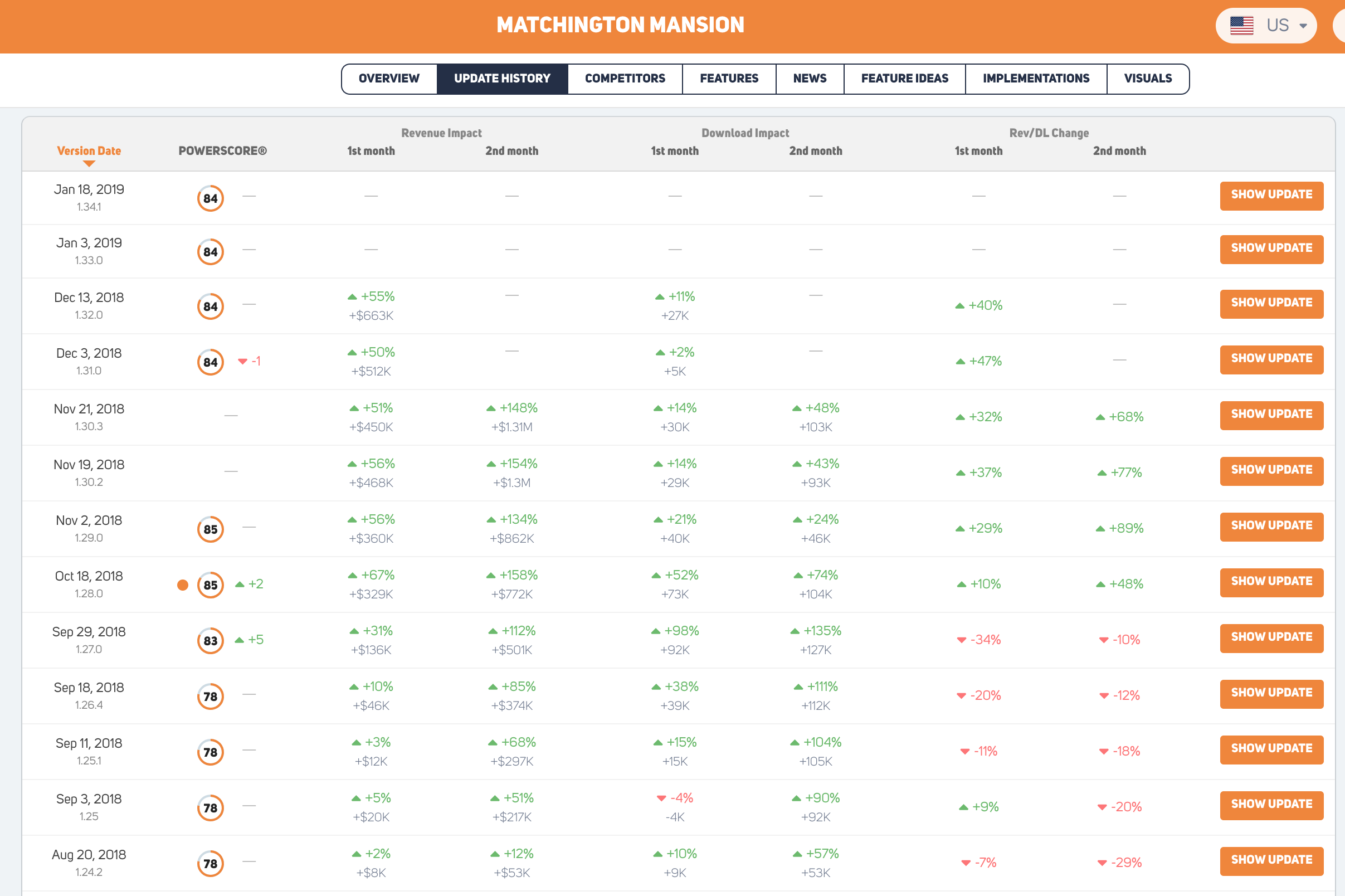 It looks pretty green all across the board meaning that update after update, Matchington Mansion has increased its performance in terms of both revenue and downloads. This successful string of updates & live ops has been a major force pushing Matchington Mansion into the top tier of Match 3 puzzle games.
Another interesting example below is from Empires & Puzzles: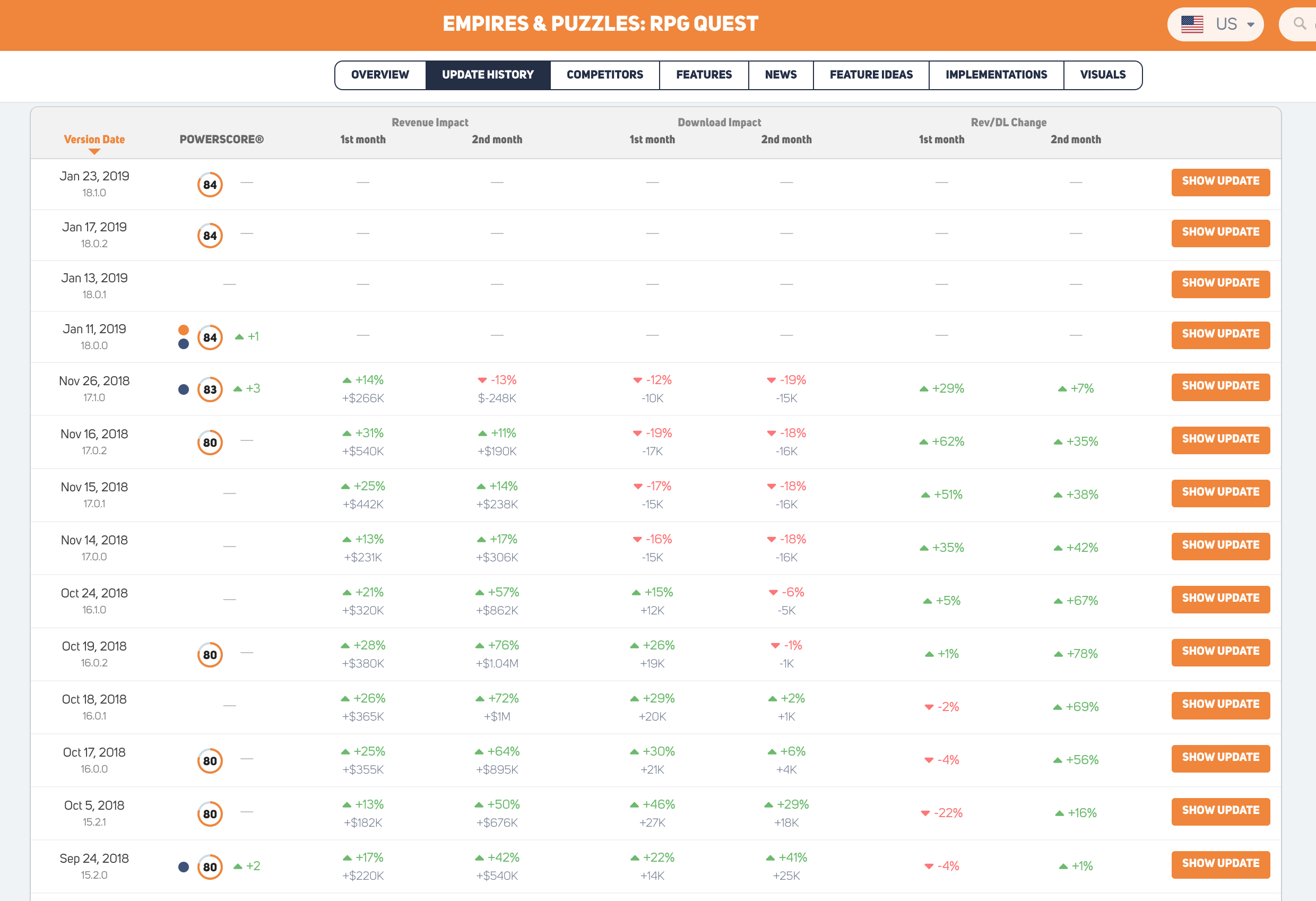 Here we can see that Empires & Puzzles has been improving its revenue quite significantly through each update, but downloads have actually been dropping a bit. This increase in revenue / download ratio can likely be attributed to increased LTV / player and better ARPU.
Impactful update examples
To provide some more context, here are a couple of interesting updates we found using the tool:
MADDEN NFL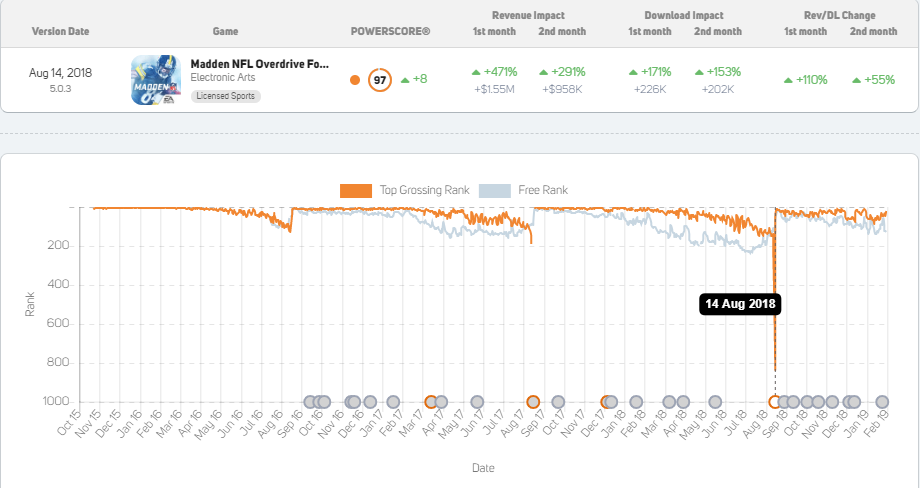 A couple of years ago EA transformed their mobile sports game business to seasonal revamps of games instead of releasing a new title every year. As a result, FIFA Mobile, Madden NFL Mobile, and NBA Mobile get a revamp every year with major updates full of new content/features, which of course shows in the games' revenue and download numbers.
Madden NFL Mobile restructured their feature set quite a bit for this year's season. With the update impacts tool, we're able to see that this major update had a significant impact on both revenues and downloads. The same pattern repeats with each season where towards the seasons' end revenues start declining slowly and then boosted with each new season update.
PUBG MOBILE
Back in June 2018, PUBG Mobile added a Battle Pass system, similar to their main competitor Fortnite. It multiplied the revenue of the game lifting it to a whole new level. And in the following 30 days after the update, PUBG Mobile generated almost $1M (US iPhone) more than it did 30 days before the update. This positive impact is even more noteworthy when considering that the game's downloads didn't have any significant fluctuations. The seasonal battle pass system combined with many other feature additions have solidified PUBG Mobile's position high in the US top grossing ranks.

CLASH ROYALE
At the beginning of last year, Clash Royale had been slowly declining in the top grossing ranks. Last April they brought in a big feature update Clan Wars, which helped revitalize the game's revenues. And 30 days after the update, Clash Royale was able to bring in +68% more revenue than 30 days before the update.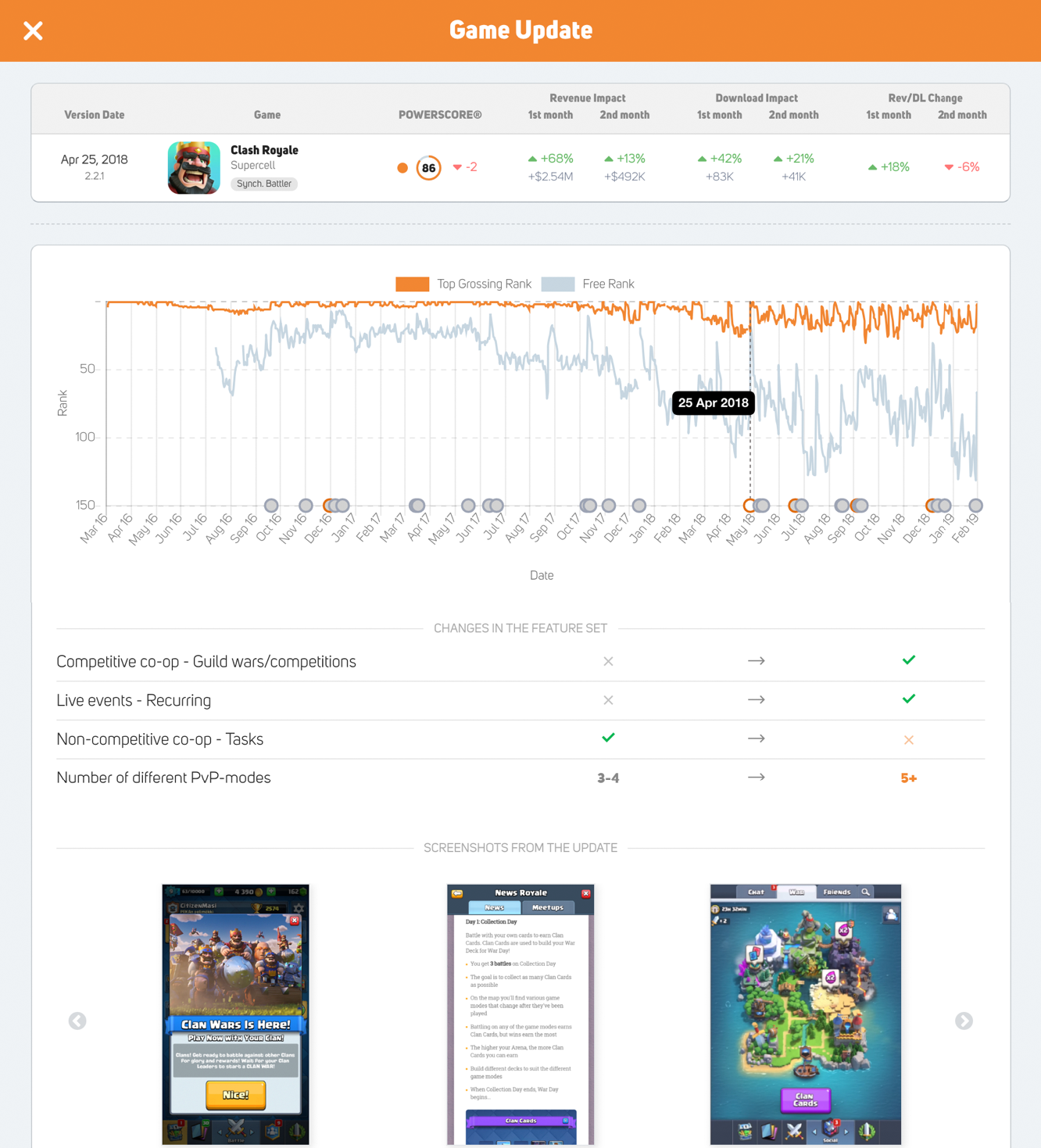 ART OF CONQUEST
Art of Conquest from Lilith Games had a pretty strong summer of 2018, climbing to the very top tier of the US grossing list. At the end of May, the big Dragon Dawn update was released, introducing new types of characters, Dragons, and a proper Co-op PvE-mode. This significant feature update resulted in a nice positive uplift to Art of Conquests' performance: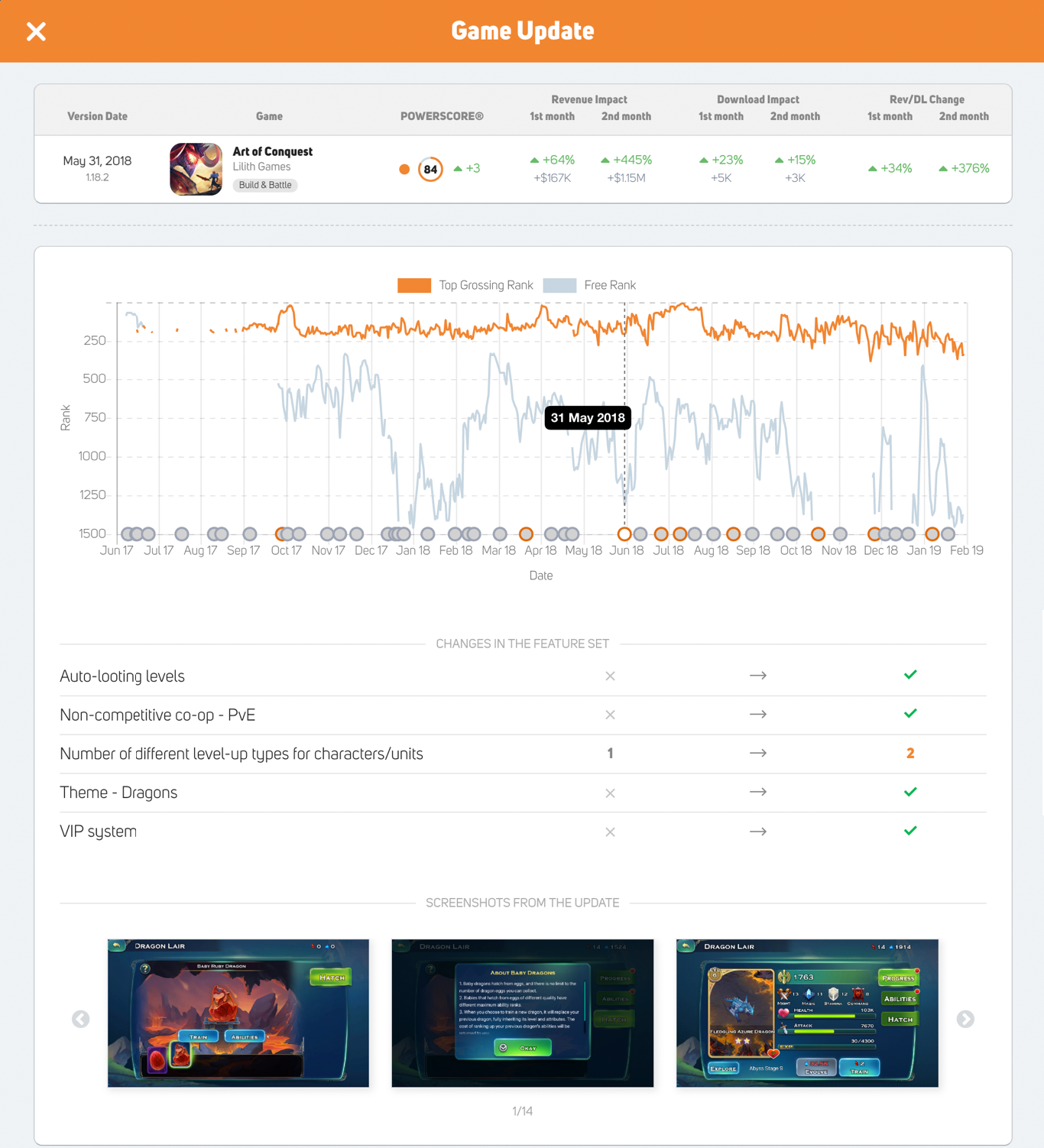 Get more of this kind of interesting data about game updates with the Update Impact tool when it launches!