No matter how you measure it, 2018 was the year when Battle Royale took us by storm. What got started in the modding scene of PC survival games such as H1Z1, DayZ and Rust, eventually developed into a global phenomenon including the likes of PUBG and Fortnite. While these titles are fully-fledged classic examples of battle royale games, it has since then become apparent that with a pinch of creativity, it is possible to include a battle royale mode in a surprisingly wide array of different game genres.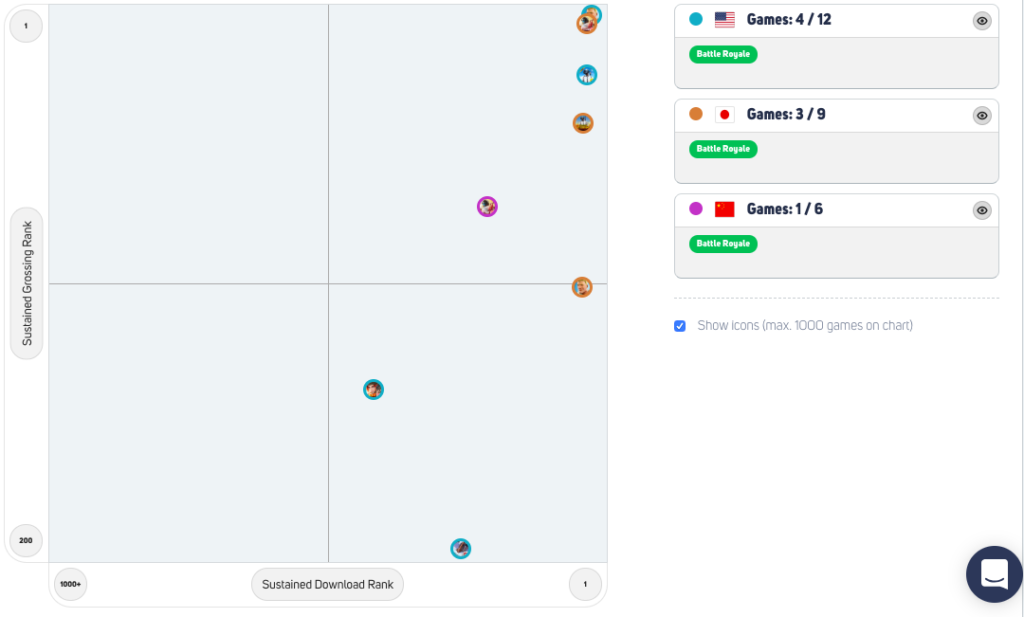 Using GameRefinery's Market Explorer tool to make sense of the battle royale market. While just a year and a half ago we had virtually not even heard of the genre, today all major markets have battle royale games in the top grossing 200. (NB: these are all "classic" battle royale shooters meaning that, e.g., MMOs with a battle royale mode are not counted here)
Here are our top picks of the most interesting implementations this far:
1. Brawl Stars (Supercell)
Supercell's newest title was finally greenlit for global launch last December, and so far it has performed just as expected taking its place in the top-10 charts. It seems like the Finnish developer is well aware of market trends because Brawl Stars too supports a battle royale mode called Showdown. Players enter the mode as solo or duo and strive to be the last brawler alive while scouting the map for chests that contain buffs to players' health and attacks. In Showdown it is gas clouds that push players to move into a safe zone.
2. Honor of Kings (Arena of Valor in the West, Tencent)
Tencent's MOBA behemoth Honor of Kings hasn't been standing idly despite its dominance in the Chinese top grossing charts. Instead, the game is continuously updated with new content and ways to play the game. Last summer, Tencent added a new 100 player Breakout mode to the game to quench its battle royale-thirsty player-base.
Just like in a regular MOBA match, Breakout starts with players selecting a character. While adjustments to characters' attributes have been made to maintain balance, all characters still keep their unique skills from MOBA gameplay. Players can then choose their starting position in the map, and after that, it's the usual battle royale-drill with loot to be scavenged and sandstorms serving as the explanation for the shrinking game area. In addition to the character selection process, other MOBA elements in the mix include the possibility to purchase and upgrade gear on the fly and NPC-monsters that players can slay for loot.
3. Clash of Kings (ELEX)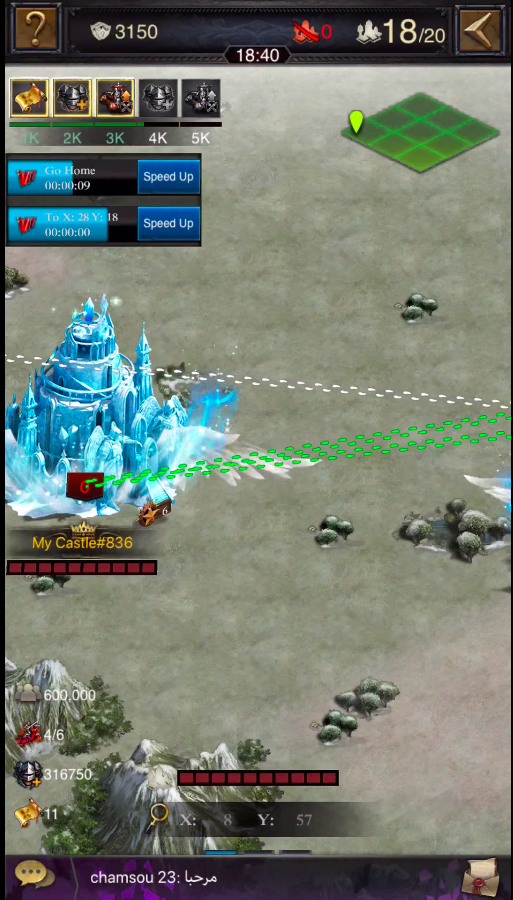 Slaughter Battlefield in action.
Who said 4X games couldn't go battle royale? ELEX's Clash of Kings gave us their interpretation of battle royale last summer with the Slaughter Battlefield mode. In each round, 20 players with balanced stats are thrown into the fray, where they'll start by safely scanning the battlefield and planning their moves. After that, it's an all-out war where lords get points for attacking other players and killing NPC-monsters, with the goal of being the last lord standing. Obviously, Slaughter Battlefield also has a shrinking safe zone, so players need to plan their positioning.
4. Contra: the Return (Tencent)
Still in soft-launch in the West, Contra's Chinese version has already been wreaking havoc in the Chinese top-grossing charts for a good year and a half. The feature-rich side-scroller just recently added yet another playing mode to its already impressive set of game modes. Yep, it's a battle royale mode but not just any battle royale mode, but one in collaboration with Star Wars!
I strongly recommend watching the video above to get a better idea of how the mode works, but here's a brief summary anyway. The mode takes place in a virtual training ground inside the first Death Star, where players as stormtroopers battle it out until there is only one trooper left standing. Just as in any classic battle royale game, in Contra you also get to have a say on where in the training complex you start the game. Weapons and equipment are also procured on-site, and there's obviously a shrinking safe zone ensuring that the fights stay intense.
5. Battle of Balls (球球大作战,Giant Network)
The Chinese e-sports phenomenon Battle of Balls was one of the first games that crossed our radars by taking battle royale outside shooters. BoB is basically Agar.io on steroids with, e.g., multiple different PVP-modes and a guild system.
BoB's take on battle royale is Fog Crisis, in which 100 players start on a map with the goal of devouring other players or at least being the last ball standing. Following the suit of other battle royale games, Fog Crisis also uses a shrinking game arena that forces you to keep your ball in the safe zone.
Bonus: 最强NBA ("The Strongest NBA", Tencent)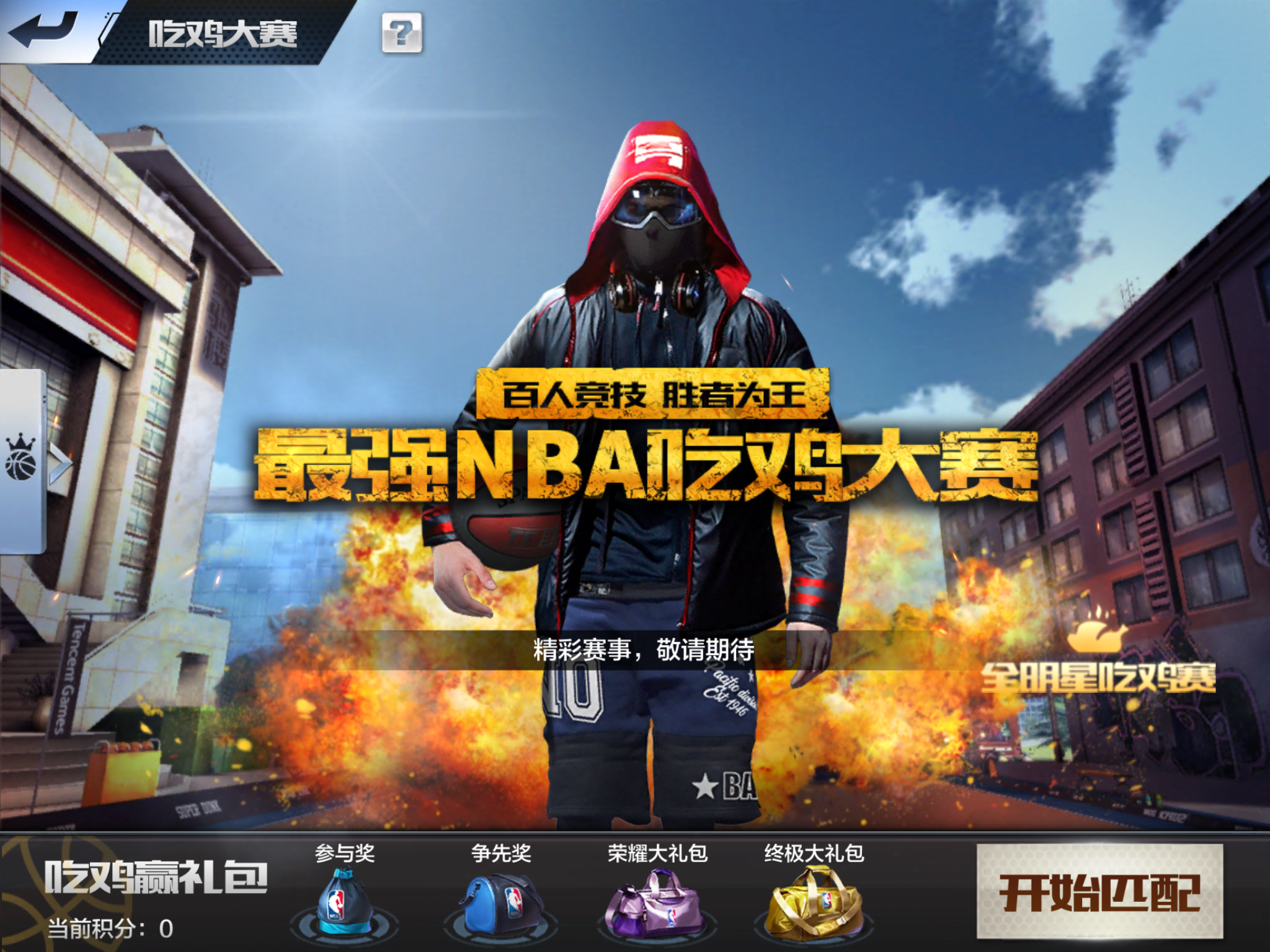 Does this remind you of something?
Granted, it is up for debate if this is more an attempt to cover a knock-out tournament in battle royale wrapping rather than a real battle royale mode. Nevertheless, we wanted to bring this up as a source of inspiration on how even the most improbable genres can try to leverage the battle royale rage.
So a while back Tencent's basketball game "The strongest NBA" (yes, a translation by yours truly) rolled out a mode called "Chicken Dinner Tournament," which a minimum of 48 players can enter. These players are then split into 3v3 games, the winners of which continue to be matched with other winners. With every win, you accumulate a certain amount of points and winning the finals gives you a whole bunch of them. At the end of the day, points can then be converted into different kinds of rewards.
Final Words
This is not an all-exhausting list of all the BR-implementations out there. For instance, many MMOs such as Runescape have been experimenting with battle royale as well. Anyhow, the point we wanted to make here is that battle royale is not exclusive to FPS/TPS-games, but other genres can take full advantage of the mode too. We're still waiting for that Match3 battle royale to pop up!
At GameRefinery we've been tracking fully-fledged battle royale games for a long time, but very soon you'll also be able to access data on battle royale modes as well. So remember to stay tuned for that as well as other exciting new features coming to our service such as demographic data and update impacts. To get started, make sure to try out the free layer of our service here!