You could argue that Casual Racing has not been one of the sexiest spaces to follow on mobile in the West, particularly grossing-wise. Engines are revving up though, thanks to Mario Kart Tour drifting into the market last month. While making bets on MK's success, it's good to remember that adaptations of the genre have been able to find success in other markets.

Already in late 2017, Tencent hit the goldmine with QQ Speed (QQ飞车), which has been a stellar top 20 grosser in China ever since. The game has been a hit in certain other markets as well (e.g. Laos) rebranded as Garena Speed Drifters. This spring, we witnessed another newcomer entering the scene: PopKart Mobile, also cruising under Tencent's umbrella and enjoying strong sustained top 20 grossing performance. Before their mobile appearances, both games were big hits on PC, which gave these mobile versions strong IPs to leverage from the get-go.
While assessing Nintendo's take on mobile karting, we thought it would be interesting to look under the hood of QQ Speed and PopKart Mobile, and see which parts & features have provided the most significant speed boosts.
1. Multiple ways to race…
Both games house an impressive selection of pvp and single-player modes. In terms of PvP, QQ Speed has several modes: individual and team versions of speed racing (in-game items not allowed) and item racing (in-game items allowed), a survival mode where 48 players race until there is only one driver left, a skateboarding mode, and even a dating mode where players team up to race as "couples." PopKart Mobile's most interesting PvP-mode is most likely the "relay race." In relay race four teams of 2 players go heads up in a 2-lap race, taking turns driving & spectating. In QQ Speed, in particular, e-sports is supported from the ground-up with ranked modes, tournaments, and spectating features.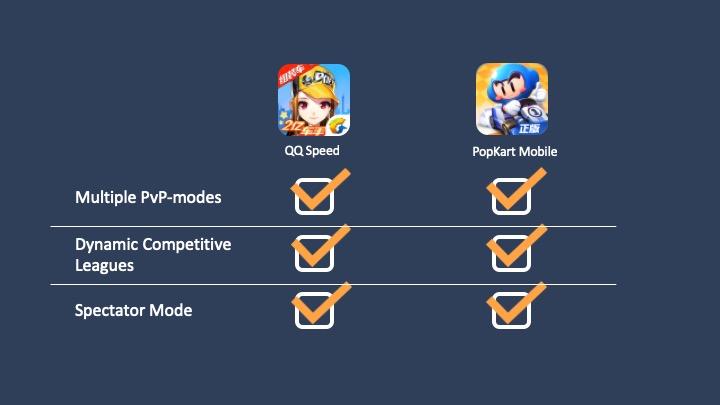 Both games have a strong PvP-focus.
On the PvE-side, both games have single player-modes with relatively rich storylines and voice-acted cutscenes, time-trial/ghost-modes and extensive training/tutorial-modes helping players to master the games.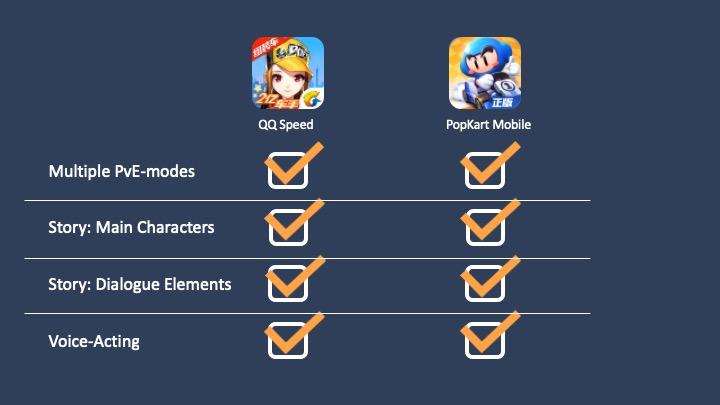 Adding story elements and PvE-content is totally doable in these games!
2. …and multiple ways to not race
It's widespread to see Chinese games incorporating game modes that, at first glance, don't seem to link to actual core-gameplay. In this case, Racing. In PopKart Mobile, players can set up and decorate a home, which can then be visited by other players. This nicely beefs up the decorative-side of the meta with more content options (decorative furniture items) and exposure (visiting players' homes).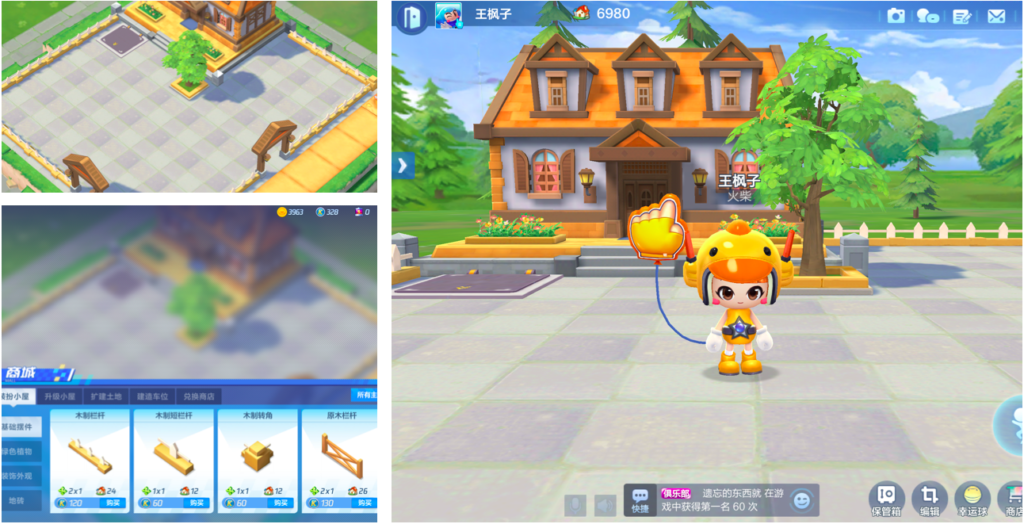 PopKart Mobile's "home" instance, where players can design their own backyards.
QQ Speed, on the other hand, has a recreational area, where players can hang out, play mini-games, chat, do emote-dances and show off their outfits. This is a great way to enhance social interaction inside the game while allowing players to parade their costumes.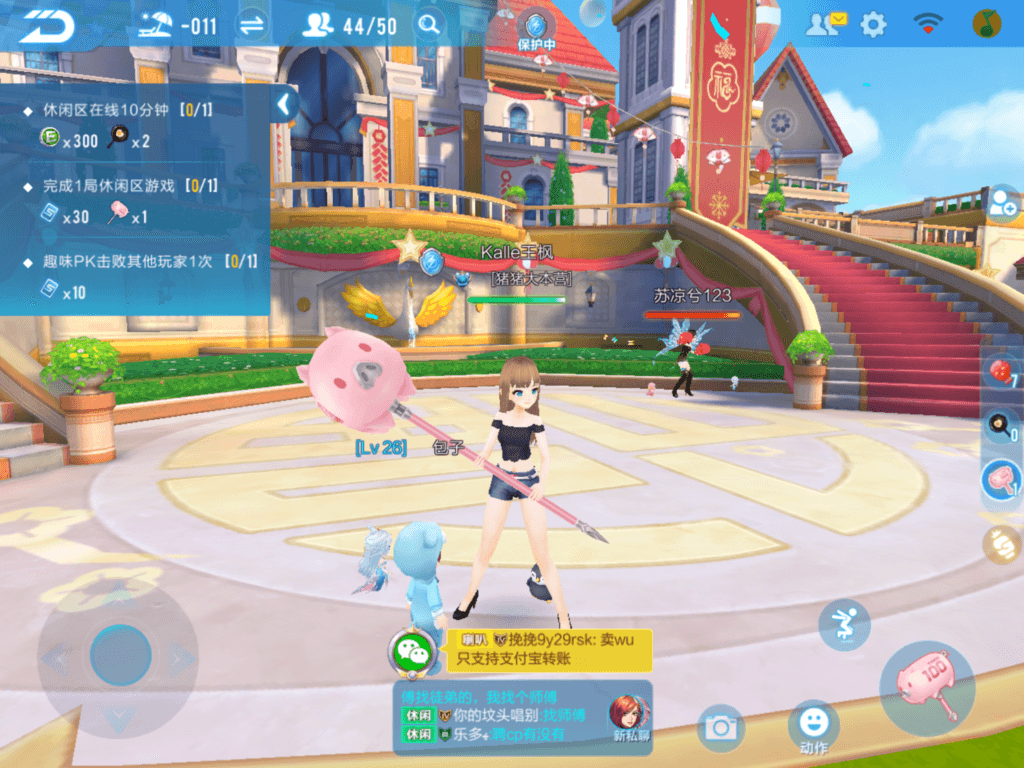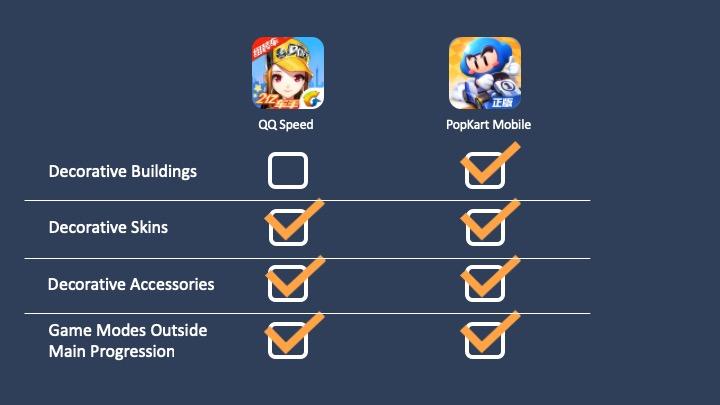 3. Social Elements
We discussed  in a previous post that guild systems are becoming increasingly popular among casual games in the West. This trend has taken off even more in China, and our karting games are not missing out. Both titles have impressive guild systems in place that e.g., include communal task and development effort systems, which encourage players to work towards common goals. Competitions between guilds are also supported.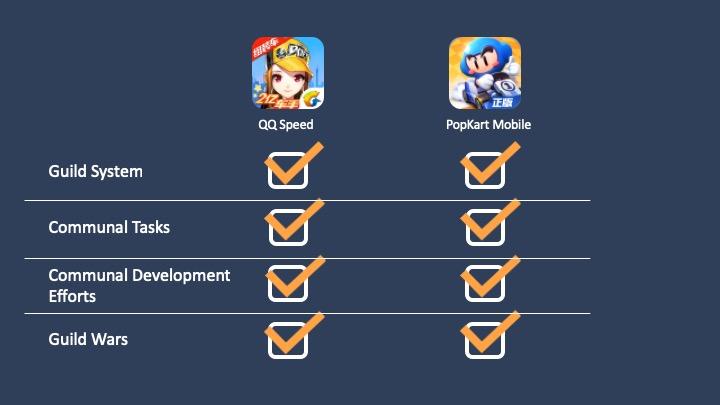 4. Monetization – Did Someone say Battle Pass?
Battle passes have been popping up in games like mushrooms after rain and our kart racers are riding the wave just like everyone else (read our post on the topic here). PopKart's pass offers 120 levels to grind with seasons lasting for 1,5 months, while QQ Speed has 150 levels with 2 month seasons. Both plans have 2 price points: a normal unlock and an unlock with a reward bundle & level boost to level 10 (QQ Speed) / 25 (PopKart) in the pass.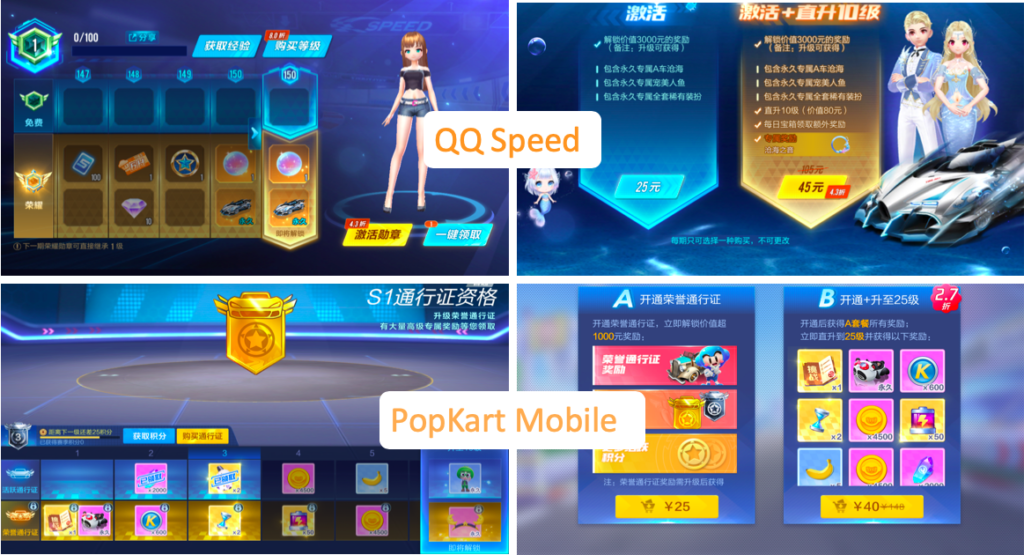 Titles like these also open up ample opportunities for gacha-based monetization. QQ Speed has an impressive selection of gachas for cosmetics and racing cars. PopKart's gacha pools, on the other hand, mostly consist of decorative furniture items used in the "home" section.

And in case you're wondering, it is not only decorative content that players can purchase in these games. Both titles also monetize with cars that vary in their attributes, i.e., some perform better than others. There are progression elements that the games monetize as well. In PopKart players can upgrade permanent boosts with in-game currency, and the same is true for QQ Speed's pet system.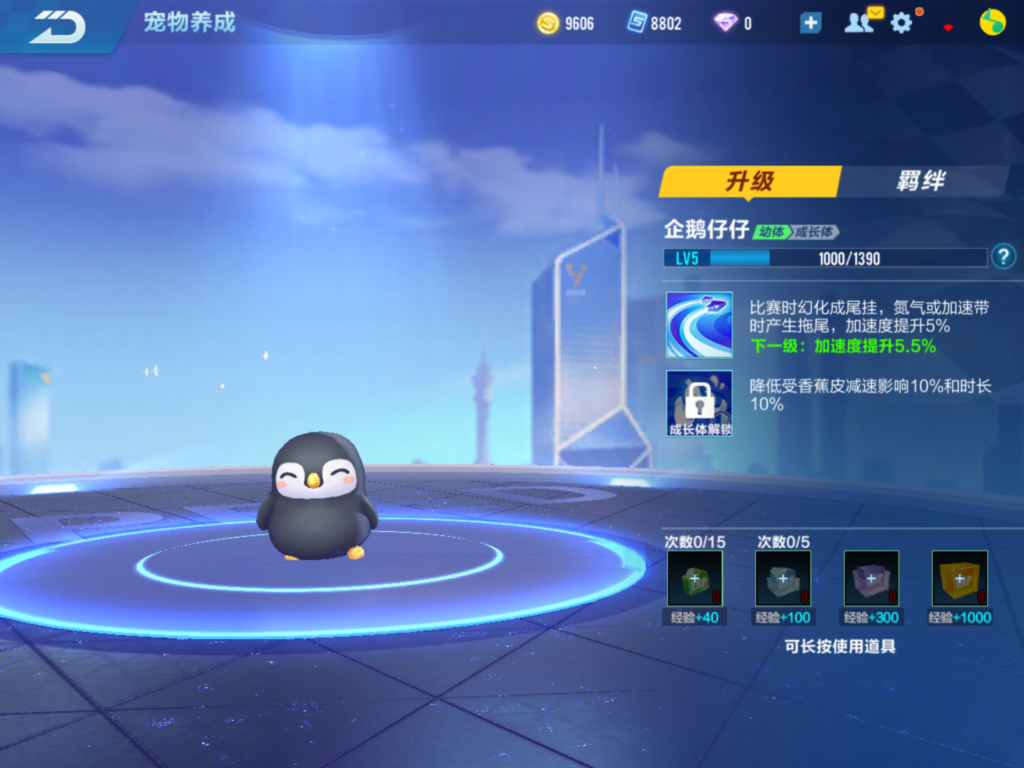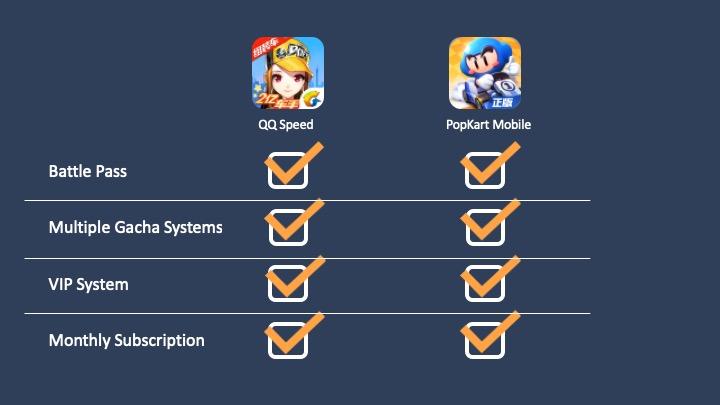 5. Live Ops
QQ Speed is especially strong on this front. The game is constantly rotating tons of events that include, e.g., seasonal content, exclusive items, limited-time login calendars, event currencies. As I'm writing this, there is a massive live-event going on for the game's esports Asia Cup.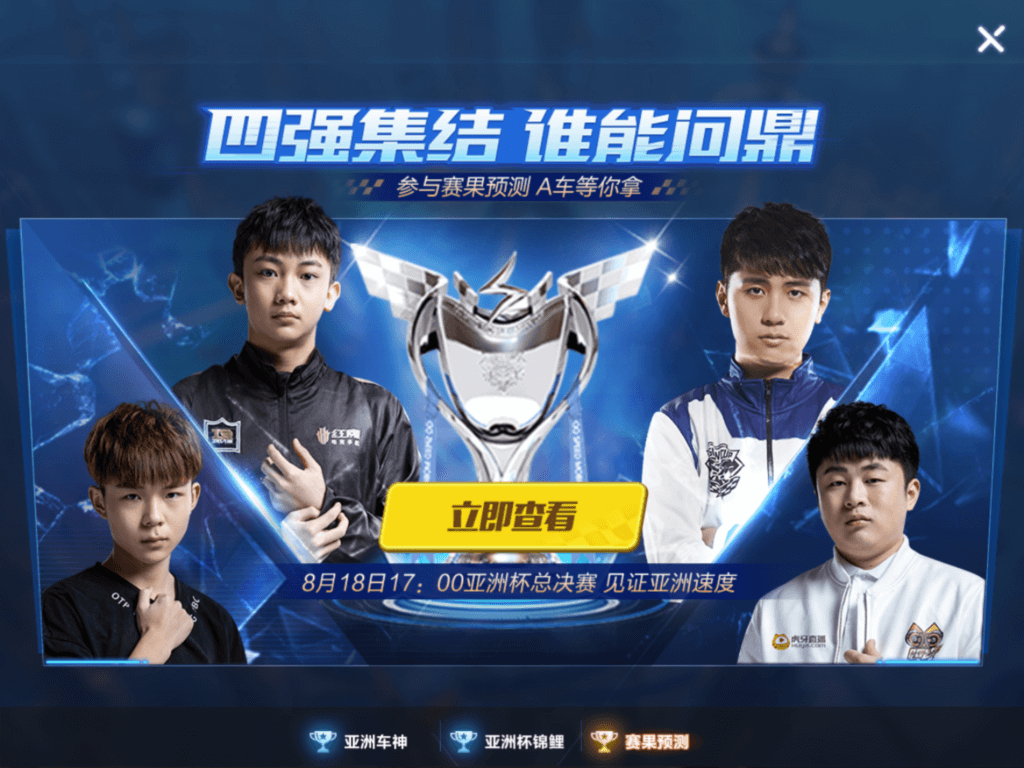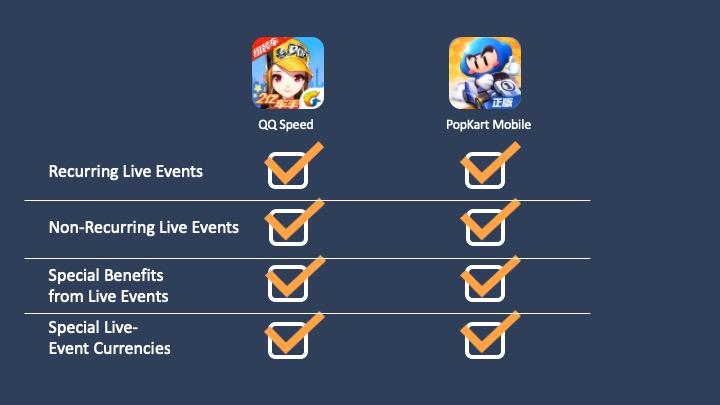 Conclusion
When Mario Kart Tour launches, it'll be interesting if we'll be able to see any influence from these titles in the game's design and features. We can assume that MK's target market lies outside of China, so a lighter feature-set with more accessible UX is likely to be expected. Moreover, MK's fanbase might have rather rigid expectations on the extent of F2P-mechanics they want to see in the game.
Mario Kart Tour launched with a relatively light feature-set, but it'll be interesting if we'll be able to see any influence from these titles in the upcoming updates. One thing is for sure: QQ Speed and PopKart Mobile have proven that, if done right, kart racers can be fun and successful (at least in Asian markets). It remains to be seen whether Mario has enough gas in the tank to do the same in the West after the initial hype.
Interested in digging deeper into feature-level data on mobile games like Mario Kart Tour, QQ Speed or PopKart Mobile? In that case, please make sure to sign-up for the free layer of the GameRefinery service here.
If you enjoyed reading this post, here are a few more you should definitely check out: