Probably the world's biggest game right now, Fortnite, came out with its battle royale mode in July 2017. In season 1 their monetization plan was straightforward; premium currency (V-bucks) which is used to buy cosmetic skins for characters. But as Fortnite's success grew, Epic Games came up with a new innovative monetization approach, the Battle Pass. Fortnite introduced the new monetization feature in December of 2017 for Season 2, and it shot Fortnite's revenue to a whole new level. In this blog post, we'll discuss this revolutionary monetization mechanic and how it has affected the mobile game scene.
Similar mechanics before Battle Pass
Well before this new monetization mechanic came along, other "time-dependent" monetization mechanics had been around in the form of various subscription plans. The main idea behind these plans is to make players pay a fixed amount every month for extra benefits and boosts. Players, therefore, know what exactly they'll get in exchange for their money, no matter what they do or how much progression they manage to achieve during the month. At the moment 33% of the top 100 grossing US games have a subscription plan in place.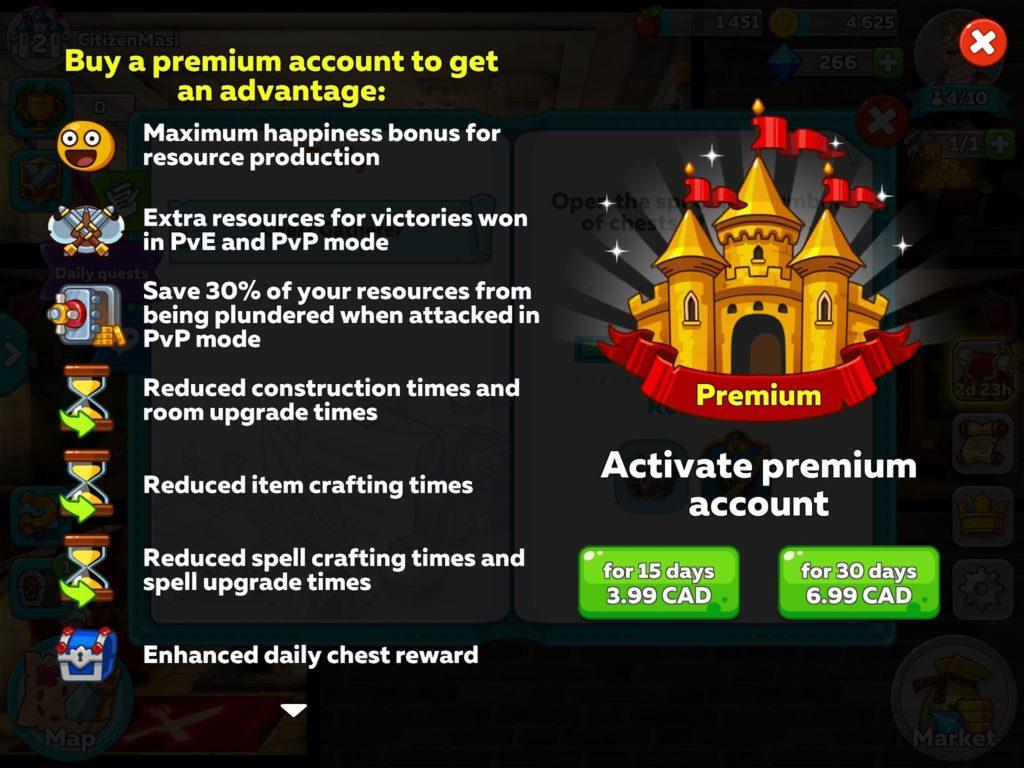 A premium account offers lots of different benefits for a limited time in Hustle Castle: Medieval Life
Alongside these time-dependent monetization mechanics, progression-tied monetization plans have also existed well before Fortnite's Battle Pass. Especially in Chinese mobile games, these so-called "progression plan" mechanics have been a pretty common sight. The idea behind them is simple: players purchase the plan at a fixed price and are then rewarded for progressing in the game, usually when reaching predetermined milestones. For example, many Chinese MMORPGs offer plans that give you premium currency and unique items when you reach certain character levels.
Interestingly, these plans are often advertised as an investment to multiply the value of your initial purchase. A good example would be Goddess: Primal Chaos where players are offered the possibility to "invest" in a Growth Fund, which rewards them with a premium currency injection for every 10 levels they advance. As a result, if you grind enough to reach level 100, you'll earn 5x more credits compared to a traditional premium currency purchase, offering significantly better value for money.
At the moment, over 50 Chinese iOS top 200 grossing games have used this monetization mechanic to ramp up their monetization – "Can't stop now because I've already paid for it and there's still value that I haven't claimed!."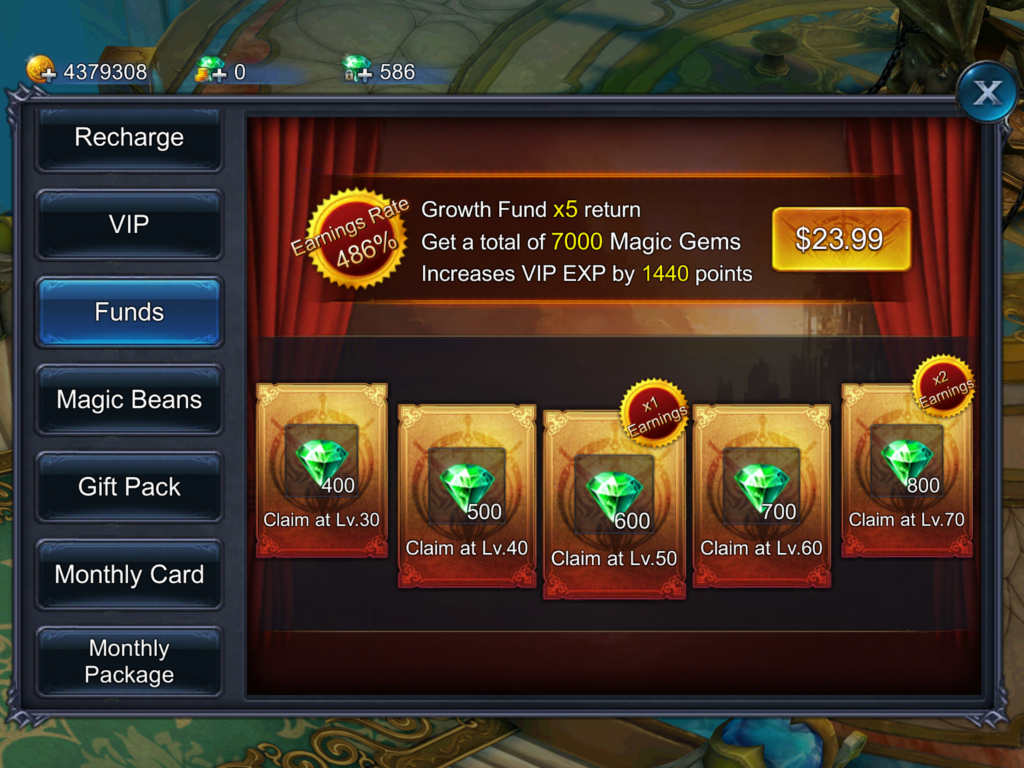 In Goddess: Primal Chaos players can buy a "Growth Fund" to get loads of premium currency over time as they progress further and further in the game
Fortnite's Battle Pass
Taking the core aspects of the two types of monetization mechanics introduced above, Fortnite created the Battle Pass. It's a clever "hybrid" mechanic that combines both time AND progression for maximum addictiveness and fear of missing out.
Here's the core idea: players get tasks to complete for Battle Pass experience points to progress through BP tiers. For reaching certain tiers, players then get exclusive rewards like character skins, emotes, etc. But the catch is that there's a new BP for each new season. Therefore, players have a limited time to earn all the goodies from each pass, which is an effective engagement and retention driver.'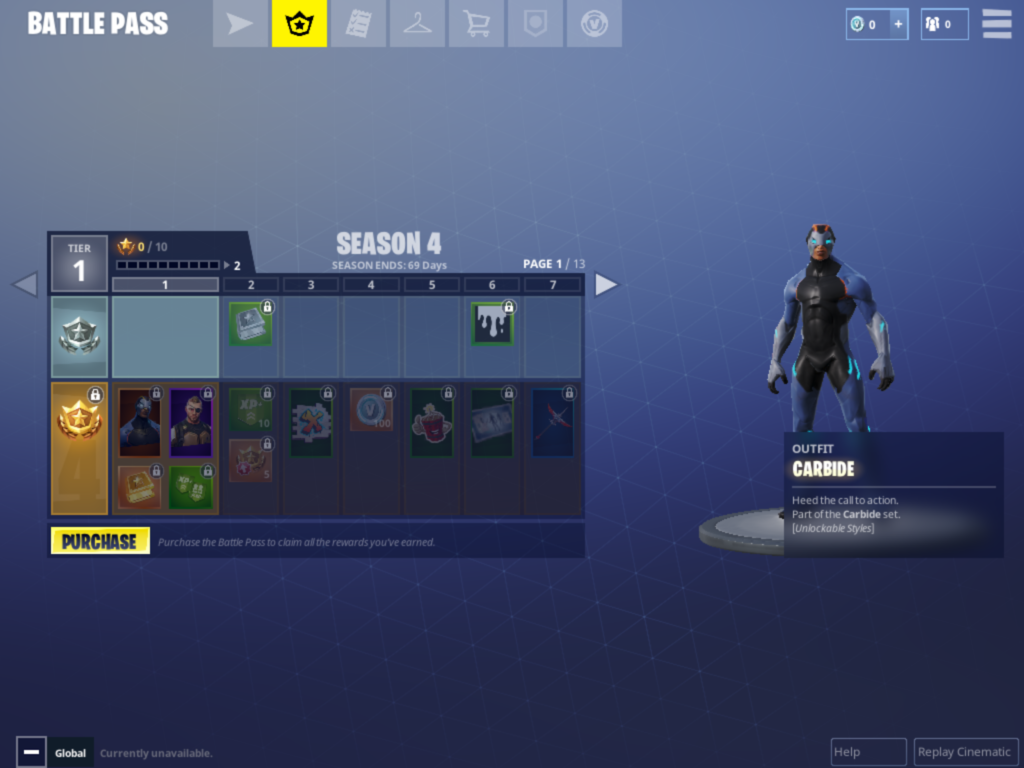 Fortnite's Season 4 Battle Pass
Battle Pass has two layers: free and premium. Therefore, players can still progress in the season even if they haven't bought the pass yet, but only receive inferior free layer rewards for reaching each threshold. Players can, however, upgrade from free to premium at any point of the season, and if they do, premium rewards corresponding to their BP tier are unlocked immediately. In other words, the higher players climb, the more tempted they are to upgrade to premium so they can unlock the real goodies they've earned while playing. This carrot on a stick, in turn, increases conversions from free users into paying ones.
As an added monetization mechanic, it's possible to spend money to progress through tiers during a Battle Pass season. For example, when a season is ending, players who want to get those last rewards can purchase a "skip" to jump through the last few tiers. This "skip" option is an efficient way to boost player spending even higher than the initial BP purchase.
When compared to other cosmetic-monetization focused games with just randomized gacha mechanics, it's fair to say that this monetization mechanic feels more "player friendly," because it offers clear goals and a sense of what you'll get in return for your money. Moreover, the feeling of "missing out" is a strong psychological driver, so it's no surprise that this monetization feature has proven to be a powerful retention mechanic and incentive for certain types of games.
Is Battle Pass the new big thing in monetization?
After Fortnite's explosive success, many games have implemented "replicas" of this monetization feature in their games, one of the most notable being PUBG Mobile. At first, PUBG's monetization relied on premium currency and cosmetic item gachas. But PUBG Mobile wasn't able to reach the top tier of the grossing charts with this strategy, landing around 100 in US iOS charts despite strong download numbers. However, after implementing the Battle Pass on June 19, PUBG's revenue jumped by 365%, and their grossing rank rocketed up to the top 20 where it has been hovering ever since, even though PUBG's implementation of the said feature has been heavily criticized in comparison to Fortnite's.

PUBG Mobile's US iOS Top Grossing and Download data
For now, this new monetization feature has mainly been popping up in Battle Royale games (Fortnite, PUBG, Rules of Survival, Battlelands Royale, etc.). It remains to be seen if its success in that genre will make a broader impact on the monetization trends of other genres as well, especially when heavily used gacha mechanics have been criticized and even face legislative obstacles.
Something very similar has already been seen in the MOBA genre for PC in Valve's DOTA 2 and the mobile space by Super Evil Megacorp's Vainglory. But when looking at how the BP feature performed in Vainglory, it seems that the tangible effects appear limited so far: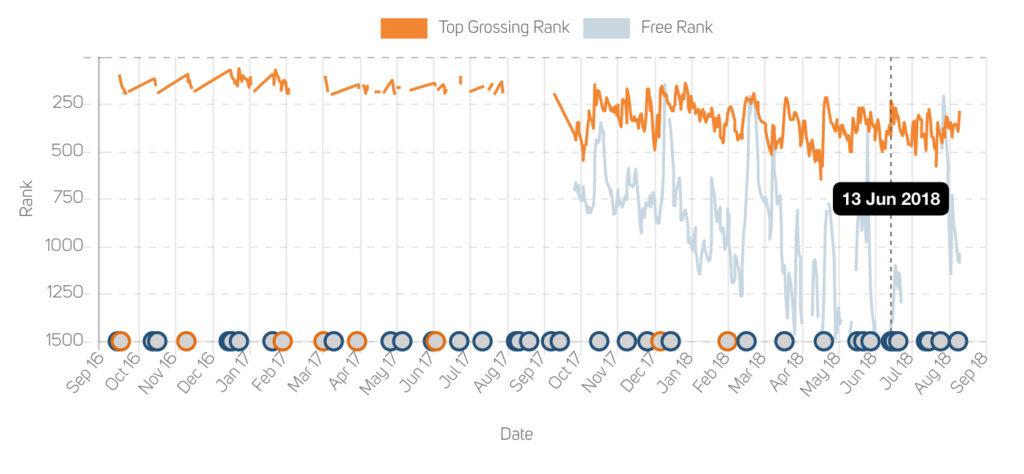 Vainglory's US iOS Top Grossing and Download data
There was a small spike upwards in the grossing rank right after Vainglory added its pass system on June 13, but the game dropped back to around rank 500 soon after and has been bouncing between 300-500 ever since – pretty much like before the BP's implementation.
Conclusions
Both the Fortnite phenomenon and the clear jump of PUBG Mobile's revenue are substantial evidence for the argument that the Battle Pass is the way to go in the Battle Royale genre (at least at the moment). Its highly engaging nature is helping these games increase retention and DAU numbers as the time limit drives players to grind as much as possible so that they won't miss out on the threshold rewards. Additionally, the feature creates an addictive sense of progression between sessions, pretty unheard of for a game type with no significant meta layer.
Even with all the praise and shockingly good performance, it's good to keep in mind that this monetization mechanic still hasn't seen very successful implementations outside the Battle Royale genre. However, given its recent track record, there will most certainly be more companies willing to take their shot at it within other genres. And when that happens, we'll be there to follow the data!
Dig deeper in feature data with the GameRefinery tool and get specific data on any of the 200+ game features we're tracking.