There's no hiding from the fact that the mobile game market is facing challenging economic conditions. This is for a multitude of reasons, from post-pandemic changes in player behavior and a drop in consumer spending to the impact of Apple's ATT causing the mobile market to decline for the first time in over a decade. 
Newzoo forecasted the mobile games market generated $92.2 billion in 2022, representing a 6.4% decline compared to the year before. Similarly, analysts from GameDevReports predict that mobile games revenue is expected to decline by 3% in 2023. 
So, how is the industry responding to these challenges? Last year, we noticed a new trend of studios and publishers launching external web stores selling items that are usually purchased in game, bypassing the commission that Google and Apple would usually take through IAPs. 
Most recently, we're starting to see a growing number of popular titles, including Mario Kart Tour, Genshin Impact, and Octopath Traveller, upping the prices of purchasable items. The Federal Reserve's interest rate has increased against rising risk aversion in the market, causing a one-sided surge in the US dollar exchange rate, which has seen major currencies such as the euro, CNY, and pound sterling showing a decline against the US dollar.
Given Apple is registered in the US and settles its revenue in US dollars, the surge in the exchange rate of the US dollar undoubtedly caused App Store revenue to shrink. To complicate matters further, with the costs of everyday goods and services increasing worldwide.
As a result, Apple announced an increase in App Store IAP prices in several regions worldwide in September, with the rate of increase varying based on the devaluation of each country's currency against the US dollar. For instance, the US dollar saw an increase of around 29% against the Japanese yen, so Apple's price increases were 30% in that region.
Given the price points are the same throughout the App Store, the changes were largely similar across different titles. The commonly affected territories were Japan, Korea, Vietnam, Malaysia, Poland, Chile, Egypt, Pakistan, Sweden, and all regions which use the euro, with the price rises varying between 10% to 30%.
Which mobile games are raising their prices?
Given the price rises come directly from Apple itself, it's hardly surprising that most games on the iOS store have been affected. Where differences do start to appear, though, is how different developers chose to implement and communicate these changes to their players. 
Many games, such as Octopath Traveller: Champions of the Continent, presented players with a pop-up message when they first loaded the game, informing them of the price rises and how these impacted different regions. Prices rose by around 20% in territories with the euro, with the highest-priced pack in Octopath Traveller increasing from 99.99€ to 119.99€.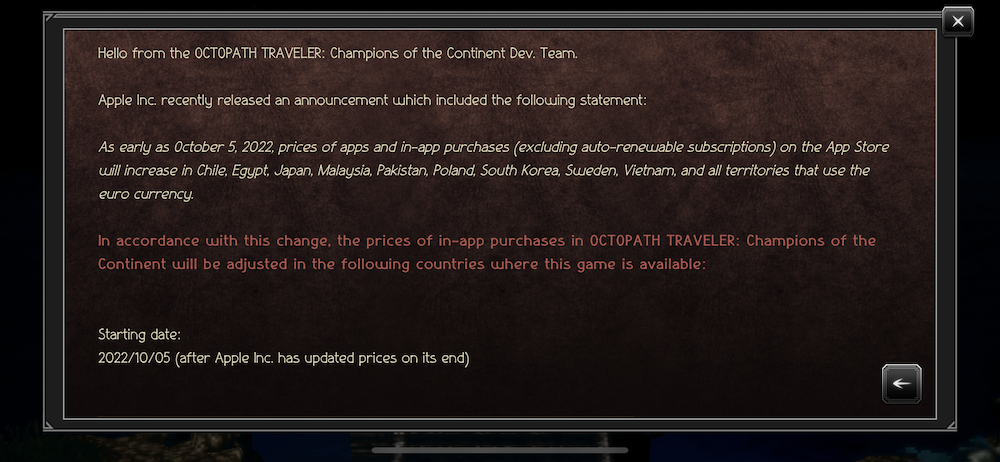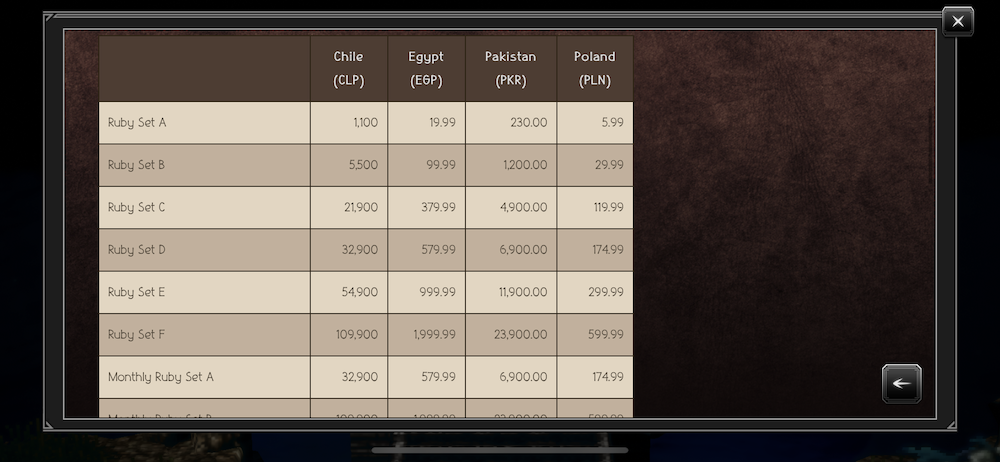 Whilst it already seemed clear that these changes were down to Apple, certain games cemented this even further by only applying price rises to the iOS iterations of their title. Tower of Fantasy put out a statement that it would follow suit with Apple in adjusting the price of its IAPs, but that other platforms would not be affected and iOS users would receive additional compensation. 
Similarly, MiHoYO announced on its HoYoLAB blog that Genshin Impact would be raising its prices in line with Apple across the relevant regions. Initially, this suggested the rise would affect all platforms (including PC and console), but at the time of writing, only iOS has been affected.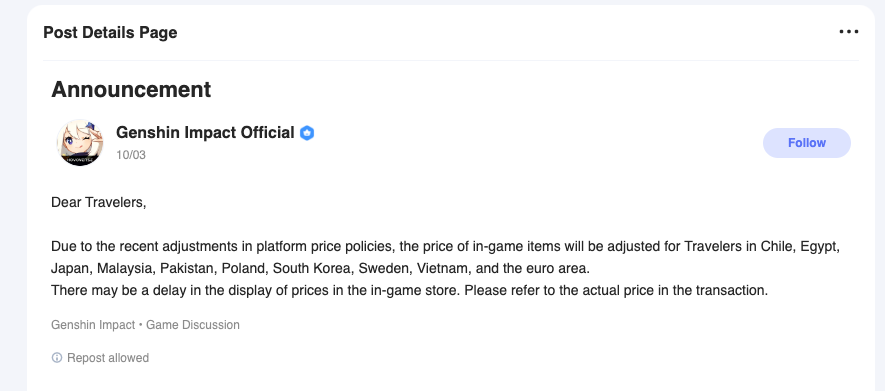 League of Legends: Wild Rift cleverly used the price rises to their advantage when they announced they'd be raising their own IAPs on 18 November. Players were informed they could cash in before the increase as part of a new campaign that ran from the 1–17 November, which saw all premium currency purchases in that period doubled.
The game saw a tremendous rise in daily revenue as a result, particularly on the first and last days of the campaign, where revenue increased by more than eight times than that of the previous day.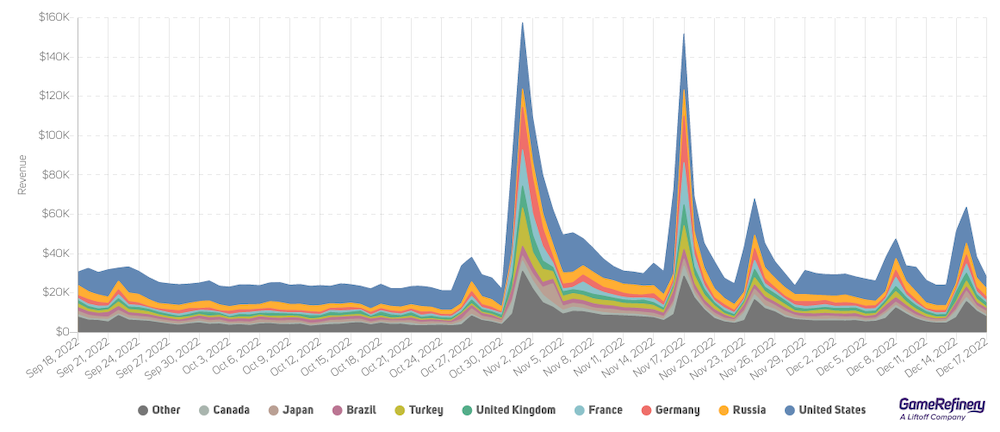 Nintendo was one of the few developers to take a more gamer-friendly approach to the price rises. While they couldn't avoid the increases in Mario Kart Tour, Nintendo improved the amount of premium currency received in each pack across all regions so that players didn't feel they were walking away without something in return. 
For instance, their value pack went from providing five rubies (consisting of three rubies and two bonus rubies) to six rubies (one extra bonus ruby). Players actually seemed to respond well to the rebalanced packs, despite the price rises, with major increases in daily revenue worldwide, including a spike of more than 20 times in Japan.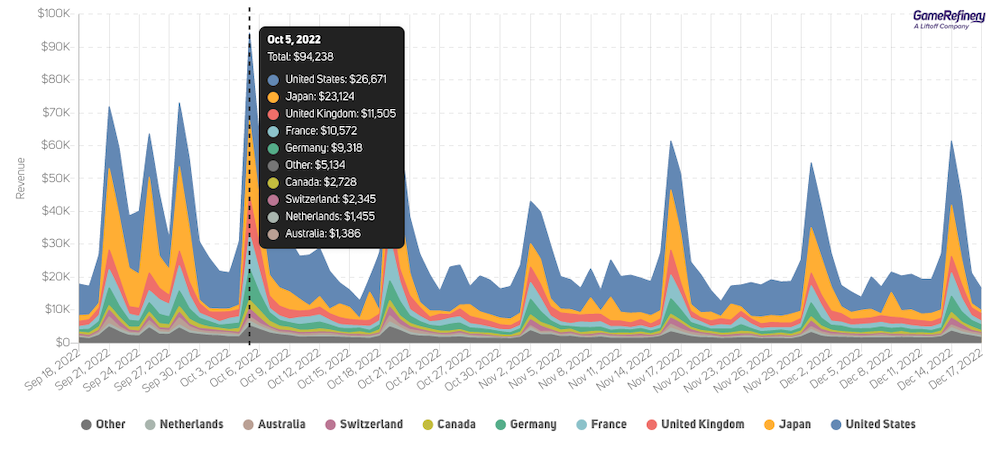 Diablo Immortal was the only title of note to actually decrease its prices in the wake of Apple's changes, or to a certain extent at least. The price point for all its packs remained the same as before, with more premium currency available in each. Developer Blizzard also added a new currency that month which could be used to craft five-star legendary gems called Telluric Pearls, which players could acquire for free by participating in limited-time events, as well as IAPs.
It's worth noting that Diablo Immortal received a notable amount of criticism in the media following its release for IAPs, with some arguing the title is inherently pay-to-win. Avoiding the price rises happening in so many titles may have been a tactical move by the developer to regain the goodwill of the Diablo fanbase.
Further changes are on the way for the Apple App Store
Following all this news of price rises, there has been one positive at least, with Apple announcing it will soon provide developers with 600 additional price points. Amongst many other benefits, these will make it far easier for developers to set prices per country or region so they can better manage foreign exchange rate changes in the future.
There's also more in the pipeline when it comes to out-of-app monetization. This trend started following the court case between Epic Games and Apple, which saw the two arguing over Fortnite's removal from the iOS store after players had been offered cheaper in-app purchases of Vbucks, an in-game currency, if the transaction was made via direct payment to Epic.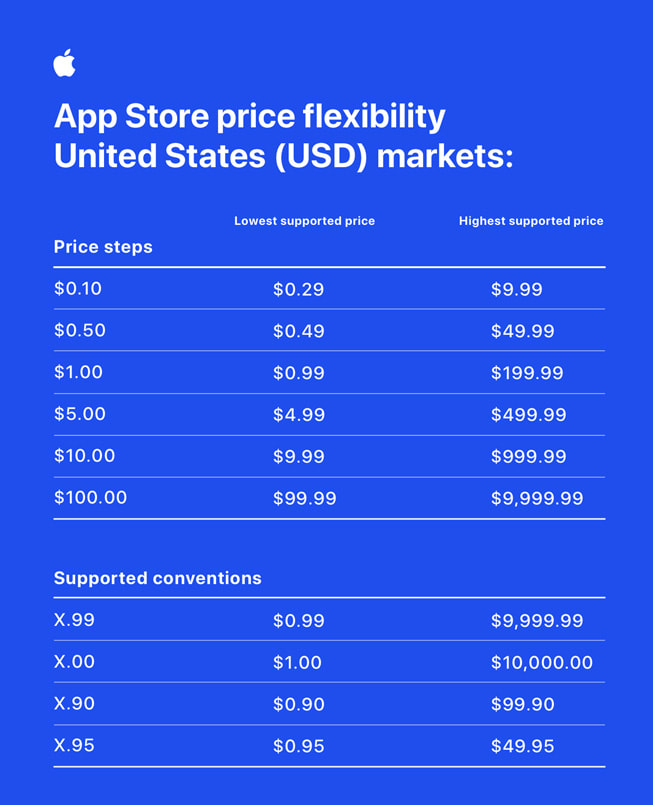 This was all to avoid the 30% cut Apple was taking on transactions made through the iOS store. The judge ruled that Epic had breached its developer agreement with Apple but also said that Apple had to remove its policies which banned developers from telling users about alternatives to Apple's in-app purchase system.
Since then, an increasing number of stores in recent months have launched their own external web stores to get around the fees, including Game of Thrones: Conquest, Clash of Clans, Marvel Strike Force, and Star Trek Fleet Command, which offer players better deals for purchasing certain in-game items and premium currencies. 
RAID: Shadow Legends doubled down on this approach by introducing a new loyalty system called Plarium Points, with points earned by completing Advanced Daily Quests, Daily Playtime Awards or by purchasing weekly Plarium Points Packs. Interestingly, The out-of-app monetization appears when playing via PC or Mac, where players can earn more points from the daily rewards and earn Plarium Points on all purchases, rather than just one specific bundle, enabling them to reach the reward thresholds faster.
It's unclear how many players are dedicated enough to go through the extra effort of visiting an external store or client in each title, but we suspect that the highest-spending players will be the most likely to take advantage as they'll stand to gain substantially more benefit than a casual player.
However, if prices continue to rise, perhaps more users could be encouraged to make the extra effort. Apple is also allegedly planning to allow third-party app stores on its various platforms from 2024 to comply with the EU's new digital market laws, which will make it substantially easier for users (at least those in Europe) to visit alternative stores. 
If you enjoyed reading this post and want to know more about some of the other trends occurring in the wider mobile market, check out the posts below.