Tower of Fantasy was launched in the global markets in August 2022, luring players to the game with its "Genshin with an MMO experience" headlines. So, does it live up to the promise?
Tower of Fantasy is a new MMORPG developed by Hotta Studio and published by Perfect World and Level Infinite. The anime art style is fairly similar to the one in Genshin Impact, but one of the biggest differences is that Tower of Fantasy players explore the open sci-fi world of the planet Aida, rather than the fantasy setting depicted in Genshin Impact.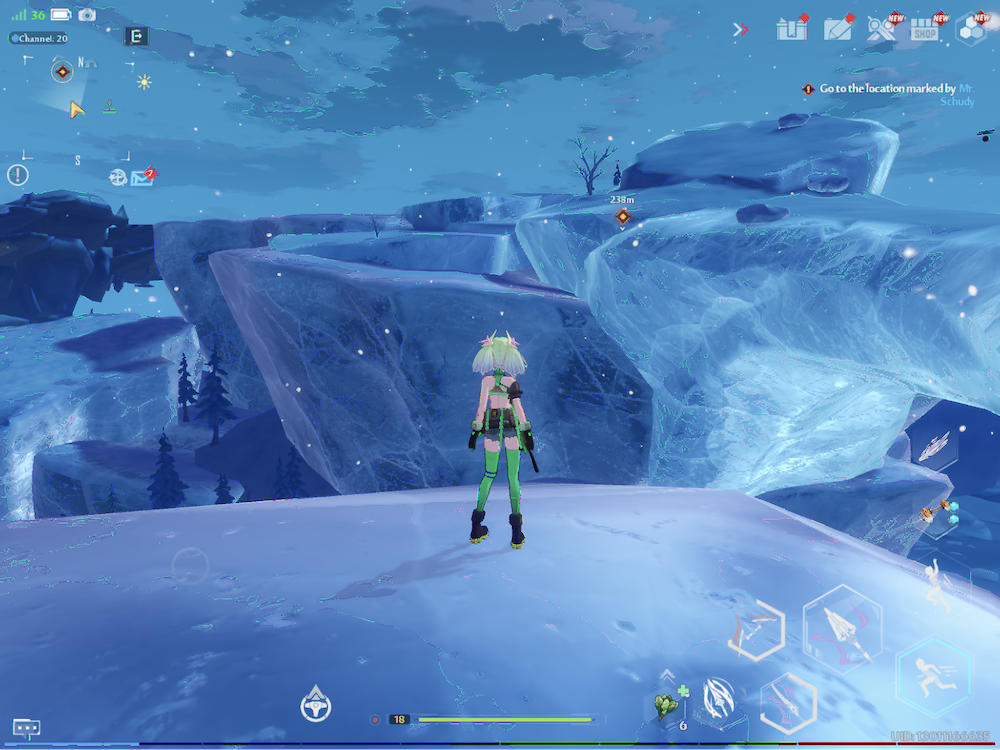 At the peak of its success, Tower of Fantasy jumped to the iOS top-grossing ranking 11 in the US market but has come down a long way since then. In the Chinese market, where Tower of Fantasy was released earlier in 2021, it has been able to stick in around iOS top-grossing 100. In the Japanese market, the game has proven more popular and kept its position in iOS top-grossing 100 after its release, which happened around the same time as in the US market.
The performance trend of the US market can be shown in the graph below. Downloads had a huge spike at the start, which also affected the revenue spike. Since the launch, the downloads have been strongly decreasing, which has also affected the revenue. Although, in these types of games, whenever there is a new content update, there is also a revenue spike, which can be shown in the case of Tower of Fantasy. However, the revenue spikes have been continuously smaller.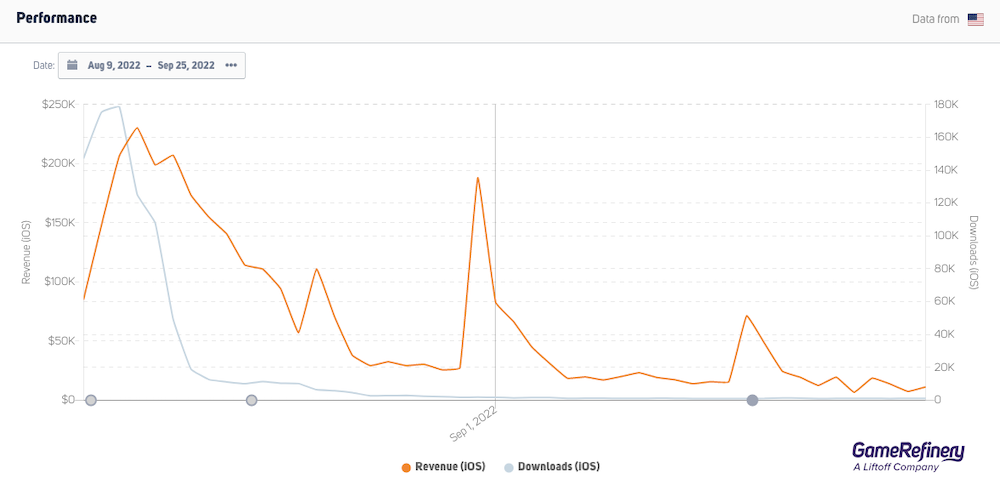 Similar to the mechanics of Genshin Impact, the player explores the vast open-world by climbing on the walls, swimming in the rivers, gliding in the skies, wiping out enemies, and solving different kinds of puzzles. The difference between the two titles is their genre. While Genshin Impact is an action RPG, Tower of Fantasy is marketed as an MMORPG. The genre difference is what makes Tower of Fantasy stand out from its competitor Genshin Impact, as the two games might have otherwise been too similar without some tweaks in the feature set. How is the genre shift shown in the game?
The differences between the open-world in Genshin Impact and Tower of Fantasy
Both games have a massive open-world to explore and support co-op features, but Tower of Fantasy has a bigger focus on social elements and makes the process of playing with other players smoother than Genshin Impact.
In Genshin Impact, players can roam through the open-world together with up to three of their friends when they invite them to their own world (or are invited to the worlds of other players). They can play through open-world challenges and beat the bosses in the open-world together with others, as well as complete daily quests. To invite others to your own world, the Adventure Rank needs to be level 16, which requires some progress in the game before getting there.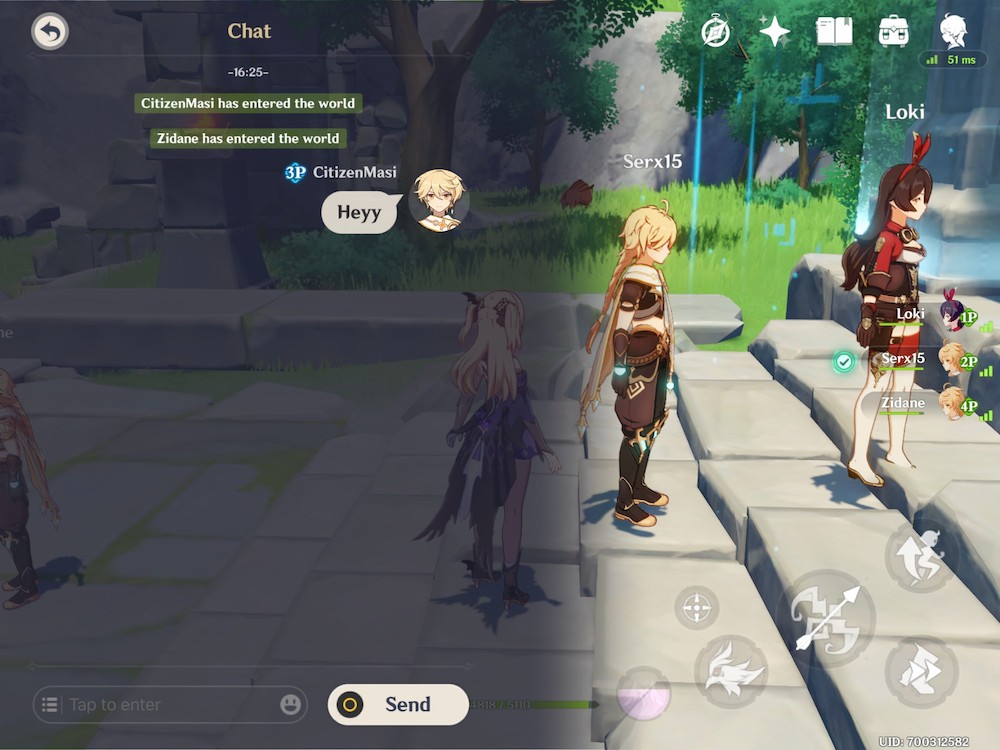 Tower of Fantasy allows fairly similar free-world roaming together with others almost right from the beginning – players can complete open-world tasks, beat enemies, or kick world bosses' asses together. There is one difference between the two games, though. In Genshin Impact, players need to invite the other player to their game or vice versa, whereas in Tower of Fantasy, players can meet other players in the shared open-world, where they can intuitively interact with them and invite them for open-world exploration and fighting. This makes interacting with players much easier.
As an example, if you encounter other players in the game that are attempting to take down a boss, you can instantly jump in on the action. This adds to the social experience when the possibility of bumping into random players is higher and less structured. Tower of Fantasy also includes a chat feature for socialization, where players can communicate with each other where to find the world bosses and ask for their help to slay them.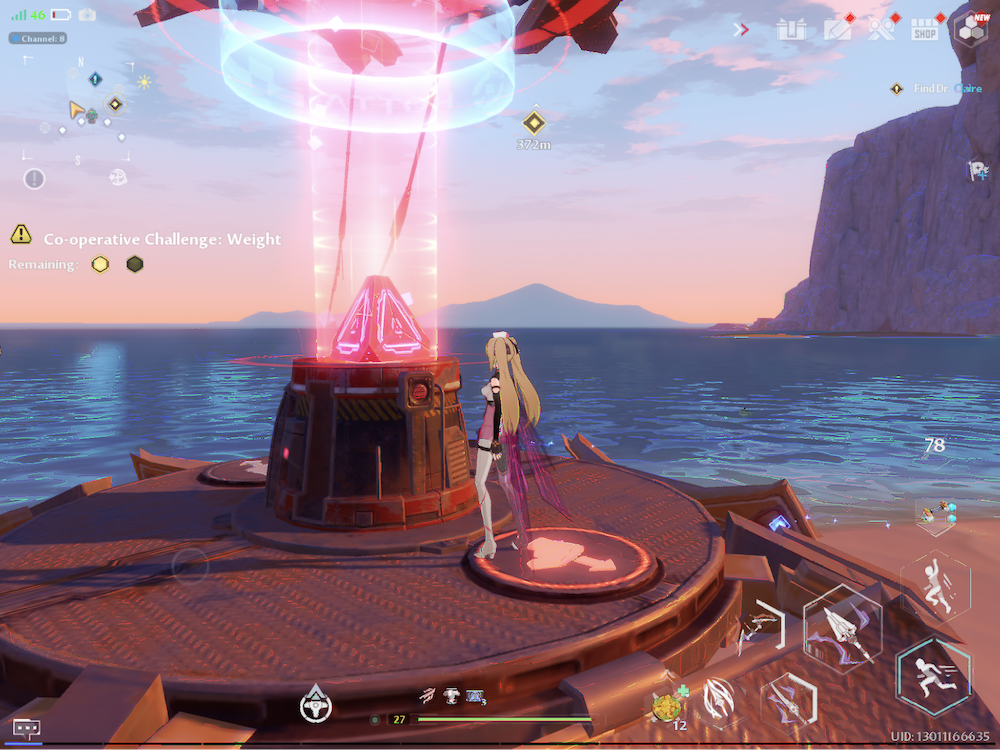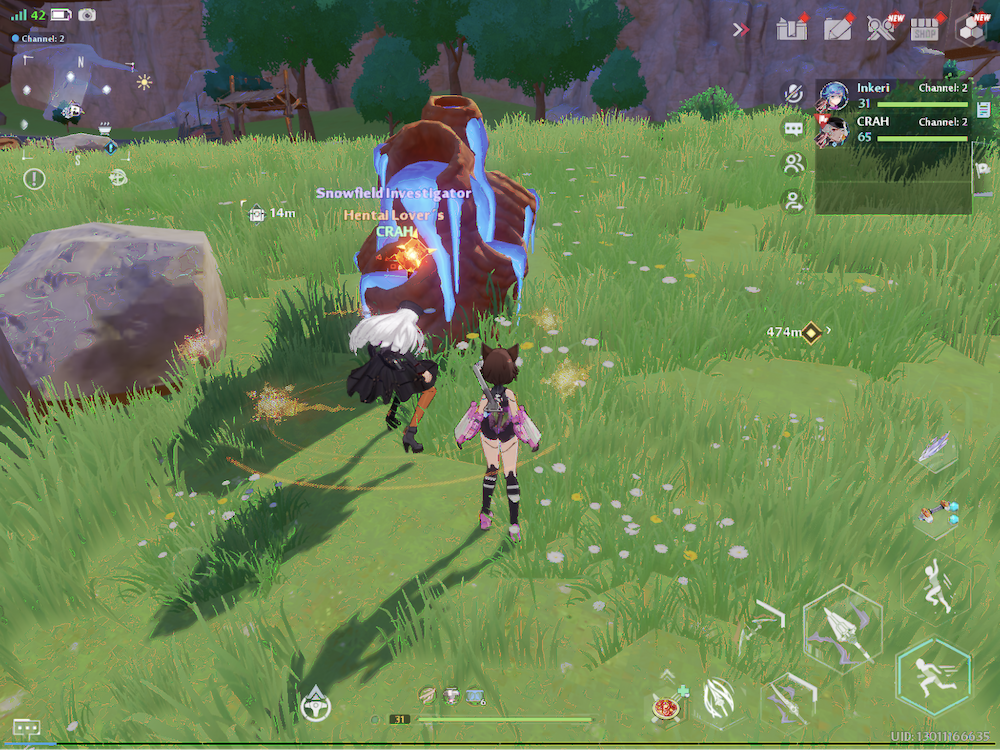 Differences between cooperative PvE and PvP modes in Tower of Fantasy and Genshin Impact
In addition to the shared open-world, the greatest difference between the two titles can be found in the amount of PvE and PvP modes.
Genshin Impact does not have special PvE modes specifically made for cooperative playing, but there is an option to play the domain challenges (special bosses) or to beat the enemies in the world together with other players whom the player can join a party with. These players have to be on the friend list – there is no possibility of joining a party with a group of random players with filtered matchmaking.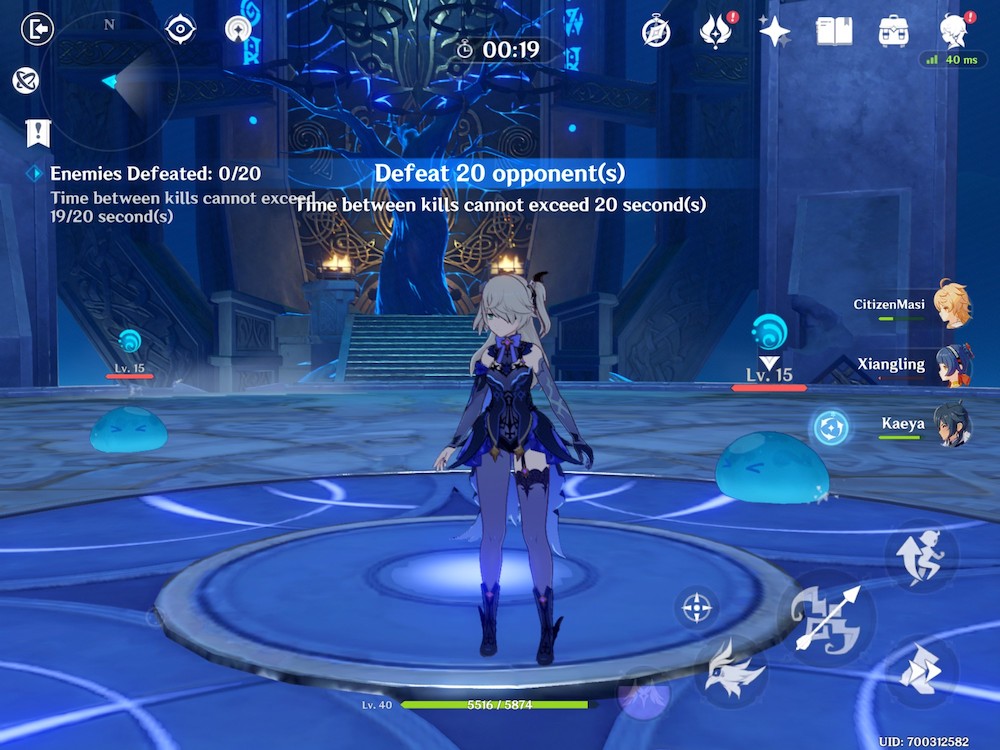 Tower of Fantasy instead has a variety of co-op PvE modes to play, such as an eight-person Raid and typical four-player dungeons, like Dimensional Trials. These can be played with a group of random players in a jump-in co-op style rather than having to complete a matchmaking process first.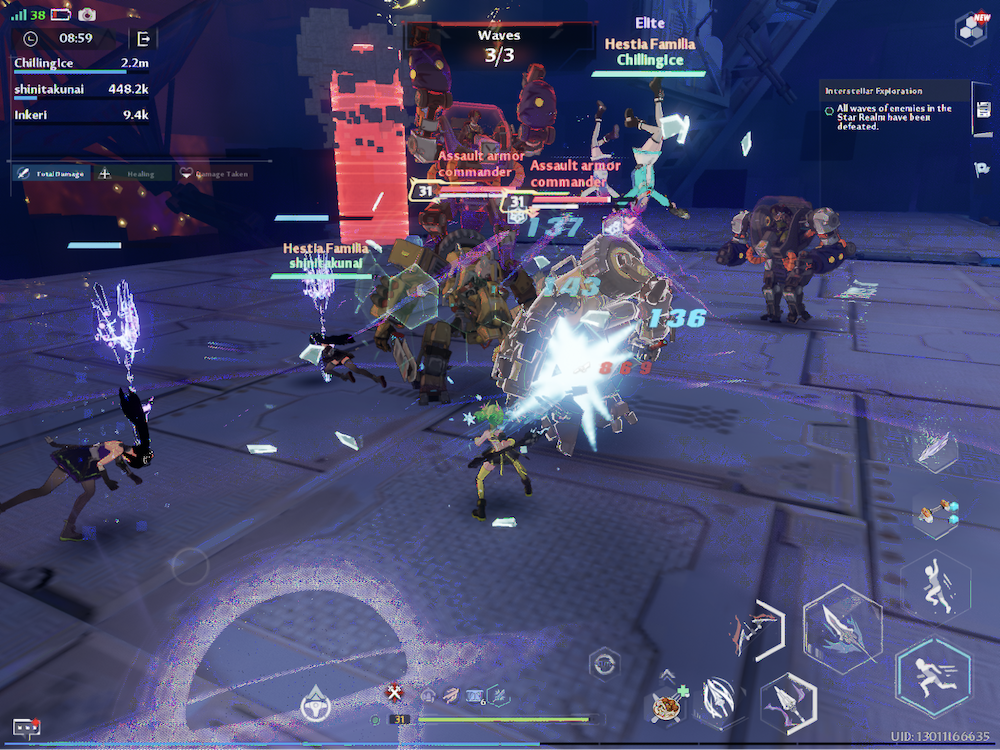 Tower of Fantasy also has a balanced PvP mode, Apex League, with a seasonal ranking system and rewards for the best player. As a typical MMORPG feature, players can also challenge others for an open-world fight.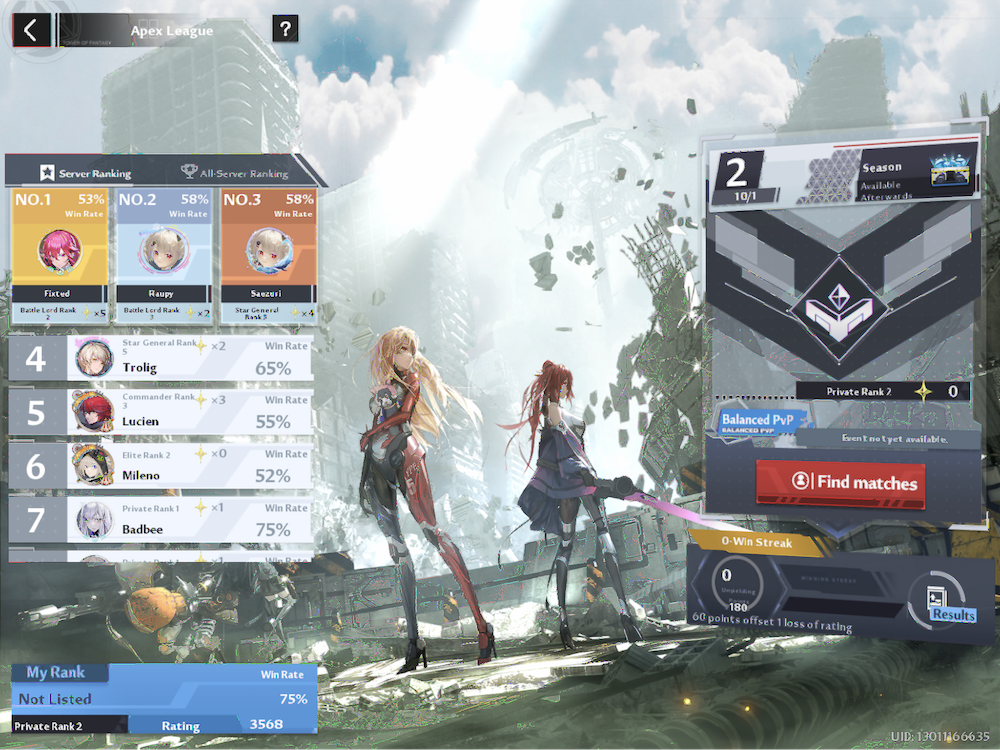 Guild adds up to social features
While Genshin Impact has not incorporated a guild in its game, Tower of Fantasy has and is particularly well-suited to the feature as an MMORPG. By joining guilds (which are known as Crews), players can get extra benefits such as weekly rewards for premium currency, as well as the possibility to shop in the guild shop for various items. Guilds are also a great way to get to know other players and interact with them. They can also be created with random players met in the open-world, which links the system nicely to the MMO experience.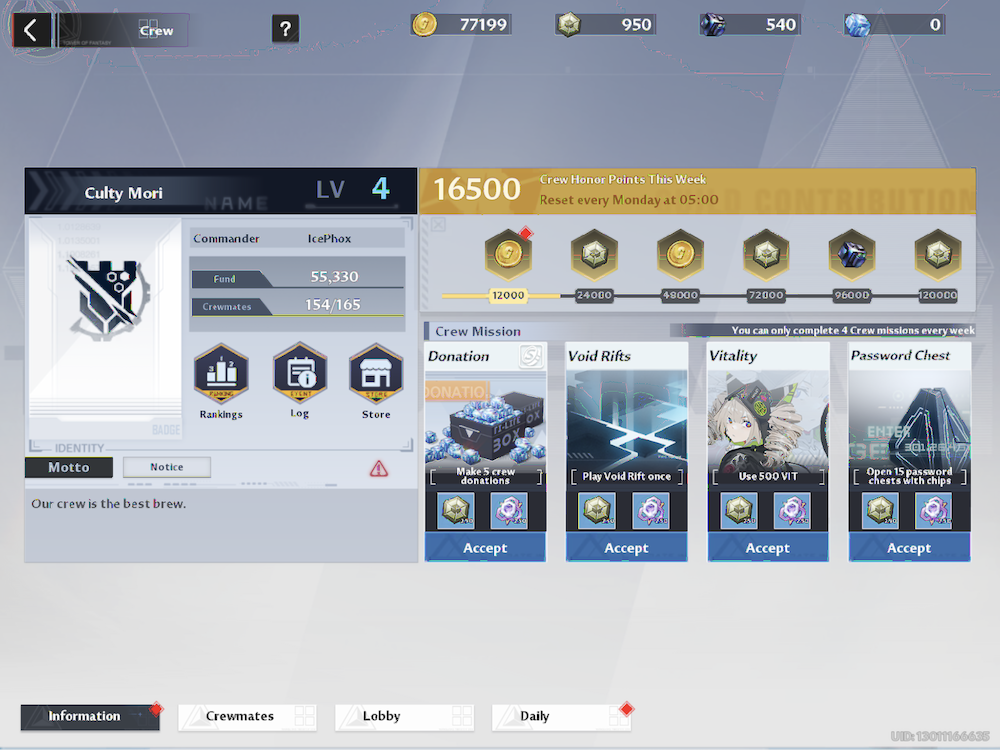 Does Tower of Fantasy live up to its social creds?
Some players have struggled to encounter other players in the open-world area, an issue that we experienced while playing and analyzing the game, too. This is a striking difference from many other Chinese MMORPGs, where the world is often packed with other players. This lack of players results in a world that feels empty, which takes away the MMORPG feeling of the game and means that many of Tower of Fantasy's most appealing gameplay elements can't be put to good use.
That said, this could be an issue that's server-based, which is something that developers could and should fix. When the server or the channel is packed with other players, this feature distincts Tower of Fantasy from Genshin Impact's single-player experience in the most noticeable way as there is a possibility to bump into a random player or a massive group of random players during the world exploration or the main story progression.
Another great distinction is the higher number of cooperative game modes in Tower of Fantasy, which pushes the player towards some kind of social interaction even when they play "the single-player experience" by only progressing in the main storyline. Also, the guild system gives even more possibilities for players to engage socially. There are at least many options for the player to include others even more in their gaming experience than in Genshin Impact.
To see more examples of social features and how they are utilized in similar types of games, head out to look at GameRefinery's thousands of implementation examples from different social elements in the games. This is a great way to gather knowledge on how different games incorporate these elements into their game world.
If you enjoyed reading this post, here are a few more you should definitely check out: