We're almost halfway through 2023, and the mobile market continues to power along with several major titles introducing exciting new features to drive player engagement and boost revenue. One of the most impressive updates from May is League of Legends: Wild Rift, which transformed its monetization by introducing permanent purchasable gacha.
It wasn't the only title to rethink its monetization either, with Brawl Stars taking a different approach. After removing its gacha earlier this year, Supercell's title overhauled its in-game store so players could purchase almost any skin, pin, spray, or avatar from one unified shop. Meanwhile, GODDESS OF VICTORY: NIKKE celebrated its six-month anniversary with the narrative-driven 'OverZone' event, which allowed players to delve deeper into the story behind the apocalypse.
May was also an interesting month for new releases, with two massive titles struggling to hit the ground running. Niantic's latest follow-up to its prolific Pokémon Go, Peridot, dropped out of the highest-grossing titles almost as quickly as it arrived. While the newest game from the creators of Galaxy of Heroes, Lord of the Rings: Heroes of the Middle-Earth, has struggled to find users despite being based on a colossal fantasy IP.
You can find more information about these games and updates, as well as many others from across the US, China, and Japanese markets, in the bulletin below.
US Market Overview
League of Legends: Wild Rift significantly changed its cosmetic item monetization model by introducing permanent purchasable gachas for the first time. The gacha, known as Hextech Chests, uses a unique skin shard crafting system. You can read more about it in our update breakdown.
The update, which also launched a new Wild Pass season, has caused the third-highest revenue spike in the game's history. Not that this wasn't expected; Hextech Chests had already demonstrated their financial might after being introduced to Wild Rift's China version last year, where they've been performing exceptionally well.
Given some of the recent challenges facing gacha, some mobile games have been attempting to step away from these mechanics altogether, so it was interesting to see such a prominent title doubling down on gacha monetization now. With that in mind, we'll be closely monitoring the global version's baseline revenue performance to see how it develops under this new model.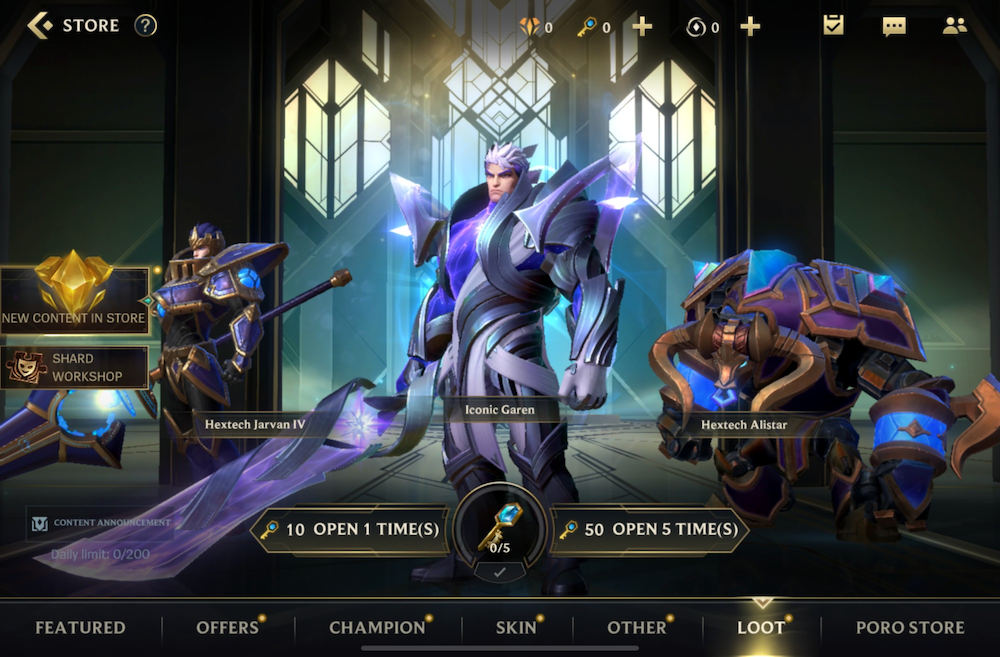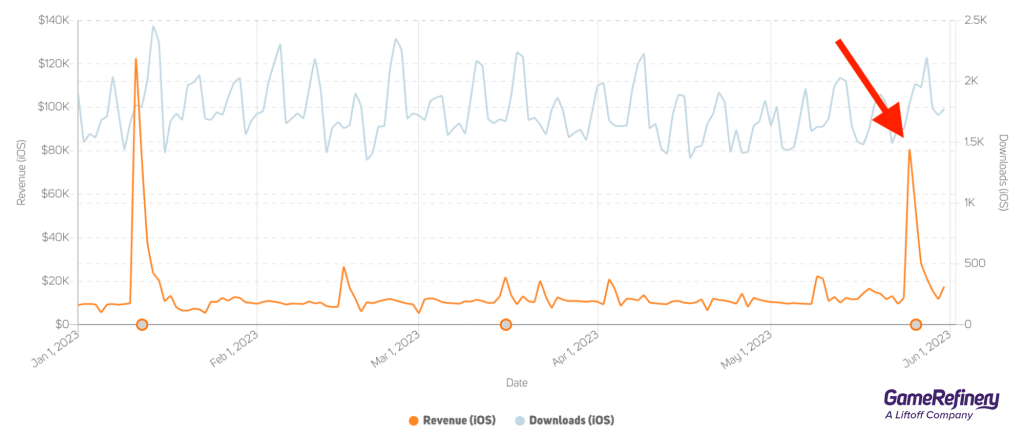 Love & Pies added a new store, the Heart Shop, where players can purchase items by spending Hearts. This new currency is collected by playing any in-game event, enabling the new store to engage players more than any single event could collectively. Heart Shop has three categories of items available for purchase: daily changing items, weekly changing items, and permanent items (for example, unique decorative buildings for the map area).
State of Survival added a new T-Rex Behemoth to the game to join the existing Mk1 Behemoth (Gorilla). Behemoths are characters similar to the heroes who can be assigned to join troop marches to assist in 4X battles.
Many events were held to celebrate the addition, including one that introduced an innovative Survivor!.io-type game mode, Behemoth Trials. In this mode, players could choose one of the two behemoths to take into a timed survival battle to fight hordes of infected. As the Behemoths leveled up, players developed a unique skill set by selecting from three random abilities, including attack and support skills. The mode also featured a battle pass and an upgradable boost system.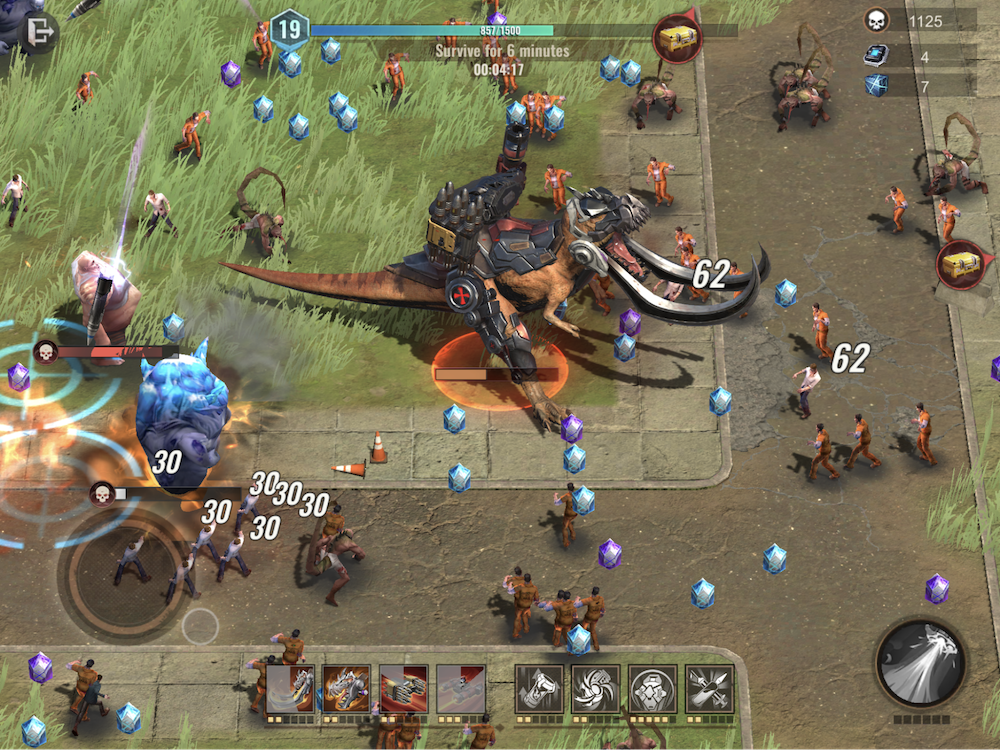 Other notable updates included Merge Mansion launching its first-ever competitive event, The Great Bake Off, which features a special limited-time merge area. Clash of Clans meanwhile reworked its Builder Base, adding a secondary buildable area alongside a brand-new multi-stage attack system to replace its Versus Battle mode.
Let's not forget Brawl Stars, which overhauled its in-game store to feature more cosmetics. Initially, the game only offered a small selection of skins that changed each day, whereas under the new catalog system, players can purchase almost any skin, pin, spray, or avatar they want from one unified shop using a new cosmetic currency, Bling.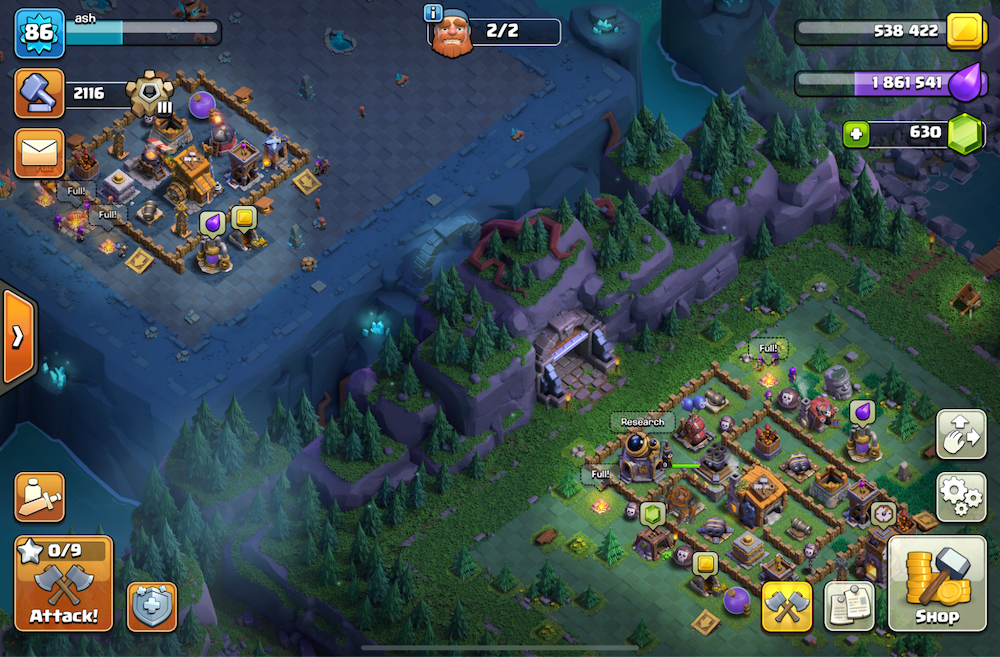 Interesting top-200 grossing entrants on the market
Niantic pursued their next Pokemon Go-level hit with the launch of another AR/location-based game, Peridot, which quickly visited the top 200 at launch on 8 May but dropped out shortly after. It currently hovers between the top 200-300 grossing.
Lord of the Rings: Heroes of the Middle-Earth is a new character collector turn-based RPG from the team behind EA's Star Wars: Galaxy of Heroes, with largely similar mechanics. Despite being based on an equally popular IP, the title is struggling to make the same impact as its predecessor, with low downloads and slow financial performance. It currently rests around the top 200 grossing.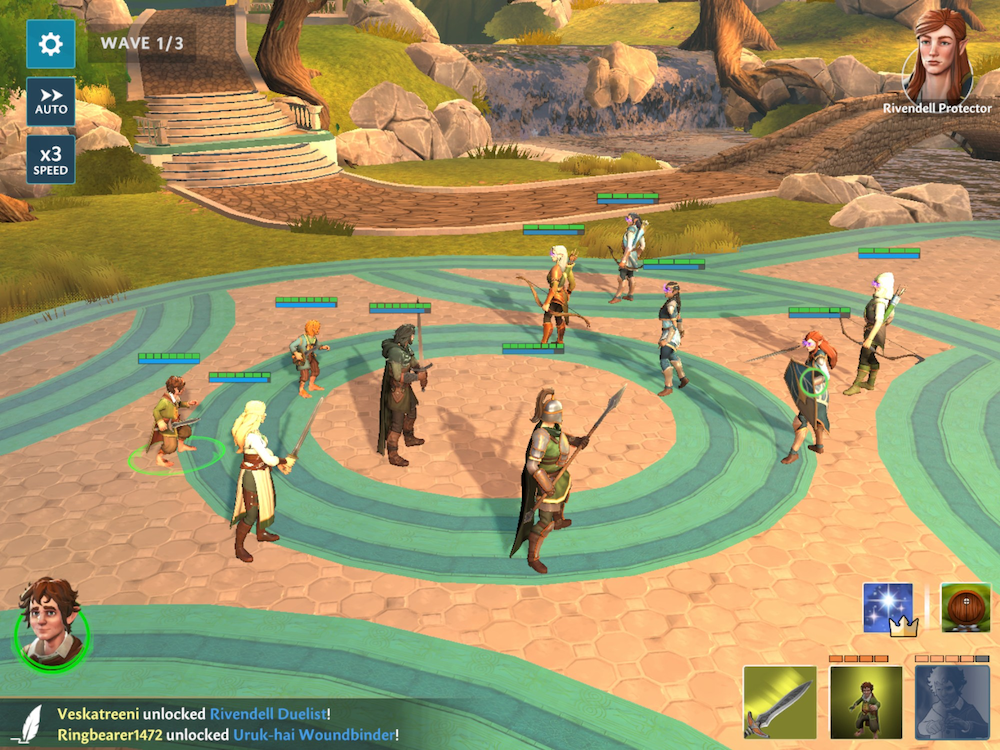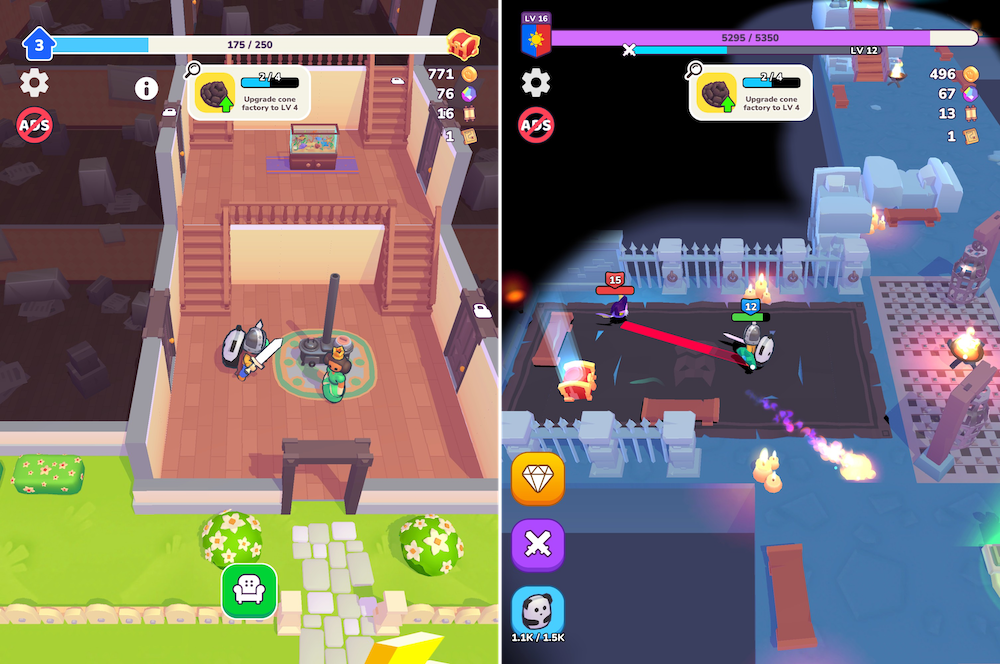 China Market Overview
Games from various genres have introduced new minigames and modes which feature match3 mechanics, but few have executed this as seamlessly as Tower of Fantasy (幻塔) has with its Tiles of Qinge event. This mode feels like a more natural inclusion by using the same aiming mechanics as its core gameplay loop.
In the event mode, four players go head-to-head to take on a huge match3 tile wall with their bow and try to clear it as fast as possible to collect the most points.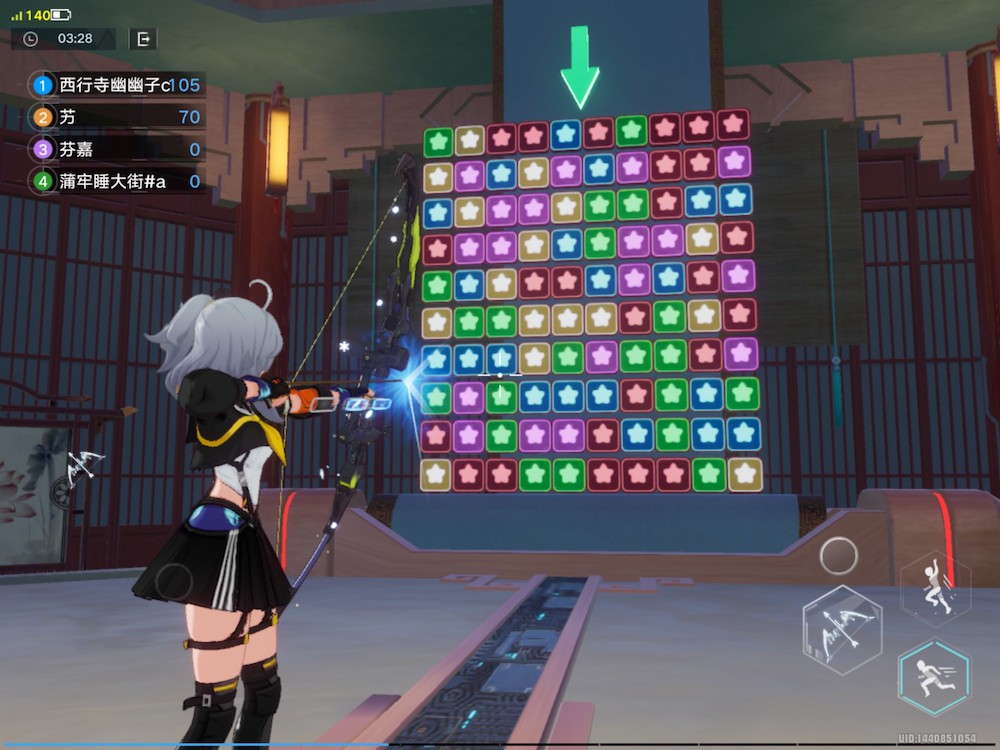 Interesting top 200 grossing entrants on the market
Japan Market Overview
GODDESS OF VICTORY: NIKKE celebrated its half-anniversary with a large-scale event, OverZone, that tells the dark story of the desperate final days before the apocalypse. It includes a new explorable area, story and battle levels, a battle pass, missions, login rewards, and an exclusive shop.
The event also included an interactive text-based adventure minigame, White Memory, that ​sees players reliving the memories of a fairytale-inspired NIKKE, Snow White, who has been wandering the surface. Players can make various decisions as they play to branch off the narrative and discover different endings, unlocking additional rewards for use in the main game.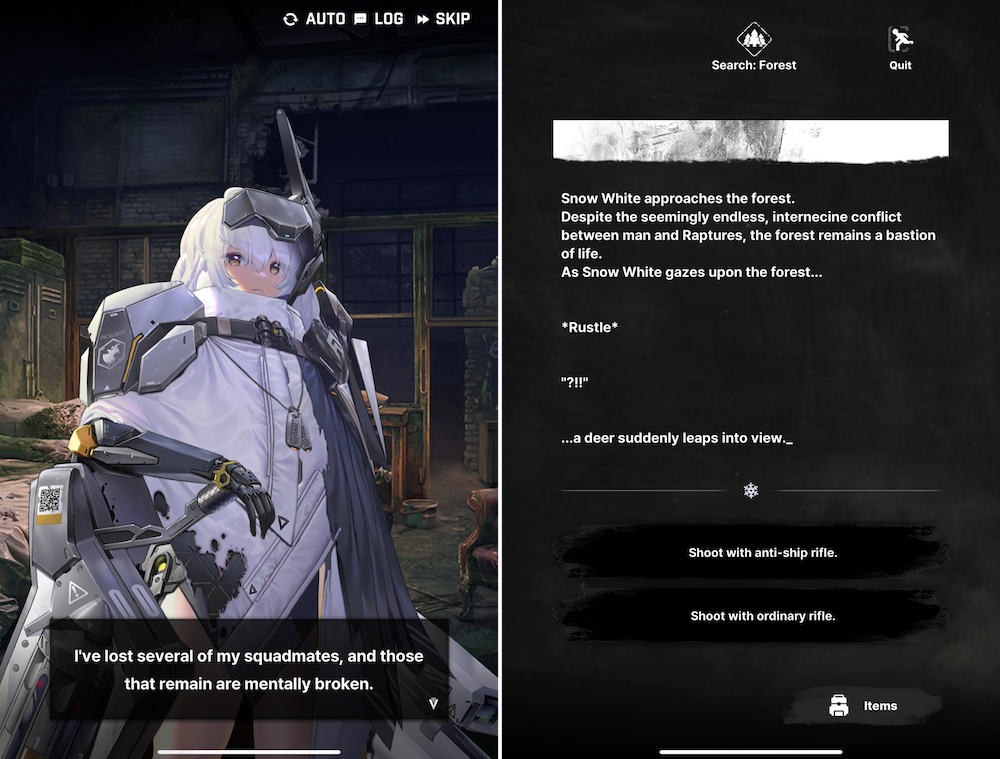 Interesting top 200 grossing entrants on the market
Black Clover Mobile (ブラッククローバーモバイル) is the latest high-quality RPG for mobile that is based on highly popular anime IP. The has been the top one in the downloads list since launch and in the top 15-30 in the top-grossing list.
Aether Gazer is a high-quality visual anime action RPG, similar to Genshin Impact and Honkai by Yostar. The game peaked at the top 21 grossing.