With increased competition from IDFA regulation changes and new games consistently entering the market, two of the biggest challenges facing publishers and mobile game studios are acquiring new players (UA) and keeping those players in your game (player retention).
Publishers and studios are constantly looking for new ways to improve these, whether it's with more powerful ad creative to boost UA or by adding new gameplay mechanics and features to improve player retention.
But many of the top-grossing mobile games have found one of the most effective ways of boosting UA and player retention is implementing minigames that feature different mechanics to the game's usual core gameplay.
As an example, a casual puzzler might introduce a reaction or thinking-based hypercasual minigame, while a midcore RPG might introduce a fully-fledged side mode with core gameplay elements from a completely different genre.
Minigames have continued to grow in popularity since the IDFA changes, especially amongst casual and midcore games. Looking at current popularity data of the highest-grossing games of the US market (top 200 grossing games), 23% of casual games and 47% of mid-core games are utilizing minigames. This shows that they're important elements, especially when it comes to finding success in the midcore space.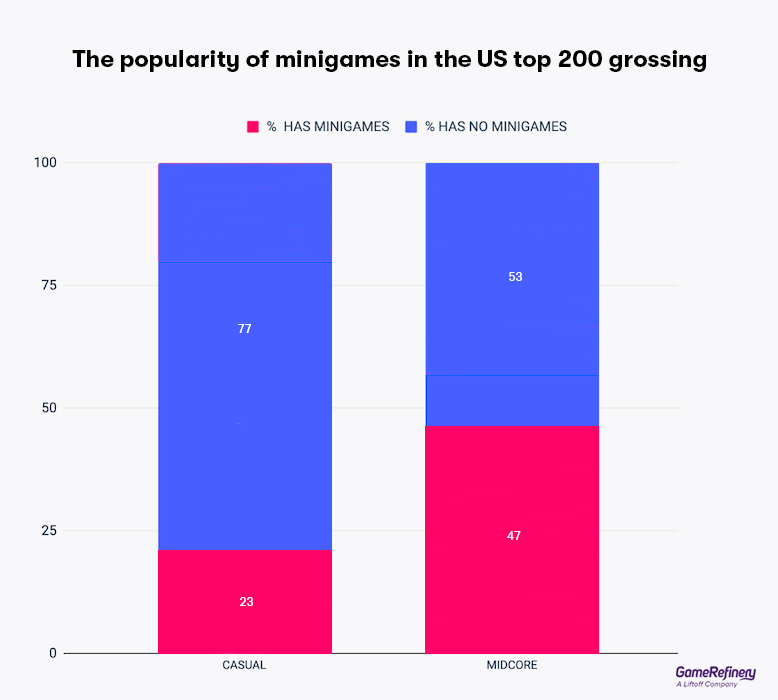 Why implement minigames?
There are lots of benefits to implementing minigames in your game, although these benefits will depend on how you utilize them. They're a great way of boosting engagement by providing players with new and exciting ways of enjoying an existing game. You can also use them as a way to test how players respond to new gameplay mechanics if you want to eventually integrate them as a permanent mechanic in your core gameplay loop.
Introducing minigames into your game also provides an opportunity to add new monetization elements. As an example, a puzzle minigame might feature consumable boosters or rewarded ads to help players in the levels, while a more complex standalone minigame might introduce a completely new monetized meta layer.
Also, one of the big benefits of minigames is being able to experiment with new genres, which means you'll widen the motivational appeal of your game. This can make your player base larger and reduce your reliance on UA targeting, as adding these modes makes your game relevant to a larger audience.
Speaking of UA, many of the top-grossing games are choosing to implement hyper casual-like simple but addictive minigames and utilize them in powerful ad creatives as part of their wider marketing efforts. These can be seen in numerous ads for mobile games on social channels, such as Austin's Bad Dream in Gardenscapes.

Next, let's go over different minigame archetypes and how some of the top-performing games have implemented these modes to reach the benefits mentioned above.
Different minigame types and examples
Minigames can be grouped into four main archetypes, from UA-boosting ones to retention-increasing ones:
Let's next look at more detailed implementation examples of these four main archetypes from some of the highest-performing games.
Archetypes 1 & 2: UA creative minigame levels and modes
If you've ever seen an ad for a mobile game on Instagram or social media, you've probably encountered the UA-focused minigames we mentioned above. Usually, these ads show an interesting gameplay mechanic with little to do with the main core gameplay and instead are from a sidemode or major part of the tutorial.
According to some reports, one reason for this approach is that some games have seen their CPI (cost per install) numbers go lower with these types of ads. The mechanics of the minigames in these sidemodes and tutorials are often very simple but hooking, so they're perfect for showcasing in ad creatives to hook players in.
Let's look at three very different UA-focused implementation cases from match3 Royal Match, idle RPG X-Hero, and the 4X strategy game, King of Avalon.
Royal Match – King's Nightmare levels
Royal Match has been a great success as currently one of the highest-grossing and downloaded games in the US. At its core, Royal Match is quite a simple but polished game with linear match3-level progression, simple room renovation meta, and a rich recurring event framework.
Around February 2022, one version of its UA creative minigame levels got implemented in the game as special levels that pop up from time to time for the player as they progress through the linear match3 levels. The King's Nightmare titled levels are timed match3 puzzle levels where you have limited time to complete the level to save the King. These special levels follow the similar match3 mechanics as the normal levels, but they feel more hectic due to the level's timer. The King's Nightmare levels are also completely optional for the player and can be simply skipped.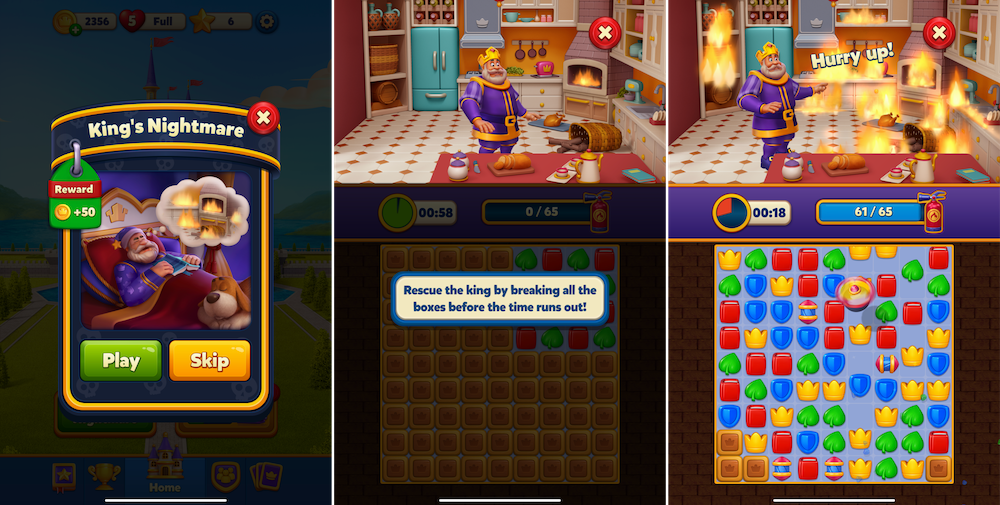 The levels not only bring a nice change to the slower-paced but harder main levels but also benefit the UA side. The same "King in trouble" gameplay has been used in several of the game's UA campaigns and is also shown on the game's App Store page. Looking at the massive download numbers, this is proving to be a successful strategy.
X-Hero – SaveDoge mode
Idle RPG character collector X-Hero introduced a minigame called "SaveDoge," where players have to draw a protective barrier around an image of a dog stylized like the popular doge meme to protect it from bees. X-Hero has been utilizing this minigame in its ad creatives and app store icon/screenshots, but it's not the only game doing this. Inspired by TikTok and other social media platforms, the Doge trend has also been used in a few other idle RPGs, such as Valor Legends, as well as in another popular Save The Doge hypercasual game.
Implementing this UA strategy in September 2022 led to X-Hero quickly storming the download and the top-grossing charts, peaking at number one in the US iOS top-download charts and 17 in the top-grossing.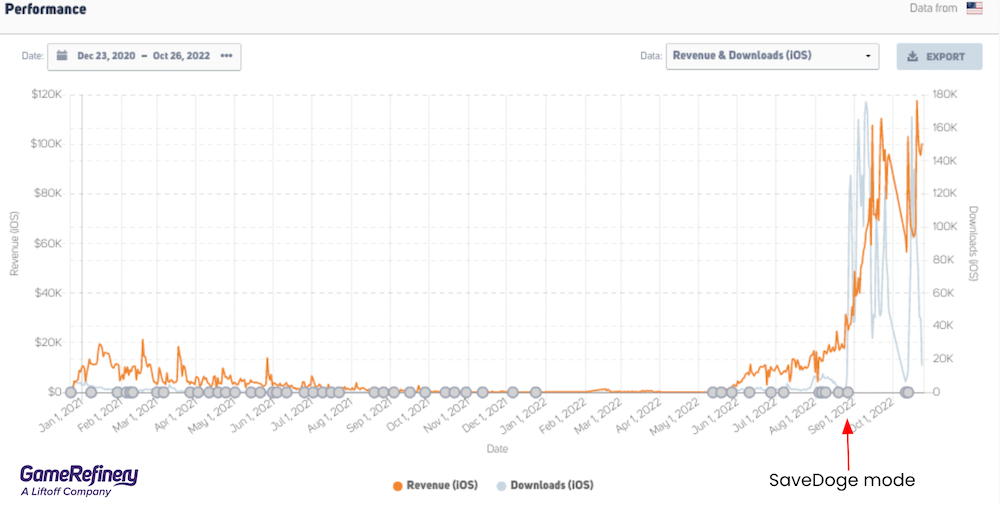 Inside the game, the SaveDog mode is implemented to both the tutorial and as a permanent side game mode but has nothing to do with the actual RPG core gameplay or the futuristic superhero theme of the game. SaveDog mode has players progress through the extremely easy minigame via a linear map, with the completion of new stages earning them premium currency and gacha ticket rewards that can be used in the main game mode.

In addition to the more shallow SaveDog mode, X-Hero features another more robust minigame as well. The game has a base building meta progression with a casual casino minigame tied to it that resembles the hit game Coin Master, bringing yet another special core gameplay layer. This game mode is an integral part of the whole game, as there are considerable benefits the base and its buildings bring.
X-Hero has started to change its UA minigames on a monthly basis and recently updated its strategy with a mode titled "Chess Wanted", where players control police officers in a turn-based puzzle grid to prevent thieves escaping. You can find out more about the update in the GameRefinery February Analyst Bulletin.
King of Avalon – Frost and Tears campaign
Despite being a six-year-old 4X strategy game, King of Avalon is still holding its place in the top-200 grossing ranks of the iOS US chart. To keep up with the tight competition in the 4x strategy space, it recently changed its first time tutorial from a normal 4x strategy gameplay to a real-time-strategy battle levels where you defend against waves of "Unmelted" monsters, reminiscent of the White Walkers from Game of Thrones. The game also started running UA creatives and changed its Appstore page featuring gameplay from these levels.
The game's tutorial includes several of these levels, as you first flee from the Unmelted and slowly uncover and clear your base of monsters and ice across the story. When that's done, the actual base building and 4x strategy game starts. Differing from the usual UA focused simple minigames, the Frost and Tears tutorial and levels are very detailed and offer quite robust gameplay mechanics, that cater for both RTS and tower defense fans.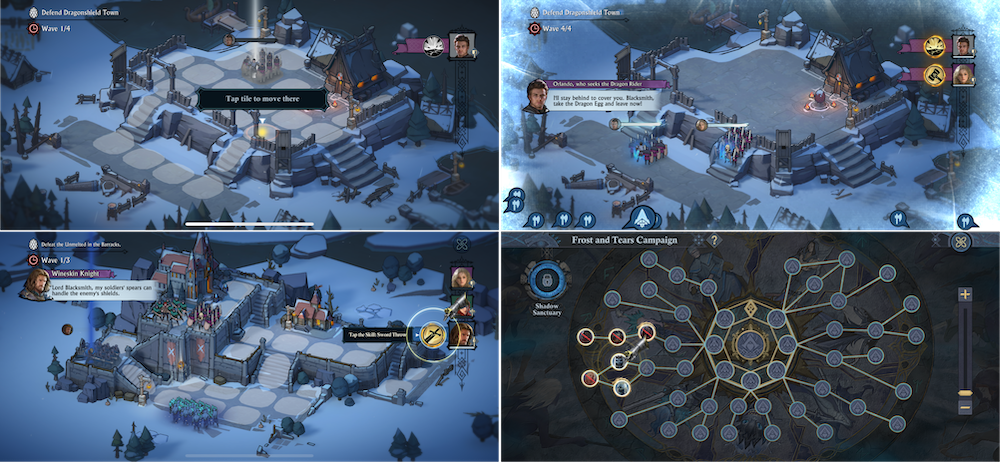 The players who enjoy the mode get to continue playing through them as the levels stay as a permanent side game mode titled Frost and Tears campaign. Each of these levels unlocks a great amount of rewards such as boosters and Hero characters for the game's main 4x gameplay.
Archetype 3: Proper minigames in live events
While the most common live event types use simple task-based mechanics and involve playing the normal core gameplay, some have started bringing events that completely differ from the normal core gameplay mechanics.
Homescapes – Merge & Exploration minigame events
Match3 game Homescapes has been constantly innovating when it comes to features such as social elements, meta, or live events – likely one of the reasons it has been sustaining for years as one of the highest grossing match3s. The latest innovations lie on the live event minigame side where it has been adopting mechanics from other top casual subgenres merge and tycoon/crafting.
Merge minigames are the game's latest event type, using merge2 grid puzzle mechanics familiar from some of the top merge games like Merge Mansion. You collect event points by completing merge tasks in the event board, which then unlocks progressive rewards in a reward track, such as collectible photos to an album, and boosters for the main match3 core gameplay. These events are monetized as well through an event store, where you can purchase useful merge items and energy required for the merges (instead of having to wait for it to replenish or complete the normal match3 levels to gain it), helping you immensely on completing the reward track.

Exploration events are another minigame event type, having mechanics familiar from some of the top tycoon/crafting exploration games like Klondike Adventures or Family Island. The events have their own map to explore by using event energy to clear various obstacles, with various tasks guiding you through the event.
There are both progressive rewards (such as boosters) for completing task chapters, and collection rewards for finding items in the map that include an event exclusive decoration item (to decorate your mansion in the main game) as the final prize.
The required energy works in the same way as in the merge events, and is replenished over time, gained by completing the normal match 3 levels, and directly purchasable. For additional monetization, there are purchasable dynamite boosters that can clear a bulk of obstacles, significantly boosting the event progression.

These merge and exploration events are on the same minigame event loop, with one almost always active, each time having a new theme based on e.g. the current season or holiday.
If you want to discover how top games or your competitors run their LiveOps, GameRefinery's Live Events Tracker tool gives you a comprehensive way to analyze trends, identify patterns and understand how LiveOps is conducted in certain genres' top games. Very nifty way to, for example, map out LiveOps requirements and content of your next live event project.
Adopting proven gameplay elements that players love from other competing casual subgenres is a clever way to add refreshing twists to the live events framework that in Homescapes' case otherwise mostly consists of normal match3-related activities.
Having these minigame events on a regular loop means Homescapes players are less likely to switch to a merge or tycoon/crafting competitor, as they're getting the satisfaction of these genres from these additional game modes and reward systems.
Free Fire – Limited time minigame modes that tap on viral trends
As one of the top-performing shooters in the US mobile market, Free Fire is an extremely robust and diverse game in terms of shooter game modes, LiveOps, and also meta elements such as hero characters, pet collecting and upgrading, not to mention the vast amount of different cosmetics to collect.
With such a heavy focus on LiveOps, players can usually expect to see one or two bigger themed live events active at once alongside some sort of limited-time game mode with special rules, and it's not unusual for these limited-time game modes to have different mechanics to the core gameplay.
Two of the most interesting ones the game has run in the past are Pet Mania and Pet Rumble, where players compete as their pets instead of their hero characters. Both modes feature similar gameplay to viral hit games such as Fall Guys and Among Us that are popular with streamers and content creators. The events were run in Free Fire during the peak trends of their viral hit game counterparts.

The Pet Mania mode shares a lot of similarities with Fall Guys, as you compete against others in battle-royale elimination party games, running and jumping to avoid obstacles so you can survive and reach the finish line.

Pet Rumble on the other hand has similar gameplay to the hit game Among Us, being an asymmetric PvP mode where players are split into two teams: scientists and pranksters. Scientists have to complete tasks and identify/vote who the Pranksters are, while Pranksters infiltrate and try to eliminate the Scientists to win the match.
Not only do these modes cleverly offer the proven fun gameplay of the current viral gameplay trends, but also make the whole monetized collectible pet metalayer even more valuable as players get exposed to them and their cosmetics even more.
Free Fire has recently started running simpler minigames in their themed events, with almost every themed event having at least one that's required to play to gain some of the event's special currencies and rewards.
To play these minigames you would usually have to get tickets from completing tasks through the game's normal battle royale matches. Some examples of these minigames include Football Fable (football), Free Fire Valley (tycoon), and Grize Fighter (fighter).

Township – Platform of minigame events
Township is one of the highest grossing tycoon/crafting games in the US and has a huge focus on different live-events that are integrated into the main game and support the main tycoon/crafting core loop. One of these event types is minigames which the game runs regularly with a wide variety of different gameplay mechanics.

The most robust type of minigames are the puzzle events that consist of swapping and blasting mechanic match3s, such as the makeover events similar to the hit game Project Makeover. These events are monetized with consumable boosters, extra moves and lives, while the level progression is permanent and carries over from event to event – making them more of a permanent part of the whole game.

Other minigame types include a Mahjong solitaire puzzle that's similar to one of the newest top grossing puzzle games, Zen Match, and also hypercasual-like minigames with more of a reaction and skill based gameplay. All the events reward you with important items and resources for the main crafting/tycoon core loop of the game, and many of them also have you compete against other players on leaderboards for bonus rewards.

You could easily write a full length blog post covering all of the minigames in Township, but to summarize, the game feels almost like a platform of different minigames of a variety of core mechanics from thinking based to reaction/skill based gameplay, which you are very incentivized to play to help you progress in the main farming/tycoon core game.
Archetype 4: Permanent, stand-alone minigame modes
Some of the more robust mobile games, especially in the mid-core category, have implemented modes with similar ideas to live event minigames, but are permanent and typically have more depth compared to the usual minigame mechanics. Also similar to event minigames, these stand-alone alternative modes take inspiration from totally different genres outside of the main game, and focus on increasing retention, engagement and sometimes direct monetization as well.
Mobile Legends: Bang Bang – Magic Chess mode
Mobile Legends: Bang Bang, the highest grossing classic MOBA game in the US, added a Magic Chess limited time, auto-chess made mode back in 2020. The mode was so successful it was eventually implemented as a permanent standalone mode, having its own separate meta elements, LiveOps, and monetization.

Instead of using your MOBA heroes as an avatar to play with in the auto chess matches, you use cute Little Commander characters, each of which have their own skills and collectible cosmetics. The MOBA heroes are then used as "troops" that you purchase and merge inside the matches, and they battle each other automatically on the chess board in the usual auto chess fashion.
The Magic Chess has its own separate monetization to the main game, with purchasable Little Commanders and their skins, cosmetics like chess boards and emotes, which can be directly purchased, gained through the mode's own Battle Pass, the Magic Chess Pass, and even sometimes through limited time gachas. The mode also has its own ranked PvP seasons offering competitive session-to-session progression, and automated weekly tournaments.

Having a completely separate mode with alternative mechanics to the core gameplay, such as Magic Chess bringing more strategic but relaxing gameplay to the otherwise hectic and fast-paced MOBA combat, can be super valuable. Not just for monetization purposes, but for retention and engagement as well.
With Magic Chess mode, players have an additional alternative game to play without leaving the app. It's also easy to pick up compared to a completely separate auto chess game, with the Magic Chess being found in the same familiar Mobile Legends: Bang Bang platform, with the same familiar hero characters.
There used to be an option to use hero skins from the main MOBA game on the Magic Chess mode's hero characters that fight on the chess board, but this option was removed. It was a great way to make one of the main monetization drivers of the game feel even more valuable and expose players to them even further. It would not be surprising to see this option coming back in the future.
On top of the permanent Magic Chess mode, the game has also run other limited time minigame modes utilizing Little Commanders. Boommander is a gamemode featuring casual Bomberman-like Battle Royale matches, while Arena has similar gameplay elements to the top grossing tactical battler Clash Royale.

AFK Arena – Permanent match3 and roguelite modes
Another successful game that utilizes permanent minigame modes is the Idle RPG, AFK Arena. While the game features a variety of RPG modes, there are also other permanent standalone modes with completely different gameplay mechanics.
The game's Forest Mania mode has you play casual match3 levels to progress in the mode's linear map full of levels. The mode was implemented a few years ago but new levels are occasionally added.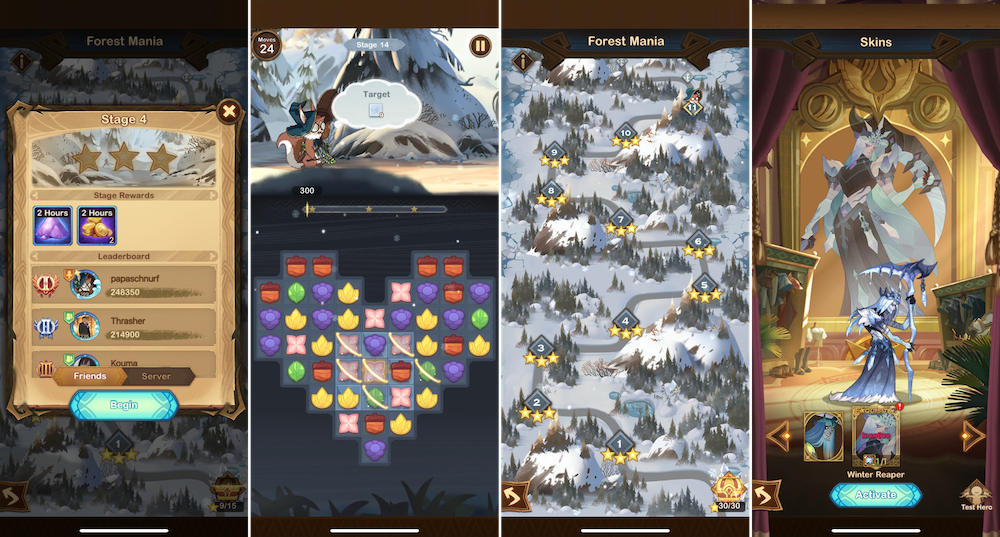 The game's newest mode, Shadow Invasions, uses top-down shoot 'em up gameplay with roguelite mechanics that look and feel similar to the recent popular hit PC game Vampire Survivors and the mobile hit Survivor!.io. You survive against hordes of enemies and level up to gain selectable skills with the goal to survive long enough to complete the level and progress in the linear map, with also an endless mode available to play.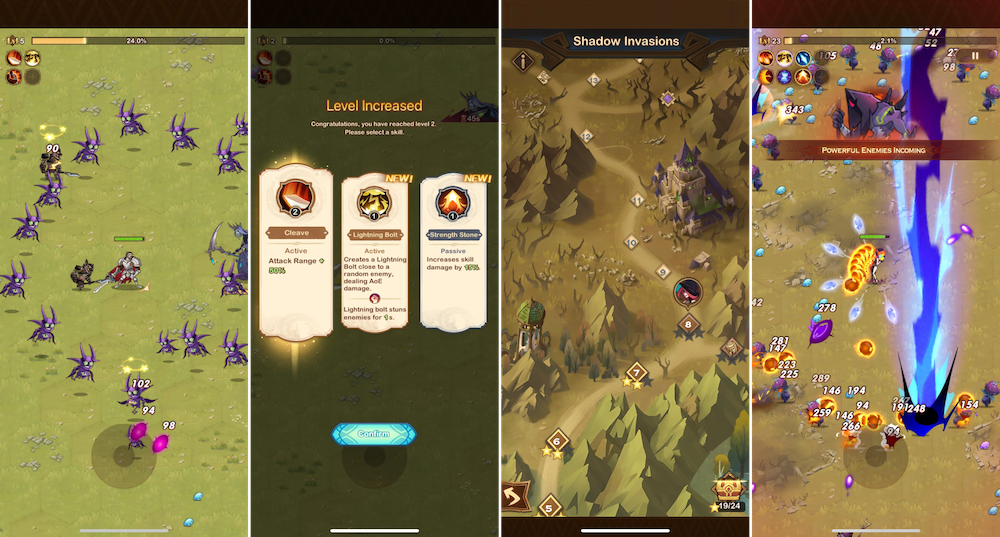 The focus of these modes in AFK Arena is to first and foremost offer fun, alternative gameplay experiences, especially with the Shadow Invasions mode tapping on the recent roguelite trend. Neither of the modes are monetized in any way or connected to the main game, other than rewarding material items and gacha tickets, making them feel like game's inside a game.
What are the benefits of implementing minigames?
Many top performing games are catering more and more towards wider audiences and bringing retention increasing features and mechanics, whether it's through social and meta elements, genre hybridisation, or through offering minigames.
As we saw from the listed examples, there are a bunch of ways from each of the main four archetypes to bring minigames to your game, with each implementation bringing its own benefits to the table. This means they can be used to:
Provide exciting and refreshing ways for both new and old players to enjoy the game, boosting player engagement and retention.
Cater towards larger audiences and different player motivations, helping in attaining new players as the possible player base becomes larger. The minigames can also be implemented in an optional way without making the players who do not enjoy the particular game mode forced to participate.
Quickly adapt to new viral trending game mechanics and to prototype new mechanics your players might enjoy, also possibly keeping your players changing from e.g. AFK Arena to Survivor!.io, as they can get their roguelite fix already from AFK Arena's Shadow Invasions mode.
Boost monetization by increasing amount of money sinks or boost the current ones either directly through e.g. energy, monetized continue or boosters, minigame mode specific content such as with Mobile Legends' Magic Chess mode or indirectly through increasing retention or making the already monetized game elements more valuable like with the Pet modes in Free Fire.
Boost UA through more powerful ad creatives, using trending game mechanics or minigames, Royal Match's King's Nightmare is a great example.
If you're interested in more examples of minigames from the mobile market, you can find hundreds more by searching with the "Minigame" feature tag in the GameRefinery SaaS platform. Also, don't forget the Live Events Tracker tool, with which you can analyze, visualize, and compare the performance for over 35 different types of live events and the impact of event duration and timing. Incorporate these learnings into your own mobile game to boost retention and UA!