Players have been swiping their fingers sore in apps trying to find a perfect partner or a friend to ease the covid-loneliness. Here we discuss how mobile game matchmaking can help players get exactly what they need in those virtual worlds and how you, a game developer, can improve player retention.
Social elements are useful to incorporate in all types of game genres. They are one of the strongest retention mechanics as having friends and communities in the game increases player stickiness, and features like sending help to friends and communal team tasks tap on the social retention triggers of players, meaning everyone wants to carry their own weight so that they don't let others down. Social elements also enable new ways to introduce horizontal content into the game as well as broaden its motivational appeal. In recent years, social elements have become so popular in mobile games that we've written an entire post explaining why you should consider adding social elements to your mobile game. 
Games that emphasize cooperation or encourage shared play naturally enhance social elements such as working together towards common goals or sharing in-game items with other players. These types of games, like LifeAfter or Garena Free Fire, also incorporate aspects of matchmaking, from finding a romantic partner to bonding with a friend in the game world, allowing players to mix and socialize within the game.
In GameRefinery's feature taxonomy, Relationship System – Other Players is a feature indicating exclusive relationships between two players. Usually, these relationships include marriage or apprenticeship systems, both of which are common in RPG games, such as Chinese MMORPG games 浮生为卿歌 (Fu-sheng Wei Qing-ge) and 新笑傲江湖 (Xin Xiao-ao Jiang-hu).
Bonding with another player has multiple benefits. In most cases, players will pick up rewards or gifts, or it might lead to an increase in friendship level, a score system that increases and grants players rewards after passing certain thresholds. But the reason for creating these relationships is about more than just player rewards and benefits.
We'll look at some of the ways developers are utilizing these mechanics with the feature Relationship System – Other Players – in the top-grossing 200 in the US, Chinese and Japanese iOS markets.
Popularity of the Relationship System – Other Players
This feature is fairly popular in China, with 31% of games in top-grossing 200 having the feature.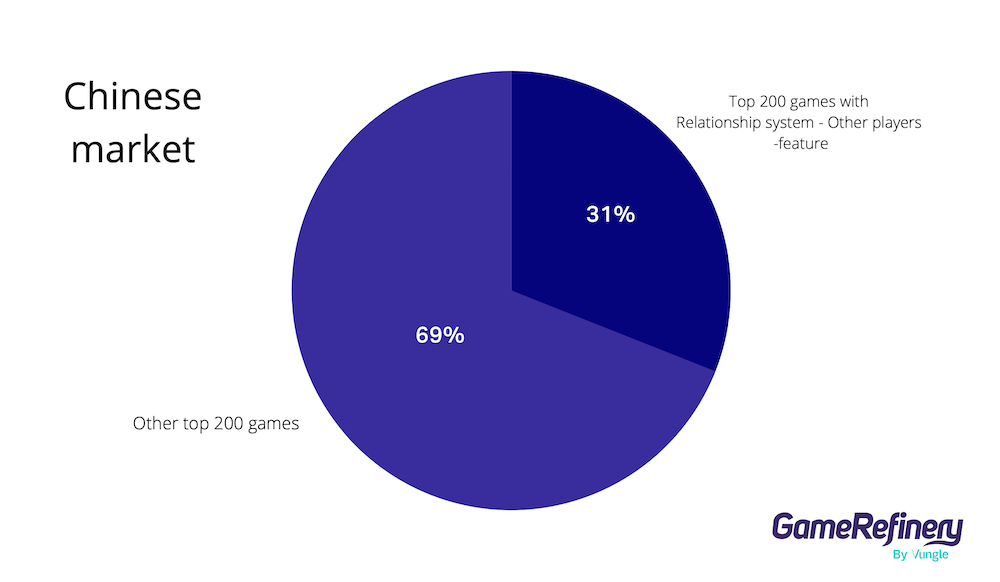 In the US, relationship systems with other players have not yet reached the same popularity as in China, since MMORPGs, which almost always have this feature, are not as common in the US market. Only 3.5% of the US's top 200 grossing mobile games have this feature.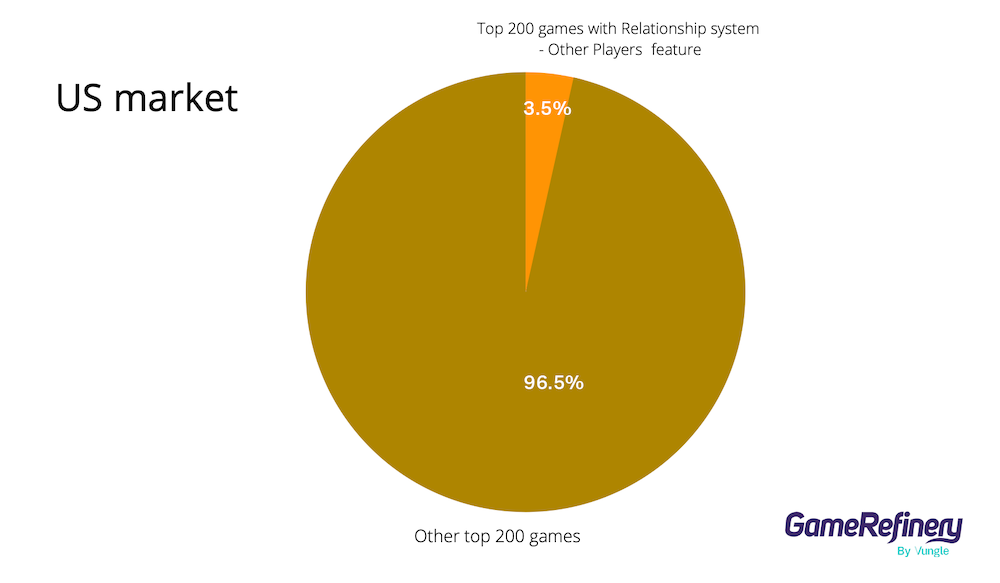 The feature is more prevalent in Japan than in the US but still nothing like in China, with 7% of the games in the Japanese top-grossing 200 list featuring relationship elements with other players.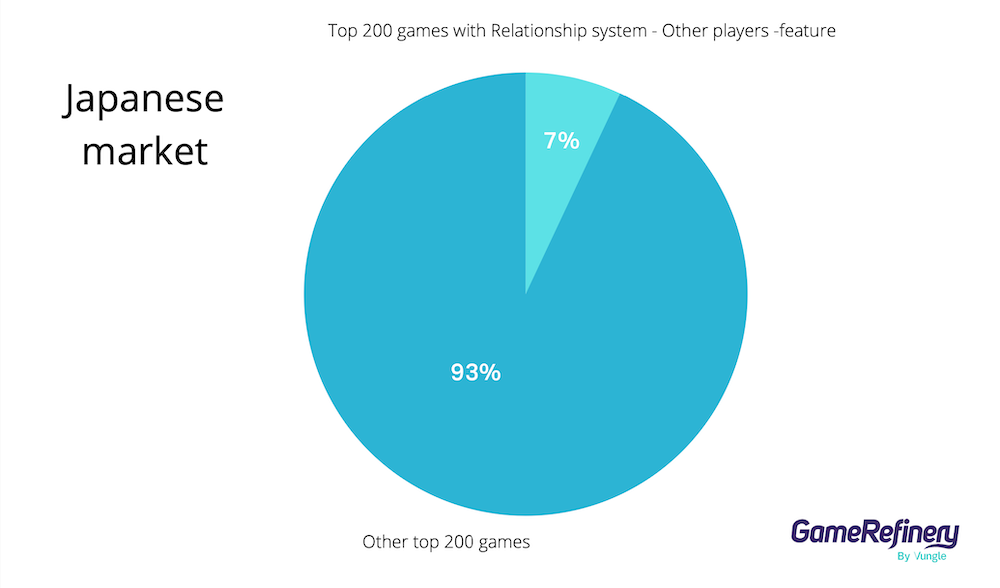 To showcase the benefits of integrating these types of social elements into your game, we have collected a few interesting examples across the markets of how games have enabled players to form relationships with other players.
Romantic ways to implement relationship systems
Post-apocalyptic zombie-shooter MMORPG LifeAfter held a heart-warming romantic event in the Chinese market in July called 萤火之夜 (The Night of Fireflies). In the event, players were matched by the game with a suitable co-player according to their stats in the game, which then allowed them to hang out with their loved one, such as by completing tasks together in an event task system called 双人之路 (The Road of Two People).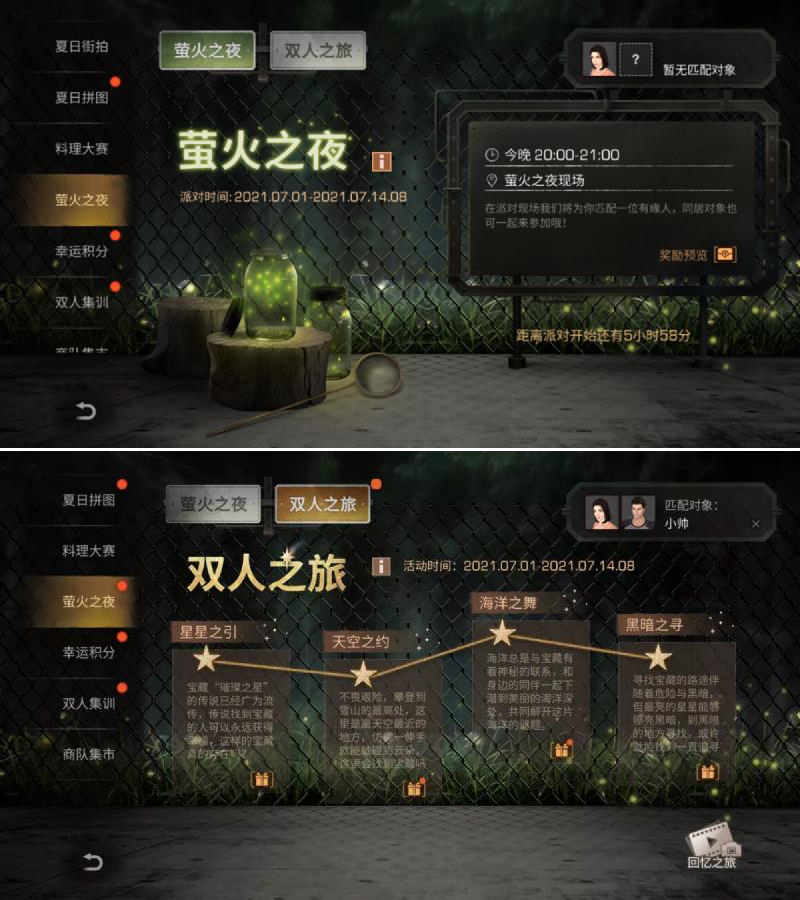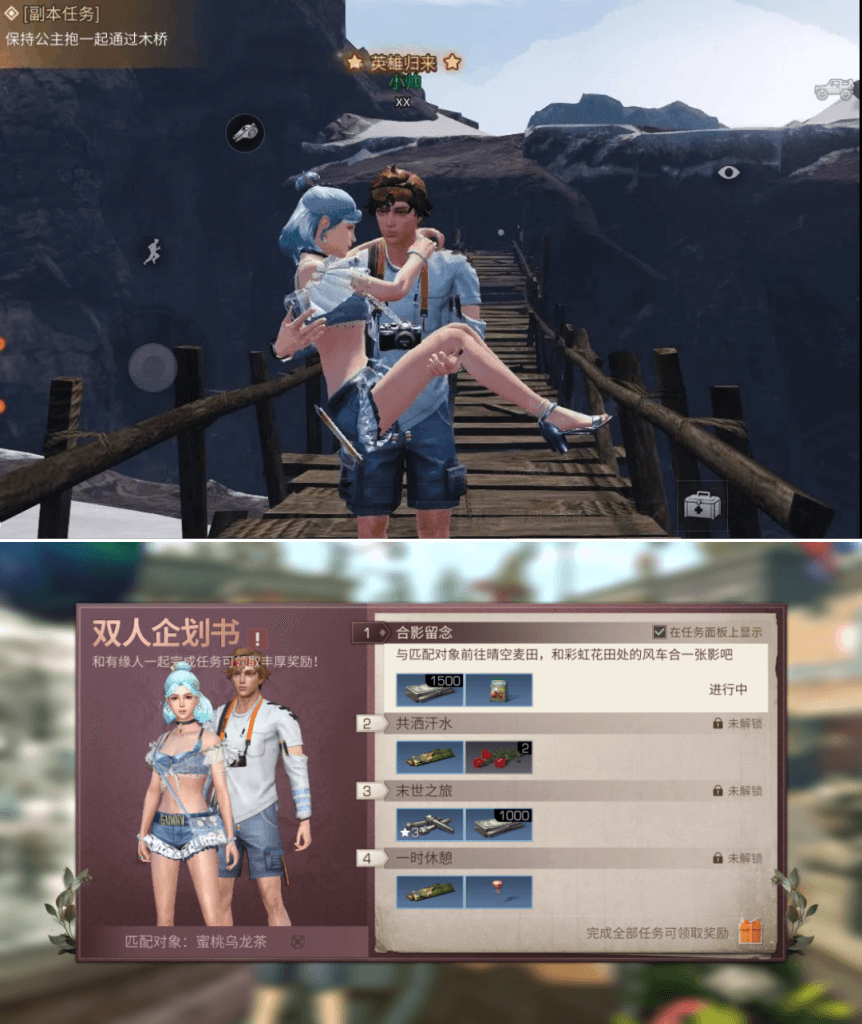 In addition to zombie-world romance, there's also passion to be found on a race track. A Chinese arcade driving game QQ speed (QQ飞车) has a mode called "Heartfelt Journey," a 3v3 racing competition that includes three male and three female participants. Players can either participate in the race alone or together with their sweetheart. The race goes as follows: first, the men drive against each other with women on the sides of the track as spectators, rooting for them as they drift their way through the map. Women can push a "call" button rhythmically and give a boost to their partner. Once the men have drifted, it's the ladies' turn to get behind the wheel, and the second race settles the score. After the race, women and men can pick their favorite man/woman, and if two people match with each other, there will be a reward.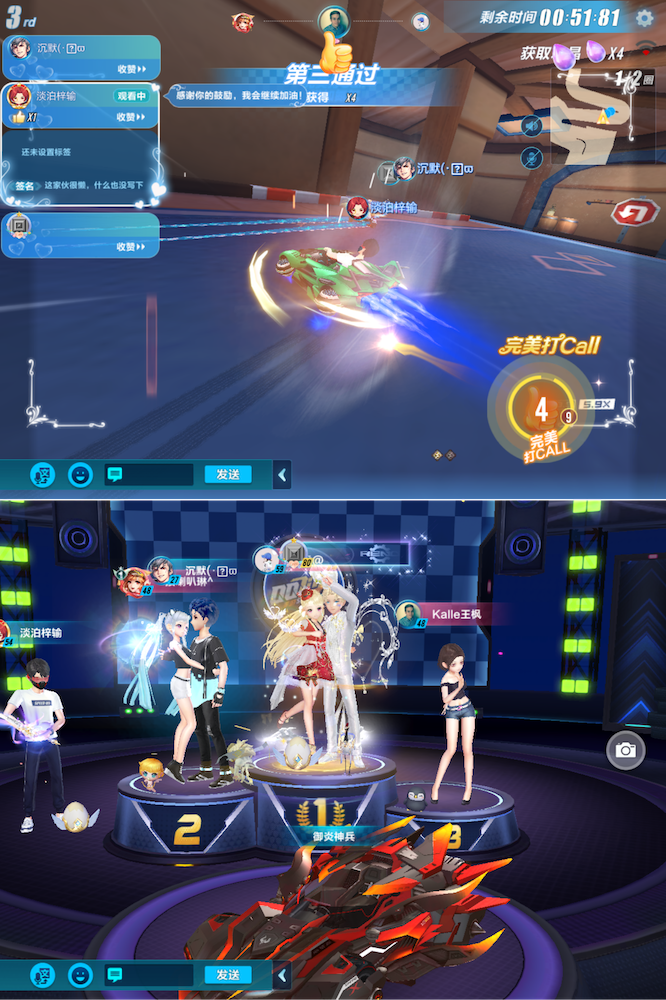 A costume drama fantasy MMORPG 花与剑 (Hua Yu Jian) featured an event true to its overall romantical theme. Hua Yu Jian emphasizes all types of relationships, from player and NPC relations to inter-player relationships. In Hua Yu Jian, there are a number of relationship systems. One of them is called 心动之旅, where the player is matched with a random player of the opposite sex and sent on a "journey of love" co-op task system that lasts for seven days with new missions opening daily. These tasks include activities in which the players get to know each other and have to coordinate their actions.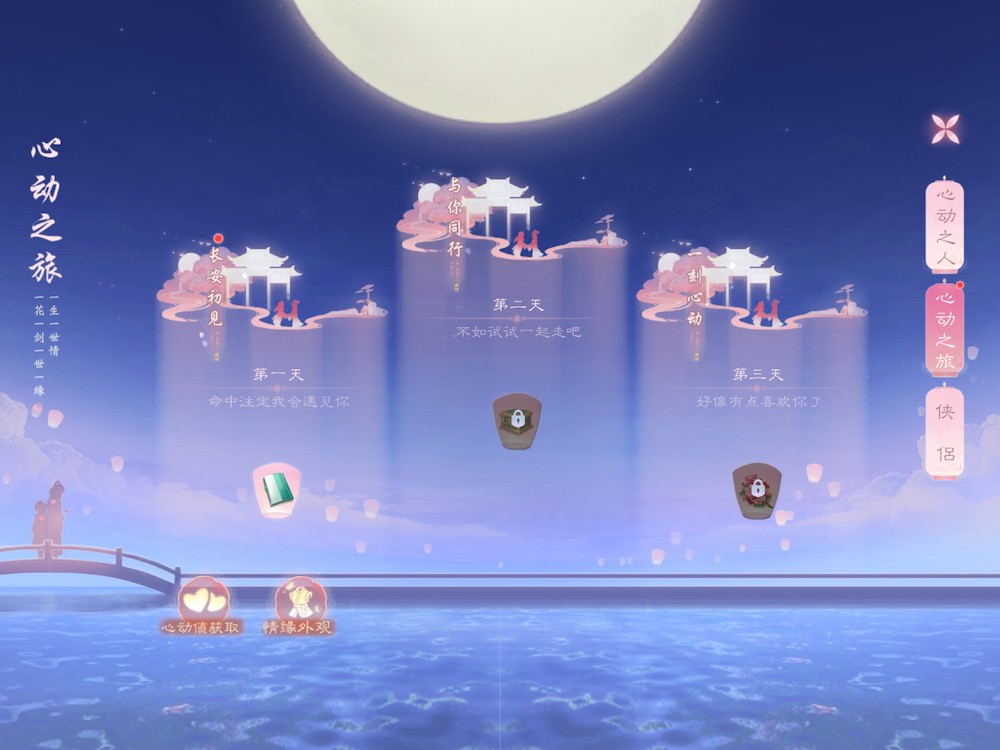 Players make vows in the in-game chat (similar to marriage vows) and promise to stick together for the next seven days. They meet in the middle of a lake, floating on tree leaves, from where they are taken to their first task.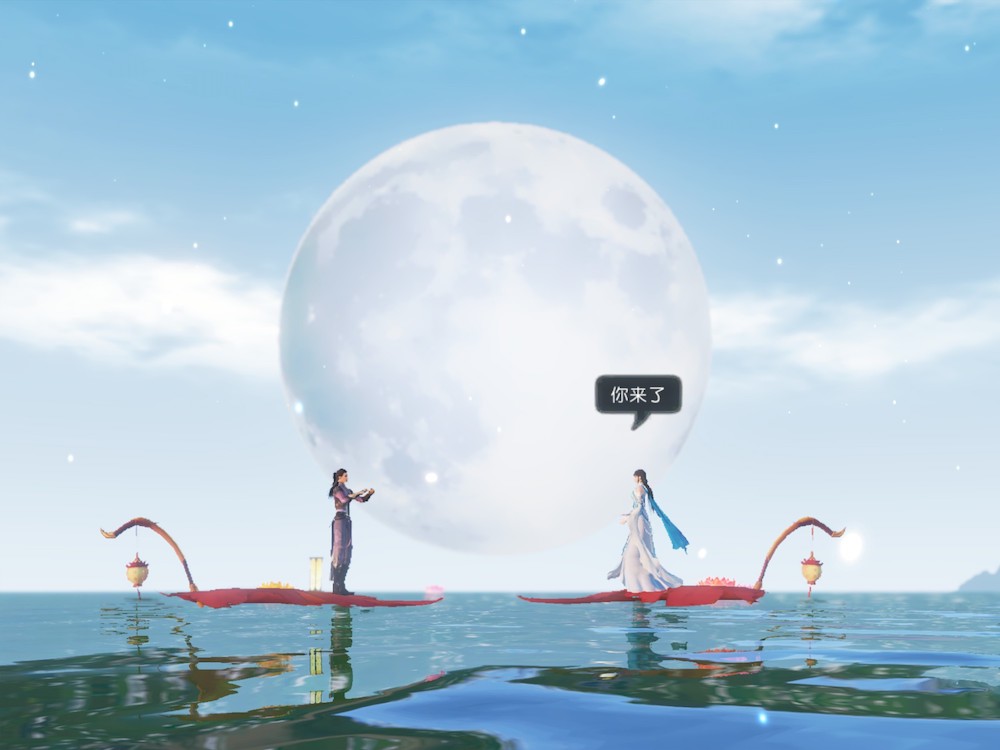 On a romantic boat cruise, players need to make choices about personal preferences and life values. If the choices are the same, their "agreement level" rises. Other tasks include, for example, a romantic music performance, where players tap on two gender-coded leaves at the same time.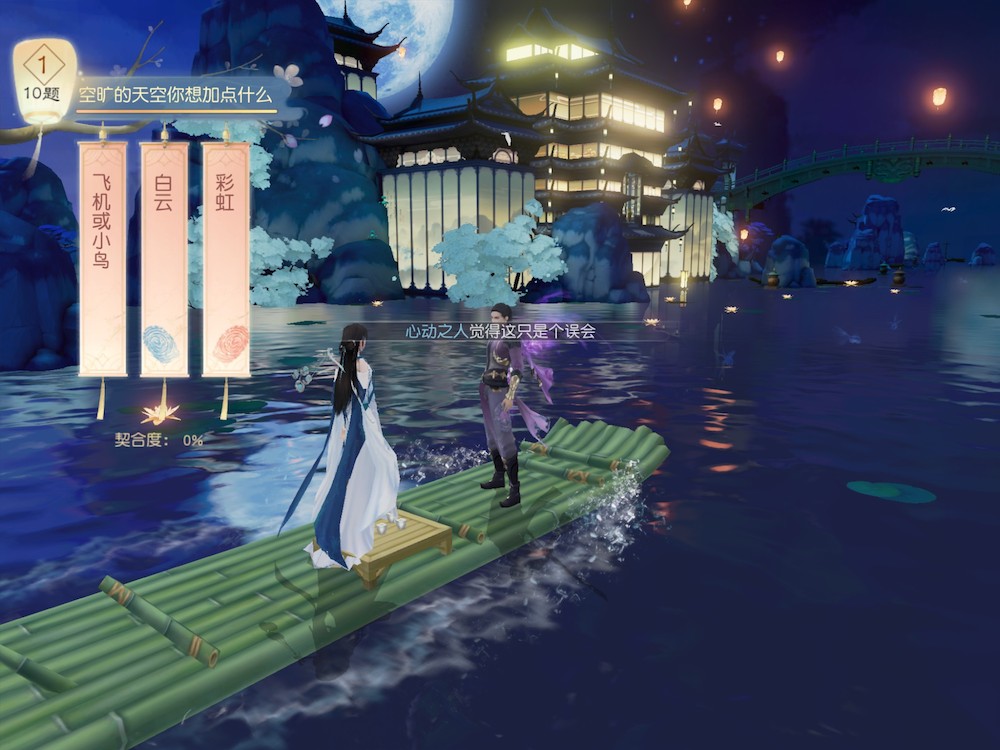 By performing daily tasks, relationship points grow, and new relationship types are unlocked. This brings players in-game benefits, such as currency drop rate boosts. Players also get a special currency and material item that can be used to unlock special couples' accessories.
Another MMORPG from the Japanese market called 剣魂~剣と絆の異世界冒険伝 (Kenkon~Ken to Kizuna no Isekai Boukenden) has a special, timed dungeon, which players can only visit once they have married someone inside the game. In the dungeon, players are linked together. They need to stay close to each other, or otherwise, the link will get weaker, and they start to move slower. This forces the players to be close and work together in the dungeon.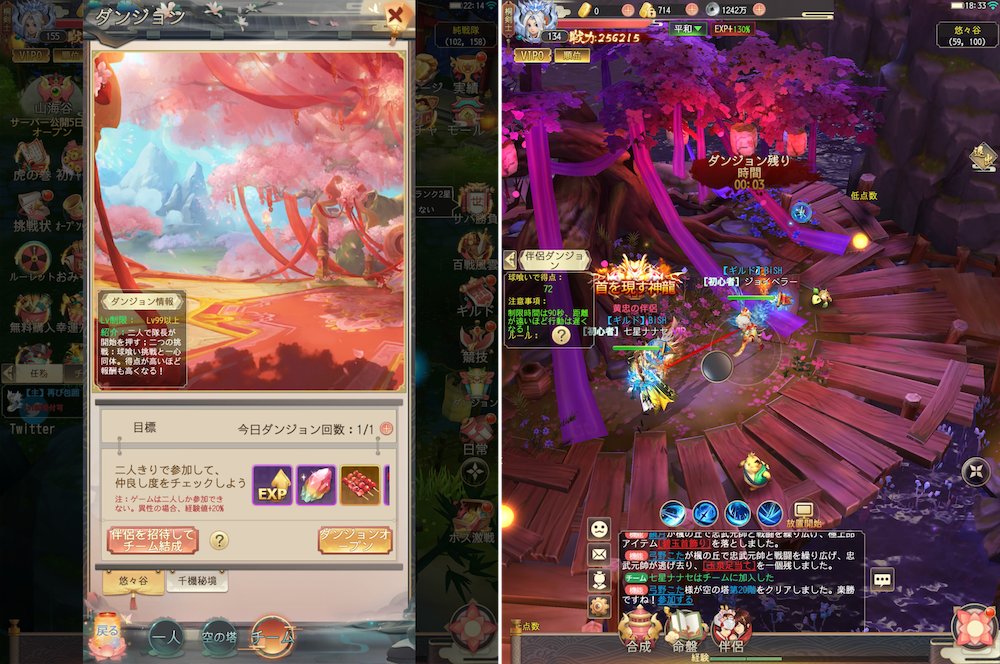 Other ways to show off relationships with other players
As mentioned earlier, the relationship system between players has not yet reached a high popularity level in the US market. However, some Battle Royale shooters in the US market have incorporated similar mechanics to enhance relationships between players.
PUBG Mobile has a typical relationship level between friends, but it also includes the option to declare the relationship between two players and show their affiliation to others. This system is called "Synergy." It shows the network between the player and other players on a social network map. After reaching a synergy of 100 (a relationship level), players can declare to have a "BFF," a "lover," a "buddy," or a "bromance" connection with another player. By bonding with others, players unlock extra benefits such as unique emotes that can only be shown between the two players that form a relationship.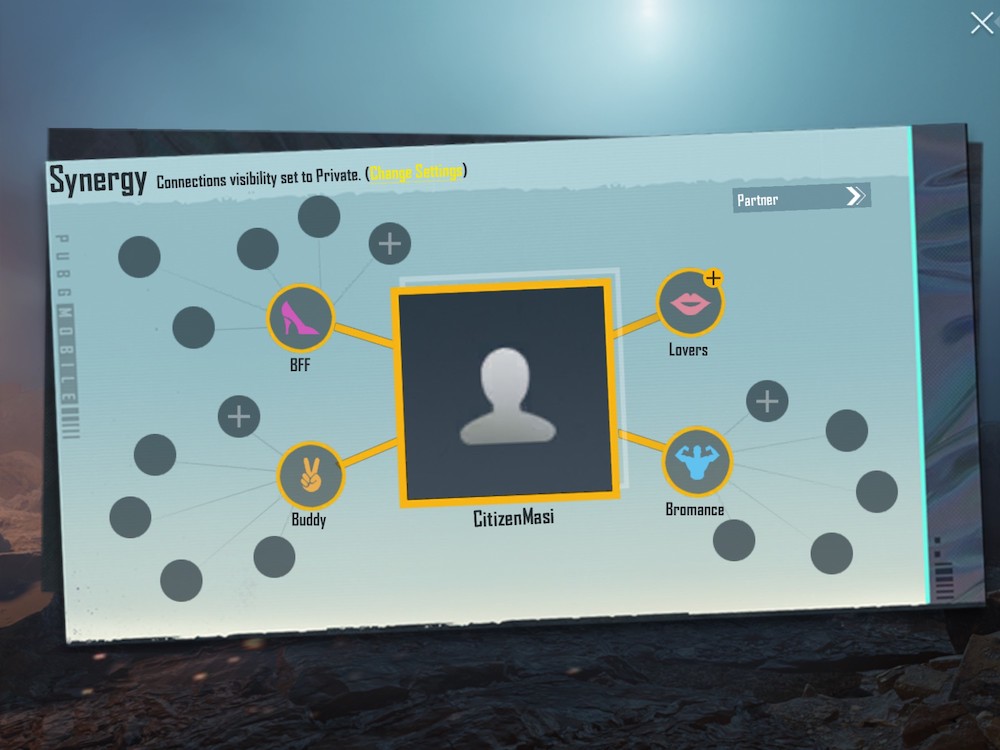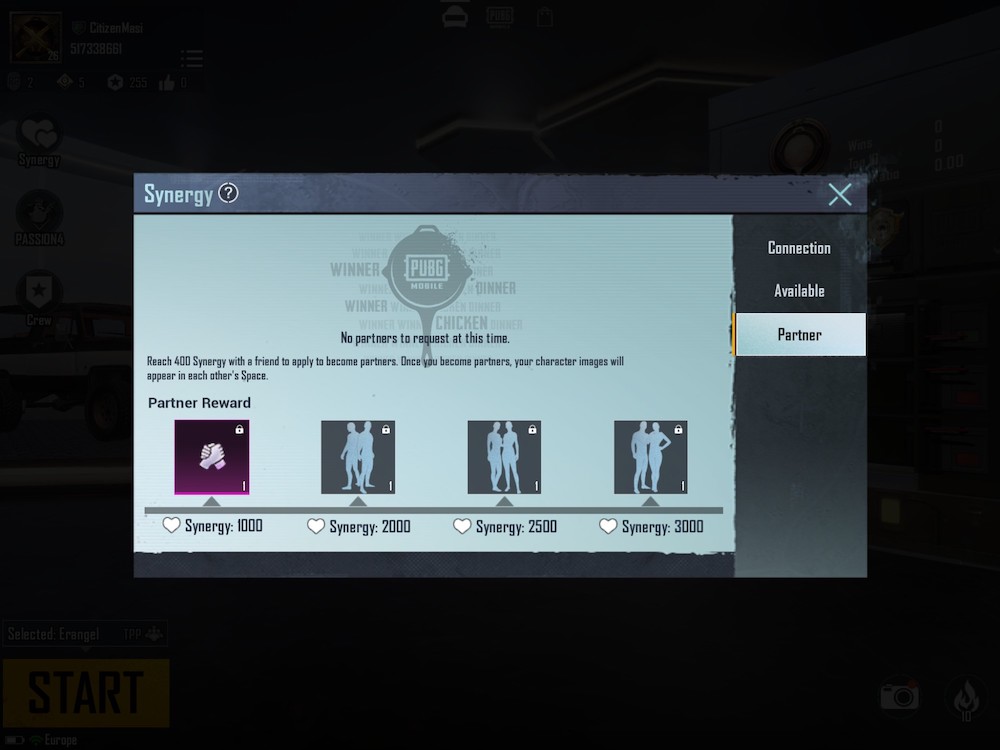 Garena Free Fire has a somewhat similar system to PUBG Mobile. In Garena Free Fire, there is a "Dynamic Duo," which is a form of relationship between two players. Players can use a Golden Vow (a consumable item that can be purchased with 100 premium currency) to request a formation of Dynamic Duo from another player, one request at a time. There are several benefits from forming a duo, such as intimacy level, anniversary day, and Friendship Badges, which are a visual way to show off the relationship between two players. By playing together or exchanging gifts, the duo can increase their intimacy level. When the intimacy level is high enough, players get rewards. Also, other players can see when two players have formed a dynamic duo, as well as their Friendship Badge level.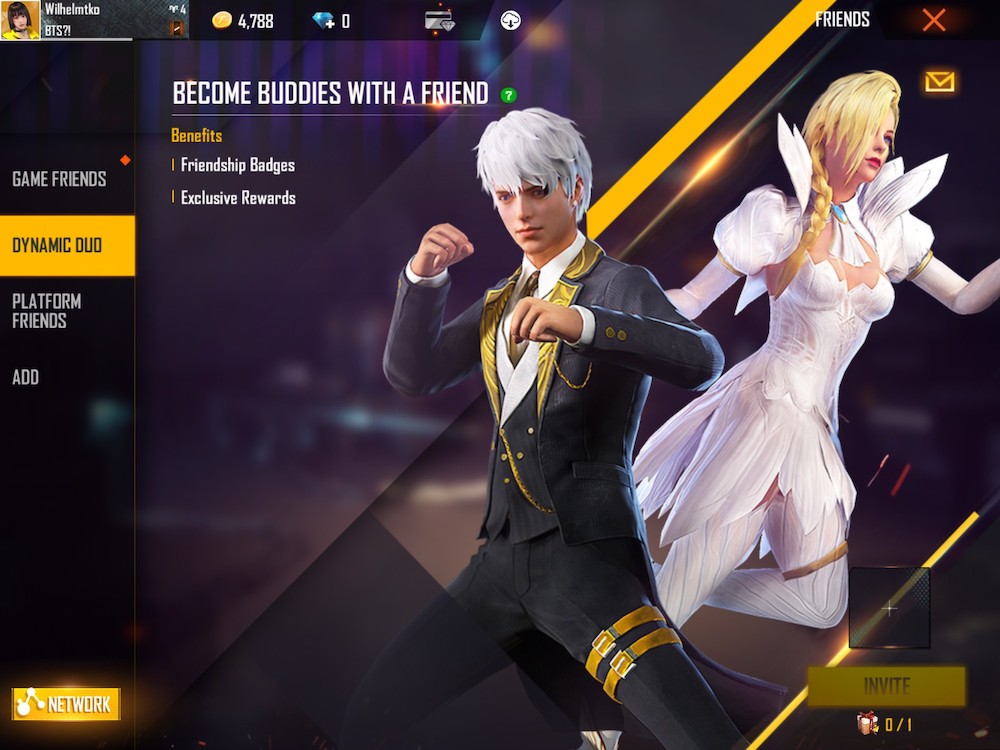 Both Battle Royale games, PUBG Mobile and Garena Free Fire, also feature a mentor system, a well-known feature in Chinese MMORPGs, usually implemented as a master-apprentice system. The idea of the system is to have a higher-level player mentor the lower-level player, which will then benefit both players, usually in the form of rewards.
The prevalence of mentoring systems in China stems from the popularity of the MMORPG genre, which emphasizes social gameplay heavily. Players in China enjoy this kind of social gameplay more than, for example, Japanese players, who have traditionally enjoyed single-player titles, and where the Relationship system – NPCs feature is more common than Relationship System – Other Players feature. In the US market, these mentor systems are not very common, since as mentioned, the MMORPG genre is not that dominant among the US top-grossing 200 games.
In Garena Free Fire, the master-apprentice system is called The Platoon, which is a mentor-cadet system. The player can become a mentor once they have received a designated rank requirement in the Battle Royale or the Clash Squad mode. Mentors can have up to three cadets, whereas cadets can only have one mentor. There is also an accumulative score system. After accumulating enough scores, cadets will graduate, and there will be a graduation present for both the mentor and the cadet.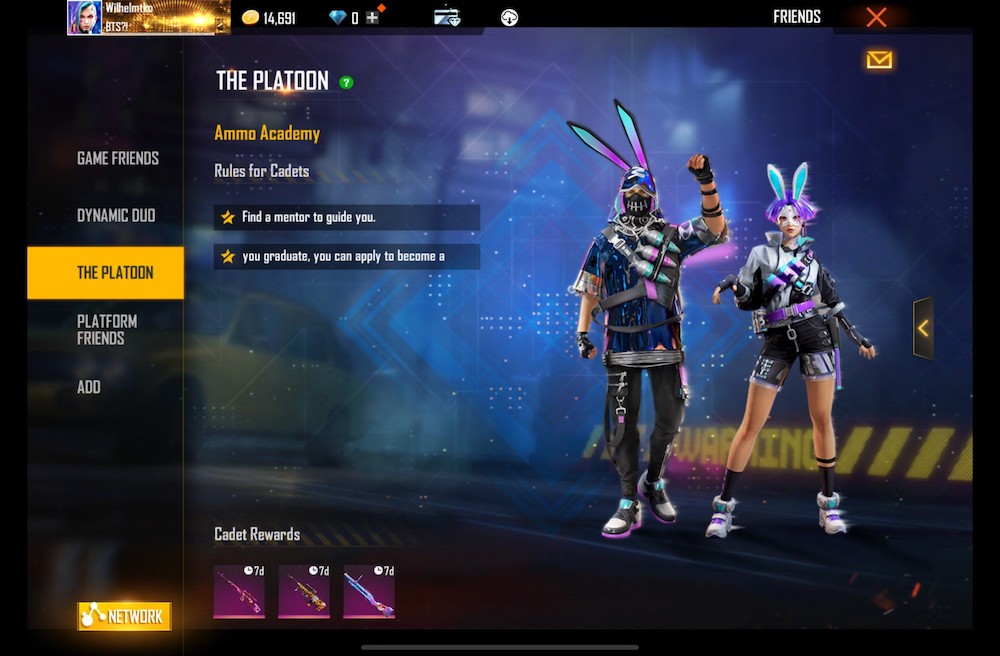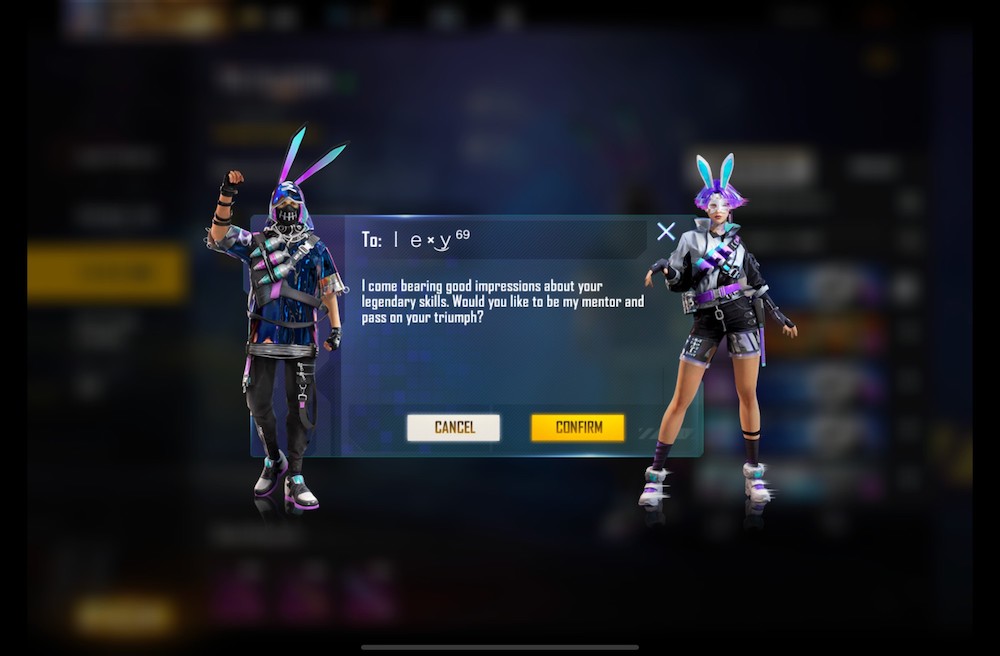 Alongside Battle Royales, other games have also utilized the possibility of showing off the relationship to other people. Game of Sultans – Royal Pets is a sovereign role-playing game where players build and manage their own version of the Ottoman empire as a sultan or a sultana. In Game of Sultans – Royal Pets, sultans and sultanas can form a relationship system between other sultans or sultanas and hold a bonding banquet to declare their relationship status as sweethearts or confidants.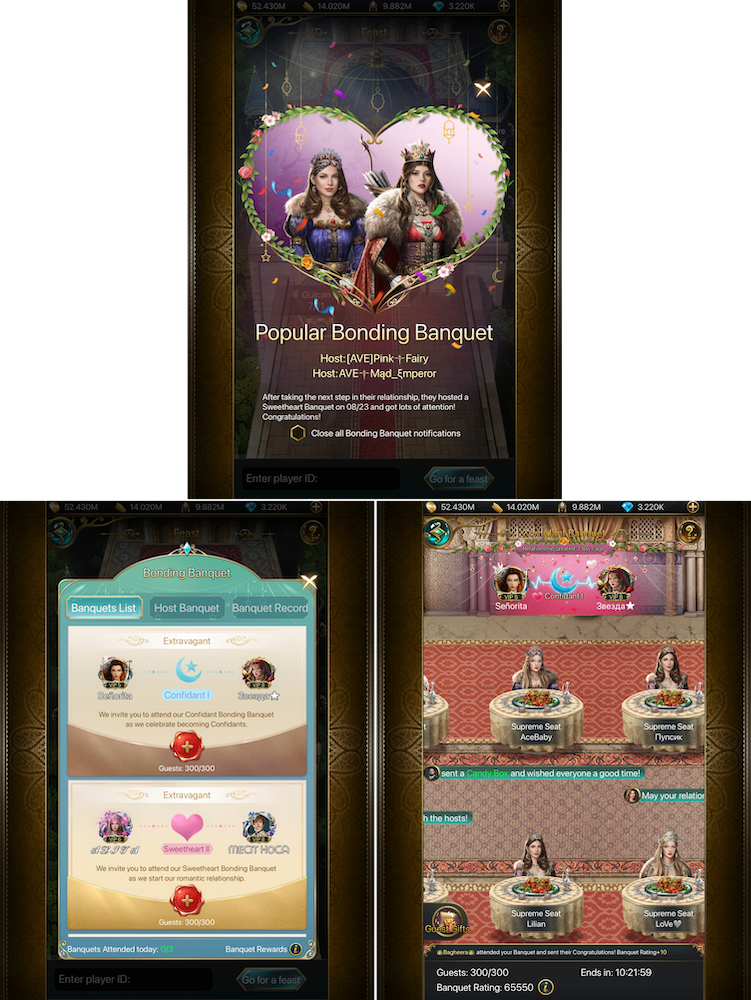 Another interesting example from a sovereign game can be found in Japan. 成り上がり-華と武の戦国 (Nariagari -Hana to Bu no Sengoku) which has a system where players can marry their kids to other players' kids and become "relatives" with each other.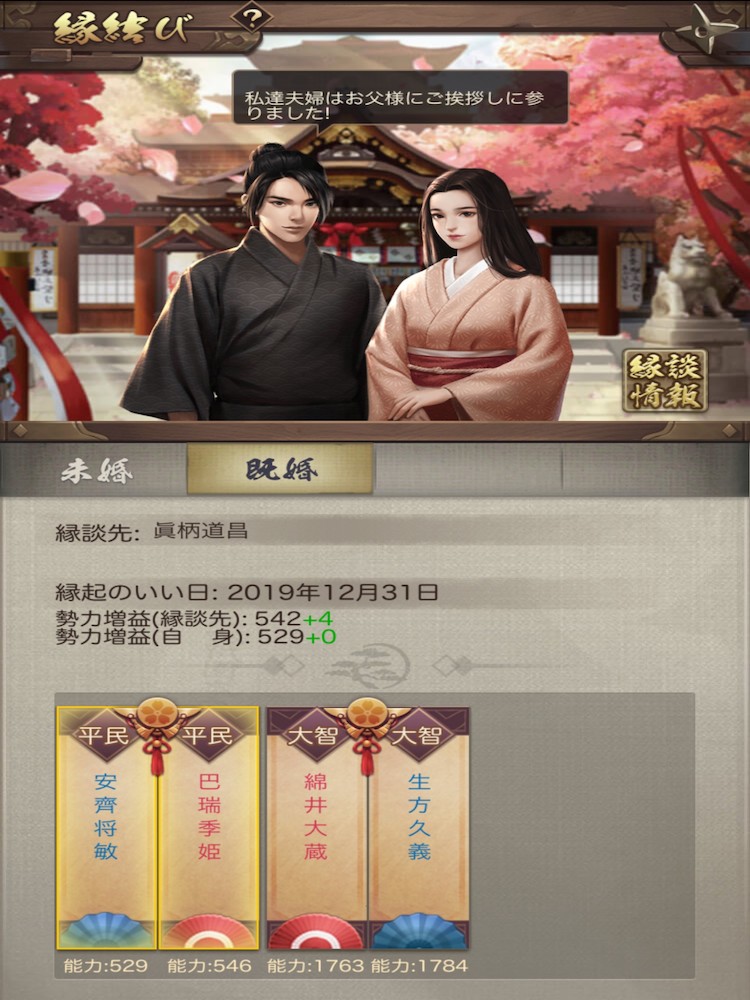 Summary
Games utilize relationships between players in several ways. Most commonly, this can be done with intimacy level and gift sending, but some games, especially games that emphasize social elements, have also found other innovative ways that let players bond with each other and show their relationship statuses to other players. Romantic co-op events, friendship badges, and bonding banquets are some of the examples that developers are implementing to enhance players' relationships in their game worlds.
If you enjoyed reading this post, here are a few more you should definitely check out: