Video games have come a long way since they were first conceptualized in the 1950s, with expansive open worlds that can fit right in your pocket, but you don't need to go back 70 years to see what games looked like back then. Digital Chess, one of the first video games ever created, has experienced a massive revival on mobile, with hundreds of Chess games available to download from the iOS store.
So, what's to blame? If you're familiar with a limited series on Netflix called The Queen's Gambit, you're not alone. The Emmy-nominated show was an unexpected hit and rapidly rose to become the third most-watched TV series of 2020. More importantly, it showed audiences worldwide that this 1400-year-old board game can be glamorous, resulting in over 3.2 million people signing up to the browser-turned-mobile game Chess.com and a 603% leap in chess book sales in the US; it now even has an exclusive game on Netflix.
Chess has also become something of an esports sensation, which started after grandmaster Hikaru Nakamura coached streamer xQc on chess over Twitch and eventually led to the creation of a dedicated group of prolific streamers setting up an amateur chess tournament called Pogchamps on Chess.com. By 2021, the Chess category on Twitch well and truly erupted, securing a peak concurrent viewership record of 370,111.
Below, we delve into the most prominent mobile games based on chess and discuss the rise of auto-chess, a strategic genre inspired by the classic board game.
Chess.com: the mobile game partnering with Clash of Clans
The most popular mobile chess game is simply called 'Chess' and is based on a popular browser-based game from Chess.com, which made headlines earlier this year after reaching over 10 million active players. The mobile version is proving just as popular, with over 120 million players battling each other and over 100 clever AI opponents hoping to become a chess grandmaster. The game also features over 500,000 tactical puzzles alongside various interactive lessons and videos to help players improve their skills.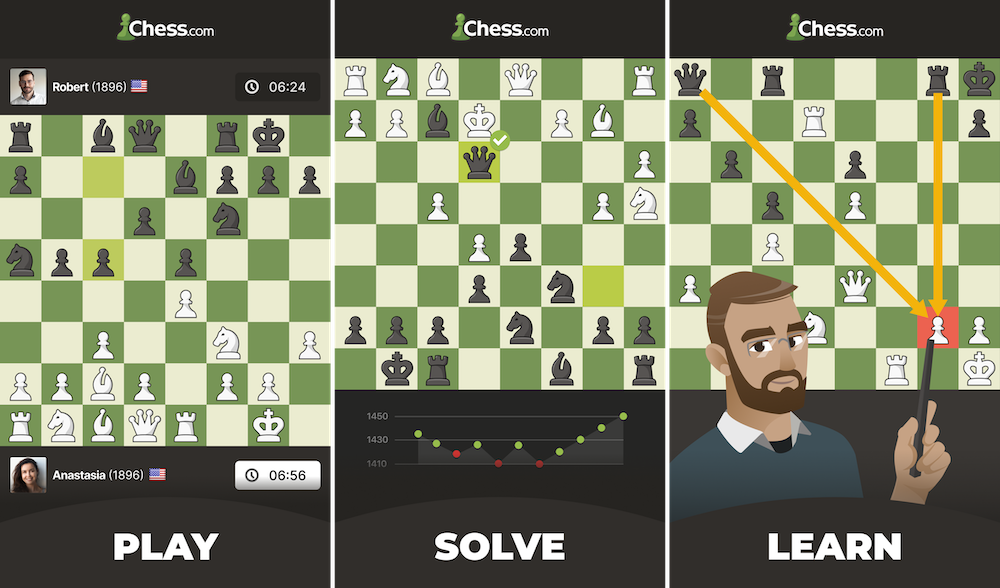 In February this year, Chess became the most popular free game on the iOS app store, reaching the number-one download spot in 28 countries; it also featured among the top 10 in 18 other countries. This mobile version of chess is most popular in the United States, which generates 37% of downloads, followed by the United Kingdom (8%), Russia (6%), France (6%) and Germany (5%).
In terms of monetization, Chess is free to download and generates most of its revenue through paid subscription plans. Players have three tiers to choose from, divided into gold, platinum and diamond membership, each offering additional puzzles to complete, lessons with famous chess grandmasters, and sophisticated AI opponents. Paid membership also removes in-game ads for a more seamless experience.
Similar to downloads, the game generates the vast majority of its revenue in the US (51%), which seems to be where the biggest Chess fans are based. This is followed by the UK (13%), Germany (4%), France (4%), and Canada (4%).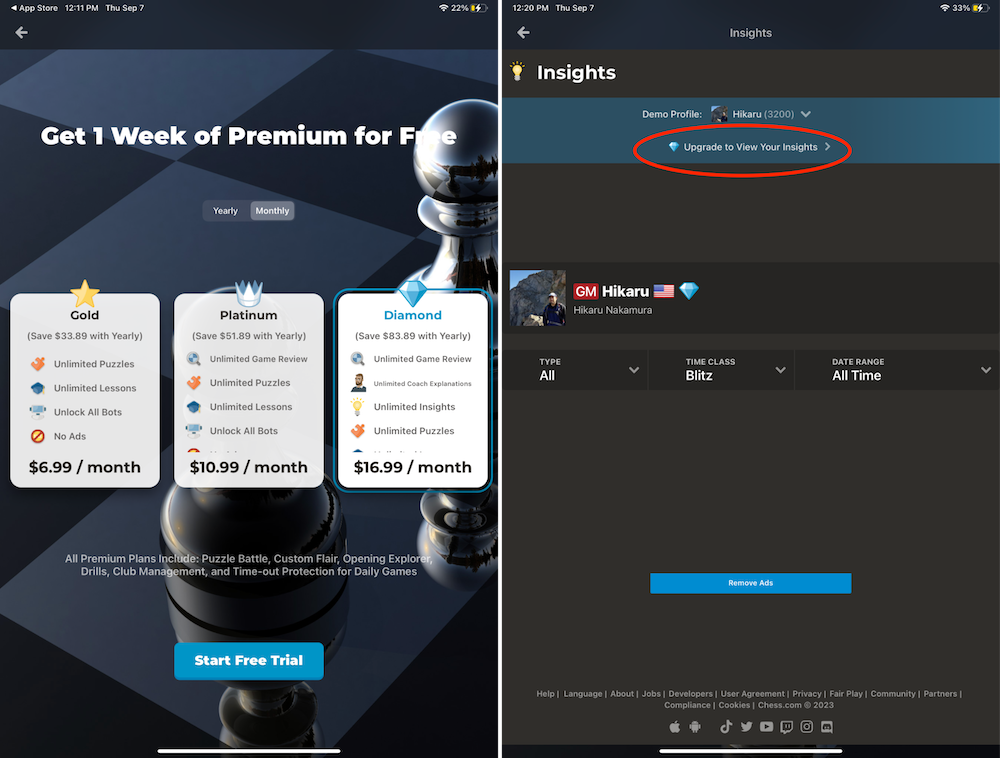 The developer of the game, Chess.com, has six other Chess-themed games available on iOS and Android. The second most popular game is the Chess tuition app Learn Chess with Dr.Wolf. It includes a small selection of free beginner lessons, but full access costs $6.49/$6.99 on Android/iOS or $46.99/$48.99 for a monthly subscription.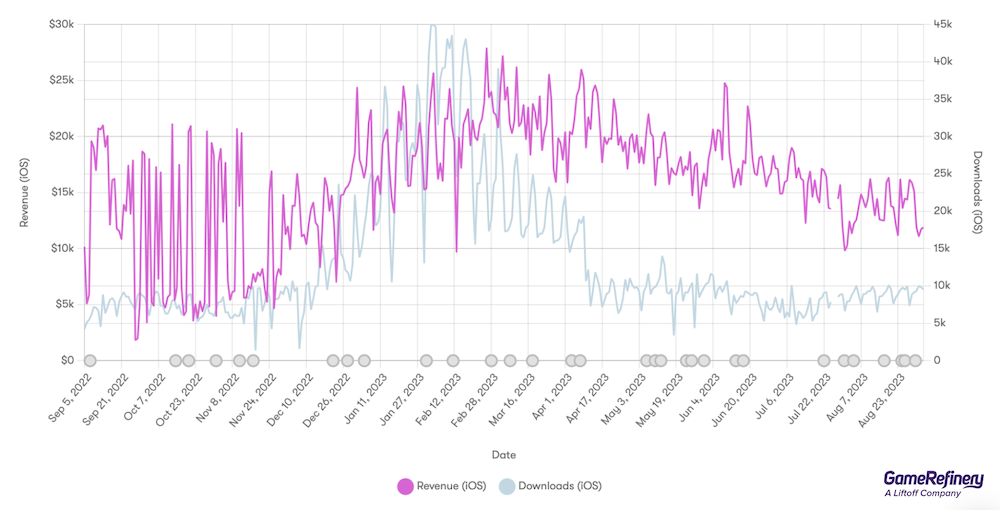 Perhaps the most significant development in Chess is its recent crossover with Clash of Clans and Clash Royale. The trio held a crossover tournament on the 7 September called Chess Clash, which saw eight expert Chess players and eight expert Clash players going head-to-head across a series of competitive matches spanning various modes between each game. The event was streamed on Chess.com, Twitch, and YouTube, with commentary from esports streamer Ludwig, Chess celebrity Danny Rensch, and Clash creator Clash With Eric.
Fans could also access several Clash of Clans and Clash Royale-themed puzzle minigames on the Chess.com website. Alongside this, Clash of Clans launched several in-game events and features that were inspired by the classic board game. These included a chess season of its battle pass, chess-themed PvE limited-time modes, and chess-themed skins available to purchase.
Similarly, Clash Royale introduced a new seasonal event, Chess Royale, which transformed the battlefield layout into a chessboard. In the event, players have a king or queen tower in the middle of their base and different units guarding them at the start of each match, with victory awarded to whoever can break through the defenses. Despite the chess crossover, no direct reference was made to Chess.com within either Clash title.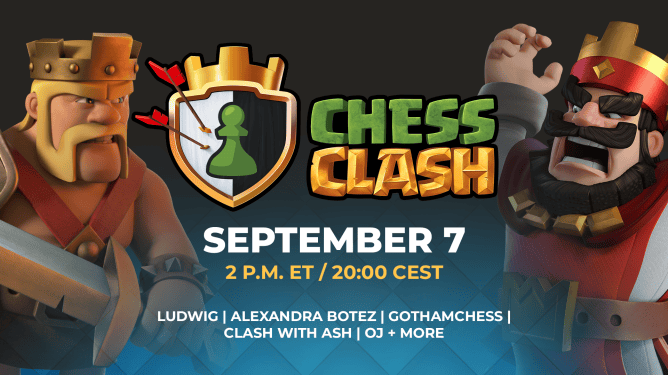 Exploring one of mobile's newest genres, auto-chess
Alongside more typical chess mobile games, there is also an entire subgenre called 'auto-chess' that incorporates elements of the classic board game. Auto-chess games, or auto-battlers, utilize chess-like elements by tasking players to build a team using characters (their chess pieces) who automatically battle each other on a grid (a chess board) in various rounds until a winner emerges.
Players usually generate income by winning fights and must use strategic thinking to decide whether to use that currency to buy new characters, upgrade their existing characters, raise their team size limit, or refresh the selection of characters on offer. The player also needs to consider the tactical placement of characters on the game board, as well as the optimal distribution of equipment items between characters, if they're to best their opponents.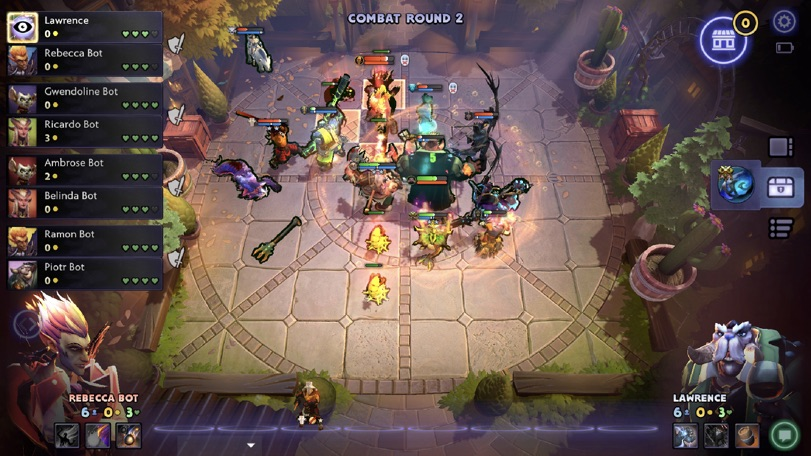 The origins of auto-chess can be traced back to 2019 when Drodo Studio released an auto-battler mod for Valve's immensely popular PC game, Dota 2. The mod rapidly developed a following, prompting Valve to begin work on an official game for mobile and other platforms, which was released in 2020 under the name Dota Underlords.
Shortly after, the genre exploded, with Dota Underlords luring over 200,000 concurrent players onto its checkered battlefield. From there, many other titles entered the fray, including TFT: Teamfight Tactics, King God Castle, Warhammer Age of Sigmar: Soul Arena, Merge War, Mythic Legends, and more. Sadly, the genre became so crowded that it led to the demise of the game that started it all; as of May 2023, Dota Underlords has just 2,677 daily players, an immense fall from its peak back in 2019.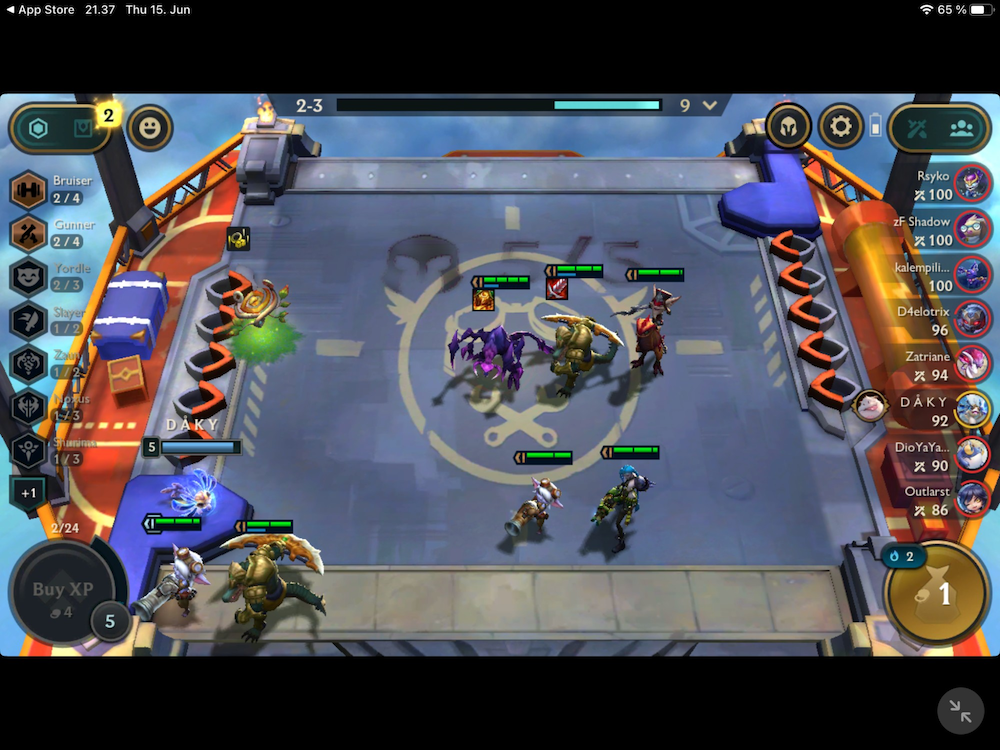 The auto-battler crown (at least on mobile) is instead now held by Riot's TFT: Teamfight Tactics, which has managed to stand the test of time because it features more depth than other auto-battlers. For example, the game features item recipes, allowing players to build powerful custom tools they can bring onto the battlefield to give them an advantage.
Teamfight Tactics is also heavily influenced by Riot's renowned esports titan, League of Legends, which has over 180 million players. Teamfight Tactics features the same champions as League of Legends, each with interesting traits that influence gameplay, helping the game to garner more than 80 million players since its launch in 2019. Teamfight Tactics has also proved particularly successful in China, where the game was released under a different ID, Battle of the Golden Spatula.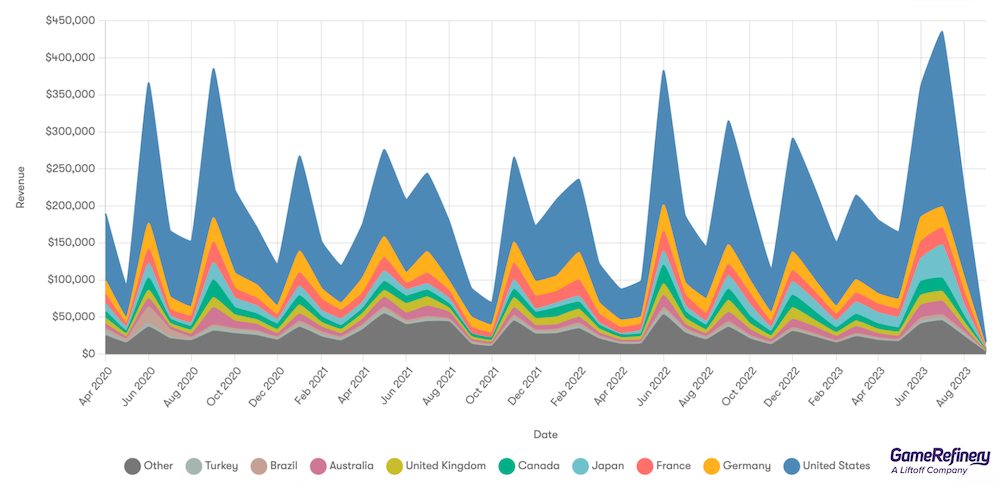 How MLBB merged MOBA with auto-chess gameplay
We've written much about the rise of hybridization in the mobile market, which also applies to chess. Mobile Legends: Bang Bang, a high-grossing multiplayer battle arena (MOBA) developed by Moonton Studios, features an auto-chess side mode called Magic Chess.
The side mode works similarly to other auto-chess games, with eight players competing against each other and random enemies on a magic chessboard. Players choose several heroes and a commander to take into battle, which they can upgrade as they progress through rounds, with victory being handed to whichever player remains standing at the end.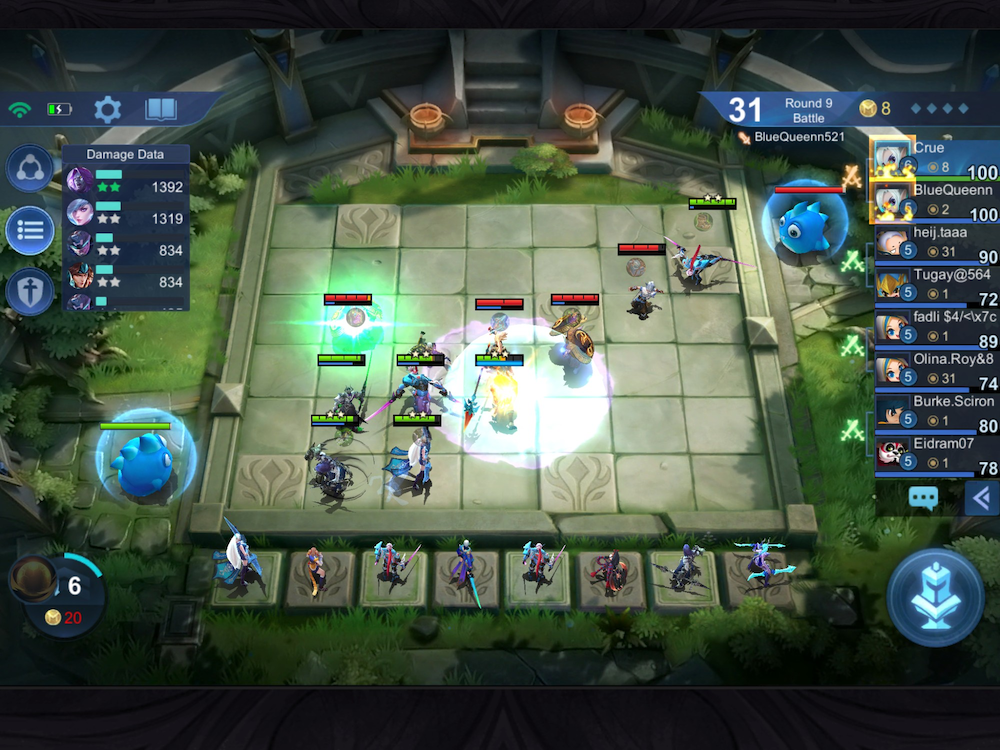 Magic Chess was first introduced to Mobile Legends: Bang Bang as a temporary minigame in January 2020, when the genre had just picked up a lot of steam. Two months later, Moonton released the mode as a full-fledged permanent side mode with regular seasons and additional monetization, such as the ability to purchase additional characters, chessboards, and a battle pass.
Mobile Legends: Bang Bang's first auto-chess season, Frozenland Pioneers, was released in April 2020 and resulted in a 100% spike in daily revenue. Since then, the mode has continued to go from strength to strength and even celebrated its third anniversary in February earlier this year with the launch of the 12th season, Secrets of the Stars. This introduced 'Star-Cores' to the game, a new system that added further depth and customizability to the main auto-chess gameplay. It also introduced a temporary event currency called Star-Core Fragments, which players earned from participating and could be exchanged for various rewards, including an exclusive skin.
It's difficult to pinpoint the exact impact the anniversary update had on the game financially as it was released alongside a major anime collaboration, although it's still worth noting there was a rise of more than 500% in daily revenue.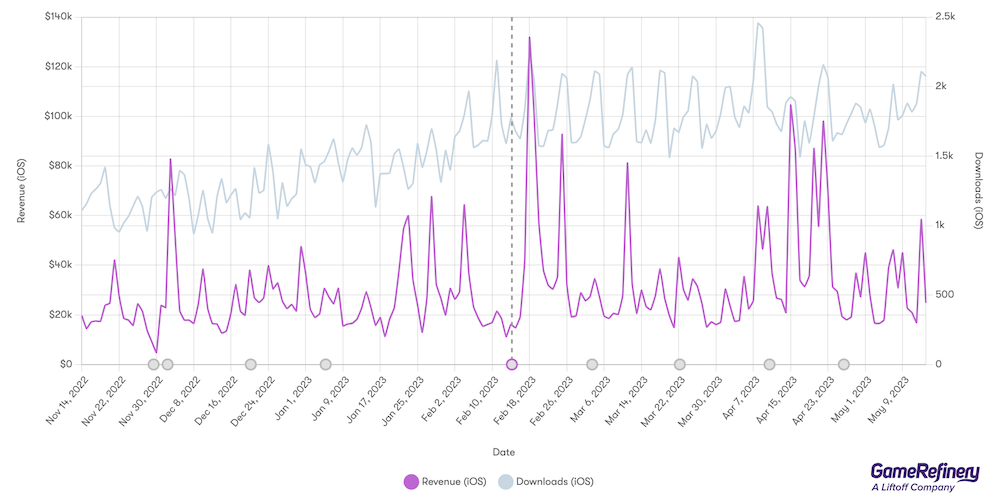 MLBB isn't the only MOBA to have taken this approach, either. China's Honor of Kings and its Western counterpart, Arena of Valour, feature auto-chess side modes alongside their core gameplay. You can also encounter auto-chess in Blizzard's CCG Hearthstone, which has featured an eight-player side mode called Battlegrounds since 2019.
The future of mobile chess games
Chess has become a chart-topping sensation on mobile, with a headline title beloved by millions of players and an entire subgenre to call its own, suggesting that we'll continue to see pocket-sized digital recreations of this classic board game for many years to come.
The success of mobile chess may prompt other developers to consider how they can incorporate chess mechanics into their games, but some key things should be kept in mind before heading down that road. For one, as with any form of hybridization, developers should think carefully about whether or not chess mechanics will be a good fit for the motivations of their existing players.
Secondly, the biggest chess and auto-chess games have strong links to esports and online streaming. Chess, for example, owes much of its success to the rise of Twitch and the vast audiences eager to watch online tournaments unfold with popular influencers. Meanwhile, Teamfight Tactics is based upon one of the biggest esports titles in the world, League of Legends, and Mobile Legends: Bang Bang is a strong esports player in its own right.
There's something about chess's old-school, tactical nature that makes it as entertaining to watch as it is to play. Without that additional audience power, a chess game may struggle to make the same impact as some of the hits covered in this blog.
If you enjoyed this post and wish to explore this topic even further, then check out some of our other content: