In November 2015 Tencent struck gold by releasing a game that would dominate the Chinese mobile game market for years to come. Honor of Kings (王者荣耀) quickly became a top-grossing champion that, for example, in Q1 of 2017 alone would generate 800 million dollars in revenue. The game was able to sail under favorable winds from the get-go as:
The competition among mobile MOBAs wasn't that fierce at the time.
Thanks to PC games such as DOTA and LoL, the genre was already popular in China.
Character and setting tweaks to include Chinese fantasy and historical elements were spot on.
Naturally, it didn't hurt to be a Tencent game.
Since then, Honor of Kings has become a phenomenon in China and, for example, has been listed as one of the country's most valuable gaming brands. Despite its not-that-casual genre, the game's demographic reach has been astounding as reportedly more than half of its players happen to be women, and it enjoys a massive e-sports following. The game was published in the West under the name Arena of Valor as a partnership with DC comics, but it hasn't been anywhere near as successful as in China. While a great deal of the features in Honor of Kings and AoV are similar, it's good to bear in mind that the games have differences as well.
It was only inevitable that other publishers would want to have a piece of Tencent's MOBA pie. NetEase – the other of the two publisher giants in China – finally truly entered the scene in late 2017 with the launch of its own MOBA. On paper, everything looked fantastic because the game was based on Onmyoji, one of NetEase's hottest mobile brands, which had not only gained traction in China but also in Japan and the West.
Flash forward to July 2018 and Onmyoji Arena's top grossing rank hovers around the 100-200 range, while Honor of Kings is still rocking it at the top 1 position.
How did it come to this?
There are surely multiple reasons for the current state of things ranging from Honor of Kings' first mover advantage to Onmyoji Arena's unbalanced character roster. However, by giving GameRefinery's game comparison tool a spin, we can take an under the hood look at the feature-sets of these games to understand their differences.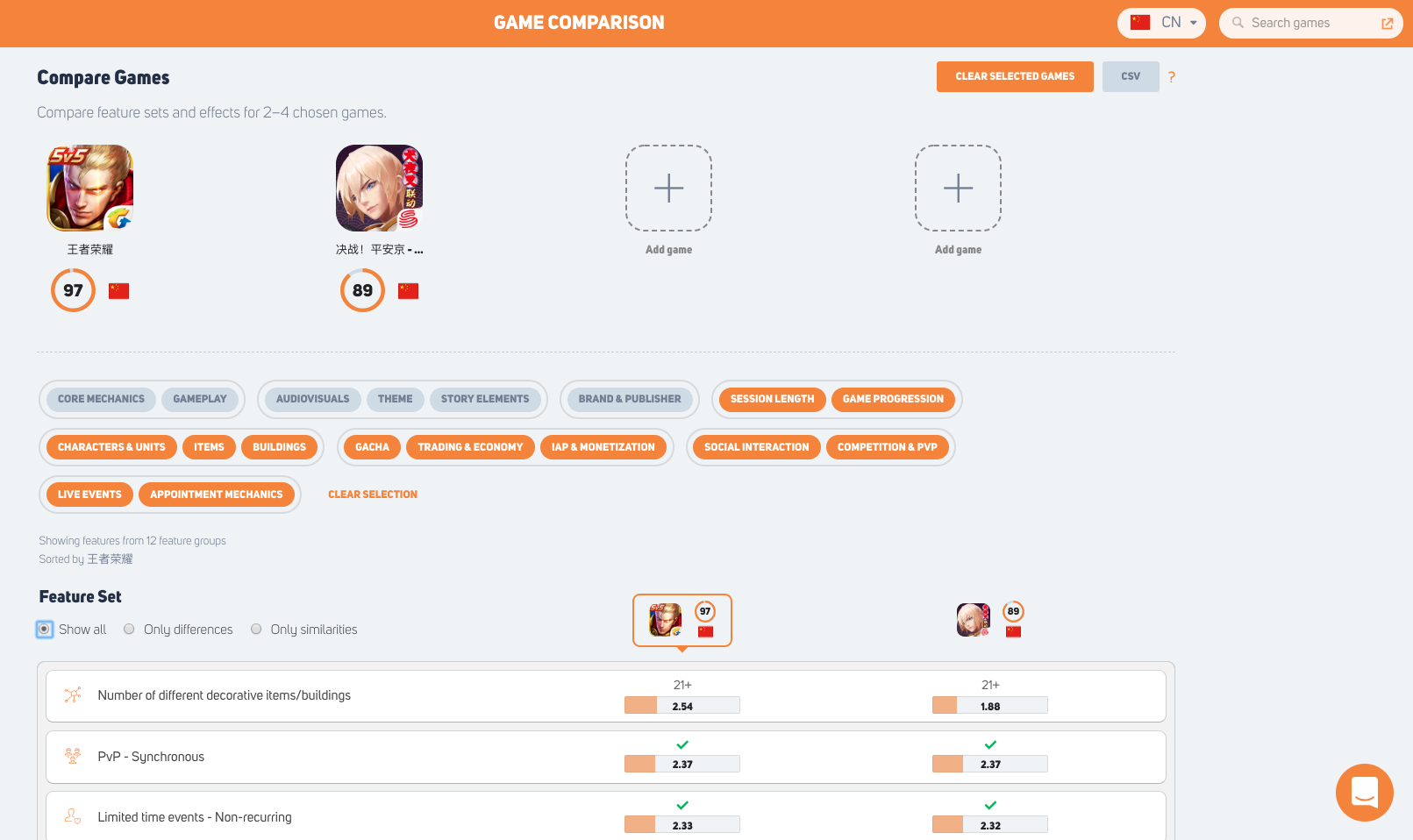 Stronger Guilds
Social elements, such as guild mechanics, are excellent tools for increasing player retention and Honor of Kings has leveraged this opportunity in an outstanding fashion. In fact, the game has not only one but two guild systems where "Legions" act as the traditional guilds and "Squads" provide a more intimate setting with a 7-player member limit. Both systems include development efforts in the form of leveling-up your guilds, so there is a clear and explicit purpose to stay active in these communities. And being active can be profitable as players receive social currency, aka clan coins, as rewards when you help your guild to thrive. Players can also participate in guild battles, which is yet another great way to engage players in guilds.
Four months into Onmyoji Arena's introduction of a clan system it still feels constrained, especially when compared to Honor of Kings. The clan system's only real feature is a milestone system, which encourages players to accumulate points from daily quests to reach certain thresholds that give bonuses to all guild members (a system that Honor of Kings has as well btw.).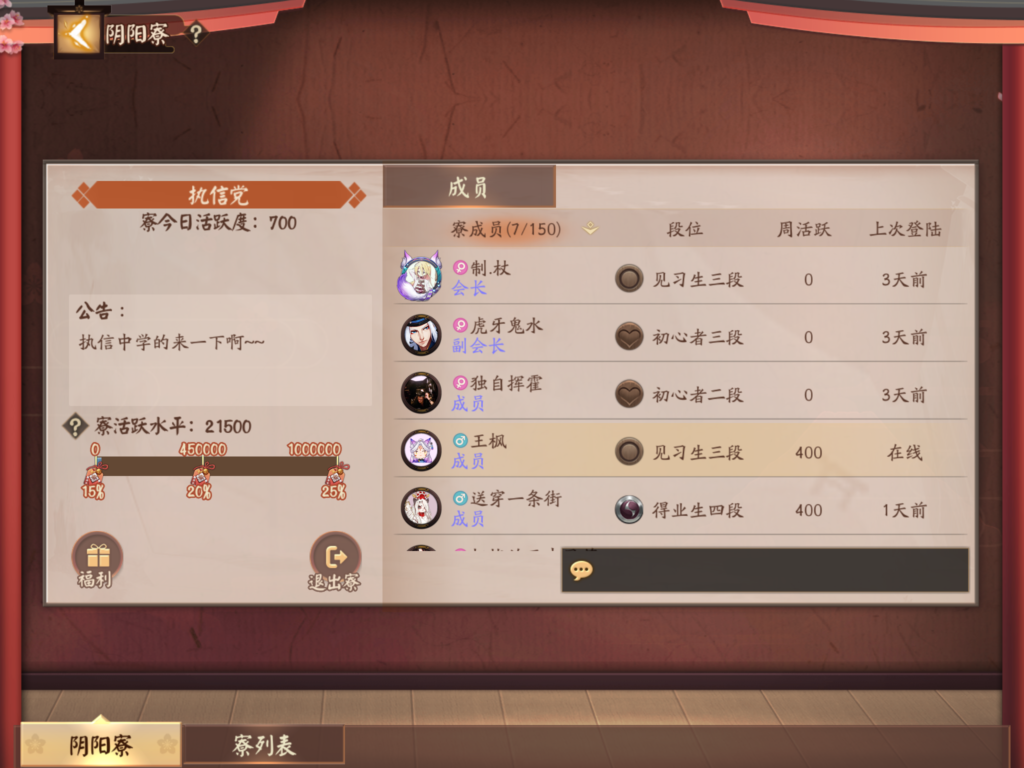 Variety in Monetization
As we've discussed before, subscription plans are excellent tools for hitting two birds with one stone because you have the opportunity to boost retention through monetization. Honor of Kings has four different plan tiers available that vary in price, length, and content. Since the Chinese don't shy away from flaunting their status, the game includes a classic VIP-system that grants you different perks as your level of real money spending reaches certain thresholds.
On the meta side of things, one notable difference between the games is Honor of Kings' rune-system that allows players to equip buffs to their characters pre-match. Monetization-wise, this has allowed the game to include a good number of gachas as well as a special step-up gacha mechanic where the odds of receiving rare prizes increase with the number of times the gacha is spun.
Less exciting is Onmyoji Arena's monetization approach, which sticks to revolving around direct purchases of skins and characters.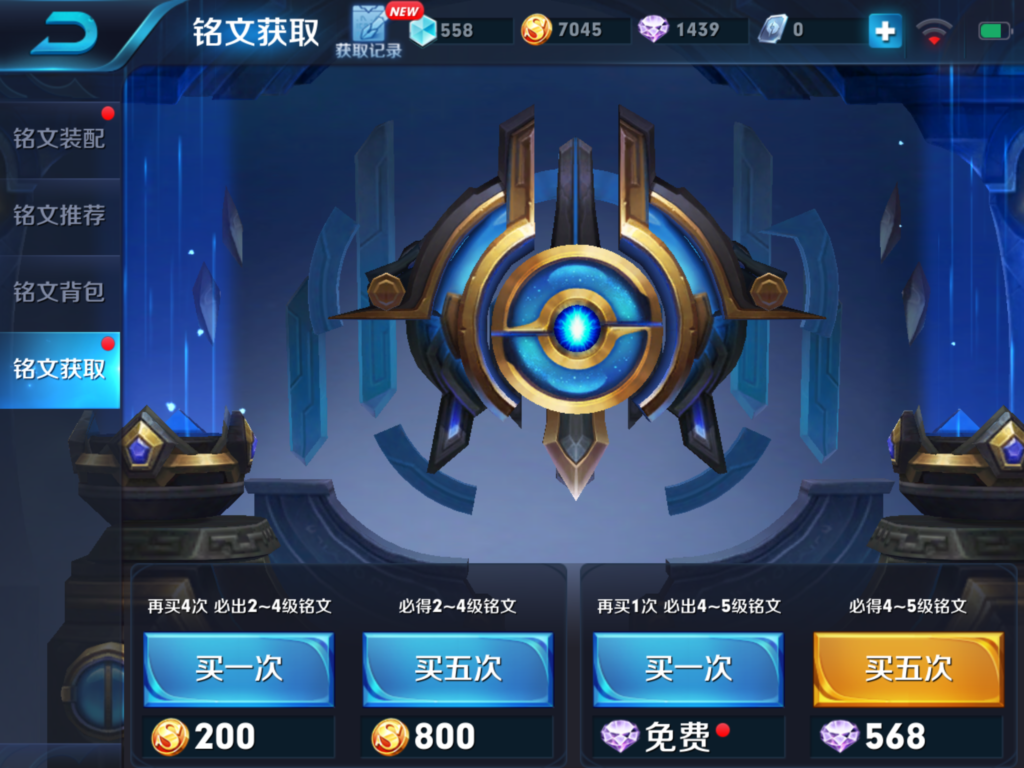 Not only a MOBA
While Honor of Kings' primary focus is definitely on delivering the best possible MOBA experience, it hasn't stopped Tencent from including some side dishes on the table. For example, the game boasts a decent action-RPG-mode with a good number of levels and story elements as well as a newly added "Frontier Breakthrough"-mode that taps into the current Battle Royale-frenzy.
Onmyoji Arena thus faces a challenge in keeping up with Honor of Kings in terms of game mode variety, because the game has made few attempts to broaden its gameplay spectrum.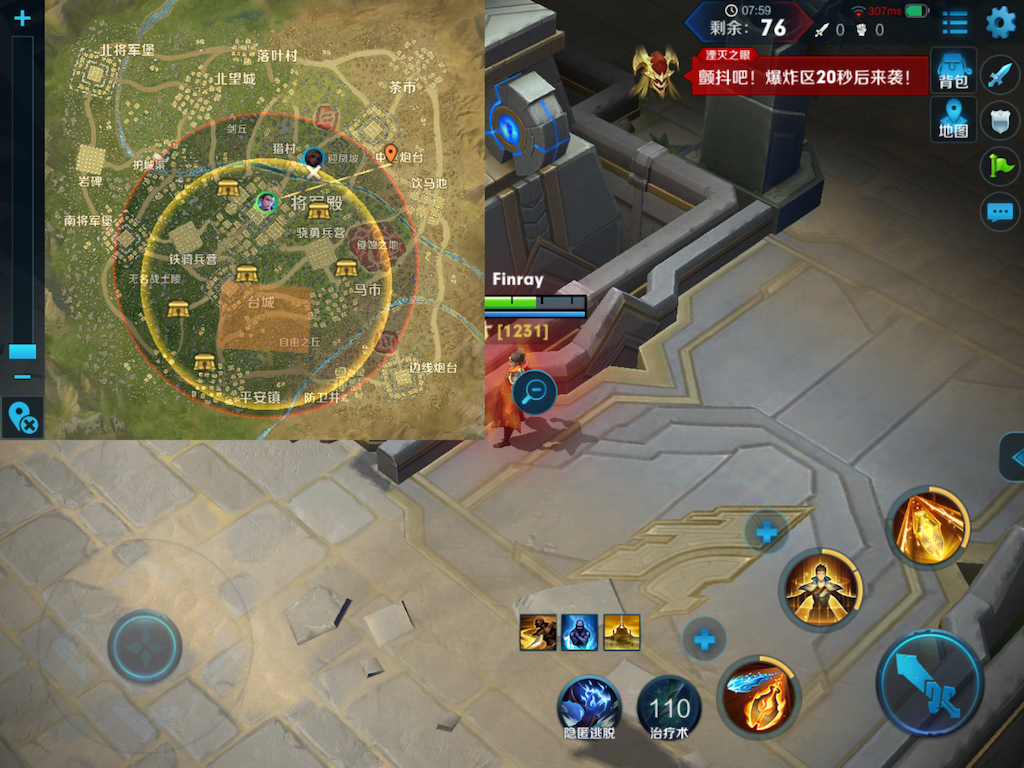 In Conclusion
One could argue that it is somewhat unfair to compare a game to another that had a 2-year head start. However, feature-set-wise Onmyoji Arena hasn't evolved that much since its launch (that was already six months ago), which gives some cause for concern. If NetEase has planned to unbalance Honor of Kings' rank position, it has yet to fulfill that promise.
In recap, some areas where Onmyoji Arena is currently lagging behind Honor of Kings include:
Social elements. Guilds could use more meat on the bones.
Monetization. There is room for greater variety.
Scope. You can play Honor of Kings in many different ways. Onmyoji Arena hasn't opened those doors.
It'll be interesting to follow what will happen to these games. If NetEase of all publishers, with a brand as big as Onmyoji, fails to rock Honor of Kings' MOBA boat, it takes some imagination to figure out who else would be better suited for the job.
Comparing games in this way is very easy with our service's Game Comparison tool. With thousands of games in the database, you can make a wide range of side-by-side comparisons of competitors and the games you're most interested in, all with a few mouse clicks.
Interested to hear more? Please don't hesitate to drop us a line via the intercom button on the bottom-right of the screen or try out the free layer of the service here.