They say imitation is a form of flattery, and there's no shortage of mobile games that share a striking similarity with other popular titles in the PC, console and mobile markets.
Editor's Note: This piece was updated in February 2023 to reflect a significant rise in the daily revenue of Eggy Party in the Chinese iOS market.
When a game with a unique style and appearance becomes a hit, it doesn't take long for new games to emerge, hoping to emulate that success by using the same gameplay mechanics, visual style and features. You can also see this happening in the mobile market with new game modes, such as the Fall Guys-style gameplay that's now used in side modes in Garena Free Fire and QQ Speed (GKart).
That said, there's a big difference between a quick cash-in and a mobile clone that becomes a superior version of the game it's taken inspiration from by adding new gameplay features and generally being more enjoyable to play. And that's exactly the case with the chart toppers Stumble Guys and Eggy Party, two mobile clones of the 60-player knock-out party game, Fall Guys.
Why isn't there a mobile version of Fall Guys?
Fall Guys became an overnight hit shortly after its release in August 2020 on PC and PS4. By the beginning of December, Fall Guys had reached 11 million sales on PC while also becoming the most-downloaded game on PlayStation Plus, and the game is now available on Xbox and Nintendo Switch. So, considering how successful it's been (and still is), why hasn't its publisher, Mediatonic, released the game on mobile devices?
BiliBili, a Chinese games and entertainment company, secured the rights to publish a mobile version of Fall Guys shortly after its release, but Mediatonic hasn't announced any plans to release the game on mobile in the West. It's worth noting that Mediatonic is owned by Epic Games, and given the publisher is in a long-running legal battle with Apple over disputes around App Store practices, it might be possible that Fall Guys doesn't make it to mobile in the West until a resolution is found.
That said, there are arguments for and against releasing a mobile version of Fall Guys. With Stumble Guys and Eggy Party already proving so popular, there might not be much of a market left for a mobile version of Fall Guys to conquer. Then again, the success of Eggy Party and Stumble Guys has provided solid proof of concept and shown there is an appetite for this genre amongst mobile players.
Either way, if Fall Guys does eventually make it to mobile, it will have to make some changes to set itself apart from the competition – so let's take a look at what the competition is doing.
Stumble Guys vs. Eggy Party: Similarities and differences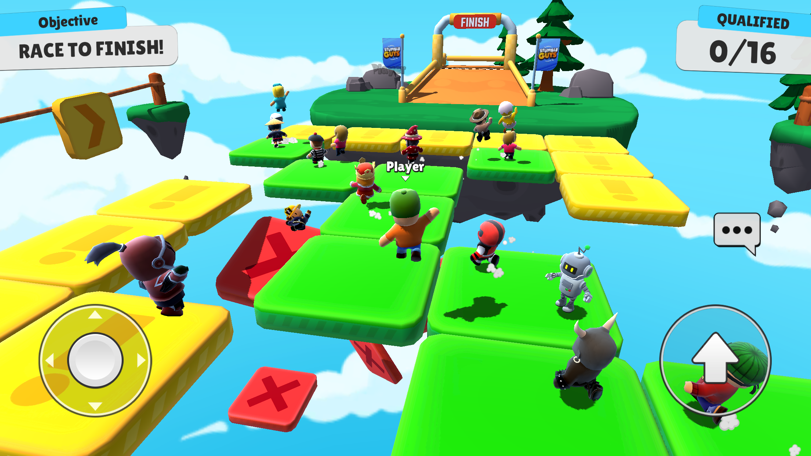 Stumble Guys
You'd be forgiven for mistaking Stumble Guys for Fall Guys. Developed by Kitka Games and acquired by Scopely Games in September 2022, Stumble Guys is a knock-out party game with a similar visual style and gameplay mechanics to Fall Guys. It was released in February 2021 and supports a maximum number of 32 simultaneous players rather than the 60 in Fall Guys.
Players race, jump and dash through three rounds of obstacle courses (maps). After each round, a limited number of players that reach the finish line or survive the obstacles make it through to the next round, until a shortlist of finalists is chosen for the last course and a winner is crowned. As of December 15 2022, players can also take part in games via a 'custom party' that allows them to tailor search criteria for specific matches, such as competitive modes or playing with friends.
Similar to Fall Guys, there's a lot of variation in the map types, which range from races to the finish line and team-based games to survival modes as sections of the map disappear. Maps for both Stumble Guys and Fall Guys have continued to expand in terms of play types over style, although Stumble Guys doesn't have any memory game maps.
Until very recently, Stumble Guys didn't feature any limited-time collaborative maps (such as the Sonic The Hedgehog map in Fall Guys), but that's no longer the case after Scopely announced a collaboration with Hot Wheels. The collaboration introduces a new map, Hot Wheels Hustle, to the map pool, complete with racing mechanics as players race around a Hot Wheels-themed racetrack.
The shared similarities between Stumble Guys and Fall Guys means Stumble Guys has been able to capitalize on the popularity of Fall Guys. As of October this year, the game has been downloaded over 265 million times and generated over $60 million in revenue through IAPs since its release, with most of its traffic coming off the back of Fall Guys' move to a free-to-play title.
As the only established alternative to Fall Guys on mobile devices, Stumble Guys has built considerable momentum around hype for Fall Guys, especially on the day that Fall Guys became a free-to-play title. It's likely that Stumble Guys activated UA campaigns around this time period and we also know the game has been building a solid fan base thanks to influencer marketing on platforms such as TikTok and YouTube, which is one of the reasons why the game is so popular in Latin America.
Stumble Guys was also the third most downloaded game of 2022, according to data from mobilegamer.biz, beating the likes of established mobile games including Candy Crush Saga and Roblox. In total, Stumble Guys raked in over 219 million downloads.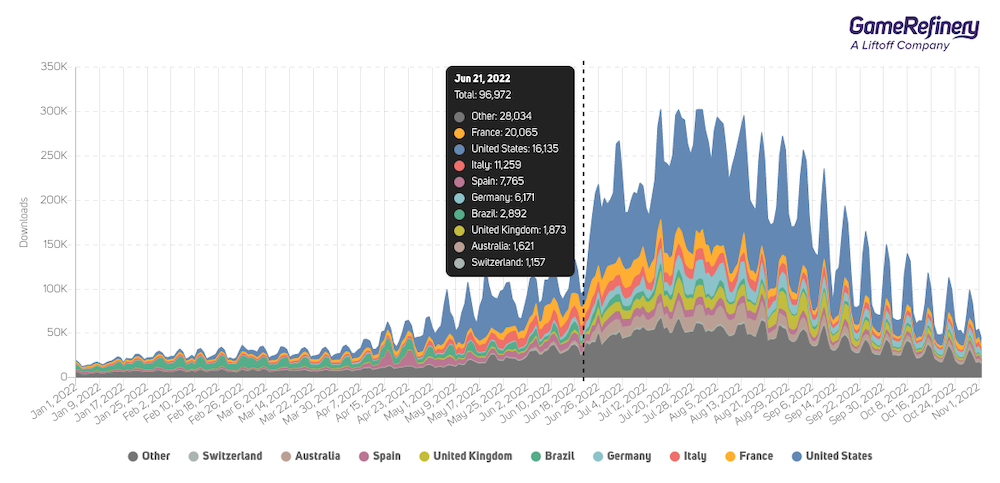 Fall Guys is more robust in terms of features and the various gameplay mechanics on offer, but Stumble Guys contains some mechanics that aren't present in Fall Guys. This results in Stumble Guys having more of a focus on competitive playing and tournament-style matches.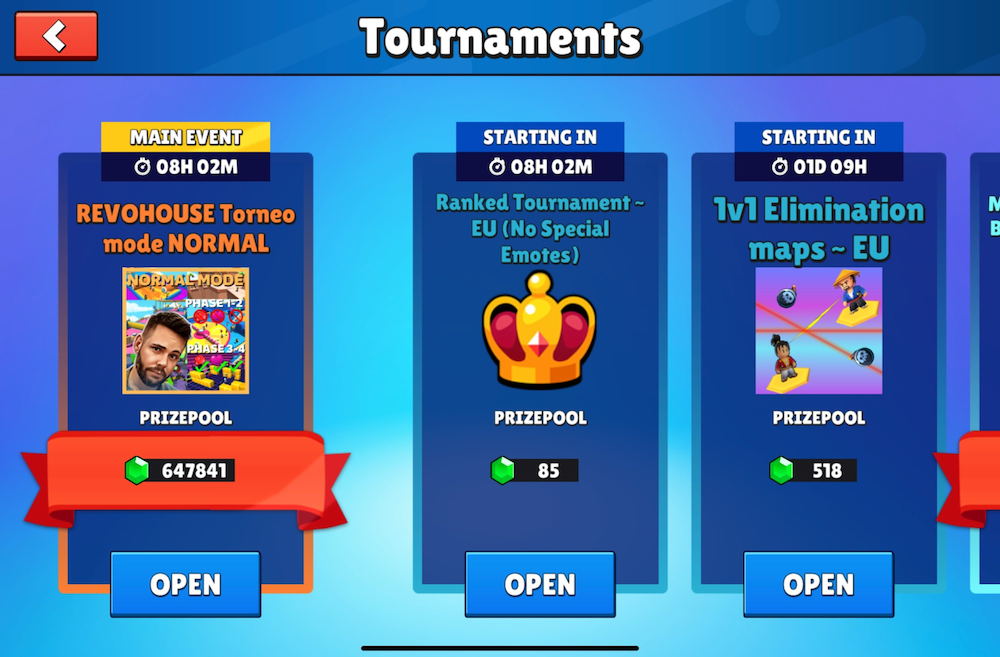 Tournaments and additional gameplay modes
While the main focus of Stumble Guys is on the 32-player knockout mode, it constantly hosts a variety of tournaments that aren't present in Fall Guys. Some of the tournaments cost gems (in-game currency) to enter, the cost of which typically ranges between 10–50 gems. Gems can be earned via free daily gacha spins or purchased in packs – but they're genuinely earned really slowly, which incentivizes entry into the tournaments because of the massive rewards on offer for winners.
These tournaments often have special rules and reward winners with a prize pool of gems that can be used to purchase skins through gachas, battle passes, and skip battle pass tiers. Some of these tournaments are hosted in collaboration with social media influencers (as seen by the thumbnail for the main event above) and cost gems to enter.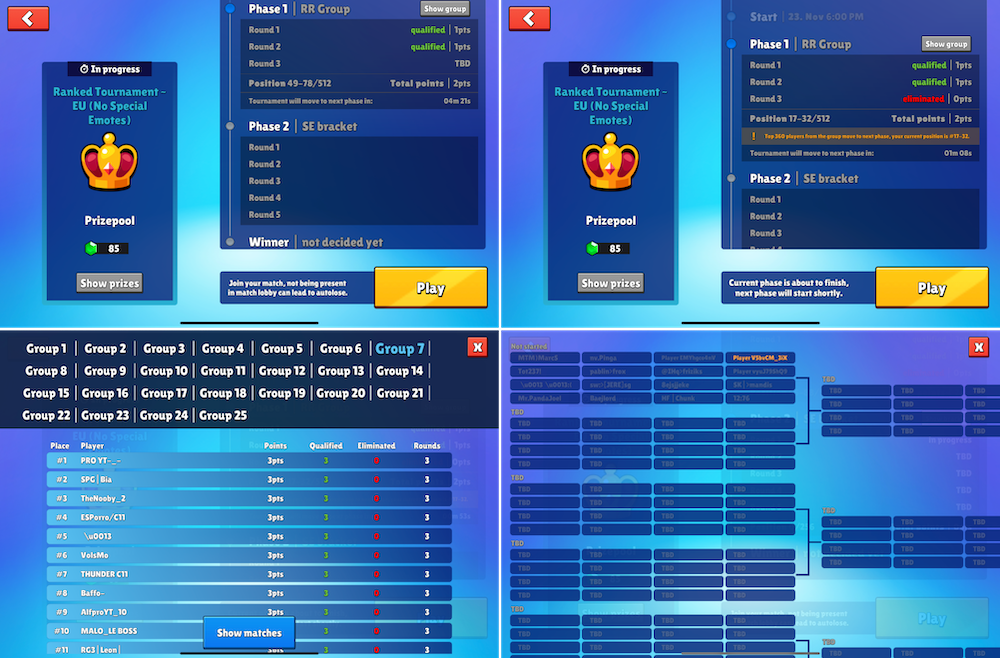 Examples of the special rules in tournaments include 1v1 and 2v2 modes – matchmaking variations that aren't present in Fall Guys. Ultimately, the presence of tournaments in Stumble Guys means players have another major game mode to sink their time into and this improves the chances of them staying engaged in the long term.
Special emotes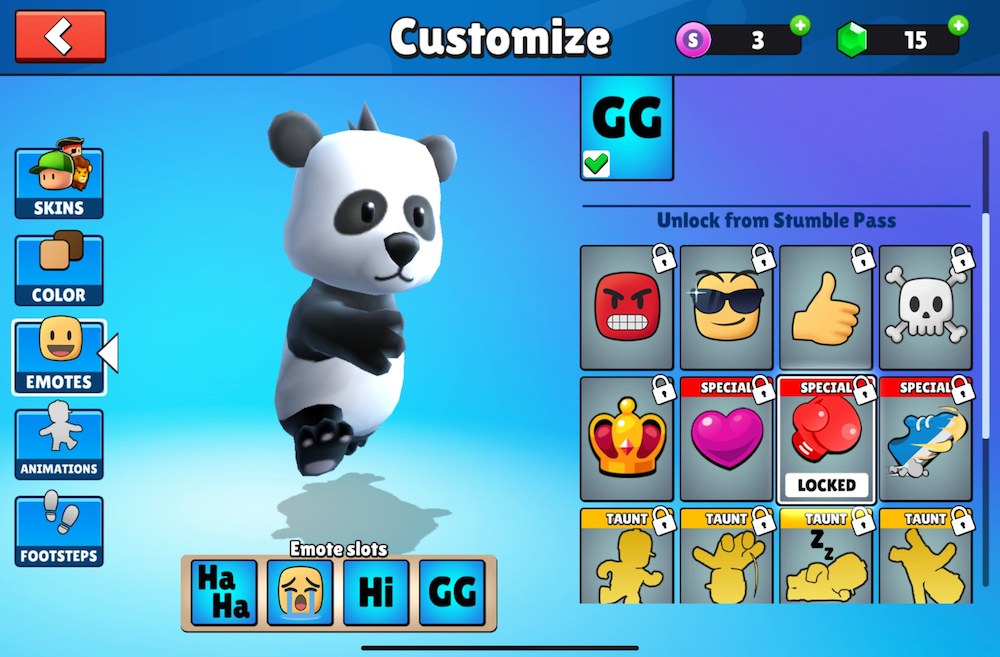 While both games feature emotes, Fall Guys' emotes are more cosmetic in nature, while the special emotes available in Stumble Guys are permanent boost skills that can be used to your advantage in matches, adding a competitive twist to the game.
At the time of writing, there are five special emotes in the game: Punch, Slide, Hug, and Banana. They're only unlockable through the game's premium Battle Pass track as the end reward, incentivizing progression. Given how advantageous these special emotes are, they also bring a pay-to-win element to Stumble Guys.
The Punch emote lets you hit other players out of the map, while the Slide emote means you can maneuver obstacles and dodge the punches of other players. Hug is similar to the grab emote in Fall Guys while the recently added Banana emote is similar to Mario Kart as you can throw bananas as traps to trip up other players.
Overall, the addition of special emotes adds an additional competitive twist to the game.
Monetization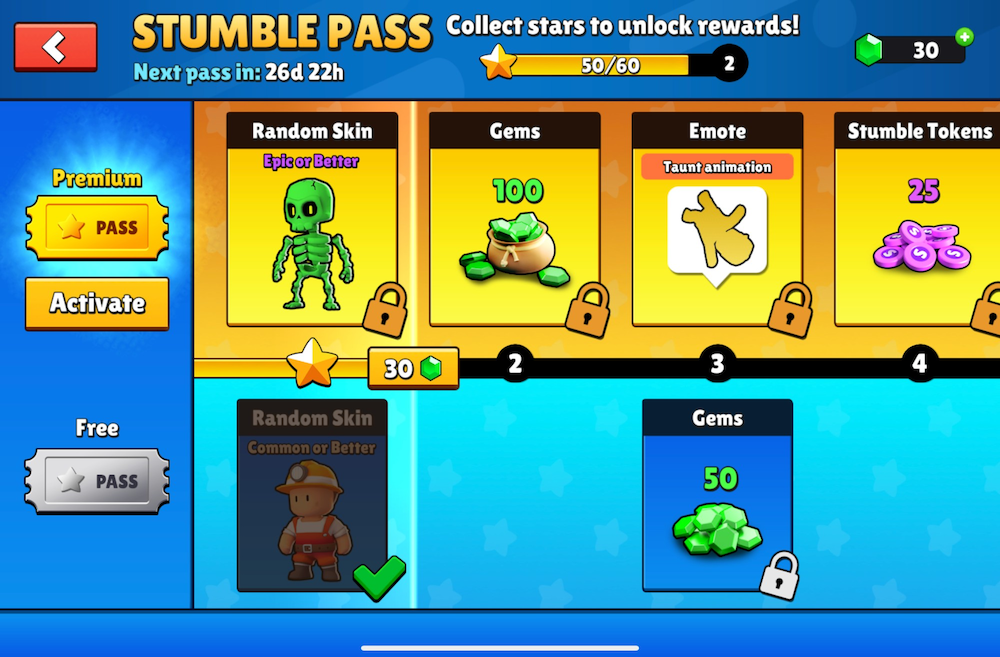 Fall Guys' free-to-play model generates revenue through battle pass purchases, a paid currency (Show-Bucks) used to purchase rare cosmetic items, and a variety of cosmetic items available to purchase such as skins, accessories, bean colors, patterns, titles and banners.
Stumble Guys uses many of the same monetization methods but also monetizes through incentivized ads, which give players spins on a lucky wheel for a chance to win prizes, and forced ads, which can be removed by purchasing the starter pack. Similar to Fall Guys, players can also purchase limited-time exclusive skins that can be purchased through limited-time gachas (although the limited-time skins in Fall Guys are purchased directly through the store).
As the special emotes are only available through Battle Pass premium tiers, Stumble Guys' Battle Pass is also a major revenue driver.
What is it that players love about Stumble Guys?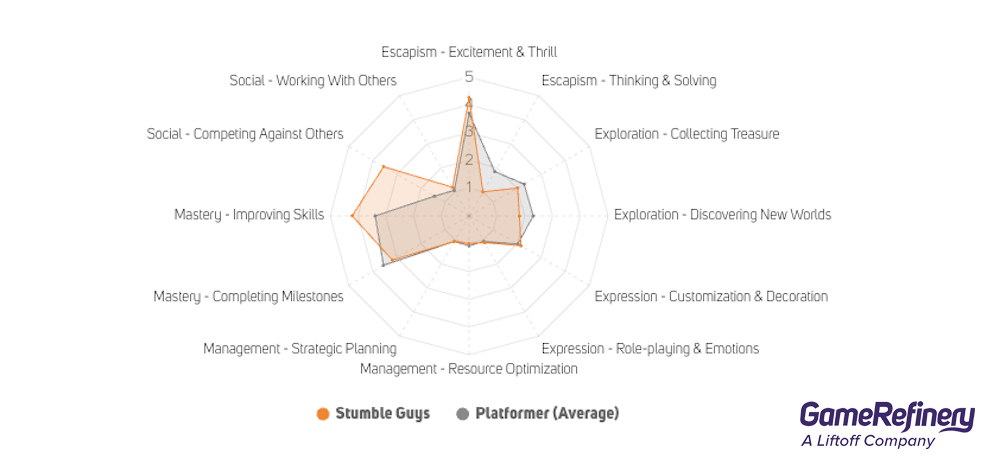 The maps, graphics, characters, and general aesthetic of Stumble Guys will win over a lot of Fall Guys players who want a Fall Guys experience on mobile. As Epic doesn't share download and revenue figures for Fall Guys, it's harder to tell which game is more popular. But if we look at Discord figures, Stumble Guys seems to have the larger community (773k members in comparison to Fall Guys' 284k) and we also know Stumble Guys reached 265 million total downloads as of October this year.
As you can see from the player motivations chart above, Stumble Guys has an advantage over other platform games as it taps into the competitive nature of players that enjoy social experiences. Competition is at the heart of the Fall Guys experience, but Stumble Guys' additional competitive elements, such as special emotes, tournaments, and 1v1 and 2v2 gameplay modes, give it a major competitive edge.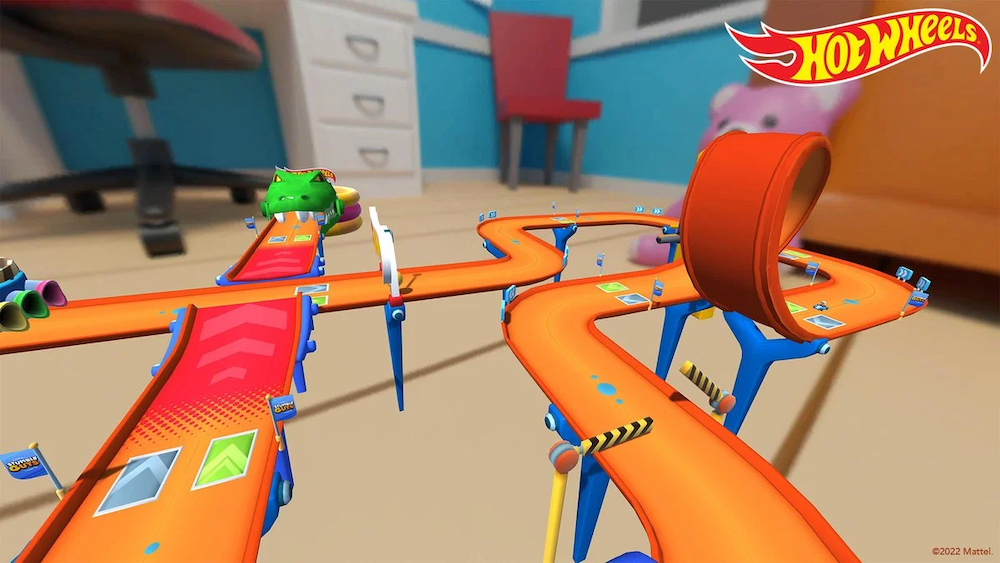 The one area where Stumble Guys could improve is its LiveOps. With the exception of new Battle Pass seasons, limited-time skins and tournaments, there aren't many updates to Stumble Guys, although a recent Halloween update did cause daily iOS revenue to jump by 600%, highlighting the importance of more regular LiveOps.
Compare that to Fall Guys, where the game regularly collaborates with major franchises such as Sonic The Hedgehog and He-Man to host limited-time events with new maps, modes and gameplay mechanics. Other collaborations have included:
Ratchet & Clank (Clank Challenge)
Horizon Zero Dawn (Aloy's Challenge)
Sackboy (Sackboy's Challenge)
Halo (Spartan Showdown)
Now that Scopely owns the Stumble Guys IP, we could see a busier LiveOps calendar for the game with more branded collaborations, given the recent Hot Wheels announcement. This is a major partnership and was announced just two months after the acquisition, and given many of Scopely's games are based on IP including WWE, Looney Tunes and Wheel of Fortune, we know that Scopely recognises the value of IP integration with gaming.
Eggy Party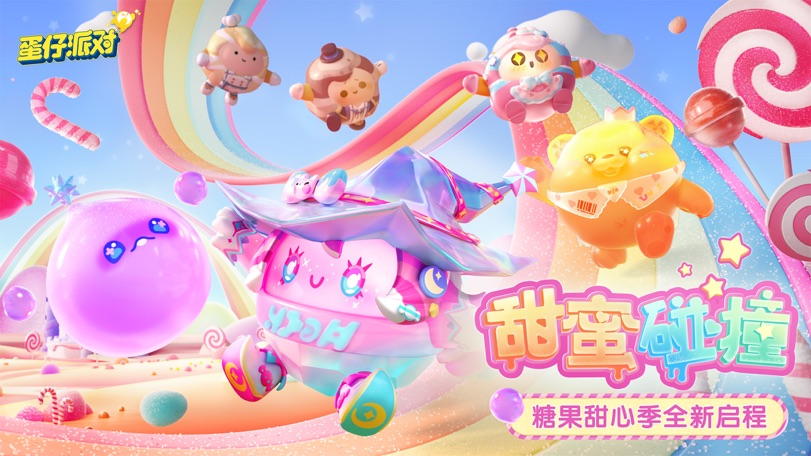 Eggy Party (蛋仔派对) is essentially Fall Guys with an eggy makeover – all of the characters have round, egg-like designs. The game is published by Netease and, at the time of writing, is only available in China, but it has quickly become one of the most popular games in the country.
Following its latest update, which introduced a new season with a themed battle pass, limited-time gacha and a new concert area, the game ranked among the top three grossing games in the Chinese iOS market at the end of January. This followed a gradual rise in daily revenue which peaked at over $1.4M. Eggy Party also currently ranks as the most downloaded iOS game in the country.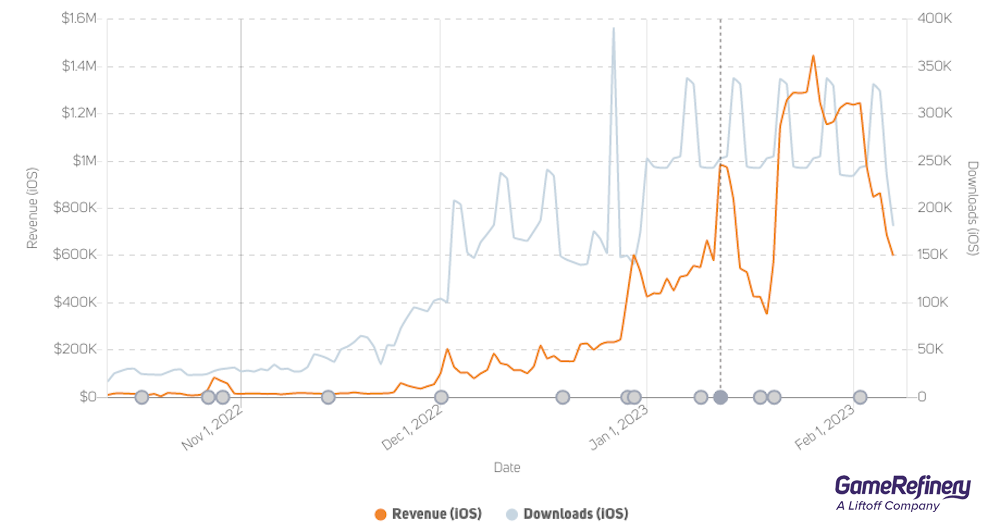 A worldwide release for the game is planned under the name 'Eggy Go,' but a release date hasn't been set. That said, players in the UK and Netherlands can currently register for a closed beta test, but only on Android devices.
Visually, the game is very impressive, perhaps more so than Fall Guys. It features the same party game knockout mechanics as Fall Guys and Stumble Guys, with 32 players dodging obstacles and racing to the finish line in a variety of maps until enough players are eliminated for a champion to emerge.
Similar to Stumble Guys, Eggy Party takes the Fall Guys formula and builds on it by adding new gameplay mechanics and features, many of which enhance the skill-based elements of the game while encouraging social engagement.
Passive skills and active skills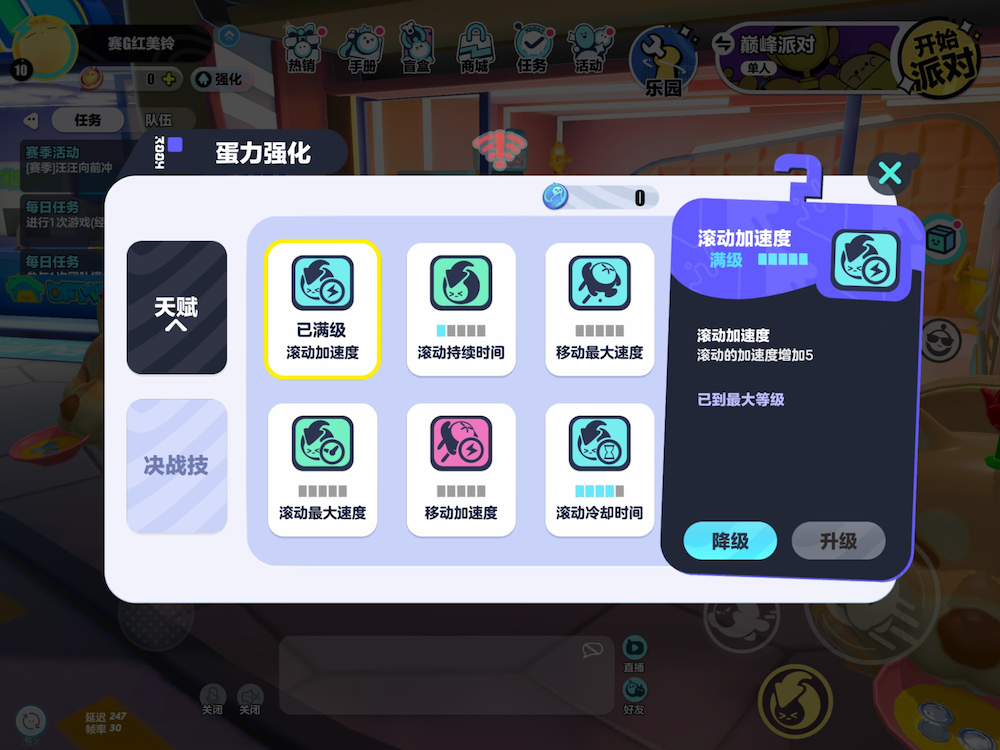 While Stumble Guys uses special emotes to encourage gameplay of a more competitive nature, Eggy Party offers some very light RPG/power progression mechanics through the addition of passive and active skills.
Six unlockable passive skills give players a passive boost such as shortening the cooldown times for active skills. There are six active skills to unlock, including invincibility for a short time, invisibility for a short time and becoming a "bomb" that detonates after a short fuse (and damages other players), but they can only be used in the final sections of knock-out matches.
Additional gameplay modes and looping live-event modes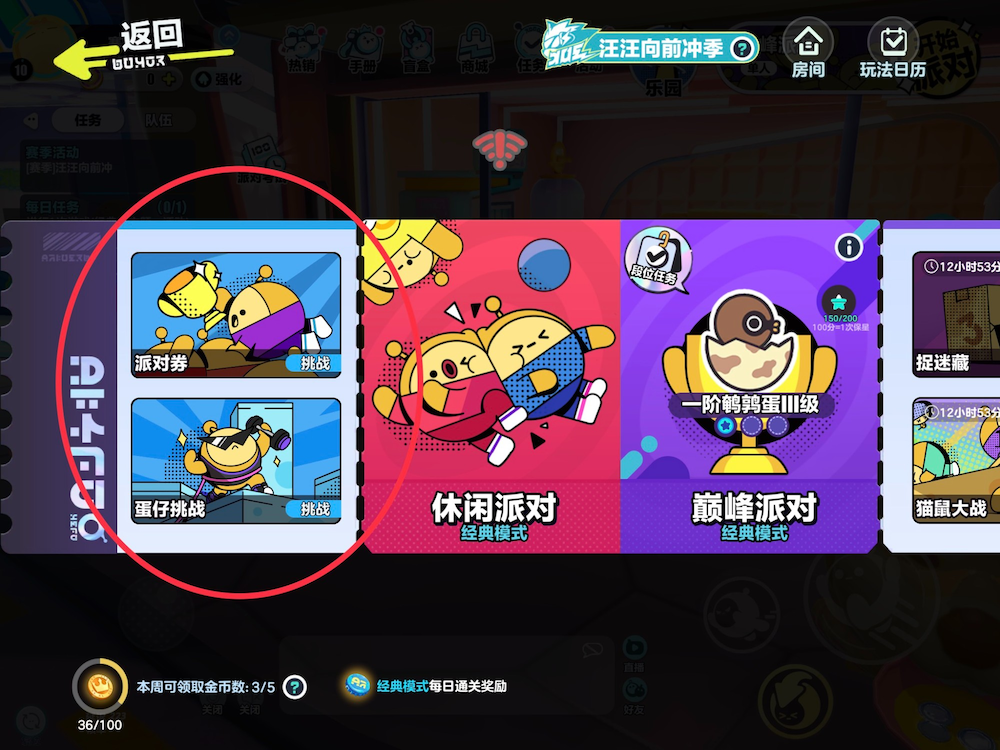 Eggy Party has a lot to offer in terms of additional gameplay modes, namely PvE options (Fall Guys and Stumble Guys are PvP only), a ranked PvP mode with a dynamic leaderboard system, and a 4v4 mode. And similar to the tournaments in Stumble Guys, Eggy Party runs two or three events simultaneously with unique rules and mechanics.
Custom map creator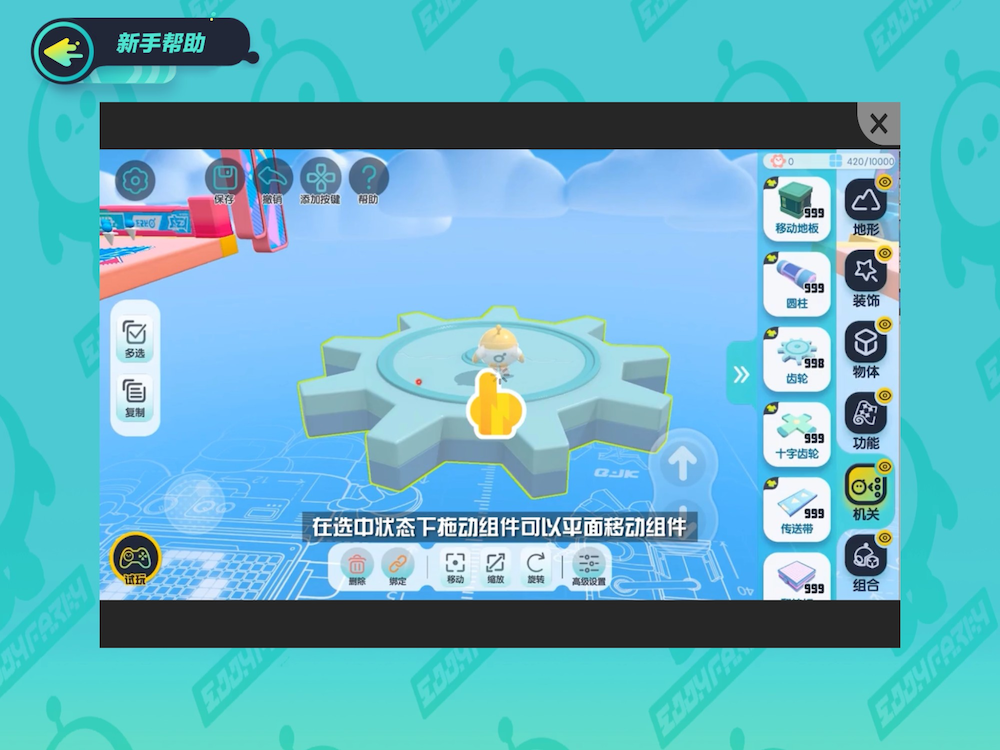 While Fall Guys has announced a custom map creator is on its way, we don't know when it's arriving and Eggy Party players can already make their own custom maps using the game's creative mode. There are lots of in-depth features and plenty of useful tutorial videos to guide players through the creation process.
Heavy focus on social elements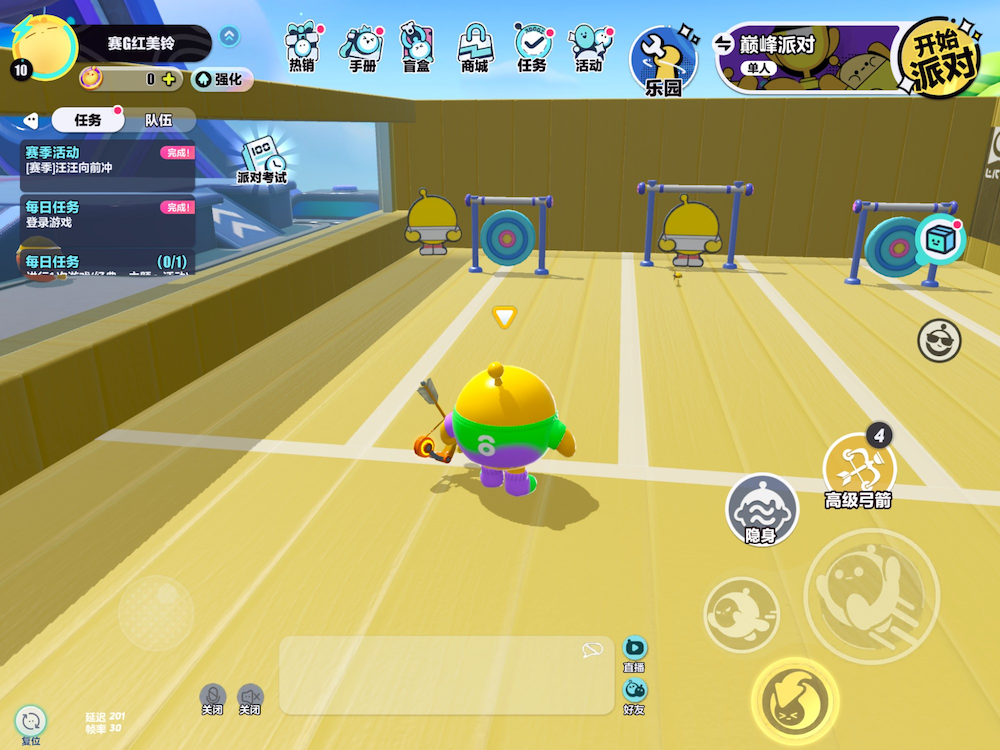 Mobile games in the Chinese market tend to utilize a variety of social features such as voice chat, non-competitive co-op, and relationship systems – all features that have grown by 10% in popularity over the last year in the top 20% of most-downloaded Chinese games.
While the core gameplay loop of Eggy Party is based around competition, there are plenty of features providing a more casual social experience. The main menu for the game is actually a social hub rather than a static menu, where players can socialize with each other and take part in mini-games such as archery and basketball, as well as driving around in karts.
There's an in-game streaming platform that players can use to watch other Eggy Party games that are in progress, and the game also features the Friendship/romance mechanic where players can form friendships with other players and build their friendship level by completing tasks.
Monetization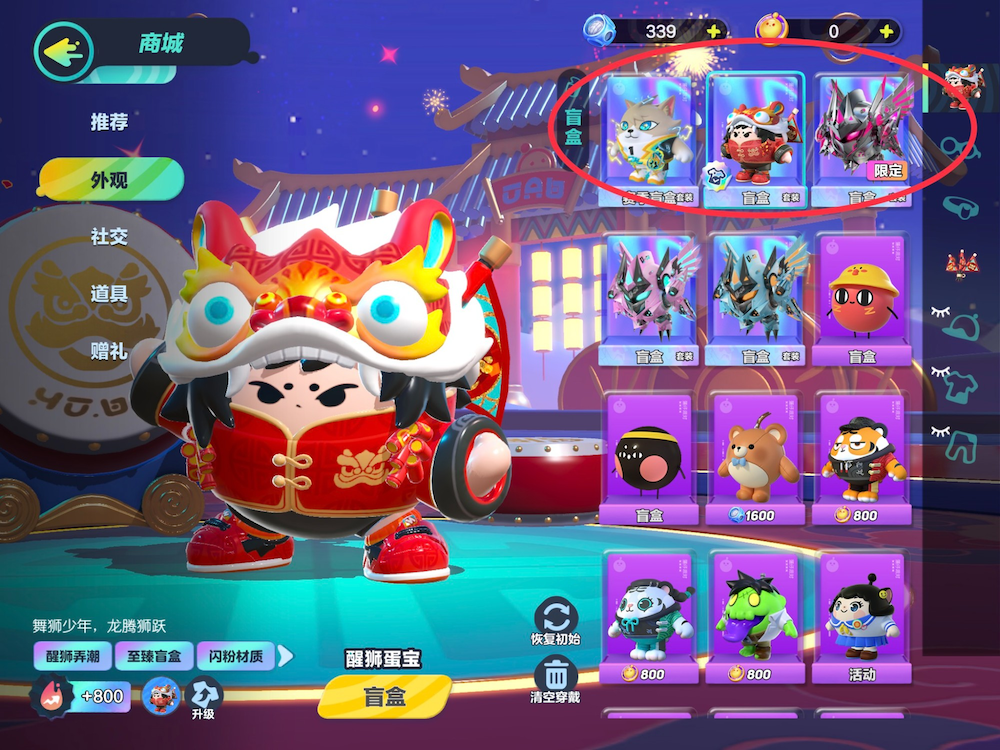 Eggy Party's cosmetic-driven economy is the primary monetization focus, especially as players can buy and send cosmetic items to their friends. Players can purchase character skins, accessories, avatar frames, emotes, and dances, and the addition of a main social hub likely incentivizes players to dress up their avatars and show off their outfits to other players.
In addition to direct purchases for cosmetic items, they're also available through gachas, battle passes, a piggy bank, limited-time IAP offers, and as awards for completing events and matches.
And speaking of events, it's worth noting that Eggy Party has already featured an in-game collaboration with the survival horror game, Identity V, another Netease title. The focus on in-game cosmetics alongside Netease's massive portfolio means it's likely we'll see plenty of branded collaborations and collaborations with other games in the future, especially if the title goes global.
At the time of writing, searching for Eggy Go on Google brings up a Google Play link, but it doesn't work when you click through. Similarly, there's an APK for Android but many of the reviews say it doesn't work.
What is it that players love about Eggy Party?
In many ways, you can consider Eggy Party the definitive version of Fall Guys. The game includes plenty of features that aren't available in either Stumble Guys or Fall Guys, especially the focus on social elements and additional gameplay modes.
It's unusual for a party game to find success in China, given the market's tendency for gacha games, RPGs, and MOBAs, but the variety of gameplay mechanics to choose from in Eggy Party means there are more reasons to keep playing. If players get fed up with competing in the knockout mode, they can simply socialize with other players in the main hub, play mini-games or watch others compete in matches via the in-game streaming hub.
What are the main differences between Fall Guys, Eggy Party, and Stumble Guys?
While all of the games share common traits in terms of core gameplay mechanics and monetization, they do appeal to specific demographics and motivations.
Fall Guys has a strong position in the casual market for PC/console players. It has more maps than Eggy Party and Stumble Guys (over 70 in total) and supports a maximum number of 60 players in matches. There aren't really any other games like it on PC/console, although Fall Guys does have to compete for players' attention whenever there's a major AAA release on console/PC.
Fall Guys is more robust than Stumble Guys and its collaborations with brands/IP are a major advantage as they introduce special levels. A lot of lapsed players look forward to new collaborations as it's an opportunity for them to re-engage with the game.
Stumble Guys doesn't have as many features as Fall Guys but will be enjoyed by anyone that's played Fall Guys and wishes the game had more competitive elements. Additional special emotes add a new competitive dynamic to matches, as do tournaments, and there's more longevity in the game due to its various game modes. Over 55% of its players are aged between 25–44 (iOS US).
Eggy Party may not have as many maps or support as many players as Fall Guys, but in many ways, it's the definitive Fall Guys experience as it includes new social features, gameplay mechanics, and player growth skills not present in Fall Guys. As you can interact with other players outside of matches in the social hub, there's more of an incentive to purchase character skins. It will be interesting to see how the game performs when it's released globally as Eggy Go.
If you enjoyed reading this post, here are a few more you should definitely check out: