The onboarding period is the delicate phase where the player's relationship to the monetization mechanics of the game is often decided – for better or worse. In the beginning, the players can be introduced to different monetization aspects of the game in a way that leaves them hungry for more instead of feeling tricked and driven to pay to win.
In our "Introducing Onboarding Best Practises" blog post series, we have so far taken a look at the best practices of player onboarding in terms of storytelling and retention among the top-grossing iOS games across different genres and markets. In this last part, we will dive into new player monetization. Remember to check out the part one about storytelling elements and a sense of progress, as well as part two on player retention, to deepen your knowledge about the topic of onboarding.
Let's find out what kind of interesting monetization features aimed specifically at new players can be found in top mobile games from East to West!
Introducing monetization mechanics through free samples
A common and gentle way of getting players used to monetized items and actions is by giving players some of them for free the first time these items are introduced. That is, while the player is still getting used to the gameplay mechanics and figuring out what their goal is.
In Roblox, there is a shop for different types of accessories, clothes, and characters to brighten up the gameplay's customization experience. At the beginning of the game, players get free stuff, such as characters, accessories, and clothes to spice up their characters' looks. When the player first goes to the shop to collect their free gifts, they are also introduced to various kinds of customization items with an actual price tag. This offers two ways to get familiar with the game mechanic: a free trial of some more common wear while also showcasing where the player can get more of the cooler decorative items.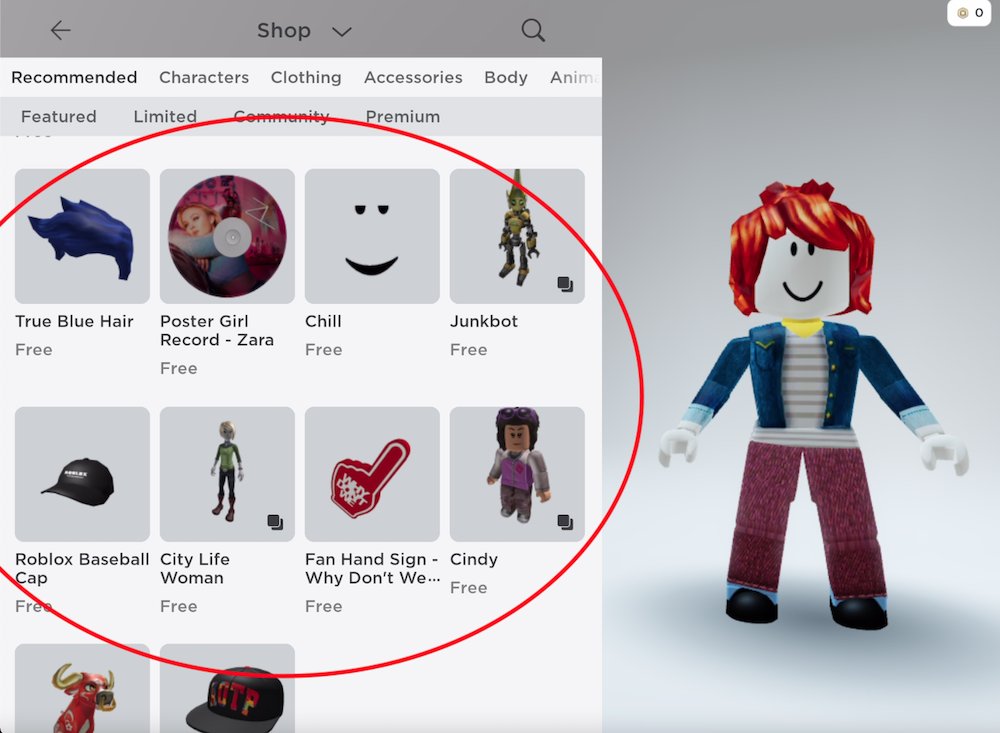 In many tycoon games, the tutorial allows you to speed up the construction of buildings and production of crops and such once for free when you are first introduced to these mechanics. At the same time, the player is informed that the action will, later on, cost actual premium currency, the amount usually depending on how long the remaining waiting time is.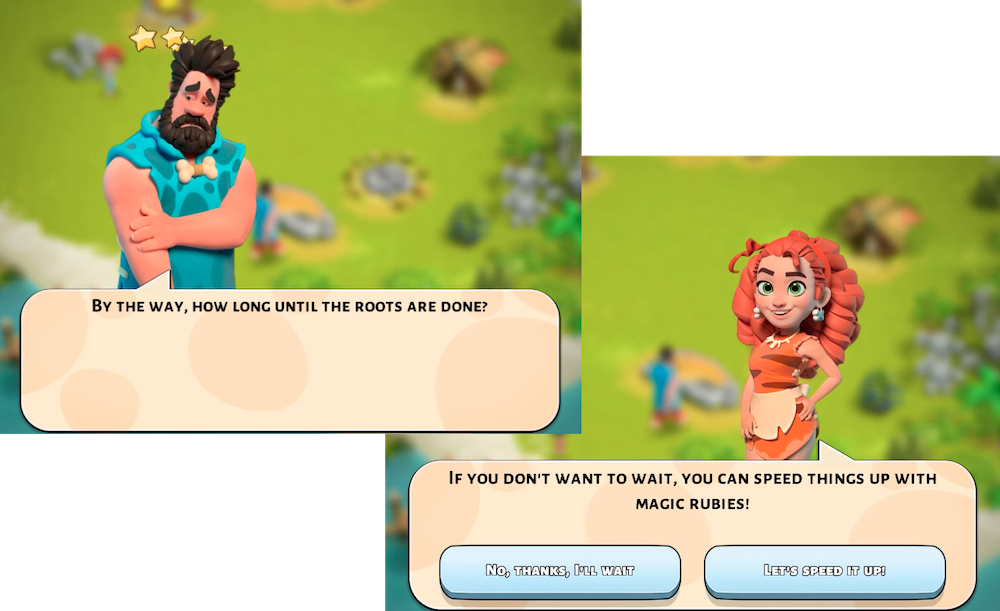 Township helps the player with a small amount of the premium currency at the beginning of the game and then guides the player through several ways to use it in different tycoon mechanics in the game.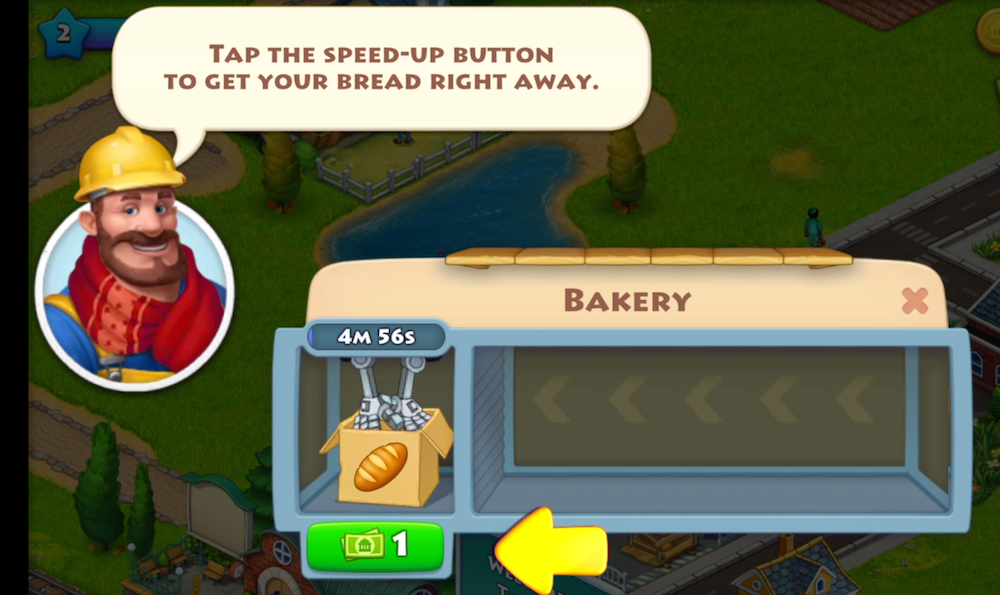 Different kinds of boosters are an essential part of the Match3 subgenre, and it is hard to find a game that doesn't offer a free taste of them when explaining and visualizing how they work on the game board.
Homescapes and Royal Match are no exception in this regard.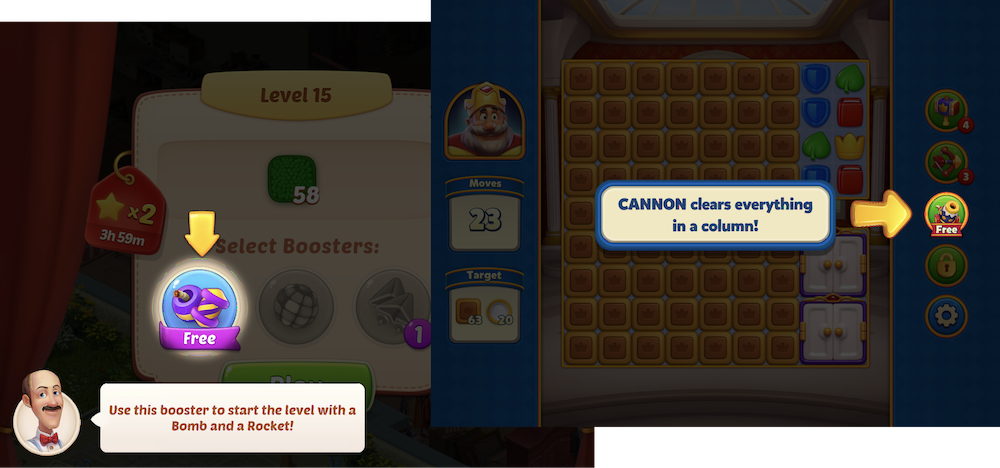 These are a few ways to combine the onboarding of essential game mechanics with an introduction to the various small-scale monetization features scattered around the game. The player will be faced with these types of transaction options in practically every session, so it is beneficial to show players right from the start how much easier opting for these offers makes their life.
Smoothing out the first session flow by offering free waiting time skips or boosters will create a neat contrast to the struggle with crueler session length restrictions that players will be faced later on. In games where customization is a big part of the experience, the free common accessories will seem dull compared to the flashier, exclusive premium items, conveniently visualizing the benefits of conversion to a paying player.
New Player Gachas
In gacha-based character and item collecting games, it is just as important to give the new player a taste of the essential gacha mechanics. Many games do this by offering free pulls (and even re-rolls in the case of unfavorable results!), discounts, or a special one-off gacha tailored specifically for new players' needs.
For example, the Puzzle RPG Dragon Ball Z Dokkan Battle has a Single-Summon limited to new players who are just starting to compile their character roster. This gacha guarantees you one of three SSR-rarity characters for five Dragon Stones (premium currency) only.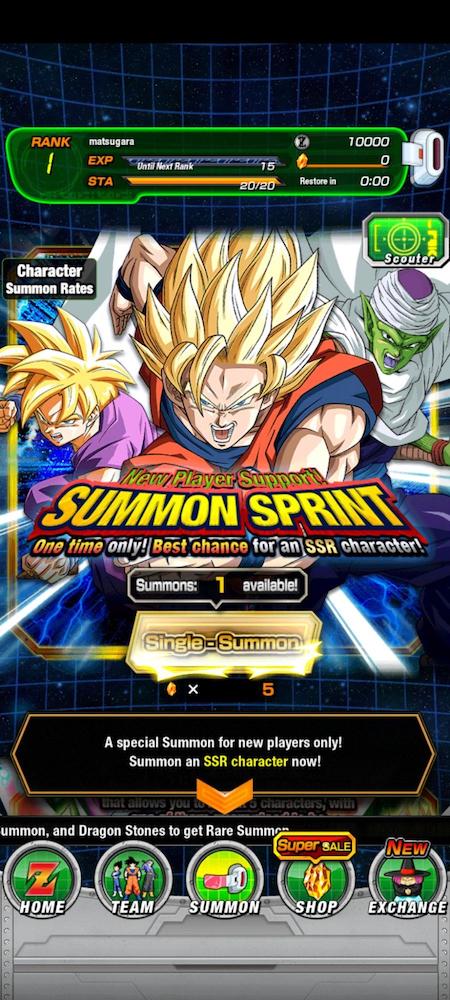 Probably the most popular way to steer the new players' attention to gachas is by implementing a gacha tutorial within the first gameplay session.
In the successful shooter game Call of Duty: Mobile, players get familiar with several gachas that the game has to offer. A "Lucky Board" gacha is an example of this: players are taken to a "Lucky Board" gacha and introduced to all the aspects of it, such as what kind of rewards the player gets from the gacha, where to get lucky coupons, the currency to roll the gacha, or where to use the lucky coins (a reward from gacha pool). Combining the tutorial with a free gacha pull is a way to get players comfortable with the system.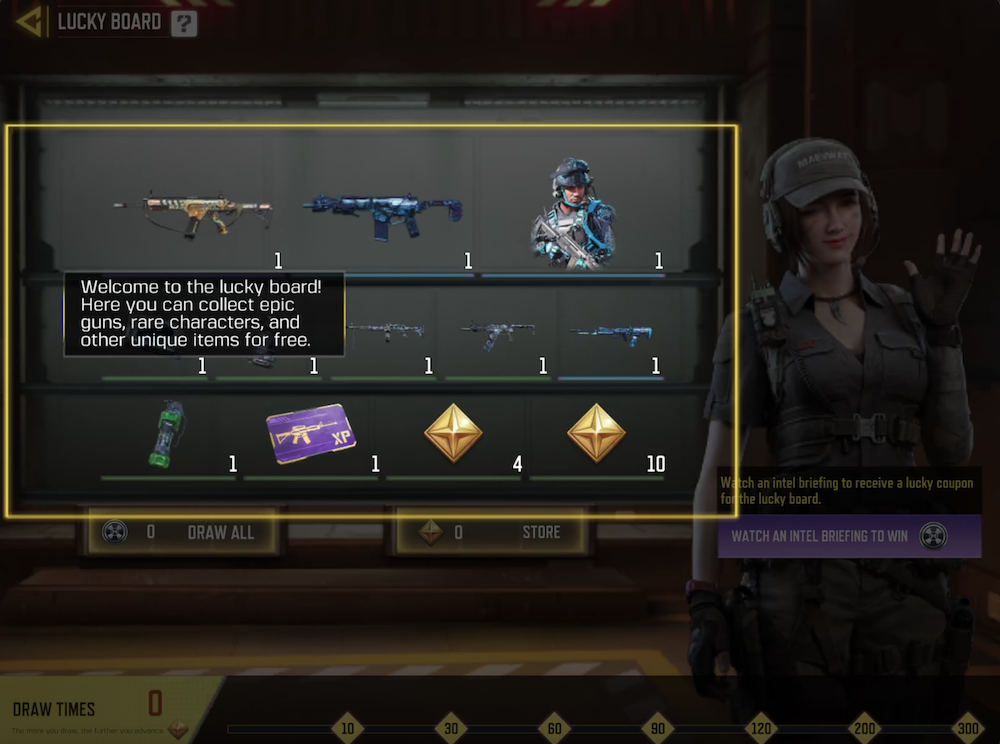 PUBG Mobile offers a well-rounded onboarding system for new players, and this system also has a special gacha, the "Rookie Roulette," woven into it. This new player gacha can be pulled with gacha currency that can be gained from beginner achievements, including things like match completion tasks, rewards when reaching a certain level, total kills, season match time accumulation rewards, and so forth. The gacha currency can also be gained from daily tasks, which incentivize players to come back to the game daily to collect the gacha currency. Rookie Roulette includes randomized reward packs for weapons and accessories, as well as Rookie Roulette Points.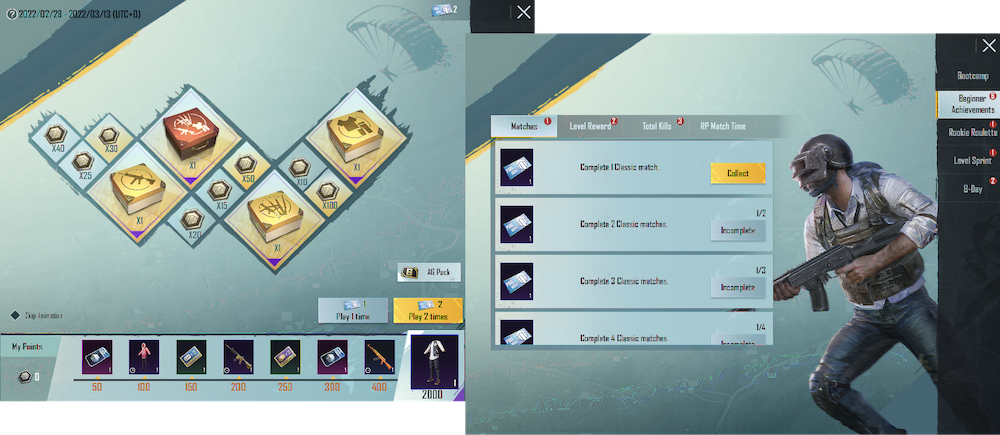 These types of schemes bind the gacha with engagement through tasks, milestones, and dutiful logging in, making it part of a meaningful loop of onboarding actions instead of coming off as merely a means of getting the player hooked on gacha monetization.
New Player Offers
One of the more direct ways of urging the F2P players to convert early on is all kinds of new player-exclusive IAP offers. Many games across genres offer some kind of bundles of useful items to new players to help them make quick progress and catch up with their seniors.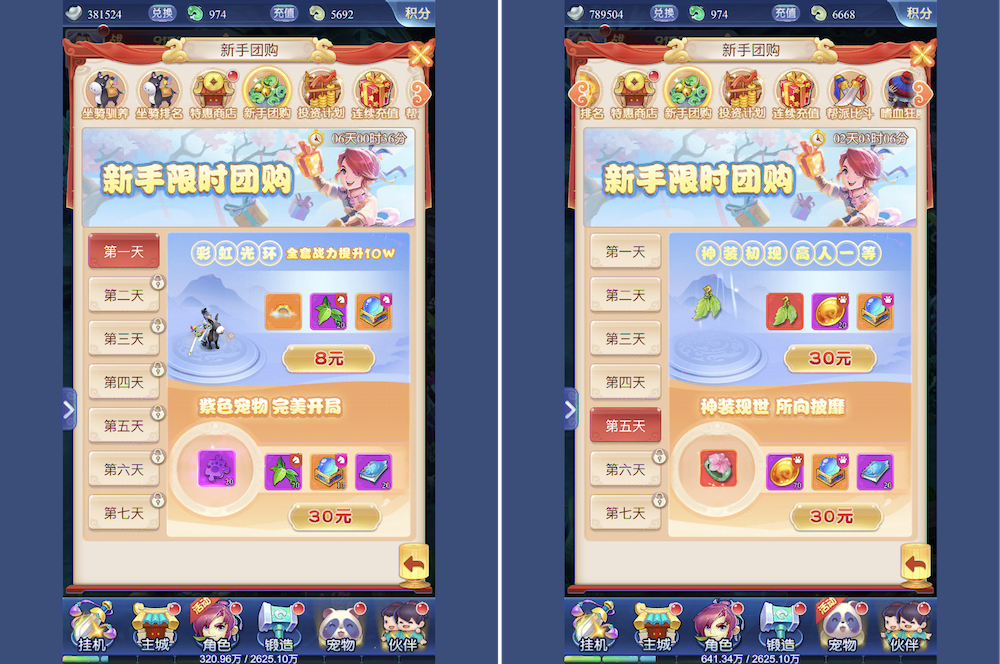 In the Chinese MMORPG 梦幻西游网页版 (Westward Journey Browser Edition), there is an interesting way to give offers to the new players in a Daily Offer type of system. The player must come back to the game daily to pick up their varying daily offer, including items needed for progression in the gameplay (such as boosters). This daily offer system is only available for the new players for a limited time, and there are up to 8 days for offers to appear.
So-called 'starter packs' are a common way to formulate limited-time, new player offers. These make the player feel welcomed with exclusive offers designed for the novice player, and the limited time gives time pressure to purchase the items still when possible. Giving some special items for the player that they only get when they start the game can help to familiarize players with purchasing mechanics.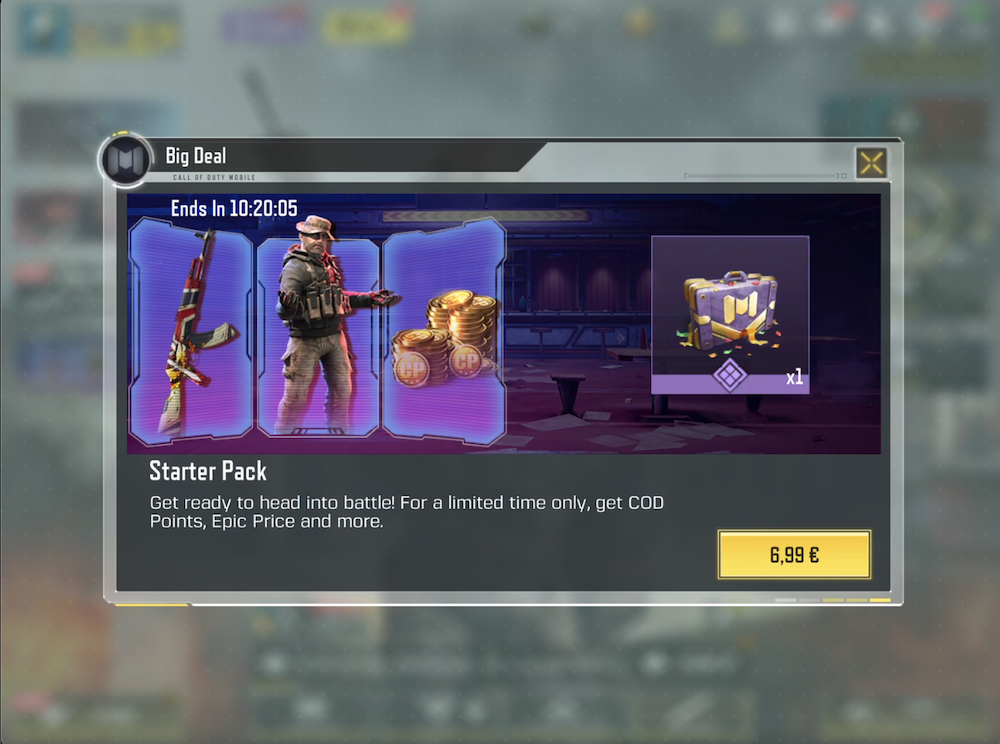 In Call of Duty: Mobile, new players are offered a starter pack, which will give them COD Points, which is a premium currency, and a skin for their weapon, as well as a skin for their character.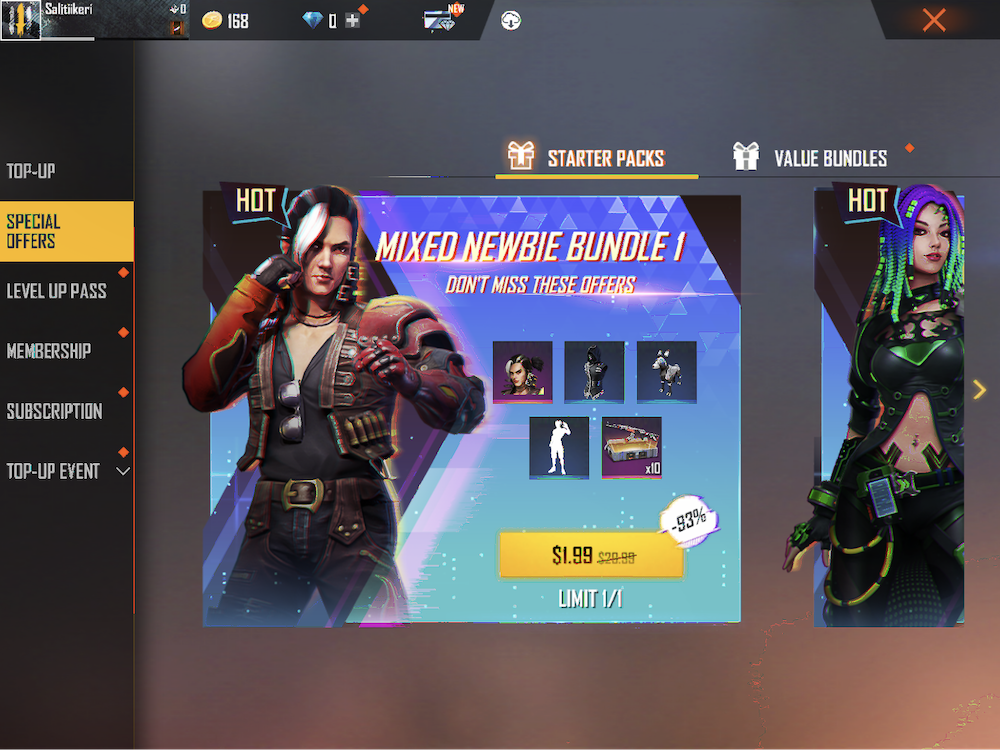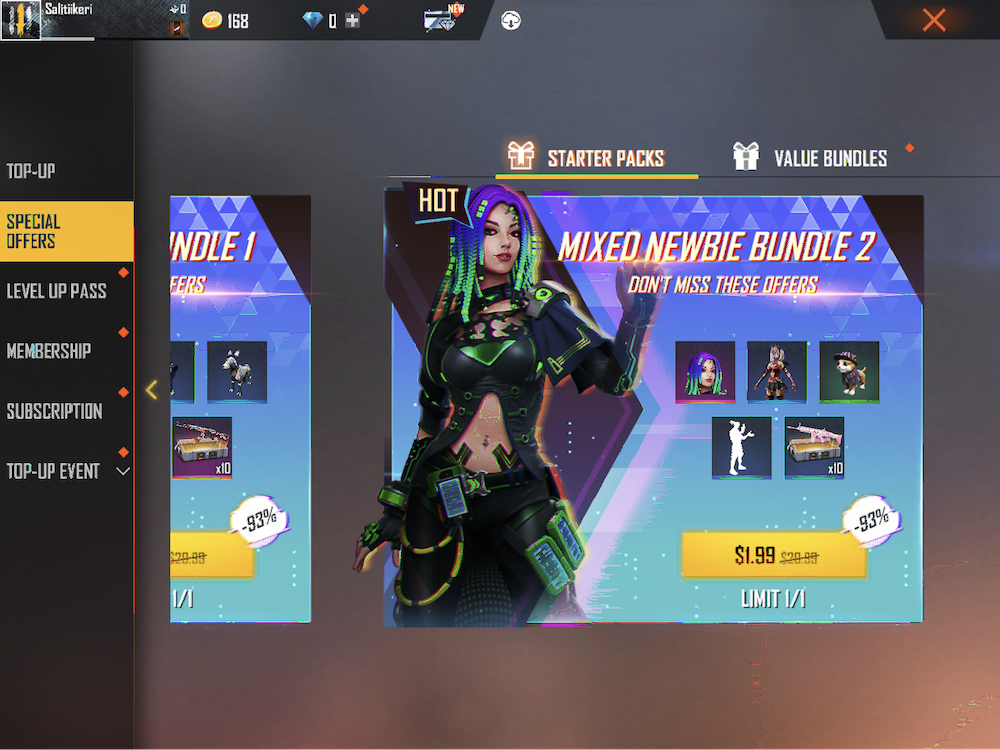 Garena Free Fire, a battle royale title, offers starter packs called "Newbie Bundles." These also contain cool decorative items and skins for the character, supporting the importance of customization in this battle royale game. With a low price, players can fairly easily try out the customization options to spice up their gaming experience from the beginning.
Instead of deco items, Dragon Ball Z Dokkan Battle has many different upgrading types for the characters, and these upgrading types require a multitude of materials. It makes sense that Dokkan Battle offers new player bundles that have a nice assortment of common upgrading materials. The Dokkan Welcome Packs are only available for the first 100 hours, counting from the start of the first session, urging the players to hurry their conversion.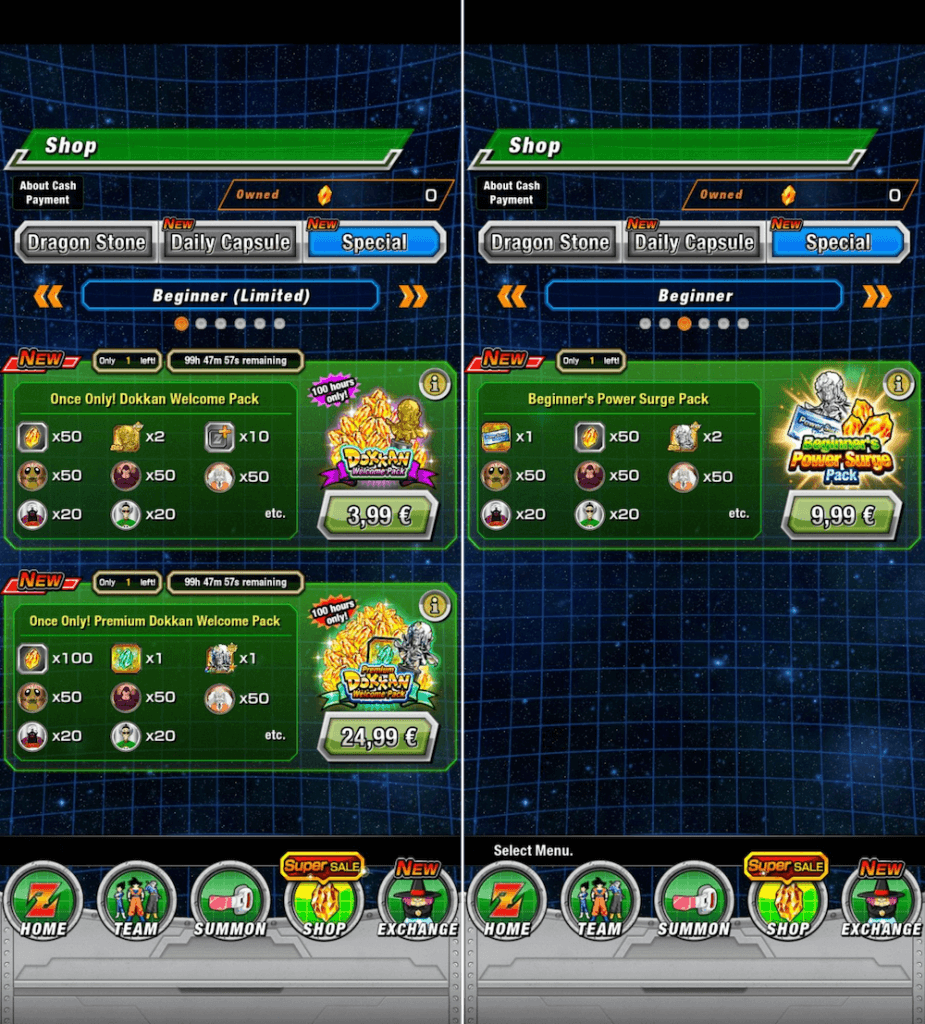 The casual category games obviously have their own kinds of bundles for new players as well.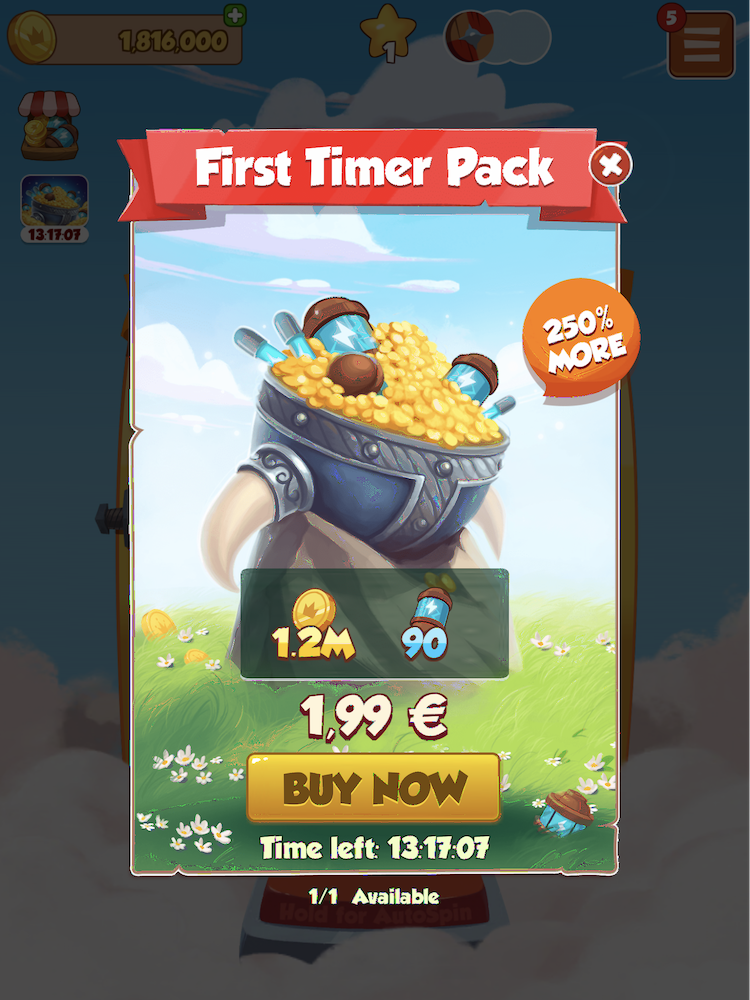 In the casual casino game Coin Master, there is a pop-up starter offer for new players for a low price. The "First Timer Pack" contains energy and coins, which are essential for the gameplay to continue. Nothing extra or fancy! Similar to the Dokkan Welcome Packs, this offer is only available for less than 24 hours, which creates time pressure for the player to grab the order right away, and brings a possibility to play the game longer without running out of coins and energy too soon.
Township's low-cost Starter Bundle contains materials for upgrading and expanding the Barn, which works as the player's inventory. The inventory expansion is important for new players since the amount of items to manage grows rapidly in the early stages of the game. Homescapes, on the other hand, focuses on monetizing via the boosters, so it makes sense to craft a low-cost Starter Pack with boosters to fit a new player's needs and willingness to convert.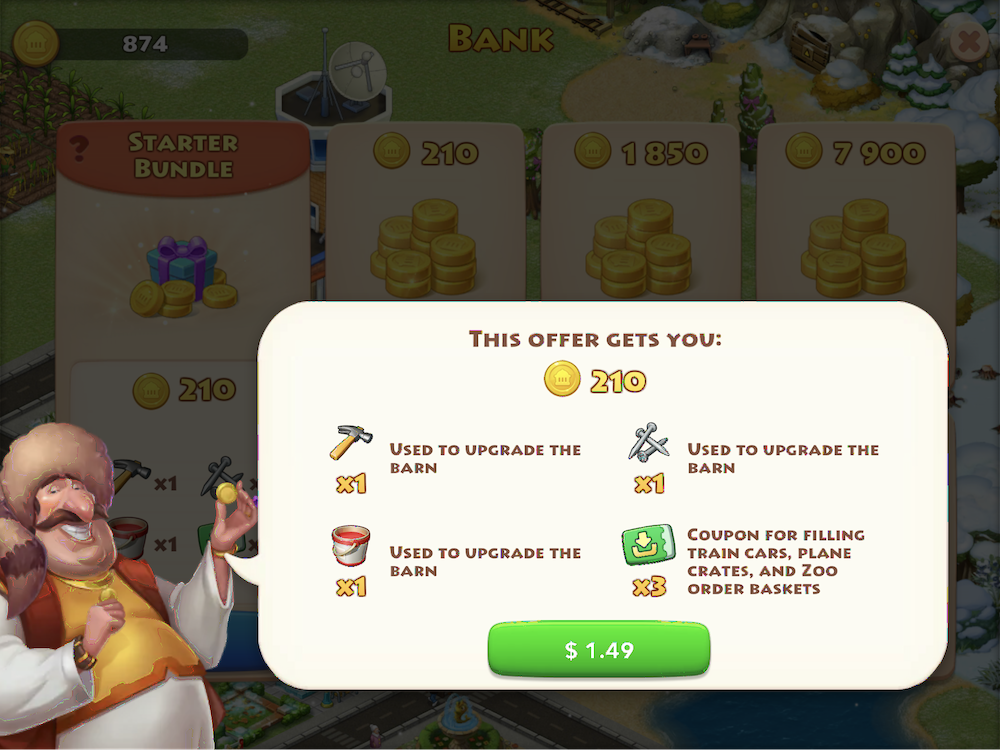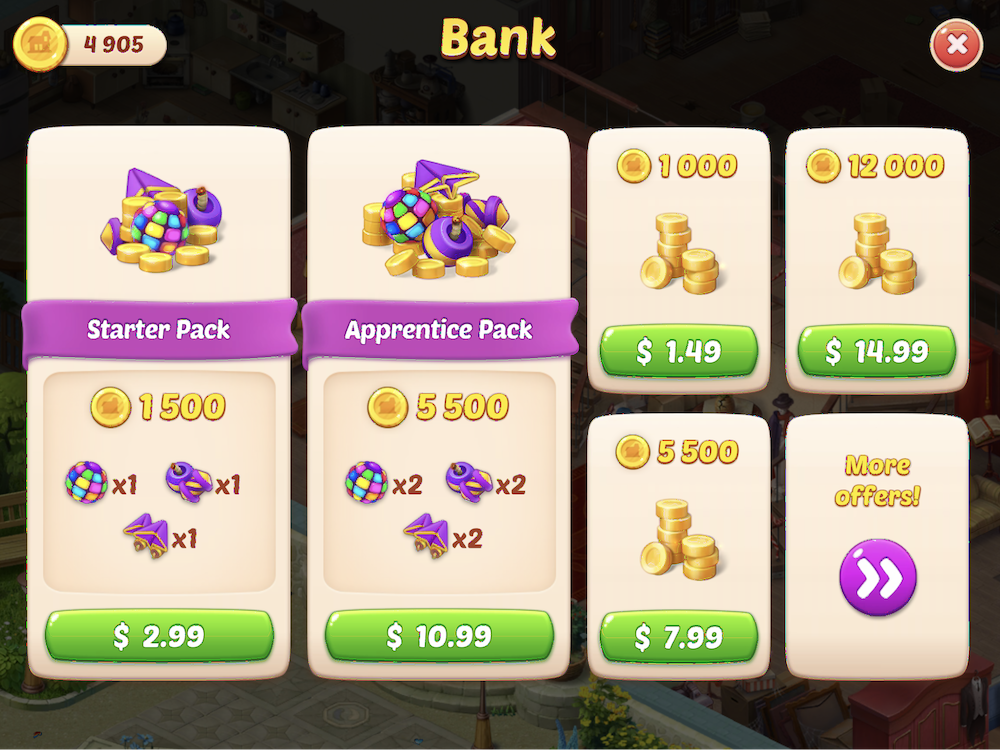 Rewarding Conversion Itself
This kind of elaborate monetization mechanics is traditionally more commonly seen in the Asian markets, but it might offer inspiration for developers aiming to push their players towards early conversion more aggressively.
The Idle RPG game 放置少女〜百花繚乱の萌姫たち〜 (Houchi Shoujo – Hyakka Ryouran no Moehimetachi) from the Japanese market rewards its players generously for simply making their first real money purchase. When the player clicks on the link in this special offer screen, they will be taken to the in-game premium currency shop, where they will notice that the first-time purchase will give twice the regular amount of the currency. The first time a player makes a purchase in this shop with real money, they will immediately receive the full amount of "bonds" (character shards) needed to acquire a special character for their roster. This character's passive skill is particularly useful for new players on low player levels since it boosts the experience points gained when offline. But wait, there is more! This conversion incentive is also cleverly linked to retention. After the initial purchase, for two days, the player will receive extra daily log-in rewards that are specially designed to aid in swiftly powering up your character roster. This is yet again an interesting example of a multifaceted incentive towards conversion.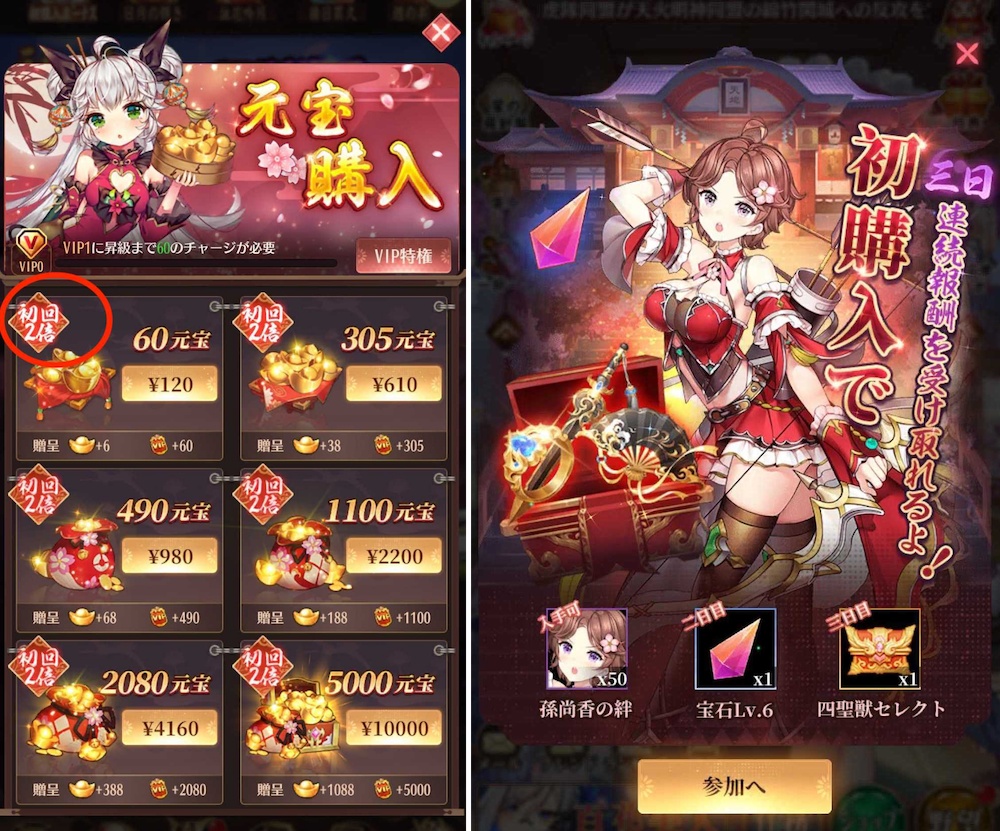 Summary
To sum it up, there are many ways to elegantly introduce the player to a game's monetization mechanics during the onboarding process. Here we have taken a look at free samples of monetized items and actions, different types of new player-friendly gacha implementations, bundles, and offers tailored with beginners in mind, as well as ways to directly reward for converting to a paying player.
Looking at the examples from all the areas of onboarding we have gone through in this series (storytelling elements and tutorial sequences, retention, and monetization), it is clear that many of the mechanics work well across quite different genres if tweaked a bit. It also seems safe to say that, at best, the different areas are all tightly linked to each other in a way that forms a fun, meaningful, and engaging first-time user experience, making the player come back for more.
You can find more examples of the new player monetization best practices that we have opened up in this post, as well as all the other onboarding mechanics we have introduced in this series (and much more!) from the GameRefinery SaaS platform. Our team is also always happy to point our customers to the most memorable onboarding implementations we have witnessed over the many years we've been tracking top-performing mobile games, especially if you're looking for examples in a specific genre.
If you enjoyed reading this post, here are a few more you should definitely check out: