Roblox is not a new thing – it has been around for almost a decade already, but only during the last couple of years, it has been able to gain a foothold among the very top of the top-grossing lists in the western mobile game markets. While still a bit unfamiliar and confusing game to many, it has rapidly become the go-to game for younger players and the main income source for many of its users creating games on the platform. In this post, I'll be covering the highlights and key elements that makeup Roblox and why it has become the phenomena it is today.
Performance overview
Let's kick things off by looking at Roblox's past performance. It was launched on iOS back in 2012 and became a sustained top 100 grossing game in 2016. Since then, it has been rapidly rocketing through the charts, cementing its position as a top 10 grossing game in 2018 and now being the number one revenue-generating game in the whole US iOS Market.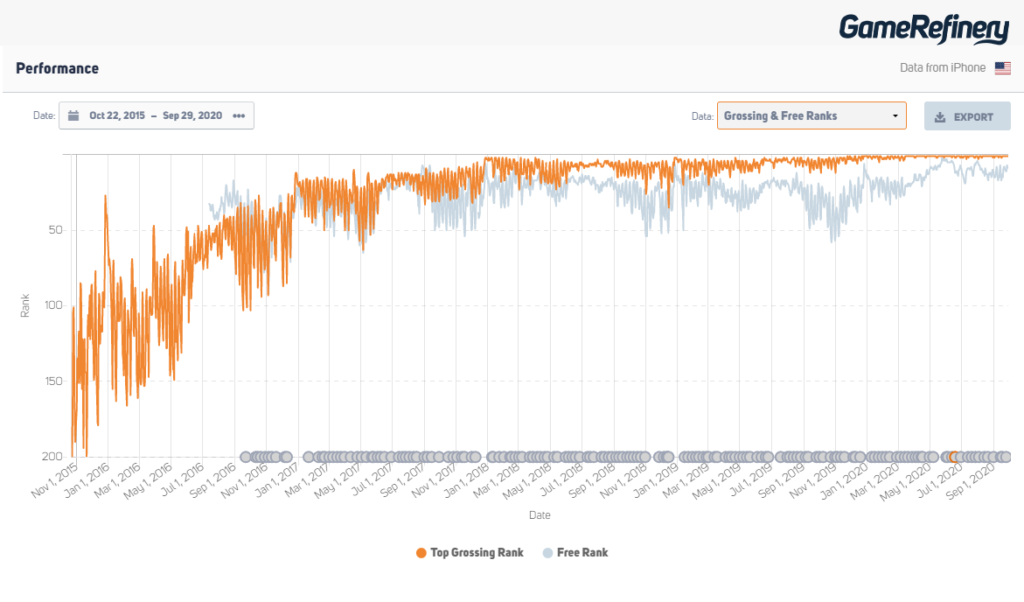 Roblox's recent success can also be seen in its quarterly revenue jumping from 22.10 million (Q2 2019) to 69.31 million (Q2 2020) in just a year.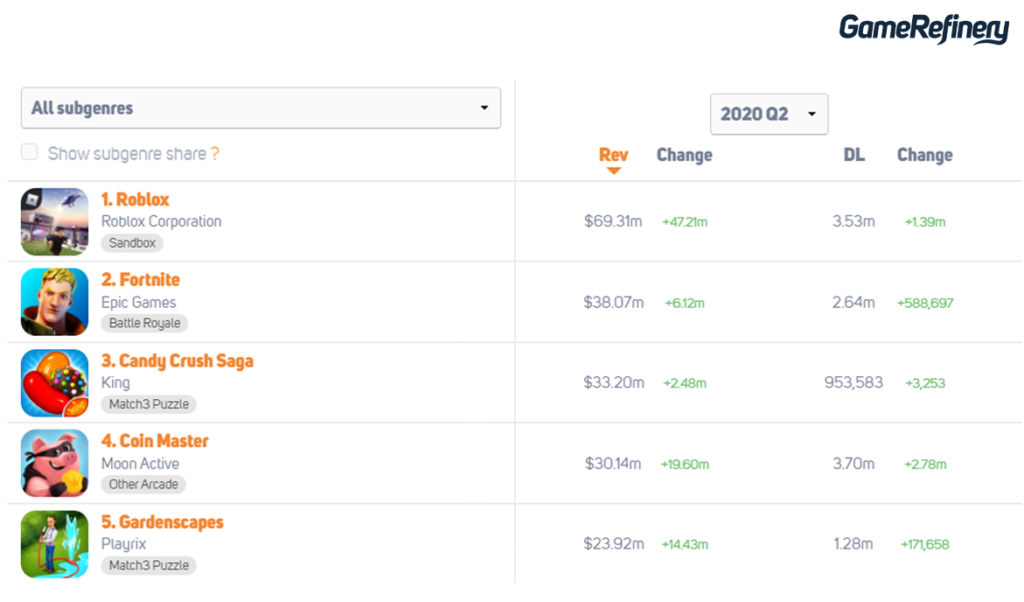 While making the biggest share of its revenue in the US market, it has performed incredibly well on the other western markets as well.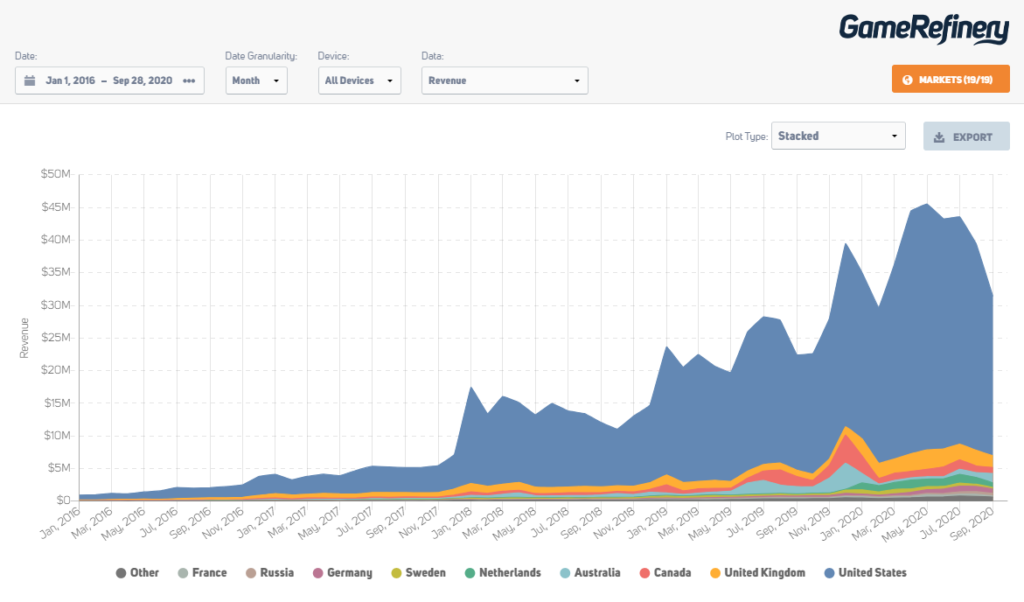 Deconstruction
Next, let's have a closer look at Roblox's mechanics and see what drives this success story from a design perspective.
Platform – Portal to Millions of Games
Roblox isn't actually a game in a traditional sense, but a massive platform for user-created games of almost limitless possibilities. This platform consists of millions of individual games, created by players themselves with the Roblox Studio program. The program supports the creation of almost any kind of a title where the player controls a character/vehicle. The games range from peaceful roleplaying games to speed-infused platformers and adventurers to shooters, fighting, and racing games. There's also a crossplay functionality between all the devices the game can be played on i.e., PC, consoles, and mobile devices.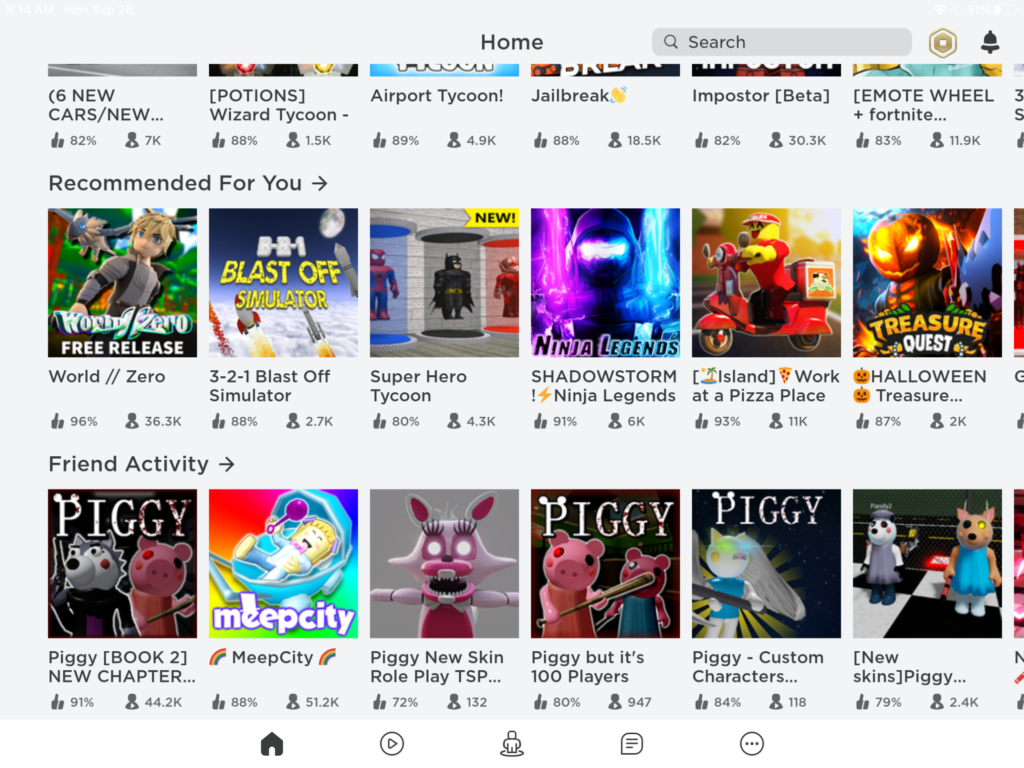 Player Avatars – Express Yourself to Others
One feature that binds most of the games as one ecosystem is the player avatar system, which lets you create your own avatar character and use that across different games. The rich customization tools and decorative accessories allow almost any kind of avatar to be created. Moreover, Roblox has a marketplace where premium members can trade and even sell their own creations to other players.

Live Events – Collaborations with Well-known Brands
Roblox occasionally arranges larger in-platform events such as collaborations with 3rd party IPs, such as big movies or consumer brands. These events usually follow a common framework with Roblox collaborating with some of the more experienced game creators by implementing event content (e.g. tasks) into already existing games within the platform or creating a whole new game specifically for the event.
One example of a game created just for an event is the Wonder Woman 1984 movie collaboration event where the players can embark on an adventure on Themyscira island, complete quests, and gain exclusive Wonder Woman themed decoration items for their avatar.

How Roblox Monetizes – a Two Way Approach
As Roblox is a platform that hosts user-created games, the monetization can be grouped into Roblox's own platform monetization and the individual game monetization controlled by the creators themselves. Robux, the platform-wide in-game currency used in all games and within the platform itself neatly ties these two dimensions together.
Monetization in Roblox Platform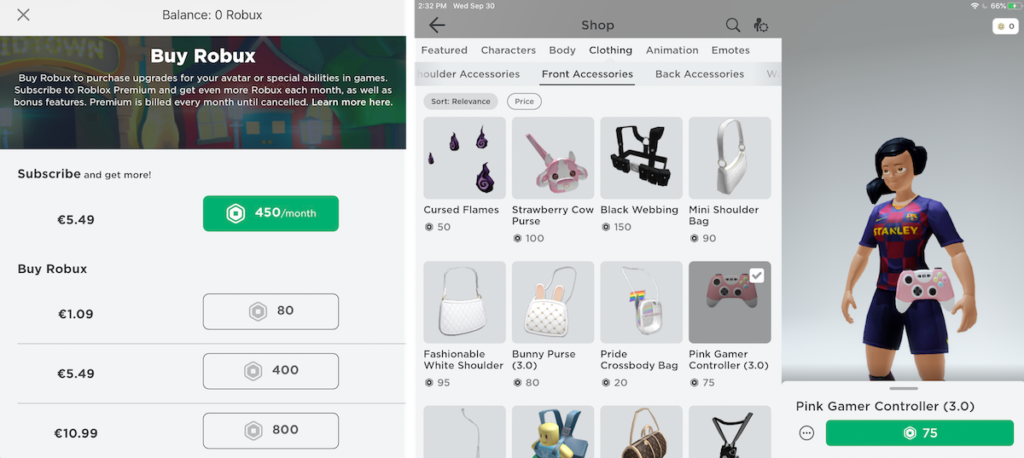 Purchasable platform-wide premium currency (Robux)
Shop with a vast range of different decorative items to customize the player avatar with (many of the items are created by the players)
Subscription plan (Roblox Premium), with perks i.e., receiving monthly Robux, access to special decorative items and discounts, benefits in some of the games, and being able to trade the decorative items with other players
Game creators can run UA campaigns in the platform and promote their games using Robux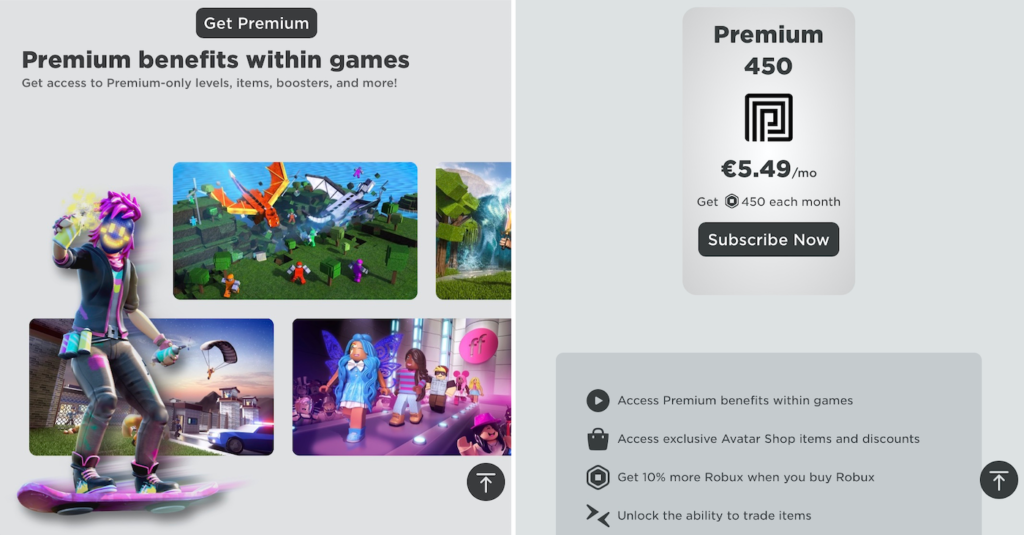 Monetization in Roblox games
As players get to make games themselves, they also control the monetization and are able to earn actual real-life money through their own titles. In short, as mentioned, creators get a 24,5% share of the total revenue their game generates and don't have to pay any additional fees for using the Roblox Studio tools and the platform.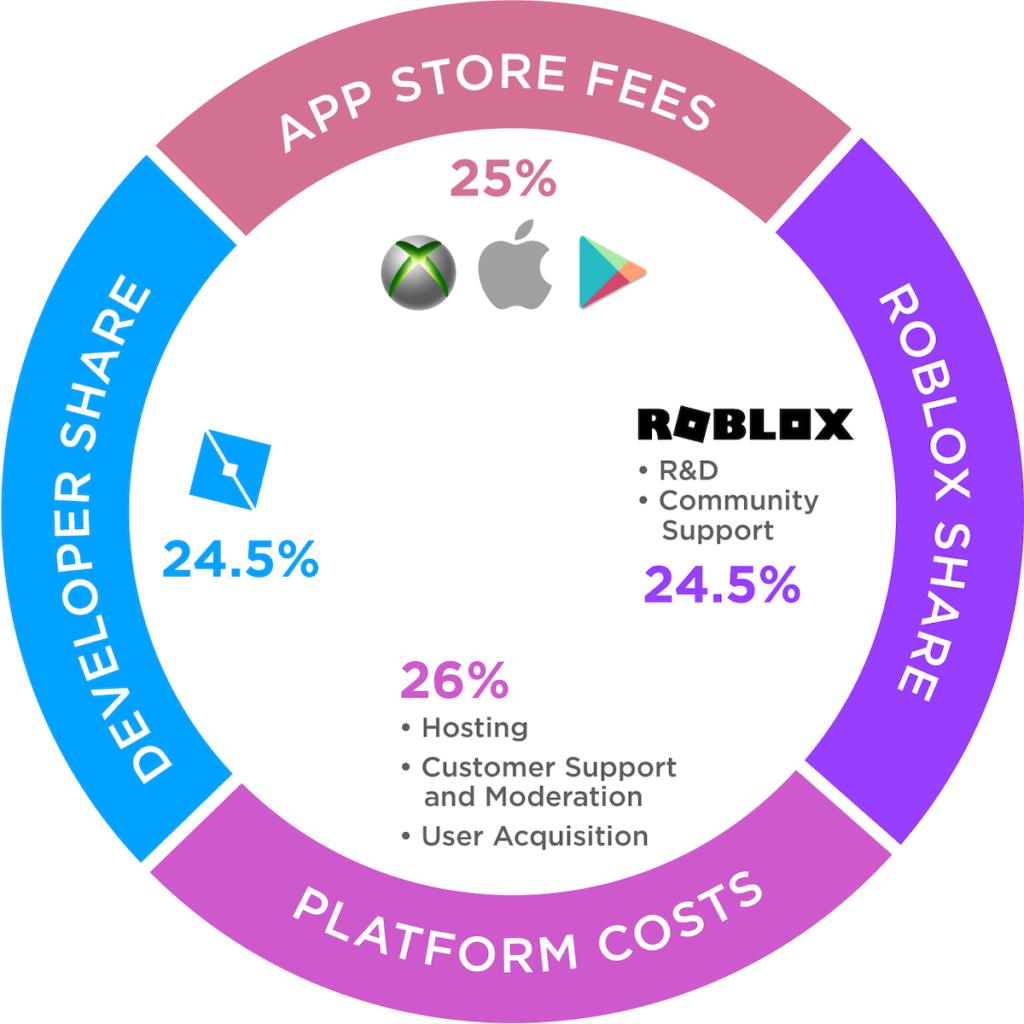 Monetization models for the games depend a bit on the genre but are all in all quite similar to traditional IAP monetization mechanics used in mobile games. The main currency used for the IAPs in the games is always the platform-wide currency Robux and these IAPs include for example:
Permanent boosts/perks that enhance the player permanently in the game such as increased exp gain or grant access to special areas
Characters, vehicles, and even buildings
Items like equipment/weapons or consumable boosts
Decorative items i.e. character/weapon skins, accessories, pets and emotes
Most of the popular games utilize purchasable currencies and gachas

We'll take a closer look at game specific monetization models in the next chapter, where we dive deeper into three of the top Roblox games.
Gameplay – Games Made for the Players by the Players
Roblox is basically a really diverse group of millions of games of different genres, so there's no single gameplay loop to describe here. That said, all Roblox games use the same game engine and similar controls – whether the game is a peaceful roleplaying game or a PvP shooter. This similarity between titles makes it easier for the players to hop from one game to another and it encourages them to try out multiple different games on the platform. Community and social gameplay is also a core element of Roblox with most of its games being all about either roleplaying/hanging out, co-operating, or competing with other players.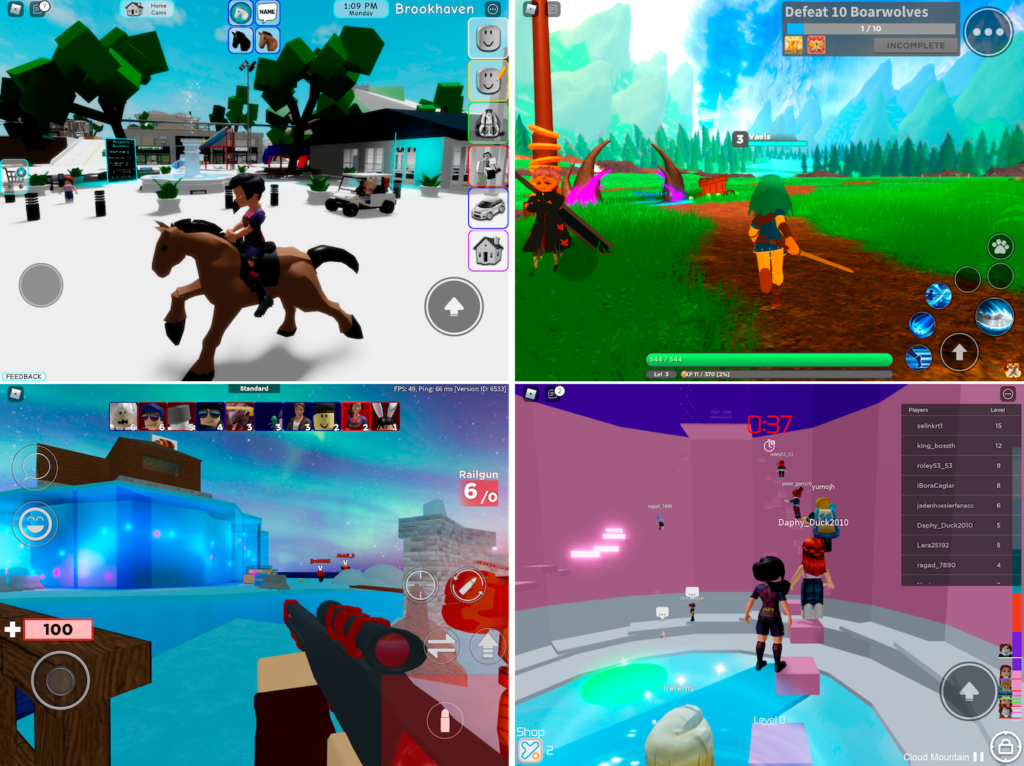 To get an idea of the actual gameplay, here are some of the most popular games on the platform:
Jailbreak
Jailbreak is an open world prison escape game where the players are either prisoners or police. The prisoners' goal is to first escape from prison and then complete criminal activities in the large open-world city to earn cash. Police' job is then to guard the prison and catch the escaped prisoners also to earn cash. The cash earned is used to purchase i.e., cars, items, and apartments in the game. The game monetizes i.e., with perks that boost the player in the game, gachas, and the cash being purchasable with Robux.
Piggy
Piggy is an asymmetric survival horror game where players must try to escape from a map while being hunted by a player or AI-controlled killer pig. The game also features light storytelling and a variety of maps to choose from. The maps and the game mode is voted by the players before matches start. Players earn Piggy Tokens by playing the game which is used for purchasing character skins and consumable traps that can be utilized in the matches. The game monetizes by also selling the Piggy Tokens for Robux.
Adopt Me!
Adopt Me is a peaceful social open-world game that is all about roleplaying as parents/babies, adoption, and pets. The players get to socialize and even create families with other players, but the pet adoption, training, and trading them with other players is a big part of the game as well. The game revolves highly around customization elements such as customizing the player avatar, pets and decorating houses. Monetization elements include purchasable currency, pets, decorative items, houses, gachas, and boosts that i.e. turn the pets into rideable mounts.
What can we learn from Roblox's success?
As discussed, Roblox is a massive world that constantly offers you something new to discover. In this deconstruction, we've taken a look at the main components of this extremely successful game platform and some of the top games it currently offers. But as the Roblox platform is so huge with millions of games at your disposal, we've only scratched the surface and focused on the highlights and key elements Roblox has to offer.
The success of Roblox teaches us that for many of today's casual gamers the graphics or the smoothness of the gameplay are not as important as ever-changing fresh content, community, and, most importantly, having fun. Roblox platform's games are not made by big AAA companies but individual game programmers and designers with shoelace budgets. This is another interesting aspect that's very likely one key driver for Roblox's success: the games in the Roblox platform are truly made by the players of the same game and the decisions around the game design are not affected by any other stakeholders.
As all these thousands of games inhabit the same platform and the same ecosystem with similarities in their core gameplay mechanics, it keeps the whole package together and grants access to ever-growing player audiences. During the COVID Pandemic, the community element speaks for itself as there have reportedly been many social events such as birthday parties or official school graduation ceremonies being organized live on the Roblox platform.
To delve deeper into feature breakdown and other data about Roblox, be sure to check out the full analysis of the game in the GameRefinery service.
If you enjoyed reading this post, here are a few more you should definitely check out: