Our report with Facebook gaming and Facebook IQ showed that genres make up 49% of the reason why players play the games they play. We covered 4 markets and 4 genres with an 88 page deepdive into the topic. We couldn't fit everything in one report though, so in this blog post series, we'll focus on some key highlights from the report and look at some subgenre level insights we salvaged from the cutting room floor. In this highlight, we'll turn our attention to Puzzle games and stand out features you should definitely consider for your next puzzle game.

Make sure to also check out our Strategy and RPG genre highlights.
Puzzle dominates western markets as the genre that generates most revenue
Puzzle games are popular globally, with over 60% of mobile gamers playing them in the west and nearly half of mobile gamers playing them in the east. Nevertheless, the amount of revenue puzzle games generate is on an entirely different scale in western countries where it is by far the genre that produces the most revenue.

Key puzzle game features – engagement
Different types of live events are good ways to increase player engagement. Another effective method mainly found in Match 3s is spicing things up with various level types. These features bring variety to gameplay and help keep things fresh so that players have something to look forward to.

What other engagement features could you use. Here are a few to keep in mind from Match3s and Hidden Objects games.
Battle Pass in Match3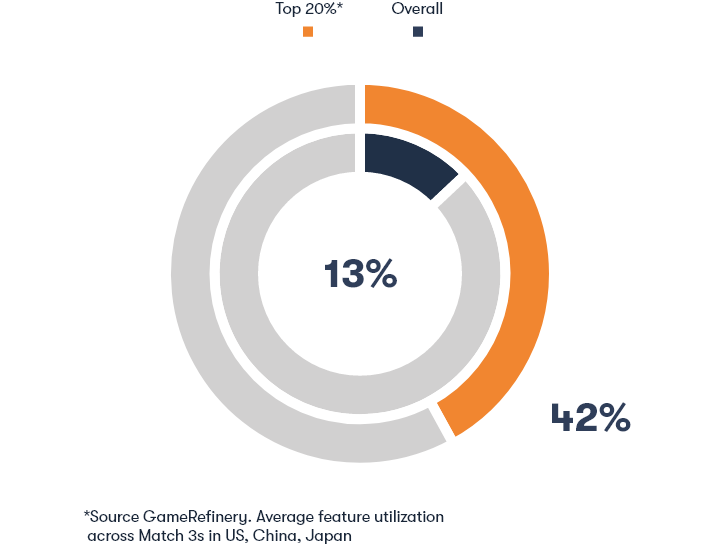 As we all know, games such as Fornite ignited battle pass-mania. From there, it spread like wildfire; first to Fortnite's direct competition, then to other mid-core titles, and now it's practically a staple for games across the entire genre spectrum. Puzzle games are no exception to this, and e.g. in Match3, we see a high utilization of battle passes (or season passes as they are often called in Puzzle).
Alongside monetization, battle passes also have a valuable engagement function as players are rewarded for their commitment and progression in the pass. This is well-aligned with the subgenre's target audience. After all, one of match3 gamers' key motivations is completing milestones. As match3 games might lack the compelling reward pool that comes naturally in Mid-Core (characters & their vanity items), it pays off to make sure you have attractive rewards on the table.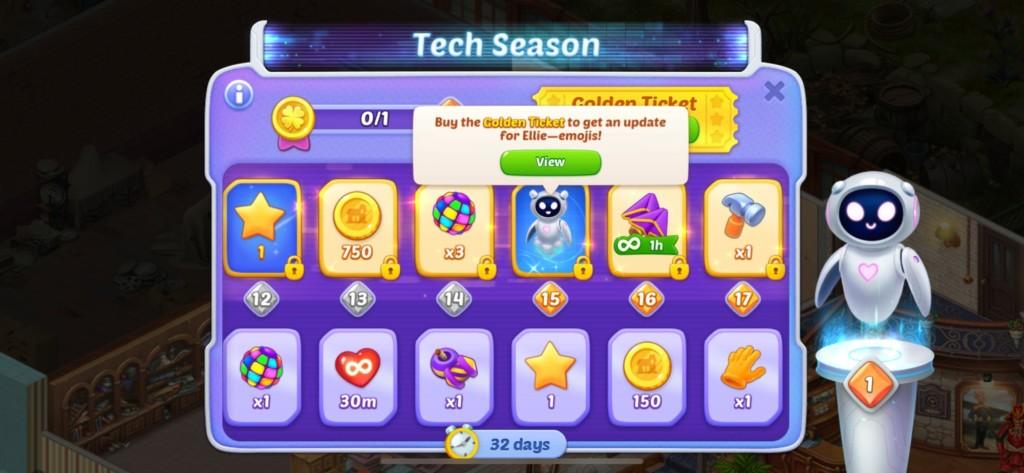 Homescapes was one of the first match3 games in the US to embrace battle pass.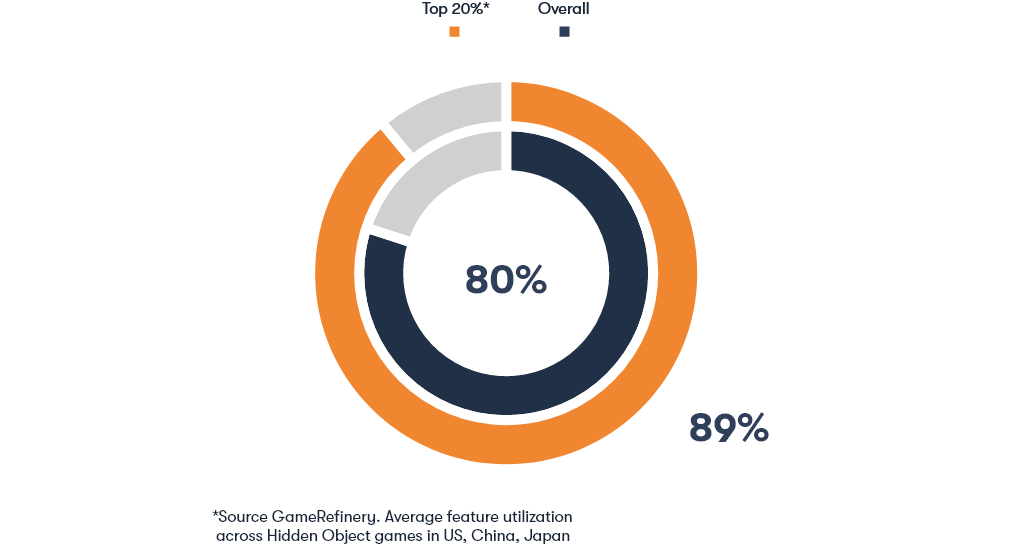 Adding multiple layers for your players to interact with your game is a powerful way to engage your player base. As puzzle gamers do enjoy single-player experiences, expanding horizontal PvE-content shouldn't be ignored.
This horizontal PvE content is utilized widely i.e., in Hidden Object puzzle games. In addition to the normal hidden object levels, players get to play a variety of different kinds of puzzle mechanics, such as match3 and memory games.

Seekers Notes uses various special modes with different puzzle mechanics to further enrich its already great hidden object levels.
Key puzzle game features – community
Guilds are the new hot thing in puzzle games. Typically seen in RPGs and Strategy games, features that increase social interaction and competition between players are good ways to enable deeper social interaction and build a sense of community.

There are quite a few things you can do to increase the sense of community in Puzzle games though. Here are a few great examples from Match3s and Word games.
Guild Wars/Competitions – Match3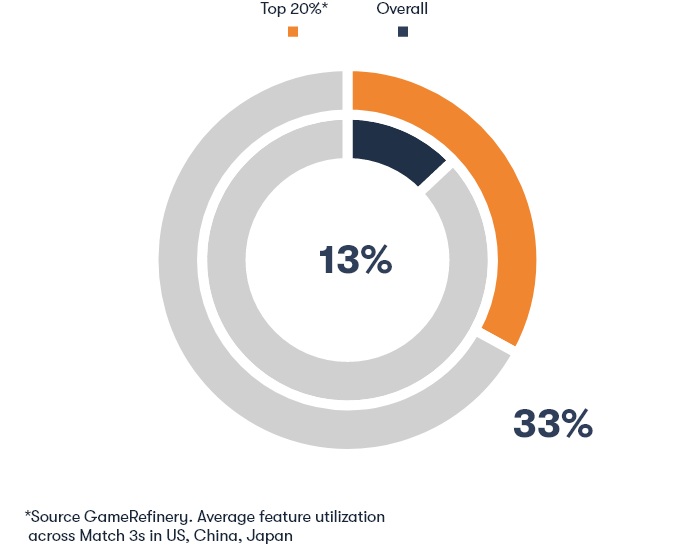 As discussed in the report, the implementation of different social elements has been radically growing in top puzzle games. One of the trending features has been different types of Guild Wars/Competitions. It fleshes out social community features with competitive elements. These features also tap into a player's "sense of duty" for their community as players want to "carry their own weight" and participate as well as possible for their Guild to get the best possible results.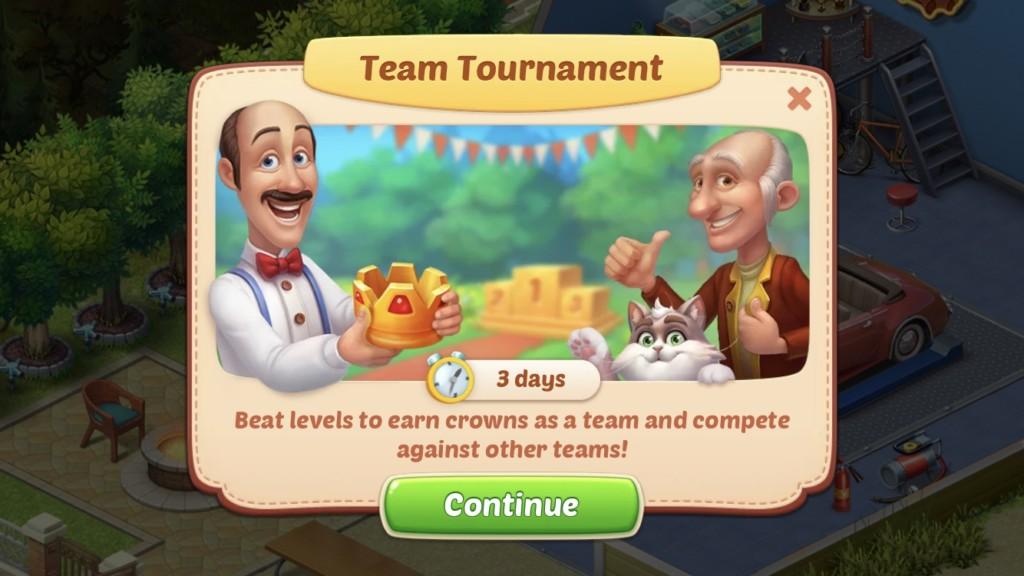 Team Tournament in Homescapes
PvP in Word games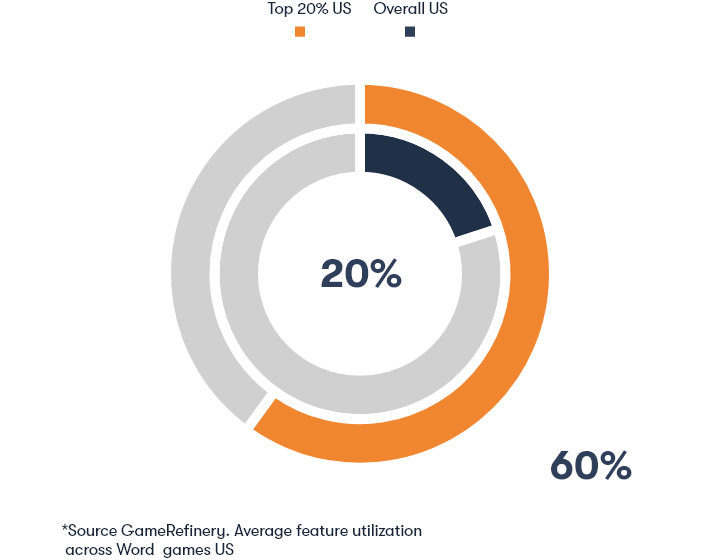 The rapid growth of social elements in puzzle games has proven that casual audiences love the depth and communal feeling in their games. As mentioned above, competitive elements are trending in these games, but how about the usually mid-core related direct PvP? Depending on the puzzle game type, PvP has already proven to be a successful community feature, particularly in the west, with some games already utilizing it to an extent.
Some top performing word games tend to boost the casual competition elements with different PvP mechanics, such as synchronous and asynchronous PvP modes and even co-op PvP mixing up cooperative gameplay and competition.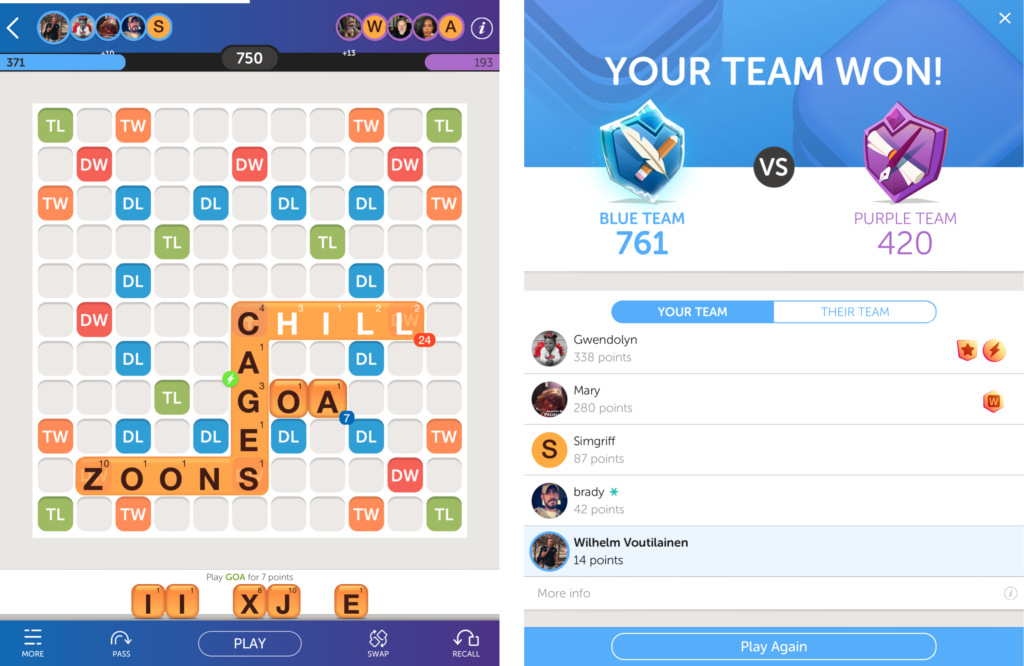 Words With Friends 2 has a Lightning Round mode – a synchronous team vs. team co-op PvP mode.
Key puzzle game features – monetization
Most top grossing Puzzle games use the same monetization methods. Those features that stand out are limited-time in-app purchases and purchase bundles along with Piggy banks. Limited time offers and bundles provide players with variety in the boosters and other items they can purchase, while a piggy bank system allows players to access in-game currency for a modest amount of real money.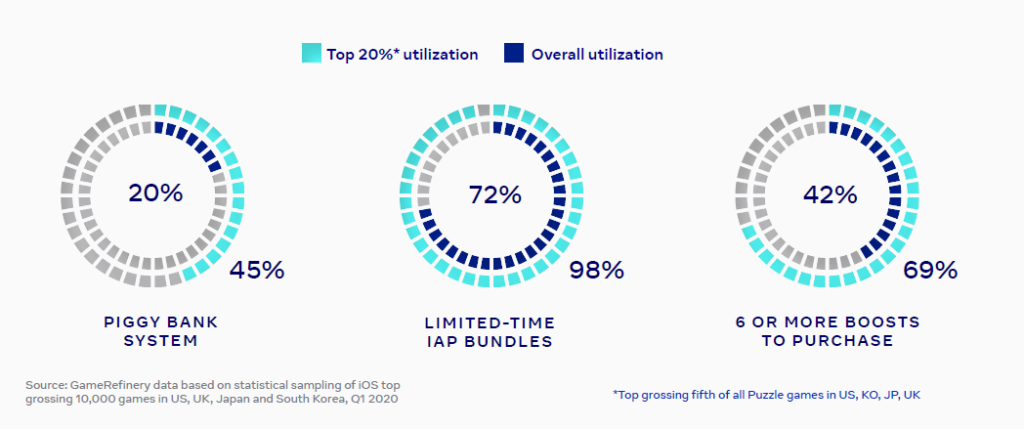 But what else can you add to your puzzle game to bolster its monetization? Let's take a look at Match3 games.
Incentivized ads in Match3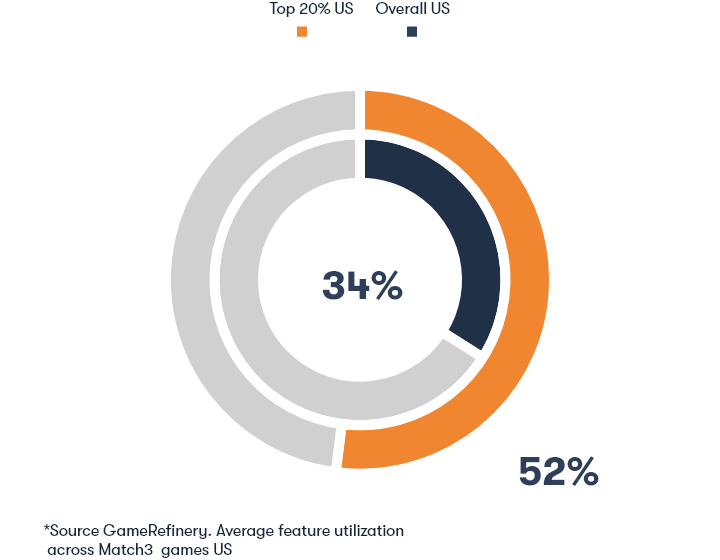 The Popularity of ad monetization and incentivized ads in particular has increased in the puzzle genre lately as more and more top grossing games have started utilizing different ad monetization features. Players have an alternative way to get normally purchasable items/boosts by watching incentivized ads. This is a friendlier monetization method for many casual players compared to IAPs and can even work as a player loyalty booster. This is because players choose to watch the ad and get rewarded with something that usually costs them money, leading to a positive experience.
When looking at the three incentivized ad reward mechanics, tangible rewards, temporary boosts, and revives/continues, they're all heavily utilized in the top performing match3s in the US.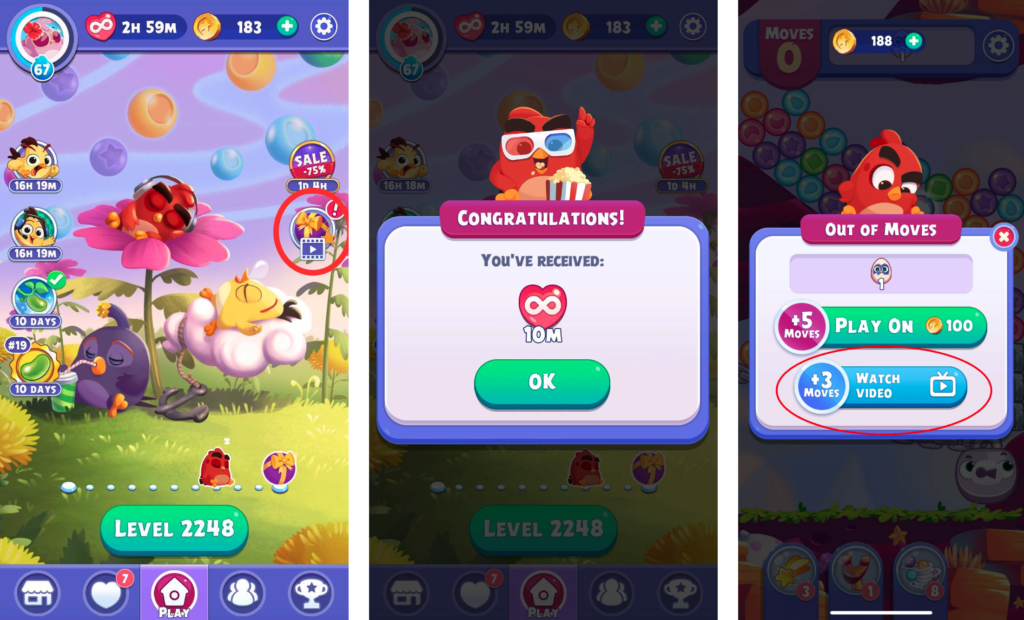 Angry Birds Dream Blast uses incentivized ads with i.e., booster and continue rewards.
Download the report for more insights
For even more insights on RPG, Strategy, Casual, and Hyper-Casual games, download your copy of the Genres and Great Games report here!