Our Genre and Great Games report with Facebook gaming and Facebook IQ showed that genres make up 49% of the reason why players play the games they play. We covered 4 markets and 4 genres with an 88 page deepdive into the topic. We couldn't fit everything in one report though, so in this blog post series, we'll focus on some key highlights from the report, and look at some subgenre level insights we salvaged from the cutting room floor. Let's kick things off with RPGs and Turn-based RPGs + MMORPGs
RPGs are more popular in the East but still make a significant chunk of revenue in the west
Role-playing games (RPG) are all about controlling, customizing, and developing characters to defeat enemies, including sub-genres such as Action RPG, Fighting, MMORPG, Puzzle and Idle RPG. Of the countries surveyed, they are most popular in Japan and South Korea, with over 4 in 10 mobile gamers playing RPG games. While they are less popular in the US and UK, still over 1 in 4 mobile game players in these markets play games in this genre. Within the RPG genre, Japanese and South Korean mobile gamers show nuances on their favorite sub-genres; Puzzle RPG is preferred among Japanese players while Action RPG/MMORPG is more common in South Korea.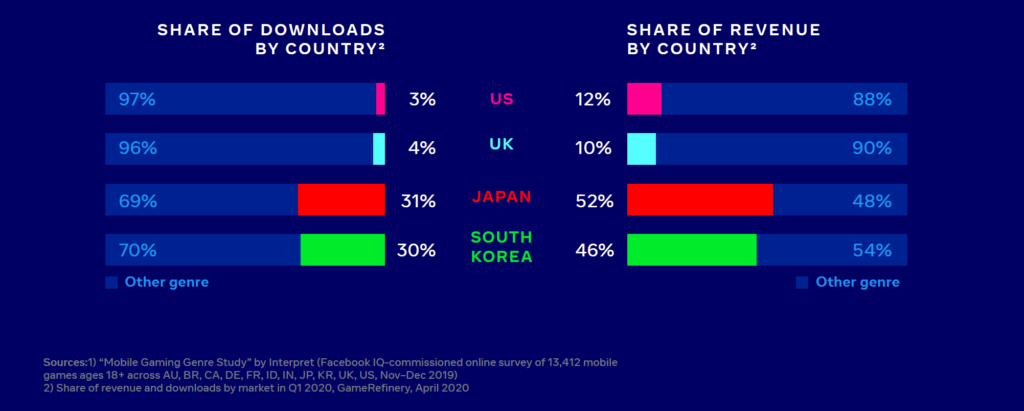 Key features – engagement
Must-have features that set apart successful RPGs from the rest involve events, characters, or both. Having a sense of progression for characters with different forms of level-ups is important for players to maintain their interest and want to advance further in the game. At the same time, features that add more depth to events make them more engaging to players. Event versions of characters add a collectible aspect to the game and events, and event currencies separate the event gameplay loop from the rest of the game, adding more depth – both features creating a sense of anticipation for players to look forward to these events.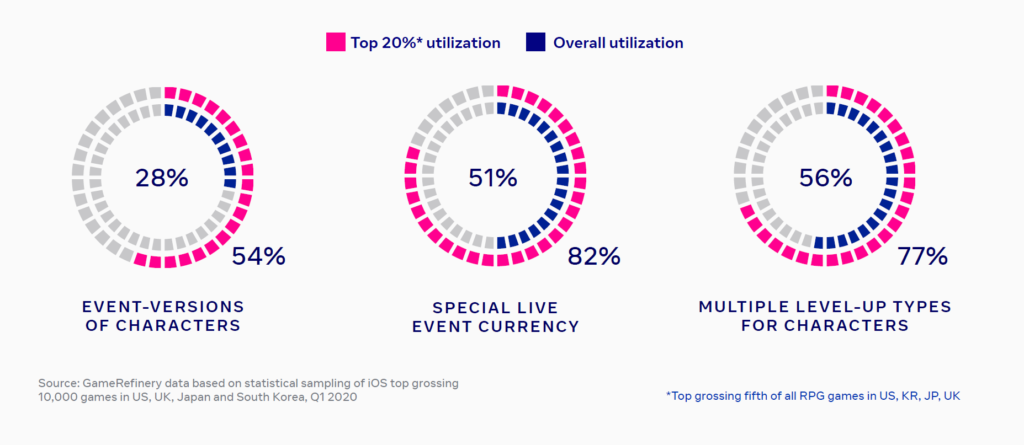 But what about on a subgenre level, what are the features that stand out in driving engagement in Turn-based RPGs and MMORPGs in addition to those already mentioned.
Turn-based RPGs
Promotional collaboration events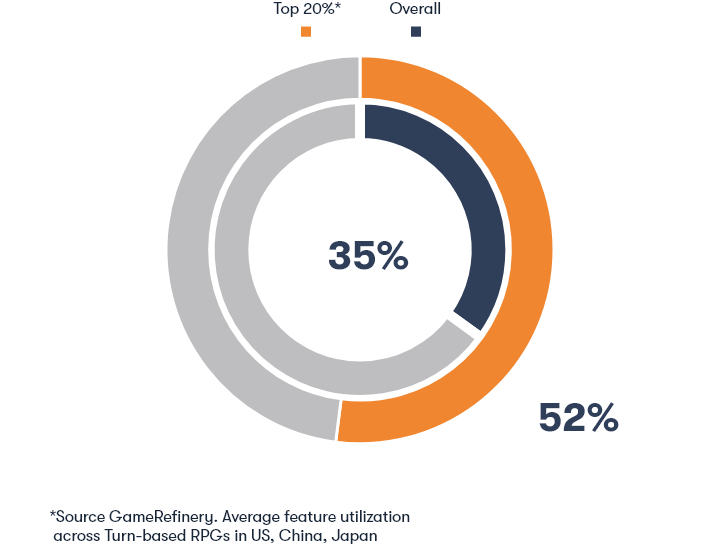 Turn-based RPGs are mostly played with a team of characters and benefit significantly from a massive roster of collectible characters. And as already mentioned, events are an essential part of making a successful RPG. Promotional collaboration events work great as they can be used to combine these two factors – unique events that incentivize players to participate with i.e., special collaboration characters as rewards. This is also a great way to bring new exciting characters into the game, and what is more unique than a character from another universe? In Turn-based RPGs where the whole meta revolves around character collection, these collaboration events and characters work exceptionally well in boosting player engagement.
The Seven Deadly Sins has utilized collaboration events that reward players with special collaboration characters

MMORPGs
Relationship system with NPCs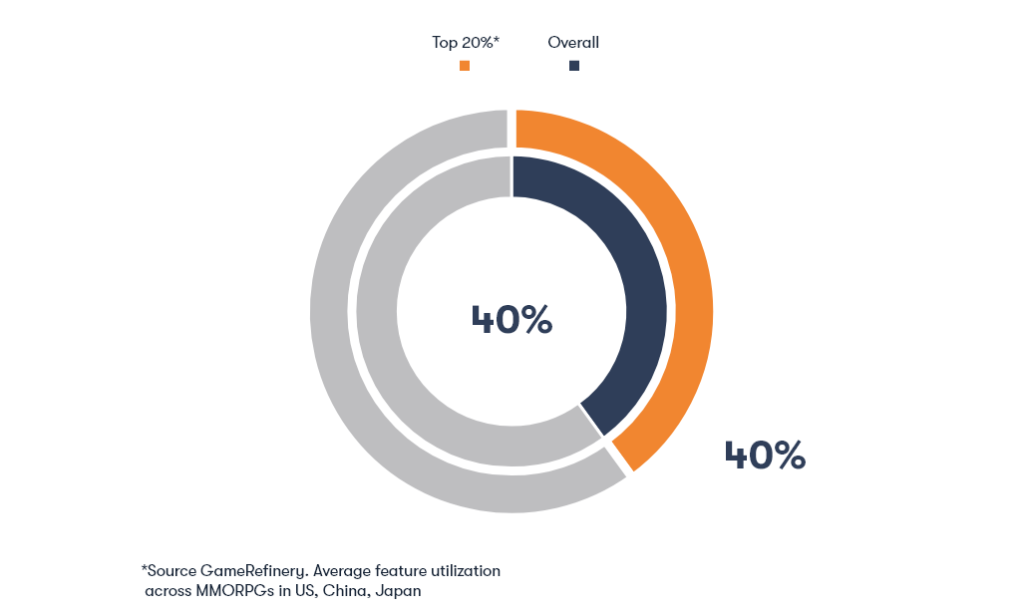 Different progression types for characters are an important aspect of RPGs. In general, MMORPGs benefit even more from this because it provides the demanding MMORPG player base meaningful avenues of progression. One way to boost this further is that alonside developing their character players develop relationships with other characters. For example, this can mean vendor NPCs in the game that give you discounts as your friendship develops, or even whole NPC factions that unlock benefits as you become more reputable with them. This also boosts the feeling of the world being alive, another vital element in MMORPGs.
Black Desert Mobile has a relationship system with NPCs, incentivizing players to progress on relationships with the game's characters providing great benefits
Key features – community
Community features that stand out in RPGs are Co-op PvE modes, PvP modes, and special social currencies. Adding depth and engagement to co-op and PvP works well because it motivates players to work together and compete against one another. The social currency then rewarding players for taking part in these activities.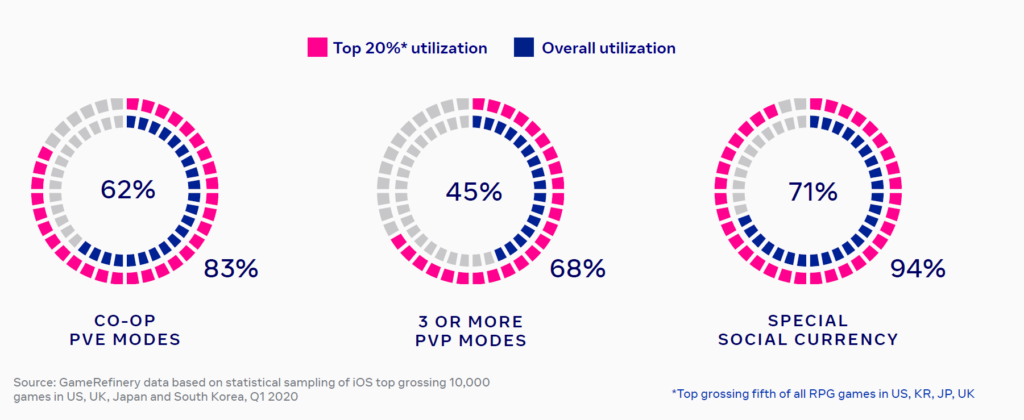 Then, what types of PVP and co-op features does this materialize as in Turn-based RPGs and MMORPGs?
Turn-based RPGs
Synchronous PvP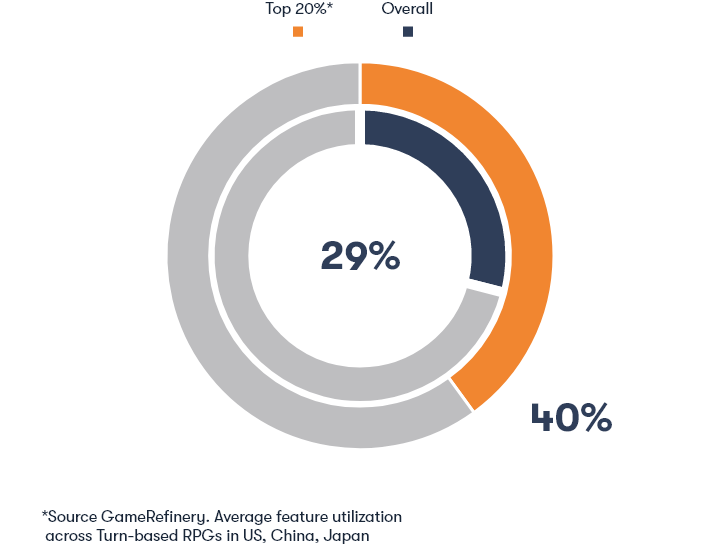 While asynchronous PvP is a popular choice for many turn based- and auto battler RPGs (and surely has its own upsides), it is also possible to incorporate synchronous PvP into a Turn-based RPG. Real time-PvP can bring interesting variety to your mix of PvP and engage a segment of your player base that favors real time competition. Some of the top games in this subgenre, such as, Marvel Strike Force, The Seven Deadly Sins and Summoners War have synchronous PvP.
Marvel Strike Force's VS Battles use a synchronous PvP setting.
MMORPGs
Relationship System with Players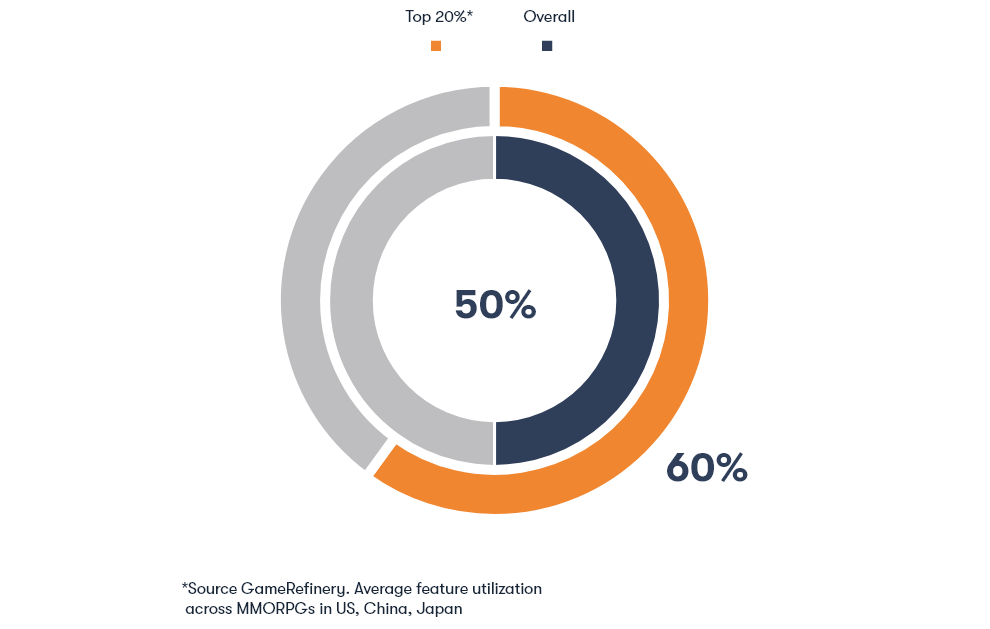 MMORPGs provide a solid foundation for various kinds of social features. One example of this are relationship systems, which are designed to enhance social interaction on a 1-on-1 level. In practice, these systems are often labeled as marriage or mentor/apprentice systems. The idea is that players who take part in these systems have to complete certain actions to progress in the feature. Sometimes that can mean tasks that both the mentor and the mentee have to complete, or simply having to play the game together for a specified amount of time.
From a developer's perspective, relationship systems are a great way to boost social retention in a completely different way than e.g. guild systems work. For players, it can provide more meaningful 1-on-1 interaction and a compelling progression path.
Perfect World Mobile has a marriage system.
Key features – monetization
Common amongst all successful RPGs, monetization revolves around loot boxes and an extensive character roster. Loot boxes have become a cornerstone of IAP monetization. Different types of loot boxes e.g., tied to events, are an excellent way to increase player spending along with bulk discounts that get players to buy more at once while also offering players more value. A vast array of characters to purchase also works well in RPG monetization because it both provides players with more characters to collect but purchase.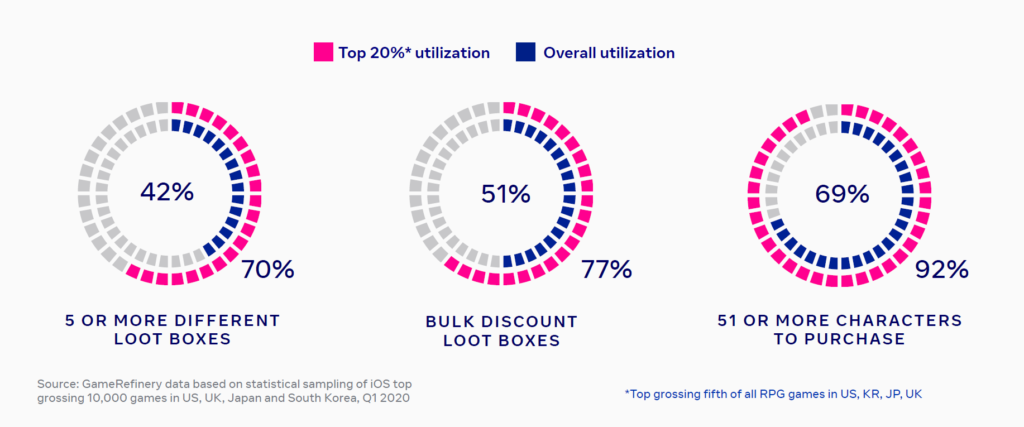 Developers can further expand their games monetization through features such as purchasable equipment items and subscription plans.
Turn-based RPGs
Equipment items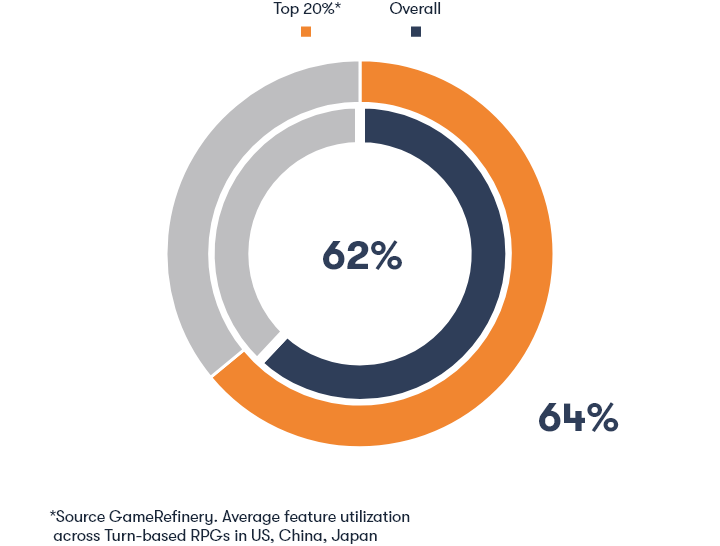 Most of turn-based RPGs are based on character collector mechanics. Players collect and build teams from a plethora of different characters. But what is an RPG without deep upgrade layers and a wide variety of gear to equip on your favorite heroes? In mobile F2P RPGs, there are plenty of different ways to implement equipment items. Some games require players to find specific items for specific characters, whereas in some cases equipment items have a much bigger strategic element in gameplay because it's up to the player to choose which items to equip on each character. Nevertheless, gear/equipment items are a crucial part of building up your characters. Most games offer loot boxes, bundles, specific stores with direct purchases, etc. to monetize this aspect of the game.
Seven Deadly Sins: Grand Cross lets players tweak their character stats with equipment items
MMORPGs
Subscription plans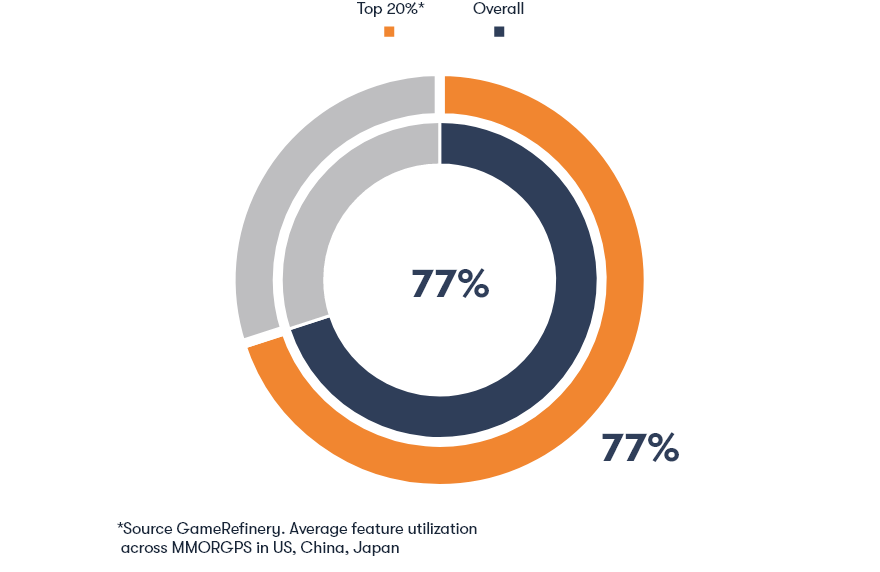 MMORPG are no stranger to different subscriptions. It has been one of the main monetization pillars for MMOs since the early PC MMOs came around. If we look at mobile MMORPGs, of course they are mainly totally free-to-play, but most of them offer different types of subscriptions. Some are a bigger part of the monetization model and they open features, content and other benefits when some have subscriptions with a smaller impact such as getting premium currency when logging in every day for 30 days.
Old School Runescape is highly based on a subscription service which offers players unlockable content and features.
Download the report for more insights
For even more insights on RPG, Strategy, Casual, and Hyper-Casual games, download your copy of the Genres and Great Games report here!